Gladys Cromwell: Dusk (Poem)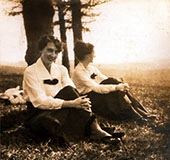 Dusk
As flowers at dusk their choicest perfumes hold,
Some hearts hoard beauty when the body s old:
I see an age-bent woman lead the herd
To pasture, with no need of guiding word.
While the dull beasts in the tall grasses browse,
Inside her soul the earth s enchantments drowse ;
The needles pause between her wasted hands,
For light is always mellow where she stands.
No motion marks her life s harmonious dream ;
It is a part of Nature s quiet theme.
Each day renews the uneventful past,
Although her spirit nears a change at last.
From the grey threshold of her silent home
One night, her spirit, kin to evening s shade,
Will float away from crevices life made,
Like seaweed from a cliff into white foam.
Gladys Cromwell
(1885-1919)
Dusk
From: Songs of the Dust, 1915
• fleursdumal.nl magazine
More in: Archive C-D, Cromwell, Gladys, Gladys Cromwell