Lewis Carroll: Three Poems
L e w i s C a r r o l l
(1832-1898)

Size and Tears
When on the sandy shore I sit,
Beside the salt sea-wave,
And fall into a weeping fit
Because I dare not shave –
A little whisper at my ear
Enquires the reason of my fear.
I answer "If that ruffian Jones
Should recognise me here,
He'd bellow out my name in tones
Offensive to the ear:
He chaffs me so on being stout
(A thing that always puts me out)."
Ah me! I see him on the cliff!
Farewell, farewell to hope,
If he should look this way, and if
He's got his telescope!
To whatsoever place I flee,
My odious rival follows me!
For every night, and everywhere,
I meet him out at dinner;
And when I've found some charming fair,
And vowed to die or win her,
The wretch (he's thin and I am stout)
Is sure to come and cut me out!
The girls (just like them!) all agree
To praise J. Jones, Esquire:
I ask them what on earth they see
About him to admire?
They cry "He is so sleek and slim,
It's quite a treat to look at him!"
They vanish in tobacco smoke,
Those visionary maids –
I feel a sharp and sudden poke
Between the shoulder-blades –
"Why, Brown, my boy! Your growing stout!"
(I told you he would find me out!)
"My growth is not YOUR business, Sir!"
"No more it is, my boy!
But if it's YOURS, as I infer,
Why, Brown, I give you joy!
A man, whose business prospers so,
Is just the sort of man to know!
"It's hardly safe, though, talking here –
I'd best get out of reach:
For such a weight as yours, I fear,
Must shortly sink the beach!" –
Insult me thus because I'm stout!
I vow I'll go and call him out!

Atlanta in Camden-Town
AY, 'twas here, on this spot,
In that summer of yore,
Atalanta did not
Vote my presence a bore,
Nor reply to my tenderest talk "She had
heard all that nonsense before."
She'd the brooch I had bought
And the necklace and sash on,
And her heart, as I thought,
Was alive to my passion;
And she'd done up her hair in the style that
the Empress had brought into fashion.
I had been to the play
With my pearl of a Peri –
But, for all I could say,
She declared she was weary,
That "the place was so crowded and hot, and
she couldn't abide that Dundreary."
Then I thought "Lucky boy!
'Tis for YOU that she whimpers!"
And I noted with joy
Those sensational simpers:
And I said "This is scrumptious!" – a
phrase I had learned from the Devonshire shrimpers.
And I vowed "'Twill be said
I'm a fortunate fellow,
When the breakfast is spread,
When the topers are mellow,
When the foam of the bride-cake is white,
and the fierce orange-blossoms are yellow!"
O that languishing yawn!
O those eloquent eyes!
I was drunk with the dawn
Of a splendid surmise –
I was stung by a look, I was slain by a tear,
by a tempest of sighs.
Then I whispered "I see
The sweet secret thou keepest.
And the yearning for ME
That thou wistfully weepest!
And the question is 'License or Banns?',
though undoubtedly Banns are the cheapest."
"Be my Hero," said I,
"And let ME be Leander!"
But I lost her reply –
Something ending with "gander" –
For the omnibus rattled so loud that no
mortal could quite understand her.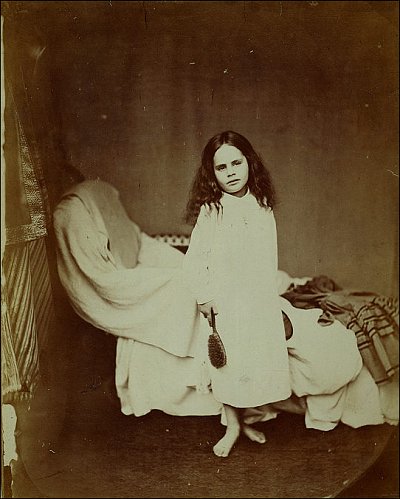 Jabberwocky
'Twas brillig, and the slithy toves
Did gyre and gimble in the wade;
All mimsy were the borogoves,
And the mome raths outgrabe.
"Beware the Jabberwock, my son!
The jaws that bite, the claws that catch!
Beware the Jubjub bird, and shun
The frumious Bandersnatch!"
He took his vorpal sword in hand:
Long time the manxome foe he sought —
So rested he by the Tumtum tree.
And stood awhile in thought.
And as in uffish thought he stood,
The Jabberwock, with eyes of flame,
Came wiffling through the tulgey wood,
And burbled as it came!
One, two! One, two! And through and through
The vorpal blade went snicker-snack!
He left it dead, and with its head
He went galumphing back.
"And hast thou slain the Jabberwock?
Come to my arms, my beamish boy!
O frabjous day! Callooh! Callay!"
He chortled in his joy.
'Twas brillig, and the slithy toves
Did gyre and gimble in the wabe;
All mimsy were the borogoves,
And the mome raths outgrabe.
Lewis Carroll: Three Poems
KEMP=MAG poetry magazine
More in: Carroll, Lewis, Children's Poetry