EGYPTIAN POET SHAIMAA EL-SABBAGH KILLED DURING PEACEFUL PROTEST IN CAIRO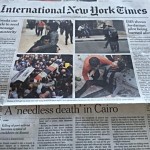 On 24th January 2015 Shaimaa el-Sabbagh, a poet and a member of the Socialist Popular Alliance Party, was marching to commemorate the hundreds of demonstrators that were killed during the Arab Spring uprising of 2011.
Shaimaa el-Sabbagh was shot in the back by riot police officers, while heading to Tahrir Square in Cairo to lay flowers there.
The Alliance Party said in a statement, that their only intention was to place flowers for of the fourth anniversary of the Jan. 25 revolution. Other demonstrators were also injured in the same demonstration.
Egyptian Government officials denied that the police had fired any shots.
At Sunday the funeral of the 31-year-old mother and poet, held in Alexandria, was attended by nearly 10,000 people.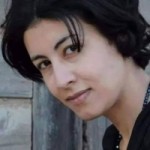 I am the girl banned from love in the squares …
I stood in the middle of the street
and gathered in my hand the stars of the sky individually
And the sweat of the street vendors.
The voice of beggars
And the people who love God
as they damn this moment where the creatures of God approved
To crucifying Jesus naked in the crowded square
on the clock arms as it declared one at noon
I am the girl banned from saying no,
will never miss the dawn
Shaimaa al-Sabbagh
(From the poem: I'm the girl banned from attending the Christian religion classes, and Sunday mass. Translation by Maged Zaher)
# See Twitter Account Shaimaa el-Sabbagh
# Poems (in English) of Shaimaa el-Sabbagh on website: TIN HOUSE
fleursdumal.nl magazine
More in: - Archive Tombeau de la jeunesse, In Memoriam, REPRESSION OF WRITERS, JOURNALISTS & ARTISTS