OEROL 2017 op Terschelling van 9 t/m 18 juni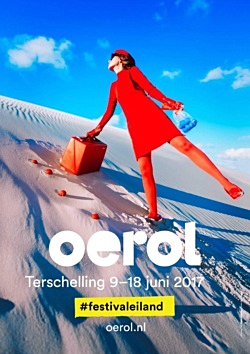 Terschellings Oerol festival is in 1982 geboren uit de passie van één man, Joop Mulder. Een festival dat inmiddels is uitgegroeid tot een internationaal fenomeen en het is fantastisch om zijn passie met tienduizenden bezoekers te kunnen delen.
Jaarlijks verandert het eiland Terschelling in juni tien dagen lang in één groot podium voor theater, dans, straattheater, beeldende kunst en muziek. Opgericht door Joop Mulder, heeft Oerol festival al sinds 1982 alles om jouw festivalzomer af te trappen. De eerste zomerzon, een prachtig eiland, een vernieuwend theaterprogramma vol nationale en internationale theatergroepen en lekkere muziek om tussendoor even bij uit te rusten of juist op los te gaan.
De theatervoorstellingen worden speciaal, vaak ter plekke, voor de locaties gemaakt, of daarop aangepast. Eventjes weg uit de schouwburg en op naar het strand, de duinen, het bos, de schuur, de dijk of gewoon lekker de straat op. Waar je ook om je heen kijkt, er gebeuren altijd mooie, rare of verbazingwekkende dingen.
Het programma van Oerol bestaat uit theatershows, straattheater, muziekoptredens, landschapskunst, expedities, vriendenacties en een verdiepingsprogramma. Bovendien kun je over het hele eiland genieten van prachtige natuur.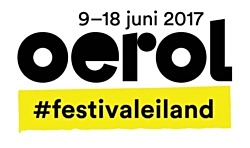 Afslag Eindhoven: Onder het Melkwoud o Amsterdam Klezmer Band o BERLIN / Het Zuidelijk Toneel o BOG. ONE. o Bos Theaterproducties / Rhythm Entertainment / De Jeugd van Tegenwoordig / Watskeburt?! The Deleted Scenes o BOT- LEK o Collectief Walden: WINDSTILLEVEN o Dadadadan Tenko / Maria Kley / Nishiko – Tsukumogami o De Hotshop – cooler dan De Warme Winkel – Indiaan o Dries Verhoeven – Guilty Landscapes Episode #2 o Gerrie Hondius met Aart, Irina, Suzanne en Maria – Varenka o Gouden Haas / PeerGrouP – Kopland o Groupe Acrobatique de Tanger – Halka o Het Atelier – Route A o Het Atelier – Route B o LeineRoebana / The Stolz / Plastique Fantastique o Loud Shadows / Liquid Events o Likeminds / Saman Amini – A seat at the table – Maas theater en dans – Rite of Spring o Moeremans&Sons / Toneelgroep Oostpool o Crashtest Ibsen: Pijler van de S… o Nhung Dam / Koos Terpstra / Urban Myth o Ha ha happiness 2.0 o NNT / Club Guy & Roni o Penthesilea o Orde van de Dag o De Idealisten o Orde van de Dag o Het leven, een PowerPoint o Orde van de Dag o Het Torentje III o Orkater / De Nieuwkomers o De Blackout van '77 o Orkater / Michiel Voet o De onzichtbare man o PeerGrouP / Staatsbosbeheer / Rijkswaterstaat o Levende Duinen o PeerGrouP / Staatsbosbeheer / Rijkswaterstaat o Zee van Zand o Pier21 o Tracks o Rudolphi Producties / Stephanie Louwrier o Revolutie van de mislukking o same same but different o NOUS SOMMES – DEMAIN o Thabi Mooi / Stichting Homunculus o Route Mortel o Theater Artemis – Hallo dampkring o Touki Delphine – Voyager One o Tryater – Wie overleeft de grutto? o Via Berlin / Berlage Saxophone Quartet o Breaking the Silence
# voor meer informatie naar website Oerol
fleursdumal.nl magazine
More in: Art & Literature News, AUDIO, CINEMA, RADIO & TV, MUSIC, Oerol, THEATRE