NEXUSLEZING 2016 DOOR PETER SELLARS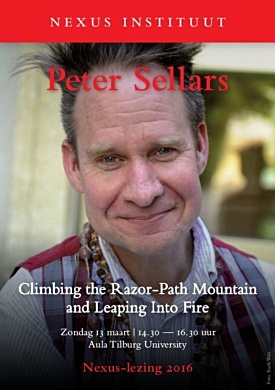 "Human beings need permission, and usually that's metaphor, to recognize that there are many layers of reality moving at any given moment, and that every small gesture has very large consequences. So opera is this amazing form, which takes a gesture, and understands it through music, poetry, dance, visual art, all at the same time."
Climbing the Razor-Path Mountain and Leaping Into Fire
Next Steps in Charged Times — The Humanities and the Aesthetics of Delight Shape and Awaken Political Consciousness
13 maart 2016  –  14.30 – 16.30
Auditorium Tilburg University
Theaterregisseur Peter Sellars, bekend van zijn onconventionele, zelfs controversiële operaregies – zoals Mozarts Così fan tutte, Händels Julio Cesare en Ligeti's Le Grand Macabre – waarvoor hij de Erasmusprijs ontving, komt op 13 maart 2016 naar het Nexus Instituut. Zijn Nexus-lezing 'Climbing the Razor-Path Mountain and Leaping Into Fire — Next Steps in Charged Times' gaat in op de eeuwigheidswaarde van kunst. Kom naar zijn hartstochtelijk pleidooi om je te laten verrassen, nieuwe werelden te ontdekken en de rol van kunst in de samenleving te (her)waarderen.
Entreekaarten
– Standaardkaart € 30
– Nexus-ledenkaart € 20 (max. 4)
– Connectkaart € 10 (t/m 35 jaar, max. 1)
– Vriendenkaarten zijn gratis (max. 2 voor Amici, max. 4 voor Patroni en Maecenates)
– Profiteer direct van korting op entreekaarten voor lid te worden van Nexus. Dat kan ook door ons te steunen als Connect-lid of Vriend van het Nexus Instituut. U ontvangt dan tevens de drie Nexus-uitgaven van 2016, waaronder Nexus 71, Wachten op de barbaren.
Programma
14.30 uur Ontvangst met koffie en thee
15.00 uur Welkom Rob Riemen
15.10 uur Nexus-lezing door Peter Sellars
16.00 uur Publiek gesprek met Peter Sellars
16.30 uur Receptie
Aanbevolen
Regisseur Peter Sellars combineert in de wereldpremière Only The Sound Remains twee op Nôh-drama's geïnspireerde opera's van de Finse componiste Kaija Saariaho.
Nationale Opera & Ballet op 15, 19, 22, 24, 27 en 29 maart.
Peter Sellars
Verenigde Staten, 1957
Peter Sellars is theaterregisseur. Hij studeerde aan Harvard en was achtereenvolgens artistiek directeur van de Boston Shakespeare Company, het American National Theater in Washington, van de Los Angeles Festivals (1990 en 1993) en de Salzburger Festspiele (1992 en 1994). Er staat een reeks onconventionele, zelfs controversiële operaregies op zijn naam, zoals Mozarts Così fan tutte, Händels Julio Cesare en Ligeti's Le Grand Macabre. Voor zijn regiewerk ontving Peter Sellars in 1999 de Erasmusprijs. Naast zijn theaterwerk doceert Sellars aan de Universiteit van Californië.
# Meer informatie op website NEXUS INSTITUUT

fleursdumal.nl magazine
More in: # Music Archive, Art & Literature News, DANCE, Nexus Instituut, THEATRE