100ste EDITIE AFRICAN SLUM JOURNAL
Gesteund door Nederlandse mediabedrijven, zijn jonge filmreporters uit de sloppenwijken van Kenia succesvol met eigen mediabedrijf: 'AFRICAN SLUM JOURNAL'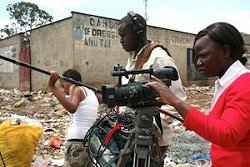 Met het uitkomen van de 100ste editie van 'African Slum Journals' hebben tien jonge Afrikaanse reporters uit de sloppenwijken van Nairobi, Kenia hun eigen mediabedrijf stevig vorm gegeven. Ze maken journalistieke filmproducties voor de Keniaanse en internationale markt. Op 4 mei a.s. in de week van de 'Internationale Dag van de Persvrijheid' verschijnt de 100ste aflevering van African Slum Journal!
In 2011 richtten de jonge filmreporters met steun van Voices of Africa Media Foundation (VoAMF) het eigen mediabedrijf Nairobi Community Media House (NCMH) op. Van hieruit geven ze hun sloppenwijken een stem. Elke twee weken maken ze een korte reportage, waarmee ze op verrassende wijze het leven in de 'slums' in beeld brengen voor een breed internationaal publiek.
In de African Slum Journals vertellen de jonge reporters de verhalen van slumbewoners. De video's tonen moeilijke én mooie beelden over het leven in de sloppen. Elke twee weken verschijnt een nieuw Journal over leven, werken, wonen, liefhebben, opvoeden, leren en overleven in de slums. Met uiteenlopende thema's zoals kunst, ondernemen, recycling, alcoholgebruik, koken of mode.
Pim de Wit, directeur VoAMF: "De Journals geven ons een authentiek beeld over wat het echt betekent om in een sloppenwijk te leven en te overleven. Door juist 'slum'bewoners een stem te geven wordt bovendien de locale mediasector in Afrika versterkt. Niet door mensen van buitenaf, maar juist door mensen die in de sloppenwijk wonen. Dat is hard nodig, omdat een zwakke media corruptie in de hand werkt."
Op dit moment werken er tien reporters voor het NCMH. Sinds de oprichting ontvangen zij een salaris en hebben zij een bestaan voor zichzelf en hun familie kunnen opbouwen. Zo is het project duurzaam."
In de jaren 2013 en 2014 heeft het NCMH een kleine winst kunnen boeken, die dit jaar een hoger peil moet bereiken om echt onafhankelijk te worden. Momenteel heeft VoAMF nog 37% van de aandelen van het NCMH. De overige 63% is al in handen van de werknemers van NCMH. In de loop van dit jaar zal VoAMF haar aandeel geheel overdragen en laten we graag een financieel gezond mediabedrijf achter.
Nairobi Community Media House gebruikt het African Slum Journal platform om nog veel meer reportages over de slums in de openbaarheid te brengen. Het is mogelijk voor NGO's om hun projecten in Kenia via een Slum Journal onder de aandacht te brengen. Hiervoor is een partnership programma ontwikkeld.
Alle African Slum Journal video's zijn via www.africanslumjournal.com te bekijken.
fleursdumal.nl magazine
More in: Art & Literature News, AUDIO, CINEMA, RADIO & TV, FDM in Africa, PRESS & PUBLISHING