THE ART OF BANKSKY IN DE BEURS VAN BERLAGE IN AMSTERAM
Europese première The Art of Banksy
Het iconische werk van street art kunstenaar Banksy is nog tot en met 30 september te bewonderen in Amsterdam. THE ART OF BANKSY toont de grootste collectie die ooit bij elkaar is gebracht en beleeft hiermee haar Europese première in de Beurs van Berlage in Amsterdam.
Steve Lazarides, voormalig agent en vriend van Banksy heeft een omvangrijke verzameling werk van Banksy bijeengebracht, die in samenwerking met Brand New Expo in de Beurs van Berlage wordt tentoongesteld.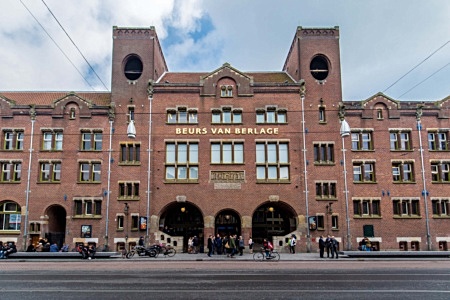 Opgesteld binnen diverse high-tech displayinstallaties zoals gereconstrueerde Londense straten, metrostations, huiskamers en zelfs Banksy's atelier vertelt THE ART OF BANKSY aan de hand van ruim 85 originele werken het verhaal van de veelbesproken kunstenaar. Hieronder ook 'Girl and Balloon' en 'Laugh Now', ooit spraakmakende statements op het snijvlak van politiek, graffiti en kunst, nu onderdeel van de grootste Banksy-collectie die ooit op deze manier is tentoongesteld. Een team van 80 man is ruim een jaar bezig geweest met het bijeenbrengen van de werken.
"Met ruim 85 kunstwerken is dit het grootste Banksy overzicht dat ooit bij elkaar is gebracht. We proberen hiermee een unieke ervaring neer te zetten. Naast de omvang is de tentoonstelling uniek in zijn soort omdat het laat zien dat de kunst van Banksy geïnspireerd is door de basisbehoeften van de mens, door Banksy's kijk op vrijheid en zijn gevoel voor humor." – aldus Steve Lazarides
THE ART OF BANKSY toont dat het werk van Banksy ook buiten de oorspronkelijke context spraakmakend is en tot nadenken stemt. Wat de tentoonstelling niet doet is antwoord geven op de vraag wie of wat Banksy is. Is het een solerende kunstenaar? Is het een collectief? Die vraag houdt de kunstwereld al sinds het begin van de jaren '90 bezig. Hoe dan ook, de Britse Banksy duikt wereldwijd op en weet met humoristische, politiek getinte en enigszins provocerende werken, die hij in de openbare ruimte plaatst, de gevestigde orde op te schudden. Veelal door met stencils afbeeldingen en teksten op muren te spuiten (onder meer aan de Palestijnse zijde van de scheidingsmuur met Israël), maar vaak ook door onder de neus van curatoren zijn werken eigenhandig in musea op te hangen, zoals het Metropolitan in New York en het British Museum in Londen.

Banksy staat bekend om zijn anti-kapitalistische boodschap en de spiegel die hij de mensheid graag voorhoudt. Zijn laatste grote werk was het vervallen 'anti-pretpark' Dismaland, dat in de zomer van 2015 langs de Britse kust nabij Bristol werd opgetuigd. Hoewel wereldwijd actief, is Banksy's werk nooit in Nederland op muren of in straten verschenen. THE ART OF BANKSY maakt het iconische werk voor het eerst op brede schaal voor de Nederlandse liefhebbers toegankelijk.
The Art of Banksy
www.theartofbanksy.amsterdam
18 juni – 30 september 2016
Beurs van Berlage, Damrak 234, Amsterdam
Dagelijks geopend van 11.00u tot 19.00u, op vrijdag tot 21.00u
fleursdumal.nl magazine
More in: Art & Literature News, Graffity, MUSEUM OF PUBLIC PROTEST, Street Art, Urban Art