UITMARKT AMSTERDAM 2016
Op het Museumplein en rondom het Leidseplein in Amsterdam presenteert de 39ste editie van de Uitmarkt onverwachte combinaties, theatrale gekte, muziek in alle toonaarden, pop up voorstellingen en een stille disco. Vertrouwde gasten en verrassende nieuwkomers verwelkomen je graag bij hun optredens. Zo pakt Yuri Honing in de Jazz club van het Concertgebouw uit, toont Conny Janssen Danst Courage in de Stadsschouwburg Amsterdam en het muzikale cabaretduo Maartje & Kine gaat los in Bellevue. Met meer dan 350 gratis optredens is de Uitmarkt hét culturele evenement van Nederland.
Opening: Om 21 uur presenteert Jörgen Raymann op vrijdag 26 augustus het openingsprogramma op het Museumplein, met onder meer Jeangu Macrooy, Lucas Hamming, Capella Amsterdam en Cirque Eloize. The New Cool Collective is de trouwe huisband van dienst deze avond. Zij zetten de toon voor een lang weekend cultuur.
Orkesten: Maar liefst zeven orkesten laten van zich horen op de Uitmarkt, zoals het Jazz Orchestra of the Concertgebouw, het Residentie Orkest en het Orkest van de 18e eeuw. Op zondagavond is de vertrouwde afsluiting met het Metropole Orkest en de Musical Sing a Long.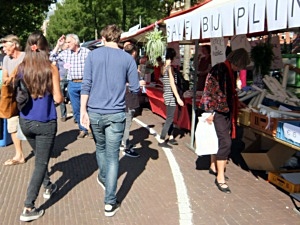 Talent groeit: Naast de grote podia met bekende artiesten is er op de Uitmarkt ook volop ruimte voor jonge talentvolle makers. Kris kras over het Museumplein loopt de Yellow Brick Road waar de nieuwe generatie makers zich presenteert te midden van het publiek. Drijvende kracht achter de Yellow Brick Road zijn de talentontwikkelaars, zoals Nowhere, Solid Ground Movenment, Don't hit mama, Poetry Circle Nowhere, Spin Off en Theater De Gasten. Op en rondom het Vrije Uitloop-podium pakt het Amsterdam Fringe Festival uit met een theatraal kippenhok.
Uitmarkt Junior: Speciaal voor de jeugd is er een eigen programma met optredens en activiteiten. Bij Kids@work kunnen kinderen zelf aan de slag – acteren, schilderen of een filmpje maken; het kan allemaal.
Uitmarkt Boeken & Informatie: Welke boeken gaan we lezen en welke exposities en voorstellingen mogen we niet missen? Op de Informatiemarkt presenteren culturele ins1tellingen hun aanbod en op de Uitmarkt Boeken kun je zowel nieuwe schrijftalenten als bekende auteurs spotten.
Uitmarkt 2016
Landelijke opening cultureel seizoen
Op het Museumplein en rondom het Leidseplein in Amsterdam
Vrijdag 26, Zaterdag 27 en Zondag 28 augustus 2016
# Meer info op website Uitmarkt
fleursdumal.nl magazine
foto: fdm mag
More in: Art & Literature News, AUDIO, CINEMA, RADIO & TV, DANCE, Literary Events, MUSIC