Ton van Reen: Het diepste blauw (050). Een roman als feuilleton
Een man op een racefiets stopt bij Mels, trekt hem op het pad en jaagt weer verder. Alles zonder woorden, in grote haast, om de verloren tijd goed te maken.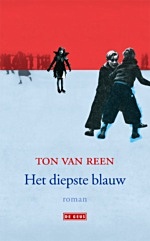 Tegenover de molen staat de villa die directeur Frans-Joseph heeft laten bouwen. Zo groot als het huis is, toont het vooral hoe klein de watermolen is. Het is respectloos tegenover de geschiedenis van de fabriek waarvan de wortels bij de watermolen liggen. Na het vertrek van Frans-Joseph naar Zwitserland heeft het grote huis een paar jaar leeggestaan. Nu wordt het verbouwd. Niemand weet voor wie.
Op de parkeerplaats bij de watermolen staan al auto's. Het huis van grootvader Bernhard is veranderd in een restaurant met dagcafé. Er lopen mensen rond de molen. Ze fotograferen elkaar bij het draaiende waterrad dat gifgroene schoepen heeft gekregen die blikkerig rammelen, alsof er kiezelstenen in rond rollen. Het geluid is zo onecht dat het pijn doet in de oren van iemand die het geluid van de oorspronkelijke molen kent.
De molen lijkt op een sprookjesmolen uit een kinderboek. Het is een museum geworden, met winkel. Er worden pakken meel van verschillende graansoorten verkocht. En koeken, gebakken volgens een recept van de vroegere molenaarsvrouw. Dat staat op het etiket. Maar Mels kan zich geen molenaarsvrouw herinneren, of het moet de weduwe Hubben-Houba zijn, maar ze was al dood voordat hij werd geboren. Van haar weet men nog nauwelijks iets. Op het kantoor hing een vergeelde foto van haar. En hij kent haar handschrift van de rekeningen en loonboekjes.
Hij proeft het stukje koek dat hij, net als iedereen die plaatsneemt op het terras, aangeboden krijgt. Het smaakt naar zoet brood. Maar niet dat van vroeger. Zo zoet, dat bestond toen niet.
Door de openstaande deur ziet hij dat de as die het waterrad koppelt met de overbrenging naar de molensteen is losgemaakt. Achter een kast zit een elektromotor verborgen die de molen aandrijft. Wie niet weet hoe het maalwerk werkt, ziet het niet. Het waterrad draait nutteloos rond. Het maakt Mels kwaad. Zo wordt het publiek dat meel uit grootmoeders tijd koopt, belazerd.
Hij bestelt koffie. Het meisje dat de bestelling noteert, vraagt achteloos of hij ook een pak koeken wil kopen. Hij geeft geen antwoord. Hij windt zich op over het bedrog.
Hij zit vlak bij het keukenraam van grootvader Bernhard. Vroeger was het donkerblauw, nu is het geverfd in een zoetroze kleur. Niets is hier nog echt. Van het werk van grootvader Bernhard, die de molen had teruggebracht in zijn oorspronkelijke staat, is niets over.
Ton van Reen: Het diepste blauw (050)
wordt vervolgd
fleursdumal.nl magazine
More in: - Book Stories, - Het diepste blauw, Archive Q-R, Reen, Ton van