Ton van Reen: Het diepste blauw (049). Een roman als feuilleton
`Koop je veters van me? Knopen? Karamels? Ulevellen?'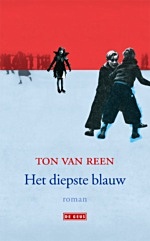 In de schaduw van de linden staat de zigeunerin die soms in het dorp komt venten, aan de ene arm een tas met koopwaar, op de andere arm een kind. Haar man zit op het stoepje voor een huis een sigaret te roken. In zijn karretje liggen dikke rollen touw, voor paarden en schepen. Jammer dat in dit dorp de paarden langzaam maar zeker vervangen worden door vrachtwagens en tractors en dat er buiten een paar roeibootjes op de Wijer geen schepen te vinden zijn.
Alleen grootvader Bernhard werkt nog met touw, voor de hijsinrichting in de watermolen. Hij leert hun hoe ze touw moeten knopen, om sterke verbindingen te maken.
Een jongen van zijn eigen leeftijd zit roerloos onder een boom. Hij kijkt naar Mels als een kat die weet dat ze bespied wordt. Het is Jacob, nu ziet hij het pas.
`Heb je je viool bij je?' vraagt Mels.
`Ik speel niet meer.'
`En je bent zo goed.'
`Wat ik mooi vind, vinden de mensen niet mooi.'
`Toen speelde je "Twee koningskinderen".'
`Weet ik. Ik speelde het vaak. Te vaak. Ik speel het nooit meer.'
`Ik snap hem niet', zegt zijn vader. `Hij verdient tien keer zoveel met zijn viool als ik met de verkoop van touw.'
Pas heeft Mels nog met grootvader over zigeuners gesproken. Zoiets noemt Thija een voorschouw. Dat je praat over iets waar je nog niets van weet maar dat binnenkort gaat gebeuren. Thija heeft dat vaak. Ze is helderziende. Soms weet ze dingen over hen die ze eigenlijk helemaal niet kan weten. Of dingen die hij gedroomd heeft. Sommige kinderen op school zijn bang voor haar, omdat ze met haar lichte ogen door hen heen kan kijken.
De vrouw heeft zwart haar en donkere ogen en draagt een bonte rok met diermotieven die tot op de grond hangt. Vogels, eekhoorns, konijnen, alle dieren van het bos leven met haar mee in de beweging van haar rok.
`Voor een stuiver karamels', zegt Mels.
Ze telt tien karamels af, licht- en donkerbruin in doorzichtige papiertjes. Ze doet er gratis vijf ulevellen bij.
`Dank u wel.'
`Je lijkt op mijn jongen', zegt ze.
`Oh', antwoordt hij verbaasd. Meer weet hij niet te zeggen. Sabbelend loopt hij naar de boot. Hij voelt zich wat ongemakkelijk. Het was net of de zigeunerin hem iets wilde vertellen. Hij had haar ook wat kunnen vragen, nu is het net of het hem niet interesseert.
Hij hoort dat hij gevolgd wordt. Het is de jongen.
Mels springt in de boot.
`Is die boot van jou?'
`Ja.'
`Ik wil ook graag varen.'
`Als je wilt, mag je een stuk mee.'
`Vandaag kan niet. We gaan zo naar huis.'
`Dan een andere keer.'
`Graag. Zit je op school?'
`Ja, natuurlijk. Jij dan niet?'
`Geen tijd voor. Nou, tot gauw.'
`Tot ziens.'
Mels roeit weg.
Ton van Reen: Het diepste blauw (049)
wordt vervolgd
fleursdumal.nl magazine
More in: - Book Stories, - Het diepste blauw, Archive Q-R, Reen, Ton van