Ton van Reen: Het diepste blauw (039). Een roman als feuilleton
Al vroeg in de ochtend vertrekt zijn vader in de zwarte Ford naar de boeren, om graan in te kopen voor de meelfabriek.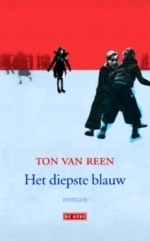 Zijn werk kost zweet, bloed en tranen. Directeur Frits schrijft zijn vader voor hoeveel hij uit mag geven en daar mag hij geen cent bovenop doen.
`Onderhandelen met boeren over een prijs is bijna onmogelijk', zegt vader. `Ze willen het onderste uit de kan. De room is voor de boeren en toch voelen ze zich altijd bestolen.'
Wat vader over de boeren vertelt, is precies het tegenovergestelde van wat grootvader Bernhard erover vertelt. Die zegt altijd dat de boeren te weinig krijgen.
Vader zwerft door het hele land. Bijna elke week brengt hij handdoeken mee waarop de namen van de hotels zijn geborduurd. Moeder is daar kwaad over, omdat hij ze pikt, maar hij zegt dat hij erom vraagt en ze krijgt als souvenirs. Ze hebben er een kast vol van, maar moeder gebruikt ze nooit.
Vader is alleen op zondag thuis, maar ook dan heeft hij geen tijd voor Mels. Dan gaat hij naar de hoogmis en daarna kaarten in het café. Daar is dan ook de jonge directeur Frans-Joseph, die een kwade dronk heeft. In het café gaat hij net zo tekeer tegen zijn kaartvrienden als door de week tegen de arbeiders. Niemand durft tegen hem te zeggen dat ze liever zonder hem kaarten. Zeker Mels' vader niet.
`Rot maar op', hoeft Frans-Joseph maar te zeggen. `Rot jij maar op.' Zoals hij dat soms tegen mensen zegt als hun gezicht hem niet aanstaat of hun werk hem niet bevalt. Ze moeten altijd oppassen voor de directeuren.
Het kaarten eindigt meestal met ruzie. Vaak gaat Frans-Joseph met herrie naar huis. Als vader na zo'n kaartpartij thuiskomt, zegt hij geen stom woord en heeft hij hoofdpijn.
Soms zoekt Mels zijn vader op in het café. Dan krijgt hij limonade. Maar daar is het hem niet om te doen. Hij wil hem alleen maar vragen om naar huis te komen, omdat moeder op hem zit te wachten. Vader blijft altijd net zo lang in het café als de directeur en vaak is dat tot aan het avondeten.
Slechts op een enkele zondag, als Frans-Joseph op reis is of gewoon op vakantie, gaan ze met het gezin een stukje rijden. Na het middagdutje van vader. Nooit ver. Vader rijdt niet graag op zondag. Mels vindt die korte ritjes niet erg. Later haalt hij de schade wel in. Dan koopt hij zelf een Ford of een Borgward Isabella. Net zo'n grote zwarte bak als directeur Frits heeft.
Ton van Reen: Het diepste blauw (039)
wordt vervolgd
fleursdumal.nl magazine
More in: - Book Stories, - Het diepste blauw, Archive Q-R, Reen, Ton van