Tentoonstelling over MARIA in Museum Catharijneconvent in Utrecht
Iedereen weet hoe Maria eruitziet en zal haar beeltenis kunnen herkennen. Ook is bekend dat ze de moeder van Jezus is. Maar over haar leven weten we niet veel. Waarom is ze al eeuwenlang zo populair? Hoe doet ze dat? En wat zegt dat over ons?
De tentoonstelling Maria blijft ruim 6 maanden open om heel Maria-minnend Nederland de kans te geven haar te ontmoeten. Want ongeacht cultuur of religie, Maria is van alle tijden en van iedereen. Mooie en verrassende verbeeldingen van Maria in de kunst vertellen haar meer dan wonderlijke levensverhaal. Ga met Maria op een inspirerende reis door twee millennia, vol nieuwe kennis en inzichten over de meest invloedrijke en meest afgebeelde vrouw ter wereld.
Maria brengt veel fascinerende Maria's uit nationale en internationale collecties samen, waarbij gekozen is voor spannende combinaties. Er komen schitterende Maria's uit o.a. de Koninklijke Musea voor Schone Kunsten van België, Museum Boijmans van Beuningen, het Van Gogh Museum, het Mauritshuis en natuurlijk uit Museum Catharijneconvent zelf.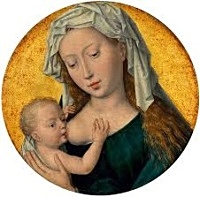 Ontdek hoe veelzijdig deze wereldvrouw is: zij is onderwerp van ikonen en schilderijen, manuscripten, sculpturen, tatoeages en video-installaties. En het zijn niet de minsten die zich door Maria lieten inspireren: o.a. Rubens, Pieter de Grebber, Rembrandt, Jan Toorop, Bill Viola, Jan Fabre en Maria Roosen zijn vertegenwoordigd.
Maria's wonderlijke levensverhaal loopt als een rode draad door de tentoonstelling die de gehele bovenverdieping van het museum beslaat. Vanaf de conceptie tot aan haar tenhemelopneming is Maria in uitingen van kunst te volgen. Ook thema's als devotie en bedevaart passeren de revue. De tentoonstelling laat zien hoe zeer Maria een mondiaal symbool is voor liefde, vrouw-zijn, gezin, angst, verdriet, troost en bescherming.
Waarom is Maria misschien wel de machtigste vrouw op de wereld? In ieder geval de meest afgebeelde vrouw en moeder, daar kan geen popster tegenop. Je zou haar een cultureel fenomeen kunnen noemen. U ontmoet Maria ook in relatie tot andere hedendaagse religies. Maria komt zelfs meer voor in de Koran dan in de Bijbel.
Het gevoel, de warme associaties en emoties die Maria oproept komen in de tentoonstelling naar voren in de persoonlijke verhalen of ervaringen van diverse bekende en onbekende Nederlanders. Deze verhalen komen samen in bijzondere filmpjes die door de tentoonstelling heen verweven zijn.
Geen dag zonder Maria is een reis door het hele jaar, waarbij de lezer elke dag wordt verrast door Maria: met een feest of een legende, een mooi gedicht of gebed, een opmerkelijk weetje, een Mariaverschijning, een lach en een traan, een bijzonder recept. Het boek laat zien waar de wereldwijde verering van Maria vandaan komt en hoe Maria mensen tot op de dag van vandaag inspireert.  Dit rijk geïllustreerde boek is vanaf 10 februari in de museumshop verkrijgbaar. Prijs: € 24,95
Sinds de start bezochten al ruim 30.000 mensen de tentoonstelling Maria. De grootste tentoonstelling uit de geschiedenis van Museum Catharijneconvent is met recht een succes te noemen. Het veelbewogen leven van Maria, verbeeld door beroemde kunstenaars als Joos van Cleve, Rubens, Rembrandt, Jan Toorop en Bill Viola, weet mensen tot vandaag de dag nog steeds te raken.
Nog te zien t/m 20 augustus 2017
Tentoonstelling: Maria
Museum Catharijneconvent
Lange Nieuwstraat 38
3512 PH Utrecht
Bel: 030 231 38 35
info@catharijneconvent.nl
  #  meer info op website Museum Catharijneconvent  
fleursdumal.nl magazine
More in: - Book News, Art & Literature News, CATHEDRALS, DICTIONARY OF IDEAS, Exhibition Archive, FDM Art Gallery, The Ideal Woman