Schrijver-criticus EMILE VERHAEREN en de kunst van zijn tijd in MSK Gent
Verhaeren verbeeld
De schrijver-criticus Emile Verhaeren en de kunst van zijn tijd
Nog te zien t/m 15.01.2017 in M.S.K. in Gent
In samenwerking met het Verhaerenmuseum in Sint-Amands aan de Schelde en de Université Libre de Bruxelles organiseert het Museum voor Schone Kunsten Gent een grote tentoonstelling over de uit Gent afkomstige dichter en kunstcriticus Emile Verhaeren, die 100 jaar geleden overleed.
De tentoonstelling belicht het universele karakter van Verhaerens oeuvre, zijn netwerk binnen de kunstwereld rond de eeuwwisseling en de internationale aandacht voor zijn werk, in eerste instantie in België en Frankrijk, maar ook in Rusland en andere landen.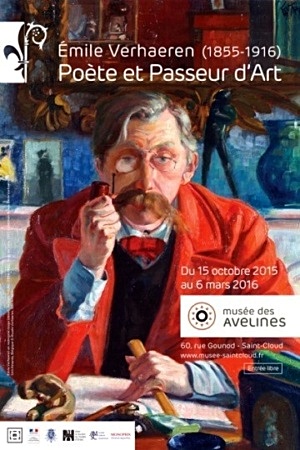 Emile Verhaeren volgde tussen 1880 en 1916 volgde hij nauwgezet de ontwikkeling van de Belgische avant-garde-kunst. Hij verdedigde het naturalisme en de sociale kunst, het impressionisme en het neo-impressionisme, het symbolisme. Bovenal was hij een verdediger van de moderniteit die hij in de kunst van zijn tijd terugvond.
In zijn poëzie en geschriften bundelt Verhaeren zijn gevoelens, passies en artistieke strijdpunten. Meer dan 100 jaar later laten ze ons toe het werk van nationale en internationale kunstenaars te herontdekken door de ogen van een eigenzinnig kenner.
De tentoonstelling brengt de historische en artistieke context tot leven waarin het oeuvre van de dichter-criticus tot stand kwam. Het MSK laat o.a. de rijke collectie schilderijen, beeldhouwwerken en werken op papier zien. Zoals publiekslievelingen als 'De Lezing van Emile Verhaeren' door Théo Van Rysselberghe of 'Kinderen aan het ochtendtoilet' van James Ensor in dialoog met collectiestukken die de reserves weinig verlaten.
Tegelijk haalt het MSK een grote reeks kunstwerken uit internationale publieke en private verzamelingen naar Gent, met stukken van ondermeer Auguste Rodin, Paul Signac, Maximilien Luce of Odilon Redon. Ook kunstenaars als Léon Frédéric, Eugène Laermans en Constantin Meunier, Jan Toorop en Guillaume Vogels, Henry Van de Velde, Fernand Khnopff en George Minne kunnen uiteraard niet ontbreken. In totaal brengt het MSK niet minder dan 200 werken uit het fin de siècle op zaal.
Verhaeren verbeeld
De schrijver-criticus Emile Verhaeren en de kunst van zijn tijd (1881-1916)
Nog te zien t/m 15.01.2017 in M.S.K. in Gent
Museum voor Schone Kunst Gent
Fernand Scribedreef 1
Citadelpark
9000 Gent
# Meer informatie op website MSK Gent
fleursdumal.nl magazine for art & literature
More in: Archive U-V, Art & Literature News, Art Criticism, Exhibition Archive, Historia Belgica, Verhaeren, Emile