PAUL VERLAINE IN PRISON IN MONS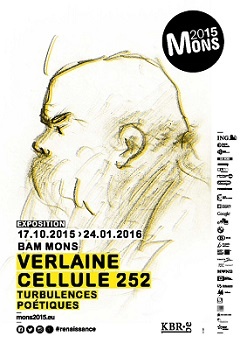 Verlaine. Cellule 252
Turbulences poétiques
History of Paul Verlaine and Belgium
Verlaine's time in prison in Mons marks a turning point in the artist's work as well as in his moral life. In July 1873, at a hotel in Brussels, Verlaine shot Rimbaud twice with a revolver. After spending some time in prison in Brussels, he spent most of his sentence in Mons, where he wrote some of his most wonderful masterpieces.
 On 25 October 1873, Verlaine arrived in Mons in his prison wagon. The poet was torn between his family and his passionate love for the young Rimbaud, and he had crossed the line. He shot his lover with a revolver, and spent the rest of his sentence in prison in Mons. In cell 252, Verlaine mulled things over. He thought about his life of debauchery and reflected. How had he arrived at this point? Why could he not draw a line under this destructive passion? In Mons, Verlaine did some soul-searching and turned to religion to heal his wounds. He fell in love with Jesus as he had become infatuated with Rimbaud just a few months earlier. He wanted to re-establish a healthier lifestyle and win back his wife's trust. To transform intoxication into wisdom. Verlaine's time in prison in Mons marked a turning point in the artist's work as well as in his moral life.
In his cell, the writer got bored. He spent a lot of time writing. He was granted access to books, and he was not forced to work. In Mons, he wrote some of his most stirring work. He would go on to think of bringing his texts together into a collection called "Cellulairement" (literally, cellularly), but he gave up the idea and these poems were mainly divided between three anthologies: "Sagesse" (wisdom), "Jadis et naguère" (yesteryear and yesterday) and "Parallèlement" (in parallel). The experts are unanimous. From both a human and a literary point of view, his time in prison in Mons transformed Verlaine. He left Hainaut's capital on 16 January 1875 after being granted an early release, and did not return until twenty years later to give a series of talks. His demons had resurfaced and he was a mere shadow of his former self.
Une coproduction de la Fondation Mons 2015, du Pôle muséal de la Ville de Mons et de la Bibliothèque royale de Belgique.
Until 24/01/2016
BAM – Rue Neuve, 8 – 7000 Mons – Belgium
# Website BAM Mons
fleursdumal.nl magazine
More in: *Archive Les Poètes Maudits, Archive Q-R, Archive U-V, Rimbaud, Arthur, Verlaine, Paul