Open ateliers Tilburgse kunstenaars
Onder rook van het Wilhelminapark liggen de ateliers van vier Tilburgse kunstenaars die bij elkaar binnenlopen, over hun werk praten en soms elkaar inspireren. Dat zijn Sjon Brands (beelden), John Dohmen (zeefdruk), Rudi Klumpkens (fotografie) en Carin de Kok (keramiek).

Ondanks uiteenlopende disciplines en divers werk vinden ze elkaar als gedreven makers met een no nonsense kijk op kunst. Hun contact bestaat uit kijken naar elkaars werk en praten over het proces dat daartoe leidt.
Naast in het oog springende verschillen zijn er ook onderliggende overeenkomsten te ontdekken. Dat is aanleiding om samen naar buiten te treden met deze open atelierdagen. De kunstenaars tonen hun werk, recent of nog in uitvoering, en reageren op elkaar.U bent van harte welkom!
◊ Sjon Brands maakt beelden van vreemde vogels en luchtschepen. Recent zijn zijn 'readymades', gecomponeerd uit gebruiksvoorwerpen en oude instrumenten. Ook ziet u zijn verkenningen voor een nieuwe reeks beelden rondom 'leegte'.
◊ John Dohmen is 40 jaar thuis in de zeefdruk. Internationaal is hij befaamd als meester-drukker voor kunstenaars, thuis concentreert hij zich op zijn eigen oeuvre, waarin hij een uitgesproken vrije opvatting over de zeefdruk-techniek etaleert.
◊ Rudi Klumpkens maakt bijzondere en kleurrijke foto's. Foto's zoals zijn wereld zich aan hem laat zien, vastgelegd in een kader om mee naar huis te nemen en natuurlijk ook om anderen te laten zien.
◊ Carin de Kok laat ouder en gloednieuw werk zien, beelden van klei, met kleur en glazuur, als pure klei, handgemaakt of als gietwerk. Soms functioneel, maar steeds met humor of ironie. Always in progress.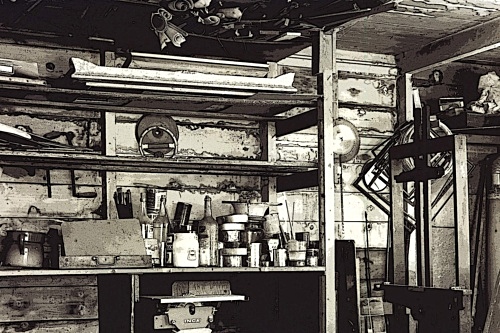 De open ateliers zijn op 8, 9 en 10 december en 15, 16 en 17 december 2017.
Vrijdagavond van 20.00 – 23.00 uur, zaterdag- en zondagmiddag van 14.00 – 17.00 uur.
Plaats: Stedekestraat 15 en Wilhelminapark 54 (Goretti) te Tilburg.
Toegang gratis.
De feestelijke finissage is op zondagmiddag 17 december vanaf 15.00 uur.
Open Ateliers Wilhelminapark Tilburg
Sjon Brands (beelden)
John Dohmen (zeefdruk)
Rudi Klumpkens (fotografie)
Carin de Kok (keramiek)
8, 9 en 10 december en 15, 16 en 17 december 2017
fleursdumal.nl magazine
More in: Art & Literature News, Exhibition Archive, FDM Art Gallery, Park, Sjon Brands