Marcel BROODTHAERS: Eine Retrospektive
Marcel Broodthaers. Eine Retrospektive ist eine große Überblicksschau über das facettenreiche Werk des belgischen Künstlers Marcel Broodthaers (1924 –1976), der im Umfeld von Pop, Minimal und Konzeptkunst eine eigenwillige, kritische Position formuliert. Broodthaers wandte sich im Alter von vierzig Jahren von der Dichtung kommend der bildenden Kunst zu und fand mit seinen installativen, kinematografischen und institutionskritischen Arbeiten innerhalb kürzester Zeit großen Anklang in der avantgardistischen Kunstszene Europas.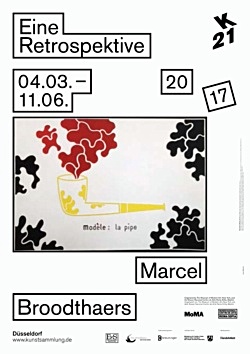 Die über vier Jahre am Museum of Modern Art, New York, und am Museo Nacional Centro de Arte Reina Sofia, Madrid, sorgfältig entwickelte Ausstellung von über 400 Werken unterschiedlichster Medien und Gattungen findet mit der Düsseldorfer Station ihren Abschluss an dem Ort, der Broodthaers' kurze, aber höchst produktive künstlerische Karriere weitgehend befördert hat. In Düsseldorf hat Broodthaers nicht nur gelebt (von 1970 bis 1972) und entscheidende Impulse der lokalen, international bestens vernetzten Kunstszene aufgenommen, verarbeitet und zurückgegeben.
In Düsseldorf wurden auch etliche Arbeiten und Ausstellungen realisiert, darunter die zu Broodthaers' Hauptwerk "Musée d'Art Moderne, Département des Aigles" (Museum Moderner Kunst, Abteilung Adler), 1968 – 72, gehörende legendäre Schau "Section des Figures" (Sektion der Figuren), 1972, in der Städtischen Kunsthalle Düsseldorf.
Die lange erwartete Retrospektive von Marcel Broodthaers führt in ein faszinierendes Werk ein, das mit seinem Verständnis von Poesie als "Störung von Weltordnung", von "Poesie als indirekter politischer Frage" für eine radikal offene und prozessuale Lesart von Kunst plädierte und damit maßgeblich zu einem bis heute gültigen Verständnis von Kunst beigetragen hat.
Marcel Broodthaers. Eine Retrospektive wurde kuratiert von Christophe Cherix, The Robert Lehman Foundation Chief Curator of Drawings and Prints at MoMA, und Manuel J. Borja-Villel, Direktor Museo Nacional Centro de Arte Reina Sofía, zusammen mit Francesca Wilmott, kuratorische Assistenz am Department of Drawing and Prints, MoMA. In der Kunstsammlung Nordrhein-Westfalen, Düsseldorf, wird die Ausstellung von der Kuratorin Doris Krystof betreut.
Die Ausstellung
Marcel Broodthaers.
Eine Retrospektive
04.03 – 11.06.2017
K21 Ständehaus
Ständehausstraße 1
40217 Düsseldorf
fleursdumal.nl magazine
More in: *Concrete + Visual Poetry A-E, Art & Literature News, FDM Art Gallery, Marcel Broodthaers, Marcel Broodthaers