JAN FABRE: TRIBUTE TOT HIERONYMUS BOSCH IN CONGO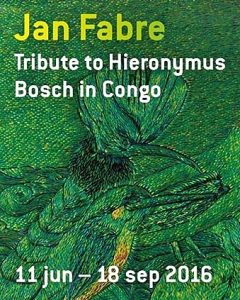 Tribute to Hieronymus Bosch in Congo
Jan Fabre
Nog te zien t/m 18 september 2016
De wereldberoemde Belgische kunstenaar Jan Fabre (Antwerpen, 1958) maakte tussen 2011 en 2013 een serie monumentale 'mozaïekpanelen' onder de titel 'Tribute to Hieronymus Bosch in Congo'.
De serie maakt deel uit van zijn kritische reflecties over het koloniale verleden van België, een thema dat sinds 2002 veelvuldig voorkomt in het werk van Fabre.
Beeldtaal Jheronimus Bosch: Tribute to Hieronymus Bosch in Congo is een symbolische verbeelding van de wreedheden en de absurditeit die Congo heeft ondergaan, gebruik makend van de beeldtaal uit de schilderijen van Jheronimus Bosch. Het beeld van elk mozaïekpaneel wordt gevormd door het toepassen van natuurlijk geruid iriserende prachtkever dekschilden . Het geeft ze een mysterieuze, onwerkelijks uitstraling, letterlijk en figuurlijk.
De werken van Jan Fabre maken duidelijk dat de beeldtaal van Jheronimus Bosch niets aan relevantie heeft verloren in de 500 jaar sinds zijn overlijden. Met de huidige generatie kunstenaars krijgt de beeldtaal van Bosch weer een nieuw publiek en een andere stem. Tegelijkertijd zijn deze werken van Fabre, met hun grote formaat en uniek materiaalgebruik, totaal anders dan het werk van Bosch zelf.
Bosch Grand Tour: Deze tentoonstelling maakt onderdeel uit van Bosch Grand Tour. Zeven vooraanstaande Brabantse musea presenteren in 2016 een hedendaags tentoonstellingsprogramma rondom Jheronimus Bosch. Laat u inspireren en verrassen tijdens een ontdekkingstocht langs actuele kunst, design en cultuur in 's-Hertogenbosch, Breda, Eindhoven en Tilburg.
Het Noordbrabants Museum
Verwersstraat 41
's-Hertogenbosch
# meer info website Noordbrabants Museum
fleursdumal.nl magazine
More in: Art & Literature News, Exhibition Archive, Jheronimus Bosch, Spurensicherung