Invocation to Daughters, poetry by Barbara Jane Reyes
Feminist experimental poetry in the tradition of Audre Lorde and Theresa Kyung Cha from a prominent Filipina American poet.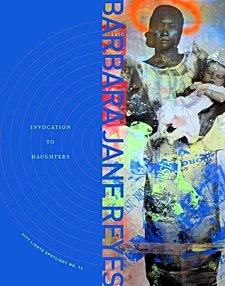 Invocation to Daughters is a book of prayers, psalms, and odes for Filipina girls and women trying to survive and make sense of their own situations. Writing in an English inflected with Tagalog and Spanish, in meditations on the relationship between fathers and daughters and impassioned pleas on behalf of victims of brutality, Barbara Jane Reyes unleashes the colonized tongue in a lyrical feminist broadside written from a place of shared humanity.
Barbara Jane Reyes is the author of Invocation to Daughters (City Lights Spotlight Poetry Series, 2017). She was born in Manila, Philippines, raised in the San Francisco Bay Area, and is the author of four previous collections of poetry, To Love as Aswang (Philippine American Writers and Artists, Inc., 2015), Gravities of Center (Arkipelago Books, 2003), Poeta en San Francisco (Tinfish Press, 2005), which received the James Laughlin Award of the Academy of American Poets, and Diwata (BOA Editions, Ltd., 2010), which received the Global Filipino Literary Award for Poetry. She is also the author of the chapbooks Easter Sunday (Ypolita Press, 2008) Cherry (Portable Press at Yo-Yo Labs, 2008), and For the City that Nearly Broke Me (Aztlán Libre Press, 2012). Invocation to Daughters is volume 16 in the City Lights Spotlight Series.
Invocation to Daughters
City Lights Spotlight Series No. 16
Barbara Jane Reyes
Publisher City Lights Publishers
Format Paperback
First Published 07 November 2017
Nb of pages 86 p.
ISBN-10 0872867471
ISBN-13 9780872867475
List Price $14.95
Invocation to Daughters is included in this list of books that are "urgent as ever" in todays' political climate. – Publishers Weekly
fleursdumal.nl magazine
More in: - Book News, - Book Stories, Archive Q-R, Art & Literature News, EXPERIMENTAL POETRY