FESTIVAL NEU NOW 2016 IN WESTERGASFABRIEK AMSTERDAM
Over the past seven years, NEU NOW has established an innovative international festival that features a curated selection of emerging artists entering international art arenas. For the eighth edition, NEU NOW returns to the spaces of the Westergasfabriek to present a multidisciplinary programme that aims to highlight cultural exchange and the fluid character of the artistic disciplines.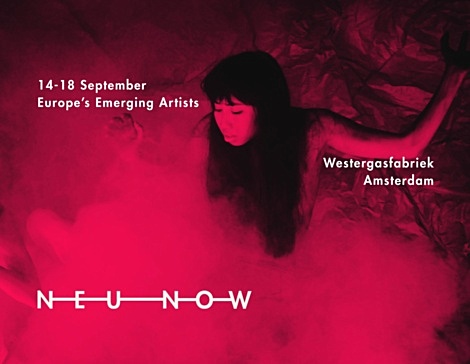 NEU NOW 2016 is a five-day celebration of arts in Amsterdam that welcomes 60 artists from 18 countries. From the 14th to the 18th of September, NEU NOW brings together a generation of rising artists from across Europe and beyond to share their works, practices and cultural perspectives in ways that encourage future collaborations.
NEU NOW exhibition
At the heart of the festival is the NEU NOW exhibition. Located in the Machinegebouw at the Westergasfabriek, NEU NOW exhibition houses 12 artworks from a broad range of disciplines including design, architecture, visual art and more. On Sunday the 18th of September, each exhibiting artist will present and explain their work in an interactive artist talk that explores their unique artistic practice and perspective. The exhibition is open every day and free of charge.
Artists on view at NEU NOW exhibition are:
Design/Architecture
Emilia Strzempek-Plasun (PL), Emma Dahlqvist (SE), Katalin Júlia Herter (HU), Stine Aas (NO)
Visual Arts
Alberto Condotta (UK), Alicja Symela (PL), Massimiliano Di Franca (BE), Jaeyong Choi (DE), Jonas Böttern and Emily Mennerdahl (SE), Lana Ruellan (FR), Lea Schiess (NL), Yi-Ting Tsai (TW), Viktorija Eksta (LV), Vladimir Novak (CR), Eva Giolo (BE)
NEU NOW performance
This year NEU NOW performance will take place in the Westergastheater and its surrounding area, with two or more exciting performances occurring daily. From theatre and dance, to music and sound, the performances offer a variety of themes and styles. After each performance visitors are invited to join the NEU NOW artist talks.
Performing artists are:
Theatre/Dance
Destiny's Children (CH), Hsu Chen Wei Production Dance Company (TW), Nína Sigridur Hjalmarsdottir (IS), Theodore Livesey & Jacob Storer (BE), Zapia Company (SP)
Music/Sound
Jimmi Hueting (NL) , Teresa Doblinger (CH), Topos Kolektiv (CZ)
NEU NOW film
The 90 minute NEU NOW film programme at Ketelhuis will feature screenings of a variety of genres.
Film/Animation
Andrea Alessi (IT), HXZ (BE), Marek Jasan (SK), Sophie Dros (NL), Yaron Cohen (NL)
NEU NOW next
In addition to the core programme, NEU NOW invites visitors to delve deeper into their understanding of the presented artworks and artistic practices by getting involved in a variety of artist talks offered onsite at the Westergasfabriek. NEU NOW is also proud to present its very first speaker's programme, during which a variety of influencers from the art world will talk about the ever-pressing issue of (Making a) Living in the Arts.
The speaker's programme is free of charge and open to the public.
NEU NOW nacht
On the evening of Saturday the 17th of September, NEU NOW, in collaboration with Warsteiner, invites visitors to enjoy a festive late-night programme, with music, drinks, and much more. Music of the night will be provided by deadHYPE and Jimmie Hueting's avant-garde pop band Jo Goes Hunting.
View the timetable for the exact dates and times.
NEU NOW 2016 will be held at Amsterdam's Westergasfabriek from the 14th to the 18th of September 2016.
Locations Amsterdam NL
NEU NOW exhibition – Machinegebouw, Pazzanistraat 8
NEU NOW performance – Westergastheater, Pazzanistraat 15
NEU NOW film – Het Ketelhuis, Pazzanistraat 4
# More information on website NEU NOW 2016
fleursdumal.nl magazine
More in: Art & Literature News, AUDIO, CINEMA, RADIO & TV, DANCE, Design, Exhibition Archive, Fashion, Literary Events, MUSIC, Photography, THEATRE