DE BALIE: MACHINES DIE DENKEN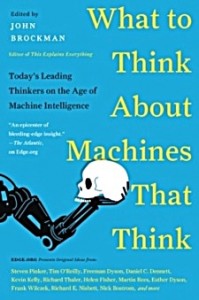 Podium / maandag 4 april 2016 / 20:00
Machines die denken
Waar staan we eigenlijk als het op Kunstmatige Intelligentie aankomt? Kom op 4 april met ons meedenken over machines die denken.
De komst van kunstmatige intelligentie is al decennialang een bron van fascinatie en angst. Zo luidde Stephen Hawking onlangs nog de noodklok dat het de ondergang van de mensheid kan betekenen: een scenario dat in talloze films al is uitgekomen. Ondertussen worden de 'denkende machines' steeds meer daadwerkelijk onderdeel van onze maatschappij – denk maar aan intuïtieve zoekmachines die snappen wat je bedoelt ook al zit je zoekopdracht bomvol spelfouten, of de agenda-app die je vertelt dat je eerder moet vertrekken voor je volgende afspraak omdat er file staat. Maar wat betekenen deze steeds slimmere machines voor ons?
John Brockman, oprichter van Edge.org (volgens The Guardian 'de slimste website ter wereld') , stelt ieder jaar één prangende vraag aan een selectie van 's werelds meest invloedrijke denkers.
Dit jaar vroeg hij:  Hoe denk je over machines die denken?
Steven Pinker, Douglas Coupland, Brian Eno, Luc Steels, George Dyson, Max Tegmark, Nicholas Carr en 182 anderen gaven antwoord in de uitgave Machines die denken (maart 2016, Maven Publishing). Op 4 april gaan we in De Balie geïnspireerd door deze antwoorden gezamenlijk nadenken over machines die denken. Hoe kunnen we de talloze nieuwe mogelijkheiden interpreteren? Langs welke meetlat moeten we ze leggen? Welke denkfouten maken we hierbij? En hoe kunnen we intelligent omgaan met de risico's? Kortom: hoe denken we over machines die denken?
Met o.a.
– Luc Steels (VUB Artificial Intelligence Lab)
– Fred Spier (senior lecturer Big History aan de Universiteit van Amsterdam)
– Thalia Verkade (De Correspondent, Rusland-researcher bij Zeppers)
John Brockman:
What to Think About Machines That Think.
Today's Leading Thinkers on the Age of Machine Intelligence
ISBN:978 94 9184 582 6
HarperCollins Publishers Inc
576 p. – € 17,95
Machines die denken: Invloedrijke denkers over de komst van kunstmatige intelligentie
Onder redactie van John Brockman
Maven Publishing
Willem Fenengastraat 2L
1096 BN Amsterdam
Paperback | € 20 | ISBN 9789491845826
E-boek | € 10 | ISBN 9789491845901
De Balie
Kleine Gartmanplantsoen 10
Amsterdam, Netherlands
# meer info op website de balie
fleursdumal.nl magazine
More in: Art & Literature News, DICTIONARY OF IDEAS, MONTAIGNE, Spurensicherung, The talk of the town