The Art of Reading
·
Preis der Leipziger Buchmesse für Natascha Wodin mit 'Sie kam aus Mariupol'
·
ernst jandl: poëzieklysma
·
Prix Renaudot 2017 pour 'La Disparition de Josef Mengele' d'Olivier Guez
·
Prix Goncourt 2017 pour 'L'ordre du jour' d' Eric Vuillard
·
Franklin Foer: World Without Mind. The Existential Threat of Big Tech
·
Everyman's Library edition of The Remains of the Day by Kazuo Ishiguro
·
Tentoonstelling: Xtra small. Miniatuurboekjes in Museum Meermanno
·
Julian Barnes: The Noise of Time. A Novel
·
Ein fantastischer Blick auf die Welt: Der aspekte-Literaturpreis 2017 geht an Juliana Kálnay
·
The Nobel Prize in Literature for 2017 is awarded to the English author Kazuo Ishiguro
·
Koen Hilberdink: J.B.W.P. Het leven van Johan POLAK
·
Anders RYDELL: De grote boekenroof. Een zoektocht naar Europa's verdwenen bibliotheken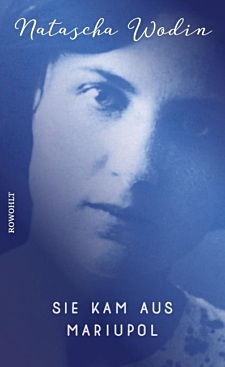 "Wenn du gesehen hättest, was ich gesehen habe" – Natascha Wodins Mutter sagte diesen Satz immer wieder und nahm doch, was sie meinte, mit ins Grab. Da war die Tochter zehn und wusste nicht viel mehr, als dass sie zu einer Art Menschenunrat gehörte, zu irgendeinem Kehricht, der vom Krieg übriggeblieben war. Wieso lebten sie in einem der Lager für "Displaced Persons", woher kam die Mutter, und was hatte sie erlebt? Erst Jahrzehnte später öffnet sich die Blackbox ihrer Herkunft, erst ein bisschen, dann immer mehr.
"Sie kam aus Mariupol" ist das außergewöhnliche Buch einer Spurensuche. Natascha Wodin geht dem Leben ihrer ukrainischen Mutter nach, die aus der Hafenstadt Mariupol stammte und mit ihrem Mann 1943 als "Ostarbeiterin" nach Deutschland verschleppt wurde. Sie erzählt beklemmend, ja bestürzend intensiv vom Anhängsel des Holocaust, einer Fußnote der Geschichte: der Zwangsarbeit im Dritten Reich. Ihre Mutter, die als junges Mädchen den Untergang ihrer Adelsfamilie im stalinistischen Terror miterlebte, bevor sie mit ungewissem Ziel ein deutsches Schiff bestieg, tritt wie durch ein spätes Wunder aus der Anonymität heraus, bekommt ein Gesicht, das unvergesslich ist. "Meine arme, kleine, verrückt gewordene Mutter", kann Natascha Wodin nun zärtlich sagen, und auch für uns Leser wird begreifbar, was verlorenging. Dass es dieses bewegende, dunkel-leuchtende Zeugnis eines Schicksals gibt, das für Millionen anderer steht, ist ein literarisches Ereignis.
"Das erinnert nicht von ungefähr an die Verfahrensweise, mit der W. G. Sebald, der große deutsche Gedächtniskünstler, verlorene Lebensläufe der Vergessenheit entriss." (Sigrid Löffler in ihrer Laudatio auf Natascha Wodin bei der Verleihung des Alfred-Döblin-Preises 2015)
Natascha Wodin, 1945 als Kind sowjetischer Zwangsarbeiter in Fürth/Bayern geboren, wuchs erst in deutschen DP-Lagern, dann, nach dem frühen Tod der Mutter, in einem katholischen Mädchenheim auf. Nach dem Abschluss einer Sprachenschule übersetzte sie aus dem Russischen und lebte zeitweise in Moskau. Auf ihr Romandebüt "Die gläserne Stadt", das 1983 erschien, folgten etliche Veröffentlichungen, darunter die Romane "Einmal lebt ich", "Die Ehe" und "Nachtgeschwister". Ihr Werk wurde unter anderem mit dem Hermann-Hesse-Preis, dem Brüder-Grimm-Preis und dem Adelbert-von-Chamisso-Preis ausgezeichnet, für "Sie kam aus Mariupol" wurde ihr der Alfred-Döblin-Preis, der Preis der Leipziger Buchmesse und der August-Graf-von-Platen-Preis verliehen. Natascha Wodin lebt in Berlin und Mecklenburg.
Preis der Leipziger Buchmesse
Preisträger 2017 in der Kategorie Belletristik
Natascha Wodin: "Sie kam aus Mariupol"
Rowohlt Verlag)
Die Begründung der Jury: In "Sie kam aus Mariupol" forscht Natascha Wodin nach den Lebensspuren ihrer ukrainischen Mutter Jewgenia – und stößt auf das Schicksal ihrer Tante Lidia. Während die Mutter 1943 mit ihrem russischen Mann als Zwangsarbeiterin in ein Leipziger Montagewerk für Kriegsflugzeuge verschleppt wurde, kam die Tante zehn Jahre zuvor in ein sowjetisches Straflager. Das ist die ungeheuerliche Parallelität, die die Familiengeschichte zerteilt. "Sie kam aus Mariupol" ist nicht aus einem Guss, weil es angesichts der Brüche des 20. Jahrhunderts gar nicht aus einem Guss sein kann. In vier hart gefügten Teilen treibt es aus unterschiedlichen Richtungen seine Stollen durch ein Massiv kollektiver und individueller Gewalt. Dieses Buch trägt auch ausdrücklich nicht die Bezeichnung Roman. Doch an der Grenze von Fiktion und Nichtfiktion, wo es angesiedelt ist, betreibt es autobiografisches Schreiben mit einem hohen Maß an Selbstreflexion und romanhaftes Schreiben auf der Grundlage von Lidias Tagebüchern. In diesem genreüberschreitenden Sinn ist es unerhört zeitgenössisch. Erinnerungsarbeit als Widerstand gegen das eigene Zerbrechen: Die Rettung, die sich Natascha Wodin davon erhofft, bleibt aus. Aber die Tapferkeit, mit der sie den Dämonen ins Gesicht sieht, die sie bannen muss, hat auch etwas ungemein Ermutigendes. Davon kann sich jeder Leser von "Sie kam aus Mariupol" überzeugen.
Natascha Wodin
'Sie kam aus Mariupol'
EAN: 9783498073893
ISBN: 3498073893
Libri: 2561776
Rowohlt Verlag GmbH
2017, 363 Seiten
gebunden, €19,95
fleursdumal.nl magazine
More in: - Book News, - Bookstores, Archive W-X, Art & Literature News, Awards & Prizes, PRESS & PUBLISHING, The Art of Reading
---
Ernst Jandl (1925 – 2000) was een Oostenrijkse schrijver, dichter en vertaler. Hij maakte vooral naam met zijn experimentele lyriek.
#  meer over zijn werk op website ernstjandl.com  

Met de bundel Idyllen (1989), waaruit 33 gedichten werden vertaald door Erik de Smedt, rekent Jandl af met al wat er expliciet en impliciet van poëzie wordt verwacht, ook van die van hem.
ernst jandl
poëzieklysma
2017
vertaling: erik de smedt
oplage: 300
48 pagina's
isbn 978 90 78627 38 8
€ 19,95
Uitgeverij Vleugels
van 't hoffstraat 27
2665 jl bleiswijk
t 06 30 49 77 49
www.uitgeverijvleugels.nl
fleursdumal.nl magazine
More in: - Book News, Archive I-J, Archive I-J, Art & Literature News, Ernst Jandl, Jandl, Ernst, The Art of Reading
---
1949: Josef Mengele arrive en Argentine. Caché derrière divers pseudonymes, l'ancien médecin tortionnaire à Auschwitz croit pouvoir s'inventer une nouvelle vie à Buenos Aires.
L'Argentine de Peron est bienveillante, le monde entier veut oublier les crimes nazis. Mais la traque reprend et le médecin SS doit s'enfuir au Paraguay puis au Brésil. Son errance de planque en planque, déguisé et rongé par l'angoisse, ne connaîtra plus de répit… jusqu'à sa mort mystérieuse sur une plage en 1979.  Comment le médecin SS a-t-il pu passer entre les mailles du filet, trente ans durant?

La Disparition de Josef Mengele est une plongée inouïe au cœur des ténèbres. Anciens nazis, agents du Mossad, femmes cupides et dictateurs d'opérette évoluent dans un monde corrompu par le fanatisme, la realpolitik, l'argent et l'ambition. Voici l'odyssée dantesque de Josef Mengele en Amérique du Sud. Le roman-vrai de sa cavale après-guerre.
Olivier Guez est l'auteur, entre autres, de L'Impossible retour, une histoire des juifs en Allemagne depuis 1945 (Flammarion), Éloge de l'esquive (Grasset) et Les Révolutions de Jacques Koskas (Belfond). Il a reçu en 2016 le prix allemand du meilleur scénario pour le film Fritz Bauer, un héros allemand.
Olivier Guez
La disparition de Josef Mengele Roman
EAN: 9782246855873
Parution: 16/08/2017
Pages: 240
Prix: €18.50
Editions Grasset
---
Prix Renaudot 2017 pour 'La Disparition de Josef Mengele' d'Olivier Guez
fleursdumal.nl magazines
---
More in: - Book News, - Bookstores, Archive Q-R, Art & Literature News, Awards & Prizes, PRESS & PUBLISHING, The Art of Reading, The talk of the town, WAR & PEACE
---
L'Allemagne nazie a sa légende. On y voit une armée rapide, moderne, dont le triomphe parait inexorable. Mais si au fondement de ses premiers exploits se découvraient plutôt des marchandages, de vulgaires combinaisons d'intérêts ?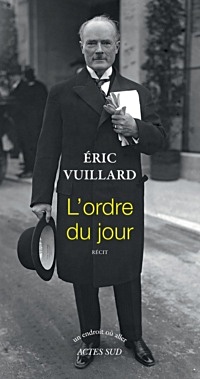 Et si les glorieuses images de la Wehrmacht entrant triomphalement en Autriche dissimulaient un immense embouteillage de panzers ? Une simple panne ! Une démonstration magistrale et grinçante des coulisses de l'Anschluss par l'auteur de Tristesse de la terre et de 14 juillet.
Ils étaient vingt-quatre, près des arbres morts de la rive, vingt-quatre pardessus noirs, marron ou cognac, vingt-quatre paires d'épaules rembourrées de laine, vingt-quatre costumes trois pièces, et le même nombre de pantalons à pinces avec un large ourlet. Les ombres pénétrèrent le grand vestibule du palais du président de l'Assemblée ; mais bientôt, il n'y aura plus d'Assemblée, il n'y aura plus de président, et, dans quelques années, il n'y aura même plus de Parlement, seulement un amas de décombres fumants.
Éric Vuillard, né en 1968 à Lyon, est écrivain et cinéaste. Il a réalisé deux films, L'homme qui marche et Mateo Falcone. Il est l'auteur de Conquistadors (Léo Scheer, 2009, Babel n°1330), récompensé par le Grand prix littéraire du Web – mention spéciale du jury 2009 et le prix Ignatius J. Reilly 2010. Il a reçu le prix Franz-Hessel 2012 et le prix Valery-Larbaud 2013 pour deux récits publiés chez Actes Sud, La bataille d'Occident et Congo ainsi que le prix Joseph-Kessel 2015 pour Tristesse de la terre et le prix Alexandre Viallate pour 14 juillet.
Eric Vuillard
L'ordre du jour
Mai, 2017
160 pages
ISBN 978-2-330-07897-3
prix indicatif : 16, 00€
Actes Sud
Prix Goncourt 2017 pour 'L'ordre du jour' d' Eric Vuillard
fleursdumal.nl magazine
More in: - Book News, - Bookstores, Archive U-V, Art & Literature News, Awards & Prizes, PRESS & PUBLISHING, The Art of Reading, WAR & PEACE
---
Over the past few decades there has been a revolution in terms of who controls knowledge and information.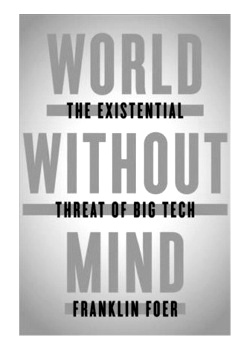 This rapid change has imperiled the way we think. Without pausing to consider the cost, the world has rushed to embrace the products and services of four titanic corporations. We shop with Amazon; socialize on Facebook; turn to Apple for entertainment; and rely on Google for information. These firms sell their efficiency and purport to make the world a better place, but what they have done instead is to enable an intoxicating level of daily convenience.

As these companies have expanded, marketing themselves as champions of individuality and pluralism, their algorithms have pressed us into conformity and laid waste to privacy. They have produced an unstable and narrow culture of misinformation, and put us on a path to a world without private contemplation, autonomous thought, or solitary introspection–a world without mind. In order to restore our inner lives, we must avoid being coopted by these gigantic companies, and understand the ideas that underpin their success.
Elegantly tracing the intellectual history of computer science–from Descartes and the enlightenment to Alan Turing to Stuart Brand and the hippie origins of today's Silicon Valley–Foer exposes the dark underpinnings of our most idealistic dreams for technology. The corporate ambitions of Google, Facebook, Apple, and Amazon, he argues, are trampling longstanding liberal values, especially intellectual property and privacy. This is a nascent stage in the total automation and homogenization of social, political, and intellectual life. By reclaiming our private authority over how we intellectually engage with the world, we have the power to stem the tide.
At stake is nothing less than who we are, and what we will become. There have been monopolists in the past but today's corporate giants have far more nefarious aims. They're monopolists who want access to every facet of our identities and influence over every corner of our decision-making. Until now few have grasped the sheer scale of the threat. Foer explains not just the looming existential crisis but the imperative of resistance.
Franklin Foer is a national correspondent for The Atlantic and a fellow at the New America Foundation. He is the author of How Soccer Explains the World, which has been translated into 27 languages and a winner of a National Jewish Book Award. For seven years, he edited The New Republic magazin
Franklin Foer:
World Without Mind.
The Existential Threat of Big Tech
Hardcover
272 pages
Published September 2017
Penguin Press
ISBN 1101981113
ISBN13: 9781101981115
World Without Mind: The Existential Threat of Big Tech by Franklin Foer . Franklin Foer reveals the existential threat posed by big tech, and in his brilliant polemic gives us the toolkit to fight their pervasive influence.
fleursdumal.nl magazine
More in: - Book Stories, - Bookstores, Archive E-F, Art & Literature News, CINEMA, RADIO & TV, DICTIONARY OF IDEAS, MONTAIGNE, The Art of Reading, The talk of the town
---
An elegant Everyman's Library hardcover edition of the universally acclaimed novel—winner of the Booker Prize, a bestseller and a perpetually strong backlist title, and the basis for an award-winning film—with full-cloth binding, a silk ribbon marker, a chronology, and an introduction by Salman Rushdie.
Here is Kazuo Ishiguro's profoundly compelling portrait of Stevens, the perfect butler, and of his fading, insular world in post-World War II England. Stevens, at the end of three decades of service at Darlington Hall, spending a day on a country drive, embarks as well on a journey through the past in an effort to reassure himself that he has served humanity by serving the "great gentleman," Lord Darlington.
But lurking in his memory are doubts about the true nature of Lord Darlington's "greatness," and much graver doubts about the nature of his own life.
Kazuo Ishiguro's books have won him wide renown and numerous honors. His work has been translated into more than 40 languages.
Both The Remains of the Day and Never Let Me Go have sold more than 1 million copies, and both were adapted into highly acclaimed films. Ishiguro's other work includes Nocturnes, A Pale View of the Hills, and An Artist of the Floating World.
Kazuo Ishiguro is awarded the Nobel Prize in Literature for 2017.
Kazuo Ishiguro
The Remains of the Day
Introduction by Salman Rushdie
Everyman's Library
Contemporary Classics Series
Hardcover, Deckle Edge,
2012, 248 Pages
978 1 84159 349 4
£ 10.99
# website everymanslibrary    
Kazuo Ishiguro:
The Remains of the Day
fleursdumal.nl magazine
More in: - Book News, - Bookstores, Archive I-J, Art & Literature News, Kazuo Ishiguro, Salman Rushdie, The Art of Reading
---
Museum Meermanno toont meer dan driehonderd miniatuurboekjes in de kleine, maar fijne tentoonstelling 'Xtra small'.
Miniatuurboekjes passen in je handpalm, soms zelfs op de top van je vinger. Voor boekbinders en drukkers is het kleine formaat een uitdaging. Het is een manier om hun kunde en handvaardigheid te etaleren. En dan vereist een echt mooi miniatuurboekje naast heel veel vakmanschap ook veel creativiteit, smaak en verfijning in ontwerp en de gebruikte motieven en materialen.
Museum Meermanno bezit van oudsher een grote collectie van deze boekjes, waarvan het Bloemhofje uit 1673 wel heel bijzonder is. Maar ook veel moderne exemplaren maken deel uit van de collectie. Deze werd in 2012 drastisch uitgebreid met de Bibliotheca Thurkowiana Minor. Dat is een miniatuurbibliotheek die ook nog eens 1.550 boekjes herbergt, waaronder zelfs een miniatuurkleitablet uit 1800 voor Christus.
In de tentoonstelling 'Xtra small' toont het museum deze collectie waaraan zeer recent nog eens 120 unieke exemplaren zijn toegevoegd. Dat zijn de inzendingen voor de International Minature Bookbinding Competition 2017 die de Stichting Handboekbinden samen met Uitgeverij de Buitenkant en Museum Meermanno eind 2016 uitschreef. De deelnemers ontvingen daarvoor de katernen van het door Liz Waters in het Engels vertaalde verhaal 'The Island' van Geert Mak. De Amsterdamse kunstenaar Max Kisman maakte de illustraties. De boekjes moesten voldoen aan de zogenaamde Bondy-norm, dat wil zeggen dat ze maximaal 76.2mm hoog, breed en dik mochten zijn.
De inzendingen zijn staaltjes van toewijding en vakmanschap en ze komen uit alle delen van Europa, Canada en Noord-Amerika, China, Japan, Australië en Nieuw Zeeland.
Publicatie: Bij deze tentoonstelling verschijnt een gelijknamige Engelstalige catalogus waarin onder andere alle inzendingen voor de wedstrijd in kleur en op ware grootte zijn afgebeeld. Het door Peter Verheul vormgegeven boekje verschijnt 1 oktober bij Uitgeverij de Buitenkant. Het boekje kost € 12,50 en is te koop in Museum Meermanno of kan besteld worden via Uitgeverij de Buitenkant (www.uitgeverijdebuitenkant.nl)
Xtra small
Miniature books in Museum Meermanno
Anne C. Bromer
€ 12,50 / catalogus / 11 x 16 cm / 128 pagina's
genaaid overlijmd met stofomslag
vormgeving: Peter Verheul
uitgave Uitgeverij de Buitenkant
ism Museum Meermanno en
de Nederlandse Stichting Handboekbinden
ISBN 978 94 90913 78 6
 #  meer  info  zie  website  museum  meermanno   
Tentoonstelling 'Xtra small. Miniatuurboekjes in Museum Meermanno'
Van 3 oktober 2017 t/m 7 januari 2018
fleursdumal.nl magazine
More in: - Book Lovers, - Book News, - Book Stories, Art & Literature News, Exhibition Archive, Museum of Literary Treasures, NONFICTION: ESSAYS & STORIES, The Art of Reading
---
1936: Dmitri Shostakovich, just thirty years old, reckons with the first of three conversations with power that will irrevocably shape his life.
Stalin, hitherto a distant figure, has suddenly denounced the young composer's latest opera. Certain he will be exiled to Siberia (or, more likely, shot dead on the spot), Shostakovich reflects on his predicament, his personal history, his parents, his daughter—all of those hanging in the balance of his fate. And though a stroke of luck prevents him from becoming yet another casualty of the Great Terror, he will twice more be swept up by the forces of despotism: coerced into praising the Soviet state at a cultural conference in New York in 1948, and finally bullied into joining the Party in 1960. All the while, he is compelled to constantly weigh the specter of power against the integrity of his music. An extraordinary portrait of a relentlessly fascinating man, The Noise of Time is a stunning meditation on the meaning of art and its place in society.
Julian Barnes is the author of twenty previous books. He has received the Man Booker Prize, the Somerset Maugham Award, the Geoffrey Faber Memorial Prize, the David Cohen Prize for Literature and the E. M. Forster Award from the American Academy of Arts and Letters; in France, the Prix Médicis and the Prix Femina; and in Austria, the State Prize for European Literature. In 2004 he was named Commandeur de l'Ordre des Arts et des Lettres by the French Ministry of Culture. His work has been translated into more than forty languages. He lives in London.
One of the Best Books of the Year: San Francisco Chronicle
"This story is truly amazing . . . an arc of human degradation without violence (the threat of violence, of course, everywhere). . . . The whole Kafka madhouse brought to life."—Jeremy Denk, The New York Times Book Review
The Noise of Time
A Novel
By Julian Barnes
Part of Vintage International
Literary Fiction
Paperback
Publisher Penguin Random House
June 2017,
224 Pages
new books
fleursdumal.nl magazine
More in: - Book News, - Book Stories, Archive A-B, Art & Literature News, Dmitri Shostakovich, Julian Barnes, The Art of Reading
---
"Wie viel Leben steckt in vier Wänden? Welche Erinnerungen haften an Böden, Fenstern und Türen?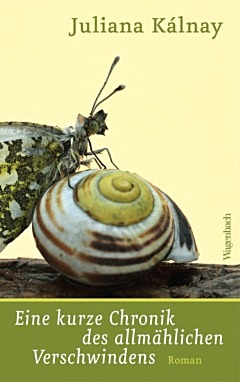 Wer in einer Wohnung lebt, lebt immer auch in einem Erinnerungsort, in einem Geschichtsraum. Und wenn schon eine Wohnung so viel Geschichten bietet, was hat dann erst ein ganzes Haus zu sagen? In ihrem Debütroman "Eine kurze Chronik des allmählichen Verschwindens" ringt Juliana Kálnay um einen anderen, einen fantastischen Blick auf die Welt. Ein Mann wird zu einem Baum, eine alte Frau spürt wie sich die Räume bei Kälte zusammenziehen, ein ganzes Haus lebt unter dem Gesetz des Unwirklichen. In feinen, leicht verschwommenen Vignetten erzählt Kálnay auf den Spuren des magischen Realismus vom Wundern und Träumen dieser Hausbewohner. Es ist ein Buch, in dem man sich herrlich verlieren kann. Und das große Lust macht auf die Welt des Surrealen."
So begründet die Jury – Jana Hensel (Autorin), Ursula März (Die Zeit), Daniel Fiedler (Redaktionsleiter ZDF Kultur Berlin) Simon Strauß (FAZ) und Volker Weidermann (Das Literarische Quartett, Der Spiegel – ihre Entscheidung.
Juliana Kálnay erzählt mit Aberwitz und aus vielen Perspektiven, es ist ein Stimmengewirr, ein Puzzle, das sich nach und nach zu einem dichten Bild fügt. Die Charaktere – Bewohner eines rätselhaften Hauses – versuchen, sich einen Reim auf die Dinge des Lebens zu machen, sich selbst und die anderen zu verstehen, tappen aber oft im Dunklen. Kálnays magischer Realismus hält die Handlung in der Schwebe, ohne ins Phantastische abzuheben, das Haus verbindet alle Elemente im Roman.
Der aspekte-Literaturpreis wird in diesem Jahr zum 39. Mal vergeben. Er ist mit 10.000 Euro dotiert und die bedeutendste Auszeichnung für deutschsprachige Erstlingsprosa. Die Preisverleihung findet am Donnerstag, 12. Oktober 2017, 11:30 Uhr im Rahmen der Frankfurter Buchmesse auf dem Blauen Sofa am ZDF-Stand statt.
Juliana Kálnay, geboren 1988 in Hamburg, wuchs zunächst in Köln und dann in Málaga auf. Sie veröffentlichte in deutsch- und spanischsprachigen Anthologien und Zeitschriften und erhielt das Arbeitsstipendium Literatur der Kulturstiftung des Landes Schleswig-Holstein 2016. Sie lebt und schreibt in Kiel. »Eine kurze Chronik des allmählichen Verschwindens« ist ihr erster Roman.
Juliana Kálnay
Eine kurze Chronik des allmählichen Verschwindens
Quartbuch. 2017
192 Seiten. 13 x 21 cm.
Gebunden mit Schutzumschlag
Buch €20,–
ISBN 978-3-8031-3284-0
Klaus Wagenbach Verlag
(www.wagenbach.de)
Ein fantastischer Blick auf die Welt
Der aspekte-Literaturpreis 2017 geht an Juliana Kálnay
fleursdumal.nl magazine
More in: - Book News, - Book Stories, Archive K-L, Art & Literature News, CINEMA, RADIO & TV, Literary Events, Nachrichten aus Berlin, The Art of Reading
---
Kazuo Ishiguro was born on November 8, 1954 in Nagasaki, Japan.The family moved to the United Kingdom when he was five years old; he returned to visit his country of birth only as an adult.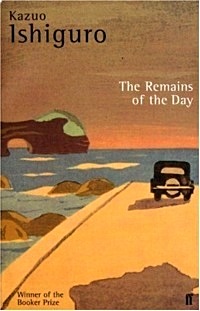 In the late 1970s, Ishiguro graduated in English and Philosophy at the University of Kent, and then went on to study Creative Writing at the University of East Anglia.
Kazuo Ishiguro has been a full-time author ever since his first book, "A Pale View of Hills" (1982). Both his first novel and the subsequent one, "An Artist of the Floating World" (1986) take place in Nagasaki a few years after the Second World War. The themes Ishiguro is most associated with are already present here: memory, time, and self-delusion. This is particularly notable in his most renowned novel, "The Remains of the Day" (1989), which was turned into film with Anthony Hopkins acting as the duty-obsessed butler Stevens.
Ishiguro's writings are marked by a carefully restrained mode of expression, independent of whatever events are taking place. At the same time, his more recent fiction contains fantastic features. With the dystopian work "Never Let Me Go" (2005), Ishiguro introduced a cold undercurrent of science fiction into his work. In this novel, as in several others, we also find musical influences. A striking example is the collection of short stories titled "Nocturnes: Five Stories of Music and Nightfall" (2009), where music plays a pivotal role in depicting the characters' relationships. In his latest novel, "The Buried Giant" (2015), an elderly couple go on a road trip through an archaic English landscape, hoping to reunite with their adult son, whom they have not seen for years. This novel explores, in a moving manner, how memory relates to oblivion, history to the present, and fantasy to reality.
Apart from his eight books, Ishiguro has also written scripts for film and television.
# More info website Nobelprize
The Nobel Prize in Literature for 2017 to English author Kazuo Ishiguro
fleursdumal.nl magazine
More in: - Book Lovers, - Book News, Archive I-J, Art & Literature News, Awards & Prizes, CINEMA, RADIO & TV, Kazuo Ishiguro, The Art of Reading
---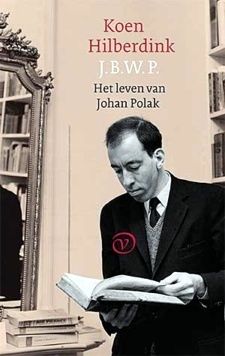 Johan Bertus Wouter Polak (1928-1992) was een legendarische en extravagante uitgever, essayist, bibliofiel, vertaler en mecenas.
Hij groeide op in 'een zeer liberaal joods milieu met sterk atheïstische en sociaaldemocratische inslag'. Dit ogenschijnlijk idyllische bestaan werd bruut verstoord door de vroege dood van Johans vader en de Duitse bezetting vlak daarna. Deze ingrijpende gebeurtenissen en de verhouding met zijn moeder bepaalden voor een groot deel Polaks verdere leven.
De drama's uit zijn jeugd worden door Hilberdink in verband gebracht met de oprichting van uitgeverij Polak & Van Gennep in 1962. Hij gaf op fraaie wijze het werk uit van onder anderen P.C. Boutens, J.H. Leopold, Herman Gorter en J.C. Bloem. En dat van Gerard Reve, die hij van alle naoorlogse auteurs het meest bewonderde en met wie hij een uiterst complexe verhouding kreeg.
Daarnaast begon Polak in 1966 de al even vermaarde Athenaeum Boekhandel op het Spui in Amsterdam. Het werd een centrum van activiteiten, zowel politiek als literair, en Johan werd een bekende Amsterdammer.
Uitvoerig komt ook Polaks rol aan de orde in de emancipatie van homoseksuelen en de strijd tegen het antisemitisme.
Zijn persoonlijke seksuele bevrijding wordt openlijk beschreven. Johans emancipatiestrijd was verbonden met de strijd tegen het antisemitisme. Hij schreef: 'Er is in homosexuelen een hypersensitiviteit voor taal en schoonheid aanwezig, juist nu. De kans bestaat dat zij instinctief reeds voelen, zoals de Joden voorheen, dat zij getekend zijn en reeds op het punt staan als verworpenen te worden uitgeroeid. Ik ben op dat punt pessimistisch en zie allerlei onrustbarende tekenen.'
J.B.W.P. – De biografie van uitgever Johan Polak
Koen Hilberdink is literatuurwetenschapper en werkzaam bij de Koninklijke Nederlandse Akademie van Wetenschappen. Hij promoveerde op Ik ben een vreemdeling. Ik sta apart. Een biografie van Paul Rodenko (2000). In 2007 verscheen zijn biografie over dichter Hans Lodeizen.
Koen Hilberdink
J.B.W.P.
Het leven van Johan Polak
Uitgeverij Van Oorschot, Amsterdam
Juni 2017, gebonden, € 29,99
ISBN 9789028261846
fleursdumal.nl magazine
More in: - Book Lovers, - Bookstores, Art & Literature News, Johan Polak, PRESS & PUBLISHING, The Art of Reading
---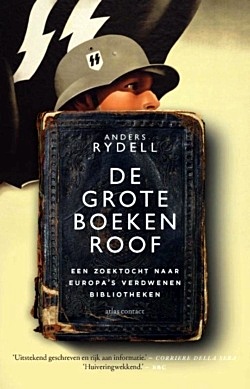 Op 10 mei 1933 staken nazi's op de Opernplatz in Berlijn, onder toeziend oog van 40.000 toeschouwers, zo'n 25.000 boeken in de fik.
Het was het startsein voor een reeks boekverbrandingen overal in Duitsland.

Over die gebeurtenis is veel geschreven, maar onbekend is het veel sinisterder plan dat de nazi's in heel Europa ten uitvoer brachten: het plunderen van bibliotheken en privébezit, met als doel de literatuur in te zetten als wapen in de vernietigingsmachinerie. 
Tegenstanders werden zo niet alleen van hun vrijheid beroofd maar ook van hun literatuur, hun verhalen, hun emotionele en intellectuele geschiedenis.

In De grote boekenroof volgt Anders Rydell het spoor van de boekenplunderaars door Europa. Hij reist onder meer naar Den Haag en Amsterdam, struint door de bibliotheken van Berlijn en Parijs en gaat op zoek naar de mysterieus verdwenen Joodse bibliotheek in Rome.
Zo vertelt Rydell het verhaal van een van de meest angstaanjagende nazi-ambities op het gebied van kunst, cultuur en onderwijs.
Anders Rydell
De grote boekenroof
Vertaling door Robert Starke
Afm. 26x210x135 mm
Verschijningsdatum:
april 2017
Paperback = 27,99
ISBN10 9045031914
ISBN13 9789045031910
Atlas Contact, Uitgeverij
fleursdumal.nl magazine
More in: - Book Stories, Archive Q-R, Art & Literature News, DICTIONARY OF IDEAS, The Art of Reading
---
Older Entries »
Thank you for reading FLEURSDUMAL.NL - magazine for art & literature