ULTIMATE LIBRARY – danse macabre, ex libris, grimm & co, fairy tales, art of reading, tales of mystery & imagination, sherlock holmes theatre, erotic poetry, ideal women
«« Previous page
·
Bernard Pivot & Cécile Pivot: Lire !
·
The Walter Scott Prize 2018 longlist is out
·
The Man Booker International Prize 2018 longlist
·
My Name Is Venus Black. A Novel by Heather Lloyd
·
Heimo Schwilk: Rilke und die Frauen. Biografie eines Liebenden
·
Kathryn Harkup: Making the Monster. The Science Behind Mary Shelley's Frankenstein
·
Antti Tuomainen: Die letzten Meter bis zum Friedhof
·
The Poet Edgar Allan Poe. Alien Angel by Jerome McGann
·
Isabelle Giordano: Romy Schneider, film par film
·
The Book Lovers' Miscellany by Claire Cock-Starkey
·
The Written World. The Power of Stories to Shape People, History, Civilization by Martin Puchner
·
Preis der Leipziger Buchmesse für Natascha Wodin mit 'Sie kam aus Mariupol'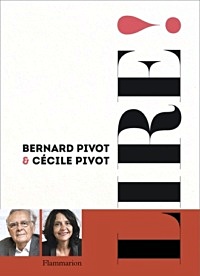 Bernard Pivot, lecteur professionnel ("Apostrophes", Lire, JDD) et sa fille Cécile, ardente lectrice amateur, confrontent leurs raisons, plaisirs et manières de lire, leur usage des livres, dans des textes très personnels, joliment illustrés, où le public des librairies et des bibliothèques retrouvera ses émotions, et celui qui n'ose pas en pousser les portes découvrira stimulations et conseils.
Un tonique et savoureux éloge des écrivains, des livres et de la lecture.
Bernard Pivot, Cécile Pivot
Lire !
Paru le 14/03/2018
Genre : Essais littéraires
192 pages
174 x 239 mm Couleur
Broché
EAN: 9782081416307
ISBN : 9782081416307
€25,00
Ed. Flammarion
new books on reading
fleursdumal.nl magazine
More in: - Book Stories, Archive O-P, Art & Literature News, Libraries in Literature, The Art of Reading
---
The judges of the Walter Scott Prize 2018 announced a longlist of thirteen books:
The books are:
# The Clocks In This House All Tell Different Times by Xan Brooks
# Birdcage Walk by Helen Dunmore
# Manhattan Beach by Jennifer Egan
# The Last Man In Europe by Dennis Glover
# Sugar Money by Jane Harris
# Prussian Blue by Philip Kerr
# The Draughtsman by Robert Lautner
# Grace by Paul Lynch
# The Wardrobe Mistress by Patrick McGrath
# Miss Boston and Miss Hargreaves by Rachel Malik
# The Gallows Pole by Benjamin Myers
# The Horseman by Tim Pears
# The Bedlam Stacks by Natasha Pulley
The Judges said:
"This year our Prize has attracted a record number of entries, and historical fiction continues to ride a wave of publishing success. As a result, we have been able to make our selection from a body of remarkable and varied novels. In our longlist, we have attempted to represent different styles – from lyrical to experimental, and from epic to intimate.
"All human life is here, from outlaws making a living forging coins in Yorkshire's badlands, to post-war London theatre society. We hope that in representing such a richness of styles and diversity of settings, the Walter Scott Prize can bring to public attention new work, while at the same time rewarding writers at the top of their game. We're looking forward to bringing the best of these forward to shortlist in April."
# end March 2018: Academy Recommends list announced
# April 2018: Shortlist announced
# 14th-17th June 2018: Baillie Gifford Borders Book Festival, Melrose – Winner of Walter Scott Prize 2018 announced and presented
# more information on the website of the Walter Scott Prize
fleursdumal.nl magazine
More in: - Book Lovers, Archive S-T, Art & Literature News, Awards & Prizes, Literary Events, Sir Walter Scott, The Art of Reading
---
The Man Booker International Prize has revealed the 'Man Booker Dozen' of 13 novels in contention for the 2018 prize, which celebrates the finest works of translated fiction from around the world.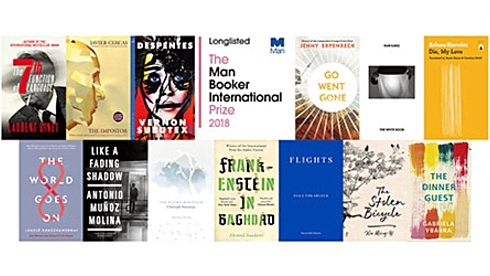 The 2018 longlist:
• Laurent Binet (France), Sam Taylor, The 7th Function of Language (Harvill Secker)
• Javier Cercas (Spain), Frank Wynne, The Impostor (MacLehose Press)
• Virginie Despentes (France), Frank Wynne, Vernon Subutex 1 (MacLehose Press)
• Jenny Erpenbeck (Germany), Susan Bernofsky, Go, Went, Gone (Portobello Books)
• Han Kang (South Korea), Deborah Smith, The White Book (Portobello Books)
• Ariana Harwicz (Argentina), Sarah Moses & Carolina Orloff, Die, My Love (Charco Press)
• László Krasznahorkai (Hungary), John Batki, Ottilie Mulzet & George Szirtes, The World Goes On (Tuskar Rock Press)
• Antonio Muñoz Molina (Spain), Camilo A. Ramirez, Like a Fading Shadow (Tuskar Rock Press)
• Christoph Ransmayr (Austria), Simon Pare, The Flying Mountain (Seagull Books)
• Ahmed Saadawi (Iraq), Jonathan Wright, Frankenstein in Baghdad (Oneworld)
• Olga Tokarczuk (Poland), Jennifer Croft, Flights (Fitzcarraldo Editions)
• Wu Ming-Yi (Taiwan), Darryl Sterk, The Stolen Bicycle (Text Publishing)
• Gabriela Ybarra (Spain), Natasha Wimmer, The Dinner Guest (Harvill Secker)
'The longlist introduces a wealth of talent, a variety of forms and some writers little known in English before. It has great writing and translating energy and we hope readers take as much pleasure in discovering the work as we did.'
Lisa Appignanesi, chair of the 2018 judges
The prize is now awarded every year for a single book, which is translated into English and published in the UK. Both novels and short-story collections are eligible. The work of translators is equally rewarded, with the £50,000 prize divided between the author and the translator of the winning entry. In addition, each shortlisted author and translator will receive £1,000 each. The judges considered 108 books.
The longlist was selected by a panel of five judges, chaired by Lisa Appignanesi OBE, author and cultural commentator, with Michael Hofmann, poet, reviewer and translator from German; Hari Kunzru, author of five novels including The Impressionist and White Tears; Tim Martin, journalist and literary critic, and Helen Oyeyemi, author of novels, plays and short stories including The Icarus Girl.
fleursdumal.nl magazine
More in: - Book News, - Bookstores, Art & Literature News, Awards & Prizes, Literary Events, The Art of Reading
---
In this riveting, heartfelt debut, a young woman assumes a new name to escape her dark past and find the redemption she desperately seeks.
"A terrific debut, told gently, honestly, and with a generous amount of hope."—New York Times bestselling author Jamie Ford
Venus Black is a straitlaced A student fascinated by the study of astronomy—until the night she commits a shocking crime that tears her family apart and ignites a media firestorm. Venus refuses to talk about what happened or why, except to blame her mother. Adding to the mystery, Venus's developmentally challenged younger brother, Leo, goes missing.
More than five years later, Venus is released from prison with a suitcase of used clothes, a fake identity, and a determination to escape her painful past. Estranged from her mother, and with her beloved brother still missing, she sets out to make a fresh start in Seattle, skittish and alone. But as new people enter her orbit—including a romantic interest and a young girl who seems like a mirror image of her former lost self—old wounds resurface, and Venus realizes that she can't find a future while she's running from her past.
In this gripping story, debut novelist Heather Lloyd brilliantly captures ordinary lives thrust into extraordinary circumstances. Told through a constellation of captivating voices, My Name Is Venus Black explores the fluidity of right and wrong, the pain of betrayal, and the meaning of love and family.
Heather Lloyd, who has spent many years working as an editor and writing coach, lives with her husband in New York City. My Name Is Venus Black is her first novel.
My Name Is Venus Black
A Novel
By Heather Lloyd
Category: Crime Mysteries
Hardcover : $27.00
Publ.: Feb 27, 2018
368 Pages
ISBN 9780399592188
Publ. by The Dial Press
new books
fleursdumal.nl magazine
More in: - Book News, Archive K-L, Art & Literature News, BIOGRAPHY, CRIME & PUNISHMENT, Tales of Mystery & Imagination
---
Rainer Maria Rilke feierte die Liebe, verschrieb sich ihr mit ganzer Seele. Die Frauen standen für ihn im Mittelpunkt.
Angefangen bei seiner innig geliebten Mutter Sophia und der gestrengen »Übermutter« Lou Andreas-Salomé über die Bildhauerin Clara Westhoff bis zu der großzügigen Mäzenin Fürstin von Thurn und Taxis. In seiner neuen, meisterlich geschriebenen Biografie erzählt Heimo Schwilk von diesen Frauen und ihren Schicksalen.
Ein Buch über die Liebe – und wie sie sich in großer Dichtung vollendet.
Heimo Schwilk, geboren 1952 in Stuttgart, Dr. phil., ist Autor zahlreicher Bücher über Politik und Literatur. Seine großen Biografien über Ernst Jünger und Hermann Hesse wurden im In- und Ausland hoch gelobt. Er war lange Jahre Leitender Redakteur der Welt am Sonntag und lebt in Berlin. 1991 wurde er mit dem Theodor-Wolff-Preis für herausragenden Journalismus ausgezeichnet.
Heimo Schwilk
Rilke und die Frauen
Biografie eines Liebenden
'Piper' Taschenbuch
Piper Verlag GmbH
Mit 22 Abbildungen
EAN: 9783492308878
ISBN: 3492308872
2016
336 Seiten
kartoniert
€ 11,00
new books
fleursdumal.nl magazine
More in: - Book News, Archive Q-R, Archive Q-R, Archive S-T, Art & Literature News, Rilke, Rainer Maria, The Ideal Woman
---
The year 1818 saw the publication of one of the most influential science-fiction stories of all time.
Frankenstein: Or, Modern Prometheus by Mary Shelley had a huge impact on gothic horror and science-fiction genres, and her creation has become part of our everyday culture, from cartoons to Hallowe'en costumes. Even the name 'Frankenstein' has become a by-word for evil scientists and dangerous experiments. How did a teenager with no formal education come up with the idea for an extraordinary novel such as Frankenstein?
Clues are dotted throughout Georgian science and popular culture. The years before the book's publication saw huge advances in our understanding of the natural sciences, in areas such as electricity and physiology, for example. Sensational science demonstrations caught the imagination of the general public, while the newspapers were full of lurid tales of murderers and resurrectionists.
Making the Monster explores the scientific background behind Mary Shelley's book. Is there any science fact behind the science fiction? And how might a real-life Victor Frankenstein have gone about creating his monster? From tales of volcanic eruptions, artificial life and chemical revolutions, to experimental surgery, 'monsters' and electrical experiments on human cadavers, Kathryn Harkup examines the science and scientists that influenced Shelley, and inspired her most famous creation.
Kathryn Harkup is a chemist and author. Kathryn completed a PhD then a postdoc at the University of York before realising that talking, writing and demonstrating science appealed far more than spending hours slaving over a hot fume-hood. Kathryn went on to run outreach in engineering, computing, physics and maths at the University of Surrey, which involved writing talks on science and engineering topics that would appeal to bored teenagers, and she is now a science communicator delivering talks and workshops on the quirky side of science.
Making the Monster
The Science Behind Mary Shelley's Frankenstein
By: Kathryn Harkup
Published: 08-02-2018
Format: Hardback
Edition: 1st
Extent: 304 pp
ISBN: 9781472933737
Imprint: Bloomsbury Sigma
Illustrations: 11 black and white illustrations
Dimensions: 216 x 135 mm
£16.99
new books
fleursdumal.nl magazine
More in: - Book News, Archive G-H, Archive S-T, Archive S-T, Art & Literature News, Mary Shelley, Natural history, Percy Byssche Shelley, Shelley, Mary, Shelley, Percy Byssche, Tales of Mystery & Imagination
---
Jaako ist 37, als sein Arzt ihm eröffnet, dass er keine Grippe hat, sondern sterben wird, und zwar sehr bald: Jemand hat ihn über längere Zeit hinweg vergiftet.
Das an sich ist schon geeignet, einem Mann so richtig den Tag zu verderben. Leider wird Jaako bei der Rückkehr nach Hause außerdem noch Zeuge, wie ihn seine Frau mit Petri betrügt, dem jungen, knackigen Angestellten ihrer gemeinsamen Firma. Der Firma, die in jüngster Zeit gefährlich Konkurrenz bekommen hat.
Jaako beschließt herauszufinden, wer ihn um die Ecke bringen will. Und er wird sein Unternehmen für die Zeit nach seinem Tod fit machen. Der Handel mit den in Japan zu Höchstpreisen gehandelten Matsutake-Pilzen läuft nämlich ausgezeichnet, und in Finnlands Wäldern wachsen nun einmal die besten. Doch das neue Konkurrenzunternehmen kämpft wirklich mit harten Bandagen.
Ist es da Jaakos Schuld, wenn es zu Toten kommt? Und hat er überhaupt Zeit für anderer Leute Sorgen? Denn so viel ist klar: Mit dem Tod vor Augen geht alles leichter, gilt es doch jede Minute zu genießen.
«Die letzten Meter bis zum Friedhof» ist nicht einfach ein Kriminalroman, sondern ein besonderes Buch: lustig und tragisch, berührend und skurril, lebensklug und nachdenklich, ein Roman, der trotz seines makabren Themas die Lebensgeister weckt, und eine schräge Lektüre, bei der man sich fühlt, als befände man sich in einem Film von Aki Kaurismäki.
Antti Tuomainen, Jahrgang 1971, ist einer der angesehensten und erfolgreichsten finnischen Schriftsteller. Er wurde u.a. mit dem Clue Award, dem Finnischen Krimipreis ausgezeichnet, seine Romane erscheinen in über 25 Ländern. Antti Tuomainen lebt mit seiner Frau in Helsinki.
Antti Tuomainen
Die letzten Meter bis zum Friedhof
Erscheinungstermin: 24.01.2018
384 Seiten
Hardcover
€19,95
Übersetzt von: Niina Wagner; Jan Costin Wagner
Verlag: Rowohlt
ISBN: 978-3-498-06552-2
new books
fleursdumal.nl magazine
More in: - Book Lovers, - Book Stories, Archive S-T, Art & Literature News, CRIME & PUNISHMENT, Tales of Mystery & Imagination
---
The poetry of Edgar Allan Poe has had a rough ride in America, as Emerson's sneering quip about "The Jingle Man" testifies.
That these poems have never lacked a popular audience has been a persistent annoyance in academic and literary circles; that they attracted the admiration of innovative poetic masters in Europe and especially France—notably Baudelaire, Mallarmé, and Valéry—has been further cause for embarrassment. Jerome McGann offers a bold reassessment of Poe's achievement, arguing that he belongs with Whitman and Dickinson as a foundational American poet and cultural presence.
Not all American commentators have agreed with Emerson's dim view of Poe's verse. For McGann, a notable exception is William Carlos Williams, who said that the American poetic imagination made its first appearance in Poe's work. The Poet Edgar Allan Poe explains what Williams and European admirers saw in Poe, how they understood his poetics, and why his poetry had such a decisive influence on Modern and Post-Modern art and writing. McGann contends that Poe was the first poet to demonstrate how the creative imagination could escape its inheritance of Romantic attitudes and conventions, and why an escape was desirable. The ethical and political significance of Poe's work follows from what the poet takes as his great subject: the reader.
The Poet Edgar Allan Poe takes its own readers on a spirited tour through a wide range of Poe's verse as well as the critical and theoretical writings in which he laid out his arresting ideas about poetry and poetics.
Jerome McGann is University Professor and John Stewart Bryan Professor of English at the University of Virginia.
"McGann succeeds in forcing us to rethink Poe's poetry… Poe's sound experiments, especially his strange variations on meter, deserve, as McGann shows by citing numerous rhythmic anomalies, to be taken seriously… In an age of predominantly, and purposely, flat and prosaic 'free verse,' mnemonic patterning is perhaps re-emerging as the emblem of poetic power. In this sense, Poe is once again Our Contemporary… In making the case for the close link between the poetry and the aesthetic theory, [McGann] succeeds admirably: Poe's reputation as poete maudit belies the fact that here was a poet who knew exactly what he was doing."   — Marjorie Perloff, The Times Literary Supplement
Jerome McGann
The Poet Edgar Allan Poe
Alien Angel
256 pages
2014
Hardcover
Harvard University Press
€23.00
ISBN 9780674416666
literary criticism books
fleursdumal.nl magazine
More in: - Book Stories, Archive O-P, Archive O-P, Art & Literature News, Edgar Allan Poe, Poe, Edgar Allan, Poe, Edgar Allan, Tales of Mystery & Imagination
---
"Romy Schneider est bien plus qu'une star de cinéma. Elle est une véritable icône, un symbole fort pour une génération entière.
Femme libre, artiste accomplie, elle continue de fasciner encore aujourd'hui. Elle incarne la femme moderne, elle est l'image même de ces femmes qui, dans les années 1970, ont cherché à gagner leur liberté et la maîtrise de leur destin.
Elle est "l'image de toutes les femmes" comme le disait si justement Claude Sautet. On aime Romy car dès son plus jeune âge, elle rue dans les brancards et s'élève contre sa famille et une mère étouffante.
On aime Romy car elle aime aimer les hommes, sans entraves et sans barrières. Mais on l'aime aussi parce qu'elle est une mère attentive et chaleureuse, parce qu'elle a choisi de prendre sa vie à bras-le-corps, plutôt deux fois qu'une, avec passion toujours : "Dans la vie, comme au cinéma, j'applique la devise Tout ou rien. La témérité est quelque chose qui m'a toujours aidée à avancer."
Tels sont les mots de Romy. Elle est une Antigone des temps modernes qui, comme l'héroïne grecque, affirme haut et fort "Je veux tout!""  Isabelle Giordano.
Isabelle Giordano
Romy Schneider, film par film
Albums hors série, Gallimard Loisirs
Parution : 05-10-2017
256 pages, ill.,
sous couverture illustrée,
245 x 285 mm, cartonné
ISBN : 9782742450350
Gencode : 9782742450350
Prix € 39,90
Gallimard Loisirs
fleursdumal.nl magazine
More in: - Book News, - Book Stories, Archive G-H, Archive S-T, AUDIO, CINEMA, RADIO & TV, The Ideal Woman, THEATRE
---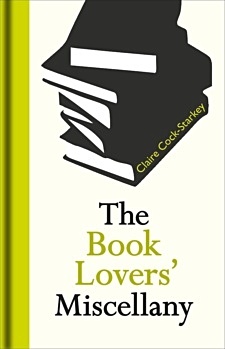 How is ink made? What is the bestselling book of all time? What are the oldest known books in the world? And how does one make sense of the colors found on Penguin paperbacks? The answers to these questions and many more await readers in The Book Lovers' Miscellany.
The Book Lovers' Miscellany is a cornucopia for bibliophiles. With customary wisdom and wit, Claire Cock-Starkey presents a brief illustrated history of paper, binding, printing, and dust jackets, with a wealth of arcane facts that even the most avid book lovers may be hard-pressed to answer: Which natural pigments were used to decorate medieval bibles? Which animal is needed for the making of vellum? Curious facts are drawn from throughout the history of books and publishing, including many more recent examples, such as a short history of the comic and the story behind the massively successful Harlequin romance imprint Mills and Boon. Readers can explore the output of the most prolific writers and marvel at the youth of the youngest published authors—or lament the decisions of the publishers who rejected books that later became colossal bestsellers. The book also includes a collection of lists, including unfinished novels, books that have faced bans, books printed with mistakes, the most influential academic books of all time, and the longest established literary families.
The perfect gift for every bibliophile, The Book Lovers' Miscellany is equally well suited to reading straight through or dipping into here and there.
The Book Lovers' Miscellany
by Claire Cock-Starkey (Author)
Hardcover
ISBN: 9781851244713
Published January 15, 2018
Bodleian Library, University of Oxford
The Bodleian Library at the University of Oxford publishes books related to their collection, in some cases facsimile editons of rare or noteworthy titles. UCP distributes Bodleian Library titles in North America.
fleursdumal.nl magazine
More in: - Book Lovers, - Bookstores, Archive C-D, Art & Literature News, Libraries in Literature, PRESS & PUBLISHING, The Art of Reading
---
The story of how literature shaped world history, in sixteen acts—from Alexander the Great and the Iliad to Don Quixote and Harry Potter
In this groundbreaking book, Martin Puchner leads us on a remarkable journey through time and around the globe to reveal the powerful role stories and literature have played in creating the world we have today.
Puchner introduces us to numerous visionaries as he explores sixteen foundational texts selected from more than four thousand years of world literature and reveals how writing has inspired the rise and fall of empires and nations, the spark of philosophical and political ideas, and the birth of religious beliefs. Indeed, literature has touched the lives of generations and changed the course of history.
At the heart of this book are works, some long-lost and rediscovered, that have shaped civilization: the first written masterpiece, the Epic of Gilgamesh; Ezra's Hebrew Bible, created as scripture; the teachings of Buddha, Confucius, Socrates, and Jesus; and the first great novel in world literature, The Tale of Genji, written by a Japanese woman known as Murasaki.
Visiting Baghdad, Puchner tells of Scheherazade and the stories of One Thousand and One Nights, and in the Americas we watch the astonishing survival of the Maya epic Popol Vuh. Cervantes, who invented the modern novel, battles pirates both real (when he is taken prisoner) and literary (when a fake sequel to Don Quixote is published).
We learn of Benjamin Franklin's pioneering work as a media entrepreneur, watch Goethe discover world literature in Sicily, and follow the rise in influence of The Communist Manifesto.
We visit Troy, Pergamum, and China, and we speak with Nobel laureates Derek Walcott in the Caribbean and Orhan Pamuk in Istanbul, as well as the wordsmiths of the oral epic Sunjata in West Africa.
Throughout The Written World, Puchner's delightful narrative also chronicles the inventions—writing technologies, the printing press, the book itself—that have shaped religion, politics, commerce, people, and history.
In a book that Elaine Scarry has praised as "unique and spellbinding," Puchner shows how literature turned our planet into a written world.
Martin Puchner is the Byron and Anita Wien Professor of English and Comparative Literature at Harvard University. His prize-winning books range from philosophy to the arts, and his bestselling six-volume Norton Anthology of World Literature and HarvardX MOOC (massive open online course) have brought four thousand years of literature to students across the globe. He lives in Cambridge, Massachusetts.
The Written World
The Power of Stories to Shape
People, History, Civilization
By Martin Puchner
Hardcover
Oct.2017
448 Pages
$32.00
ISBN 9780812998931
Published by Random House
new books
fleursdumal.nl magazine
More in: - Book News, - Book Stories, Archive O-P, Art & Literature News, NONFICTION: ESSAYS & STORIES, PRESS & PUBLISHING, The Art of Reading
---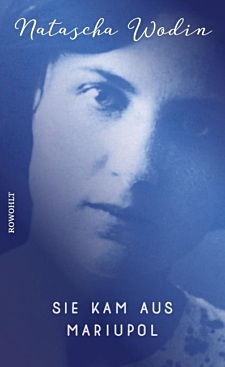 "Wenn du gesehen hättest, was ich gesehen habe" – Natascha Wodins Mutter sagte diesen Satz immer wieder und nahm doch, was sie meinte, mit ins Grab. Da war die Tochter zehn und wusste nicht viel mehr, als dass sie zu einer Art Menschenunrat gehörte, zu irgendeinem Kehricht, der vom Krieg übriggeblieben war. Wieso lebten sie in einem der Lager für "Displaced Persons", woher kam die Mutter, und was hatte sie erlebt? Erst Jahrzehnte später öffnet sich die Blackbox ihrer Herkunft, erst ein bisschen, dann immer mehr.
"Sie kam aus Mariupol" ist das außergewöhnliche Buch einer Spurensuche. Natascha Wodin geht dem Leben ihrer ukrainischen Mutter nach, die aus der Hafenstadt Mariupol stammte und mit ihrem Mann 1943 als "Ostarbeiterin" nach Deutschland verschleppt wurde. Sie erzählt beklemmend, ja bestürzend intensiv vom Anhängsel des Holocaust, einer Fußnote der Geschichte: der Zwangsarbeit im Dritten Reich. Ihre Mutter, die als junges Mädchen den Untergang ihrer Adelsfamilie im stalinistischen Terror miterlebte, bevor sie mit ungewissem Ziel ein deutsches Schiff bestieg, tritt wie durch ein spätes Wunder aus der Anonymität heraus, bekommt ein Gesicht, das unvergesslich ist. "Meine arme, kleine, verrückt gewordene Mutter", kann Natascha Wodin nun zärtlich sagen, und auch für uns Leser wird begreifbar, was verlorenging. Dass es dieses bewegende, dunkel-leuchtende Zeugnis eines Schicksals gibt, das für Millionen anderer steht, ist ein literarisches Ereignis.
"Das erinnert nicht von ungefähr an die Verfahrensweise, mit der W. G. Sebald, der große deutsche Gedächtniskünstler, verlorene Lebensläufe der Vergessenheit entriss." (Sigrid Löffler in ihrer Laudatio auf Natascha Wodin bei der Verleihung des Alfred-Döblin-Preises 2015)
Natascha Wodin, 1945 als Kind sowjetischer Zwangsarbeiter in Fürth/Bayern geboren, wuchs erst in deutschen DP-Lagern, dann, nach dem frühen Tod der Mutter, in einem katholischen Mädchenheim auf. Nach dem Abschluss einer Sprachenschule übersetzte sie aus dem Russischen und lebte zeitweise in Moskau. Auf ihr Romandebüt "Die gläserne Stadt", das 1983 erschien, folgten etliche Veröffentlichungen, darunter die Romane "Einmal lebt ich", "Die Ehe" und "Nachtgeschwister". Ihr Werk wurde unter anderem mit dem Hermann-Hesse-Preis, dem Brüder-Grimm-Preis und dem Adelbert-von-Chamisso-Preis ausgezeichnet, für "Sie kam aus Mariupol" wurde ihr der Alfred-Döblin-Preis, der Preis der Leipziger Buchmesse und der August-Graf-von-Platen-Preis verliehen. Natascha Wodin lebt in Berlin und Mecklenburg.
Preis der Leipziger Buchmesse
Preisträger 2017 in der Kategorie Belletristik
Natascha Wodin: "Sie kam aus Mariupol"
Rowohlt Verlag)
Die Begründung der Jury: In "Sie kam aus Mariupol" forscht Natascha Wodin nach den Lebensspuren ihrer ukrainischen Mutter Jewgenia – und stößt auf das Schicksal ihrer Tante Lidia. Während die Mutter 1943 mit ihrem russischen Mann als Zwangsarbeiterin in ein Leipziger Montagewerk für Kriegsflugzeuge verschleppt wurde, kam die Tante zehn Jahre zuvor in ein sowjetisches Straflager. Das ist die ungeheuerliche Parallelität, die die Familiengeschichte zerteilt. "Sie kam aus Mariupol" ist nicht aus einem Guss, weil es angesichts der Brüche des 20. Jahrhunderts gar nicht aus einem Guss sein kann. In vier hart gefügten Teilen treibt es aus unterschiedlichen Richtungen seine Stollen durch ein Massiv kollektiver und individueller Gewalt. Dieses Buch trägt auch ausdrücklich nicht die Bezeichnung Roman. Doch an der Grenze von Fiktion und Nichtfiktion, wo es angesiedelt ist, betreibt es autobiografisches Schreiben mit einem hohen Maß an Selbstreflexion und romanhaftes Schreiben auf der Grundlage von Lidias Tagebüchern. In diesem genreüberschreitenden Sinn ist es unerhört zeitgenössisch. Erinnerungsarbeit als Widerstand gegen das eigene Zerbrechen: Die Rettung, die sich Natascha Wodin davon erhofft, bleibt aus. Aber die Tapferkeit, mit der sie den Dämonen ins Gesicht sieht, die sie bannen muss, hat auch etwas ungemein Ermutigendes. Davon kann sich jeder Leser von "Sie kam aus Mariupol" überzeugen.
Natascha Wodin
'Sie kam aus Mariupol'
EAN: 9783498073893
ISBN: 3498073893
Libri: 2561776
Rowohlt Verlag GmbH
2017, 363 Seiten
gebunden, €19,95
fleursdumal.nl magazine
More in: - Book News, - Bookstores, Archive W-X, Art & Literature News, Awards & Prizes, PRESS & PUBLISHING, The Art of Reading
---
Older Entries »
« Newer Entries
Thank you for reading FLEURSDUMAL.NL - magazine for art & literature