ULTIMATE LIBRARY – danse macabre, ex libris, grimm and others, fairy tales, the art of reading, tales of mystery & imagination, sherlock holmes theatre, erotic poetry, the ideal woman
«« Previous page
·
WASHINGTON IRVING: Rip Van Winkle (A Posthumous Writing of Diedrich Knickerbocker)
·
ALMA TADEMA: de meest succesvolle schilder van de 19e eeuw
·
The Tomb by H.P. LOVECRAFT
·
SWEET ERMENGARDE, OR, THE HEART OF A COUNTRY GIRL BY H.P. LOVECRAFT
·
THE TERRIBLE OLD MAN BY H.P. LOVECRAFT
·
THE BOOK BY H.P. LOVECRAFT
·
THE ALCHEMIST BY H.P. LOVECRAFT
·
THE TREE BY H.P. LOVECRAFT
·
UNDRESSED: A BRIEF HISTORY OF UNDERWEAR
·
MACHTELD – DE MUZE VAN KAREL APPEL
·
TON KORS: HANNIE SCHAFT. HET LEVENSVERHAAL VAN EEN VROUW IN VERZET TEGEN DE NAZI'S
·
HANS CHRISTIAN ANDERSEN: 'BEAUTIFUL'
Rip Van Winkle
(A Posthumous Writing of Diedrich Knickerbocker)
by Washington Irving
By Woden, God of Saxons,
From whence comes Wensday, that is Wodensday,
Truth is a thing that ever I will keep
Unto thylke day in which I creep into
My sepulchre.
CARTWRIGHT
The following Tale was found among the papers of the late Diedrich Knickerbocker, an old gentleman of New York, who was very curious in the Dutch history of the province, and the manners of the descendants from its primitive settlers. His historical researches, however, did not lie so much among books as among men; for the former are lamentably scanty on his favorite topics; whereas he found the old burghers, and still more their wives, rich in that legendary lore, so invaluable to true history. Whenever, therefore, he happened upon a genuine Dutch family, snugly shut up in its low-roofed farmhouse, under a spreading sycamore, he looked upon it as a little clasped volume of black-letter, and studied it with the zeal of a book-worm.
The result of all these researches was a history of the province during the reign of the Dutch governors, which he published some years since. There have been various opinions as to the literary character of his work, and, to tell the truth, it is not a whit better than it should be. Its chief merit is its scrupulous accuracy, which indeed was a little questioned on its first appearance, but has since been completely established; and it is now admitted into all historical collections, as a book of unquestionable authority.
The old gentleman died shortly after the publication of his work, and now that he is dead and gone, it cannot do much harm to his memory to say that his time might have been better employed in weightier labors. He, however, was apt to ride his hobby his own way; and though it did now and then kick up the dust a little in the eyes of his neighbors, and grieve the spirit of some friends, for whom he felt the truest deference and affection; yet his errors and follies are remembered "more in sorrow than in anger," and it begins to be suspected, that he never intended to injure or offend. But however his memory may be appreciated by critics, it is still held dear by many folks, whose good opinion is well worth having; particularly by certain biscuit-bakers, who have gone so far as to imprint his likeness on their new-year cakes; and have thus given him a chance for immortality, almost equal to the being stamped on a Waterloo Medal, or a Queen Anne's Farthing.
* * *
Whoever has made a voyage up the Hudson must remember the Kaatskill mountains. They are a dismembered branch of the great Appalachian family, and are seen away to the west of the river, swelling up to a noble height, and lording it over the surrounding country. Every change of season, every change of weather, indeed, every hour of the day, produces some change in the magical hues and shapes of these mountains, and they are regarded by all the good wives, far and near, as perfect barometers. When the weather is fair and settled, they are clothed in blue and purple, and print their bold outlines on the clear evening sky, but, sometimes, when the rest of the landscape is cloudless, they will gather a hood of gray vapors about their summits, which, in the last rays of the setting sun, will glow and light up like a crown of glory.
At the foot of these fairy mountains, the voyager may have descried the light smoke curling up from a village, whose shingle-roofs gleam among the trees, just where the blue tints of the upland melt away into the fresh green of the nearer landscape. It is a little village of great antiquity, having been founded by some of the Dutch colonists, in the early times of the province, just about the beginning of the government of the good Peter Stuyvesant, (may he rest in peace!) and there were some of the houses of the original settlers standing within a few years, built of small yellow bricks brought from Holland, having latticed windows and gable fronts, surmounted with weather-cocks.
In that same village, and in one of these very houses (which, to tell the precise truth, was sadly time-worn and weather-beaten), there lived many years since, while the country was yet a province of Great Britain, a simple good-natured fellow of the name of Rip Van Winkle. He was a descendant of the Van Winkles who figured so gallantly in the chivalrous days of Peter Stuyvesant, and accompanied him to the siege of Fort Christina. He inherited, however, but little of the martial character of his ancestors. I have observed that he was a simple good-natured man; he was, moreover, a kind neighbor, and an obedient hen-pecked husband. Indeed, to the latter circumstance might be owing that meekness of spirit which gained him such universal popularity; for those men are most apt to be obsequious and conciliating abroad, who are under the discipline of shrews at home. Their tempers, doubtless, are rendered pliant and malleable in the fiery furnace of domestic tribulation; and a curtain lecture is worth all the sermons in the world for teaching the virtues of patience and long-suffering. A termagant wife may, therefore, in some respects, be considered a tolerable blessing; and if so, Rip Van Winkle was thrice blessed.
Certain it is, that he was a great favorite among all the good wives of the village, who, as usual, with the amiable sex, took his part in all family squabbles; and never failed, whenever they talked those matters over in their evening gossipings, to lay all the blame on Dame Van Winkle. The children of the village, too, would shout with joy whenever he approached. He assisted at their sports, made their playthings, taught them to fly kites and shoot marbles, and told them long stories of ghosts, witches, and Indians. Whenever he went dodging about the village, he was surrounded by a troop of them, hanging on his skirts, clambering on his back, and playing a thousand tricks on him with impunity; and not a dog would bark at him throughout the neighborhood.
The great error in Rip's composition was an insuperable aversion to all kinds of profitable labor. It could not be from the want of assiduity or perseverance; for he would sit on a wet rock, with a rod as long and heavy as a Tartar's lance, and fish all day without a murmur, even though he should not be encouraged by a single nibble. He would carry a fowling-piece on his shoulder for hours together, trudging through woods and swamps, and up hill and down dale, to shoot a few squirrels or wild pigeons. He would never refuse to assist a neighbor even in the roughest toil, and was a foremost man at all country frolics for husking Indian corn, or building stone-fences; the women of the village, too, used to employ him to run their errands, and to do such little odd jobs as their less obliging husbands would not do for them. In a word Rip was ready to attend to anybody's business but his own; but as to doing family duty, and keeping his farm in order, he found it impossible.
In fact, he declared it was of no use to work on his farm; it was the most pestilent little piece of ground in the whole country; every thing about it went wrong, and would go wrong, in spite of him. His fences were continually falling to pieces; his cow would either go astray, or get among the cabbages; weeds were sure to grow quicker in his fields than anywhere else; the rain always made a point of setting in just as he had some out-door work to do; so that though his patrimonial estate had dwindled away under his management, acre by acre, until there was little more left than a mere patch of Indian corn and potatoes, yet it was the worst conditioned farm in the neighborhood.
His children, too, were as ragged and wild as if they belonged to nobody. His son Rip, an urchin begotten in his own likeness, promised to inherit the habits, with the old clothes of his father. He was generally seen trooping like a colt at his mother's heels, equipped in a pair of his father's cast-off galligaskins, which he had much ado to hold up with one hand, as a fine lady does her train in bad weather.
Rip Van Winkle, however, was one of those happy mortals, of foolish, well-oiled dispositions, who take the world easy, eat white bread or brown, whichever can be got with least thought or trouble, and would rather starve on a penny than work for a pound. If left to himself, he would have whistled life away in perfect contentment; but his wife kept continually dinning in his ears about his idleness, his carelessness, and the ruin he was bringing on his family. Morning, noon, and night, her tongue was incessantly going, and everything he said or did was sure to produce a torrent of household eloquence. Rip had but one way of replying to all lectures of the kind, and that, by frequent use, had grown into a habit. He shrugged his shoulders, shook his head, cast up his eyes, but said nothing. This, however, always provoked a fresh volley from his wife; so that he was fain to draw off his forces, and take to the outside of the house – the only side which, in truth, belongs to a hen-pecked husband.
Rip's sole domestic adherent was his dog Wolf, who was as much hen-pecked as his master; for Dame Van Winkle regarded them as companions in idleness, and even looked upon Wolf with an evil eye, as the cause of his master's going so often astray. True it is, in all points of spirit befitting an honorable dog, he was as courageous an animal as ever scoured the woods – but what courage can withstand the ever-during and all-besetting terrors of a woman's tongue? The moment Wolf entered the house his crest fell, his tail drooped to the ground, or curled between his legs, he sneaked about with a gallows air, casting many a sidelong glance at Dame Van Winkle, and at the least flourish of a broom-stick or ladle, he would fly to the door with yelping precipitation.
Times grew worse and worse with Rip Van Winkle as years of matrimony rolled on; a tart temper never mellows with age, and a sharp tongue is the only edged tool that grows keener with constant use. For a long while he used to console himself, when driven from home, by frequenting a kind of perpetual club of the sages, philosophers, and other idle personages of the village; which held its sessions on a bench before a small inn, designated by a rubicund portrait of His Majesty George the Third. Here they used to sit in the shade through a long lazy summer's day, talking listlessly over village gossip, or telling endless sleepy stories about nothing. But it would have been worth any statesman's money to have heard the profound discussions that sometimes took place, when by chance an old newspaper fell into their hands from some passing traveller. How solemnly they would listen to the contents, as drawled out by Derrick Van Bummel, the schoolmaster, a dapper learned little man, who was not to be daunted by the most gigantic word in the dictionary; and how sagely they would deliberate upon public events some months after they had taken place.
The opinions of this junto were completely controlled by Nicholas Vedder, a patriarch of the village, and landlord of the inn, at the door of which he took his seat from morning till night, just moving sufficiently to avoid the sun and keep in the shade of a large tree; so that the neighbors could tell the hour by his movements as accurately as by a sundial. It is true he was rarely heard to speak, but smoked his pipe incessantly. His adherents, however (for every great man has his adherents), perfectly understood him, and knew how to gather his opinions. When anything that was read or related displeased him, he was observed to smoke his pipe vehemently, and to send forth short, frequent and angry puffs; but when pleased, he would inhale the smoke slowly and tranquilly, and emit it in light and placid clouds; and sometimes, taking the pipe from his mouth, and letting the fragrant vapor curl about his nose, would gravely nod his head in token of perfect approbation.
From even this stronghold the unlucky Rip was at length routed by his termagant wife, who would suddenly break in upon the tranquillity of the assemblage and call the members all to naught; nor was that august personage, Nicholas Vedder himself, sacred from the daring tongue of this terrible virago, who charged him outright with encouraging her husband in habits of idleness.
Poor Rip was at last reduced almost to despair; and his only alternative, to escape from the labor of the farm and clamor of his wife, was to take gun in hand and stroll away into the woods. Here he would sometimes seat himself at the foot of a tree, and share the contents of his wallet with Wolf, with whom he sympathized as a fellow-sufferer in persecution. "Poor Wolf," he would say, "thy mistress leads thee a dog's life of it; but never mind, my lad, whilst I live thou shalt never want a friend to stand by thee!" Wolf would wag his tail, look wistfuly in his master's face, and if dogs can feel pity I verily believe he reciprocated the sentiment with all his heart.
In a long ramble of the kind on a fine autumnal day, Rip had unconsciously scrambled to one of the highest parts of the Kaatskill mountains. He was after his favorite sport of squirrel shooting, and the still solitudes had echoed and re-echoed with the reports of his gun. Panting and fatigued, he threw himself, late in the afternoon, on a green knoll, covered with mountain herbage, that crowned the brow of a precipice. From an opening between the trees he could overlook all the lower country for many a mile of rich woodland. He saw at a distance the lordly Hudson, far, far below him, moving on its silent but majestic course, with the reflection of a purple cloud, or the sail of a lagging bark, here and there sleeping on its glassy bosom, and at last losing itself in the blue highlands.
On the other side he looked down into a deep mountain glen, wild, lonely, and shagged, the bottom filled with fragments from the impending cliffs, and scarcely lighted by the reflected rays of the setting sun. For some time Rip lay musing on this scene; evening was gradually advancing; the mountains began to throw their long blue shadows over the valleys; he saw that it would be dark long before he could reach the village, and he heaved a heavy sigh when he thought of encountering the terrors of Dame Van Winkle.
As he was about to descend, he heard a voice from a distance, hallooing, "Rip Van Winkle! Rip Van Winkle!" He looked round, but could see nothing but a crow winging its solitary flight across the mountain. He thought his fancy must have deceived him, and turned again to descend, when he heard the same cry ring through the still evening air: "Rip Van Winkle! Rip Van Winkle!" – at the same time Wolf bristled up his back, and giving a low growl, skulked to his master's side, looking fearfully down into the glen. Rip now felt a vague apprehension stealing over him; he looked anxiously in the same direction, and perceived a strange figure slowly toiling up the rocks, and bending under the weight of something he carried on his back. He was surprised to see any human being in this lonely and unfrequented place, but supposing it to be some one of the neighborhood in need of his assistance, he hastened down to yield it.
On nearer approach he was still more surprised at the singularity of the stranger's appearance. He was a short square-built old fellow, with thick bushy hair, and a grizzled beard. His dress was of the antique Dutch fashion – a cloth jerkin strapped round the waist – several pair of breeches, the outer one of ample volume, decorated with rows of buttons down the sides, and bunches at the knees. He bore on his shoulder a stout keg, that seemed full of liquor, and made signs for Rip to approach and assist him with the load. Though rather shy and distrustful of this new acquaintance, Rip complied with his usual alacrity; and mutually relieving one another, they clambered up a narrow gully, apparently the dry bed of a mountain torrent. As they ascended, Rip every now and then heard long rolling peals, like distant thunder, that seemed to issue out of a deep ravine, or rather cleft, between lofty rocks, toward which their rugged path conducted. He paused for an instant, but supposing it to be the muttering of one of those transient thunder-showers which often take place in mountain heights, he proceeded. Passing through the ravine, they came to a hollow, like a small amphitheatre, surrounded by perpendicular precipices, over the brinks of which impending trees shot their branches, so that you only caught glimpses of the azure sky and the bright evening cloud. During the whole time Rip and his companion had labored on in silence; for though the former marvelled greatly what could be the object of carrying a keg of liquor up this wild mountain, yet there was something strange and incomprehensible about the unknown, that inspired awe and checked familiarity.
On entering the amphitheatre, new objects of wonder presented themselves. On a level spot in the centre was a company of odd-looking personages playing at nine-pins. They were dressed in a quaint outlandish fashion; some wore short doublets, others jerkins, with long knives in their belts, and most of them had enormous breeches, of similar style with that of the guide's. Their visages, too, were peculiar: one had a large beard, broad face, and small piggish eyes: the face of another seemed to consist entirely of nose, and was surmounted by a white sugar-loaf hat set off with a little red cock's tail. They all had beards, of various shapes and colors. There was one who seemed to be the commander. He was a stout old gentleman, with a weather-beaten countenance; he wore a laced doublet, broad belt and hanger, high-crowned hat and feather, red stockings, and high-heeled shoes, with roses in them. The whole group reminded Rip of the figures in an old Flemish painting, in the parlor of Dominie Van Shaick, the village parson, and which had been brought over from Holland at the time of the settlement.
What seemed particularly odd to Rip was, that though these folks were evidently amusing themselves, yet they maintained the gravest faces, the most mysterious silence, and were, withal, the most melancholy party of pleasure he had ever witnessed. Nothing interrupted the stillness of the scene but the noise of the balls, which, whenever they were rolled, echoed along the mountains like rumbling peals of thunder.
As Rip and his companion approached them, they suddenly desisted from their play, and stared at him with such fixed statue-like gaze, and such strange, uncouth, lack-lustre countenances, that his heart turned within him, and his knees smote together. His companion now emptied the contents of the keg into large flagons, and made signs to him to wait upon the company. He obeyed with fear and trembling; they quaffed the liquor in profound silence, and then returned to their game.
By degrees Rip's awe and apprehension subsided. He even ventured, when no eye was fixed upon him, to taste the beverage, which he found had much of the flavor of excellent Hollands. He was naturally a thirsty soul, and was soon tempted to repeat the draught. One taste provoked another; and he reiterated his visits to the flagon so often that at length his senses were overpowered, his eyes swam in his head, his head gradually declined, and he fell into a deep sleep.
On waking, he found himself on the green knoll whence he had first seen the old man of the glen. He rubbed his eyes – it was a bright sunny morning. The birds were hopping and twittering among the bushes, and the eagle was wheeling aloft, and breasting the pure mountain breeze. "Surely," thought Rip, "I have not slept here all night." He recalled the occurrences before he fell asleep. The strange man with a keg of liquor – the mountain ravine – the wild retreat among the rocks – the woe-begone party at ninepins – the flagon – "Oh! that flagon! that wicked flagon!" thought Rip – "what excuse shall I make to Dame Van Winkle!"
He looked round for his gun, but in place of the clean well-oiled fowling-piece, he found an old firelock lying by him, the barrel incrusted with rust, the lock falling off, and the stock worm-eaten. He now suspected that the grave roysterers of the mountain had put a trick upon him, and having dosed him with liquor, had robbed him of his gun. Wolf, too, had disappeared, but he might have strayed away after a squirrel or partridge. He whistled after him and shouted his name, but all in vain; the echoes repeated his whistle and shout, but no dog was to be seen.
He determined to revisit the scene of the last evening's gambol, and if he met with any of the party, to demand his dog and gun. As he rose to walk, he found himself stiff in the joints, and wanting in his usual activity. "These mountain beds do not agree with me," thought Rip; "and if this frolic should lay me up with a fit of the rheumatism, I shall have a blessed time with Dame Van Winkle." With some difficulty he got down into the glen: he found the gully up which he and his companion had ascended the preceding evening; but to his astonishment a mountain stream was now foaming down it, leaping from rock to rock, and filling the glen with babbling murmurs. He, however, made shift to scramble up its sides, working his toilsome way through thickets of birch, sassafras, and witch-hazel, and sometimes tripped up or entangled by the wild grapevines that twisted their coils or tendrils from tree to tree, and spread a kind of network in his path.
At length he reached to where the ravine had opened through the cliffs to the amphitheatre; but no traces of such opening remained. The rocks presented a high impenetrable wall over which the torrent came tumbling in a sheet of feathery foam, and fell into a broad deep basin, black from the shadows of the surrounding forest. Here, then, poor Rip was brought to a stand. He again called and whistled after his dog; he was only answered by the cawing of a flock of idle crows, sporting high in air about a dry tree that overhung a sunny precipice; and who, secure in their elevation, seemed to look down and scoff at the poor man's perplexities. What was to be done? the morning was passing away, and Rip felt famished for want of his breakfast. He grieved to give up his dog and gun; he dreaded to meet his wife; but it would not do to starve among the mountains. He shook his head, shouldered the rusty firelock, and, with a heart full of trouble and anxiety, turned his steps homeward.
As he approached the village he met a number of people, but none whom he knew, which somewhat surprised him, for he had thought himself acquainted with every one in the country round. Their dress, too, was of a different fashion from that to which he was accustomed. They all stared at him with equal marks of surprise, and whenever they cast their eyes upon him, invariably stroked their chins. The constant recurrence of this gesture induced Rip, involuntarily, to do the same, when to his astonishment, he found his beard had grown a foot long!
He had now entered the skirts of the village. A troop of strange children ran at his heels, hooting after him, and pointing at his gray beard. The dogs, too, not one of which he recognized for an old acquaintance, barked at him as he passed. The very village was altered; it was larger and more populous. There were rows of houses which he had never seen before, and those which had been his familiar haunts had disappeared. Strange names were over the doors – strange faces at the windows – every thing was strange. His mind now misgave him; he began to doubt whether both he and the world around him were not bewitched. Surely this was his native village, which he had left but the day before. There stood the Kaatskill mountains – there ran the silver Hudson at a distance – there was every hill and dale precisely as it had always been – Rip was sorely perplexed – "That flagon last night," thought he, "has addled my poor head sadly!"
It was with some difficulty that he found the way to his own house, which he approached with silent awe, expecting every moment to hear the shrill voice of Dame Van Winkle. He found the house gone to decay – the roof fallen in, the windows shattered, and the doors off the hinges. A half-starved dog that looked like Wolf was skulking about it. Rip called him by name, but the cur snarled, showed his teeth, and passed on. This was an unkind cut indeed – "My very dog," sighed poor Rip, "has forgotten me!"
He entered the house, which, to tell the truth, Dame Van Winkle had always kept in neat order. It was empty, forlorn, and apparently abandoned. This desolateness overcame all his connubial fears – he called loudly for his wife and children – the lonely chambers rang for a moment with his voice, and then all again was silence.
He now hurried forth, and hastened to his old resort, the village inn – but it too was gone. A large rickety wooden building stood in its place, with great gaping windows, some of them broken and mended with old hats and petticoats, and over the door was painted, "the Union Hotel, by Jonathan Doolittle." Instead of the great tree that used to shelter the quiet little Dutch inn of yore, there now was reared a tall naked pole, with something on the top that looked like a red night-cap, and from it was fluttering a flag, on which was a singular assemblage of stars and stripes – all this was strange and incomprehensible. He recognized on the sign, however, the ruby face of King George, under which he had smoked so many a peaceful pipe; but even this was singularly metamorphosed. The red coat was changed for one of blue and buff, a sword was held in the hand instead of a sceptre, the head was decorated with a cocked hat, and underneath was painted in large characters, GENERAL WASHINGTON.
There was, as usual, a crowd of folk about the door, but none that Rip recollected. The very character of the people seemed changed. There was a busy, bustling, disputatious tone about it, instead of the accustomed phlegm and drowsy tranquillity. He looked in vain for the sage Nicholas Vedder, with his broad face, double chin, and fair long pipe, uttering clouds of tobacco-smoke instead of idle speeches; or Van Bummel, the schoolmaster, doling forth the contents of an ancient newspaper. In place of these, a lean, bilious-looking fellow, with his pockets full of handbills, was haranguing vehemently about rights of citizens – elections – members of congress – liberty – Bunker's Hill – heroes of seventy-six – and other words, which were a perfect Babylonish jargon to the bewildered Van Winkle.
The appearance of Rip, with his long grizzled beard, his rusty fowling-piece, his uncouth dress, and an army of women and children at his heels, soon attracted the attention of the tavern politicians. They crowded round him, eyeing him from head to foot with great curiosity. The orator bustled up to him, and, drawing him partly aside, inquired "on which side he voted?" Rip stared in vacant stupidity. Another short but busy little fellow pulled him by the arm, and, rising on tiptoe, inquired in his ear, "Whether he was Federal or Democrat?" Rip was equally at a loss to comprehend the question; when a knowing, self-important old gentleman, in a sharp cocked hat, made his way through the crowd, putting them to the right and left with his elbows as he passed, and planting himself before Van Winkle, with one arm akimbo, the other resting on his cane, his keen eyes and sharp hat penetrating, as it were, into his very soul, demanded in an austere tone, "what brought him to the election with a gun on his shoulder, and a mob at his heels, and whether he meant to breed a riot in the village?" – "Alas! gentlemen," cried Rip, somewhat dismayed, "I am a poor quiet man, a native of the place, and a loyal subject of the king, God bless him!"
Here a general shout burst from the by-standers – "A tory! a tory! a spy! a refugee! hustle him! away with him!" It was with great difficulty that the self-important man in the cocked hat restored order; and, having assumed a tenfold austerity of brow, demanded again of the unknown culprit, what he came there for, and whom he was seeking? The poor man humbly assured him that he meant no harm, but merely came there in search of some of his neighbors, who used to keep about the tavern.
"Well – who are they? – name them."
Rip bethought himself a moment, and inquired, "Where's Nicholas Vedder?"
There was a silence for a little while, when an old man replied, in a thin piping voice, "Nicholas Vedder! why, he is dead and gone these eighteen years! There was a wooden tombstone in the church-yard that used to tell all about him, but that's rotten and gone too."
"Where's Brom Dutcher?"
"Oh, he went off to the army in the beginning of the war; some say he was killed at the storming of Stony Point – others say he was drowned in a squall at the foot of Antony's Nose. I don't know – he never came back again."
"Where's Van Bummel, the schoolmaster?"
"He went off to the wars too, was a great militia general, and is now in congress."
Rip's heart died away at hearing of these sad changes in his home and friends, and finding himself thus alone in the world. Every answer puzzled him too, by treating of such enormous lapses of time, and of matters which he could not understand: war – congress – Stony Point; – he had no courage to ask after any more friends, but cried out in despair, "Does nobody here know Rip Van Winkle?"
"Oh, Rip Van Winkle!" exclaimed two or three, "Oh, to be sure! that's Rip Van Winkle yonder, leaning against the tree."
Rip looked, and beheld a precise counterpart of himself, as he went up the mountain: apparently as lazy, and certainly as ragged. The poor fellow was now completely confounded. He doubted his own identity, and whether he was himself or another man. In the midst of his bewilderment, the man in the cocked hat demanded who he was, and what was his name?
"God knows," exclaimed he, at his wit's end; "I'm not myself – I'm somebody else – that's me yonder – no – that's somebody else got into my shoes – I was myself last night, but I fell asleep on the mountain, and they've changed my gun, and every thing's changed, and I'm changed, and I can't tell what's my name, or who I am!"
The by-standers began now to look at each other, nod, wink significantly, and tap their fingers against their foreheads. There was a whisper also, about securing the gun, and keeping the old fellow from doing mischief, at the very suggestion of which the self-important man in the cocked hat retired with some precipitation. At this critical moment a fresh comely woman pressed through the throng to get a peep at the gray-bearded man. She had a chubby child in her arms, which, frightened at his looks, began to cry. "Hush, Rip," cried she, "hush, you little fool; the old man won't hurt you." The name of the child, the air of the mother, the tone of her voice, all awakened a train of recollections in his mind. "What is your name, my good woman?" asked he.
"Judith Gardenier."
"And your father's name?"
"Ah, poor man, Rip Van Winkle was his name, but it's twenty years since he went away from home with his gun, and never has been heard of since – his dog came home without him; but whether he shot himself, or was carried away by the Indians, nobody can tell. I was then but a little girl."
Rip had but one question more to ask; but he put it with a faltering voice:
"Where's your mother?"
"Oh, she too had died but a short time since; she broke a blood-vessel in a fit of passion at a New-England peddler."
There was a drop of comfort, at least, in this intelligence. The honest man could contain himself no longer. He caught his daughter and her child in his arms. "I am your father!" cried he – "Young Rip Van Winkle once – old Rip Van Winkle now! – Does nobody know poor Rip Van Winkle?"
All stood amazed, until an old woman, tottering out from among the crowd, put her hand to her brow, and peering under it in his face for a moment, exclaimed, "Sure enough! it is Rip Van Winkle – it is himself! Welcome home again, old neighbor – Why, where have you been these twenty long years?"
Rip's story was soon told, for the whole twenty years had been to him but as one night. The neighbors stared when they heard it; some were seen to wink at each other, and put their tongues in their cheeks: and the self-important man in the cocked hat, who, when the alarm was over, had returned to the field, screwed down the corners of his mouth, and shook his head – upon which there was a general shaking of the head throughout the assemblage.
It was determined, however, to take the opinion of old Peter Vanderdonk, who was seen slowly advancing up the road. He was a descendant of the historian of that name, who wrote one of the earliest accounts of the province. Peter was the most ancient inhabitant of the village, and well versed in all the wonderful events and traditions of the neighborhood. He recollected Rip at once, and corroborated his story in the most satisfactory manner. He assured the company that it was a fact, handed down from his ancestor the historian, that the Kaatskill mountains had always been haunted by strange beings. That it was affirmed that the great Hendrick Hudson, the first discoverer of the river and country, kept a kind of vigil there every twenty years, with his crew of the Half-moon; being permitted in this way to revisit the scenes of his enterprise, and keep a guardian eye upon the river, and the great city called by his name. That his father had once seen them in their old Dutch dresses playing at nine-pins in a hollow of the mountain; and that he himself had heard, one summer afternoon, the sound of their balls, like distant peals of thunder.
To make a long story short, the company broke up, and returned to the more important concerns of the election. Rip's daughter took him home to live with her; she had a snug, well-furnished house, and a stout cheery farmer for a husband, whom Rip recollected for one of the urchins that used to climb upon his back. As to Rip's son and heir, who was the ditto of himself, seen leaning against the tree, he was employed to work on the farm; but evinced an hereditary disposition to attend to anything else but his business.
Rip now resumed his old walks and habits; he soon found many of his former cronies, though all rather the worse for the wear and tear of time; and preferred making friends among the rising generation, with whom he soon grew into great favor.
Having nothing to do at home, and being arrived at that happy age when a man can be idle with impunity, he took his place once more on the bench at the inn door, and was reverenced as one of the patriarchs of the village, and a chronicle of the old times "before the war." It was some time before he could get into the regular track of gossip, or could be made to comprehend the strange events that had taken place during his torpor. How that there had been a revolutionary war – that the country had thrown off the yoke of old England – and that, instead of being a subject of his Majesty George the Third, he was now a free citizen of the United States. Rip, in fact, was no politician; the changes of states and empires made but little impression on him; but there was one species of despotism under which he had long groaned, and that was – petticoat government. Happily that was at an end; he had got his neck out of the yoke of matrimony, and could go in and out whenever he pleased, without dreading the tyranny of Dame Van Winkle. Whenever her name was mentioned, however, he shook his head, shrugged his shoulders, and cast up his eyes; which might pass either for an expression of resignation to his fate, or joy at his deliverance.
He used to tell his story to every stranger that arrived at Mr. Doolittle's hotel. He was observed, at first, to vary on some points every time he told it, which was, doubtless, owing to his having so recently awaked. It at last settled down precisely to the tale I have related, and not a man, woman, or child in the neighborhood, but knew it by heart. Some always pretended to doubt the reality of it, and insisted that Rip had been out of his head, and that this was one point on which he always remained flighty. The old Dutch inhabitants, however, almost universally gave it full credit. Even to this day they never hear a thunderstorm of a summer afternoon about the Kaatskill, but they say Hendrick Hudson and his crew are at their game of nine-pins; and it is a common wish of all hen-pecked husbands in the neighborhood, when life hangs heavy on their hands, that they might have a quieting draught out of Rip Van Winkle's flagon.
NOTE – The foregoing Tale, one would suspect, had been suggested to Mr. Knickerbocker by a little German superstition about the Emperor Frederick der Rothbart, and the Kypphauser mountain: the subjoined note, however, which he had appended to the tale, shows that it is an absolute fact, narrated with his usual fidelity:
"The story of Rip Van Winkle may seem incredible to many, but nevertheless I give it my full belief, for I know the vicinity of our old Dutch settlements to have been very subject to marvellous events and appearances. Indeed, I have heard many stranger stories than this, in the villages along the Hudson; all of which were too well authenticated to admit of a doubt. I have even talked with Rip Van Winkle myself who, when last I saw him, was a very venerable old man, and so perfectly rational and consistent on every other point, that I think no conscientious person could refuse to take this into the bargain; nay, I have seen a certificate on the subject taken before a country justice and signed with a cross, in the justice's own handwriting. The story, therefore, is beyond the possibility of doubt. D. K."
Washington Irving (1783-1859)
Rip Van Winkle (A Posthumous Writing of Diedrich Knickerbocker)
fleursdumal.nl magazine
More in: -Short Stories Archive, Archive I-J, Tales of Mystery & Imagination
---
alma-tadema (1836 – 1912)
de meest succesvolle schilder van de 19e eeuw
Verleidelijke Romeinse vrouwen gesluierd in fijne gewaden tegen dromerige vergezichten, mijmerende geliefden op bijna doorschijnend marmeren bankjes en dames die hun tijd doorbrengen met pootjebaden, vissen voeren en luieren. Maar ook een farao met zijn stervende zoon in zijn armen en een nietsvermoedend feestend gezelschap dat elk moment verstikt gaat worden onder een lawine van rozenblaadjes. Alma-Tadema neemt ons mee naar scenes uit de klassieke oudheid en brengt deze tijd, als eerste, echt tot leven. Hij verbeeldt de oudheid zo mooi en overtuigend, dat regisseurs zijn schilderijen gebruiken als blauwdruk voor spektakelfilms als Gladiator. Uit heel de wereld komen meer dan tachtig topschilderijen van een van de meest succesvolle schilders van de 19de eeuw naar Leeuwarden. Samen met persoonlijke voorwerpen en filmfragmenten geven zij een inkijk in zijn wereld.
van lourens naar sir lawrence
Alma-Tadema wordt in 1836 geboren als de Friese Lourens. Na zijn opleiding aan de kunstacademie in Antwerpen vertrekt hij voor de liefde naar Londen, waar hij zich laat naturaliseren tot Engelsman en zichzelf Lawrence gaat noemen. Al snel wordt hij ontdekt door het grote publiek en zijn roem is ongekend, vooral in Engeland en Amerika. In 1899 wordt hij zelfs geridderd en gaat voortaan als Sir door het leven. Alma-Tadema stierf in 1912 en ligt begraven in de St. Paul's Cathedral in Londen.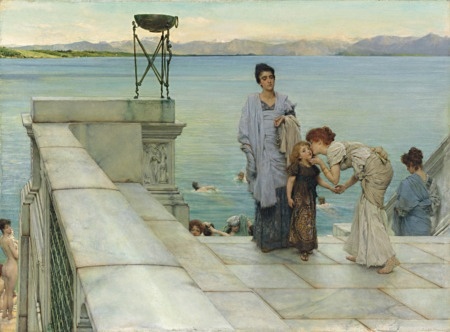 wereldfaam
Tijdens zijn leven wordt Alma-Tadema wereldberoemd met zijn werk. Hij schildert in opdracht van welgestelde zakenlieden en weet als geen ander zijn netwerk te cultiveren. Als een ware entertainer vermaakt hij op chique soirees de Londense high society. De opdrachten blijven binnenstromen en Tadema verdient een fortuin. Zo wordt hij een van de meest succesvolle schilders van de 19de eeuw. Ook tegenwoordig zijn werken van de geridderde schilder in het bezit van grote namen als George Lucas, de steenrijke Amerikaanse William Vanderbilt, de Getty familie, Andrew Lloyd Webber en Jack Nicholson. Zelfs ons koningshuis is de trotste eigenaar van een Tadema.
tadema en hollywood
Sinds zijn huwelijksreis naar Rome en Pompeï is Alma-Tadema gefascineerd door de klassieke oudheid. Hij is de eerste schilder die deze tijd met zoveel zorg en precisie in beeld brengt. Menig regisseur baseert zich op zijn schilderijen bij het maken van historische blockbusters zoals The Ten Commandments(1956). Ook nu nog; Tadema's werk is een directe inspiratiebron voor Ridley Scott voor Gladiator (2000). In de tentoonstelling wordt glashelder hoe Tadema de filmwereld heeft beïnvloed. Daarnaast is er een bijpassend filmprogramma in samenwerking met Slieker Film en EYE filmmuseum.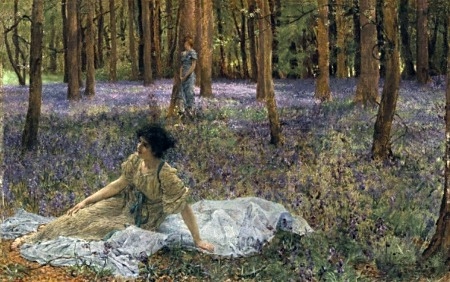 grootste collectie
Het museum beschikte al over de grootste Alma-Tadema-collectie van Nederland, deels gekregen van Alma-Tadema en zijn dochters Laurence en Anna. In het najaar van 2015 doet het Fries Museum de grootste aankoop uit de historie van het museum: Tadema's Entrance of the theatre. Door deze aankoop kan het Fries Museum als enige museum in Nederland de volledige ontwikkeling tonen die de schilder in zijn carrière doormaakte.
audiotour
Alma-Tadema wekt met zijn schilderijen verhalen uit de oudheid tot leven. Maar welke verhalen vertelt hij eigenlijk en welke symboliek schuilt er achter de objecten die we in zijn werken zien? In een levendige audiotour vertelt acteur Peter Tuinman je alles over zeventien hoogtepunten van de tentoonstelling. Je kiest zelf over welke schilderijen je meer wilt horen waardoor je in alle vrijheid door de tentoonstelling kunt lopen. De verhalentour kost slechts € 1,- per persoon en is ook online te reserveren. Voor buitenlandse bezoekers is er een Engelstalige Storytour beschikbaar.
Het Fries Museum heeft voor deze vernieuwende tentoonstelling over Alma-Tadema de Turing Toekenning 2015 gewonnen. De Turing Foundation kent deze prijs ter waarde van 500.000 euro eens in de twee jaar toe voor het beste tentoonstellingsplan van een Nederlands museum.
De tentoonstelling Alma-Tadema, klassieke verleiding is onderdeel van Leeuwarden-Fryslân Culturele Hoofdstad van Europa 2018. Voor deze tentoonstelling en het begeleidende filmprogramma werkt het Fries Museum samen met EYE filmmuseum en Slieker Film.
Alma-Tadema – klassieke verleiding is nog te zien tot en met 7 februari 2017.
Fries Museum
Wilhelminaplein 92
8911 BS Leeuwarden
T: 058 255 55 00
# Meer info op website friesmuseum
fleurdumal.nl magazine
More in: *The Pre-Raphaelites Archive, Art & Literature News, Exhibition Archive, The Ideal Woman, The talk of the town
---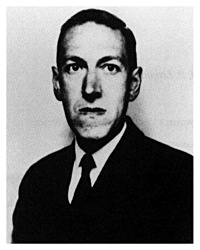 The Tomb
by H. P. Lovecraft
"Sedibus ut saltem placidis in morte quiescam."
(Virgil)
In relating the circumstances which have led to my confinement within this refuge for the demented, I am aware that my present position will create a natural doubt of the authenticity of my narrative. It is an unfortunate fact that the bulk of humanity is too limited in its mental vision to weigh with patience and intelligence those isolated phenomena, seen and felt only by a psychologically sensitive few, which lie outside its common experience. Men of broader intellect know that there is no sharp distinction betwixt the real and the unreal; that all things appear as they do only by virtue of the delicate individual physical and mental media through which we are made conscious of them; but the prosaic materialism of the majority condemns as madness the flashes of super-sight which penetrate the common veil of obvious empiricism.
My name is Jervas Dudley, and from earliest childhood I have been a dreamer and a visionary. Wealthy beyond the necessity of a commercial life, and temperamentally unfitted for the formal studies and social recreations of my acquaintances, I have dwelt ever in realms apart from the visible world; spending my youth and adolescence in ancient and little-known books, and in roaming the fields and groves of the region near my ancestral home. I do not think that what I read in these books or saw in these fields and groves was exactly what other boys read and saw there; but of this I must say little, since detailed speech would but confirm those cruel slanders upon my intellect which I sometimes overhear from the whispers of the stealthy attendants around me. It is sufficient for me to relate events without analysing causes.
I have said that I dwelt apart from the visible world, but I have not said that I dwelt alone. This no human creature may do; for lacking the fellowship of the living, he inevitably draws upon the companionship of things that are not, or are no longer, living. Close by my home there lies a singular wooded hollow, in whose twilight deeps I spent most of my time; reading, thinking, and dreaming. Down its moss-covered slopes my first steps of infancy were taken, and around its grotesquely gnarled oak trees my first fancies of boyhood were woven. Well did I come to know the presiding dryads of those trees, and often have I watched their wild dances in the struggling beams of a waning moon—but of these things I must not now speak. I will tell only of the lone tomb in the darkest of the hillside thickets; the deserted tomb of the Hydes, an old and exalted family whose last direct descendant had been laid within its black recesses many decades before my birth.
The vault to which I refer is of ancient granite, weathered and discoloured by the mists and dampness of generations. Excavated back into the hillside, the structure is visible only at the entrance. The door, a ponderous and forbidding slab of stone, hangs upon rusted iron hinges, and is fastened ajar in a queerly sinister way by means of heavy iron chains and padlocks, according to a gruesome fashion of half a century ago. The abode of the race whose scions are here inurned had once crowned the declivity which holds the tomb, but had long since fallen victim to the flames which sprang up from a disastrous stroke of lightning. Of the midnight storm which destroyed this gloomy mansion, the older inhabitants of the region sometimes speak in hushed and uneasy voices; alluding to what they call "divine wrath" in a manner that in later years vaguely increased the always strong fascination which I felt for the forest-darkened sepulchre. One man only had perished in the fire. When the last of the Hydes was buried in this place of shade and stillness, the sad urnful of ashes had come from a distant land; to which the family had repaired when the mansion burned down. No one remains to lay flowers before the granite portal, and few care to brave the depressing shadows which seem to linger strangely about the water-worn stones.
I shall never forget the afternoon when first I stumbled upon the half-hidden house of death. It was in mid-summer, when the alchemy of Nature transmutes the sylvan landscape to one vivid and almost homogeneous mass of green; when the senses are well-nigh intoxicated with the surging seas of moist verdure and the subtly indefinable odours of the soil and the vegetation. In such surroundings the mind loses its perspective; time and space become trivial and unreal, and echoes of a forgotten prehistoric past beat insistently upon the enthralled consciousness. All day I had been wandering through the mystic groves of the hollow; thinking thoughts I need not discuss, and conversing with things I need not name. In years a child of ten, I had seen and heard many wonders unknown to the throng; and was oddly aged in certain respects. When, upon forcing my way between two savage clumps of briers, I suddenly encountered the entrance of the vault, I had no knowledge of what I had discovered. The dark blocks of granite, the door so curiously ajar, and the funereal carvings above the arch, aroused in me no associations of mournful or terrible character. Of graves and tombs I knew and imagined much, but had on account of my peculiar temperament been kept from all personal contact with churchyards and cemeteries. The strange stone house on the woodland slope was to me only a source of interest and speculation; and its cold, damp interior, into which I vainly peered through the aperture so tantalisingly left, contained for me no hint of death or decay. But in that instant of curiosity was born the madly unreasoning desire which has brought me to this hell of confinement. Spurred on by a voice which must have come from the hideous soul of the forest, I resolved to enter the beckoning gloom in spite of the ponderous chains which barred my passage. In the waning light of day I alternately rattled the rusty impediments with a view to throwing wide the stone door, and essayed to squeeze my slight form through the space already provided; but neither plan met with success. At first curious, I was now frantic; and when in the thickening twilight I returned to my home, I had sworn to the hundred gods of the grove that at any cost I would some day force an entrance to the black, chilly depths that seemed calling out to me. The physician with the iron-grey beard who comes each day to my room once told a visitor that this decision marked the beginning of a pitiful monomania; but I will leave final judgment to my readers when they shall have learnt all.
The months following my discovery were spent in futile attempts to force the complicated padlock of the slightly open vault, and in carefully guarded inquiries regarding the nature and history of the structure. With the traditionally receptive ears of the small boy, I learned much; though an habitual secretiveness caused me to tell no one of my information or my resolve. It is perhaps worth mentioning that I was not at all surprised or terrified on learning of the nature of the vault. My rather original ideas regarding life and death had caused me to associate the cold clay with the breathing body in a vague fashion; and I felt that the great and sinister family of the burned-down mansion was in some way represented within the stone space I sought to explore. Mumbled tales of the weird rites and godless revels of bygone years in the ancient hall gave to me a new and potent interest in the tomb, before whose door I would sit for hours at a time each day. Once I thrust a candle within the nearly closed entrance, but could see nothing save a flight of damp stone steps leading downward. The odour of the place repelled yet bewitched me. I felt I had known it before, in a past remote beyond all recollection; beyond even my tenancy of the body I now possess.
The year after I first beheld the tomb, I stumbled upon a worm-eaten translation of Plutarch's Lives in the book-filled attic of my home. Reading the life of Theseus, I was much impressed by that passage telling of the great stone beneath which the boyish hero was to find his tokens of destiny whenever he should become old enough to lift its enormous weight. This legend had the effect of dispelling my keenest impatience to enter the vault, for it made me feel that the time was not yet ripe. Later, I told myself, I should grow to a strength and ingenuity which might enable me to unfasten the heavily chained door with ease; but until then I would do better by conforming to what seemed the will of Fate.
Accordingly my watches by the dank portal became less persistent, and much of my time was spent in other though equally strange pursuits. I would sometimes rise very quietly in the night, stealing out to walk in those churchyards and places of burial from which I had been kept by my parents. What I did there I may not say, for I am not now sure of the reality of certain things; but I know that on the day after such a nocturnal ramble I would often astonish those about me with my knowledge of topics almost forgotten for many generations. It was after a night like this that I shocked the community with a queer conceit about the burial of the rich and celebrated Squire Brewster, a maker of local history who was interred in 1711, and whose slate headstone, bearing a graven skull and crossbones, was slowly crumbling to powder. In a moment of childish imagination I vowed not only that the undertaker, Goodman Simpson, had stolen the silver-buckled shoes, silken hose, and satin small-clothes of the deceased before burial; but that the Squire himself, not fully inanimate, had turned twice in his mound-covered coffin on the day after interment.
But the idea of entering the tomb never left my thoughts; being indeed stimulated by the unexpected genealogical discovery that my own maternal ancestry possessed at least a slight link with the supposedly extinct family of the Hydes. Last of my paternal race, I was likewise the last of this older and more mysterious line. I began to feel that the tomb was mine, and to look forward with hot eagerness to the time when I might pass within that stone door and down those slimy stone steps in the dark. I now formed the habit of listening very intently at the slightly open portal, choosing my favourite hours of midnight stillness for the odd vigil. By the time I came of age, I had made a small clearing in the thicket before the mould-stained facade of the hillside, allowing the surrounding vegetation to encircle and overhang the space like the walls and roof of a sylvan bower. This bower was my temple, the fastened door my shrine, and here I would lie outstretched on the mossy ground, thinking strange thoughts and dreaming strange dreams.
The night of the first revelation was a sultry one. I must have fallen asleep from fatigue, for it was with a distinct sense of awakening that I heard the voices. Of those tones and accents I hesitate to speak; of their quality I will not speak; but I may say that they presented certain uncanny differences in vocabulary, pronunciation, and mode of utterance. Every shade of New England dialect, from the uncouth syllables of the Puritan colonists to the precise rhetoric of fifty years ago, seemed represented in that shadowy colloquy, though it was only later that I noticed the fact. At the time, indeed, my attention was distracted from this matter by another phenomenon; a phenomenon so fleeting that I could not take oath upon its reality. I barely fancied that as I awoke, a light had been hurriedly extinguished within the sunken sepulchre. I do not think I was either astounded or panic-stricken, but I know that I was greatly and permanently changed that night. Upon returning home I went with much directness to a rotting chest in the attic, wherein I found the key which next day unlocked with ease the barrier I had so long stormed in vain.
It was in the soft glow of late afternoon that I first entered the vault on the abandoned slope. A spell was upon me, and my heart leaped with an exultation I can but ill describe. As I closed the door behind me and descended the dripping steps by the light of my lone candle, I seemed to know the way; and though the candle sputtered with the stifling reek of the place, I felt singularly at home in the musty, charnel-house air. Looking about me, I beheld many marble slabs bearing coffins, or the remains of coffins. Some of these were sealed and intact, but others had nearly vanished, leaving the silver handles and plates isolated amidst certain curious heaps of whitish dust. Upon one plate I read the name of Sir Geoffrey Hyde, who had come from Sussex in 1640 and died here a few years later. In a conspicuous alcove was one fairly well-preserved and untenanted casket, adorned with a single name which brought to me both a smile and a shudder. An odd impulse caused me to climb upon the broad slab, extinguish my candle, and lie down within the vacant box.
In the grey light of dawn I staggered from the vault and locked the chain of the door behind me. I was no longer a young man, though but twenty-one winters had chilled my bodily frame. Early-rising villagers who observed my homeward progress looked at me strangely, and marvelled at the signs of ribald revelry which they saw in one whose life was known to be sober and solitary. I did not appear before my parents till after a long and refreshing sleep.
Henceforward I haunted the tomb each night; seeing, hearing, and doing things I must never reveal. My speech, always susceptible to environmental influences, was the first thing to succumb to the change; and my suddenly acquired archaism of diction was soon remarked upon. Later a queer boldness and recklessness came into my demeanour, till I unconsciously grew to possess the bearing of a man of the world despite my lifelong seclusion. My formerly silent tongue waxed voluble with the easy grace of a Chesterfield or the godless cynicism of a Rochester. I displayed a peculiar erudition utterly unlike the fantastic, monkish lore over which I had pored in youth; and covered the flyleaves of my books with facile impromptu epigrams which brought up suggestions of Gay, Prior, and the sprightliest of the Augustan wits and rimesters. One morning at breakfast I came close to disaster by declaiming in palpably liquorish accents an effusion of eighteenth-century Bacchanalian mirth; a bit of Georgian playfulness never recorded in a book, which ran something like this:
Come hither, my lads, with your tankards of ale,
And drink to the present before it shall fail;
Pile each on your platter a mountain of beef,
For 'tis eating and drinking that bring us relief:
So fill up your glass,
For life will soon pass;
When you're dead ye'll ne'er drink to your king or your lass!
Anacreon had a red nose, so they say;
But what's a red nose if ye're happy and gay?
Gad split me! I'd rather be red whilst I'm here,
Than white as a lily—and dead half a year!
So Betty, my miss,
Come give me a kiss;
In hell there's no innkeeper's daughter like this!
Young Harry, propp'd up just as straight as he's able,
Will soon lose his wig and slip under the table;
But fill up your goblets and pass 'em around—
Better under the table than under the ground!
So revel and chaff
As ye thirstily quaff:
Under six feet of dirt 'tis less easy to laugh!
The fiend strike me blue! I'm scarce able to walk,
And damn me if I can stand upright or talk!
Here, landlord, bid Betty to summon a chair;
I'll try home for a while, for my wife is not there!
So lend me a hand;
I'm not able to stand,
But I'm gay whilst I linger on top of the land!
About this time I conceived my present fear of fire and thunderstorms. Previously indifferent to such things, I had now an unspeakable horror of them; and would retire to the innermost recesses of the house whenever the heavens threatened an electrical display. A favourite haunt of mine during the day was the ruined cellar of the mansion that had burned down, and in fancy I would picture the structure as it had been in its prime. On one occasion I startled a villager by leading him confidently to a shallow sub-cellar, of whose existence I seemed to know in spite of the fact that it had been unseen and forgotten for many generations.
At last came that which I had long feared. My parents, alarmed at the altered manner and appearance of their only son, commenced to exert over my movements a kindly espionage which threatened to result in disaster. I had told no one of my visits to the tomb, having guarded my secret purpose with religious zeal since childhood; but now I was forced to exercise care in threading the mazes of the wooded hollow, that I might throw off a possible pursuer. My key to the vault I kept suspended from a cord about my neck, its presence known only to me. I never carried out of the sepulchre any of the things I came upon whilst within its walls.
One morning as I emerged from the damp tomb and fastened the chain of the portal with none too steady hand, I beheld in an adjacent thicket the dreaded face of a watcher. Surely the end was near; for my bower was discovered, and the objective of my nocturnal journeys revealed. The man did not accost me, so I hastened home in an effort to overhear what he might report to my careworn father. Were my sojourns beyond the chained door about to be proclaimed to the world? Imagine my delighted astonishment on hearing the spy inform my parent in a cautious whisper that I had spent the night in the bower outside the tomb; my sleep-filmed eyes fixed upon the crevice where the padlocked portal stood ajar! By what miracle had the watcher been thus deluded? I was now convinced that a supernatural agency protected me. Made bold by this heaven-sent circumstance, I began to resume perfect openness in going to the vault; confident that no one could witness my entrance. For a week I tasted to the full the joys of that charnel conviviality which I must not describe, when the thing happened, and I was borne away to this accursed abode of sorrow and monotony.
I should not have ventured out that night; for the taint of thunder was in the clouds, and a hellish phosphorescence rose from the rank swamp at the bottom of the hollow. The call of the dead, too, was different. Instead of the hillside tomb, it was the charred cellar on the crest of the slope whose presiding daemon beckoned to me with unseen fingers. As I emerged from an intervening grove upon the plain before the ruin, I beheld in the misty moonlight a thing I had always vaguely expected. The mansion, gone for a century, once more reared its stately height to the raptured vision; every window ablaze with the splendour of many candles. Up the long drive rolled the coaches of the Boston gentry, whilst on foot came a numerous assemblage of powdered exquisites from the neighbouring mansions. With this throng I mingled, though I knew I belonged with the hosts rather than with the guests. Inside the hall were music, laughter, and wine on every hand. Several faces I recognised; though I should have known them better had they been shrivelled or eaten away by death and decomposition. Amidst a wild and reckless throng I was the wildest and most abandoned. Gay blasphemy poured in torrents from my lips, and in my shocking sallies I heeded no law of God, Man, or Nature. Suddenly a peal of thunder, resonant even above the din of the swinish revelry, clave the very roof and laid a hush of fear upon the boisterous company. Red tongues of flame and searing gusts of heat engulfed the house; and the roysterers, struck with terror at the descent of a calamity which seemed to transcend the bounds of unguided Nature, fled shrieking into the night. I alone remained, riveted to my seat by a grovelling fear which I had never felt before. And then a second horror took possession of my soul. Burnt alive to ashes, my body dispersed by the four winds, I might never lie in the tomb of the Hydes! Was not my coffin prepared for me? Had I not a right to rest till eternity amongst the descendants of Sir Geoffrey Hyde? Aye! I would claim my heritage of death, even though my soul go seeking through the ages for another corporeal tenement to represent it on that vacant slab in the alcove of the vault. Jervas Hyde should never share the sad fate of Palinurus!
As the phantom of the burning house faded, I found myself screaming and struggling madly in the arms of two men, one of whom was the spy who had followed me to the tomb. Rain was pouring down in torrents, and upon the southern horizon were flashes of the lightning that had so lately passed over our heads. My father, his face lined with sorrow, stood by as I shouted my demands to be laid within the tomb; frequently admonishing my captors to treat me as gently as they could. A blackened circle on the floor of the ruined cellar told of a violent stroke from the heavens; and from this spot a group of curious villagers with lanterns were prying a small box of antique workmanship which the thunderbolt had brought to light. Ceasing my futile and now objectless writhing, I watched the spectators as they viewed the treasure-trove, and was permitted to share in their discoveries. The box, whose fastenings were broken by the stroke which had unearthed it, contained many papers and objects of value; but I had eyes for one thing alone. It was the porcelain miniature of a young man in a smartly curled bag-wig, and bore the initials "J. H." The face was such that as I gazed, I might well have been studying my mirror.
On the following day I was brought to this room with the barred windows, but I have been kept informed of certain things through an aged and simple-minded servitor, for whom I bore a fondness in infancy, and who like me loves the churchyard. What I have dared relate of my experiences within the vault has brought me only pitying smiles. My father, who visits me frequently, declares that at no time did I pass the chained portal, and swears that the rusted padlock had not been touched for fifty years when he examined it. He even says that all the village knew of my journeys to the tomb, and that I was often watched as I slept in the bower outside the grim facade, my half-open eyes fixed on the crevice that leads to the interior. Against these assertions I have no tangible proof to offer, since my key to the padlock was lost in the struggle on that night of horrors. The strange things of the past which I learnt during those nocturnal meetings with the dead he dismisses as the fruits of my lifelong and omnivorous browsing amongst the ancient volumes of the family library. Had it not been for my old servant Hiram, I should have by this time become quite convinced of my madness.
But Hiram, loyal to the last, has held faith in me, and has done that which impels me to make public at least a part of my story. A week ago he burst open the lock which chains the door of the tomb perpetually ajar, and descended with a lantern into the murky depths. On a slab in an alcove he found an old but empty coffin whose tarnished plate bears the single word "Jervas". In that coffin and in that vault they have promised me I shall be buried.
The Tomb (1917)
by H. P. Lovecraft (1890 – 1937)
fleursdumal.nl magazine
More in: Archive K-L, Lovecraft, H.P., Tales of Mystery & Imagination
---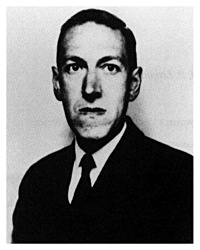 Sweet Ermengarde
Or, The Heart of a Country Girl
By Percy Simple [H. P. Lovecraft]
Chapter I
A Simple Rustic Maid
Ermengarde Stubbs was the beauteous blonde daughter of Hiram Stubbs, a poor but honest farmer-bootlegger of Hogton, Vt. Her name was originally Ethyl Ermengarde, but her father persuaded her to drop the praenomen after the passage of the 18th Amendment, averring that it made him thirsty by reminding him of ethyl alcohol, C2H5OH. His own products contained mostly methyl or wood alcohol, CH3OH. Ermengarde confessed to sixteen summers, and branded as mendacious all reports to the effect that she was thirty. She had large black eyes, a prominent Roman nose, light hair which was never dark at the roots except when the local drug store was short on supplies, and a beautiful but inexpensive complexion. She was about 5ft 5.33…in tall, weighed 115.47 lbs. on her father's copy scales—also off them—and was adjudged most lovely by all the village swains who admired her father's farm and liked his liquid crops.
Ermengarde's hand was sought in matrimony by two ardent lovers. 'Squire Hardman, who had a mortgage on the old home, was very rich and elderly. He was dark and cruelly handsome, and always rode horseback and carried a riding-crop. Long had he sought the radiant Ermengarde, and now his ardour was fanned to fever heat by a secret known to him alone—for upon the humble acres of Farmer Stubbs he had discovered a vein of rich GOLD!! "Aha!" said he, "I will win the maiden ere her parent knows of his unsuspected wealth, and join to my fortune a greater fortune still!" And so he began to call twice a week instead of once as before.
But alas for the sinister designs of a villain—'Squire Hardman was not the only suitor for the fair one. Close by the village dwelt another—the handsome Jack Manly, whose curly yellow hair had won the sweet Ermengarde's affection when both were toddling youngsters at the village school. Jack had long been too bashful to declare his passion, but one day while strolling along a shady lane by the old mill with Ermengarde, he had found courage to utter that which was within his heart.
"O light of my life," said he, "my soul is so overburdened that I must speak! Ermengarde, my ideal [he pronounced it i-deel!], life has become an empty thing without you. Beloved of my spirit, behold a suppliant kneeling in the dust before thee. Ermengarde—oh, Ermengarde, raise me to an heaven of joy and say that you will some day be mine! It is true that I am poor, but have I not youth and strength to fight my way to fame? This I can do only for you, dear Ethyl—pardon me, Ermengarde—my only, my most precious—" but here he paused to wipe his eyes and mop his brow, and the fair responded:
"Jack—my angel—at last—I mean, this is so unexpected and quite unprecedented! I had never dreamed that you entertained sentiments of affection in connexion with one so lowly as Farmer Stubbs' child—for I am still but a child! Such is your natural nobility that I had feared—I mean thought—you would be blind to such slight charms as I possess, and that you would seek your fortune in the great city; there meeting and wedding one of those more comely damsels whose splendour we observe in fashion books.
"But, Jack, since it is really I whom you adore, let us waive all needless circumlocution. Jack—my darling—my heart has long been susceptible to your manly graces. I cherish an affection for thee—consider me thine own and be sure to buy the ring at Perkins' hardware store where they have such nice imitation diamonds in the window."
"Ermengarde, me love!"
"Jack—my precious!"
"My darling!"
"My own!"
"My Gawd!"
[Curtain]
Chapter II
And the Villain Still Pursued Her
But these tender passages, sacred though their fervour, did not pass unobserved by profane eyes; for crouched in the bushes and gritting his teeth was the dastardly 'Squire Hardman! When the lovers had finally strolled away he leapt out into the lane, viciously twirling his moustache and riding-crop, and kicking an unquestionably innocent cat who was also out strolling.
"Curses!" he cried—Hardman, not the cat—"I am foiled in my plot to get the farm and the girl! But Jack Manly shall never succeed! I am a man of power—and we shall see!"
Thereupon he repaired to the humble Stubbs' cottage, where he found the fond father in the still-cellar washing bottles under the supervision of the gentle wife and mother, Hannah Stubbs. Coming directly to the point, the villain spoke:
"Farmer Stubbs, I cherish a tender affection of long standing for your lovely offspring, Ethyl Ermengarde. I am consumed with love, and wish her hand in matrimony. Always a man of few words, I will not descend to euphemism. Give me the girl or I will foreclose the mortgage and take the old home!"
"But, Sir," pleaded the distracted Stubbs while his stricken spouse merely glowered, "I am sure the child's affections are elsewhere placed."
"She must be mine!" sternly snapped the sinister 'squire. "I will make her love me—none shall resist my will! Either she becomes muh wife or the old homestead goes!"
And with a sneer and flick of his riding-crop 'Squire Hardman strode out into the night.
Scarce had he departed, when there entered by the back door the radiant lovers, eager to tell the senior Stubbses of their new-found happiness. Imagine the universal consternation which reigned when all was known! Tears flowed like white ale, till suddenly Jack remembered he was the hero and raised his head, declaiming in appropriately virile accents:
"Never shall the fair Ermengarde be offered up to this beast as a sacrifice while I live! I shall protect her—she is mine, mine, mine—and then some! Fear not, dear father and mother to be—I will defend you all! You shall have the old home still [adverb, not noun—although Jack was by no means out of sympathy with Stubbs' kind of farm produce] and I shall lead to the altar the beauteous Ermengarde, loveliest of her sex! To perdition with the crool 'squire and his ill-gotten gold—the right shall always win, and a hero is always in the right! I will go to the great city and there make a fortune to save you all ere the mortgage fall due! Farewell, my love—I leave you now in tears, but I shall return to pay off the mortgage and claim you as my bride!"
"Jack, my protector!"
"Ermie, my sweet roll!"
"Dearest!"
"Darling!—and don't forget that ring at Perkins'."
"Oh!"
"Ah!"
[Curtain]
Chapter III
A Dastardly Act
But the resourceful 'Squire Hardman was not so easily to be foiled. Close by the village lay a disreputable settlement of unkempt shacks, populated by a shiftless scum who lived by thieving and other odd jobs. Here the devilish villain secured two accomplices—ill-favoured fellows who were very clearly no gentlemen. And in the night the evil three broke into the Stubbs cottage and abducted the fair Ermengarde, taking her to a wretched hovel in the settlement and placing her under the charge of Mother Maria, a hideous old hag. Farmer Stubbs was quite distracted, and would have advertised in the papers if the cost had been less than a cent a word for each insertion. Ermengarde was firm, and never wavered in her refusal to wed the villain.
"Aha, my proud beauty," quoth he, "I have ye in me power, and sooner or later I will break that will of thine! Meanwhile think of your poor old father and mother as turned out of hearth and home and wandering helpless through the meadows!"
"Oh, spare them, spare them!" said the maiden.
"Neverr . . . ha ha ha ha!" leered the brute.
And so the cruel days sped on, while all in ignorance young Jack Manly was seeking fame and fortune in the great city.
Chapter IV
Subtle Villainy
One day as 'Squire Hardman sat in the front parlour of his expensive and palatial home, indulging in his favourite pastime of gnashing his teeth and swishing his riding-crop, a great thought came to him; and he cursed aloud at the statue of Satan on the onyx mantelpiece.
"Fool that I am!" he cried. "Why did I ever waste all this trouble on the girl when I can get the farm by simply foreclosing? I never thought of that! I will let the girl go, take the farm, and be free to wed some fair city maid like the leading lady of that burlesque troupe which played last week at the Town Hall!"
And so he went down to the settlement, apologised to Ermengarde, let her go home, and went home himself to plot new crimes and invent new modes of villainy.
The days wore on, and the Stubbses grew very sad over the coming loss of their home and still but nobody seemed able to do anything about it. One day a party of hunters from the city chanced to stray over the old farm, and one of them found the gold!! Hiding his discovery from his companions, he feigned rattlesnake-bite and went to the Stubbs' cottage for aid of the usual kind. Ermengarde opened the door and saw him. He also saw her, and in that moment resolved to win her and the gold. "For my old mother's sake I must"—he cried loudly to himself. "No sacrifice is too great!"
Chapter V
The City Chap
Algernon Reginald Jones was a polished man of the world from the great city, and in his sophisticated hands our poor little Ermengarde was as a mere child. One could almost believe that sixteen-year-old stuff. Algy was a fast worker, but never crude. He could have taught Hardman a thing or two about finesse in sheiking. Thus only a week after his advent to the Stubbs family circle, where he lurked like the vile serpent that he was, he had persuaded the heroine to elope! It was in the night that she went leaving a note for her parents, sniffing the familiar mash for the last time, and kissing the cat goodbye—touching stuff! On the train Algernon became sleepy and slumped down in his seat, allowing a paper to fall out of his pocket by accident. Ermengarde, taking advantage of her supposed position as a bride-elect, picked up the folded sheet and read its perfumed expanse—when lo! she almost fainted! It was a love letter from another woman!!
"Perfidious deceiver!" she whispered at the sleeping Algernon, "so this is all that your boasted fidelity amounts to! I am done with you for all eternity!"
So saying, she pushed him out the window and settled down for a much needed rest.
Chapter VI
Alone in the Great City
When the noisy train pulled into the dark station at the city, poor helpless Ermengarde was all alone without the money to get back to Hogton. "Oh why," she sighed in innocent regret, "didn't I take his pocketbook before I pushed him out? Oh well, I should worry! He told me all about the city so I can easily earn enough to get home if not to pay off the mortgage!"
But alas for our little heroine—work is not easy for a greenhorn to secure, so for a week she was forced to sleep on park benches and obtain food from the bread-line. Once a wily and wicked person, perceiving her helplessness, offered her a position as dish-washer in a fashionable and depraved cabaret; but our heroine was true to her rustic ideals and refused to work in such a gilded and glittering palace of frivolity—especially since she was offered only $3.00 per week with meals but no board. She tried to look up Jack Manly, her one-time lover, but he was nowhere to be found. Perchance, too, he would not have known her; for in her poverty she had perforce become a brunette again, and Jack had not beheld her in that state since school days. One day she found a neat but costly purse in the park; and after seeing that there was not much in it, took it to the rich lady whose card proclaimed her ownership. Delighted beyond words at the honesty of this forlorn waif, the aristocratic Mrs. Van Itty adopted Ermengarde to replace the little one who had been stolen from her so many years ago. "How like my precious Maude," she sighed, as she watched the fair brunette return to blondeness. And so several weeks passed, with the old folks at home tearing their hair and the wicked 'Squire Hardman chuckling devilishly.
Chapter VII
Happy Ever Afterward
One day the wealthy heiress Ermengarde S. Van Itty hired a new second assistant chauffeur. Struck by something familiar in his face, she looked again and gasped. Lo! it was none other than the perfidious Algernon Reginald Jones, whom she had pushed from a car window on that fateful day! He had survived—this much was almost immediately evident. Also, he had wed the other woman, who had run away with the milkman and all the money in the house. Now wholly humbled, he asked forgiveness of our heroine, and confided to her the whole tale of the gold on her father's farm. Moved beyond words, she raised his salary a dollar a month and resolved to gratify at last that always unquenchable anxiety to relieve the worry of the old folks. So one bright day Ermengarde motored back to Hogton and arrived at the farm just as 'Squire Hardman was foreclosing the mortgage and ordering the old folks out.
"Stay, villain!" she cried, flashing a colossal roll of bills. "You are foiled at last! Here is your money—now go, and never darken our humble door again!"
Then followed a joyous reunion, whilst the 'squire twisted his moustache and riding-crop in bafflement and dismay. But hark! What is this? Footsteps sound on the old gravel walk, and who should appear but our hero, Jack Manly—worn and seedy, but radiant of face. Seeking at once the downcast villain, he said:
"'Squire—lend me a ten-spot, will you? I have just come back from the city with my beauteous bride, the fair Bridget Goldstein, and need something to start things on the old farm." Then turning to the Stubbses, he apologised for his inability to pay off the mortgage as agreed.
"Don't mention it," said Ermengarde, "prosperity has come to us, and I will consider it sufficient payment if you will forget forever the foolish fancies of our childhood."
All this time Mrs. Van Itty had been sitting in the motor waiting for Ermengarde; but as she lazily eyed the sharp-faced Hannah Stubbs a vague memory started from the back of her brain. Then it all came to her, and she shrieked accusingly at the agrestic matron.
"You—you—Hannah Smith—I know you now! Twenty-eight years ago you were my baby Maude's nurse and stole her from the cradle!! Where, oh, where is my child?" Then a thought came as the lightning in a murky sky. "Ermengarde—you say she is your daughter. . . . She is mine! Fate has restored to me my old chee-ild—my tiny Maudie!—Ermengarde—Maude—come to your mother's loving arms!!!"
But Ermengarde was doing some tall thinking. How could she get away with the sixteen-year-old stuff if she had been stolen twenty-eight years ago? And if she was not Stubbs' daughter the gold would never be hers. Mrs. Van Itty was rich, but 'Squire Hardman was richer. So, approaching the dejected villain, she inflicted upon him the last terrible punishment.
"'Squire, dear," she murmured, "I have reconsidered all. I love you and your naive strength. Marry me at once or I will have you prosecuted for that kidnapping last year. Foreclose your mortgage and enjoy with me the gold your cleverness discovered. Come, dear!" And the poor dub did.
THE END
Sweet Ermengarde
Or, The Heart of a Country Girl (1917)
By Percy Simple [H. P. Lovecraft (1890 – 1937)]
fleursdumal.nl magazine
More in: Archive K-L, Lovecraft, H.P., Tales of Mystery & Imagination
---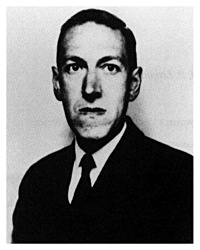 The Terrible Old Man
by H. P. Lovecraft
It was the design of Angelo Ricci and Joe Czanek and Manuel Silva to call on the Terrible Old Man. This old man dwells all alone in a very ancient house on Water Street near the sea, and is reputed to be both exceedingly rich and exceedingly feeble; which forms a situation very attractive to men of the profession of Messrs. Ricci, Czanek, and Silva, for that profession was nothing less dignified than robbery.
The inhabitants of Kingsport say and think many things about the Terrible Old Man which generally keep him safe from the attention of gentlemen like Mr. Ricci and his colleagues, despite the almost certain fact that he hides a fortune of indefinite magnitude somewhere about his musty and venerable abode. He is, in truth, a very strange person, believed to have been a captain of East India clipper ships in his day; so old that no one can remember when he was young, and so taciturn that few know his real name. Among the gnarled trees in the front yard of his aged and neglected place he maintains a strange collection of large stones, oddly grouped and painted so that they resemble the idols in some obscure Eastern temple. This collection frightens away most of the small boys who love to taunt the Terrible Old Man about his long white hair and beard, or to break the small-paned windows of his dwelling with wicked missiles; but there are other things which frighten the older and more curious folk who sometimes steal up to the house to peer in through the dusty panes. These folk say that on a table in a bare room on the ground floor are many peculiar bottles, in each a small piece of lead suspended pendulum-wise from a string. And they say that the Terrible Old Man talks to these bottles, addressing them by such names as Jack, Scar-Face, Long Tom, Spanish Joe, Peters, and Mate Ellis, and that whenever he speaks to a bottle the little lead pendulum within makes certain definite vibrations as if in answer. Those who have watched the tall, lean, Terrible Old Man in these peculiar conversations, do not watch him again. But Angelo Ricci and Joe Czanek and Manuel Silva were not of Kingsport blood; they were of that new and heterogeneous alien stock which lies outside the charmed circle of New England life and traditions, and they saw in the Terrible Old Man merely a tottering, almost helpless greybeard, who could not walk without the aid of his knotted cane, and whose thin, weak hands shook pitifully. They were really quite sorry in their way for the lonely, unpopular old fellow, whom everybody shunned, and at whom all the dogs barked singularly. But business is business, and to a robber whose soul is in his profession, there is a lure and a challenge about a very old and very feeble man who has no account at the bank, and who pays for his few necessities at the village store with Spanish gold and silver minted two centuries ago.
Messrs. Ricci, Czanek, and Silva selected the night of April 11th for their call. Mr. Ricci and Mr. Silva were to interview the poor old gentleman, whilst Mr. Czanek waited for them and their presumable metallic burden with a covered motor-car in Ship Street, by the gate in the tall rear wall of their host's grounds. Desire to avoid needless explanations in case of unexpected police intrusions prompted these plans for a quiet and unostentatious departure.
As prearranged, the three adventurers started out separately in order to prevent any evil-minded suspicions afterward. Messrs. Ricci and Silva met in Water Street by the old man's front gate, and although they did not like the way the moon shone down upon the painted stones through the budding branches of the gnarled trees, they had more important things to think about than mere idle superstition. They feared it might be unpleasant work making the Terrible Old Man loquacious concerning his hoarded gold and silver, for aged sea-captains are notably stubborn and perverse. Still, he was very old and very feeble, and there were two visitors. Messrs. Ricci and Silva were experienced in the art of making unwilling persons voluble, and the screams of a weak and exceptionally venerable man can be easily muffled. So they moved up to the one lighted window and heard the Terrible Old Man talking childishly to his bottles with pendulums. Then they donned masks and knocked politely at the weather-stained oaken door.
Waiting seemed very long to Mr. Czanek as he fidgeted restlessly in the covered motor-car by the Terrible Old Man's back gate in Ship Street. He was more than ordinarily tender-hearted, and he did not like the hideous screams he had heard in the ancient house just after the hour appointed for the deed. Had he not told his colleagues to be as gentle as possible with the pathetic old sea-captain? Very nervously he watched that narrow oaken gate in the high and ivy-clad stone wall. Frequently he consulted his watch, and wondered at the delay. Had the old man died before revealing where his treasure was hidden, and had a thorough search become necessary? Mr. Czanek did not like to wait so long in the dark in such a place. Then he sensed a soft tread or tapping on the walk inside the gate, heard a gentle fumbling at the rusty latch, and saw the narrow, heavy door swing inward. And in the pallid glow of the single dim street-lamp he strained his eyes to see what his colleagues had brought out of that sinister house which loomed so close behind. But when he looked, he did not see what he had expected; for his colleagues were not there at all, but only the Terrible Old Man leaning quietly on his knotted cane and smiling hideously. Mr. Czanek had never before noticed the colour of that man's eyes; now he saw that they were yellow.
Little things make considerable excitement in little towns, which is the reason that Kingsport people talked all that spring and summer about the three unidentifiable bodies, horribly slashed as with many cutlasses, and horribly mangled as by the tread of many cruel boot-heels, which the tide washed in. And some people even spoke of things as trivial as the deserted motor-car found in Ship Street, or certain especially inhuman cries, probably of a stray animal or migratory bird, heard in the night by wakeful citizens. But in this idle village gossip the Terrible Old Man took no interest at all. He was by nature reserved, and when one is aged and feeble one's reserve is doubly strong. Besides, so ancient a sea-captain must have witnessed scores of things much more stirring in the far-off days of his unremembered youth.
The Terrible Old Man (1920)
by H. P. Lovecraft (1890 – 1937)
fleursdumal.nl magazine
More in: Archive K-L, Lovecraft, H.P., Tales of Mystery & Imagination
---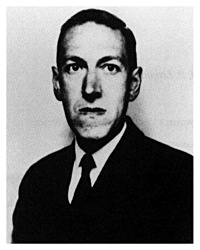 The Book
by H. P. Lovecraft
My memories are very confused. There is even much doubt as to where they begin; for at times I feel appalling vistas of years stretching behind me, while at other times it seems as if the present moment were an isolated point in a grey, formless infinity. I am not even certain how I am communicating this message. While I know I am speaking, I have a vague impression that some strange and perhaps terrible mediation will be needed to bear what I say to the points where I wish to be heard. My identity, too, is bewilderingly cloudy. I seem to have suffered a great shock—perhaps from some utterly monstrous outgrowth of my cycles of unique, incredible experience.
These cycles of experience, of course, all stem from that worm-riddled book. I remember when I found it—in a dimly lighted place near the black, oily river where the mists always swirl. That place was very old, and the ceiling-high shelves full of rotting volumes reached back endlessly through windowless inner rooms and alcoves. There were, besides, great formless heaps of books on the floor and in crude bins; and it was in one of these heaps that I found the thing. I never learned its title, for the early pages were missing; but it fell open toward the end and gave me a glimpse of something which sent my senses reeling.
There was a formula—a sort of list of things to say and do—which I recognised as something black and forbidden; something which I had read of before in furtive paragraphs of mixed abhorrence and fascination penned by those strange ancient delvers into the universe's guarded secrets whose decaying texts I loved to absorb. It was a key—a guide—to certain gateways and transitions of which mystics have dreamed and whispered since the race was young, and which lead to freedoms and discoveries beyond the three dimensions and realms of life and matter that we know. Not for centuries had any man recalled its vital substance or known where to find it, but this book was very old indeed. No printing-press, but the hand of some half-crazed monk, had traced these ominous Latin phrases in uncials of awesome antiquity.
I remember how the old man leered and tittered, and made a curious sign with his hand when I bore it away. He had refused to take pay for it, and only long afterward did I guess why. As I hurried home through those narrow, winding, mist-choked waterfront streets I had a frightful impression of being stealthily followed by softly padding feet. The centuried, tottering houses on both sides seemed alive with a fresh and morbid malignity—as if some hitherto closed channel of evil understanding had abruptly been opened. I felt that those walls and overhanging gables of mildewed brick and fungous plaster and timber—with fishy, eye-like, diamond-paned windows that leered—could hardly desist from advancing and crushing me . . . yet I had read only the least fragment of that blasphemous rune before closing the book and bringing it away.
I remember how I read the book at last—white-faced, and locked in the attic room that I had long devoted to strange searchings. The great house was very still, for I had not gone up till after midnight. I think I had a family then—though the details are very uncertain—and I know there were many servants. Just what the year was, I cannot say; for since then I have known many ages and dimensions, and have had all my notions of time dissolved and refashioned. It was by the light of candles that I read—I recall the relentless dripping of the wax—and there were chimes that came every now and then from distant belfries. I seemed to keep track of those chimes with a peculiar intentness, as if I feared to hear some very remote, intruding note among them.
Then came the first scratching and fumbling at the dormer window that looked out high above the other roofs of the city. It came as I droned aloud the ninth verse of that primal lay, and I knew amidst my shudders what it meant. For he who passes the gateways always wins a shadow, and never again can he be alone. I had evoked—and the book was indeed all I had suspected. That night I passed the gateway to a vortex of twisted time and vision, and when morning found me in the attic room I saw in the walls and shelves and fittings that which I had never seen before.
Nor could I ever after see the world as I had known it. Mixed with the present scene was always a little of the past and a little of the future, and every once-familiar object loomed alien in the new perspective brought by my widened sight. From then on I walked in a fantastic dream of unknown and half-known shapes; and with each new gateway crossed, the less plainly could I recognise the things of the narrow sphere to which I had so long been bound. What I saw about me none else saw; and I grew doubly silent and aloof lest I be thought mad. Dogs had a fear of me, for they felt the outside shadow which never left my side. But still I read more—in hidden, forgotten books and scrolls to which my new vision led me—and pushed through fresh gateways of space and being and life-patterns toward the core of the unknown cosmos.
I remember the night I made the five concentric circles of fire on the floor, and stood in the innermost one chanting that monstrous litany the messenger from Tartary had brought. The walls melted away, and I was swept by a black wind through gulfs of fathomless grey with the needle-like pinnacles of unknown mountains miles below me. After a while there was utter blackness, and then the light of myriad stars forming strange, alien constellations. Finally I saw a green-litten plain far below me, and discerned on it the twisted towers of a city built in no fashion I had ever known or read of or dreamed of. As I floated closer to that city I saw a great square building of stone in an open space, and felt a hideous fear clutching at me. I screamed and struggled, and after a blankness was again in my attic room, sprawled flat over the five phosphorescent circles on the floor. In that night's wandering there was no more of strangeness than in many a former night's wandering; but there was more of terror because I knew I was closer to those outside gulfs and worlds than I had ever been before. Thereafter I was more cautious with my incantations, for I had no wish to be cut off from my body and from the earth in unknown abysses whence I could never return.
The Book (1933?)
by H. P. Lovecraft (1890 – 1937)
fleursdumal.nl magazine
More in: - Book Stories, Archive K-L, Lovecraft, H.P., Tales of Mystery & Imagination
---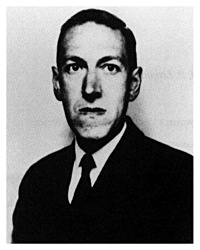 The Alchemist
by H. P. Lovecraft
High up, crowning the grassy summit of a swelling mound whose sides are wooded near the base with the gnarled trees of the primeval forest, stands the old chateau of my ancestors. For centuries its lofty battlements have frowned down upon the wild and rugged countryside about, serving as a home and stronghold for the proud house whose honoured line is older even than the moss-grown castle walls. These ancient turrets, stained by the storms of generations and crumbling under the slow yet mighty pressure of time, formed in the ages of feudalism one of the most dreaded and formidable fortresses in all France. From its machicolated parapets and mounted battlements Barons, Counts, and even Kings had been defied, yet never had its spacious halls resounded to the footsteps of the invader.
But since those glorious years all is changed. A poverty but little above the level of dire want, together with a pride of name that forbids its alleviation by the pursuits of commercial life, have prevented the scions of our line from maintaining their estates in pristine splendour; and the falling stones of the walls, the overgrown vegetation in the parks, the dry and dusty moat, the ill-paved courtyards, and toppling towers without, as well as the sagging floors, the worm-eaten wainscots, and the faded tapestries within, all tell a gloomy tale of fallen grandeur. As the ages passed, first one, then another of the four great turrets were left to ruin, until at last but a single tower housed the sadly reduced descendants of the once mighty lords of the estate.
It was in one of the vast and gloomy chambers of this remaining tower that I, Antoine, last of the unhappy and accursed Comtes de C——, first saw the light of day, ninety long years ago. Within these walls, and amongst the dark and shadowy forests, the wild ravines and grottoes of the hillside below, were spent the first years of my troubled life. My parents I never knew. My father had been killed at the age of thirty-two, a month before I was born, by the fall of a stone somehow dislodged from one of the deserted parapets of the castle; and my mother having died at my birth, my care and education devolved solely upon one remaining servitor, an old and trusted man of considerable intelligence, whose name I remember as Pierre. I was an only child, and the lack of companionship which this fact entailed upon me was augmented by the strange care exercised by my aged guardian in excluding me from the society of the peasant children whose abodes were scattered here and there upon the plains that surround the base of the hill. At the time, Pierre said that this restriction was imposed upon me because my noble birth placed me above association with such plebeian company. Now I know that its real object was to keep from my ears the idle tales of the dread curse upon our line, that were nightly told and magnified by the simple tenantry as they conversed in hushed accents in the glow of their cottage hearths.
Thus isolated, and thrown upon my own resources, I spent the hours of my childhood in poring over the ancient tomes that filled the shadow-haunted library of the chateau, and in roaming without aim or purpose through the perpetual dusk of the spectral wood that clothes the side of the hill near its foot. It was perhaps an effect of such surroundings that my mind early acquired a shade of melancholy. Those studies and pursuits which partake of the dark and occult in Nature most strongly claimed my attention.
Of my own race I was permitted to learn singularly little, yet what small knowledge of it I was able to gain, seemed to depress me much. Perhaps it was at first only the manifest reluctance of my old preceptor to discuss with me my paternal ancestry that gave rise to the terror which I ever felt at the mention of my great house; yet as I grew out of childhood, I was able to piece together disconnected fragments of discourse, let slip from the unwilling tongue which had begun to falter in approaching senility, that had a sort of relation to a certain circumstance which I had always deemed strange, but which now became dimly terrible. The circumstance to which I allude is the early age at which all the Comtes of my line had met their end. Whilst I had hitherto considered this but a natural attribute of a family of short-lived men, I afterward pondered long upon these premature deaths, and began to connect them with the wanderings of the old man, who often spoke of a curse which for centuries had prevented the lives of the holders of my title from much exceeding the span of thirty-two years. Upon my twenty-first birthday, the aged Pierre gave to me a family document which he said had for many generations been handed down from father to son, and continued by each possessor. Its contents were of the most startling nature, and its perusal confirmed the gravest of my apprehensions. At this time, my belief in the supernatural was firm and deep-seated, else I should have dismissed with scorn the incredible narrative unfolded before my eyes.
The paper carried me back to the days of the thirteenth century, when the old castle in which I sat had been a feared and impregnable fortress. It told of a certain ancient man who had once dwelt on our estates, a person of no small accomplishments, though little above the rank of peasant; by name, Michel, usually designated by the surname of Mauvais, the Evil, on account of his sinister reputation. He had studied beyond the custom of his kind, seeking such things as the Philosopher's Stone, or the Elixir of Eternal Life, and was reputed wise in the terrible secrets of Black Magic and Alchemy. Michel Mauvais had one son, named Charles, a youth as proficient as himself in the hidden arts, and who had therefore been called Le Sorcier, or the Wizard. This pair, shunned by all honest folk, were suspected of the most hideous practices. Old Michel was said to have burnt his wife alive as a sacrifice to the Devil, and the unaccountable disappearances of many small peasant children were laid at the dreaded door of these two. Yet through the dark natures of the father and the son ran one redeeming ray of humanity; the evil old man loved his offspring with fierce intensity, whilst the youth had for his parent a more than filial affection.
One night the castle on the hill was thrown into the wildest confusion by the vanishment of young Godfrey, son to Henri the Comte. A searching party, headed by the frantic father, invaded the cottage of the sorcerers and there came upon old Michel Mauvais, busy over a huge and violently boiling cauldron. Without certain cause, in the ungoverned madness of fury and despair, the Comte laid hands on the aged wizard, and ere he released his murderous hold his victim was no more. Meanwhile joyful servants were proclaiming the finding of young Godfrey in a distant and unused chamber of the great edifice, telling too late that poor Michel had been killed in vain. As the Comte and his associates turned away from the lowly abode of the alchemists, the form of Charles Le Sorcier appeared through the trees. The excited chatter of the menials standing about told him what had occurred, yet he seemed at first unmoved at his father's fate. Then, slowly advancing to meet the Comte, he pronounced in dull yet terrible accents the curse that ever afterward haunted the house of C——.
"May ne'er a noble of thy murd'rous line
Survive to reach a greater age than thine!"
spake he, when, suddenly leaping backwards into the black wood, he drew from his tunic a phial of colourless liquid which he threw into the face of his father's slayer as he disappeared behind the inky curtain of the night. The Comte died without utterance, and was buried the next day, but little more than two and thirty years from the hour of his birth. No trace of the assassin could be found, though relentless bands of peasants scoured the neighbouring woods and the meadow-land around the hill.
Thus time and the want of a reminder dulled the memory of the curse in the minds of the late Comte's family, so that when Godfrey, innocent cause of the whole tragedy and now bearing the title, was killed by an arrow whilst hunting, at the age of thirty-two, there were no thoughts save those of grief at his demise. But when, years afterward, the next young Comte, Robert by name, was found dead in a nearby field from no apparent cause, the peasants told in whispers that their seigneur had but lately passed his thirty-second birthday when surprised by early death. Louis, son to Robert, was found drowned in the moat at the same fateful age, and thus down through the centuries ran the ominous chronicle; Henris, Roberts, Antoines, and Armands snatched from happy and virtuous lives when little below the age of their unfortunate ancestor at his murder.
That I had left at most but eleven years of further existence was made certain to me by the words which I read. My life, previously held at small value, now became dearer to me each day, as I delved deeper and deeper into the mysteries of the hidden world of black magic. Isolated as I was, modern science had produced no impression upon me, and I laboured as in the Middle Ages, as wrapt as had been old Michel and young Charles themselves in the acquisition of daemonological and alchemical learning. Yet read as I might, in no manner could I account for the strange curse upon my line. In unusually rational moments, I would even go so far as to seek a natural explanation, attributing the early deaths of my ancestors to the sinister Charles Le Sorcier and his heirs; yet having found upon careful inquiry that there were no known descendants of the alchemist, I would fall back to occult studies, and once more endeavour to find a spell that would release my house from its terrible burden. Upon one thing I was absolutely resolved. I should never wed, for since no other branches of my family were in existence, I might thus end the curse with myself.
As I drew near the age of thirty, old Pierre was called to the land beyond. Alone I buried him beneath the stones of the courtyard about which he had loved to wander in life. Thus was I left to ponder on myself as the only human creature within the great fortress, and in my utter solitude my mind began to cease its vain protest against the impending doom, to become almost reconciled to the fate which so many of my ancestors had met. Much of my time was now occupied in the exploration of the ruined and abandoned halls and towers of the old chateau, which in youth fear had caused me to shun, and some of which, old Pierre had once told me, had not been trodden by human foot for over four centuries. Strange and awesome were many of the objects I encountered. Furniture, covered by the dust of ages and crumbling with the rot of long dampness, met my eyes. Cobwebs in a profusion never before seen by me were spun everywhere, and huge bats flapped their bony and uncanny wings on all sides of the otherwise untenanted gloom.
Of my exact age, even down to days and hours, I kept a most careful record, for each movement of the pendulum of the massive clock in the library told off so much more of my doomed existence. At length I approached that time which I had so long viewed with apprehension. Since most of my ancestors had been seized some little while before they reached the exact age of Comte Henri at his end, I was every moment on the watch for the coming of the unknown death. In what strange form the curse should overtake me, I knew not; but I was resolved, at least, that it should not find me a cowardly or a passive victim. With new vigour I applied myself to my examination of the old chateau and its contents.
It was upon one of the longest of all my excursions of discovery in the deserted portion of the castle, less than a week before that fatal hour which I felt must mark the utmost limit of my stay on earth, beyond which I could have not even the slightest hope of continuing to draw breath, that I came upon the culminating event of my whole life. I had spent the better part of the morning in climbing up and down half-ruined staircases in one of the most dilapidated of the ancient turrets. As the afternoon progressed, I sought the lower levels, descending into what appeared to be either a mediaeval place of confinement, or a more recently excavated storehouse for gunpowder. As I slowly traversed the nitre-encrusted passageway at the foot of the last staircase, the paving became very damp, and soon I saw by the light of my flickering torch that a blank, water-stained wall impeded my journey. Turning to retrace my steps, my eye fell upon a small trap-door with a ring, which lay directly beneath my feet. Pausing, I succeeded with difficulty in raising it, whereupon there was revealed a black aperture, exhaling noxious fumes which caused my torch to sputter, and disclosing in the unsteady glare the top of a flight of stone steps. As soon as the torch, which I lowered into the repellent depths, burned freely and steadily, I commenced my descent. The steps were many, and led to a narrow stone-flagged passage which I knew must be far underground. The passage proved of great length, and terminated in a massive oaken door, dripping with the moisture of the place, and stoutly resisting all my attempts to open it. Ceasing after a time my efforts in this direction, I had proceeded back some distance toward the steps, when there suddenly fell to my experience one of the most profound and maddening shocks capable of reception by the human mind. Without warning, I heard the heavy door behind me creak slowly open upon its rusted hinges. My immediate sensations are incapable of analysis. To be confronted in a place as thoroughly deserted as I had deemed the old castle with evidence of the presence of man or spirit, produced in my brain a horror of the most acute description. When at last I turned and faced the seat of the sound, my eyes must have started from their orbits at the sight that they beheld. There in the ancient Gothic doorway stood a human figure. It was that of a man clad in a skull-cap and long mediaeval tunic of dark colour. His long hair and flowing beard were of a terrible and intense black hue, and of incredible profusion. His forehead, high beyond the usual dimensions; his cheeks, deep-sunken and heavily lined with wrinkles; and his hands, long, claw-like, and gnarled, were of such a deathly, marble-like whiteness as I have never elsewhere seen in man. His figure, lean to the proportions of a skeleton, was strangely bent and almost lost within the voluminous folds of his peculiar garment. But strangest of all were his eyes; twin caves of abysmal blackness, profound in expression of understanding, yet inhuman in degree of wickedness. These were now fixed upon me, piercing my soul with their hatred, and rooting me to the spot whereon I stood. At last the figure spoke in a rumbling voice that chilled me through with its dull hollowness and latent malevolence. The language in which the discourse was clothed was that debased form of Latin in use amongst the more learned men of the Middle Ages, and made familiar to me by my prolonged researches into the works of the old alchemists and daemonologists. The apparition spoke of the curse which had hovered over my house, told me of my coming end, dwelt on the wrong perpetrated by my ancestor against old Michel Mauvais, and gloated over the revenge of Charles Le Sorcier. He told how the young Charles had escaped into the night, returning in after years to kill Godfrey the heir with an arrow just as he approached the age which had been his father's at his assassination; how he had secretly returned to the estate and established himself, unknown, in the even then deserted subterranean chamber whose doorway now framed the hideous narrator; how he had seized Robert, son of Godfrey, in a field, forced poison down his throat, and left him to die at the age of thirty-two, thus maintaining the foul provisions of his vengeful curse. At this point I was left to imagine the solution of the greatest mystery of all, how the curse had been fulfilled since that time when Charles Le Sorcier must in the course of Nature have died, for the man digressed into an account of the deep alchemical studies of the two wizards, father and son, speaking most particularly of the researches of Charles Le Sorcier concerning the elixir which should grant to him who partook of it eternal life and youth.
His enthusiasm had seemed for the moment to remove from his terrible eyes the hatred that had at first so haunted them, but suddenly the fiendish glare returned, and with a shocking sound like the hissing of a serpent, the stranger raised a glass phial with the evident intent of ending my life as had Charles Le Sorcier, six hundred years before, ended that of my ancestor. Prompted by some preserving instinct of self-defence, I broke through the spell that had hitherto held me immovable, and flung my now dying torch at the creature who menaced my existence. I heard the phial break harmlessly against the stones of the passage as the tunic of the strange man caught fire and lit the horrid scene with a ghastly radiance. The shriek of fright and impotent malice emitted by the would-be assassin proved too much for my already shaken nerves, and I fell prone upon the slimy floor in a total faint.
When at last my senses returned, all was frightfully dark, and my mind remembering what had occurred, shrank from the idea of beholding more; yet curiosity overmastered all. Who, I asked myself, was this man of evil, and how came he within the castle walls? Why should he seek to avenge the death of poor Michel Mauvais, and how had the curse been carried on through all the long centuries since the time of Charles Le Sorcier? The dread of years was lifted from my shoulders, for I knew that he whom I had felled was the source of all my danger from the curse; and now that I was free, I burned with the desire to learn more of the sinister thing which had haunted my line for centuries, and made of my own youth one long-continued nightmare. Determined upon further exploration, I felt in my pockets for flint and steel, and lit the unused torch which I had with me. First of all, the new light revealed the distorted and blackened form of the mysterious stranger. The hideous eyes were now closed. Disliking the sight, I turned away and entered the chamber beyond the Gothic door. Here I found what seemed much like an alchemist's laboratory. In one corner was an immense pile of a shining yellow metal that sparkled gorgeously in the light of the torch. It may have been gold, but I did not pause to examine it, for I was strangely affected by that which I had undergone. At the farther end of the apartment was an opening leading out into one of the many wild ravines of the dark hillside forest. Filled with wonder, yet now realising how the man had obtained access to the chateau, I proceeded to return. I had intended to pass by the remains of the stranger with averted face, but as I approached the body, I seemed to hear emanating from it a faint sound, as though life were not yet wholly extinct. Aghast, I turned to examine the charred and shrivelled figure on the floor. Then all at once the horrible eyes, blacker even than the seared face in which they were set, opened wide with an expression which I was unable to interpret. The cracked lips tried to frame words which I could not well understand. Once I caught the name of Charles Le Sorcier, and again I fancied that the words "years" and "curse" issued from the twisted mouth. Still I was at a loss to gather the purport of his disconnected speech. At my evident ignorance of his meaning, the pitchy eyes once more flashed malevolently at me, until, helpless as I saw my opponent to be, I trembled as I watched him.
Suddenly the wretch, animated with his last burst of strength, raised his hideous head from the damp and sunken pavement. Then, as I remained, paralysed with fear, he found his voice and in his dying breath screamed forth those words which have ever afterward haunted my days and my nights. "Fool," he shrieked, "can you not guess my secret? Have you no brain whereby you may recognise the will which has through six long centuries fulfilled the dreadful curse upon your house? Have I not told you of the great elixir of eternal life? Know you not how the secret of Alchemy was solved? I tell you, it is I! I! I! that have lived for six hundred years to maintain my revenge, FOR I AM CHARLES LE SORCIER!"
The Alchemist (1908)
by H. P. Lovecraft (1890 – 1937)
fleursdumal.nl magazine
More in: Archive K-L, Lovecraft, H.P., Tales of Mystery & Imagination
---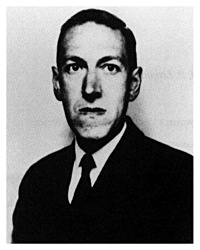 The Tree
by H. P. Lovecraft
"Fata viam invenient."
On a verdant slope of Mount Maenalus, in Arcadia, there stands an olive grove about the ruins of a villa. Close by is a tomb, once beautiful with the sublimest sculptures, but now fallen into as great decay as the house. At one end of that tomb, its curious roots displacing the time-stained blocks of Pentelic marble, grows an unnaturally large olive tree of oddly repellent shape; so like to some grotesque man, or death-distorted body of a man, that the country folk fear to pass it at night when the moon shines faintly through the crooked boughs. Mount Maenalus is a chosen haunt of dreaded Pan, whose queer companions are many, and simple swains believe that the tree must have some hideous kinship to these weird Panisci; but an old bee-keeper who lives in the neighbouring cottage told me a different story.
Many years ago, when the hillside villa was new and resplendent, there dwelt within it the two sculptors Kalos and Musides. From Lydia to Neapolis the beauty of their work was praised, and none dared say that the one excelled the other in skill. The Hermes of Kalos stood in a marble shrine in Corinth, and the Pallas of Musides surmounted a pillar in Athens, near the Parthenon. All men paid homage to Kalos and Musides, and marvelled that no shadow of artistic jealousy cooled the warmth of their brotherly friendship.
But though Kalos and Musides dwelt in unbroken harmony, their natures were not alike. Whilst Musides revelled by night amidst the urban gaieties of Tegea, Kalos would remain at home; stealing away from the sight of his slaves into the cool recesses of the olive grove. There he would meditate upon the visions that filled his mind, and there devise the forms of beauty which later became immortal in breathing marble. Idle folk, indeed, said that Kalos conversed with the spirits of the grove, and that his statues were but images of the fauns and dryads he met there—for he patterned his work after no living model.
So famous were Kalos and Musides, that none wondered when the Tyrant of Syracuse sent to them deputies to speak of the costly statue of Tyché which he had planned for his city. Of great size and cunning workmanship must the statue be, for it was to form a wonder of nations and a goal of travellers. Exalted beyond thought would be he whose work should gain acceptance, and for this honour Kalos and Musides were invited to compete. Their brotherly love was well known, and the crafty Tyrant surmised that each, instead of concealing his work from the other, would offer aid and advice; this charity producing two images of unheard-of beauty, the lovelier of which would eclipse even the dreams of poets.
With joy the sculptors hailed the Tyrant's offer, so that in the days that followed their slaves heard the ceaseless blows of chisels. Not from each other did Kalos and Musides conceal their work, but the sight was for them alone. Saving theirs, no eyes beheld the two divine figures released by skilful blows from the rough blocks that had imprisoned them since the world began.
At night, as of yore, Musides sought the banquet halls of Tegea whilst Kalos wandered alone in the olive grove. But as time passed, men observed a want of gaiety in the once sparkling Musides. It was strange, they said amongst themselves, that depression should thus seize one with so great a chance to win art's loftiest reward. Many months passed, yet in the sour face of Musides came nothing of the sharp expectancy which the situation should arouse.
Then one day Musides spoke of the illness of Kalos, after which none marvelled again at his sadness, since the sculptors' attachment was known to be deep and sacred. Subsequently many went to visit Kalos, and indeed noticed the pallor of his face; but there was about him a happy serenity which made his glance more magical than the glance of Musides—who was clearly distracted with anxiety, and who pushed aside all the slaves in his eagerness to feed and wait upon his friend with his own hands. Hidden behind heavy curtains stood the two unfinished figures of Tyché, little touched of late by the sick man and his faithful attendant.
As Kalos grew inexplicably weaker and weaker despite the ministrations of puzzled physicians and of his assiduous friend, he desired to be carried often to the grove which he so loved. There he would ask to be left alone, as if wishing to speak with unseen things. Musides ever granted his requests, though his eyes filled with visible tears at the thought that Kalos should care more for the fauns and the dryads than for him. At last the end drew near, and Kalos discoursed of things beyond this life. Musides, weeping, promised him a sepulchre more lovely than the tomb of Mausolus; but Kalos bade him speak no more of marble glories. Only one wish now haunted the mind of the dying man; that twigs from certain olive trees in the grove be buried by his resting-place—close to his head. And one night, sitting alone in the darkness of the olive grove, Kalos died.
Beautiful beyond words was the marble sepulchre which stricken Musides carved for his beloved friend. None but Kalos himself could have fashioned such bas-reliefs, wherein were displayed all the splendours of Elysium. Nor did Musides fail to bury close to Kalos' head the olive twigs from the grove.
As the first violence of Musides' grief gave place to resignation, he laboured with diligence upon his figure of Tyché. All honour was now his, since the Tyrant of Syracuse would have the work of none save him or Kalos. His task proved a vent for his emotion, and he toiled more steadily each day, shunning the gaieties he once had relished. Meanwhile his evenings were spent beside the tomb of his friend, where a young olive tree had sprung up near the sleeper's head. So swift was the growth of this tree, and so strange was its form, that all who beheld it exclaimed in surprise; and Musides seemed at once fascinated and repelled.
Three years after the death of Kalos, Musides despatched a messenger to the Tyrant, and it was whispered in the agora at Tegea that the mighty statue was finished. By this time the tree by the tomb had attained amazing proportions, exceeding all other trees of its kind, and sending out a singularly heavy branch above the apartment in which Musides laboured. As many visitors came to view the prodigious tree, as to admire the art of the sculptor, so that Musides was seldom alone. But he did not mind his multitude of guests; indeed, he seemed to dread being alone now that his absorbing work was done. The bleak mountain wind, sighing through the olive grove and the tomb-tree, had an uncanny way of forming vaguely articulate sounds.
The sky was dark on the evening that the Tyrant's emissaries came to Tegea. It was definitely known that they had come to bear away the great image of Tyché and bring eternal honour to Musides, so their reception by the proxenoi was of great warmth. As the night wore on, a violent storm of wind broke over the crest of Maenalus, and the men from far Syracuse were glad that they rested snugly in the town. They talked of their illustrious Tyrant, and of the splendour of his capital; and exulted in the glory of the statue which Musides had wrought for him. And then the men of Tegea spoke of the goodness of Musides, and of his heavy grief for his friend; and how not even the coming laurels of art could console him in the absence of Kalos, who might have worn those laurels instead. Of the tree which grew by the tomb, near the head of Kalos, they also spoke. The wind shrieked more horribly, and both the Syracusans and the Arcadians prayed to Aiolos.
In the sunshine of the morning the proxenoi led the Tyrant's messengers up the slope to the abode of the sculptor, but the night-wind had done strange things. Slaves' cries ascended from a scene of desolation, and no more amidst the olive grove rose the gleaming colonnades of that vast hall wherein Musides had dreamed and toiled. Lone and shaken mourned the humble courts and the lower walls, for upon the sumptuous greater peristyle had fallen squarely the heavy overhanging bough of the strange new tree, reducing the stately poem in marble with odd completeness to a mound of unsightly ruins. Strangers and Tegeans stood aghast, looking from the wreckage to the great, sinister tree whose aspect was so weirdly human and whose roots reached so queerly into the sculptured sepulchre of Kalos. And their fear and dismay increased when they searched the fallen apartment; for of the gentle Musides, and of the marvellously fashioned image of Tyché, no trace could be discovered. Amidst such stupendous ruin only chaos dwelt, and the representatives of two cities left disappointed; Syracusans that they had no statue to bear home, Tegeans that they had no artist to crown. However, the Syracusans obtained after a while a very splendid statue in Athens, and the Tegeans consoled themselves by erecting in the agora a marble temple commemorating the gifts, virtues, and brotherly piety of Musides.
But the olive grove still stands, as does the tree growing out of the tomb of Kalos, and the old bee-keeper told me that sometimes the boughs whisper to one another in the night-wind, saying over and over again, "Οἶδα! Οἶδα!—I know! I know!"
The Tree (1920)
by H. P. Lovecraft (1890 – 1937)
fleursdumal.nl magazine
More in: Archive K-L, Lovecraft, H.P., Tales of Mystery & Imagination
---
V&A Museum exhibition until Sunday, 12 March 2017
Undressed: A Brief History of Underwear
Discover the fascinating and sometimes controversial story of underwear design from the 18th century to the present day
"Hold tight: the lingerie show that will take your breath away "
Anna Murphy, The Times
This exhibition explores the intimate relationship between underwear and fashion and its role in moulding the body to a fashionable ideal, with cut, fit, fabric and decoration revealing issues of gender, sex and morality.
Undressed: 350 Years of Underwear in Fashion
Underwear is fashion's foundation. The majestic shapes of 18th century court dress, the distorted hourglass shapes of the Victorian and Edwardian eras, and Dior's cinched 'New Look' were all dependent upon elaborate corsetry, technologically complex petticoats, hoops, and padded underpinnings. This exhibition will look at the history of private and intimate clothing – from corsets to court mantuas and boudoir wear to bustles – exploring underwear's function in decorating and manipulating the body. Featuring highlights from the V&A's extensive collection of underwear, the objects will be displayed thematically, and shown alongside contextual images from the V&A's archives.
Both culturally emblematic and the most everyday of objects, underwear attracts interest, debate, and sometimes controversy.
Undressed: A Brief History of Underwear
will display more than 200 examples of men's and women's underwear from about 1750 to the present day. In particular, it will investigate how underwear design combines the practical and personal with the sensory and fashionable, in the process both protecting and enhancing the body. The exhibition will map developments in underwear design and explore the ways in which fashion designers have transformed underwear into outerwear.
Curating an exhibition is a process built on collaboration, between conservators, researchers, designers and other specialists. Our blog will allow you to experience some of their work through their own words. Our posts will also give us the chance to delve a little deeper into some of the themes, objects and personalities of Undressed.
The exhibition, Undressed: A Brief History of Underwear, will be on display at the V&A from 16th April 2016 to 12th March 2017.
Victoria and Albert Museum
Cromwell Road,
London, SW7 2RL
# more info on website Victoria & Albert Museum
fleursdumal.nl magazine
More in: Art & Literature News, Exhibition Archive, Fashion, FDM in London, The Ideal Woman
---
Museum De Fundatie Zwolle t/m 18 september 2016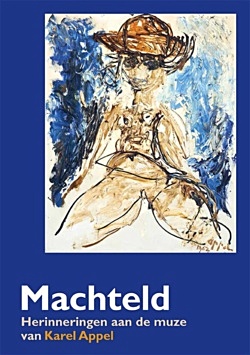 In 1955 ontmoette Karel Appel zijn muze. Machteld was een jonge vrouw met stijl, een mannequin die van boeken hield, een anker in zijn turbulente leven. In 1970 overleed ze, slechts 35 jaar oud.
Focuspunt in de kabinettentoonstelling 'Machteld – De muze van Karel Appel' is het monumentale portret dat Appel in 1962 van zijn grote liefde schilderde. Daarnaast is L'Oiseau Barbare uit 1961 te zien, een beschilderde olijfstronk in de vorm van een vogel. Beide werken komen uit de collectie van de architect Karel Sijmons en zijn vrouw Tony. Aan de hand van brieven en foto's krijgt de bezoeker een uniek inzicht in de bijzondere relatie van het echtpaar met Karel en Machteld Appel. Dochter Babette Cremer-Sijmons bracht de documenten samen in een boek en haalde herinneringen op aan de vrouw die ook haar inspireerde.
Over Karel en Machteld Appel verscheen een publicatie van de hand van Babette Sijmons: "In de turbulente sfeer [rond Karel Appel], met woest paletmes en kwast was altijd de stille aanwezigheid te vinden in de vorm van Machteld, die – als zij niet hoefde te werken als vaste mannequin van Cristobal Balanciaga – een eiland van kalmte uitstraalde. Onverstoorbaar op de achtergrond las zij haar boeken en gaf af en toe de schilder zacht commentaar."
De Muze van Karel Appel
door Babette Sijmons
64 pagina's, 17 x 24 cm,
35 illustraties in kleur en 22 in zwart-wit,
Nederlands/Engels
ISBN 978 94 6262 073 5
€ 17,50
Museum de Fundatie
Blijmarkt 20
8011 NE Zwolle
Telefoon: 0572 388188
info@museumdefundatie.nl
# Meer informatie via website Museum de Fundatie
fleursdumal.nl magazine
More in: - Book News, Art & Literature News, Exhibition Archive, Karel Appel, The Ideal Woman
---
Nieuw boek van Ton Kors geeft een uitstekend gedocumenteerd en levendig beeld van de jonge verzetsstrijder Hannie Schaft.
Verzetsstrijdster Hannie Schaft werd op 17 april 1945 – drie weken voor de bevrijding – doodgeschoten in de duinen bij Bloemendaal. Hierbij zou ze, na een schampschot, koelbloedig hebben gezegd: 'Ik schiet beter', waarna een SD'er zijn machinepistool op haar leegschoot.
Hannie Schaft groeide uit tot een legendarische figuur in het Nederlandse verzet tegen de Duitse bezetter. De net als Schaft uit Haarlem afkomstige journalist Ton Kors raakte in toenemende mate door haar geïntrigeerd. Nadat hij een reeks artikelen aan Schaft had gewijd besloot hij tot het schrijven van haar levensverhaal.
Een groot aantal mensen die haar gekend hebben, vertellen in dit boek over haar. Hun getuigenissen geven gestalte aan deze jonge vrouw, die ook het liquideren van tegenstanders en verraders niet uit de weg ging. In zijn boek brengt Kors ook de controverse na haar dood, of zij al dan niet behoord had tot de illegale CPN, ter sprake.
Ton Kors' Hannie Schaft geeft een uitstekend gedocumenteerd en levendig beeld van een van de belangrijkste figuren van het Nederlandse verzet tijdens de Tweede Wereldoorlog. Aan deze uitgave wordt een uitgebreid nawoord toegevoegd.
Ton Kors (1946-1993) was correspondent in Zuid-Afrika, werkte voor het Haarlems Dagblad en was chef reportage bij Nieuwe Revu.
Auteur: Ton Kors
Hannie Schaft
Het levensverhaal van een vrouw in verzet tegen de nazi's
Uitgever: Just Publishers
ISBN 9789089759405
Paperback, 225 p.
fleursdumal.nl digital magazine
More in: - Book News, Art & Literature News, Hannie Schaft, In Memoriam, The Ideal Woman
---
Hans Christian Andersen: 'Beautiful'
Alfred the sculptor – yes, you know him, don't you? We all know him; he was awarded the gold medal, traveled to Italy, and came home again. He was young then; in fact, he is still young, though he is ten years older than he was at that time.
After he returned home, he visited one of the little provincial towns on the island of Zealand. The whole village knew who the stranger was, and in his honor one of the richest families gave a party. Everyone of any importance or owning any property was invited. It was quite an event, and all the village knew about it without its being announced by the town crier. Apprentice boys and the children of poor people, and even some of their parents, stood outside the house, looking at the lighted windows with their drawn curtains; and the watchman could imagine that he was giving the party, there were so many people in his street. There was an air of festivity everywhere, and inside the house, too, for Mr. Alfred the sculptor was there.
He talked and told stories, and everybody listened to him with pleasure and enthusiasm, but none more so than the elderly widow of a state official. As far as Mr. Alfred was concerned, she was like a blank sheet of gray blotting paper, absorbing everything that was said and demanding more. She was highly susceptible and unbelievably ignorant-a sort of female Kaspar Hauser.
"I should love to see Rome!" she said. "It must be a wonderful city, with all the many strangers continually arriving there. Now, do tell us what Rome is like. How does the city look when you come in by the gate?"
"It is not easy to describe it," said the young sculptor. "There's a great open place, and in the middle of it there is an obelisk that is four thousand years old."
"An organist!" cried the lady, who had never heard the word "obelisk."
Some of the guests could hardly keep from laughing, among them the sculptor, but the smile that rose to his lips quickly faded away, for he saw, close by the lady, a pair of dark-blue eyes; they belonged to the daughter of the lady who had been talking, and anyone with such a daughter could not really be silly! The mother was like a fountain of questions, and the daughter, who listened silently, might pass for the naiad of the fountain. How beautiful she was! She was something for a sculptor to look at, but not to speak with, for indeed she talked but very little.
"Has the Pope a large family?" asked the lady.
And the young man answered considerately, as if the question had been put differently, "No, he doesn't come of a very great family."
"That's not what I mean," said the lady. "I mean, does he have a wife and children?"
"The Pope isn't allowed to marry," he replied.
"I don't approve of that," said the lady.
She might well have talked and questioned him more intelligently, but if she hadn't said and asked what she did, would her daughter have leaned so gracefully on her shoulder, looking straight before her with an almost melancholy smile on her lips?
And Mr. Alfred told them of the glorious colors of Italy, the purple of the mountains, the blue of the Mediterranean, the blue of the southern skies, a beauty that could only be surpassed in the North by the deep-blue eyes of a maiden. This he said with peculiar meaning, but she who should have understood it looked quite unconscious, and that, too, was charming!
"Ah, Italy!" sighed some of the guests.
"Traveling!" sighed others.
"Charming, charming!"
"Well," said the widow, "if I win fifty thousand dollars in the lottery, we'll travel! My daughter and I. You Mr. Alfred, must be our guide. We'll all three go, with just one or two good friends with us." Then she smiled in such a friendly manner at the company that each of them could imagine he was the person who would accompany them to Italy. "Yes, we'll go to Italy! But not to the parts where the robbers are; we'll stay in Rome and only travel by the great highways where we'll be safe."
And the daughter sighed very gently. And how much may lie in one little sigh or be read into it! The young man read a great deal into it. Those two blue eyes, bright that evening in his honor, must conceal treasures of heart and mind rarer than all the glories of Rome! When he left the party, he had lost his heart-lost it completely-to the young lady.
Now, the widow's house was where Mr. Alfred the sculptor could most frequently be found. It was understood that his calls were not for the lady herself, though he and she did all the talking; he really came for the sake of the daughter. They called her Kala. Her real name was Karen Malene, but the two names had been contracted into the single name Kala. She was extremely, but some people said she was rather dull and probably slept late in the mornings.
"She has been accustomed to that since childhood," said her mother. "She is as beautiful as Venus, and a beauty always tires easily. She does sleep rather late, but that's what makes her eyes so bright."
What a power there was in these clear eyes, these deep blue eyes! "Still waters run deep." The young man felt the truth of that proverb, and his heart sank into the depths. He spoke of his adventures, and Mamma always asked the same naïve and pertinent questions she had asked at their first meeting.
It was a delight to hear Mr. Alfred speak. He told them of Naples, of trips to Mount Vesuvius, and showed them colored prints of some of the eruptions. The widow had never heard of such things before, much less taken time to think about them.
"Mercy save us!" she said. "So that's a burning mountain! But isn't it dangerous for the people who live there?"
"Entire cities have been destroyed," he answered. "For example, Pompeii and Herculaneum."
"Oh, the poor people! And you saw all that yourself?"
"Well, no, I didn't see any of the eruptions shown in these pictures, but I'll show you a drawing I made of an eruption I did see."
He laid a pencil sketch on the table, and when Mamma, who had been studying the highly colored prints, glanced at the black-and-white drawing, she cried in amazement, "When you saw it did it throw up white fire?"
For a moment Alfred's respect for Kala's mamma nearly vanished; but then, dazzled by the light from Kala, he decided it was natural for the old lady to have no eye for color. After all, it didn't matter, for Kala's mamma had the most wonderful thing of all-she had Kala herself.
And Alfred and Kala were engaged, which was inevitable, and the engagement was announced in the town newspaper. Mamma brought thirty copies of the paper, so she could cut out the announcement and send it to her friends. The betrothed couple were happy, and the mamma-in-law-to-be was happy, too; she said it seemed like being related to Thorvaldsen himself.
"At any rate, you are his successor," she told Alfred.
And it seemed to Alfred that Mamma had this time really said something clever. Kala said nothing, but her eyes sparkled; her every gesture was graceful. Yes, she was beautiful; that cannot be repeated too often.
Alfred made busts of Kala and his future mamma-in-law; they sat for him and watched how he molded and smoothed the soft clay between his fingers.
"I suppose it's only for us that you do this common work," said Mamma-in-law-to-be, "and don't have your servant do all that dabbing together."
"No, I have to mold the clay myself," he explained.
"Oh, yes, you're always so exceedingly polite," said Mamma, while Kala silently pressed his hand, still soiled by the clay.
Then he unfolded to both of them the loveliness of nature in creation, explaining how the living stood higher in the scale than the dead, how the plant was above the mineral, the animal above the plant, and man above the animal, how mind and beauty are united in outward form, and how it was the task of the sculptor to seize that beauty and imprison it in his works.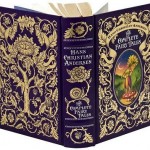 Kala sat silent and nodded approval of the thought, while Mamma-in-law confessed, "It's hard to follow all that. But my thoughts manage to hobble slowly along after you; they whirl around, but I try to hold them fast."
And the power of Kala's beauty held Alfred fast, seizing him and mastering him and filling his whole soul. There was beauty in Kala's every feature; it sparkled in her eyes, lurked in the corners of her mouth and even in each movement of her fingers. The sculptor saw this; he spoke only of her, thought only of her, until the two became one. Thus it might be said that she also spoke often, for he was always talking of her, and they two were one.
Such was the betrothal; and now came the wedding day, with bridesmaids and presents, all duly mentioned in the wedding speech.
Mamma-in-law had set up a bust of Thorvaldsen, attired in a dressing gown, at one end of the table, for it was her whim that he was to be a guest. There were songs and toasts, for it was a gay wedding and they were a handsome pair. "Pygmalion gets his Galatea," one of the songs said.
"That is something from mythology!" said Mamma-in-law.
Next day the young couple left for Copenhagen, where they were to live. Mamma-in-law went with them, "to give them a helping hand," she explained-which meant to take charge of the house. Kala was to live in a doll's house. Everything was so bright, new, and fine. There the three of them sat, and as for Alfred, to use a proverb that describes his circumstances, he sat like the bishop in the goose yard.
The magic of form had fascinated him. He had regarded the case and had no interest in learning what the case contained, and that is unfortunate, very unfortunate, in married life! If the case breaks and the gilding rubs off, the purchaser may repent of his bargain. It is very embarrassing to discover in a large party that one's suspender buttons are coming off and that one has no belt to fall back on; but it is still worse to realize at a great party that one's wife and mother-in-law are talking nonsense and that one cannot think of a clever piece of wit to cover up the stupidity of it.
The young couple often sat hand in hand, he speaking and she letting drop a word now and then-with always the same melody, like a clock striking the same two or three notes constantly. It was really a mental relief when one of her friends, Sophie, came to visit them.
Sophie wasn't pretty. To be sure, she was not deformed; Kala always said she was a little crooked, but no one but a female friend would have noticed that. She was a very levelheaded girl and had no idea that she might ever become dangerous here. Her visits brought a fresh breath of air into the doll's house, air that they all agreed was certainly needed there. But they felt they needed more airing, so they came out into the air, and Mamma-in-law and the young couple traveled to Italy.
"Thank heaven we are back in our own home again!" said both mother and daughter when they and Alfred returned home a year later.
"Traveling is no fun," said Mamma-in-law. "On the contrary, it's very tiring; pardon me for saying so. I found the time dragged, even though I had my children with me; and it is expensive, very expensive, to travel. All those galleries you have to see, and all the things you have to look at! You must do it for self-protection, because when you get back people are sure to ask you about them; and then they're sure to tell you that you've missed the most worth-while things. I got so tired at last of those everlasting Madonnas; I thought I would turn into a Madonna myself!"
"And the food one gets!" said Kala.
"Yes," agreed Mamma. "Not even a dish of honest meat soup! It is awful the way they cook!"
And Kala had become tired from traveling; she was always tired; that was the trouble. Sophie came to live with them, and her presence was a real help.
Mamma-in-law had to admit that Sophie understood both housekeeping and art, though you would hardly have expected a knowledge of the last from a person of her modest background. Moreover, she was honest and loyal; she showed that clearly when Kala lay sick, fading away.
If the case is everything, that case should be strong, or it is all over. And it was all over with the case-Kala died.
"She was so beautiful," said Mamma. "She was very different from the antiques, because they're all so damaged. Kala was completely perfect, just as a beauty should be."
Alfred wept and the Mother wept, and both went into mourning. The black dresses became Mamma very well, so she wore her mourning the longer. Moreover, she soon experienced another grief, when she saw Alfred marry again. And he married Sophie, who had no looks at all!
"He has gone from one extreme to the other!" said Mamma-in-law. "Gone from the most beautiful to the ugliest! How could he forget his first wife! Men have no constancy. Now, my husband was entirely different, and he died before I did."
"Pygmalion got his Galatea," said Alfred. "Yes, that's what the wedding song said. I really fell in love with a beautiful statue, which came to life in my arms, but the soul mate that heaven sends down to us, one of its angels who can comfort and sympathize with and uplift us, I have not found or won till now. You came to me, Sophie, not in the glory of superficial beauty – but fair enough, prettier than was necessary. The most important thing is still the most important. You came to teach a sculptor that his work is only clay and dust, only the outward form in a fabric that passes away, and that we must seek the spirit within. Poor Kala! Ours was but a wayfarer's life. In the next world, where we shall come together through sympathy, we shall probably be half strangers to each other.
"That was not spoken kindly," said Sophie, " not like a true Christian. In the next world, where there is no marriage, but where, as you say, souls find each other through sympathy, where everything beautiful is developed and elevated, her soul may attain such completeness that it may resound far more melodiously than mine. Then you will again utter the first exciting cry of your love, 'Beautiful, beautiful!'"
END
Hans Christian Andersen (1805—1875)  fairy tales and stories
fleursdumal.nl magazine
More in: Andersen, Hans Christian, Archive A-B, Grimm, Andersen e.o.: Fables, Fairy Tales & Stories
---
Older Entries »
« Newer Entries
Thank you for reading FLEURSDUMAL.NL - magazine for art & literature