THEATRE
·
Poetry International Festival Rotterdam (29/5-3/6-2018) – Live Streams
·
Oerol #festivaleiland 15 – 24 juni 2018
·
EN ROUTE ELLEN RIJK – Een tentoonstelling over onderweg
·
Fabrice Luchini: Comédie française. Ça a débuté comme ça
·
TILT literatuurfestival op zaterdag 17 maart 2018 in Tilburg
·
Glam Jail: Franco-Brazilian tale by Pol Kurucz
·
Isabelle Giordano: Romy Schneider, film par film
·
Fabienne Courtade: 'corps tranquille étendu'
·
Jean Cocteau: The Difficulty of Being
·
Wereldberoemd ballet 'Romeo en Julia' van Sergei Prokofiev in Nederlandse Theaters
·
Salon der Verzen presenteert "Gedichten op muziek" in het Pianola Museum
·
Staging Beckett in Great Britain & Ireland by David Tucker and Trish McTighe
More in: Poetry International, STREET POETRY, THEATRE, TRANSLATION ARCHIVE
---
More in: AUDIO, CINEMA, RADIO & TV, DANCE, Oerol, STREET POETRY, THEATRE
---
In de tentoonstelling EN ROUTE brengt beeldend kunstenaar Ellen Rijk een aantal recente grotere werken samen rond de thematiek van de 'reis', het onderweg zijn, waar ga je naar toe en waar ben je thuis. Met titels als Schuilboot of Troostvloot en Horizon nodigt zij de kijker uit tot bezinning, los van de waan van de dag, maar niet los van een wereld die volop in beweging is en vol verschillende identiteiten.

Zij toont haar schepen om te reizen, om te vluchten, gedwongen of gewoon meegevoerd in een tocht als over de Styx of om in te schuilen als in een kleine kapel of een kerk. Kaarten, foto's en getijden om een reis of een thuis vast te leggen.
In de volksmond heet zij de Vredeskerk: O.L. Vrouw Koningin van de Vrede aan de Ringbaan West.De kerk, gebouwd in 1953, geopend in 1954, geldt als een van de hoogtepunten van de Tilburgse wederopbouwarchitectuur en is ontworpen door N.H. Pontzen, architect te Tilburg.
Sinds 2015 is zij buiten gebruik. Het gebouw is in het kader van de ontwijding 'gestript'. Door de versobering komen de superieure verhoudingen sterk tot hun recht en nodigt de ruimte nog meer uit tot contemplatie, tot stilte en bezinning. Het lijkt de ideale entourage voor EN ROUTE ELLEN RIJK.
Ellen Rijk (Ossendrecht 1955) volgde na de Academie voor Beeldende Vorming in Tilburg de Academie voor Kunst en Vormgeving te Den Bosch, afdeling keramiek.  Haar werk was recentelijk te zien in o.a.: Tilburg, Luycks Gallery, Fort de Vaux; Den Bosch, Boschparade, Tilburg, Beyond Borders; Diessen, Landart Diessen; Bedburg-Hau (Duitsland), Artoll Kunstlabor; Akhalkalaki, Kaspi, (Georgië) Art Villa Garikula; Tilburg, voormalige Franciscanessenkapel; Schijndel, KEG; Parijs (Frankrijk) Theatre de Vanves; Bourges (Frankrijk), Biennale d'Art Contemporaine; Zagreb (Kroatie), Galerija Klovecevi dvori, Kiev (Oekraïne), SpringWindFestival; Maastricht, Festival Cement; Maagdenburg (Duitsland), IVde International Kunstfestival
Kunstfestival Vredeskerk
OL Vrouw Koningin van de Vrede
Ringbaan West 94
Tilburg
03 mei t/m 21 mei 2018
Openingstijden:
Donderdag t/m zondag + 21 mei van 14.00 – 19.00 uur en op afspraak
Beeldende kunst: Ellen Rijk i.s.m. Ad Roefs en Sergei Sabakar
Ondersteuning: Jacki Dodementova, Pietjan Dusee, Mahbooba Yousuf, Mostafa Betaree / Spotlight
Het project wordt ondersteund door Makersfonds gemeente Tilburg – RK Parochie Peerke Donders

EXTRA programma in het kader van EN ROUTE ELLEN RIJK, een tentoonstelling over onderweg:  Donderdag 3 mei 19.00 uur FEESTELIJKE OPENING van de tentoonstelling door Isidoor Wens, beeldend kunstenaar, coördinator Artots (Den Bosch) en Art Center Botopasi (Suriname) met bijdragen van performer Adriaan van Iersel, theatermaker Boy Jonkergouw en schrijver Pietjan Dusee.
Vrijdag 4 mei 17.00 – 18.45 uur SPEECHES SPECIAL + PLUS THEATER VOOR DE DAM
Normaal niet meer weg te denken in de programmering van De NWE Vorst maar deze keer een speciale editie van speeches in de Vredeskerk. Zes genodigden betreden de kansel om een korte speech te geven. Met toesprekers uit allerlei gelederen, soms ervaren podiumbeesten, soms verlegen binnenvetters. Zij delen hun persoonlijke verhaal met u en prikkelen uw geest, treffen doel, geven een grimas, laten u niet onberoerd. Volgens traditie te beginnen met een filmpje van Leonard Bedaux Cinema.
Na een korte pauze speelt actrice Monique Hendriks haar korte poëtische monoloog "We kunnen er toch ook allemaal niks aan doen", die de menselijke kant van de vluchtelingenproblematiek blootlegt en vertonen we het documentaire meesterwerk 'Planet Sarajevo' van de Bosnische cineast Sahin Sisic. Een groots kleinood over het leven van alledag in een stad in oorlog.
Zondag 6 mei 15.00 – 18.00 uur EN ROUTE MEETING THE WORLD I
Een reeks artistieke interventies
Zondag 13 mei 15.00 – 18.00 uur EN ROUTE MEETING THE WORLD II
Een reeks artistieke interventies
Zondag 20 mei 15.00 – 18.00 uur EN ROUTE MEETING THE WORLD III
Een reeks artistieke interventies
Aan EN ROUTE MEETING THE WORLD werken o.a. mee: Mahmamod Al Asady – Taim Alhajali – Tia Alhajali – Jol Alholo – Bakr Al_jaber – Hasan Alkhatib – Mohammad Karim Amin – – Mohamed Almaslawe – Mohammed Alsamna – Hanadi Alsharqawi – Andit & Friends – Mohamad B – Ferran Bach – Ana Barreto – Amjad Bitari -Frido van der Blij – Sjon Brands – Huda Diban – Doré van Dijck – Ulrike Doszmann – MoveToMeet Katja Grässli – Shaza Hayek – Adriaan van Iersel – Mohammad Khan – Vincent Koevoets – Razan Lababidy – Batoul Lakmoush – Dorith van der Lee – Huner Mirani – Ali Mosleh – Sarah Prescimone – Eleni Ploumi – Diana Qadd – Mohammad Saleh – Mamoda Sh – Eyad Shawi – Paul Speckens – Jens Wierckx
EN ROUTE MEETING wordt georganiseerd door SPOTLIGHT / Mostafa Betaree
# meer informatie op website: www.ellenrijk.nl
news & events
fleursdumal.nl magazine
More in: Art & Literature News, AUDIO, CINEMA, RADIO & TV, Dutch Landscapes, Exhibition Archive, FDM Art Gallery, Land Art, Performing arts, THEATRE
---
Il nous a fait redécouvrir La Fontaine, Rimbaud et Céline.
Il incarne l'esprit et le panache de la langue française. En prose, en vers et même en verlan, il a donné sa voix à d'immenses auteurs, auxquels il sait faire respirer l'air de notre temps – en racontant la fureur du Misanthrope à l'ère du téléphone portable, ou la sensualité de "La Laitière et le pot au lait" sur l'air d'une publicité pour Dim.
Il a quitté l'école à quatorze ans pour devenir apprenti coiffeur. Il est aujourd'hui l'un de nos plus grands comédiens, célébré pour ses lectures-spectacles, couronné par la Mostra de Venise pour son rôle dans son dernier film, L'Hermine.
Dans son autobiographie, Fabrice Luchini livre le récit d'une vie placée sous le signe de la littérature, à la recherche de la note parfaite.
Fabrice Luchini est né à Paris en 1951. Lancé par Philippe Labro et Éric Rohmer alors qu'il est encore apprenti coiffeur, révélé par le film La Discrète, en 1990, il est l'un des plus grands acteurs français. Il donne depuis plus de vingt ans des spectacles, désormais entrés dans la légende, consacrés aux auteurs qu'il aime. Il a été sacré meilleur acteur à la Mostra de Venise pour son rôle dans L'Hermine de Christian Vincent.  Comédie française est son premier livre.
Fabrice Luchini
Comédie française
Ça a débuté comme ça
Paru le 02/03/2016
Genre: Essais littéraires
256 pages
135 x 210 mm
Broché
ISBN-10: 2081379171
ISBN-13: 978-2081379176
€19,00
Ed. Flammarion
new books
fleursdumal.nl magazine
More in: - Book Stories, Archive K-L, Art & Literature News, La Fontaine, Jean de, Louis-Ferdinand Céline, Rimbaud, Arthur, THEATRE
---
# voor meer informatie zie website www.tiltfestival.nu
More in: Art & Literature News, Boekenweek, City Poets / Stadsdichters, Literary Events, STREET POETRY, THEATRE, Tilt Festival Tilburg
---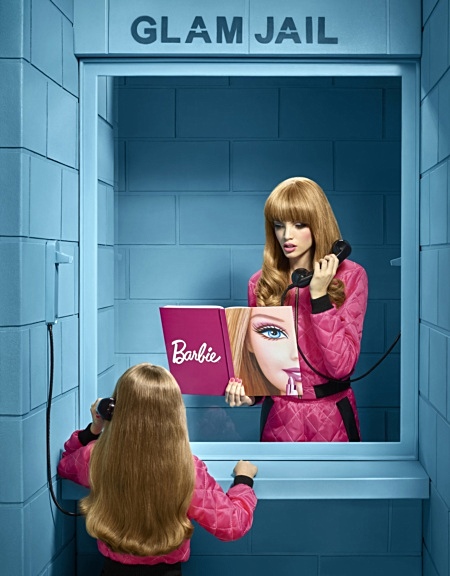 Glam Jail is a Franco-Brazilian tale by photographer Pol Kurucz about 11 eccentric inmates transforming a prison visitor's booth into a colorful fashion haven.
Through visual allegories and pop aesthetics the photographer challenges social and racial norms symbolized by the carceral universe. The shootings took place in the Offen Studio in Sao Paulo in August 2017. The series features local models, celebrities and dresses exclusively from local fashion brands.
Pol Kurucz was born with two different names to a French mother in a Hungarian hospital. His childhood hyperactivity was treated with theater, and theater was later treated with finance. By 27 he was a CEO by day and a stage director by night.
He then went on consecutive journeys to Bahrain and Brazil, to corporate islands and favelas. He has sailed on the shores of the adult industry and of militant feminism and launched a mainstream moneymaking restaurant loss making in its absurdity.
Pol was reborn in 2015 and merged his two names and his contradictory lives into one where absurdity makes sense. Today he works on eccentric fashion and fine art projects from his Sao Paulo studio.
His photos have been featured in over a hundred publications including: Vogue, ELLE, Glamour, The Guardian (Arts), Adobe Create, Hunger TV, Sleek and Nylon.
Credits
Photography and Art Direction: Pol Kurucz
Styling: Carolyna Mello
Set design: Nina Simao
Lighting and Tech.: Guilherme Griebler
Assistants: Lara Ferro, Mary Cruz, Claus Pinheiros, Monica Rodrigues
# Look for more photos & information on website pol kurucz
Glam Jail: a Franco-Brazilian tale by Pol Kurucz
fleursdumal.nl magazine
More in: AUDIO, CINEMA, RADIO & TV, Exhibition Archive, Magazines, Photography, Pol Kurucz, THEATRE
---
"Romy Schneider est bien plus qu'une star de cinéma. Elle est une véritable icône, un symbole fort pour une génération entière.
Femme libre, artiste accomplie, elle continue de fasciner encore aujourd'hui. Elle incarne la femme moderne, elle est l'image même de ces femmes qui, dans les années 1970, ont cherché à gagner leur liberté et la maîtrise de leur destin.
Elle est "l'image de toutes les femmes" comme le disait si justement Claude Sautet. On aime Romy car dès son plus jeune âge, elle rue dans les brancards et s'élève contre sa famille et une mère étouffante.
On aime Romy car elle aime aimer les hommes, sans entraves et sans barrières. Mais on l'aime aussi parce qu'elle est une mère attentive et chaleureuse, parce qu'elle a choisi de prendre sa vie à bras-le-corps, plutôt deux fois qu'une, avec passion toujours : "Dans la vie, comme au cinéma, j'applique la devise Tout ou rien. La témérité est quelque chose qui m'a toujours aidée à avancer."
Tels sont les mots de Romy. Elle est une Antigone des temps modernes qui, comme l'héroïne grecque, affirme haut et fort "Je veux tout!""  Isabelle Giordano.
Isabelle Giordano
Romy Schneider, film par film
Albums hors série, Gallimard Loisirs
Parution : 05-10-2017
256 pages, ill.,
sous couverture illustrée,
245 x 285 mm, cartonné
ISBN : 9782742450350
Gencode : 9782742450350
Prix € 39,90
Gallimard Loisirs
fleursdumal.nl magazine
More in: - Book News, - Book Stories, Archive G-H, Archive S-T, AUDIO, CINEMA, RADIO & TV, The Ideal Woman, THEATRE
---
Dès l'origine l'écriture de Fabienne Courtade tend au plus extrême dépouillement, par le biais d'une méditation qui n'oublie jamais le monde extérieur, ni le travail matériel propre à la poésie contemporaine.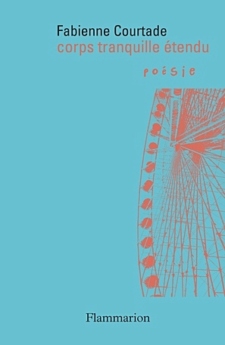 Dans ce nouveau chant contrarié – tourné plutôt vers une impossible lumière – la narration s'est encore resserrée, le lexique et l'anecdote se voient ramenés à l'essentiel. Une femme marche dans la ville et se parle à elle-même ou s'adresse à une ombre, évoquant des instants enfuis, une présence obsédante, des paysages estompés.
Aucune nostalgie néanmoins ni mélancolie dans ces pages : il s'agit au contraire de capter dans le déroulement des gestes, des trajets, des décors les plus ordinaires, une grâce moins apparente que le temps décidément n'abolit pas. Et que le poème parvient à fixer avec ses outils de langage, dans l'évidence et le mystère qui lui sont propres.
Depuis Nous, infiniment risqués (1987) Fabienne Courtade est l'auteur d'une quinzaine d'ouvrages, au carrefour du poème et du récit. Corps tranquille étendu est le quatrième titre qu'elle publie dans la collection Poésie/Flammarion.
Fabienne Courtade
'corps tranquille étendu'
Poésie/Flammarion
Paru le 15/11/2017
Genre : Théâtre
224 pages
Grand format 129 x 199 cm
Broché
EAN : 9782081415508
ISBN : 9782081415508
€ 17.00
new books
fleursdumal.nl magazine
More in: - Book News, - Book Stories, Archive C-D, Archive C-D, Art & Literature News, THEATRE
---
Reflections on life and art from the legendary filmmaker-novelist-poet-genius.
By the time he published The Difficulty of Being in 1947, Jean Cocteau had produced some of the most respected films and literature of the twentieth century, and had worked with the foremost artists of his time, including Proust, Gide, Picasso and Stravinsky.
This memoir tells the inside account of those achievements and of his glittering social circle. Cocteau writes about his childhood, about his development as an artist, and the peculiarity of the artist's life, about his dreams, friendships, pain, and laughter. He probes his motivations and explains his philosophies, giving intimate details in soaring prose. And sprinkled throughout are anecdotes about the elite and historic people he associated with.
Beyond illuminating a truly remarkable life, The Difficulty of Being is an inspiring homage to the belief that art matters.
Jean Cocteau (1889-1963) was a novelist, poet, filmmaker, artist and playwright. Born in a village just outside of Paris, he left home at fifteen and published his first volume of poetry, Aladdin's Lamp, at nineteen. He circulated in the highest ranks of bohemian Paris, and counted Picasso and Proust among his close friends. His most famous works include the novel Les Enfants terribles and the films Beauty and the Beast and Orpheus. He was openly gay and at one time an opium addict. He died of a heart attack after being informed of the death of his friend, the singer Edith Piaf.
The Neversink Library champions books from around the world that have been overlooked, under appreciated, looked askance at, or foolishly ignored.
The Difficulty of Being
BY Jean Cocteau
Introduction by Geoffrey O'Brien
Translated by Elizabeth Sprigge
Publisher: Melville House
Reflections on life and art from the legendary filmmaker-novelist-poet-genius.
Part of The Neversink Library
Pages176
ISBN9781612192901
"One of the master craftsmen." – Tennessee Williams
  #  more  on  website  of  The  Neversink  Library  
fleursdumal.nl magazine
More in: - Book News, - Book Stories, Archive C-D, Archive C-D, Art & Literature News, AUDIO, CINEMA, RADIO & TV, Jean Cocteau, THEATRE
---
Romeo en Julia van Prokofiev is zonder twijfel één van de hoogtepunten uit de klassiek-romantische ballettraditie.
Met het beroemde verhaal van Shakespeare als basis, schetst deze voorstelling de geschiedenis van een onmogelijke liefde.
Romeo en Julia hebben hun hart aan elkaar verpand, maar omdat hun families al generaties lang ruzie hebben, kan het niks worden tussen de geliefden. Dus als ze trouwplannen maken, wordt het huwelijk aan alle kanten gedwarsboomd, met tragische gevolgen.
In de fantastische muziek van de beroemde componist Prokofiev weerklinken de hartstocht en dramatiek die deze choreografie verbeeldt.
Met dans van wereldniveau brengt het ballet van de Staatsopera van Tatarstan dit ultieme liefdesverhaal in heel Europa met succes tot leven. Hun weelderige kostuums geven de voorstelling kleur en dynamiek. Ook de decors zijn indrukwekkend: die bieden een betoverende achtergrond voor onder meer de uitbundige feesttaferelen in het verhaal en natuurlijk de beroemde balkonscene, die het symbool werd van de romantiek.
De passie van de dansers en de hartverscheurende ontmoetingen tussen de geliefden maken van deze voorstelling een aanrader voor alle generaties met een gevoelig hart.
Romeo en Julia
Nog te zien in theaters door heel Nederland
van december 2017 t/m februari 2018.
Meer info:
Wereldtheater.com
DG Theater
info@dgtheater.nl
+31 30 2844 770
fleursdumal.nl magazine
More in: # Music Archive, Art & Literature News, DANCE, Shakespeare, William, THEATRE
---
Een nieuwe liederencyclus voor sopraan en piano, een nieuw declamatorium op Vondels 'Lucifer', VSB Poëzieprijs-nominee Mieke van Zonneveld en meer
U proeft de sfeer van een klassieke salon! Een unieke belevenis voor zowel doorgewinterde poëzie- en klassieke-muziekliefhebbers als iedereen die nog niet eerder kennis heeft gemaakt met gedichten, voordrachtskunst of het klassieke lied.
Op het programma: Mieke Van Zonneveld (voordracht), Simon Mulder (voordracht), George Beentjes (piano), Michelle Mallinger (sopraan), Marijke Brekelmans (voordracht), verwonderaar Arjan Van Vembde (magie), Kasper Janse (pianola).
– De debuutbundel van dichter van het Feest der Poëzie Mieke van Zonneveld is genomineerd voor de VSB Poëzieprijs. Reden om de schrijver van 'Leger' opnieuw uit te nodigen voor een voordracht, ook voor degenen die haar uitverkochte bundelpresentatie in januari hebben gemist!
– Componist George Beentjes presenteert zijn laatste serie werken voor zang en piano, geïnspireerd op prachtige Duitse gedichten uit de 19e eeuw.
– Daarnaast is er ook de première van een declamatorium van Joost van den Vondels tragedie 'Lucifer' (naar de originele voordracht van Albert Vogel sr.) bewerkt voor piano en stem in samenwerking van George Beentjes en Simon Mulder.
– Arjan van Vembde, onze verwonderaar, brengt een nieuwe magische act.
– Simon Mulder draagt voor uit eigen werk, o.a. uit handgemaakt poëzieperiodiek Avantgaerde.
– Marijke Brekelmans draagt voor uit Lodewijk van Deyssels 'Een Liefde'.
– En conservator Kasper Janse demonstreert een heuse pianola.
Praktische informatie
Locatie: Pianola Museum, Westerstraat 106, Amsterdam
Datum: zaterdag 16 december 2017, 20:15 uur
Zaal open: 19:45 uur
Aanvang: 20:15 uur
Entree: 15 /12,50 euro
U kunt nu reserveren via info@pianola.nl
Salon der Verzen – zaterdag 16 december 2017, 20:15 uur – Pianola Museum, Westerstraat 106, Amsterdam
#  meer  informatie  op  website  www.feestderpoezie.nl

fleursdumal.nl magazine
More in: Art & Literature News, Literary Events, MUSIC, THEATRE
---
Beckett's relationship with British theatre is complex and underexplored, yet his impact has been immense. Uniquely placing performance history at the centre of its analysis, this volume examines Samuel Beckett's drama as it has been staged in Great Britain, bringing to light a wide range of untold histories and in turn illuminating six decades of drama in Britain.
Staging Samuel Beckett in Great Britain by Trish McTighe and David Tucker

Ranging from studies of the first English tour of Waiting for Godot in 1955 to Talawa's 2012 all-black co-production of the same play, Staging Samuel Beckett in Great Britain excavates a host of archival resources in order to historicize how Beckett's drama has interacted with specific theatres, directors and theatre cultures in the UK. It traces production histories of plays such as Krapp's Last Tape; presents Beckett's working relationships with the Royal Court, Riverside and West Yorkshire Playhouse, as well as with directors such as Peter Hall; looks at the history of Beckett's drama in Scotland and how the plays have been staged in London's West End. Production analyses are mapped onto political, economic and cultural contexts of Great Britain so that Beckett's drama resonates in new ways, through theatre practice, against the complex contexts of Great Britain's regions.
With contributions from experts in the fields of both Beckett studies and UK drama, including S.E. Gontarski, David Pattie, Mark Taylor-Batty and Sos Eltis, the volume offers an exceptional and unique understanding of Beckett's reception on the UK stage and the impact of his drama within UK theatre practices. Together with its sister volume, Staging Samuel Beckett in Ireland and Northern Ireland it will prove a terrific resource for students, scholars and theatre practitioners.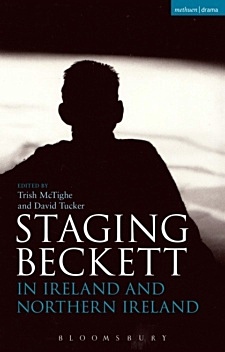 Staging Beckett in Ireland and Northern Ireland by Trish McTighe and David Tucker
This is the first full-length study to focus on Samuel Beckett's drama as it has been staged in Ireland and Northern Ireland.
While Beckett's relationship with his native land was a complex one, the importance of his drama as a creative force both historically and in contemporary practice in those regions cannot be underestimated. The volume brings to light unexamined and little-known productions, for example Beckett's drama in the Irish language, Druid Theatre Company's productions, and Beckett at Dublin's Focus Theatre, as well as previously unpublished archival materials. Leading scholars, such as Anna McMullan and Anthony Roche, and renowned dramatic interpreters of Beckett's work, such as Barry McGovern, explore Beckett's drama within the context of Irish creative theatrical practice and heritage, and point towards the theatrical and performance legacies that follow in its wake.
Production analyses are mapped on to the political, economic and cultural contexts of Ireland and the North so that readers are invited to experience Beckett's drama as resonating in new ways, through theatre practice, against the complex and connected histories of these lands.
David Tucker is a Visiting Research Fellow at the University of Sussex and currently teaches at the University of Oxford, UK. He is the editor of British Social Realism in the Arts since 1940 (Palgrave, 2011).
Trish McTighe is Lecturer in Theatre at the University of Birmingham. Previously, she lectured at Queen's University, Belfast and was an AHRC post-doctoral researcher on the Staging Beckett Project at the University of Reading (2012-2015).
Staging Beckett in Great Britain
Editors: David Tucker, Trish McTighe
Published: 19-10-2017
Format: Paperback
Edition: 1st
Extent: 288
ISBN: 9781474240161
Imprint: Methuen Drama
Bloomsbury Publishing
Staging Beckett in Ireland and Northern Ireland
Volume editor: Trish McTighe, David Tucker
Published: 19-10-2017
Format: Paperback
Edition: 1st
Extent: 288
ISBN: 9781474240543
Imprint: Methuen Drama
Bloomsbury Publishing
More titles on Beckett to be published soon:
∗ The Making of Samuel Beckett's 'Malone Dies'/'Malone meurt' by: Dirk Van Hulle, Pim Verhulst
∗ Beckett's Creatures. Art of Failure after the Holocaust by: Joseph Anderton
fleursdumal.nl magazine
More in: - Book News, - Bookstores, Archive A-B, Art & Literature News, AUDIO, CINEMA, RADIO & TV, Samuel Beckett, THEATRE
---
Older Entries »
Thank you for reading FLEURSDUMAL.NL - magazine for art & literature