REPRESSION OF WRITERS, JOURNALISTS & ARTISTS
·
49e poetry international festival rotterdam – 29/05 – 03/06 2018
·
A Surprised Queenhood in the New Black Sun. The Life & Legacy of Gwendolyn Brooks by Angela Jackson
·
Expositie Charlotte Salomon in Joods Historisch Museum Amsterdam
·
Robert Desnos: Faire part
·
Turkey: release imprisoned journalists and other media workers
·
Earthly Signs. Moscow Diaries, 1917-1922 by Marina Tsvetaeva
·
Masha Gessen: The Future is History = winner of the 2017 National Book Award for Nonfiction
·
Gaëlle Nohant: Légende d'un dormeur éveillé ( Histoire du poète Robert Desnos)
·
fleursdumal.nl art & literature magazine – 10 years (2007-2017)
·
The Last Revolution – Nexus-conferentie 2017
·
Peace Prize 2017 of the German Book Trade to Canadian author, essayist and poet Margaret Atwood
·
Robert Desnos: Porte du second infini. À Antonin Artaud
49e Poetry International Festival Rotterdam
Het jaarlijkse feest van de internationale poëzie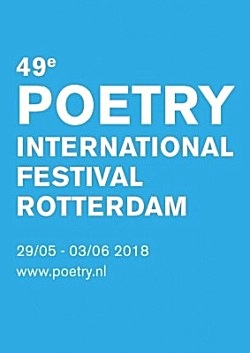 Op dinsdag 29 mei opent het 49e Poetry International Festival in Theater Rotterdam. Tot en met zondag 3 juni hoor je voor de 49e keer de mooiste gedichten uit alle windstreken en in vele talen, eerst in de Schouwburg, aansluitend in en om Locatie Witte de With.
Naast poëzievoordrachten brengt het festival films, muziek, interviews, lezingen, themabijeenkomsten en masterclasses. Een kermis van verlangen, kritiek, avontuur en troost, met de kunst van het woord als brandstof. Iedereen is uitgenodigd op het jaarlijkse feest van de poëzie.
Kom alvast in de stemming en vertaal zelf de poëzie van de festivaldichters tijdens het vertaalproject Met Andere Woorden. Vanaf 1 maart staan de eerste gedichten online. Kies je favoriete taal en dichter en ga aan de slag (zie verder de website van p.i.).

Opening POETRY+ART Gallerytour
zondag 27 mei in de Kunsthal
Opening 49e Poetry International Festival
dinsdag 29 mei in Theater Rotterdam Schouwburg
Festival tot en met 3 juni in Theater Rotterdam Witte de With
49e poetry international festival rotterdam
29/05 – 03/06 2018
# meer informatie op website poetry international
fleursdumal.nl magazine
More in: - Book Lovers, Art & Literature News, Literary Events, Poetry International, REPRESSION OF WRITERS, JOURNALISTS & ARTISTS, STREET POETRY, TRANSLATION ARCHIVE
---
A look back at the cultural and political force of Pulitzer Prize–winning poet Gwendolyn Brooks, in celebration of her hundredth birthday
Pulitzer-Prize winning poet Gwendolyn Brooks is one of the great American literary icons of the twentieth century, a protégé of Langston Hughes and mentor to a generation of poets, including Sonia Sanchez, Nikki Giovanni, and Elizabeth Alexander.
Her poetry took inspiration from the complex portraits of black American life she observed growing up on Chicago's Southside—a world of kitchenette apartments and vibrant streets. From the desk in her bedroom, as a child she filled countless notebooks with poetry, encouraged by the likes of Hughes and affirmed by Richard Wright, who called her work "raw and real."
Over the next sixty years, Brooks's poetry served as witness to the stark realities of urban life: the evils of lynching, the murders of Emmett Till and Malcolm X, the revolutionary effects of the civil rights movement, and the burgeoning power of the Black Arts Movement. Critical acclaim and the distinction in 1950 as the first black person ever awarded a Pulitzer Prize helped solidify Brooks as a unique and powerful voice.
Now, in A Surprised Queenhood in the New Black Sun, fellow Chicagoan and award-winning writer Angela Jackson delves deep into the rich fabric of Brooks's work and world. Granted unprecedented access to Brooks's family, personal papers, and writing community, Jackson traces the literary arc of this artist's long career and gives context for the world in which Brooks wrote and published her work. It is a powerfully intimate look at a once-in-a-lifetime talent up close, using forty-three of Brooks's most soul-stirring poems as a guide.
From trying to fit in at school ("Forgive and Forget"), to loving her physical self ("To Those of My Sisters Who Kept Their Naturals"), to marriage and motherhood ("Maud Martha"), to young men on her block ("We Real Cool"), to breaking history ("Medgar Evers"), to newfound acceptance from her community and her elevation to a "surprising queenhood" ("The Wall"), Brooks lived life through her work.
Jackson deftly unpacks it all for both longtime admirers of Brooks and newcomers curious about her interior life. A Surprised Queenhood in the New Black Sun is a commemoration of a writer who negotiated black womanhood and incomparable brilliance with a changing, restless world—an artistic maverick way ahead of her time.
What shall I give my children? who are poor,
Who are adjudged the leastwise of the land,
Who are my sweetest lepers, who demand
No velvet and no velvety velour;
But who have begged me for a brisk contour,
Crying that they are quasi, contraband
Because unfinished, graven by a hand
Less than angelic, admirable or sure.
from 'The Children of the Poor'
Angela Jackson is an award-winning poet, playwright, and novelist. She is the author of numerous collections of poetry, including the National Book Award–nominated And All These Roads Be Luminous: Poems Selected and New. Her novel Where I Must Go won the American Book Award in 2009. Its sequel, Roads, Where There Are No Roads, was published in 2017. Additionally, Jackson was longlisted for the Pulitzer Prize and a longlist finalist for the PEN Open Book Award for her 2015 poetry collection, It Seems Like a Mighty Long Time. Other honors include a Pushcart Prize, Academy of American Poets Prize, TriQuarterly's Daniel Curley Award, and the Poetry Society of America's Shelley Memorial Award. Jackson lives in Chicago.
A Surprised Queenhood in the New Black Sun
The Life & Legacy of Gwendolyn Brooks
By Angela Jackson
Paperback – $18.00
ISBN 9780807059128
Published by Beacon Press
208 Pages
May 29, 2018
new books
fleursdumal.nl magazine
More in: - Book News, Archive A-B, Archive A-B, Archive I-J, Archive I-J, BIOGRAPHY, REPRESSION OF WRITERS, JOURNALISTS & ARTISTS
---
Het Joods Historisch Museum markeert het honderdste geboortejaar van kunstenares Charlotte Salomon (1917-1943) met een bijzondere tentoonstelling gewijd aan haar artistieke nalatenschap: het kunstwerk Leven? of Theater?
Charlotte Salomon was 22 jaar toen ze in december 1938 vanuit Berlijn als vluchteling bij haar grootouders in Zuid-Frankrijk aankwam. Toen bij het uitbreken van de Tweede Wereldoorlog haar grootmoeder zelfmoord pleegde, begon Charlotte aan een 'totaal waanzinnig project' om mentaal te overleven. In vele honderden gouaches herschiep ze haar leven als een geschilderd theaterstuk. Charlotte Salomon werd in 1943 in Auschwitz vermoord.
Na de Tweede Wereldoorlog vonden haar vader en zijn vrouw Leven? of Theater? in Zuid-Frankrijk. Zij schonken het in 1971 aan het Joods Historisch Museum. De afgelopen decennia reisden delen van het werk langs musea wereldwijd. Salomons levenswerk heeft altijd intense reacties opgeroepen bij het publiek en inspireerde kunstenaars, filmers, schrijvers en choreografen tot eigen creaties. Het Joods Historisch Museum toont nu voor het eerst het werk in zijn totaal – ruim 800 gouaches.
Charlotte Salomon;
Leven? of theater?
Nog t/m 25 maart 2018
Joods Historisch Museum en JHM Kindermuseum
Nieuwe Amstelstraat 1
1011 PL Amsterdam
# meer info op website joods historisch museum
fleursdumal.nl magazine
More in: - Book Stories, Art & Literature News, Charlotte Salomon, FDM Art Gallery, Galerie des Morts, Holocaust, REPRESSION OF WRITERS, JOURNALISTS & ARTISTS
---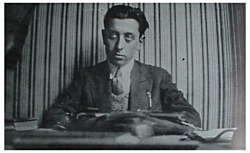 Faire part
Sur le pont du navire la couturière fait le point
couturière taille-moi un grand paon de mercure
je fais ce soir ma dernière communion
La dernière hirondelle fait l'automne
D'entre les becs de gaz blêmes
Se lève une figure sans signification.
Statues de verre flacon simulacre de l'amour
Vient la fameuse dame
Facteur de soustraction
avec une lettre pour moi
Mon cher Desnos Mon cher Desnos
Je vous donne rendez-vous
dans quelques jours
On vous préviendra
Vous mettrez votre habit d'outre monde
Et tout le monde sera bien content.
Robert Desnos
(1900 – 1945)
Faire part
fleursdumal.nl magazine
More in: Archive C-D, Archive C-D, Desnos, Robert, Holocaust, REPRESSION OF WRITERS, JOURNALISTS & ARTISTS, SURREALISM
---
Turkey now jails more journalists than any other country. One third of all imprisoned journalists in the world are being held in Turkish prisons, the vast majority waiting to be brought to trial.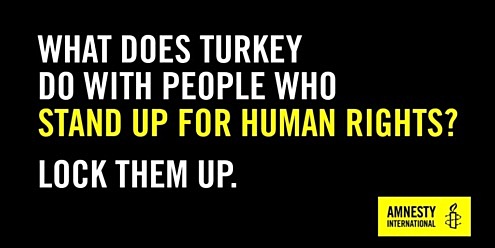 Journalists and media workers from all strands of opposition media have been targeted in an unprecedented crackdown since the violent coup attempt in July 2016.
Coupled with the closure of more than 160 media outlets, the message is clear and disturbing: the space for dissent is ever-shrinking and speaking out comes at an immeasurable cost.
This crackdown must end. Act now to demand media freedom in Turkey.
Journalists and other media workers must be freed from pre-trial detention. A free media is an essential component of any functioning, pluralist society.
They must be allowed to do their job, because journalism is not a crime.
 # Take  action  and  send  email  via  amnesty  international
fleursdumal.nl magazine
More in: Art & Literature News, MUSEUM OF PUBLIC PROTEST- photos, texts, videos, street poetry, 1968, PRESS & PUBLISHING, REPRESSION OF WRITERS, JOURNALISTS & ARTISTS
---
A moving collection of autobiographical essays from a Russian poet and refugee of the Bolshevik Revolution.
Marina Tsvetaeva ranks with Anna Akhmatova, Osip Mandelstam, and Boris Pasternak as one of Russia's greatest twentieth-century poets. Her suicide at the age of forty-eight was the tragic culmination of a life buffeted by political upheaval.
The essays collected in this volume are based on diaries she kept during the turbulent years of the Revolution and Civil War.
In them she records conversations of women in the markets, soldiers and peasants on the train traveling from the Crimea to Moscow in October 1917, fighting in the streets of Moscow, a frantic scramble with co-workers to dig frozen potatoes out of a cellar, and poetry readings organized by a newly minted Soviet bohemia.
Alone in Moscow with two small children, no income, and a missing husband, Tsvetaeva struggled to feed her daughters (one of whom died of malnutrition in an orphanage), find employment in the Soviet bureaucracy, and keep writing poetry. Her keen and ruthless eye observes with compassion and humor—bringing the social, economic, and cultural chaos of the period to life. These autobiographical writings not only give a vivid eyewitness account of Russian history but provide vital insights into the workings of Tsvetaeva's unique poetics.
Includes black and white photographs.
Earthly Signs
Moscow Diaries, 1917-1922
By Marina Tsvetaeva
Translated by Jamey Gambrell
Poetry
Paperback
Dec 05, 2017
288 Pages
Paperback
$17.95
Published by NYRB Classics
ISBN 9781681371627
new books
fleursdumal.nl magazine
More in: - Book News, Achmatova, Anna, Archive S-T, Archive S-T, Art & Literature News, Mandelstam, Osip, Pasternak, Boris, REPRESSION OF WRITERS, JOURNALISTS & ARTISTS, Tsvetaeva, Marina
---
The visionary journalist and bestselling biographer of Vladimir Putin reveals how, in the space of a generation, Russia surrendered to a more virulent and invincible new strain of autocracy.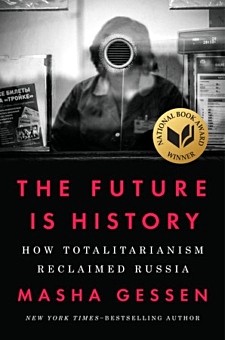 Hailed for her "fearless indictment of the most powerful man in Russia" (The Wall Street Journal), award-winning journalist Masha Gessen is unparalleled in her understanding of the events and forces that have wracked her native country in recent times.
In The Future Is History, she follows the lives of four people born at what promised to be the dawn of democracy. Each of them came of age with unprecedented expectations, some as the children and grandchildren of the very architects of the new Russia, each with newfound aspirations of their own—as entrepreneurs, activists, thinkers, and writers, sexual and social beings.
Gessen charts their paths against the machinations of the regime that would crush them all, and against the war it waged on understanding itself, which ensured the unobstructed reemergence of the old Soviet order in the form of today's terrifying and seemingly unstoppable mafia state. Powerful and urgent, The Future Is History is a cautionary tale for our time and for all time.
Masha Gessen's previous books include The Brothers: The Road to an American Tragedy and the national best seller The Man Without a Face: The Unlikely Rise of Vladimir Putin. She has immigrated to the United States twice—once, as a teenager, from the Soviet Union and again, more than thirty years later, from Putin's Russia. She lives in New York City.
Masha Gessen
The Future Is History
How Totalitarianism Reclaimed Russia
Hardcover
October 2017
528 Pages
ISBN 9781594634536
Published by Riverhead Books
fleursdumal.nl magazine
More in: - Book News, - Bookstores, Archive G-H, Art & Literature News, Awards & Prizes, PRESS & PUBLISHING, REPRESSION OF WRITERS, JOURNALISTS & ARTISTS, WAR & PEACE
---
Robert Desnos a vécu mille vies – écrivain, critique de cinéma, chroniqueur radio, résistant de la première heure –, sans jamais se départir de sa soif de liberté.
Pour raconter l'histoire extraordinaire de ce dormeur éveillé, Gaëlle Nohant épouse ses pas ; comme si elle avait écouté les battements de son cœur, s'était assise aux terrasses des cafés en compagnie d'Éluard ou de García Lorca, avait tressailli aux anathèmes d'André Breton, fumé l'opium avec Yvonne George, et dansé sur des rythmes endiablés au Bal Blomet aux côtés de Kiki et de Jean-Louis Barrault. S'identifiant à Youki, son grand amour, la romancière accompagne Desnos jusqu'au bout de la nuit.
Légende d'un dormeur éveillé révèle le héros irrésistible derrière le poète et ressuscite une époque incandescente et tumultueuse, des années folles à l'Occupation.
Gaëlle Nohant: Née à Paris en 1973, Gaëlle Nohant vit aujourd'hui à Lyon. Légende d'un dormeur éveillé est son troisième roman après L'Ancre des rêves (prix Encre Marine, 2007) et La Part des flammes (prix France Bleu/Page des libraires, 2015 et prix du Livre de Poche, 2016).
Gaëlle Nohant
Légende d'un dormeur éveillé
Roman
544 pages
23€
Paru le 17 août 2017
Illustration de couverture © Letizia Goffi
Éditions Héloïse d'Ormesson
ISBN : 978-2-35087-419-7
fleursdumal.nl magazine
More in: - Book News, - Book Stories, Archive C-D, Archive M-N, Art & Literature News, Desnos, Robert, REPRESSION OF WRITERS, JOURNALISTS & ARTISTS, Surrealism, Surrealisme
---
More in: BOOKS, CINEMA, RADIO & TV, DANCE, FICTION: SHORT STORIES, LITERARY MAGAZINES, MUSIC, NONFICTION: ESSAYS & STORIES, PRESS & PUBLISHING, REPRESSION OF WRITERS, JOURNALISTS & ARTISTS, THEATRE
---
De Jasmijnrevolutie, de Egyptische Revolutie, Euromaidan: het is nu moeilijk voor te stellen dat de Russische Revolutie, precies een eeuw geleden, beloofde de laatste revolutie te zijn.
Ondanks bolsjewistisch optimisme en dromen van gelijkheid bracht zij evengoed, net als andere opstanden, een angstaanjagende vernietiging van vrijheid, waarden en waarheid.
Revoluties bleven volgen.
Vragen over mens en maatschappij blijven onopgelost. Vanwaar revoluties? Welke machten bevrijden en welke onderdrukken?
Wat leren we uit het feit dat de Franse Revolutie eindigde in een bloedbad, de Russische Revolutie verwerd tot totalitarisme, maar de Amerikaanse Revolutie succesvol was?
Op zaterdag 18 november brengt Nexus gezaghebbende denkers, politici, wetenschappers en ideologen van over de hele wereld bijeen voor een gezamenlijke zoektocht naar antwoorden, ideeën en argumenten.
Wat voor vrijheidsbeweging wacht de 21e eeuw? En wie zijn de individuen die tegen gevestigde machten in durven denken, die wel in opstand komen? Waar halen zij die kracht vandaan? Wat zal de ware laatste revolutie zijn?
Deelnemers
Antony Blinken – diplomaat en strateeg van Clinton en Obama
Aleksandr Dugin – politiek filosoof en adviseur van Poetin
William Fallon – oud-bevelhebber Amerikaanse strijdkrachtenDeelnemers
Sjeik Rached Ghannouchi – toppoliticus en leider Tunesische revolutie
Aileen Kelly – expert Russische intellectuele geschiedenis
Pankaj Mishra – essayist en romancier
Moisés Naím – Venezolaans staatsman en politiek filosoof
Nelofer Pazira – Afghaans-Canadees filmmaker en schrijver
Shaha Riza – Arabisch activist
Dominique de Villepin – Frans staatsman en diplomaat
Leon Wieseltier – publiek intellectueel
Michael Žantovský – diplomaat, vertaler, woordvoerder en vriend van Václav Havel
Zhang Weiwei – filosoof van China als belangrijkste supermacht
Conferentie
The Last Revolution
Nexus-conferentie 2017
Zaterdag 18 november 2017
9.30 — 16.00 uur
Nationale Opera & Ballet
Amsterdam
#  meer  info  op  website  nexus  instituut  

fleursdumal.nl magazine
More in: - Book News, - Book Stories, Art & Literature News, CRIME & PUNISHMENT, DICTIONARY OF IDEAS, Nexus Instituut, NONFICTION: ESSAYS & STORIES, PRESS & PUBLISHING, REPRESSION OF WRITERS, JOURNALISTS & ARTISTS, WAR & PEACE
---
The Board of Trustees of the Peace Prize of the German Book Trade has chosen the Canadian author, essayist and poet Margaret Atwood to be the recipient of this year's Peace Prize.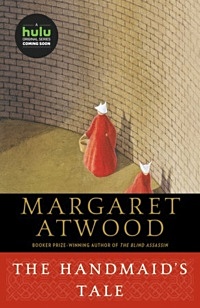 The award ceremony will take place on Sunday, October 15, 2017, the final day of the Frankfurt Book Fair, at the Church of St. Paul in Frankfurt am Main. The ceremony will be broadcast live on German public television. The Peace Prize has been awarded since 1950 and is endowed with a sum of €25,000.
In her wide range of novels, essays and volumes of poetry, Canadian author Margaret Atwood has demonstrated a keen political intuition and a deeply perceptive ability to detect dangerous and underlying developments and tendencies.
Margaret Eleanor Atwood was born in Ottawa on November 18, 1939 and spent the first part of her childhood in the forests of northern Quebec, where her father conducted research as an entomologist. During this time, she and her older brother and younger sister were taught at home by their mother. In 1946, when her father took up a position at the University of Toronto, Atwood began attending regular school for the first time. From 1957 to 1962, she studied English and literature at universities in Toronto and Cambridge, Massachusetts. In 1963, she got her professional life underway at a market research company, and in 1964, she began working as a professor of literature at various universities.
Atwood started publishing her first poems (see »The Circle Game«) in the early 1960s in what she referred to as a »private printing press«. She then continued to make an increasingly respected name for herself throughout the 1970s with a number of further volumes of poetry. It was at this time in her career that she began to focus on writing novels. Today, she is considered the most important and most successful author in Canada. Her work, which comprises novels, short stories, essays, poetry, stage plays, screenplays and children's books, has been translated into more than 30 languages.
Atwood achieved far-reaching national and international recognition with the publication of her first work of literary criticism, »Survival: A Thematic Guide to Canadian Literature« (1972), in which she examined the role of Canadian literature and literary history with tremendous wit and concision. She followed that up with her first two novels, »The Edible Woman« (1969) and »Surfacing« (1972), in which she explored the perception of women's role in modern Canada.
In 1985, Atwood published »The Handmaid's Tale«, a dystopian novel in the tradition of George Orwell. The novel depicts a totalitarian society in which women are meticulously oppressed and used as birth machines. By taking up certain social tendencies of her day and following their logic to its latent conclusion, Atwood was able to create a novel of timeless relevance. The Handmaid's Tale brought her to the peak of her already impressive literary career, and in 1989, German director Volker Schlöndorff even directed a film version. Today, precisely due to its enduring topicality, the novel is back on bestseller lists and experiencing a renaissance in American society under Donald Trump.
After »Cat's Eye« (1988), which explores the childhood and friendship of two women in post-war Canada, and »The Robber Bride« (1993), in which she examines women's darker side, Atwood published »Alias Grace« (1996), a historical fiction about a mysterious girl sentenced to life in prison for murder in the mid 19th century. After »The Blind Assassin« (2000), a broad portrait of Canadian society in the 20th century that garnered her the Booker Prize for Fiction, she shifted her focus to themes of ecological devastation and dangerous social tendencies in the post-apocalyptic worlds of her end-of-times trilogy »Oryx und Crake« (2003), »The Year of the Flood« (2009) and »MaddAddam« (2013). Known today for being an author and an environmental activist, Atwood coined the term »speculative fiction« to describe her work, although nothing she describes in her novels is pure invention. She takes a similar approach in her socially critical work »Payback. Debt and the Shadow Side of Wealth« (2008), a collection of lectures in which she examines the preconditions and consequences of the global financial crisis. Drawing on facts from cultural history, literature and linguistics, she spotlights the concept of economic and moral guilt found in the economic disaster.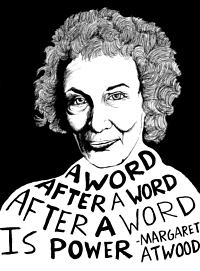 In the past several years, Atwood had rounded out her literary oeuvre with a number of works, including »Scribbler Moon«, a novel that will be published no sooner than 2114 as part of the Future Library Project. She also published »The Tent« (2006) and »Stone Mattress« (2014), as well as the novels »The Heart Goes Last« (2015) and »Hag-Seed« (2016). In addition to writing, Atwood continues to be active both politically and socially. In Germany, the latest product of her efforts is a volume of collected essays translated into German and set for publication in November 2017; »Aus Neugier und Leidenschaft« presents the cosmos of Margaret Atwood, including reviews, travel reports, writings on ecological themes and short stories. In May 2017, Atwood joined Salman Rushdie at the head of a campaign to garner support and higher levels of attention for authors suffering persecution and censorship. The campaign involves more than 200 writers and artists belonging to PEN International.
Margaret Atwood lives in Toronto with her second husband, the writer Graeme Gibson. Toronto is also the home of the Margaret Atwood Society, an organization dedicated to international scholarship and discourse on her work, for which she has received several honorary doctor titles.
# More  info  on  website  'Friedenspreis  des  Deutschen  Buchhandels'
fleursdumal.nl magazine
More in: - Bookstores, Archive A-B, Archive A-B, Art & Literature News, Awards & Prizes, Margaret Atwood, PRESS & PUBLISHING, REPRESSION OF WRITERS, JOURNALISTS & ARTISTS, WAR & PEACE
---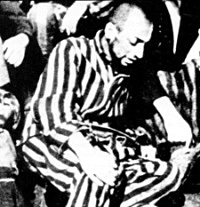 Porte du second infini
À Antonin Artaud
L'encrier périscope me guette au tournant
mon porte-plume rentre dans sa coquille
La feuille de papier déploie ses grandes ailes blanches
Avant peu ses deux serres
m'arracheront les yeux
Je verrai que du feu mon corps
feu mon corps !
Vous eûtes l'occasion de le voir en grand appareil
le jour de tous les ridicules
Les femmes mirent leurs bijoux dans leur bouche
comme Démosthène
Mais je suis inventeur d'un téléphone de
verre de Bohême et de
tabac anglais
en relation directe
avec la peur !
Robert Desnos (1900 – 1945)
Porte du second infini
À Antonin Artaud
fleursdumal.nl magazine
More in: Antonin Artaud, Archive C-D, Desnos, Robert, REPRESSION OF WRITERS, JOURNALISTS & ARTISTS, SURREALISM
---
Older Entries »
Thank you for reading FLEURSDUMAL.NL - magazine for art & literature