PRESS & PUBLISHING
·
Peter Jordens: Hendrik Werkman en De Ploeg. The Next Call en het constructivisme
·
Frankfurter Buchmesse: 11 – 15 Oktober 2017
·
UITMARKT 2017 Amsterdam – Oosterdok van 25 – 27 augustus
·
10 years www.fleursdumal.nl – magazine for art & literature
·
UITMARKT 2017 van 25 tm 27 augustus Oosterdok Amsterdam
·
10 years Magazine for Art & Literature: www.fleursdumal.nl
·
Koen Hilberdink: J.B.W.P. Het leven van Johan POLAK
·
CITY LIGHTS Pocket Poets Anthology 60th Anniversary Edition: Edited by Lawrence Ferlinghetti
·
PULITZER Prizes 2017
·
Poëzieweek 2017 (26 januari t/m/ 1 februari) en Gedichtendag 2017 (26 januari)
·
P.C. Hooft-prijs 2017 voor BAS HEIJNE
·
KRACHT ZETTEN – DRUCK MACHEN – GROEPSSEXPO TILBURGSE GRAFICI
Hendrik Nicolaas Werkman (1882-1945) wordt in 1919 lid van de 'Groninger Kunstkring De Ploeg'.

Men waardeert hem vooral als drukker. In 1922, wanneer hij zakelijk een stap terug moet doen, maakt Werkman kennis met het gebruik van typografisch zetmateriaal als vorm van drukkunst. Hij begint de mogelijkheden ervan te onderzoeken.
De eerste proeve van zijn kunnen is de uitgave van The Next Call, een serie van negen achtbladige cahiers bestaande uit teksten en abstracte composities die hij tussen 1923 en 1926 aan vrienden en andere mogelijk geïnteresseerden toestuurt. Talrijk zijn de aanwijzingen dat Werkman zich daarbij heeft laten inspireren door het dadaïstische en constructivistische idioom van de internationale avant-garde. Een modernistisch tijdschrift als een van de vele andere is The Next Call niet. Teksten en druksels laten zien dat het gaat over Werkman zelf, over wat hem in deze cruciale periode van zijn leven wezenlijk beroert
Peter Jordens:
Hendrik Werkman en De Ploeg.
The Next Call en het constructivisme
Dit boek verschijnt in oktober 2017
€ 22,50
ISBN 9789462582286
Formaat: 20 x 26,5 cm
Aantal pagina's 176
In samenwerking met Museum Belvédère
Circa 150 afbeeldingen in kleur
Jaar 2017
Uitvoering: Gebonden
Uitg.: wbooks
new books
fleursdumal.nl magazine
More in: - Book Lovers, - Book News, Archive W-X, Archive W-X, Art & Literature News, Concrete + Visual Poetry U-Z, Constructivism, Constuctivisme, Dada, DADA, Dadaïsme, De Ploeg, PRESS & PUBLISHING, REPRESSION OF WRITERS, JOURNALISTS & ARTISTS, Werkman, Hendrik Nicolaas
---
Die Buchmesse ist wichtigster internationaler Handelsplatz für Inhalte, das Zentrum der internationalen Medienwelt und kulturelles Großereignis.

An keinem Ort der Welt zeigt sich die Publishing- und Medienbranche vielfältiger, innovativer und internationaler als an diesen fünf Tagen im Oktober. Auf der Buchmesse können Sie neue Bücher und die innovativsten Produkte des "digital publishing" für sich entdecken.
Hier kommen Sie mit Ihren Idolen aus der Literaturwelt in direkten Kontakt – bei unzähligen Autorenlesungen, Diskussionen oder an der Showküche der "Gourmet Gallery". Lernen Sie die Verlagsbranche von ihrer lebendigsten Seite kennen.
69. Frankfurter Buchmesse
11. – 15. Oktober 2017
über 7.150 Aussteller
aus 106 Ländern
140.000 Fachbesucher
mehr als 1.000 Autoren
rund 278.000 Besucher
# website Frankfurter Buchmesse
fleursdumal.nl magazine
More in: - Book Lovers, - Book News, - Bookstores, Art & Literature News, Literary Events, PRESS & PUBLISHING
---
De Uitmarkt is het startsein voor het Nederlandse culturele seizoen.
Drie dagen lang zijn er in Amsterdam voorstellingen, optredens en markten te zien van nationale culturele instellingen op het gebied van muziek, toneel, dans, cabaret, opera en ballet. Daarnaast biedt de Uitmarkt ook een voorproefje van de nieuwe tentoonstellingen, boeken, films en cross-mediale uitingen.
De Uitmarkt bestaat 40 jaar!
Dit wordt gevierd op een nieuwe locatie: op en rond het Oosterdok in Amsterdam. De Uitmarkt is hét startsein van het Nederlandse culturele seizoen.
25 -27 augustus 2017 
Amsterdam – Oosterdok
3 dagen –  300+ optredens –  25 podia
Dans
Festivals
Film
Jeugd
Klassieke muziek
Gesproken woord
Populaire muziek
Tentoonstellingen en musea
Theater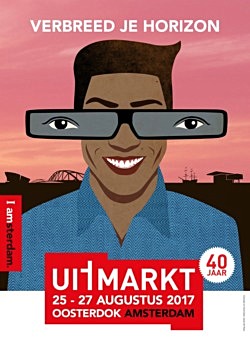 De Uitmarkt is de landelijke opening van het culturele seizoen. Deze mix van theater, dans, muziek en cabaret vindt traditiegetrouw het laatste weekend van augustus plaats in Amsterdam. Niet alleen de podiumkunsten worden in de spotlight gezet. Het nieuwste van het nieuwste op het gebied van literatuur, film, museale kunst en nieuwe media is hier te ervaren. Met meer dan een half miljoen bezoekers, 2000 artiesten en 25 podia is de Uitmarkt uitgegroeid tot het grootste culturele festival van Nederland. En dat alles voor nop.
Al 40 jaar heeft de Uitmarkt maar één doel: meer mensen introduceren tot het enorme aanbod aan kunst en cultuur in Nederland. De Uitmarkt wordt georganiseerd door De Vries Producties in opdracht van Stichting Uitmarkt. Stichting Amsterdam Marketing verzorgt de redactie, publiciteit en marketing rondom de Uitmarkt.
Over 40 jaar Uitmarkt:
Met een club jonge mensen dachten we destijds na over hoe je nieuw publiek kan bereiken. Zo ontstond het idee: waarom gaan we niet de straat op? Een markt met theater, muziek, dans, podia, musea en -later- boeken. Dat was het ei van Columbus, omdat je juist op straat heel gemakkelijk tegen nieuwe dingen aanloopt. (Arthur van Schendel, mede-oprichter van de Uitmarkt)
# Meer info op website uitmarkt
fleursdumal.nl magazine
More in: - Book News, - Bookstores, Art & Literature News, CINEMA, RADIO & TV, DANCE, FDM Art Gallery, Literary Events, MUSIC, PRESS & PUBLISHING, The talk of the town, THEATRE
---

More in: Art & Literature News, CINEMA, RADIO & TV, FDM Art Gallery, LITERARY MAGAZINES, POETRY ARCHIVE, PRESS & PUBLISHING, THEATRE
---
More in: - Book Lovers, - Book News, - Bookstores, Art & Literature News, CINEMA, RADIO & TV, DANCE, Exhibition Archive, Literary Events, LITERARY MAGAZINES, MUSIC, Performing arts, Photography, POETRY ARCHIVE, PRESS & PUBLISHING, Street Art, STREET POETRY, The talk of the town, THEATRE, Urban Art
---

More in: Art & Literature News, CINEMA, RADIO & TV, DICTIONARY OF IDEAS, FDM Art Gallery, LITERARY MAGAZINES, POETRY ARCHIVE, PRESS & PUBLISHING
---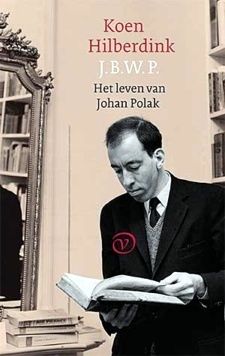 Johan Bertus Wouter Polak (1928-1992) was een legendarische en extravagante uitgever, essayist, bibliofiel, vertaler en mecenas.
Hij groeide op in 'een zeer liberaal joods milieu met sterk atheïstische en sociaaldemocratische inslag'. Dit ogenschijnlijk idyllische bestaan werd bruut verstoord door de vroege dood van Johans vader en de Duitse bezetting vlak daarna. Deze ingrijpende gebeurtenissen en de verhouding met zijn moeder bepaalden voor een groot deel Polaks verdere leven.
De drama's uit zijn jeugd worden door Hilberdink in verband gebracht met de oprichting van uitgeverij Polak & Van Gennep in 1962. Hij gaf op fraaie wijze het werk uit van onder anderen P.C. Boutens, J.H. Leopold, Herman Gorter en J.C. Bloem. En dat van Gerard Reve, die hij van alle naoorlogse auteurs het meest bewonderde en met wie hij een uiterst complexe verhouding kreeg.
Daarnaast begon Polak in 1966 de al even vermaarde Athenaeum Boekhandel op het Spui in Amsterdam. Het werd een centrum van activiteiten, zowel politiek als literair, en Johan werd een bekende Amsterdammer.
Uitvoerig komt ook Polaks rol aan de orde in de emancipatie van homoseksuelen en de strijd tegen het antisemitisme.
Zijn persoonlijke seksuele bevrijding wordt openlijk beschreven. Johans emancipatiestrijd was verbonden met de strijd tegen het antisemitisme. Hij schreef: 'Er is in homosexuelen een hypersensitiviteit voor taal en schoonheid aanwezig, juist nu. De kans bestaat dat zij instinctief reeds voelen, zoals de Joden voorheen, dat zij getekend zijn en reeds op het punt staan als verworpenen te worden uitgeroeid. Ik ben op dat punt pessimistisch en zie allerlei onrustbarende tekenen.'
J.B.W.P. – De biografie van uitgever Johan Polak
Koen Hilberdink is literatuurwetenschapper en werkzaam bij de Koninklijke Nederlandse Akademie van Wetenschappen. Hij promoveerde op Ik ben een vreemdeling. Ik sta apart. Een biografie van Paul Rodenko (2000). In 2007 verscheen zijn biografie over dichter Hans Lodeizen.
Koen Hilberdink
J.B.W.P.
Het leven van Johan Polak
Uitgeverij Van Oorschot, Amsterdam
Juni 2017, gebonden, € 29,99
ISBN 9789028261846
fleursdumal.nl magazine
More in: - Book Lovers, - Bookstores, Art & Literature News, Johan Polak, PRESS & PUBLISHING, The Art of Reading
---
"Printer's ink is the greater explosive."—Lawrence Ferlinghetti
City Lights Pocket Poets Anthology
60th Anniversary Edition
Edited by Lawrence Ferlinghetti
A comprehensive selection from Ferlinghetti's famed City Lights Pocket Poets Series, published on the 60th anniversary of its founding.
Lawrence Ferlinghetti founded the City Lights publishing house sixty years ago in 1955, launching the press with his now legendary Pocket Poets Series. First in the series was Pictures of the Gone World—and within a year, he had brought out two more volumes, translations by Kenneth Rexroth and
then, poems by Kenneth Patchen. But it was the success and scandal of Number Four, Howl & Other Poems by Allen Ginsberg (1956), that put City Lights on the map, positioning the Pocket Poets Series at the forefront of the literary counterculture.
A landmark sixtieth retrospective celebrating 60 years of publishing and cultural history, this edition provides an invaluable distillation of the energetic, iconoclastic and still fresh body of work represented in the ongoing series. Ferlinghetti has selected a handful of poems from each of the sixty volumes, including the work of
Ginsberg, Kerouac, Corso, Pasolini, Voznesensky, Prévert, Mayakovsky, Cortázar, O'Hara, Ponsot, Levertov, di Prima, Duncan, Lamantia, Lowry, and more, all of the Pocket Poets Series' innovative, influential, and often ground-breaking American and international poets.
Founded in 1953 by poet Lawrence Ferlinghetti and Peter D. Martin, City Lights is one of the few truly great independent bookstores in the United States, a place where booklovers from across the country and around the world come to browse, read, and just soak in the ambiance of alternative culture's only "Literary Landmark."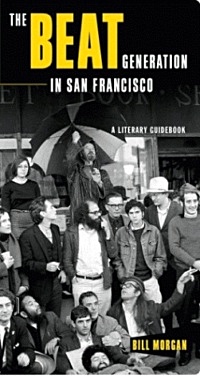 Although it has been more than fifty years since tour buses with passengers eager to sight "beatniks" began pulling up in front of City Lights, the Beats' legacy of anti-authoritarian politics and insurgent thinking continues to be a strong influence in the store, most evident in the selection of titles.
Publisher City Lights Publishers
Format Hardcover, 306 p.
ISBN-10 0872866793
ISBN-13 9780872866799
   # More information on website CITY LIGHT SAN FRANCISCO   

fleursdumal.nl magazine
More in: - Book News, - Bookstores, Art & Literature News, BEAT GENERATION, Bob Dylan, Burroughs, William S., Ginsberg, Allen, Kerouac, Jack, Literary Events, PRESS & PUBLISHING
---
Pulitzer Prizes
Pulitzer Prize administrator Mike Pride has announced today (april 10) the winners of the 2017 Pulitzer Prizes in the World Room at Columbia University in New York, N.Y.
This announcement marks the 101st year of the prizes. The Pulitzer Prizes have been awarded by Columbia University each spring since 1917.
The awards are chosen by a board of jurors for Journalism, Letters, Music and Drama.
The 2017 Winners in Letters, Drama and Music:
Fiction
The Underground Railroad by Colson Whitehead
From prize-winning, bestselling author Colson Whitehead, a magnificent tour de force chronicling a young slave's adventures as she makes a desperate bid for freedom in the antebellum South.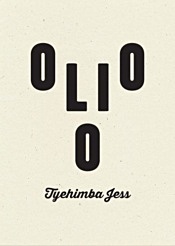 Poetry
Olio by Tyehimba Jess
Part fact, part fiction, Tyehimba Jess's much anticipated second book weaves sonnet, song, and narrative to examine the lives of mostly unrecorded African American performers, musicians and artists directly before and after the Civil War up to World War I. Olio is an effort to understand how they met, resisted, complicated, co-opted, and sometimes defeated attempts to minstrelize them.
History
Blood in the Water: The Atica Uprising of 1971 and Its Legacy by Heather Ann Thompson
On September 9, 1971, nearly 1,300 prisoners took over the Attica Correctional Facility in upstate New York to protest years of mistreatment. Drawing from more than a decade of extensive research, historian Heather Ann Thompson sheds new light on every aspect of the uprising and its legacy, giving voice to all those who took part in this forty-five-year fight for justice.
Nonfiction
Evicted by Matthew Desmond
Staff Pick: In this brilliant, heartbreaking book, Matthew Desmond takes us into the poorest neighborhoods of Milwaukee to tell the story of eight families on the edge.
Biography or Autobiography
The Return: Fathers, Sons and the Land in Between by Hisham Matar
The Return is at once an exquisite meditation on history, politics, and art, a brilliant portrait of a nation and a people on the cusp of change, and a disquieting depiction of the brutal legacy of absolute power. Above all, it is a universal tale of loss and love and of one family's life.
List of all this years Pulitzer Prize winners:
Journalism
Public Service: The staff of the New York Daily News and ProPublica.
Breaking News Reporting: The staff of East Bay Times.
Investigative Reporting: Eric Eyre, the Charleston Gazette-Mail.
Explanatory Reporting: The Panama Papers, by the International Consortium of Investigative Journalists, McClatchy and the Miami Herald.
Local Reporting: The staff of The Salt Lake Tribune.
National Reporting: David Fahrenthold, The Washington Post.
International Reporting: The staff of The New York Times.
Feature Writing: C.J. Chivers of The New York Times.
Commentary: Peggy Noonan, The Wall Street Journal.
Criticism: Hilton Als, The New Yorker.
Editorial Writing: Art Cullen, The Storm Lake Times.
Editorial Cartooning: Jim Morin, Miami Herald.
Breaking News Photography: Daniel Berehulak, The New York Times.
Feature Photography: E. Jason Wambsgans, Chicago Tribune.

Letters, Drama, & Music
Fiction: The Underground Railroad, by Colson Whitehead.
Drama: Sweat, by Lynn Nottage.
History: Blood in the Water: The Attica Prison Uprising of 1971 and Its Legacy, by Heather Ann Thompson.
Biography or Autobiography: The Return, by Hisham Matar.
Poetry: Olio, by Tyehimba Jess.
General Nonfiction: Evicted: Poverty and Profit in the American City, by Matthew Desmond.
Music: Angel's Bone, by Du Yun.
#  more  information  on  website  pulitzer
fleursdumal.nl magazine
More in: - Book News, Art & Literature News, CINEMA, RADIO & TV, DICTIONARY OF IDEAS, Illustrators, Illustration, MONTAIGNE, MUSIC, Photography, PRESS & PUBLISHING, REPRESSION OF WRITERS, JOURNALISTS & ARTISTS, The Art of Reading, THEATRE
---
 Gedichtendag  2017 (26 januari)
 Poëzieweek 2017 (26 januari t/m/ 1 februari)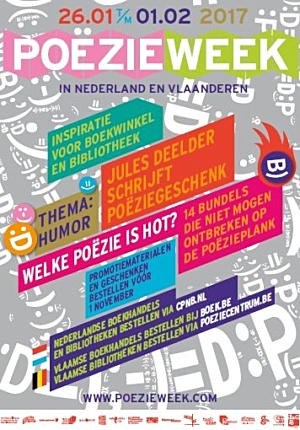 Opening Poëzieweek 2017 (26 januari t/m/ 1 februari)
Met Gedichtendag gaat op de laatste donderdag van januari traditiegetrouw de Poëzieweek van start. Gedichtendag, sinds 2000 georganiseerd door Poetry International Rotterdam, is hét poëziefeest van Nederland en Vlaanderen. Poëzieliefhebbers in Nederland en Vlaanderen organiseren die dag een grote diversiteit aan eigen poëzieactiviteiten en ook de media klinken die dag een stuk poëtischer.
Voor de enorme hoeveelheid optredens, publicaties, poëzieprijzen, -programma's en -activiteiten is één dag simpelweg veel te kort!
Verspreid poëzie op social media
Breng poëzie in uw leven! Laat u inspireren door de foto-gedichten en deel het op social media met #Gedichtendag. Wijs vrienden en contacten op website poezieweek.com
Lees ook poëzie op website: fleursdumal.nl magazine
 Dicht mee!
More in: Art & Literature News, CLASSIC POETRY, CONCRETE & VISUAL POETRY, EDITOR'S CHOICE, EXPERIMENTAL POETRY, LIGHT VERSE, Literary Events, MODERN POETRY, POETRY ARCHIVE, Poëzieweek, PRESS & PUBLISHING, SOUND POETRY, STREET POETRY, The talk of the town
---
Het bestuur van de Stichting P.C. Hooft-prijs voor Letterkunde heeft maandag 12 december besloten de P.C. Hooft-prijs 2017 toe te kennen aan Bas Heijne (Nijmegen, 1960).
Deze oeuvreprijs is dit jaar bestemd voor beschouwend proza en wordt uitgereikt op een feestelijke bijeenkomst in het Literatuurmuseum, op donderdag 18 mei 2017, 3 dagen vóór de sterfdag van de naamgever van de prijs, de dichter P.C. Hooft (1581-1647), onze grootste renaissancedichter.
De P.C. Hooft-prijs 2017 voor het gehele oeuvre van Bas Heijne is toegekend op voordracht van een jury bestaande uit Jacqueline Bel, Kees 't Hart, Kristien Hemmerechts, David Van Reybrouck (voorzitter) en Dirk van Weelden. Recente eerdere laureaten in het genre beschouwend proza waren Willem Jan Otten (2014), H.J.A. Hofland (2011) en Abram de Swaan (2008). Aan de prijs is een bedrag verbonden van € 60.000.
Uit het juryrapport: "Bas Heijne is een schrijver met een bijzondere positie als columnist en essayist, die over een enorme verscheidenheid aan actuele onderwerpen en kwesties schrijft. Hij volgt de hedendaagse cultuur op een geëngageerde manier. Hij schrijft over haatvloggers en De Ring van Wagner, over Hollywoodfilms en Couperus, over Europese referenda en de toekomst van de roman. Zijn werk geeft een vernieuwende impuls aan wat literatuur in maatschappelijke zin betekenen kan. […] Vooral de vorm waarin hij dat doet is bijzonder: hij schrijft als een denker én denkt als een lezer."
De P.C. Hooft-prijs voor Letterkunde behoort tot de belangrijke literatuurprijzen in het Nederlandse taalgebied. Hij wordt uitgereikt door de Stichting P.C. Hooft-prijs voor Letterkunde. Deze oeuvreprijs wordt jaarlijks afwisselend toegekend voor proza, essayistiek en poëzie. De P.C. Hooft-prijs is ingesteld in 1947. In dat jaar werd op 21 mei de 300ste sterfdag van Pieter Corneliszoon Hooft herdacht. De prijs wordt jaarlijks rond de sterfdag van P.C. Hooft uitgereikt en bedraagt € 60.000. Daarnaast looft de Stichting sinds 1988 de driejaarlijkse Theo Thijssen-prijs uit voor jeugdliteratuur. De prijs bedraagt € 60.000.
Vanaf september 2007 wordt de driejaarlijkse Max Velthuijs-prijs voor boekillustratoren uitgereikt. Ook deze prijs bedraagt € 60.000.'
# Meer informatie op website PC Hooftprijs
fleursdumal.nl magazine
More in: Archive G-H, Art & Literature News, Bas Heijne, NONFICTION: ESSAYS & STORIES, PRESS & PUBLISHING, The Art of Reading
---
KRACHT ZETTEN – DRUCK MACHEN = GROEPSSEXPO TILBURGSE GRAFICI
Groepsexpo: Paul Bogaert, Jan Doms, Cees Hamann & Frans de Kock, Walter Kerkhofs, Ivo van Leeuwen, Jeroen de Leijer en Annette Paulsen, in het kader van de maand van de grafiek 2016, www.maandvandegrafiek.nl  –  Grafiek & Boeken
NS16, ns-plein 16, 5014 DA Tilburg – open op: 21, 22, 23 en 28, 29, 30 Oktober 2016 – van 14:00 – 17:00 uur ook open tijdens de cultuurnacht op: 29 Oktober.  In het ateliercomplex NS16 heeft zich rond een oude Grafix proefpers uit 1950 een groep kunstenaars gevormd. Als artiest zijn ze heel divers en ieder is professioneel met zijn eigen werk bezig. Wat hen bindt is de liefde voor grafiek. Tijdens de maand van de grafiek is er in de expositieruimte van NS16 een tentoonstelling waar alle kunstenaars een selectie van hun grafisch werk laten zien. Binnen de werkplaats wordt onder de naam "Vermijs-Pers-Prent" een grafiek abonnement aangeboden waar vier maal per jaar een graficus en een schrijver zich door elkaar laten inspireren. De actuele uitgave wordt verzorgd door Stephan de Weert en Andrew Cartwright.
fleursdumal.nl magazine
More in: Art & Literature News, Exhibition Archive, Illustrators, Illustration, Ivo van Leeuwen, Paul Bogaert, PRESS & PUBLISHING
---
Older Entries »
Thank you for reading FLEURSDUMAL.NL - magazine for art & literature