FLEURSDUMAL POETRY LIBRARY – classic, modern, experimental & visual & sound poetry, poetry in translation, city poets, poetry archive, pre-raphaelites, editor's choice, etc.
«« Previous page
·
POESIEFESTIVAL BERLIN: Ach, Europa
·
Marcel BROODTHAERS: Eine Retrospektive
·
Samuel Taylor COLERIDGE: Love
·
Fjodor TJOETTSJEV: De twee zusjes
·
William BLAKE: The Sick Rose
·
Vincent BERQUEZ: Satie in Paris
·
John LEONARD poetry: The Enlightenment
·
Innokenti ANNENSKI: Het afscheid
·
William WORDSWORTH: I wandered lonely as a cloud
·
NOVALIS: Zu Sophiens Geburtstag
·
Bert BEVERS: Niet meer voor zichzelf
·
POETRY INTERNATIONAL 2017 vandaag van start
Das 18. poesiefestival berlin: Europa: Fata Morgana startet am 16. Juni 2017. Das Haus für Poesie erwartet rund 170 Dichterinnen und Dichter sowie Künstlerinnen und Künstler aus 42 Ländern. Wunsch, Fata Morgana oder Realität – die Europäische Union ist ins Wanken geraten und mit ihr europäische Werte wie Meinungs- und Kunstfreiheit, Vielfalt und Demokratie. Das neuntägige Festival präsentiert Innen- und Außenansichten auf die EU und Europa in poetischer Auseinandersetzung – in Lesungen, Konzerten, Performances und Ausstellungen in der Akademie der Künste. Zu den Höhepunkten gehören der große Auftakt mit Weltklang, einem Konzert aus Stimmen und Sprachen, drei D poesie mit mehreren Produktionen zwischen Text, Musik und Tanz sowie Auf ein Wort, Europa, das 22 internationale Dichterstimmen zu einer vielsprachigen Installation versammelt.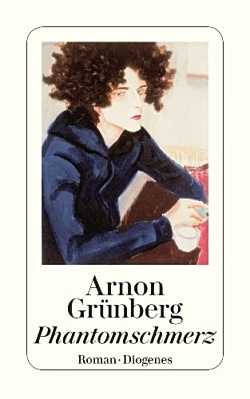 Weltklang – Nacht der Poesie
Freitag, 16.6., 19 Uhr
Das 18. poesiefestival berlin eröffnet mit Weltklang – Nacht der Poesie. Dichterinnen und Dichter aus verschiedenen Teilen der Welt lesen, performen und singen in ihrer Muttersprache. Eigens für diesen Abend erscheint eine Anthologie mit den deutschen Fassungen der Texte zum Mitlesen.
M. NourbeSe Philip aus Kanada, die ihre Wurzeln im karibischen Trinidad hat, trägt aus Zong! vor. Dem konzeptionellen Werk liegt ein juristischer Bericht über den Tod von 150 Afrikanern auf einem Sklavenschiff zugrunde. Die Gedichte des schottischen Autors John Burnside fangen "das Andersleben der Dinge ein". Die deutsche Lyrikerin Dagmara Kraus schöpft an diesem Abend aus dem Fundus antiker Trauerkultur und moderner Plansprachen. Yasuki Fukushima ist einer der expressivsten Gegenwartslyriker Japans. Seine "zekkyō tanka" (geschriene Tankas) trägt er zu Musik vor. Jan Wagner, der 2015 als erster Lyriker den Preis der Leipziger Buchmesse erhielt, verbindet höchste Formbeherrschung mit überraschenden Wendungen, ohne traditionalistisch zu sein.
Zudem lesen Arnon Grünberg (Niederlande), James Noël (Haiti), Mila Haugová (Slowakei), Sergio Raimondi (Argentinien) und Charlotte Van den Broeck (Belgien) beim diesjährigen Weltklang.
drei D poesie
Samstag, 17. Juni, 20 Uhr, Wiederholung: Sonntag, 18. Juni, 15 Uhr
Zwischen Musik, Tanz und Poesie bewegt sich drei D poesie. Auf dem 18. poesiefestival berlin spielen Künstlerinnen und Künstler mit den Möglichkeiten der drei Genres, loten die Grenzen aus und suchen nach Berührungspunkten. In der Performance Ingesture von
Lyriker Christian Hawkey, Komponist und Musiker Roy Carroll und Choreografin und Tänzerin Maya Matilda Carroll dreht es sich um die Schriften von Charlotte Wolff, eine jüdische, deutsch-britische Ärztin, Sexologin und Schriftstellerin des frühen 20. Jahrhunderts. Für n/achtfüssig verwenden die Choreografin und Tänzerin Anna Huber und der Komponist und Musiker Hubert Machnik unveröffentlichte, aus Printmedien ausgeschnittene und auf Postkarten arrangierte Gedichte von Herta Müller. In der dritten Produktion Schulter von α und anderen, fernen Ländern entwickeln der Komponist Markus Pesonen und der Choreograf und Tänzer Shang-Chi Sun zusammen mit dem KNM Quartett ihr Werk aus dem Text "die menschen von einst liebten den tanz" von Daniel Falb.
Auf ein Wort, Europa
Sonntag, 18.6., 20 Uhr
22 Dichterinnen und Dichter aus den Anrainerstaaten der Europäischen Union treffen auf dem 18. poesiefestival berlin für eine poetische Installation aufeinander; unter ihnen ist Abbas Beydoun (Libanon), ein Mitbegründer der zweiten arabischen Moderne, Monzer Masri (Syrien), der mit seiner "Gegendichtung" jenseits von formalen und inhaltlichen Erwartungen Debatten auslöst, und Sjón (Island), der für seine Texte für Björk in Lars von Triers "Dancer in the Dark" bekannt ist. Wie zeigt sich derzeit die europäische Idee außerhalb der europäischen Gemeinschaft? Die Lyrikerinnen und Lyriker präsentieren ihre poetischen Antworten auf das ins Wanken geratene Europa. Ihre Texte über Realitäten, Träume und Ängste zur EU tragen sie als polyglotte Soundcollage vor.
"Auf ein Wort, Europa" findet in Kooperation mit dem Forum Berlin der Friedrich-Ebert-Stiftung statt und wird gefördert vom Auswärtigen Amt.
VERSschmuggel kurdisch-deutsch
Dienstag, 20.6., 19.30 Uhr
Erstmals kommt kurdische Dichtung in Deutschland auf eine Festivalbühne. Mit ihrer langen mündlichen Tradition gehört das Kurdische trotz aller Repression zu den ältesten Sprachen der Welt. Die reiche kurdische Geschichte und Kultur spiegelt sich in vielen Dialekten und verschiedenen Schriftsystemen wider. Der kurdisch-deutsche VERSschmuggel bietet sechs kurdischen und sechs deutschen Dichterinnen und Dichtern Freiraum für ein Experiment: Paarweise übersetzen sie sich an drei Workshop-Tagen gegenseitig. Interlinearübersetzungen der Gedichte des jeweils anderen sind ihr Ausgangsmaterial, Dolmetscher übersetzen die Arbeitsgespräche. Die Ergebnisse dieser Zusammenarbeit werden auf dem 18. poesiefestival berlin präsentiert.
Es lesen Eskerê Boyîk (Armenien), Yildiz Çakar (Türkei), Kerîm Kurmanc (Iran), Fatma Savci (Türkei/Schweden), Anahîta Şêxê (Syrien) und Mueyed Teyîb (Irak) mit den deutschen Autorinnen und Autoren Mirko Bonné, Carolin Callies, Simone Kornappel, José Oliver, Ilma Rakusa und Tobias Roth.
"VERSschmuggel kurdisch-deutsch" wird gefördert vom Auswärtigen Amt und der Stiftung Preußische Seehandlung und findet statt in Kooperation mit Literature Across Frontiers/Literary Europe Live, gefördert durch das Programm Creativ Europe der Europäischen Union. Mit Dank an Övgü Gökçe Yaşa, Programmkoordinatorin bei Diyarbakır Sanat Merkezi.
Poesie und Propaganda
Freitag, 23.6., 19.30 Uhr
Was passiert heute in den analogen und digitalen Medien mit unserer Sprache? Wie wird Meinung gemacht, wie wird mit Worten politische Wirklichkeit hergestellt, und welche Rolle spielt dabei deren ästhetische Funktion, die verführt, verdammt und erfindet? Eine interdisziplinär besetzte Gesprächsrunde diskutiert auf dem 18. poesiefestival berlin das komplexe Wechselspiel von Lyrik, Rhetorik und Politik. Geformte Sprache als Mittel unterschiedlicher politischer Gruppierungen wird diskutiert, und die Dichtung im Dienste radikaler politischer Programme in der Literaturgeschichte und heute in den Blick genommen – mit aktuellen Beispielen wie den Propagandagedichten des IS und der sprachlichen Selbstinszenierung der neuen "Populisten".
Es diskutieren Paula Diehl, Politikwissenschaftlerin (Bielefeld), Ursula Krechel, Autorin (Berlin), Philippe Joseph Salazar, Philosoph und Professor für Rhetorik (Kapstadt) und Joseph Vogl, Kultur- und Literaturwissenschaftler (Berlin), moderiert von Eva Geulen, Zentrum für Literaturforschung (Berlin).
"Poesie und Propaganda" wird gefördert vom Zentrum für Literatur- und Kulturforschung Berlin.
18. poesiefestival berlin: Europa_ Fata Morgana
16.-24. Juni 2017
Akademie der Künste, Hanseatenweg 10, 10557 Berlin
Das poesiefestival berlin ist ein Projekt des Hauses für Poesie in Kooperation mit der Akademie der Künste. Es wird gefördert durch den Hauptstadtkulturfonds und das Auswärtige Amt.
  # website poesiefestival berlin  
fleursdumal.nl magazine
More in: Arnon Grunberg, Art & Literature News, FDM in Berlin, Literary Events, MODERN POETRY, POETRY ARCHIVE
---
Marcel Broodthaers. Eine Retrospektive ist eine große Überblicksschau über das facettenreiche Werk des belgischen Künstlers Marcel Broodthaers (1924 –1976), der im Umfeld von Pop, Minimal und Konzeptkunst eine eigenwillige, kritische Position formuliert. Broodthaers wandte sich im Alter von vierzig Jahren von der Dichtung kommend der bildenden Kunst zu und fand mit seinen installativen, kinematografischen und institutionskritischen Arbeiten innerhalb kürzester Zeit großen Anklang in der avantgardistischen Kunstszene Europas.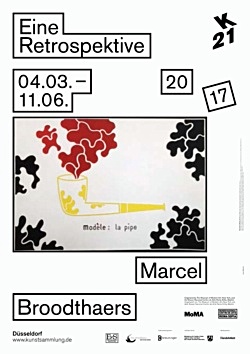 Die über vier Jahre am Museum of Modern Art, New York, und am Museo Nacional Centro de Arte Reina Sofia, Madrid, sorgfältig entwickelte Ausstellung von über 400 Werken unterschiedlichster Medien und Gattungen findet mit der Düsseldorfer Station ihren Abschluss an dem Ort, der Broodthaers' kurze, aber höchst produktive künstlerische Karriere weitgehend befördert hat. In Düsseldorf hat Broodthaers nicht nur gelebt (von 1970 bis 1972) und entscheidende Impulse der lokalen, international bestens vernetzten Kunstszene aufgenommen, verarbeitet und zurückgegeben.
In Düsseldorf wurden auch etliche Arbeiten und Ausstellungen realisiert, darunter die zu Broodthaers' Hauptwerk "Musée d'Art Moderne, Département des Aigles" (Museum Moderner Kunst, Abteilung Adler), 1968 – 72, gehörende legendäre Schau "Section des Figures" (Sektion der Figuren), 1972, in der Städtischen Kunsthalle Düsseldorf.
Die lange erwartete Retrospektive von Marcel Broodthaers führt in ein faszinierendes Werk ein, das mit seinem Verständnis von Poesie als "Störung von Weltordnung", von "Poesie als indirekter politischer Frage" für eine radikal offene und prozessuale Lesart von Kunst plädierte und damit maßgeblich zu einem bis heute gültigen Verständnis von Kunst beigetragen hat.
Marcel Broodthaers. Eine Retrospektive wurde kuratiert von Christophe Cherix, The Robert Lehman Foundation Chief Curator of Drawings and Prints at MoMA, und Manuel J. Borja-Villel, Direktor Museo Nacional Centro de Arte Reina Sofía, zusammen mit Francesca Wilmott, kuratorische Assistenz am Department of Drawing and Prints, MoMA. In der Kunstsammlung Nordrhein-Westfalen, Düsseldorf, wird die Ausstellung von der Kuratorin Doris Krystof betreut.
Die Ausstellung
Marcel Broodthaers.
Eine Retrospektive
04.03 – 11.06.2017
K21 Ständehaus
Ständehausstraße 1
40217 Düsseldorf
fleursdumal.nl magazine
More in: Art & Literature News, Concrete + Visual Poetry A-E, FDM Art Gallery, Marcel Broodthaers
---
Samuel Taylor Coleridge
Love
All thoughts, all passions, all delights,
Whatever stirs this mortal frame,
All are but ministers of Love,
And feed his sacred flame.
Oft in my waking dreams do I
Live o'er again that happy hour,
When midway on the mount I lay,
Beside the ruined tower.
The moonshine, stealing o'er the scene
Had blended with the lights of eve:
And she was there, my hope, my joy,
My own dear Genevieve!.
She leant against the arméd man,
The statue of the arméd knight:
She stood and listened to my lay,
Amid the lingering light.
Few sorrows hath she of her own,
My hope ! my joy ! my Genevieve !
She loves me best, whene'er I sing
The songs that make her grieve.
I played a soft and doleful air,
I sang an old and moving story-
An old rude song, that suited well
That ruin wild and hoary.
She listened with a flitting blush,
With downcast eyes and modest grace:
For well she know, I could not choose
But gaze upon her face.
I told her of the Knight that wore
Upon his shield a burning brand:
And that for ten long years he wooed
The Lady of the Land.
I told her how he pined : and ah!
The deep, the low, the pleading tone
With which I sang another's love,
Interpreted my own.
She listened with a flitting blush,
With downcast eyes, and modest grace:
And she forgave me, that I gazed
Too fondly on her face!.
But when I told the cruel scorn
That crazed that bold and lovely Knight,
And that he crossed the mountain-woods,
Nor rested day nor night:
That sometimes from the savage den,
And sometimes from the darksome shade,
And sometimes starting up at once
In green and sunny glade,-
There came and looked him in the face
An angel beautiful and bright:
And that he knew it was a Fiend,
This miserable Knight!.
And that unknowing what he did,
He leaped amid a murderous band,
And saved from outrage worse than death
The Lady of the Land!.
And how she wept, and clasped his knees:
And how she tended him in vain-
And ever strove to expiate
The scorn that crazed his brain ;-
And that she nursed him in a cave:
And how his madness went away,
When on the yellow forest-leaves
A dying man he lay ;-
His dying words -but when I reached
That tenderest strain of all the ditty,
My faultering voice and pausing harp
Disturbed her soul with pity!.
All impulses of soul and sense
Had thrilled my guileless Genevieve:
The music and the doleful tale,
The rich and balmy eve:
And hopes, and fears that kindle hope,
An undistinguishable throng,
And gentle wishes long subdued,
Subdued and cherished long!.
She wept with pity and delight,
She blushed with love, and virgin-shame:
And like the murmur of a dream,
I heard her breathe my name.
Her bosom heaved -she stepped aside,
As conscious of my look she stepped-
The suddenly, with timorous eye
She fled to me and wept.
She half enclosed me with her arms,
She pressed me with a meek embrace:
And bending back her head, looked up,
And gazed upon my face.
'Twas partly love, and partly fear,
And partly 'twas a bashful art,
That I might rather feel, than see,
The swelling of her heart.
I calmed her fears, and she was calm,
And told her love with virgin pride:
And so I won my Genevieve,
My bright and beauteous Bride.
Samuel Taylor Coleridge (1772 – 1834)
Love
fleursdumal.nl magazine
More in: Archive C-D, Coleridge, Coleridge, Samuel Taylor
---
Fjodor Tjoettsjev
(1803-1873)
De twee zusjes
Ik zag jou bij je zusje staan,
In haar herkende ik jou weer,
De blik zo stil, de stem zo puur,
De frisheid van het ochtenduur,
het haar ondeugend als weleer!…
Het was of in een spiegelbeeld
nu alles weer aan mij verscheen:
Van vroeger tijd verdriet en vreugd,
Jouw nu voorgoed verloren jeugd,
Mijn liefde die allengs verdween!. . .
Fjodor Tjoettsjev, Двум сестрам, 1830
Vertaling Paul Bezembinder, 2017
Paul Bezembinder studeerde theoretische natuurkunde in Nijmegen. In zijn poëzie zoekt hij in vooral klassieke versvormen en thema's naar de balans tussen serieuze poëzie, pastiche en smartlap. Zijn gedichten (Nederlands) en vertalingen (Russisch-Nederlands) verschenen in verschillende (online) literaire tijdschriften. Voorbeelden van zijn werk zijn te vinden op zijn website, www.paulbezembinder.nl
fleursdumal.nl magazine
More in: Archive S-T, Tjoettsjev, Tjoettsjev, Fodor
---
William Blake
The Sick Rose
O Rose thou art sick.
The invisible worm.
That flies in the night
In the howling storm:
Has found out thy bed
Of crimson joy:
And his dark secret love
Does thy life destroy.
William Blake (1757 – 1827)
Poem: The Sick Rose
fleursdumal.nl magazine
More in: Archive A-B, Blake, William
---
Satie in Paris
Fleeting smoke mesmeric in sound-time,
jumping drone-tones from unsettling man
playing in a lonely shadowed singularity.
Fibrous flickering feet clicking-bawdy songs,
bulking up the waltz, stop-start stutter-noises,
speeding up the early morning cold hands
gravely, moving-pictures pass hysterically by.
The music begins mysteries in living forms,
belting down the hearts of crowds,
walking through the buzzing boulevards,
the actual grudge-work in mortified factories,
a wet-grey urban poverty engulfing the absurd.
He viewed from after and before the effect
of a cheapened life in warfare, in commerce,
before the new migration, the great conflagration,
in revolutions of our hearts, in the light of night,
from the torpedo tobacco begging for fire in bad air.
The wormlike moveable-mass sought salvation
and received craters full of broken sons instead.
Ironic cabaret music played out the times and died.
Underground chambers of rebel artists and composers
seethed sexual ballets, arm-twisted around perversities
in eccentric poses, the dance twisting towards the next.
26.04.09
Vincent Berquez
Vincent Berquez is a London–based artist and poet.
fleursdumal.nl magazine
More in: Archive A-B, Berquez, Vincent, Erik Satie, Satie, Erik, Vincent Berquez
---
The Enlightenment
'It happened on July 10, towards dusk,
Right up on that ridge there;
He told me about it himself.
What? Well in Year 1 of course.
To begin with it wasn't anything
Like you hear now, it was,
He told me, just a confirmation
Of everything he already knew
And trusted. He told me that it felt
As though he had plunged into the current
Of the world and found those familiar things
There.
                       It was much, much later
That they got the marketing right—
So it isn't anything like that now,
But it began like that, trust me.'
John Leonard
John Leonard lives in Canberra, Australia.
More poetry on website: www.jleonard.net
fleursdumal.nl magazine
More in: Archive K-L, Leonard, John
---
Innokenti Annenski
(1855–1909)
Het afscheid
Ze hebben opgeruimd. Met zadeldoek
zijn spiegelbeeld en vleugel afgedaan;
de Dood heeft gister na het huisbezoek
de voordeur op een kiertje laten staan.
De scheurkalender kan naar het papier,
het polshorloge loopt nog mooi op tijd;
het zuurstofmasker was op zijn manier,
blauw aanlopend, getuige van de strijd.
Het is vol afschuw dat ik hiernaar kijk…
dit… dit is mijn ik, mijn lichaam niet…
't is of het Zijn de woning van mijn lijk
al door een vreemdeling betrekken liet.
Innokenti Annenski, У гроба, 1904
Vertaling Paul Bezembinder 2017
Paul Bezembinder: zijn gedichten en vertalingen verschenen in verschillende (online) literaire tijdschriften. Zie meer op zijn website: www.paulbezembinder.nl
fleursdumal.nl magazine
More in: Annenski, Annenski, Innokenti, Archive A-B
---
William Wordsworth
I wandered lonely as a cloud
I wandered lonely as a cloud
That floats on high o'er vales and hills,
When all at once I saw a crowd,
A host, of golden daffodils;
Beside the lake, beneath the trees,
Fluttering and dancing in the breeze.
Continuous as the stars that shine
And twinkle on the milky way,
They stretched in never-ending line
Along the margin of a bay:
Ten thousand saw I at a glance,
Tossing their heads in sprightly dance.
The waves beside them danced, but they
Out-did the sparkling leaves in glee;
A poet could not be but gay,
In such a jocund company!
I gazed—and gazed—but little thought
What wealth the show to me had brought:
For oft, when on my couch I lie
In vacant or in pensive mood,
They flash upon that inward eye
Which is the bliss of solitude;
And then my heart with pleasure fills,
And dances with the daffodils.
William Wordsworth (1770 – 1850)
I wandered lonely as a cloud
fleursdumal.nl magazine
More in: Archive W-X, Wordsworth, Wordsworth, William
---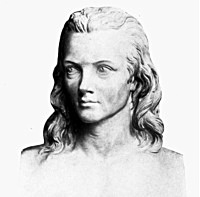 Novalis
Zu Sophiens Geburtstag
Wer ein holdes Weib errungen
Stimme seinen Jubel ein.
Mir ist dieser Wurf gelungen
Töne Jubel – die ist mein.
So hat nie das Herz geschlagen
Nie so hoch und nie so gut.
Künftig neigt vor meinen Tagen
Selbst der Glücklichste den Hut.
Fest umschlingt den Bund der Herzen
Nun der Ring der Ewigkeit,
Und es bricht der Stab der Schmerzen
Am Altar der Einigkeit.
O –! im Himmel ist geschlossen
Unsrer Herzen süßer Bund.
Ist ein beßrer Spruch entflossen
Je des Schicksals weisen Mund?
Dir gehört nun was ich habe,
Was ich denke fühle bin,
Und du nimmst nun jede Gabe
Meines Schicksals für dich hin.
Was ich sucht, hab ich gefunden,
Was ich fand, das fand auch mich,
Und die Geißel meiner Stunden
Zweifelsucht und Leichtsinn wich.
Nimmer soll mein Mund dich loben
Weil mein Herz zu warm dich ehrt.
Tief im Busen aufgehoben
Wohne heimlich mir dein Wert.
Wenn ich wunde Herzen heile
Jede Stunde besser bin
Nie im Guten lässig weile
Dieses Lob nimm dir dann hin.
Liebes Mädchen deiner Liebe
Dank ich Achtung noch und Wert,
Wenn sich unsre Erdenliebe
Schon in Himmelslust verklärt.
Ohne dich wär ich noch lange
Rastlos auf und ab geschwankt,
Und auf meinem Lebensgange
Oft am Überdruß erkrankt.
Wenn nur unsre Mutter wieder
Frisch und ledig bei uns steht
Und im Kreise unsrer Brüder
Stolz die Friedensfahne weht.
Wenn dann noch ein Süßer Trauter
Unsre Lolly fest umschlang –
O –! Dann tönt noch zehnfach lauter
Unsres Jubels Hochgesang.
Wenig still durchhoffte Jahre
Leiten unverwandt zum Ziel,
Wo am glücklichen Altare
Endet unsrer Wünsche Spiel,
Uns, auf ewig Eins, verschwinden,
Wölkchen gleich, des Lebens Mühn
Und um unsre Herzen winden
Kränze sich von Immergrün.
Novalis (1772 – 1801)
Gedicht: Zu Sophiens Geburtstag
fleursdumal.nl magazine
More in: Archive M-N, Novalis, Novalis
---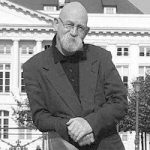 Niet meer voor zichzelf
Het kan hier zo langzaam als vroeger
als je dat wilt. Maar verleden kan
wel niet meer voor zichzelf zorgen.
Het blijft hangen in bedonderde
takken, halve waarheden mitsgaders
winderige gestalten in zuinig bruin.
Wie wolken wil vergeet best de wind niet.
Bert Bevers
Uit de Enghuizer Dialogen VIII,
Het Web, Doetinchem, 2017
Bert Bevers gedichten
fleursdumal.nl magazine
More in: Archive A-B, Bevers, Bert
---
Poetry International 2017
van 30 mei t.m. 4 juni in Rotterdam
Meer info over het programma:
# website poetry international
fleursdumal.nl magazine
More in: - Book Lovers, Art & Literature News, CINEMA, RADIO & TV, MODERN POETRY, POETRY ARCHIVE, Poetry International, STREET POETRY
---
Older Entries »
« Newer Entries
Thank you for reading FLEURSDUMAL.NL - magazine for art & literature