FLEURSDUMAL POETRY LIBRARY – classic, modern, experimental & visual & sound poetry, poetry in translation, city poets, poetry archive, pre-raphaelites, editor's choice, etc.
«« Previous page
·
Sibylla SCHWARZ: Epigramma
·
Edgar Allan POE: The Tell Tale Heart
·
Emile VERHAEREN: La morte
·
Poems About Sculpture by Robert Pinsky and Murray Dewart
·
James JOYCE: Simples
·
NOVALIS: Der Teufel
·
Gertrude STEIN: A Long Dress
·
William WORDSWORTH: London 1802
·
The DEATHS of the Poets by Michael Symmons Roberts & Paul Farley
·
Sibylla SCHWARZ: Ohne die Liebste ist keine Freude
·
Christoph Buchwald & Ulrike Almut Sandig: Jahrbuch der LYRIK 2017
·
Robert BRIDGES: For beauty being the best of all we know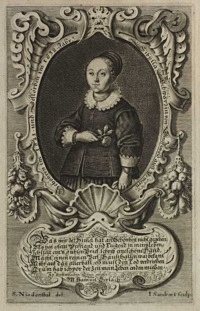 Sibylla Schwarz
Epigramma
Du meinst ich soll dein noch gedencken und dich lieben,
ob du mich schon verläst, ey sey doch nicht so toll,
Ich habe dir ja offt vor disem schon geschrieben:
Daß niemand Eysen, Stein und Klöze lieben soll.
Sibylla Schwarz (1621 – 1638)
Gedicht: Epigramma
fleursdumal.nl magazine
More in: Archive S-T, SIbylla Schwarz
---
Edgar Allan Poe
The Tell Tale Heart
Trua! nervous, very, very dreadfully nervous I had been and am; but why Will you say that I am mad? The disease had sharpened my senses, not destroyed, not dulled them. Above all was the sense of hearing acute. I heard all things in the heaven and in the earth. I heard many things in hell. How then am I mad? Hearken! and observe how healthily, how calmly, I can tell you the whole story.
It is impossible to say how first the idea entered my brain, but, once conceived, it haunted me day and night. Object there was none. Passion there was none. I loved the old man. He had never wronged me. He had never given me insult. For his gold I had no desire. I think it was his eye! Yes, it was this! One of his eyes resembled that of a vulture a pale blue eye with a film over it. Whenever it fell upon me my blood ran cold, and so by degrees, very gradually, I made up my mind to take the life of the old man, and thus rid myself of the eye for ever.
Now this is the point. You fancy me mad. Madmen know nothing. But you should have seen me. You should have seen how wisely I proceeded with what caution with what foresight, with what dissimulation, I went to work! I was never kinder to the old man than during the whole week before I killed him. And every night about midnight I turned the latch of his door and opened it oh, so gently! And then, when I had made an opening sufficient for my head, I put in a dark lantern all closed, closed so that no light shone out, and then I thrust in my head. Oh, you would have laughed to see how cunningly I thrust it in! I moved it slowly, very, very slowly, so that I might not disturb the old man's sleep. It took me an hour to place my whole head within the opening so far that I could see him as he lay upon his bed. Ha! would a madman have been so wise as this? And then when my head was well in the room I undid the lantern cautiously oh, so cautiously cautiously (for the hinges creaked), I undid it just so much that a single thin ray fell upon the vulture eye. And this I did for seven long nights, every night just at midnight, but I found the eye always closed, and so it was impossible to do the work, for it was not the old man who vexed me but his Evil Eye. And every morning, when the day broke, I went boldly into the chamber and spoke courageously to him, calling him by name in a hearty tone, and inquiring how he had passed the night. So you see he would have been a very profound old man, indeed , to suspect that every night, just at twelve, I looked in upon him while he slept.
Upon the eighth night I was more than usually cautious in opening the door. A watch's minute hand moves more quickly than did mine. Never before that night had I felt the extent of my own powers, of my sagacity. I could scarcely contain my feelings of triumph. To think that there I was opening the door little by little, and he not even to dream of my secret deeds or thoughts. I fairly chuckled at the idea, and perhaps he heard me, for he moved on the bed suddenly as if startled. Now you may think that I drew back — but no. His room was as black as pitch with the thick darkness (for the shutters were close fastened through fear of robbers), and so I knew that he could not see the opening of the door, and I kept pushing it on steadily, steadily.
I had my head in, and was about to open the lantern, when my thumb slipped upon the tin fastening , and the old man sprang up in the bed, crying out, "Who's there?"
I kept quite still and said nothing. For a whole hour I did not move a muscle, and in the meantime I did not hear him lie down. He was still sitting up in the bed, listening; just as I have done night after night hearkening to the death watches in the wall.
Presently, I heard a slight groan, and I knew it was the groan of mortal terror. It was not a groan of pain or of grief — oh, no! It was the low stifled sound that arises from the bottom of the soul when overcharged with awe. I knew the sound well. Many a night, just at midnight, when all the world slept, it has welled up from my own bosom, deepening, with its dreadful echo, the terrors that distracted me. I say I knew it well. I knew what the old man felt, and pitied him although I chuckled at heart. I knew that he had been lying awake ever since the first slight noise when he had turned in the bed. His fears had been ever since growing upon him. He had been trying to fancy them causeless, but could not. He had been saying to himself, "It is nothing but the wind in the chimney, it is only a mouse crossing the floor," or, "It is merely a cricket which has made a single chirp." Yes he has been trying to comfort himself with these suppositions ; but he had found all in vain. All in vain, because Death in approaching him had stalked with his black shadow before him and enveloped the victim. And it was the mournful influence of the unperceived shadow that caused him to feel, although he neither saw nor heard, to feel the presence of my head within the room.
When I had waited a long time very patiently without hearing him lie down, I resolved to open a little a very, very little crevice in the lantern. So I opened it you cannot imagine how stealthily, stealthily until at length a single dim ray like the thread of the spider shot out from the crevice and fell upon the vulture eye.
It was open, wide, wide open, and I grew furious as I gazed upon it. I saw it with perfect distinctness all a dull blue with a hideous veil over it that chilled the very marrow in my bones, but I could see nothing else of the old man's face or person, for I had directed the ray as if by instinct precisely upon the damned spot.
And now have I not told you that what you mistake for madness is but over-acuteness of the senses? now, I say, there came to my ears a low, dull, quick sound, such as a watch makes when enveloped in cotton. I knew that sound well too. It was the beating of the old man's heart. It increased my fury as the beating of a drum stimulates the soldier into courage.
But even yet I refrained and kept still. I scarcely breathed. I held the lantern motionless. I tried how steadily I could maintain the ray upon the eye. Meantime the hellish tattoo of the heart increased. It grew quicker and quicker, and louder and louder, every instant. The old man's terror must have been extreme! It grew louder, I say, louder every moment! do you mark me well? I have told you that I am nervous: so I am. And now at the dead hour of the night, amid the dreadful silence of that old house, so strange a noise as this excited me to uncontrollable terror. Yet, for some minutes longer I refrained and stood still. But the beating grew louder, louder! I thought the heart must burst. And now a new anxiety seized me the sound would be heard by a neighbour! The old man's hour had come! With a loud yell, I threw open the lantern and leaped into the room. He shrieked once once only. In an instant I dragged him to the floor, and pulled the heavy bed over him. I then smiled gaily, to find the deed so far done. But for many minutes the heart beat on with a muffled sound. This, however, did not vex me; it would not be heard through the wall. At length it ceased. The old man was dead. I removed the bed and examined the corpse. Yes, he was stone, stone dead. I placed my hand upon the heart and held it there many minutes. There was no pulsation. He was stone dead. His eye would trouble me no more.
If still you think me mad, you will think so no longer when I describe the wise precautions I took for the concealment of the body. The night waned, and I worked hastily, but in silence.
I took up three planks from the flooring of the chamber, and deposited all between the scantlings. I then replaced the boards so cleverly so cunningly, that no human eye not even his could have detected anything wrong. There was nothing to wash out no stain of any kind no blood-spot whatever. I had been too wary for that.
When I had made an end of these labours, it was four o'clock still dark as midnight. As the bell sounded the hour, there came a knocking at the street door. I went down to open it with a light heart, for what had I now to fear? There entered three men, who introduced themselves, with perfect suavity, as officers of the police. A shriek had been heard by a neighbour during the night; suspicion of foul play had been aroused; information had been lodged at the police office, and they (the officers) had been deputed to search the premises.
I smiled, for what had I to fear? I bade the gentlemen welcome. The shriek, I said, was my own in a dream. The old man, I mentioned, was absent in the country. I took my visitors all over the house. I bade them search search well. I led them, at length, to his chamber. I showed them his treasures, secure, undisturbed. In the enthusiasm of my confidence, I brought chairs into the room, and desired them here to rest from their fatigues, while I myself, in the wild audacity of my perfect triumph, placed my own seat upon the very spot beneath which reposed the corpse of the victim.
The officers were satisfied. My manner had convinced them. I was singularly at ease. They sat and while I answered cheerily, they chatted of familiar things. But, ere long, I felt myself getting pale and wished them gone. My head ached, and I fancied a ringing in my ears; but still they sat, and still chatted. The ringing became more distinct : I talked more freely to get rid of the feeling: but it continued and gained definitiveness until, at length, I found that the noise was not within my ears.
No doubt I now grew very pale; but I talked more fluently, and with a heightened voice. Yet the sound increased and what could I do? It was a low dull, quick sound much such a sound as a watch makes when enveloped in cotton. I gasped for breath, and yet the officers heard it not. I talked more quickly, more vehemently but the noise steadily increased. I arose and argued about trifles, in a high key and with violent gesticulations; but the noise steadily increased. Why would they not be gone? I paced the floor to and fro with heavy strides, as if excited to fury by the observations of the men, but the noise steadily increased. O God! what could I do? I foamed I raved I swore! I swung the chair upon which I had been sitting, and grated it upon the boards, but the noise arose over all and continually increased. It grew louder louder louder! And still the men chatted pleasantly , and smiled. Was it possible they heard not? Almighty God! no, no? They heard! they suspected! they knew! they were making a mockery of my horror! this I thought, and this I think. But anything was better than this agony! Anything was more tolerable than this derision! I could bear those hypocritical smiles no longer! I felt that I must scream or die! and now again hark! louder! louder! louder! Louder!
"Villains!" I shrieked, "dissemble no more! I admit the deed! tear up the planks! Here, here! It is the beating of his hideous heart!"
Edgar Allan Poe (1809 – 1849)
The Tell Tale Heart
fleursdumal.nl magazine
More in: Edgar Allan Poe, Poe, Edgar Allan, Poe, Edgar Allan
---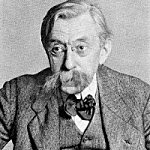 Emile Verhaeren
La morte
En sa robe, couleur de feu et de poison,
Le cadavre de ma raison
Traîne sur la Tamise.
Des ponts de bronze, où les wagons
Entrechoquent d'interminables bruits de gonds
Et des voiles de bâteaux sombres
Laissent sur elle, choir leurs ombres.
Sans qu'une aiguille, à son cadran, ne bouge,
Un grand beffroi masqué de rouge,
La regarde, comme quelqu'un
Immensément de triste et de défunt.
Elle est morte de trop savoir,
De trop vouloir sculpter la cause,
Dans le socle de granit noir,
De chaque être et de chaque chose.
Elle est morte, atrocement,
D'un savant empoisonnement,
Elle est morte aussi d'un délire
Vers un absurde et rouge empire.
Ses nerfs ont éclaté,
Tel soir illuminé de fête,
Qu'elle sentait déjà le triomphe flotter
Comme des aigles, sur sa tête.
Elle est morte n'en pouvant plus,
L'ardeur et les vouloirs moulus,
Et c'est elle qui s'est tuée,
Infiniment exténuée.
Au long des funèbres murailles,
Au long des usines de fer
Dont les marteaux tannent l'éclair,
Elle se traîne aux funérailles.
Ce sont des quais et des casernes,
Des quais toujours et leurs lanternes,
Immobiles et lentes filandières
Des ors obscurs de leurs lumières ;
Ce sont des tristesses de pierres,
Maisons de briques, donjons en noir
Dont les vitres, mornes paupières,
S'ouvrent dans le brouillard du soir ;
Ce sont de grands chantiers d'affolement,
Pleins de barques démantelées
Et de vergues écartelées
Sur un ciel de crucifiement.
En sa robe de joyaux morts, que solennise
L'heure de pourpre à l'horizon,
Le cadavre de ma raison
Traîne sur la Tamise.
Elle s'en va vers les hasards
Au fond de l'ombre et des brouillards,
Au long bruit sourd des tocsins lourds,
Cassant leur aile, au coin des tours.
Derrière elle, laissant inassouvie
La ville immense de la vie ;
Elle s'en va vers l'inconnu noir
Dormir en des tombeaux de soir,
Là-bas, où les vagues lentes et fortes,
Ouvrant leurs trous illimités,
Engloutissent à toute éternité :
Les mortes.
Emile Verhaeren (1855-1916) poésie
fleursdumal.nl magazine
More in: Archive U-V, Verhaeren, Emile
---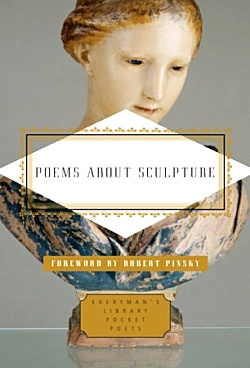 Poems About Sculpture
Foreword by Robert Pinsky & Edited by Murray Dewart
Poems About Sculpture is a unique anthology of poems from around the world and across the ages about our most enduring art form.
About Poems
About Sculpture
Sculpture has the longest memory of the arts: from the Paleolithic era, we find stone carvings and clay figures embedded with human longing. And poets have long been fascinated by the idea of eternity embodied by the monumental temples and fragmented statues of ancient civilizations. From Keats's Grecian urn and Shelley's "Ozymandias" to contemporary verse about Maya Lin's Vietnam Veterans Memorial and Janet Echelman's wind-borne hovering nets, the pieces in this collection convert the physical materials of the plastic arts—clay, wood, glass, marble, granite, bronze, and more—into lapidary lines of poetry. Whether the sculptures celebrated here commemorate love or war, objects or apparitions, forms human or divine, they have called forth evocative responses from a wide range of poets, including Homer, Ovid, Shakespeare, Baudelaire, Rilke, Dickinson, Yeats, Auden, and Plath. A compendium of dazzling examples of one art form reflecting on another, Poems About Sculpture is a treat for art lovers of all kinds.
Dare You See A Soul At The White Heat?

Dare you see a Soul at the White Heat?
Then crouch within the door—
Red—is the Fire's common tint—
But when the vivid Ore
Has vanquished Flame's conditions,
It quivers from the Forge
Without a color, but the light
Of unanointed Blaze.
Least Village has its Blacksmith
Whose Anvil's even ring
Stands symbol for the finer Forge
That soundless tugs—within—
Refining these impatient Ores
With Hammer, and with Blaze
Until the Designated Light
Repudiate the Forge—
Emily Dickinson
(1830 – 1886)
La Beauté
Je suis belle, ô mortels! comme un rêve de pierre,
Et mon sein, où chacun s'est meurtri tour à tour,
Est fait pour inspirer au poète un amour
Eternel et muet ainsi que la matière.
Je trône dans l'azur comme un sphinx incompris;
J'unis un coeur de neige à la blancheur des cygnes;
Je hais le mouvement qui déplace les lignes,
Et jamais je ne pleure et jamais je ne ris.
Les poètes, devant mes grandes attitudes,
Que j'ai l'air d'emprunter aux plus fiers monuments,
Consumeront leurs jours en d'austères études;
Car j'ai, pour fasciner ces dociles amants,
De purs miroirs qui font toutes choses plus belles:
Mes yeux, mes larges yeux aux clartés éternelles!
Charles Baudelaire
(1821 – 1867)
Poems About Sculpture
Foreword by Robert Pinsky
Edited by Murray Dewart
Hardcover, 256 p.
ISBN 9781101907757
Publ. by Everyman's Library, 2016
fleursdumal.nl magazine
More in: - Book News, Art & Literature News, Baudelaire, Charles, Dickinson, Emily, Museum of Literary Treasures, POETRY ARCHIVE
---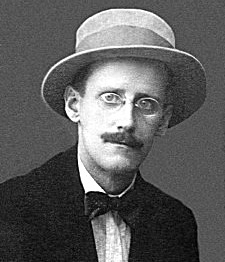 James Joyce
Simples
O bella bionda,
Sei come l'onda!
Of cool sweet dew and radiance mild
The moon a web of silence weaves
In the still garden where a child
Gathers the simple salad leaves.
A moondew stars her hanging hair
And moonlight kisses her young brow
And, gathering, she sings an air:
Fair as the wave is, fair, art thou!
Be mine, I pray, a waxen ear
To shield me from her childish croon
And mine a shielded heart for her
Who gathers simples of the moon.
James Joyce (1882 – 1941)
Simples
fleursdumal.nl magazine
More in: Archive I-J, Joyce, James, Joyce, James
---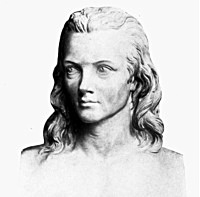 Novalis
Der Teufel
Ein loser Schalk, in dessen Beutel
Es just nicht allzu richtig stand,
Und der den Spruch, daß leider alles eitel
Auf unserm Runde ist, nur zu bestätigt fand,
Zog einst voll Spekulationen
In eine Stadt en migniatur,
Und schlug an jedes Tor und an die Rathaustür
Ein Avertissement mit vielen Worten schier,
Er werde heut in den Drei Kronen
Um fünf Uhr nachmittags den Teufel jedermann
Vom Ratsherrn bis zum Bettelmann
Für zwanzig Kreuzer präsentieren
Und ohne ihn bevor erst herzukommandieren.
Was Beine hatte, lief zum großen Wundermann,
Und überall war eine Weihnachtsfreude;
Der Bürgermeister schrieb mit Kreide
Den Tag an seiner Türe an,
Und jeder Ratsherr kam mit einem Galakleide
Und einer knotigen Perücke angetan,
Und will das Wunder sehn; auch mancher Handwerksmann
Kam hübsch bedächtlich angeschlichen
Und gab die Kreuzer hin, die er den Tag gewann.
Ein Schneider nur ging nicht zum Wundersmann
Und sprach: »Ich seh umsonst den Teufel alle Tage
In meiner jungen Frau zu meiner größten Plage,
Und der ist toller fürwahr als der beim Wundersmann.«
Als endlich männiglichen
Der Held sich mit dem leeren Beutel zeigt
Und erst mit wichtger Miene schweigt
Und dann geheimnisvoll nur wenig Worte saget
Und seine Auditoren fraget,
Ob auch kein Atheist in der Versammlung sei,
Erstieg die Trunkenheit der blöden Phantasei
Den Gipfel, und der Schalk beginnt die Gaukelei.
Nach manchem hocus-pocus ziehet
Der Schalk den Beutel auf und jeglicher bemühet
Sich sehr den Leidigen zu sehn, doch jeder siehet
Nichts auf der Welt –; ein junger Taugenichts,
Der näher stand, ein bel esprit, voll Zweifel
Wie mancher Kandidat, beginnt: »Ich seh ja nichts.«
»Das eben«, rief der Schalk, »das eben ist der Teufel.«
Novalis (1772 – 1801)
Gedicht: Der Teufel
fleursdumal.nl magazine
More in: Archive M-N, Novalis, Novalis
---
Gertrude Stein
(1874-1946)
A Long Dress
That is the current that makes machinery,
that makes it crackle,
what is the current that presents a long line and a necessary waist.
What is this current.
What is the wind, what is it.
Where is the serene length,
it is there and a dark place is not a dark place,
only a white and red are black, only a yellow and green are blue,
a pink is scarlet, a bow is every color. A line distinguishes it.
A line just distinguishes it.
Gertrude Stein poetry
fleursdumal.nl magazine

More in: Archive S-T, Stein, Gertrude
---
William Wordsworth
London 1802
Milton! thou should'st be living at this hour:
England hath need of thee: she is a fen
Of stagnant waters: altar, sword, and pen,
Fireside, the heroic wealth of hall and bower,
Have forfeited their ancient English dower
Of inward happiness. We are selfish men;
Oh! raise us up, return to us again;
And give us manners, virtue, freedom, power.
Thy soul was like a Star, and dwelt apart:
Thou hadst a voice whose sound was like the sea:
Pure as the naked heavens, majestic, free,
So didst thou travel on life's common way,
In cheerful godliness; and yet thy heart
The lowliest duties on herself did lay.
William Wordsworth (1770 – 1850)
Poem: London 1802
fleursdumal.nl magazine
More in: Archive W-X, Milton, John, Wordsworth, Wordsworth, William
---
What is the price of poetry? An examination of how the deaths of great poets have shaped our culture's distorted sense of poetry.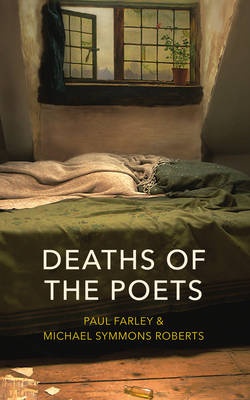 From Chatterton's Pre-Raphaelite demise to Keats' death warrant in a smudge of arterial blood; from Dylan Thomas's eighteen straight whiskies to Sylvia Plath's desperate suicide in the gas oven of her Primrose Hill kitchen or John Berryman's leap from a bridge onto the frozen Mississippi, the deaths of poets have often cast a backward shadow on their work.
The post-Romantic myth of the dissolute drunken poet – exemplified by Thomas and made iconic by his death in New York – has fatally skewed the image of poets in our culture. Novelists can be stable, savvy, politically adept and in control, but poets should be melancholic, doomed and self-destructive. Is this just a myth, or is there some essential truth behind it: that great poems only come when a poet's life is pushed right to an emotional knife-edge of acceptability, safety, security? What is the price of poetry? In this book, two contemporary poets undertake a series of journeys – across Britain, America and Europe – to the death places of poets of the past, in part as pilgrims, honouring inspirational writers, but also as investigators, interrogating the myth. The result is a book that is, in turn, enlightening and provocative, eye-wateringly funny and powerfully moving.
Michael Symmons Roberts's sixth collection of poetry, Drysalter, was the winner of both the Forward Prize and the Costa Poetry Prize in 2013. He has published two novels, and is Professor of Poetry at Manchester Metropolitan University.
Paul Farley is the author of four collections of poetry and has won the Forward Prize for Best First Collection, the Whitbread Poetry Award and the E. M. Forster Award.
Edgelands, co-written with Michael Symmons Roberts, received the Royal Society of Literature's Jerwood Award and the 2011 Foyles Best Book of Ideas Award and was serialised as Radio 4 Book of the Week.
The Deaths of the Poets
Michael Symmons Roberts & Paul Farley
ISBN : 9780224097543
Hardback, 400 pages
February 2017
Publisher: Random House Children's Publishers UK
fleursdumal.nl magazine
More in: - Archive Tombeau de la jeunesse, - Book News, Art & Literature News, DEAD POETS CORNER, Galerie des Morts, POETRY ARCHIVE
---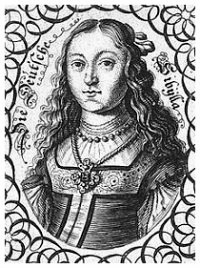 Sibylla Schwarz
Ohne die Liebste ist keine Freude
Kan die Welt auch wohl bestehen
ohn der Sonnen klahres Liecht?
kan man in der Nacht auch sehen,
wenn da Stern und Mond gebricht?
kan ein Schiffman auch wohl lachen
wenn sein Schiff begündt zu krachen?
Eben wenig kan ich leben,
wenn mir meine Dorile,
nicht ihr klares Liecht wil geben;
Eben wenig ich besteh,
wenn sie nicht mein Schiff regieret,
und durch ihre Freundschafft führet.
Springt ein Rehbock bey der Mutter,
mehr nicht, als er sonsten tuht?
hat ein Pferd bey vollem Futter,
auch nicht einen frischen Muht?
Also kan ich besser leben,
wenn ihr Liecht mir wird gegeben.
Zweyen Herzen, die sich lieben,
ist die allerhöchste Pein,
und das grösseste Betrüben,
wenn sie nicht zusammen sein,
weil sie sonsten nichts gedencken,
alß nur Arm in Arm zu schrenken.
Wie die Ulmen üm den Reben
gleichsam als verliebt sich drehn:
Also wündsch ich auch, mein Leben,
bey dir umgefast zu stehn,
und dir etwas vor zusagen
von den süssen Liebes=Plagen.
Darüm wil ich mich bemühen
auff mein Fretow hinzuziehn,
und mein Leben selbst nicht fliehen,
weil ich sonst erstorben bin,
alß denn wird sie mich erfreuen,
und mir meinen Geist verneuen.
Darüm wil ich gerne lassen
der Tollense Liebligkeit,
wil mein Leben selbst nicht hassen,
weil es nuhr erlaubt die Zeit;
weg mit disen schlechten Auen,
ich wil bald mein Fretow schauen.
Sibylla Schwarz (1621 – 1638)
Gedicht: Ohne die Liebste ist keine Freude
fleursdumal.nl magazine
More in: Archive S-T, SIbylla Schwarz
---
Seit 1979 gibt das »Jahrbuch der Lyrik« Einblick in neueste Entwicklungen der Poesie in Deutschland, Österreich und der Schweiz; ab diesem Jahr erscheint es jährlich bei Schöffling & Co. Für die 31. Ausgabe konnte Christoph Buchwald die vielfach ausgezeichnete Lyrikerin Ulrike Almut Sandig als Mitherausgeberin gewinnen. Gemeinsam haben sie die besten zeitgenössischen Gedichte ausgesucht und in thematischen Kapiteln zusammengestellt.
In welchem Maße ist die Gegenwartslyrik Echo und Spiegel unserer Zeit? Wie tief sitzt das Misstrauen gegen politische Ideologien und Rezepte? Offensichtlich ist: Die Sicht auf Geschichte und Gesellschaft ist nur mit subjektiver Herangehensweise glaubwürdig zu artikulieren, der persönliche Blick verweist auf das große Ganze.
Erstmals wurden auch Bildgedichte in die Auswahl aufgenommen; zusammen mit dem Kapitel »Dichter übersetzen Dichter« gehen diese über Sprach- und Genregrenzen hinaus.
Christoph Buchwald, 1951 in Tübingen geboren, ist seit 1979 ständiger Herausgeber des Jahrbuchs der Lyrik. Nach seinem Studium der Kunstgeschichte, Literaturwissenschaft und experimentellen Komposition hat er als Lektor und Verleger zahlreiche Lyriker begleitet. Seit 2002 leitet er gemeinsam mit seiner Frau den literarischen Verlag Cossee in Amsterdam und übersetzt Gedichte aus dem Niederländischen.
Ulrike Almut Sandig, 1979 in Großenhain geboren, wuchs in einem Pfarrhaushalt in Sachsen auf. Ihre Gedichte wurden vielfach verfilmt und ausgezeichnet, u. a mit dem Leonce-und-Lena-Preis 2009. Für ihre Sprechkonzerte und Hörstücke arbeitet sie eng mit Musikerinnen und Komponisten zusammen. Neben vier Gedichtbänden erschienen bisher zwei Hörbücher, die Erzählungen Flamingos (2010) und Buch gegen das Verschwinden (2015) sowie zahlreiche Hörspiele. Sie lebt mit ihrer Familie in Berlin.
was weiß ich vom
Schuldzucker der Gefühle von
den Kissen der Stille jeder
folgt einem anderen Befehl der
Käfer seinem Drahtgestell
der Himmel spielt mit dem
roten Pelz die Erde mit
den schwarzen Pfoten
Herta Müller, in: Jahrbuch der Lyrik 2017, hg. von Christoph Buchwald und Ulrike Almut Sandig, Schöffling & Co. 2017, S. 77.
Jahrbuch der Lyrik 2017
Gedichte
Herausgegeben von Christoph Buchwald und Ulrike Almut Sandig
232 Seiten. Gebunden. Lesebändchen.
ISBN: 978-3-89561-680-8
Schöffling & Co. 2017
Erscheint am 8. Mai 2017
  # more on website Lyrik-Kabinett München

fleursdumal.nl magazine
More in: - Book News, Art & Literature News, MODERN POETRY, POETRY ARCHIVE
---
Robert Bridges
For beauty being the best of all we know
For beauty being the best of all we know
Sums up the unsearchable and secret aims
Of nature, and on joys whose earthly names
Were never told can form and sense bestow;
And man has sped his instinct to outgo
The step of science; and against her shames
Imagination stakes out heavenly claims,
Building a tower above the head of woe.
Nor is there fairer work for beauty found
Than that she win in nature her release
From all the woes that in the world abound;
Nay with his sorrow may his love increase,
If from man's greater need beauty redound,
And claim his tears for homage of his peace.
Robert Seymour Bridges (1844 – 1930)
For beauty being the best of all we know
fleursdumal.nl magazine
More in: Archive A-B, Bridges, Robert
---
Older Entries »
« Newer Entries
Thank you for reading FLEURSDUMAL.NL - magazine for art & literature