Joyce, James
·
James Joyce: O Cool Is The Valley Now
·
James Joyce: Flood
·
James JOYCE: Simples
·
James JOYCE: Nightpiece
·
James JOYCE: I Hear an Army
·
James Joyce: DEAR HEART, WHY WILL YOU USE ME SO?
·
James Joyce: A Little Cloud
·
James Joyce: Counterparts
·
James Joyce: Araby
·
James Joyce: Clay
·
James Joyce: After The Race
·
James Joyce: A Mother
O Cool Is The Valley Now
O cool is the valley now
And there, love, will we go
For many a choir is singing now
Where Love did sometime go.
And hear you not the thrushes calling,
Calling us away?
O cool and pleasant is the valley
And there, love, will we stay.
James Joyce
(1882-1941)
O Cool Is The Valley Now
fleursdumal.nl magazine
More in: Archive I-J, Archive I-J, Joyce, James, Joyce, James
---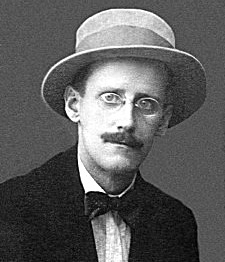 Flood

Goldbrown upon the sated flood
The rockvine clusters lift and sway;
Vast wings above the lambent waters brood
Of sullen day.
A waste of waters ruthlessly
Sways and uplifts its weedy mane
Where brooding day stares down upon the sea
In dull disdain.
Uplift and sway, O golden vine,
Your clustered fruits to love's full flood,
Lambent and vast and ruthless as is thine
Incertitude!
James Joyce (1882 – 1941)
Flood
fleursdumal.nl magazine
More in: Archive I-J, Joyce, James, Joyce, James
---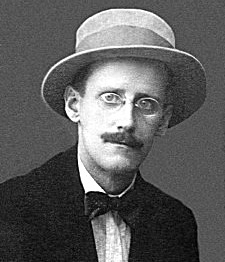 James Joyce
Simples
O bella bionda,
Sei come l'onda!
Of cool sweet dew and radiance mild
The moon a web of silence weaves
In the still garden where a child
Gathers the simple salad leaves.
A moondew stars her hanging hair
And moonlight kisses her young brow
And, gathering, she sings an air:
Fair as the wave is, fair, art thou!
Be mine, I pray, a waxen ear
To shield me from her childish croon
And mine a shielded heart for her
Who gathers simples of the moon.
James Joyce (1882 – 1941)
Simples
fleursdumal.nl magazine
More in: Archive I-J, Joyce, James, Joyce, James
---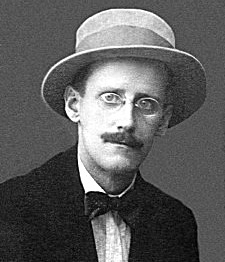 James Joyce
Nightpiece
Gaunt in gloom,
The pale stars their torches,
Enshrouded, wave.
Ghostfires from heaven's far verges faint illume,
Arches on soaring arches,
Night's sindark nave.
Seraphim,
The lost hosts awaken
To service till
In moonless gloom each lapses muted, dim,
Raised when she has and shaken
Her thurible.
And long and loud,
To night's nave upsoaring,
A starknell tolls
As the bleak incense surges, cloud on cloud,
Voidward from the adoring
Waste of souls.
James Joyce (1882 – 1941)
Nightpiece
fleursdumal.nl magazine
More in: Archive I-J, Joyce, James, Joyce, James
---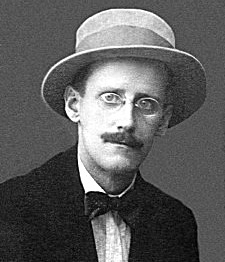 James Joyce
I Hear an Army
I hear an army charging upon the land,
And the thunder of horses plunging; foam about their knees:
Arrogant, in black armour, behind them stand,
Disdaining the reins, with fluttering whips, the Charioteers.
They cry into the night their battle name:
I moan in sleep when I hear afar their whirling laughter.
They cleave the gloom of dreams, a blinding flame,
Clanging, clanging upon the heart as upon an anvil.
They come shaking in triumph their long grey hair:
They come out of the sea and run shouting by the shore.
My heart, have you no wisdom thus to despair?
My love, my love, my love, why have you left me alone?
James Joyce (1882 – 1941)
I Hear an Army
fleursdumal.nl magazine
More in: Archive I-J, Joyce, James, Joyce, James
---
James Joyce
(1882-1941)
DEAR HEART, WHY WILL YOU USE ME SO?
Dear heart, why will you use me so?
Dear eyes that gently me upbraid,
Still are you beautiful — but O,
How is your beauty raimented!
Through the clear mirror of your eyes,
Through the soft cry of kiss to kiss,
Desolate winds assail with cries
The shadowy garden where love is.
And soon shall love dissolved be
When over us the wild winds blow–
But you, dear love, too dear to me,
Alas! why will you use me so?
"Dear heart, why will you use me so?" is reprinted from Chamber Music. James Joyce. London: Elkin Mathews, 1907
James Joyce poetry
fleursdumal.nl magazine
More in: Archive I-J, Joyce, James
---
James Joyce
(1882-1941)
A Little Cloud
Eight years before he had seen his friend off at the North Wall and wished him godspeed. Gallaher had got on. You could tell that at once by his travelled air, his well-cut tweed suit, and fearless accent. Few fellows had talents like his and fewer still could remain unspoiled by such success. Gallaher's heart was in the right place and he had deserved to win. It was something to have a friend like that.
Little Chandler's thoughts ever since lunch-time had been of his meeting with Gallaher, of Gallaher's invitation and of the great city London where Gallaher lived. He was called Little Chandler because, though he was but slightly under the average stature, he gave one the idea of being a little man. His hands were white and small, his frame was fragile, his voice was quiet and his manners were refined. He took the greatest care of his fair silken hair and moustache and used perfume discreetly on his handkerchief. The half-moons of his nails were perfect and when he smiled you caught a glimpse of a row of childish white teeth.
As he sat at his desk in the King's Inns he thought what changes those eight years had brought. The friend whom he had known under a shabby and necessitous guise had become a brilliant figure on the London Press. He turned often from his tiresome writing to gaze out of the office window. The glow of a late autumn sunset covered the grass plots and walks. It cast a shower of kindly golden dust on the untidy nurses and decrepit old men who drowsed on the benches; it flickered upon all the moving figures, on the children who ran screaming along the gravel paths and on everyone who passed through the gardens. He watched the scene and thought of life; and (as always happened when he thought of life) he became sad. A gentle melancholy took possession of him. He felt how useless it was to struggle against fortune, this being the burden of wisdom which the ages had bequeathed to him.
He remembered the books of poetry upon his shelves at home. He had bought them in his bachelor days and many an evening, as he sat in the little room off the hall, he had been tempted to take one down from the bookshelf and read out something to his wife. But shyness had always held him back; and so the books had remained on their shelves. At times he repeated lines to himself and this consoled him.
When his hour had struck he stood up and took leave of his desk and of his fellow-clerks punctiliously. He emerged from under the feudal arch of the King's Inns, a neat modest figure, and walked swiftly down Henrietta Street. The golden sunset was waning and the air had grown sharp. A horde of grimy children populated the street. They stood or ran in the roadway or crawled up the steps before the gaping doors or squatted like mice upon the thresholds. Little Chandler gave them no thought. He picked his way deftly through all that minute vermin-like life and under the shadow of the gaunt spectral mansions in which the old nobility of Dublin had roystered. No memory of the past touched him, for his mind was full of a present joy.
He had never been in Corless's but he knew the value of the name. He knew that people went there after the theatre to eat oysters and drink liqueurs; and he had heard that the waiters there spoke French and German. Walking swiftly by at night he had seen cabs drawn up before the door and richly dressed ladies, escorted by cavaliers, alight and enter quickly. They wore noisy dresses and many wraps. Their faces were powdered and they caught up their dresses, when they touched earth, like alarmed Atalantas. He had always passed without turning his head to look. It was his habit to walk swiftly in the street even by day and whenever he found himself in the city late at night he hurried on his way apprehensively and excitedly. Sometimes, however, he courted the causes of his fear. He chose the darkest and narrowest streets and, as he walked boldly forward, the silence that was spread about his footsteps troubled him, the wandering, silent figures troubled him; and at times a sound of low fugitive laughter made him tremble like a leaf.
He turned to the right towards Capel Street. Ignatius Gallaher on the London Press! Who would have thought it possible eight years before? Still, now that he reviewed the past, Little Chandler could remember many signs of future greatness in his friend. People used to say that Ignatius Gallaher was wild Of course, he did mix with a rakish set of fellows at that time. drank freely and borrowed money on all sides. In the end he had got mixed up in some shady affair, some money transaction: at least, that was one version of his flight. But nobody denied him talent. There was always a certain . . . something in Ignatius Gallaher that impressed you in spite of yourself. Even when he was out at elbows and at his wits' end for money he kept up a bold face. Little Chandler remembered (and the remembrance brought a slight flush of pride to his cheek) one of Ignatius Gallaher's sayings when he was in a tight corner
"Half time now, boys," he used to say light-heartedly. "Where's my considering cap?"
That was Ignatius Gallaher all out; and, damn it, you couldn't but admire him for it.
Little Chandler quickened his pace. For the first time in his life he felt himself superior to the people he passed. For the first time his soul revolted against the dull inelegance of Capel Street. There was no doubt about it: if you wanted to succeed you had to go away. You could do nothing in Dublin. As he crossed Grattan Bridge he looked down the river towards the lower quays and pitied the poor stunted houses. They seemed to him a band of tramps, huddled together along the riverbanks, their old coats covered with dust and soot, stupefied by the panorama of sunset and waiting for the first chill of night bid them arise, shake themselves and begone. He wondered whether he could write a poem to express his idea. Perhaps Gallaher might be able to get it into some London paper for him. Could he write something original? He was not sure what idea he wished to express but the thought that a poetic moment had touched him took life within him like an infant hope. He stepped onward bravely.
Every step brought him nearer to London, farther from his own sober inartistic life. A light began to tremble on the horizon of his mind. He was not so old, thirty-two. His temperament might be said to be just at the point of maturity. There were so many different moods and impressions that he wished to express in verse. He felt them within him. He tried weigh his soul to see if it was a poet's soul. Melancholy was the dominant note of his temperament, he thought, but it was a melancholy tempered by recurrences of faith and resignation and simple joy. If he could give expression to it in a book of poems perhaps men would listen. He would never be popular: he saw that. He could not sway the crowd but he might appeal to a little circle of kindred minds. The English critics, perhaps, would recognise him as one of the Celtic school by reason of the melancholy tone of his poems; besides that, he would put in allusions. He began to invent sentences and phrases from the notice which his book would get. "Mr. Chandler has the gift of easy and graceful verse." . . . "wistful sadness pervades these poems." . . . "The Celtic note." It was a pity his name was not more Irish-looking. Perhaps it would be better to insert his mother's name before the surname: Thomas Malone Chandler, or better still: T. Malone Chandler. He would speak to Gallaher about it.
He pursued his revery so ardently that he passed his street and had to turn back. As he came near Corless's his former agitation began to overmaster him and he halted before the door in indecision. Finally he opened the door and entered.
The light and noise of the bar held him at the doorways for a few moments. He looked about him, but his sight was confused by the shining of many red and green wine-glasses The bar seemed to him to be full of people and he felt that the people were observing him curiously. He glanced quickly to right and left (frowning slightly to make his errand appear serious), but when his sight cleared a little he saw that nobody had turned to look at him: and there, sure enough, was Ignatius Gallaher leaning with his back against the counter and his feet planted far apart.
"Hallo, Tommy, old hero, here you are! What is it to be? What will you have? I'm taking whisky: better stuff than we get across the water. Soda? Lithia? No mineral? I'm the same Spoils the flavour. . . . Here, garçon, bring us two halves of malt whisky, like a good fellow. . . . Well, and how have you been pulling along since I saw you last? Dear God, how old we're getting! Do you see any signs of aging in me, eh, what? A little grey and thin on the top, what?"
Ignatius Gallaher took off his hat and displayed a large closely cropped head. His face was heavy, pale and cleanshaven. His eyes, which were of bluish slate-colour, relieved his unhealthy pallor and shone out plainly above the vivid orange tie he wore. Between these rival features the lips appeared very long and shapeless and colourless. He bent his head and felt with two sympathetic fingers the thin hair at the crown. Little Chandler shook his head as a denial. Ignatius Galaher put on his hat again.
"It pulls you down," be said, "Press life. Always hurry and scurry, looking for copy and sometimes not finding it: and then, always to have something new in your stuff. Damn proofs and printers, I say, for a few days. I'm deuced glad, I can tell you, to get back to the old country. Does a fellow good, a bit of a holiday. I feel a ton better since I landed again in dear dirty Dublin. . . . Here you are, Tommy. Water? Say when."
Little Chandler allowed his whisky to be very much diluted.
"You don't know what's good for you, my boy," said Ignatius Gallaher. "I drink mine neat."
"I drink very little as a rule," said Little Chandler modestly. "An odd half-one or so when I meet any of the old crowd: that's all."
"Ah well," said Ignatius Gallaher, cheerfully, "here's to us and to old times and old acquaintance."
They clinked glasses and drank the toast.
"I met some of the old gang today," said Ignatius Gallaher. "O'Hara seems to be in a bad way. What's he doing?"
"Nothing," said Little Chandler. "He's gone to the dogs."
"But Hogan has a good sit, hasn't he?"
"Yes; he's in the Land Commission."
"I met him one night in London and he seemed to be very flush. . . . Poor O'Hara! Boose, I suppose?"
"Other things, too," said Little Chandler shortly.
Ignatius Gallaher laughed.
"Tommy," he said, "I see you haven't changed an atom. You're the very same serious person that used to lecture me on Sunday mornings when I had a sore head and a fur on my tongue. You'd want to knock about a bit in the world. Have you never been anywhere even for a trip?"
"I've been to the Isle of Man," said Little Chandler.
Ignatius Gallaher laughed.
"The Isle of Man!" he said. "Go to London or Paris: Paris, for choice. That'd do you good."
"Have you seen Paris?"
"I should think I have! I've knocked about there a little."
"And is it really so beautiful as they say?" asked Little Chandler.
He sipped a little of his drink while Ignatius Gallaher finished his boldly.
"Beautiful?" said Ignatius Gallaher, pausing on the word and on the flavour of his drink. "It's not so beautiful, you know. Of course, it is beautiful. . . . But it's the life of Paris; that's the thing. Ah, there's no city like Paris for gaiety, movement, excitement. . . . "
Little Chandler finished his whisky and, after some trouble, succeeded in catching the barman's eye. He ordered the same again.
"I've been to the Moulin Rouge," Ignatius Gallaher continued when the barman had removed their glasses, "and I've been to all the Bohemian cafes. Hot stuff! Not for a pious chap like you, Tommy."
Little Chandler said nothing until the barman returned with two glasses: then he touched his friend's glass lightly and reciprocated the former toast. He was beginning to feel somewhat disillusioned. Gallaher's accent and way of expressing himself did not please him. There was something vulgar in his friend which he had not observed before. But perhaps it was only the result of living in London amid the bustle and competition of the Press. The old personal charm was still there under this new gaudy manner. And, after all, Gallaher had lived, he had seen the world. Little Chandler looked at his friend enviously.
"Everything in Paris is gay," said Ignatius Gallaher. "They believe in enjoying life, and don't you think they're right? If you want to enjoy yourself properly you must go to Paris. And, mind you, they've a great feeling for the Irish there. When they heard I was from Ireland they were ready to eat me, man."
Little Chandler took four or five sips from his glass.
"Tell me," he said, "is it true that Paris is so . . . immoral as they say?"
Ignatius Gallaher made a catholic gesture with his right arm.
"Every place is immoral," he said. "Of course you do find spicy bits in Paris. Go to one of the students' balls, for instance. That's lively, if you like, when the cocottes begin to let themselves loose. You know what they are, I suppose?"
"I've heard of them," said Little Chandler.
Ignatius Gallaher drank off his whisky and shook his had.
"Ah," he said, "you may say what you like. There's no woman like the Parisienne, for style, for go."
"Then it is an immoral city," said Little Chandler, with timid insistence, "I mean, compared with London or Dublin?"
"London!" said Ignatius Gallaher. "It's six of one and half-a-dozen of the other. You ask Hogan, my boy. I showed him a bit about London when he was over there. He'd open your eye. . . . I say, Tommy, don't make punch of that whisky: liquor up."
"No, really. . . . "
"O, come on, another one won't do you any harm. What is it? The same again, I suppose?"
"Well . . . all right."
"François, the same again. . . . Will you smoke, Tommy?"
Ignatius Gallaher produced his cigar-case. The two friends lit their cigars and puffed at them in silence until their drinks were served.
"I'll tell you my opinion," said Ignatius Gallaher, emerging after some time from the clouds of smoke in which he had taken refuge, "it's a rum world. Talk of immorality! I've heard of cases, what am I saying?, I've known them: cases of . . . immorality. . . . "
Ignatius Gallaher puffed thoughtfully at his cigar and then, in a calm historian's tone, he proceeded to sketch for his friend some pictures of the corruption which was rife abroad. He summarised the vices of many capitals and seemed inclined to award the palm to Berlin. Some things he could not vouch for (his friends had told him), but of others he had had personal experience. He spared neither rank nor caste. He revealed many of the secrets of religious houses on the Continent and described some of the practices which were fashionable in high society and ended by telling, with details, a story about an English duchess, a story which he knew to be true. Little Chandler as astonished.
"Ah, well," said Ignatius Gallaher, "here we are in old jog-along Dublin where nothing is known of such things."
"How dull you must find it," said Little Chandler, "after all the other places you've seen!"
Well," said Ignatius Gallaher, "it's a relaxation to come over here, you know. And, after all, it's the old country, as they say, isn't it? You can't help having a certain feeling for it. That's human nature. . . . But tell me something about yourself. Hogan told me you had . . . tasted the joys of connubial bliss. Two years ago, wasn't it?"
Little Chandler blushed and smiled.
"Yes," he said. "I was married last May twelve months."
"I hope it's not too late in the day to offer my best wishes," said Ignatius Gallaher. "I didn't know your address or I'd have done so at the time."
He extended his hand, which Little Chandler took.
"Well, Tommy," he said, "I wish you and yours every joy in life, old chap, and tons of money, and may you never die till I shoot you. And that's the wish of a sincere friend, an old friend. You know that?"
"I know that," said Little Chandler.
"Any youngsters?" said Ignatius Gallaher.
Little Chandler blushed again.
"We have one child," he said.
"Son or daughter?"
"A little boy."
Ignatius Gallaher slapped his friend sonorously on the back.
"Bravo," he said, "I wouldn't doubt you, Tommy."
Little Chandler smiled, looked confusedly at his glass and bit his lower lip with three childishly white front teeth.
"I hope you'll spend an evening with us," he said, "before you go back. My wife will be delighted to meet you. We can have a little music and, , "
"Thanks awfully, old chap," said Ignatius Gallaher, "I'm sorry we didn't meet earlier. But I must leave tomorrow night."
"Tonight, perhaps . . . ?"
"I'm awfully sorry, old man. You see I'm over here with another fellow, clever young chap he is too, and we arranged to go to a little card-party. Only for that . . . "
"O, in that case . . . "
"But who knows?" said Ignatius Gallaher considerately. "Next year I may take a little skip over here now that I've broken the ice. It's only a pleasure deferred."
"Very well," said Little Chandler, "the next time you come we must have an evening together. That's agreed now, isn't it?"
"Yes, that's agreed," said Ignatius Gallaher. "Next year if I come, parole d'honneur."
"And to clinch the bargain," said Little Chandler, "we'll just have one more now."
Ignatius Gallaher took out a large gold watch and looked a it.
"Is it to be the last?" he said. "Because you know, I have an a.p."
"O, yes, positively," said Little Chandler.
"Very well, then," said Ignatius Gallaher, "let us have another one as a deoc an doruis, that's good vernacular for a small whisky, I believe."
Little Chandler ordered the drinks. The blush which had risen to his face a few moments before was establishing itself. A trifle made him blush at any time: and now he felt warm and excited. Three small whiskies had gone to his head and Gallaher's strong cigar had confused his mind, for he was a delicate and abstinent person. The adventure of meeting Gallaher after eight years, of finding himself with Gallaher in Corless's surrounded by lights and noise, of listening to Gallaher's stories and of sharing for a brief space Gallaher's vagrant and triumphant life, upset the equipoise of his sensitive nature. He felt acutely the contrast between his own life and his friend's and it seemed to him unjust. Gallaher was his inferior in birth and education. He was sure that he could do something better than his friend had ever done, or could ever do, something higher than mere tawdry journalism if he only got the chance. What was it that stood in his way? His unfortunate timidity He wished to vindicate himself in some way, to assert his manhood. He saw behind Gallaher's refusal of his invitation. Gallaher was only patronising him by his friendliness just as he was patronising Ireland by his visit.
The barman brought their drinks. Little Chandler pushed one glass towards his friend and took up the other boldly.
"Who knows?" he said, as they lifted their glasses. "When you come next year I may have the pleasure of wishing long life and happiness to Mr. and Mrs. Ignatius Gallaher."
Ignatius Gallaher in the act of drinking closed one eye expressively over the rim of his glass. When he had drunk he smacked his lips decisively, set down his glass and said:
"No blooming fear of that, my boy. I'm going to have my fling first and see a bit of life and the world before I put my head in the sack, if I ever do."
"Some day you will," said Little Chandler calmly.
Ignatius Gallaher turned his orange tie and slate-blue eyes full upon his friend.
"You think so?" he said.
"You'll put your head in the sack," repeated Little Chandler stoutly, "like everyone else if you can find the girl."
He had slightly emphasised his tone and he was aware that he had betrayed himself; but, though the colour had heightened in his cheek, he did not flinch from his friend's gaze. Ignatius Gallaher watched him for a few moments and then said:
"If ever it occurs, you may bet your bottom dollar there'll be no mooning and spooning about it. I mean to marry money. She'll have a good fat account at the bank or she won't do for me."
Little Chandler shook his head.
"Why, man alive," said Ignatius Gallaher, vehemently, "do you know what it is? I've only to say the word and tomorrow I can have the woman and the cash. You don't believe it? Well, I know it. There are hundreds, what am I saying?, thousands of rich Germans and Jews, rotten with money, that'd only be too glad. . . . You wait a while my boy. See if I don't play my cards properly. When I go about a thing I mean business, I tell you. You just wait."
He tossed his glass to his mouth, finished his drink and laughed loudly. Then he looked thoughtfully before him and said in a calmer tone:
"But I'm in no hurry. They can wait. I don't fancy tying myself up to one woman, you know."
He imitated with his mouth the act of tasting and made a wry face.
"Must get a bit stale, I should think," he said.
Little Chandler sat in the room off the hall, holding a child in his arms. To save money they kept no servant but Annie's young sister Monica came for an hour or so in the morning and an hour or so in the evening to help. But Monica had gone home long ago. It was a quarter to nine. Little Chandler had come home late for tea and, moreover, he had forgotten to bring Annie home the parcel of coffee from Bewley's. Of course she was in a bad humour and gave him short answers. She said she would do without any tea but when it came near the time at which the shop at the corner closed she decided to go out herself for a quarter of a pound of tea and two pounds of sugar. She put the sleeping child deftly in his arms and said:
"Here. Don't waken him."
A little lamp with a white china shade stood upon the table and its light fell over a photograph which was enclosed in a frame of crumpled horn. It was Annie's photograph. Little Chandler looked at it, pausing at the thin tight lips. She wore the pale blue summer blouse which he had brought her home as a present one Saturday. It had cost him ten and elevenpence; but what an agony of nervousness it had cost him! How he had suffered that day, waiting at the shop door until the shop was empty, standing at the counter and trying to appear at his ease while the girl piled ladies' blouses before him, paying at the desk and forgetting to take up the odd penny of his change, being called back by the cashier, and finally, striving to hide his blushes as he left the shop by examining the parcel to see if it was securely tied. When he brought the blouse home Annie kissed him and said it was very pretty and stylish; but when she heard the price she threw the blouse on the table and said it was a regular swindle to charge ten and elevenpence for it. At first she wanted to take it back but when she tried it on she was delighted with it, especially with the make of the sleeves, and kissed him and said he was very good to think of her.
Hm! . . .
He looked coldly into the eyes of the photograph and they answered coldly. Certainly they were pretty and the face itself was pretty. But he found something mean in it. Why was it so unconscious and ladylike? The composure of the eyes irritated him. They repelled him and defied him: there was no passion in them, no rapture. He thought of what Gallaher had said about rich Jewesses. Those dark Oriental eyes, he thought, how full they are of passion, of voluptuous longing! . . . Why had he married the eyes in the photograph?
He caught himself up at the question and glanced nervously round the room. He found something mean in the pretty furniture which he had bought for his house on the hire system. Annie had chosen it herself and it reminded him of her. It too was prim and pretty. A dull resentment against his life awoke within him. Could he not escape from his little house? Was it too late for him to try to live bravely like Gallaher? Could he go to London? There was the furniture still to be paid for. If he could only write a book and get it published, that might open the way for him.
A volume of Byron's poems lay before him on the table. He opened it cautiously with his left hand lest he should waken the child and began to read the first poem in the book:
Hushed are the winds and still the evening gloom,
Not e'en a Zephyr wanders through the grove,
Whilst I return to view my Margaret's tomb
And scatter flowers on the dust I love.
He paused. He felt the rhythm of the verse about him in the room. How melancholy it was! Could he, too, write like that, express the melancholy of his soul in verse? There were so many things he wanted to describe: his sensation of a few hours before on Grattan Bridge, for example. If he could get back again into that mood. . . .
The child awoke and began to cry. He turned from the page and tried to hush it: but it would not be hushed. He began to rock it to and fro in his arms but its wailing cry grew keener. He rocked it faster while his eyes began to read the second stanza:
Within this narrow cell reclines her clay,
That clay where once . . .
It was useless. He couldn't read. He couldn't do anything. The wailing of the child pierced the drum of his ear. It was useless, useless! He was a prisoner for life. His arms trembled with anger and suddenly bending to the child's face he shouted:
"Stop!"
The child stopped for an instant, had a spasm of fright and began to scream. He jumped up from his chair and walked hastily up and down the room with the child in his arms. It began to sob piteously, losing its breath for four or five seconds, and then bursting out anew. The thin walls of the room echoed the sound. He tried to soothe it but it sobbed more convulsively. He looked at the contracted and quivering face of the child and began to be alarmed. He counted seven sobs without a break between them and caught the child to his breast in fright. If it died! . . .
The door was burst open and a young woman ran in, panting.
"What is it? What is it?" she cried.
The child, hearing its mother's voice, broke out into a paroxysm of sobbing.
"It's nothing, Annie . . . it's nothing. . . . He began to cry . . . "
She flung her parcels on the floor and snatched the child from him.
"What have you done to him?" she cried, glaring into his face.
Little Chandler sustained for one moment the gaze of her eyes and his heart closed together as he met the hatred in them. He began to stammer:
"It's nothing. . . . He . . . he began to cry. . . . I couldn't . . . I didn't do anything. . . . What?"
Giving no heed to him she began to walk up and down the room, clasping the child tightly in her arms and murmuring:
"My little man! My little mannie! Was 'ou frightened, love? . . . There now, love! There now!… Lambabaun! Mamma's little lamb of the world! . . . There now!"
Little Chandler felt his cheeks suffused with shame and he stood back out of the lamplight. He listened while the paroxysm of the child's sobbing grew less and less; and tears of remorse started to his eyes.
James Joyce stories
fleursdumal.nl magazine
More in: Archive I-J, Joyce, James, Joyce, James
---

James Joyce
(1882-1941)
Counterparts
The bell rang furiously and, when Miss Parker went to the tube, a furious voice called out in a piercing North of Ireland accent:
"Send Farrington here!"
Miss Parker returned to her machine, saying to a man who was writing at a desk:
"Mr. Alleyne wants you upstairs."
The man muttered "Blast him!" under his breath and pushed back his chair to stand up. When he stood up he was tall and of great bulk. He had a hanging face, dark wine-coloured, with fair eyebrows and moustache: his eyes bulged forward slightly and the whites of them were dirty. He lifted up the counter and, passing by the clients, went out of the office with a heavy step.
He went heavily upstairs until he came to the second landing, where a door bore a brass plate with the inscription Mr. Alleyne. Here he halted, puffing with labour and vexation, and knocked. The shrill voice cried:
"Come in!"
The man entered Mr. Alleyne's room. Simultaneously Mr. Alleyne, a little man wearing gold-rimmed glasses on a cleanshaven face, shot his head up over a pile of documents. The head itself was so pink and hairless it seemed like a large egg reposing on the papers. Mr. Alleyne did not lose a moment:
"Farrington? What is the meaning of this? Why have I always to complain of you? May I ask you why you haven't made a copy of that contract between Bodley and Kirwan? I told you it must be ready by four o'clock."
"But Mr. Shelley said, sir—-"
"Mr. Shelley said, sir …. Kindly attend to what I say and not to what Mr. Shelley says, sir. You have always some excuse or another for shirking work. Let me tell you that if the contract is not copied before this evening I'll lay the matter before Mr. Crosbie…. Do you hear me now?"
"Yes, sir."
"Do you hear me now?… Ay and another little matter! I might as well be talking to the wall as talking to you. Understand once for all that you get a half an hour for your lunch and not an hour and a half. How many courses do you want, I'd like to know…. Do you mind me now?"
"Yes, sir."
Mr. Alleyne bent his head again upon his pile of papers. The man stared fixedly at the polished skull which directed the affairs of Crosbie & Alleyne, gauging its fragility. A spasm of rage gripped his throat for a few moments and then passed, leaving after it a sharp sensation of thirst. The man recognised the sensation and felt that he must have a good night's drinking. The middle of the month was passed and, if he could get the copy done in time, Mr. Alleyne might give him an order on the cashier. He stood still, gazing fixedly at the head upon the pile of papers. Suddenly Mr. Alleyne began to upset all the papers, searching for something. Then, as if he had been unaware of the man's presence till that moment, he shot up his head again, saying:
"Eh? Are you going to stand there all day? Upon my word, Farrington, you take things easy!"
"I was waiting to see…"
"Very good, you needn't wait to see. Go downstairs and do your work."
The man walked heavily towards the door and, as he went out of the room, he heard Mr. Alleyne cry after him that if the contract was not copied by evening Mr. Crosbie would hear of the matter.
He returned to his desk in the lower office and counted the sheets which remained to be copied. He took up his pen and dipped it in the ink but he continued to stare stupidly at the last words he had written: In no case shall the said Bernard Bodley be… The evening was falling and in a few minutes they would be lighting the gas: then he could write. He felt that he must slake the thirst in his throat. He stood up from his desk and, lifting the counter as before, passed out of the office. As he was passing out the chief clerk looked at him inquiringly.
"It's all right, Mr. Shelley," said the man, pointing with his finger to indicate the objective of his journey.
The chief clerk glanced at the hat-rack, but, seeing the row complete, offered no remark. As soon as he was on the landing the man pulled a shepherd's plaid cap out of his pocket, put it on his head and ran quickly down the rickety stairs. From the street door he walked on furtively on the inner side of the path towards the corner and all at once dived into a doorway. He was now safe in the dark snug of O'Neill's shop, and filling up the little window that looked into the bar with his inflamed face, the colour of dark wine or dark meat, he called out:
"Here, Pat, give us a g.p.. like a good fellow."
The curate brought him a glass of plain porter. The man drank it at a gulp and asked for a caraway seed. He put his penny on the counter and, leaving the curate to grope for it in the gloom, retreated out of the snug as furtively as he had entered it.
Darkness, accompanied by a thick fog, was gaining upon the dusk of February and the lamps in Eustace Street had been lit. The man went up by the houses until he reached the door of the office, wondering whether he could finish his copy in time. On the stairs a moist pungent odour of perfumes saluted his nose: evidently Miss Delacour had come while he was out in O'Neill's. He crammed his cap back again into his pocket and re-entered the office, assuming an air of absentmindedness.
"Mr. Alleyne has been calling for you," said the chief clerk severely. "Where were you?"
The man glanced at the two clients who were standing at the counter as if to intimate that their presence prevented him from answering. As the clients were both male the chief clerk allowed himself a laugh.
"I know that game," he said. "Five times in one day is a little bit… Well, you better look sharp and get a copy of our correspondence in the Delacour case for Mr. Alleyne."
This address in the presence of the public, his run upstairs and the porter he had gulped down so hastily confused the man and, as he sat down at his desk to get what was required, he realised how hopeless was the task of finishing his copy of the contract before half past five. The dark damp night was coming and he longed to spend it in the bars, drinking with his friends amid the glare of gas and the clatter of glasses. He got out the Delacour correspondence and passed out of the office. He hoped Mr. Alleyne would not discover that the last two letters were missing.
The moist pungent perfume lay all the way up to Mr. Alleyne's room. Miss Delacour was a middle-aged woman of Jewish appearance. Mr. Alleyne was said to be sweet on her or on her money. She came to the office often and stayed a long time when she came. She was sitting beside his desk now in an aroma of perfumes, smoothing the handle of her umbrella and nodding the great black feather in her hat. Mr. Alleyne had swivelled his chair round to face her and thrown his right foot jauntily upon his left knee. The man put the correspondence on the desk and bowed respectfully but neither Mr. Alleyne nor Miss Delacour took any notice of his bow. Mr. Alleyne tapped a finger on the correspondence and then flicked it towards him as if to say: "That's all right: you can go."
The man returned to the lower office and sat down again at his desk. He stared intently at the incomplete phrase: In no case shall the said Bernard Bodley be… and thought how strange it was that the last three words began with the same letter. The chief clerk began to hurry Miss Parker, saying she would never have the letters typed in time for post. The man listened to the clicking of the machine for a few minutes and then set to work to finish his copy. But his head was not clear and his mind wandered away to the glare and rattle of the public-house. It was a night for hot punches. He struggled on with his copy, but when the clock struck five he had still fourteen pages to write. Blast it! He couldn't finish it in time. He longed to execrate aloud, to bring his fist down on something violently. He was so enraged that he wrote Bernard Bernard instead of Bernard Bodley and had to begin again on a clean sheet.
He felt strong enough to clear out the whole office singlehanded. His body ached to do something, to rush out and revel in violence. All the indignities of his life enraged him…. Could he ask the cashier privately for an advance? No, the cashier was no good, no damn good: he wouldn't give an advance…. He knew where he would meet the boys: Leonard and O'Halloran and Nosey Flynn. The barometer of his emotional nature was set for a spell of riot.
His imagination had so abstracted him that his name was called twice before he answered. Mr. Alleyne and Miss Delacour were standing outside the counter and all the clerks had turn round in anticipation of something. The man got up from his desk. Mr. Alleyne began a tirade of abuse, saying that two letters were missing. The man answered that he knew nothing about them, that he had made a faithful copy. The tirade continued: it was so bitter and violent that the man could hardly restrain his fist from descending upon the head of the manikin before him:
"I know nothing about any other two letters," he said stupidly.
"You–know–nothing. Of course you know nothing," said Mr. Alleyne. "Tell me," he added, glancing first for approval to the lady beside him, "do you take me for a fool? Do you think me an utter fool?"
The man glanced from the lady's face to the little egg-shaped head and back again; and, almost before he was aware of it, his tongue had found a felicitous moment:
"I don't think, sir," he said, "that that's a fair question to put to me."
There was a pause in the very breathing of the clerks. Everyone was astounded (the author of the witticism no less than his neighbours) and Miss Delacour, who was a stout amiable person, began to smile broadly. Mr. Alleyne flushed to the hue of a wild rose and his mouth twitched with a dwarf s passion. He shook his fist in the man's face till it seemed to vibrate like the knob of some electric machine:
"You impertinent ruffian! You impertinent ruffian! I'll make short work of you! Wait till you see! You'll apologise to me for your impertinence or you'll quit the office instanter! You'll quit this, I'm telling you, or you'll apologise to me!"
He stood in a doorway opposite the office watching to see if the cashier would come out alone. All the clerks passed out and finally the cashier came out with the chief clerk. It was no use trying to say a word to him when he was with the chief clerk. The man felt that his position was bad enough. He had been obliged to offer an abject apology to Mr. Alleyne for his impertinence but he knew what a hornet's nest the office would be for him. He could remember the way in which Mr. Alleyne had hounded little Peake out of the office in order to make room for his own nephew. He felt savage and thirsty and revengeful, annoyed with himself and with everyone else. Mr. Alleyne would never give him an hour's rest; his life would be a hell to him. He had made a proper fool of himself this time. Could he not keep his tongue in his cheek? But they had never pulled together from the first, he and Mr. Alleyne, ever since the day Mr. Alleyne had overheard him mimicking his North of Ireland accent to amuse Higgins and Miss Parker: that had been the beginning of it. He might have tried Higgins for the money, but sure Higgins never had anything for himself. A man with two establishments to keep up, of course he couldn't….
He felt his great body again aching for the comfort of the public-house. The fog had begun to chill him and he wondered could he touch Pat in O'Neill's. He could not touch him for more than a bob — and a bob was no use. Yet he must get money somewhere or other: he had spent his last penny for the g.p. and soon it would be too late for getting money anywhere. Suddenly, as he was fingering his watch-chain, he thought of Terry Kelly's pawn-office in Fleet Street. That was the dart! Why didn't he think of it sooner?
He went through the narrow alley of Temple Bar quickly, muttering to himself that they could all go to hell because he was going to have a good night of it. The clerk in Terry Kelly's said A crown! but the consignor held out for six shillings; and in the end the six shillings was allowed him literally. He came out of the pawn-office joyfully, making a little cylinder, of the coins between his thumb and fingers. In Westmoreland Street the footpaths were crowded with young men and women returning from business and ragged urchins ran here and there yelling out the names of the evening editions. The man passed through the crowd, looking on the spectacle generally with proud satisfaction and staring masterfully at the office-girls. His head was full of the noises of tram- gongs and swishing trolleys and his nose already sniffed the curling fumes punch. As he walked on he preconsidered the terms in which he would narrate the incident to the boys:
"So, I just looked at him — coolly, you know, and looked at her. Then I looked back at him again — taking my time, you know. 'I don't think that that's a fair question to put to me,' says I."
Nosey Flynn was sitting up in his usual corner of Davy Byrne's and, when he heard the story, he stood Farrington a half-one, saying it was as smart a thing as ever he heard. Farrington stood a drink in his turn. After a while O'Halloran and Paddy Leonard came in and the story was repeated to them. O'Halloran stood tailors of malt, hot, all round and told the story of the retort he had made to the chief clerk when he was in Callan's of Fownes's Street; but, as the retort was after the manner of the liberal shepherds in the eclogues, he had to admit that it was not as clever as Farrington's retort. At this Farrington told the boys to polish off that and have another.
Just as they were naming their poisons who should come in but Higgins! Of course he had to join in with the others. The men asked him to give his version of it, and he did so with great vivacity for the sight of five small hot whiskies was very exhilarating. Everyone roared laughing when he showed the way in which Mr. Alleyne shook his fist in Farrington's face. Then he imitated Farrington, saying, "And here was my nabs, as cool as you please," while Farrington looked at the company out of his heavy dirty eyes, smiling and at times drawing forth stray drops of liquor from his moustache with the aid of his lower lip.
When that round was over there was a pause. O'Halloran had money but neither of the other two seemed to have any; so the whole party left the shop somewhat regretfully. At the corner of Duke Street Higgins and Nosey Flynn bevelled off to the left while the other three turned back towards the city. Rain was drizzling down on the cold streets and, when they reached the Ballast Office, Farrington suggested the Scotch House. The bar was full of men and loud with the noise of tongues and glasses. The three men pushed past the whining matchsellers at the door and formed a little party at the corner of the counter. They began to exchange stories. Leonard introduced them to a young fellow named Weathers who was performing at the Tivoli as an acrobat and knockabout artiste. Farrington stood a drink all round. Weathers said he would take a small Irish and Apollinaris. Farrington, who had definite notions of what was what, asked the boys would they have an Apollinaris too; but the boys told Tim to make theirs hot. The talk became theatrical. O'Halloran stood a round and then Farrington stood another round, Weathers protesting that the hospitality was too Irish. He promised to get them in behind the scenes and introduce them to some nice girls. O'Halloran said that he and Leonard would go, but that Farrington wouldn't go because he was a married man; and Farrington's heavy dirty eyes leered at the company in token that he understood he was being chaffed. Weathers made them all have just one little tincture at his expense and promised to meet them later on at Mulligan's in Poolbeg Street.
When the Scotch House closed they went round to Mulligan's. They went into the parlour at the back and O'Halloran ordered small hot specials all round. They were all beginning to feel mellow. Farrington was just standing another round when Weathers came back. Much to Farrington's relief he drank a glass of bitter this time. Funds were getting low but they had enough to keep them going. Presently two young women with big hats and a young man in a check suit came in and sat at a table close by. Weathers saluted them and told the company that they were out of the Tivoli. Farrington's eyes wandered at every moment in the direction of one of the young women. There was something striking in her appearance. An immense scarf of peacock-blue muslin was wound round her hat and knotted in a great bow under her chin; and she wore bright yellow gloves, reaching to the elbow. Farrington gazed admiringly at the plump arm which she moved very often and with much grace; and when, after a little time, she answered his gaze he admired still more her large dark brown eyes. The oblique staring expression in them fascinated him. She glanced at him once or twice and, when the party was leaving the room, she brushed against his chair and said "O, pardon!" in a London accent. He watched her leave the room in the hope that she would look back at him, but he was disappointed. He cursed his want of money and cursed all the rounds he had stood, particularly all the whiskies and Apolinaris which he had stood to Weathers. If there was one thing that he hated it was a sponge. He was so angry that he lost count of the conversation of his friends.
When Paddy Leonard called him he found that they were talking about feats of strength. Weathers was showing his biceps muscle to the company and boasting so much that the other two had called on Farrington to uphold the national honour. Farrington pulled up his sleeve accordingly and showed his biceps muscle to the company. The two arms were examined and compared and finally it was agreed to have a trial of strength. The table was cleared and the two men rested their elbows on it, clasping hands. When Paddy Leonard said "Go!" each was to try to bring down the other's hand on to the table. Farrington looked very serious and determined.
The trial began. After about thirty seconds Weathers brought his opponent's hand slowly down on to the table. Farrington's dark wine-coloured face flushed darker still with anger and humiliation at having been defeated by such a stripling.
"You're not to put the weight of your body behind it. Play fair," he said.
"Who's not playing fair?" said the other.
"Come on again. The two best out of three."
The trial began again. The veins stood out on Farrington's forehead, and the pallor of Weathers' complexion changed to peony. Their hands and arms trembled under the stress. After a long struggle Weathers again brought his opponent's hand slowly on to the table. There was a murmur of applause from the spectators. The curate, who was standing beside the table, nodded his red head towards the victor and said with stupid familiarity:
"Ah! that's the knack!"
"What the hell do you know about it?" said Farrington fiercely, turning on the man. "What do you put in your gab for?"
"Sh, sh!" said O'Halloran, observing the violent expression of Farrington's face. "Pony up, boys. We'll have just one little smahan more and then we'll be off."
A very sullen-faced man stood at the corner of O'Connell Bridge waiting for the little Sandymount tram to take him home. He was full of smouldering anger and revengefulness. He felt humiliated and discontented; he did not even feel drunk; and he had only twopence in his pocket. He cursed everything. He had done for himself in the office, pawned his watch, spent all his money; and he had not even got drunk. He began to feel thirsty again and he longed to be back again in the hot reeking public-house. He had lost his reputation as a strong man, having been defeated twice by a mere boy. His heart swelled with fury and, when he thought of the woman in the big hat who had brushed against him and said Pardon! his fury nearly choked him.
His tram let him down at Shelbourne Road and he steered his great body along in the shadow of the wall of the barracks. He loathed returning to his home. When he went in by the side- door he found the kitchen empty and the kitchen fire nearly out. He bawled upstairs:
"Ada! Ada!"
His wife was a little sharp-faced woman who bullied her husband when he was sober and was bullied by him when he was drunk. They had five children. A little boy came running down the stairs.
"Who is that?" said the man, peering through the darkness.
"Me, pa."
"Who are you? Charlie?"
"No, pa. Tom."
"Where's your mother?"
"She's out at the chapel."
"That's right…. Did she think of leaving any dinner for me?"
"Yes, pa. I –"
"Light the lamp. What do you mean by having the place in darkness? Are the other children in bed?"
The man sat down heavily on one of the chairs while the little boy lit the lamp. He began to mimic his son's flat accent, saying half to himself: "At the chapel. At the chapel, if you please!" When the lamp was lit he banged his fist on the table and shouted:
"What's for my dinner?"
"I'm going… to cook it, pa," said the little boy.
The man jumped up furiously and pointed to the fire.
"On that fire! You let the fire out! By God, I'll teach you to do that again!"
He took a step to the door and seized the walking-stick which was standing behind it.
"I'll teach you to let the fire out!" he said, rolling up his sleeve in order to give his arm free play.
The little boy cried "O, pa!" and ran whimpering round the table, but the man followed him and caught him by the coat. The little boy looked about him wildly but, seeing no way of escape, fell upon his knees.
"Now, you'll let the fire out the next time!" said the man striking at him vigorously with the stick. "Take that, you little whelp!"
The boy uttered a squeal of pain as the stick cut his thigh. He clasped his hands together in the air and his voice shook with fright.
"O, pa!" he cried. "Don't beat me, pa! And I'll… I'll say a Hail Mary for you…. I'll say a Hail Mary for you, pa, if you don't beat me…. I'll say a Hail Mary…."
James Joyce stories
fleursdumal.nl  magazine
More in: Joyce, James, Joyce, James
---
James Joyce
(1882-1941)
Araby
North Richmond Street being blind, was a quiet street except at the hour when the Christian Brothers' School set the boys free. An uninhabited house of two storeys stood at the blind end, detached from its neighbours in a square ground The other houses of the street, conscious of decent lives within them, gazed at one another with brown imperturbable faces.
The former tenant of our house, a priest, had died in the back drawing-room. Air, musty from having been long enclosed, hung in all the rooms, and the waste room behind the kitchen was littered with old useless papers. Among these I found a few paper-covered books, the pages of which were curled and damp: The Abbot, by Walter Scott, The Devout Communicant and The Memoirs of Vidocq. I liked the last best because its leaves were yellow. The wild garden behind the house contained a central apple-tree and a few straggling bushes under one of which I found the late tenant's rusty bicycle-pump. He had been a very charitable priest; in his will he had left all his money to institutions and the furniture of his house to his sister.
When the short days of winter came dusk fell before we had well eaten our dinners. When we met in the street the houses had grown sombre. The space of sky above us was the colour of ever-changing violet and towards it the lamps of the street lifted their feeble lanterns. The cold air stung us and we played till our bodies glowed. Our shouts echoed in the silent street. The career of our play brought us through the dark muddy lanes behind the houses where we ran the gauntlet of the rough tribes from the cottages, to the back doors of the dark dripping gardens where odours arose from the ashpits, to the dark odorous stables where a coachman smoothed and combed the horse or shook music from the buckled harness. When we returned to the street light from the kitchen windows had filled the areas. If my uncle was seen turning the corner we hid in the shadow until we had seen him safely housed. Or if Mangan's sister came out on the doorstep to call her brother in to his tea we watched her from our shadow peer up and down the street. We waited to see whether she would remain or go in and, if she remained, we left our shadow and walked up to Mangan's steps resignedly. She was waiting for us, her figure defined by the light from the half-opened door. Her brother always teased her before he obeyed and I stood by the railings looking at her. Her dress swung as she moved her body and the soft rope of her hair tossed from side to side.
Every morning I lay on the floor in the front parlour watching her door. The blind was pulled down to within an inch of the sash so that I could not be seen. When she came out on the doorstep my heart leaped. I ran to the hall, seized my books and followed her. I kept her brown figure always in my eye and, when we came near the point at which our ways diverged, I quickened my pace and passed her. This happened morning after morning. I had never spoken to her, except for a few casual words, and yet her name was like a summons to all my foolish blood.
Her image accompanied me even in places the most hostile to romance. On Saturday evenings when my aunt went marketing I had to go to carry some of the parcels. We walked through the flaring streets, jostled by drunken men and bargaining women, amid the curses of labourers, the shrill litanies of shop-boys who stood on guard by the barrels of pigs' cheeks, the nasal chanting of street-singers, who sang a come-all-you about O'Donovan Rossa, or a ballad about the troubles in our native land. These noises converged in a single sensation of life for me: I imagined that I bore my chalice safely through a throng of foes. Her name sprang to my lips at moments in strange prayers and praises which I myself did not understand. My eyes were often full of tears (I could not tell why) and at times a flood from my heart seemed to pour itself out into my bosom. I thought little of the future. I did not know whether I would ever speak to her or not or, if I spoke to her, how I could tell her of my confused adoration. But my body was like a harp and her words and gestures were like fingers running upon the wires.
One evening I went into the back drawing-room in which the priest had died. It was a dark rainy evening and there was no sound in the house. Through one of the broken panes I heard the rain impinge upon the earth, the fine incessant needles of water playing in the sodden beds. Some distant lamp or lighted window gleamed below me. I was thankful that I could see so little. All my senses seemed to desire to veil themselves and, feeling that I was about to slip from them, I pressed the palms of my hands together until they trembled, murmuring: "O love! O love!" many times.
At last she spoke to me. When she addressed the first words to me I was so confused that I did not know what to answer. She asked me was I going to Araby. I forgot whether I answered yes or no. It would be a splendid bazaar, she said she would love to go.
"And why can't you?" I asked.
While she spoke she turned a silver bracelet round and round her wrist. She could not go, she said, because there would be a retreat that week in her convent. Her brother and two other boys were fighting for their caps and I was alone at the railings. She held one of the spikes, bowing her head towards me. The light from the lamp opposite our door caught the white curve of her neck, lit up her hair that rested there and, falling, lit up the hand upon the railing. It fell over one side of her dress and caught the white border of a petticoat, just visible as she stood at ease.
"It's well for you," she said.
"If I go," I said, "I will bring you something."
What innumerable follies laid waste my waking and sleeping thoughts after that evening! I wished to annihilate the tedious intervening days. I chafed against the work of school. At night in my bedroom and by day in the classroom her image came between me and the page I strove to read. The syllables of the word Araby were called to me through the silence in which my soul luxuriated and cast an Eastern enchantment over me. I asked for leave to go to the bazaar on Saturday night. My aunt was surprised and hoped it was not some Freemason affair. I answered few questions in class. I watched my master's face pass from amiability to sternness; he hoped I was not beginning to idle. I could not call my wandering thoughts together. I had hardly any patience with the serious work of life which, now that it stood between me and my desire, seemed to me child's play, ugly monotonous child's play.
On Saturday morning I reminded my uncle that I wished to go to the bazaar in the evening. He was fussing at the hallstand, looking for the hat-brush, and answered me curtly:
"Yes, boy, I know."
As he was in the hall I could not go into the front parlour and lie at the window. I left the house in bad humour and walked slowly towards the school. The air was pitilessly raw and already my heart misgave me.
When I came home to dinner my uncle had not yet been home. Still it was early. I sat staring at the clock for some time and. when its ticking began to irritate me, I left the room. I mounted the staircase and gained the upper part of the house. The high cold empty gloomy rooms liberated me and I went from room to room singing. From the front window I saw my companions playing below in the street. Their cries reached me weakened and indistinct and, leaning my forehead against the cool glass, I looked over at the dark house where she lived. I may have stood there for an hour, seeing nothing but the brown-clad figure cast by my imagination, touched discreetly by the lamplight at the curved neck, at the hand upon the railings and at the border below the dress.
When I came downstairs again I found Mrs. Mercer sitting at the fire. She was an old garrulous woman, a pawnbroker's widow, who collected used stamps for some pious purpose. I had to endure the gossip of the tea-table. The meal was prolonged beyond an hour and still my uncle did not come. Mrs. Mercer stood up to go: she was sorry she couldn't wait any longer, but it was after eight o'clock and she did not like to be out late as the night air was bad for her. When she had gone I began to walk up and down the room, clenching my fists. My aunt said:
"I'm afraid you may put off your bazaar for this night of Our Lord."
At nine o'clock I heard my uncle's latchkey in the halldoor. I heard him talking to himself and heard the hallstand rocking when it had received the weight of his overcoat. I could interpret these signs. When he was midway through his dinner I asked him to give me the money to go to the bazaar. He had forgotten.
"The people are in bed and after their first sleep now," he said.
I did not smile. My aunt said to him energetically:
"Can't you give him the money and let him go? You've kept him late enough as it is."
My uncle said he was very sorry he had forgotten. He said he believed in the old saying: "All work and no play makes Jack a dull boy." He asked me where I was going and, when I had told him a second time he asked me did I know The Arab's Farewell to his Steed. When I left the kitchen he was about to recite the opening lines of the piece to my aunt.
I held a florin tightly in my hand as I strode down Buckingham Street towards the station. The sight of the streets thronged with buyers and glaring with gas recalled to me the purpose of my journey. I took my seat in a third-class carriage of a deserted train. After an intolerable delay the train moved out of the station slowly. It crept onward among ruinous houses and over the twinkling river. At Westland Row Station a crowd of people pressed to the carriage doors; but the porters moved them back, saying that it was a special train for the bazaar. I remained alone in the bare carriage. In a few minutes the train drew up beside an improvised wooden platform. I passed out on to the road and saw by the lighted dial of a clock that it was ten minutes to ten. In front of me was a large building which displayed the magical name.
I could not find any sixpenny entrance and, fearing that the bazaar would be closed, I passed in quickly through a turnstile, handing a shilling to a weary-looking man. I found myself in a big hall girdled at half its height by a gallery. Nearly all the stalls were closed and the greater part of the hall was in darkness. I recognised a silence like that which pervades a church after a service. I walked into the centre of the bazaar timidly. A few people were gathered about the stalls which were still open. Before a curtain, over which the words Café Chantant were written in coloured lamps, two men were counting money on a salver. I listened to the fall of the coins.
Remembering with difficulty why I had come I went over to one of the stalls and examined porcelain vases and flowered tea-sets. At the door of the stall a young lady was talking and laughing with two young gentlemen. I remarked their English accents and listened vaguely to their conversation.
"O, I never said such a thing!"
"O, but you did!"
"O, but I didn't!"
"Didn't she say that?"
"Yes. I heard her."
"O, there's a . . . fib!"
Observing me the young lady came over and asked me did I wish to buy anything. The tone of her voice was not encouraging; she seemed to have spoken to me out of a sense of duty. I looked humbly at the great jars that stood like eastern guards at either side of the dark entrance to the stall and murmured:
"No, thank you."
The young lady changed the position of one of the vases and went back to the two young men. They began to talk of the same subject. Once or twice the young lady glanced at me over her shoulder.
I lingered before her stall, though I knew my stay was useless, to make my interest in her wares seem the more real. Then I turned away slowly and walked down the middle of the bazaar. I allowed the two pennies to fall against the sixpence in my pocket. I heard a voice call from one end of the gallery that the light was out. The upper part of the hall was now completely dark.
Gazing up into the darkness I saw myself as a creature driven and derided by vanity; and my eyes burned with anguish and anger.
James Joyce stories
fleursdumal.nl magazine
More in: Joyce, James, Joyce, James
---
James Joyce
(1882-1941)
Clay
The matron had given her leave to go out as soon as the women's tea was over and Maria looked forward to her evening out. The kitchen was spick and span: the cook said you could see yourself in the big copper boilers. The fire was nice and bright and on one of the side-tables were four very big barmbracks. These barmbracks seemed uncut; but if you went closer you would see that they had been cut into long thick even slices and were ready to be handed round at tea. Maria had cut them herself.
Maria was a very, very small person indeed but she had a very long nose and a very long chin. She talked a little through her nose, always soothingly: "Yes, my dear," and "No, my dear." She was always sent for when the women quarrelled Over their tubs and always succeeded in making peace. One day the matron had said to her:
"Maria, you are a veritable peace-maker!"
And the sub-matron and two of the Board ladies had heard the compliment. And Ginger Mooney was always saying what she wouldn't do to the dummy who had charge of the irons if it wasn't for Maria. Everyone was so fond of Maria.
The women would have their tea at six o'clock and she would be able to get away before seven. From Ballsbridge to the Pillar, twenty minutes; from the Pillar to Drumcondra, twenty minutes; and twenty minutes to buy the things. She would be there before eight. She took out her purse with the silver clasps and read again the words A Present from Belfast. She was very fond of that purse because Joe had brought it to her five years before when he and Alphy had gone to Belfast on a Whit-Monday trip. In the purse were two half-crowns and some coppers. She would have five shillings clear after paying tram fare. What a nice evening they would have, all the children singing! Only she hoped that Joe wouldn't come in drunk. He was so different when he took any drink.
Often he had wanted her to go and live with them;-but she would have felt herself in the way (though Joe's wife was ever so nice with her) and she had become accustomed to the life of the laundry. Joe was a good fellow. She had nursed him and Alphy too; and Joe used often say:
"Mamma is mamma but Maria is my proper mother."
After the break-up at home the boys had got her that position in the Dublin by Lamplight laundry, and she liked it. She used to have such a bad opinion of Protestants but now she thought they were very nice people, a little quiet and serious, but still very nice people to live with. Then she had her plants in the conservatory and she liked looking after them. She had lovely ferns and wax-plants and, whenever anyone came to visit her, she always gave the visitor one or two slips from her conservatory. There was one thing she didn't like and that was the tracts on the walks; but the matron was such a nice person to deal with, so genteel.
When the cook told her everything was ready she went into the women's room and began to pull the big bell. In a few minutes the women began to come in by twos and threes, wiping their steaming hands in their petticoats and pulling down the sleeves of their blouses over their red steaming arms. They settled down before their huge mugs which the cook and the dummy filled up with hot tea, already mixed with milk and sugar in huge tin cans. Maria superintended the distribution of the barmbrack and saw that every woman got her four slices. There was a great deal of laughing and joking during the meal. Lizzie Fleming said Maria was sure to get the ring and, though Fleming had said that for so many Hallow Eves, Maria had to laugh and say she didn't want any ring or man either; and when she laughed her grey-green eyes sparkled with disappointed shyness and the tip of her nose nearly met the tip of her chin. Then Ginger Mooney lifted her mug of tea and proposed Maria's health while all the other women clattered with their mugs on the table, and said she was sorry she hadn't a sup of porter to drink it in. And Maria laughed again till the tip of her nose nearly met the tip of her chin and till her minute body nearly shook itself asunder because she knew that Mooney meant well though, of course, she had the notions of a common woman.
But wasn't Maria glad when the women had finished their tea and the cook and the dummy had begun to clear away the tea- things! She went into her little bedroom and, remembering that the next morning was a mass morning, changed the hand of the alarm from seven to six. Then she took off her working skirt and her house-boots and laid her best skirt out on the bed and her tiny dress-boots beside the foot of the bed. She changed her blouse too and, as she stood before the mirror, she thought of how she used to dress for mass on Sunday morning when she was a young girl; and she looked with quaint affection at the diminutive body which she had so often adorned, In spite of its years she found it a nice tidy little body.
When she got outside the streets were shining with rain and she was glad of her old brown waterproof. The tram was full and she had to sit on the little stool at the end of the car, facing all the people, with her toes barely touching the floor. She arranged in her mind all she was going to do and thought how much better it was to be independent and to have your own money in your pocket. She hoped they would have a nice evening. She was sure they would but she could not help thinking what a pity it was Alphy and Joe were not speaking. They were always falling out now but when they were boys together they used to be the best of friends: but such was life.
She got out of her tram at the Pillar and ferreted her way quickly among the crowds. She went into Downes's cake-shop but the shop was so full of people that it was a long time before she could get herself attended to. She bought a dozen of mixed penny cakes, and at last came out of the shop laden with a big bag. Then she thought what else would she buy: she wanted to buy something really nice. They would be sure to have plenty of apples and nuts. It was hard to know what to buy and all she could think of was cake. She decided to buy some plumcake but Downes's plumcake had not enough almond icing on top of it so she went over to a shop in Henry Street. Here she was a long time in suiting herself and the stylish young lady behind the counter, who was evidently a little annoyed by her, asked her was it wedding-cake she wanted to buy. That made Maria blush and smile at the young lady; but the young lady took it all very seriously and finally cut a thick slice of plumcake, parcelled it up and said:
"Two-and-four, please."
She thought she would have to stand in the Drumcondra tram because none of the young men seemed to notice her but an elderly gentleman made room for her. He was a stout gentleman and he wore a brown hard hat; he had a square red face and a greyish moustache. Maria thought he was a colonel-looking gentleman and she reflected how much more polite he was than the young men who simply stared straight before them. The gentleman began to chat with her about Hallow Eve and the rainy weather. He supposed the bag was full of good things for the little ones and said it was only right that the youngsters should enjoy themselves while they were young. Maria agreed with him and favoured him with demure nods and hems. He was very nice with her, and when she was getting out at the Canal Bridge she thanked him and bowed, and he bowed to her and raised his hat and smiled agreeably, and while she was going up along the terrace, bending her tiny head under the rain, she thought how easy it was to know a gentleman even when he has a drop taken.
Everybody said: "0, here's Maria!" when she came to Joe's house. Joe was there, having come home from business, and all the children had their Sunday dresses on. There were two big girls in from next door and games were going on. Maria gave the bag of cakes to the eldest boy, Alphy, to divide and Mrs. Donnelly said it was too good of her to bring such a big bag of cakes and made all the children say:
"Thanks, Maria."
But Maria said she had brought something special for papa and mamma, something they would be sure to like, and she began to look for her plumcake. She tried in Downes's bag and then in the pockets of her waterproof and then on the hallstand but nowhere could she find it. Then she asked all the children had any of them eaten it — by mistake, of course — but the children all said no and looked as if they did not like to eat cakes if they were to be accused of stealing. Everybody had a solution for the mystery and Mrs. Donnelly said it was plain that Maria had left it behind her in the tram. Maria, remembering how confused the gentleman with the greyish moustache had made her, coloured with shame and vexation and disappointment. At the thought of the failure of her little surprise and of the two and fourpence she had thrown away for nothing she nearly cried outright.
But Joe said it didn't matter and made her sit down by the fire. He was very nice with her. He told her all that went on in his office, repeating for her a smart answer which he had made to the manager. Maria did not understand why Joe laughed so much over the answer he had made but she said that the manager must have been a very overbearing person to deal with. Joe said he wasn't so bad when you knew how to take him, that he was a decent sort so long as you didn't rub him the wrong way. Mrs. Donnelly played the piano for the children and they danced and sang. Then the two next-door girls handed round the nuts. Nobody could find the nutcrackers and Joe was nearly getting cross over it and asked how did they expect Maria to crack nuts without a nutcracker. But Maria said she didn't like nuts and that they weren't to bother about her. Then Joe asked would she take a bottle of stout and Mrs. Donnelly said there was port wine too in the house if she would prefer that. Maria said she would rather they didn't ask her to take anything: but Joe insisted.
So Maria let him have his way and they sat by the fire talking over old times and Maria thought she would put in a good word for Alphy. But Joe cried that God might strike him stone dead if ever he spoke a word to his brother again and Maria said she was sorry she had mentioned the matter. Mrs. Donnelly told her husband it was a great shame for him to speak that way of his own flesh and blood but Joe said that Alphy was no brother of his and there was nearly being a row on the head of it. But Joe said he would not lose his temper on account of the night it was and asked his wife to open some more stout. The two next-door girls had arranged some Hallow Eve games and soon everything was merry again. Maria was delighted to see the children so merry and Joe and his wife in such good spirits. The next-door girls put some saucers on the table and then led the children up to the table, blindfold. One got the prayer-book and the other three got the water; and when one of the next-door girls got the ring Mrs. Donnelly shook her finger at the blushing girl as much as to say: 0, I know all about it! They insisted then on blindfolding Maria and leading her up to the table to see what she would get; and, while they were putting on the bandage, Maria laughed and laughed again till the tip of her nose nearly met the tip of her chin.
They led her up to the table amid laughing and joking and she put her hand out in the air as she was told to do. She moved her hand about here and there in the air and descended on one of the saucers. She felt a soft wet substance with her fingers and was surprised that nobody spoke or took off her bandage. There was a pause for a few seconds; and then a great deal of scuffling and whispering. Somebody said something about the garden, and at last Mrs. Donnelly said something very cross to one of the next-door girls and told her to throw it out at once: that was no play. Maria understood that it was wrong that time and so she had to do it over again: and this time she got the prayer-book.
After that Mrs. Donnelly played Miss McCloud's Reel for the children and Joe made Maria take a glass of wine. Soon they were all quite merry again and Mrs. Donnelly said Maria would enter a convent before the year was out because she had got the prayer-book. Maria had never seen Joe so nice to her as he was that night, so full of pleasant talk and reminiscences. She said they were all very good to her.
At last the children grew tired and sleepy and Joe asked Maria would she not sing some little song before she went, one of the old songs. Mrs. Donnelly said "Do, please, Maria!" and so Maria had to get up and stand beside the piano. Mrs. Donnelly bade the children be quiet and listen to Maria's song. Then she played the prelude and said "Now, Maria!" and Maria, blushing very much began to sing in a tiny quavering voice. She sang I Dreamt that I Dwelt, and when she came to the second verse she sang again:
I dreamt that I dwelt in marble halls With vassals and serfs at my side, And of all who assembled within those walls That I was the hope and the pride.
I had riches too great to count; could boast Of a high ancestral name, But I also dreamt, which pleased me most, That you loved me still the same.
But no one tried to show her her mistake; and when she had ended her song Joe was very much moved. He said that there was no time like the long ago and no music for him like poor old Balfe, whatever other people might say; and his eyes filled up so much with tears that he could not find what he was looking for and in the end he had to ask his wife to tell him where the corkscrew was.
James Joyce stories
kempis.nl poetry magazine
More in: Joyce, James, Joyce, James
---
James Joyce
(1882-1941)
After The Race
The cars came scudding in towards Dublin, running evenly like pellets in the groove of the Naas Road. At the crest of the hill at Inchicore sightseers had gathered in clumps to watch the cars careering homeward and through this channel of poverty and inaction the Continent sped its wealth and industry. Now and again the clumps of people raised the cheer of the gratefully oppressed. Their sympathy, however, was for the blue cars, the cars of their friends, the French.
The French, moreover, were virtual victors. Their team had finished solidly; they had been placed second and third and the driver of the winning German car was reported a Belgian. Each blue car, therefore, received a double measure of welcome as it topped the crest of the hill and each cheer of welcome was acknowledged with smiles and nods by those in the car. In one of these trimly built cars was a party of four young men whose spirits seemed to be at present well above the level of successful Gallicism: in fact, these four young men were almost hilarious. They were Charles Segouin, the owner of the car; Andre Riviere, a young electrician of Canadian birth; a huge Hungarian named Villona and a neatly groomed young man named Doyle. Segouin was in good humour because he had unexpectedly received some orders in advance (he was about to start a motor establishment in Paris) and Riviere was in good humour because he was to be appointed manager of the establishment; these two young men (who were cousins) were also in good humour because of the success of the French cars. Villona was in good humour because he had had a very satisfactory luncheon; and besides he was an optimist by nature. The fourth member of the party, however, was too excited to be genuinely happy.
He was about twenty-six years of age, with a soft, light brown moustache and rather innocent-looking grey eyes. His father, who had begun life as an advanced Nationalist, had modified his views early. He had made his money as a butcher in Kingstown and by opening shops in Dublin and in the suburbs he had made his money many times over. He had also been fortunate enough to secure some of the police contracts and in the end he had become rich enough to be alluded to in the Dublin newspapers as a merchant prince. He had sent his son to England to be educated in a big Catholic college and had afterwards sent him to Dublin University to study law. Jimmy did not study very earnestly and took to bad courses for a while. He had money and he was popular; and he divided his time curiously between musical and motoring circles. Then he had been sent for a term to Cambridge to see a little life. His father, remonstrative, but covertly proud of the excess, had paid his bills and brought him home. It was at Cambridge that he had met Segouin. They were not much more than acquaintances as yet but Jimmy found great pleasure in the society of one who had seen so much of the world and was reputed to own some of the biggest hotels in France. Such a person (as his father agreed) was well worth knowing, even if he had not been the charming companion he was. Villona was entertaining also, a brilliant pianist, but, unfortunately, very poor.
The car ran on merrily with its cargo of hilarious youth. The two cousins sat on the front seat; Jimmy and his Hungarian friend sat behind. Decidedly Villona was in excellent spirits; he kept up a deep bass hum of melody for miles of the road The Frenchmen flung their laughter and light words over their shoulders and often Jimmy had to strain forward to catch the quick phrase. This was not altogether pleasant for him, as he had nearly always to make a deft guess at the meaning and shout back a suitable answer in the face of a high wind. Besides Villona's humming would confuse anybody; the noise of the car, too.
Rapid motion through space elates one; so does notoriety; so does the possession of money. These were three good reasons for Jimmy's excitement. He had been seen by many of his friends that day in the company of these Continentals. At the control Segouin had presented him to one of the French competitors and, in answer to his confused murmur of compliment, the swarthy face of the driver had disclosed a line of shining white teeth. It was pleasant after that honour to return to the profane world of spectators amid nudges and significant looks. Then as to money, he really had a great sum under his control. Segouin, perhaps, would not think it a great sum but Jimmy who, in spite of temporary errors, was at heart the inheritor of solid instincts knew well with what difficulty it had been got together. This knowledge had previously kept his bills within the limits of reasonable recklessness, and if he had been so conscious of the labour latent in money when there had been question merely of some freak of the higher intelligence, how much more so now when he was about to stake the greater part of his substance! It was a serious thing for him.
Of course, the investment was a good one and Segouin had managed to give the impression that it was by a favour of friendship the mite of Irish money was to be included in the capital of the concern. Jimmy had a respect for his father's shrewdness in business matters and in this case it had been his father who had first suggested the investment; money to be made in the motor business, pots of money. Moreover Segouin had the unmistakable air of wealth. Jimmy set out to translate into days' work that lordly car in which he sat. How smoothly it ran. In what style they had come careering along the country roads! The journey laid a magical finger on the genuine pulse of life and gallantly the machinery of human nerves strove to answer the bounding courses of the swift blue animal.
They drove down Dame Street. The street was busy with unusual traffic, loud with the horns of motorists and the gongs of impatient tram-drivers. Near the Bank Segouin drew up and Jimmy and his friend alighted. A little knot of people collected on the footpath to pay homage to the snorting motor. The party was to dine together that evening in Segouin's hotel and, meanwhile, Jimmy and his friend, who was staying with him, were to go home to dress. The car steered out slowly for Grafton Street while the two young men pushed their way through the knot of gazers. They walked northward with a curious feeling of disappointment in the exercise, while the city hung its pale globes of light above them in a haze of summer evening.
In Jimmy's house this dinner had been pronounced an occasion. A certain pride mingled with his parents' trepidation, a certain eagerness, also, to play fast and loose for the names of great foreign cities have at least this virtue. Jimmy, too, looked very well when he was dressed and, as he stood in the hall giving a last equation to the bows of his dress tie, his father may have felt even commercially satisfied at having secured for his son qualities often unpurchaseable. His father, therefore, was unusually friendly with Villona and his manner expressed a real respect for foreign accomplishments; but this subtlety of his host was probably lost upon the Hungarian, who was beginning to have a sharp desire for his dinner.
The dinner was excellent, exquisite. Segouin, Jimmy decided, had a very refined taste. The party was increased by a young Englishman named Routh whom Jimmy had seen with Segouin at Cambridge. The young men supped in a snug room lit by electric candle lamps. They talked volubly and with little reserve. Jimmy, whose imagination was kindling, conceived the lively youth of the Frenchmen twined elegantly upon the firm framework of the Englishman's manner. A graceful image of his, he thought, and a just one. He admired the dexterity with which their host directed the conversation. The five young men had various tastes and their tongues had been loosened. Villona, with immense respect, began to discover to the mildly surprised Englishman the beauties of the English madrigal, deploring the loss of old instruments. Riviere, not wholly ingenuously, undertook to explain to Jimmy the triumph of the French mechanicians. The resonant voice of the Hungarian was about to prevail in ridicule of the spurious lutes of the romantic painters when Segouin shepherded his party into politics. Here was congenial ground for all. Jimmy, under generous influences, felt the buried zeal of his father wake to life within him: he aroused the torpid Routh at last. The room grew doubly hot and Segouin's task grew harder each moment: there was even danger of personal spite. The alert host at an opportunity lifted his glass to Humanity and, when the toast had been drunk, he threw open a window significantly.
That night the city wore the mask of a capital. The five young men strolled along Stephen's Green in a faint cloud of aromatic smoke. They talked loudly and gaily and their cloaks dangled from their shoulders. The people made way for them. At the corner of Grafton Street a short fat man was putting two handsome ladies on a car in charge of another fat man. The car drove off and the short fat man caught sight of the party.
"Andre."
"It's Farley!"
A torrent of talk followed. Farley was an American. No one knew very well what the talk was about. Villona and Riviere were the noisiest, but all the men were excited. They got up on a car, squeezing themselves together amid much laughter. They drove by the crowd, blended now into soft colours, to a music of merry bells. They took the train at Westland Row and in a few seconds, as it seemed to Jimmy, they were walking out of Kingstown Station. The ticket-collector saluted Jimmy; he was an old man:
"Fine night, sir!"
It was a serene summer night; the harbour lay like a darkened mirror at their feet. They proceeded towards it with linked arms, singing Cadet Roussel in chorus, stamping their feet at every:
"Ho! Ho! Hohe, vraiment!"
They got into a rowboat at the slip and made out for the American's yacht. There was to be supper, music, cards. Villona said with conviction:
"It is delightful!"
There was a yacht piano in the cabin. Villona played a waltz for Farley and Riviere, Farley acting as cavalier and Riviere as lady. Then an impromptu square dance, the men devising original figures. What merriment! Jimmy took his part with a will; this was seeing life, at least. Then Farley got out of breath and cried "Stop!" A man brought in a light supper, and the young men sat down to it for form's sake. They drank, however: it was Bohemian. They drank Ireland, England, France, Hungary, the United States of America. Jimmy made a speech, a long speech, Villona saying: "Hear! hear!" whenever there was a pause. There was a great clapping of hands when he sat down. It must have been a good speech. Farley clapped him on the back and laughed loudly. What jovial fellows! What good company they were!
Cards! cards! The table was cleared. Villona returned quietly to his piano and played voluntaries for them. The other men played game after game, flinging themselves boldly into the adventure. They drank the health of the Queen of Hearts and of the Queen of Diamonds. Jimmy felt obscurely the lack of an audience: the wit was flashing. Play ran very high and paper began to pass. Jimmy did not know exactly who was winning but he knew that he was losing. But it was his own fault for he frequently mistook his cards and the other men had to calculate his I.O.U.'s for him. They were devils of fellows but he wished they would stop: it was getting late. Someone gave the toast of the yacht The Belle of Newport and then someone proposed one great game for a finish.
The piano had stopped; Villona must have gone up on deck. It was a terrible game. They stopped just before the end of it to drink for luck. Jimmy understood that the game lay between Routh and Segouin. What excitement! Jimmy was excited too; he would lose, of course. How much had he written away? The men rose to their feet to play the last tricks. talking and gesticulating. Routh won. The cabin shook with the young men's cheering and the cards were bundled together. They began then to gather in what they had won. Farley and Jimmy were the heaviest losers.
He knew that he would regret in the morning but at present he was glad of the rest, glad of the dark stupor that would cover up his folly. He leaned his elbows on the table and rested his head between his hands, counting the beats of his temples. The cabin door opened and he saw the Hungarian standing in a shaft of grey light:
"Daybreak, gentlemen!"
James Joyce: After the race
kempis.nl poetry magazine
More in: Joyce, James, Joyce, James
---
James Joyce
(1882-1941)
A Mother
Mr Holohan, assistant secretary of the Eire Abu Society, had been walking up and down Dublin for nearly a month, with his hands and pockets full of dirty pieces of paper, arranging about the series of concerts. He had a game leg and for this his friends called him Hoppy Holohan. He walked up and down constantly, stood by the hour at street corners arguing the point and made notes; but in the end it was Mrs. Kearney who arranged everything.
Miss Devlin had become Mrs. Kearney out of spite. She had been educated in a high-class convent, where she had learned French and music. As she was naturally pale and unbending in manner she made few friends at school. When she came to the age of marriage she was sent out to many houses, where her playing and ivory manners were much admired. She sat amid the chilly circle of her accomplishments, waiting for some suitor to brave it and offer her a brilliant life. But the young men whom she met were ordinary and she gave them no encouragement, trying to console her romantic desires by eating a great deal of Turkish Delight in secret. However, when she drew near the limit and her friends began to loosen their tongues about her, she silenced them by marrying Mr. Kearney, who was a bootmaker on Ormond Quay.
He was much older than she. His conversation, which was serious, took place at intervals in his great brown beard. After the first year of married life, Mrs. Kearney perceived that such a man would wear better than a romantic person, but she never put her own romantic ideas away. He was sober, thrifty and pious; he went to the altar every first Friday, sometimes with her, oftener by himself. But she never weakened in her religion and was a good wife to him. At some party in a strange house when she lifted her eyebrow ever so slightly he stood up to take his leave and, when his cough troubled him, she put the eider-down quilt over his feet and made a strong rum punch. For his part, he was a model father. By paying a small sum every week into a society, he ensured for both his daughters a dowry of one hundred pounds each when they came to the age of twenty-four. He sent the older daughter, Kathleen, to a good convent, where she learned French and music, and afterward paid her fees at the Academy. Every year in the month of July Mrs. Kearney found occasion to say to some friend:
"My good man is packing us off to Skerries for a few weeks."
If it was not Skerries it was Howth or Greystones.
When the Irish Revival began to be appreciable Mrs. Kearney determined to take advantage of her daughter's name and brought an Irish teacher to the house. Kathleen and her sister sent Irish picture postcards to their friends and these friends sent back other Irish picture postcards. On special Sundays, when Mr. Kearney went with his family to the pro-cathedral, a little crowd of people would assemble after mass at the corner of Cathedral Street. They were all friends of the Kearneys, musical friends or Nationalist friends; and, when they had played every little counter of gossip, they shook hands with one another all together, laughing at the crossing of so many hands, and said good-bye to one another in Irish. Soon the name of Miss Kathleen Kearney began to be heard often on people's lips. People said that she was very clever at music and a very nice girl and, moreover, that she was a believer in the language movement. Mrs. Kearney was well content at this. Therefore she was not surprised when one day Mr. Holohan came to her and proposed that her daughter should be the accompanist at a series of four grand concerts which his Society was going to give in the Antient Concert Rooms. She brought him into the drawing-room, made him sit down and brought out the decanter and the silver biscuit-barrel. She entered heart and soul into the details of the enterprise, advised and dissuaded: and finally a contract was drawn up by which Kathleen was to receive eight guineas for her services as accompanist at the four grand concerts.
As Mr. Holohan was a novice in such delicate matters as the wording of bills and the disposing of items for a programme, Mrs. Kearney helped him. She had tact. She knew what artistes should go into capitals and what artistes should go into small type. She knew that the first tenor would not like to come on after Mr. Meade's comic turn. To keep the audience continually diverted she slipped the doubtful items in between the old favourites. Mr. Holohan called to see her every day to have her advice on some point. She was invariably friendly and advising, homely, in fact. She pushed the decanter towards him, saying:
"Now, help yourself, Mr. Holohan!"
And while he was helping himself she said:
"Don't be afraid! Don t be afraid of it! "
Everything went on smoothly. Mrs. Kearney bought some lovely blush-pink charmeuse in Brown Thomas's to let into the front of Kathleen's dress. It cost a pretty penny; but there are occasions when a little expense is justifiable. She took a dozen of two-shilling tickets for the final concert and sent them to those friends who could not be trusted to come otherwise. She forgot nothing, and, thanks to her, everything that was to be done was done.
The concerts were to be on Wednesday, Thursday, Friday and Saturday. When Mrs. Kearney arrived with her daughter at the Antient Concert Rooms on Wednesday night she did not like the look of things. A few young men, wearing bright blue badges in their coats, stood idle in the vestibule; none of them wore evening dress. She passed by with her daughter and a quick glance through the open door of the hall showed her the cause of the stewards' idleness. At first she wondered had she mistaken the hour. No, it was twenty minutes to eight.
In the dressing-room behind the stage she was introduced to the secretary of the Society, Mr. Fitzpatrick. She smiled and shook his hand. He was a little man, with a white, vacant face. She noticed that he wore his soft brown hat carelessly on the side of his head and that his accent was flat. He held a programme in his hand, and, while he was talking to her, he chewed one end of it into a moist pulp. He seemed to bear disappointments lightly. Mr. Holohan came into the dressingroom every few minutes with reports from the box-office. The artistes talked among themselves nervously, glanced from time to time at the mirror and rolled and unrolled their music. When it was nearly half-past eight, the few people in the hall began to express their desire to be entertained. Mr. Fitzpatrick came in, smiled vacantly at the room, and said:
"Well now, ladies and gentlemen. I suppose we'd better open the ball."
Mrs. Kearney rewarded his very flat final syllable with a quick stare of contempt, and then said to her daughter encouragingly:
"Are you ready, dear?"
When she had an opportunity, she called Mr. Holohan aside and asked him to tell her what it meant. Mr. Holohan did not know what it meant. He said that the committee had made a mistake in arranging for four concerts: four was too many.
"And the artistes!" said Mrs. Kearney. "Of course they are doing their best, but really they are not good."
Mr. Holohan admitted that the artistes were no good but the committee, he said, had decided to let the first three concerts go as they pleased and reserve all the talent for Saturday night. Mrs. Kearney said nothing, but, as the mediocre items followed one another on the platform and the few people in the hall grew fewer and fewer, she began to regret that she had put herself to any expense for such a concert. There was something she didn't like in the look of things and Mr. Fitzpatrick's vacant smile irritated her very much. However, she said nothing and waited to see how it would end. The concert expired shortly before ten, and everyone went home quickly.
The concert on Thursday night was better attended, but Mrs. Kearney saw at once that the house was filled with paper. The audience behaved indecorously, as if the concert were an informal dress rehearsal. Mr. Fitzpatrick seemed to enjoy himself; he was quite unconscious that Mrs. Kearney was taking angry note of his conduct. He stood at the edge of the screen, from time to time jutting out his head and exchanging a laugh with two friends in the corner of the balcony. In the course of the evening, Mrs. Kearney learned that the Friday concert was to be abandoned and that the committee was going to move heaven and earth to secure a bumper house on Saturday night. When she heard this, she sought out Mr. Holohan. She buttonholed him as he was limping out quickly with a glass of lemonade for a young lady and asked him was it true. Yes. it was true.
"But, of course, that doesn't alter the contract," she said. "The contract was for four concerts."
Mr. Holohan seemed to be in a hurry; he advised her to speak to Mr. Fitzpatrick. Mrs. Kearney was now beginning to be alarmed. She called Mr. Fitzpatrick away from his screen and told him that her daughter had signed for four concerts and that, of course, according to the terms of the contract, she should receive the sum originally stipulated for, whether the society gave the four concerts or not. Mr. Fitzpatrick, who did not catch the point at issue very quickly, seemed unable to resolve the difficulty and said that he would bring the matter before the committee. Mrs. Kearney's anger began to flutter in her cheek and she had all she could do to keep from asking:
"And who is the Cometty pray?"
But she knew that it would not be ladylike to do that: so she was silent.
Little boys were sent out into the principal streets of Dublin early on Friday morning with bundles of handbills. Special puffs appeared in all the evening papers, reminding the music loving public of the treat which was in store for it on the following evening. Mrs. Kearney was somewhat reassured, but be thought well to tell her husband part of her suspicions. He listened carefully and said that perhaps it would be better if he went with her on Saturday night. She agreed. She respected her husband in the same way as she respected the General Post Office, as something large, secure and fixed; and though she knew the small number of his talents she appreciated his abstract value as a male. She was glad that he had suggested coming with her. She thought her plans over.
The night of the grand concert came. Mrs. Kearney, with her husband and daughter, arrived at the Ancient Concert Rooms three-quarters of an hour before the time at which the concert was to begin. By ill luck it was a rainy evening. Mrs. Kearney placed her daughter's clothes and music in charge of her husband and went all over the building looking for Mr. Holohan or Mr. Fitzpatrick. She could find neither. She asked the stewards was any member of the committee in the hall and, after a great deal of trouble, a steward brought out a little woman named Miss Beirne to whom Mrs. Kearney explained that she wanted to see one of the secretaries. Miss Beirne expected them any minute and asked could she do anything. Mrs. Kearney looked searchingly at the oldish face which was screwed into an expression of trustfulness and enthusiasm and answered:
"No, thank you!"
The little woman hoped they would have a good house. She looked out at the rain until the melancholy of the wet street effaced all the trustfulness and enthusiasm from her twisted features. Then she gave a little sigh and said:
"Ah, well! We did our best, the dear knows."
Mrs. Kearney had to go back to the dressing-room.
The artistes were arriving. The bass and the second tenor had already come. The bass, Mr. Duggan, was a slender young man with a scattered black moustache. He was the son of a hall porter in an office in the city and, as a boy, he had sung prolonged bass notes in the resounding hall. From this humble state he had raised himself until he had become a first-rate artiste. He had appeared in grand opera. One night, when an operatic artiste had fallen ill, he had undertaken the part of the king in the opera of Maritana at the Queen's Theatre. He sang his music with great feeling and volume and was warmly welcomed by the gallery; but, unfortunately, he marred the good impression by wiping his nose in his gloved hand once or twice out of thoughtlessness. He was unassuming and spoke little. He said yous so softly that it passed unnoticed and he never drank anything stronger than milk for his voice's sake. Mr. Bell, the second tenor, was a fair-haired little man who competed every year for prizes at the Feis Ceoil. On his fourth trial he had been awarded a bronze medal. He was extremely nervous and extremely jealous of other tenors and he covered his nervous jealousy with an ebullient friendliness. It was his humour to have people know what an ordeal a concert was to him. Therefore when he saw Mr. Duggan he went over to him and asked:
"Are you in it too? "
"Yes," said Mr. Duggan.
Mr. Bell laughed at his fellow-sufferer, held out his hand and said:
"Shake!"
Mrs. Kearney passed by these two young men and went to the edge of the screen to view the house. The seats were being filled up rapidly and a pleasant noise circulated in the auditorium. She came back and spoke to her husband privately. Their conversation was evidently about Kathleen for they both glanced at her often as she stood chatting to one of her Nationalist friends, Miss Healy, the contralto. An unknown solitary woman with a pale face walked through the room. The women followed with keen eyes the faded blue dress which was stretched upon a meagre body. Someone said that she was Madam Glynn, the soprano.
"I wonder where did they dig her up," said Kathleen to Miss Healy. "I'm sure I never heard of her."
Miss Healy had to smile. Mr. Holohan limped into the dressing-room at that moment and the two young ladies asked him who was the unknown woman. Mr. Holohan said that she was Madam Glynn from London. Madam Glynn took her stand in a corner of the room, holding a roll of music stiffly before her and from time to time changing the direction of her startled gaze. The shadow took her faded dress into shelter but fell revengefully into the little cup behind her collar-bone. The noise of the hall became more audible. The first tenor and the baritone arrived together. They were both well dressed, stout and complacent and they brought a breath of opulence among the company.
Mrs. Kearney brought her daughter over to them, and talked to them amiably. She wanted to be on good terms with them but, while she strove to be polite, her eyes followed Mr. Holohan in his limping and devious courses. As soon as she could she excused herself and went out after him.
"Mr. Holohan, I want to speak to you for a moment," she said.
They went down to a discreet part of the corridor. Mrs Kearney asked him when was her daughter going to be paid. Mr. Holohan said that Mr. Fitzpatrick had charge of that. Mrs. Kearney said that she didn't know anything about Mr. Fitzpatrick. Her daughter had signed a contract for eight guineas and she would have to be paid. Mr. Holohan said that it wasn't his business.
"Why isn't it your business?" asked Mrs. Kearney. "Didn't you yourself bring her the contract? Anyway, if it's not your business it's my business and I mean to see to it."
"You'd better speak to Mr. Fitzpatrick," said Mr. Holohan distantly.
"I don't know anything about Mr. Fitzpatrick," repeated Mrs. Kearney. "I have my contract, and I intend to see that it is carried out."
When she came back to the dressing-room her cheeks were slightly suffused. The room was lively. Two men in outdoor dress had taken possession of the fireplace and were chatting familiarly with Miss Healy and the baritone. They were the Freeman man and Mr. O'Madden Burke. The Freeman man had come in to say that he could not wait for the concert as he had to report the lecture which an American priest was giving in the Mansion House. He said they were to leave the report for him at the Freeman office and he would see that it went in. He was a grey-haired man, with a plausible voice and careful manners. He held an extinguished cigar in his hand and the aroma of cigar smoke floated near him. He had not intended to stay a moment because concerts and artistes bored him considerably but he remained leaning against the mantelpiece. Miss Healy stood in front of him, talking and laughing. He was old enough to suspect one reason for her politeness but young enough in spirit to turn the moment to account. The warmth, fragrance and colour of her body appealed to his senses. He was pleasantly conscious that the bosom which he saw rise and fall slowly beneath him rose and fell at that moment for him, that the laughter and fragrance and wilful glances were his tribute. When he could stay no longer he took leave of her regretfully.
"O'Madden Burke will write the notice," he explained to Mr. Holohan, "and I'll see it in."
"Thank you very much, Mr. Hendrick," said Mr. Holohan, "you'll see it in, I know. Now, won't you have a little something before you go?"
"I don't mind," said Mr. Hendrick.
The two men went along some tortuous passages and up a dark staircase and came to a secluded room where one of the stewards was uncorking bottles for a few gentlemen. One of these gentlemen was Mr. O'Madden Burke, who had found out the room by instinct. He was a suave, elderly man who balanced his imposing body, when at rest, upon a large silk umbrella. His magniloquent western name was the moral umbrella upon which he balanced the fine problem of his finances. He was widely respected.
While Mr. Holohan was entertaining the Freeman man Mrs. Kearney was speaking so animatedly to her husband that he had to ask her to lower her voice. The conversation of the others in the dressing-room had become strained. Mr. Bell, the first item, stood ready with his music but the accompanist made no sign. Evidently something was wrong. Mr. Kearney looked straight before him, stroking his beard, while Mrs. Kearney spoke into Kathleen's ear with subdued emphasis. From the hall came sounds of encouragement, clapping and stamping of feet. The first tenor and the baritone and Miss Healy stood together, waiting tranquilly, but Mr. Bell's nerves were greatly agitated because he was afraid the audience would think that he had come late.
Mr. Holohan and Mr. O'Madden Burke came into the room In a moment Mr. Holohan perceived the hush. He went over to Mrs. Kearney and spoke with her earnestly. While they were speaking the noise in the hall grew louder. Mr. Holohan became very red and excited. He spoke volubly, but Mrs. Kearney said curtly at intervals:
"She won't go on. She must get her eight guineas."
Mr. Holohan pointed desperately towards the hall where the audience was clapping and stamping. He appealed to Mr Kearney and to Kathleen. But Mr. Kearney continued to stroke his beard and Kathleen looked down, moving the point of her new shoe: it was not her fault. Mrs. Kearney repeated:
"She won't go on without her money."
After a swift struggle of tongues Mr. Holohan hobbled out in haste. The room was silent. When the strain of the silence had become somewhat painful Miss Healy said to the baritone:
"Have you seen Mrs. Pat Campbell this week?"
The baritone had not seen her but he had been told that she was very fine. The conversation went no further. The first tenor bent his head and began to count the links of the gold chain which was extended across his waist, smiling and humming random notes to observe the effect on the frontal sinus. From time to time everyone glanced at Mrs. Kearney.
The noise in the auditorium had risen to a clamour when Mr. Fitzpatrick burst into the room, followed by Mr. Holohan who was panting. The clapping and stamping in the hall were punctuated by whistling. Mr. Fitzpatrick held a few banknotes in his hand. He counted out four into Mrs. Kearney's hand and said she would get the other half at the interval. Mrs. Kearney said:
"This is four shillings short."
But Kathleen gathered in her skirt and said: "Now. Mr. Bell," to the first item, who was shaking like an aspen. The singer and the accompanist went out together. The noise in hall died away. There was a pause of a few seconds: and then the piano was heard.
The first part of the concert was very successful except for Madam Glynn's item. The poor lady sang Killarney in a bodiless gasping voice, with all the old-fashioned mannerisms of intonation and pronunciation which she believed lent elegance to her singing. She looked as if she had been resurrected from an old stage-wardrobe and the cheaper parts of the hall made fun of her high wailing notes. The first tenor and the contralto, however, brought down the house. Kathleen played a selection of Irish airs which was generously applauded. The first part closed with a stirring patriotic recitation delivered by a young lady who arranged amateur theatricals. It was deservedly applauded; and, when it was ended, the men went out for the interval, content.
All this time the dressing-room was a hive of excitement. In one corner were Mr. Holohan, Mr. Fitzpatrick, Miss Beirne, two of the stewards, the baritone, the bass, and Mr. O'Madden Burke. Mr. O'Madden Burke said it was the most scandalous exhibition he had ever witnessed. Miss Kathleen Kearney's musical career was ended in Dublin after that, he said. The baritone was asked what did he think of Mrs. Kearney's conduct. He did not like to say anything. He had been paid his money and wished to be at peace with men. However, he said that Mrs. Kearney might have taken the artistes into consideration. The stewards and the secretaries debated hotly as to what should be done when the interval came.
"I agree with Miss Beirne," said Mr. O'Madden Burke. "Pay her nothing."
In another corner of the room were Mrs. Kearney and he: husband, Mr. Bell, Miss Healy and the young lady who had to recite the patriotic piece. Mrs. Kearney said that the Committee had treated her scandalously. She had spared neither trouble nor expense and this was how she was repaid.
They thought they had only a girl to deal with and that therefore, they could ride roughshod over her. But she would show them their mistake. They wouldn't have dared to have treated her like that if she had been a man. But she would see that her daughter got her rights: she wouldn't be fooled. If they didn't pay her to the last farthing she would make Dublin ring. Of course she was sorry for the sake of the artistes. But what else could she do? She appealed to the second tenor who said he thought she had not been well treated. Then she appealed to Miss Healy. Miss Healy wanted to join the other group but she did not like to do so because she was a great friend of Kathleen's and the Kearneys had often invited her to their house.
As soon as the first part was ended Mr. Fitzpatrick and Mr. Holohan went over to Mrs. Kearney and told her that the other four guineas would be paid after the committee meeting on the following Tuesday and that, in case her daughter did not play for the second part, the committee would consider the contract broken and would pay nothing.
"I haven't seen any committee," said Mrs. Kearney angrily. "My daughter has her contract. She will get four pounds eight into her hand or a foot she won't put on that platform."
"I'm surprised at you, Mrs. Kearney," said Mr. Holohan. "I never thought you would treat us this way."
"And what way did you treat me?" asked Mrs. Kearney.
Her face was inundated with an angry colour and she looked as if she would attack someone with her hands.
"I'm asking for my rights." she said.
You might have some sense of decency," said Mr. Holohan.
"Might I, indeed? . . . And when I ask when my daughter is going to be paid I can't get a civil answer."
She tossed her head and assumed a haughty voice:
"You must speak to the secretary. It's not my business. I'm a great fellow fol-the-diddle-I-do."
"I thought you were a lady," said Mr. Holohan, walking away from her abruptly.
After that Mrs. Kearney's conduct was condemned on all hands: everyone approved of what the committee had done. She stood at the door, haggard with rage, arguing with her husband and daughter, gesticulating with them. She waited until it was time for the second part to begin in the hope that the secretaries would approach her. But Miss Healy had kindly consented to play one or two accompaniments. Mrs. Kearney had to stand aside to allow the baritone and his accompanist to pass up to the platform. She stood still for an instant like an angry stone image and, when the first notes of the song struck her ear, she caught up her daughter's cloak and said to her husband:
"Get a cab!"
He went out at once. Mrs. Kearney wrapped the cloak round her daughter and followed him. As she passed through the doorway she stopped and glared into Mr. Holohan's face.
"I'm not done with you yet," she said.
"But I'm done with you," said Mr. Holohan.
Kathleen followed her mother meekly. Mr. Holohan began to pace up and down the room, in order to cool himself for he his skin on fire.
"That's a nice lady!" he said. "O, she's a nice lady!"
"You did the proper thing, Holohan," said Mr. O'Madden Burke, poised upon his umbrella in approval.
James Joyce: A Mother
kempis.nl poetry magazine
More in: Archive I-J, Joyce, James, Joyce, James
---
Older Entries »
Thank you for reading FLEURSDUMAL.NL - magazine for art & literature