# Music Archive
·
Kunstenfestival Watou 2018 nog t/m 2 september
·
Boekpresentatie: Nicht verloren laufen met lino's van Walter Kerkhofs en Ivo van Leeuwen
·
Michelle Witen: James Joyce and Absolute Music
·
Out now: Kerouac on Record. A Literary Soundtrack
·
G. K. Chesterton: The Strange Music
·
Thomas Campion: From The Fourth Booke of Ayres
·
Schubert's Winter Journey. Anatomy of an Obsession by Ian Bostridge
·
Wereldberoemd ballet 'Romeo en Julia' van Sergei Prokofiev in Nederlandse Theaters
·
Daniel Kane: "Do You Have a Band?". Poetry and Punk Rock in New York City
·
INCUBATE WILL NOT CONTINUE IN 2017
·
INCUBATE – 10/11 December 2016 – an annual celebration of cutting-edge culture
·
INCUBATE 2016 FESTIVAL
Elke zomer opnieuw slaat het Kunstenfestival van Watou haar tenten op in het gelijknamige kunstdorpje aan de Franse grens.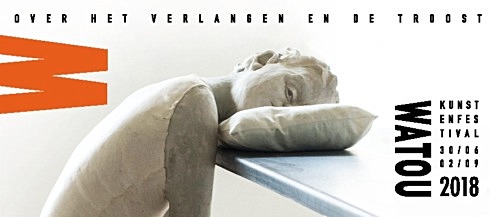 Dichters en beeldend kunstenaars, aanstormend talent en gevestigde waarden, kunstwerken uit binnen- en uit buitenland strijken er neer en vormen een bijzonder kunstenparcours. Het dorp is de setting en biedt een tiental karakteristieke locaties als tentoonstellingsruimte: een voormalig klooster, een oude boerderij of de kelder van een brouwerij. De wisselwerking tussen die verrassende, nostalgische ruimtes met hedendaagse beeldende kunst en poëzie zorgt telkens weer voor een unieke kunstbeleving. Zomeren in Watou is dan ook prikkelen en onthaasten tegelijk. Kleine momenten van gelukzaligheid.
Iedere editie van het Kunstenfestival kadert in een ander thema, waarrond intendant Jan Moeyaert en poëziecurator Willy Tibergien beeld en taal samenbrengen. Schrijvers, dichters en kunstenaars palmen gedurende een zomer het dorp in en bieden de bezoekers een caleidoscoop aan inzichten en perspectieven rond een bepaald onderwerp.
De afgelopen edities van Kunstenfestival Watou groeide er gestaag een nieuwe poëtische lijn in het dorp. Ook dit jaar selecteerde poëziecurator Willy Tibergien gedichten van gevestigde waarden in het Nederlandstalig poëzielandschap om hen een permanente plaats te geven in Watou.
Aan het werk van Eddy van Vliet, Paul Snoek, Remco Campert, Hugues C. Pernath, Jean-Claude Pirotte, Leo Vroman, Miriam Van hee, Stefan Hertmans, Gerrit Kouwenaar en Marc Insingel, Leonard Nolens, Christine D'Haen, Joost Zwagerman, Jotie T'Hooft, Charles Ducal en Luuk Gruwez worden dit jaar gedichten van Anna Enquist, Eva Gerlach en Frans Deschoemaeker toegevoegd.
STRING CARPET – GIDEON KIEFER – KUNSTENAARSGESPREK – ZONZO COMPAGNIE – ELS DEJONGHE – HET VLIEGEND TAPIJT – VRIJDAG VIERT FEEST – KRISTIN VERELLEN – POSTKANTOOR 00/00/00 – LIZE PEDE – BERNARD DEWULF – ALICJA GESCINSKA – DE TROOSTWINKEL – DOWN TIGER DOWN – SIEL EN LARISSA – NELLY AGASSI – IK ZIE MENSEN – POËZIE POËZIE POËZIE – DEREK & RENAUD – WIM CHIELENS – DE PLUIZENTUIN – WALLY DEDONCKER – ANT AND … – IK BEN WEER VELEN – STEPHANIE STRUIJK –  BERNARD DEWULF – MENNO WIGMAN – GRAHAM FAGEN – GERRIT KOUWENAAR – FRANS DESCHOEMAEKER – ANNA ENQUIST – EVA GERLACH – FRAUKE WILKEN – SAM DURANT – SIGRID VON LINTIG – PAUL SNOEK – MAUD BEKAERT -PETER VERHELST- DENIS VERCRUYSSE – MOHAMED EL BAZ – PARSE/ERROR – KATRIN DEKONINCK – ARPAÏS DU BOIS – GRZEGORZ GWIAZDA – SHIMABUKU – PETER DE MEYER – ROBINE CLIGNETT – ELS LESAGE – RADNA FABIAS – RY ROCKLEN – CHAIM VAN LUIT – SYLVIA EVERS – TORI WRÅNES – RONNY DELRUE – PETER MORRENS – HERVÉ MARTIJN – THÉ VANBERGEN – HANNE VAN ROMPAEY – STEFAN HERTMANS – TOM VAN DEEL – DANIELLE VAN ZADELHOFF – ANTON COTTELEER – SU-MEI TSE – POLIEN BOONS – JONAS VANSTEENKISTE – GURT SWANENBERG – ARANTHELL – GEERTJE VANGENECHTEN – MAARTEN VANDEN EYNDE – DOMINIQUE DE GROEN – JANI LEINONEN – JOSÉ COBO – TATJANA GERHARD – NADIA NAVEAU – HESTER KNIBBE – LUK VAN SOOM – JEROEN VAN KAN – CAROL ANN DUFFY – IRINA RATUSHINSKAYA – YEHUDA AMICHAI – NIDAA KHOURY – ZIYA MOHAVED – HANS OP DE BEECK- MASSIMO UBERTI -VAJIKO CHACHKHIANI – MOYA DE FEYTER – SHEILA HICKSEMMA VAN ROEY – BERNARDÍ ROIG -PETER THEUNYNCK – GIDEON KIEFER – EDITH DEKYNDT – THOMAS LEROOY – RANDALL CASAER- CHRISTINA MIGNOLET – GERD KANZ- GREET DESAL – HANNAH VAN BINSBERGEN – MELIK OHANIAN – JOHAN CLARYSSE – SOPHIE BOUVIER AUSLÄNDER – HANS DEFER- LUDOVIC LAFFINEUR – ARNE QUINZE – MARIJE LANGELAAR – TANYA SCHULTZ – ERLEND VAN LANDEGHEM – ROLAND JOORIS – LUKA FINEISEN – MEKHITAR GARABEDIAN – FRANZ SCHMIDT – CLARISSE BRUYNBROECK – FRANCIS PONGE – DAVID DE POOTER – RUTGER KOPLAND – JAN VANRIET – HUGO CLAUS – NELLY AGASSI – K. MICHEL – MICHAL MARTYCHOWIEC – PAUL DEMETS – STEPHAN MUIS – SAMMY BALOJI – TANG NANNAN – ADEL ABDESSEMED – LAURENS HAM – TODD ROBINSON – PANAMARENKO – GILLES BARBIER – HELEN DUNMORE – CASPER BRAAT – SYLVIE MARIE – CHANTAL POLLIER – EZRA VELDHUIS – HARLINDE DE MOL – ELEANOR CROOK – ANNO DIJKSTRA

Kunstenfestival Watou 2018 loopt nog tot en met 2 september
Open: woensdag tot zondag van 11u tot 19u – maandag en dinsdag gesloten, behalve op feestdagen
Adres:
Watouplein 12
8978 Watou
Poperinge (België)
De start van het Kunstenfestival is te vinden in het Festivalhuis (Watouplein 12), op het marktplein naast de Spar. Opg  elet! Voor alle weekend-events zijn de plaatsen beperkt. Een plaats reserveren kan enkel de dag zelf aan de kassa, bij aankoop van uw ticket.
# meer informatie op website kunstenfestival Watou
Kunstenfestival Watou 2018
fleursdumal.nl magazine
More in: # Music Archive, #Editors Choice Archiv, #More Poetry Archives, - Book Lovers, - Book Stories, Art & Literature News, Exhibition Archive, FDM Art Gallery, LITERARY MAGAZINES, PRESS & PUBLISHING, STREET POETRY, THEATRE, Watou Kunstenfestival
---
Nicht verloren laufen
Een boek met lino's van Walter Kerkhofs en Ivo van Leeuwen.
Handgedrukt, oplage 70.
Gebonden door Liesbeth Huyben
Grafiek expositie met werk van Walter Kerkhofs en Ivo van Leeuwen. Verder is naast grafiek van boven genoemde kunstenaars, ook werk te zien van de Hamburgse kunstenaar: Dragan Prgomelja.
Tijdens de presentatie worden drie muziekstukken uitgevoerd, die werden gecomponeerd door Frans Kerkhofs op gedichten van Nabokov.

Uitvoerenden: Lizette van Beek, mezzo-sopraan en Doré van Deijk, piano.
Nicht verloren laufen
16 juni 2018 op 16.00 uur
NS-Plein 16, Tilburg
Expositie open 17/23/14 juni van 12.00 tot 17.00
new art work
fleursdumal.nl magazine
More in: # Music Archive, - Book Lovers, - Book News, Art & Literature News, Exhibition Archive, Ivo van Leeuwen, PRESS & PUBLISHING
---
Drawing on draft manuscripts and other archival material, James Joyce and Absolute Music, explores Joyce's deep engagement with musical structure, and his participation in the growing modernist discourse surrounding 19th-century musical forms.
Michelle Witen examines Joyce's claim of having structured the "Sirens" episode of his masterpiece, Ulysses, as a fuga per canonem, and his changing musical project from his early works, such as Dubliners and A Portrait of the Artist as a Young Man.
Informed by a deep understanding of music theory and history, the book goes on to consider the "pure music" of Joyce's final work, Finnegans Wake.
Demonstrating the importance of music to Joyce, this ground-breaking study reveals new depths to this enduring body of work.
Towards a Modernist Condition of Absolute Music – Joyce's Early Use of Music – Joyce's fuga per canonem: A Case of Structure – Joyce's fuga per canonem: A Case of Effect – Voided Fugue in "Circe" – "It's Pure Music": Finnegans Wake
Michelle Witen is Postdoctoral Teaching and Research Fellow at the University of Basel, Switzerland.
Michelle Witen
James Joyce and Absolute Music
Published: 22-02-2018
Format: Hardback
Edition: 1st
Extent: 320 p.
ISBN: 9781350014220
Imprint: Bloomsbury Academic
Series: Historicizing Modernism
Illustrations: 9 bw illus
Dimensions: 234 x 156 mm
RRP: £85.00
literature and music
fleursdumal.nl magazine
More in: # Music Archive, Archive I-J, Archive I-J, Art & Literature News, Joyce, James, Joyce, James
---
Out now:
Kerouac on Record ◊ A Literary Soundtrack
Edited by Simon Warner and Jim Sampas

Co-edited by Jack Kerouac's nephew, including pieces written by Kerouac himself as well as interviews from major literary and musical figures including Allen Ginsberg, Lee Konitz and David Amram, Kerouac on Record gives a unique insight into how Kerouac brought his passion for jazz to his full creative output.
Kerouac on Record is the touchstone for the music of Kerouac – Kerouac's love for music, the depth of its influence on his work, and the influence that his work continues to extend to waves of contemporary musicians, from David Bowie and Janis Joplin to Sonic Youth. It is a book rife with the work of cultural icons, essential for any fan of the Beat Generation and popular music alike.
About Kerouac on Record
He was the leading light of the Beat Generation writers and the most dynamic author of his time, but Jack Kerouac also had a lifelong passion for music, particularly the mid-century jazz of New York City, the development of which he witnessed first-hand during the 1940s with Charlie Parker, Dizzy Gillespie and Thelonious Monk to the fore.
The novelist, most famous for his 1957 book On the Road, admired the sounds of bebop and attempted to bring something of their original energy to his own writing, a torrent of semi-autobiographical stories he published between 1950 and his early death in 1969.
Yet he was also drawn to American popular music of all kinds – from the blues to Broadway ballads – and when he came to record albums under his own name, he married his unique spoken word style with some of the most talented musicians on the scene.
Kerouac's musical legacy goes well beyond the studio recordings he made himself: his influence infused generations of music makers who followed in his work – from singer-songwriters to rock bands.
Some of the greatest transatlantic names – Bob Dylan and the Grateful Dead, Van Morrison and David Bowie, Janis Joplin and Tom Waits, Sonic Youth and Death Cab for Cutie, and many more – credited Kerouac's impact on their output.
In Kerouac on Record, we consider how the writer brought his passion for jazz to his prose and poetry, his own record releases, the ways his legacy has been sustained by numerous more recent talents, those rock tributes that have kept his memory alive and some of the scores that have featured in Hollywood adaptations of the adventures he brought to the printed page.
1. Jack Kerouac's Jazz Scene Jim Burns – 2. 2nd Chorus: Blues: Jack Kerouac Larry Beckett – 3. Duet for Saxophone and Pen: Lee Konitz and the Direct Influence of Jazz on the Development of Jack Kerouac's 'Spontaneous Prose' Style Marian Jago Interview 1: Lee Konitz Marian Jago – 4. Jack Kerouac Goes Vinyl: A Sonic Journey into Kerouac's Three LPs: Poetry for the Beat Generation; Blues and Haikus; and Readings by Jack Kerouac on the Beat Generation Jonah Raskin  – 5. Art Music: Listening to Kerouac's 'Mexico City Blues' A. Robert Lee Interview 2: David Amram Pat Thomas – 6. Beat Refrains: Music, Milieu and Identity in Jack Kerouac's The Subterraneans, the Metro-Goldwyn-Mayer Film Adaptation Michael Prince – 7. Bob Dylan's Beat Visions (Sonic Poetry) Michael Goldberg – 8. Carrying a Torch for Ti Jean Paul Marion Interview 3: Richard Meltzer Michael Goldberg – 9. The Grateful Dead: Jack Manifested as Music Brian Hassett – 10. Driver Mark Bliesener – 11. Jim Morrison/Angel of Fire Jay Jeff Jones – 12. Light is Faster than Sound: Texans, the Beats and the San Francisco Counterculture Holly George-Warren – 13. Hit the Road, Jack: Van Morrison and On the Road Peter Mills – 14. Detecting Jack Kerouac and Joni Mitchell: A Literary/Legal (Not Musicological) Investigation into the Search for Influence Nancy Grace – 15. Kerouac and Country Music Matt Theado – 16. 'Straight from the Mind to the Voice': Spectral Persistence in Jack Kerouac and Tom Waits Douglas Field Interview 4: Barney Hoskyns Simon Warner – 17. From Beat Bop Prosody to Punk Rock Poetry: Patti Smith and Jack Kerouac; Literature, Lineage, Legacy Ronna Johnson Poems: Marc Zegans  Interview 6: Allen Ginsberg Pat Thomas – 18. Tramps Like Them: Jack and Bruce and the Myth of the American Road Simon Morrison Interview 5: Graham Parker Pat Thomas – 19. Punk and New Wave James Sullivan – Interview 7: Jim DeRogatis on Lester Bangs James Sullivan – 20. The Tribute Recordings Jim Sampas and Simon Warner  –  Jack Kerouac Biography –  Jack Kerouac Discography Dave Moore  –  Tribute Discography –  Kerouac/Cassady Song List Dave Moore/Horst Spandler
Simon Warner
is a journalist, lecturer and broadcaster who teaches Popular Music Studies at the University of Leeds in the UK. He has, over a number of years, written live reviews and counterculture obituaries for The Guardian and The Independent, and has a particular interest in the relationship between the Beat Generation writers–Jack Kerouac, Allen Ginsberg, William Burroughs and others–and rock culture. His previous books include Rockspeak: The Language of Rock and Pop (1996) and Howl for Now: A Celebration of Allen Ginsberg's epic protest poem (2005). – Writes: Popular Music, North American Literature – Author of : Kerouac on Record, Text and Drugs and Rock 'n' Roll
Jim Sampas
is a music and film producer. His musical works often focuses on major cultural figures such Jack Kerouac (who is his Uncle), The Beatles, Bruce Springsteen, The Smiths, Bob Dylan, and The Rolling Stones. He has persuaded a galaxy of stars to partake of a unique aesthetic marriage, as vintage works are resurrected in contemporary arrangements in projects covered by such major news outlets as People Magazine, NPR, The New York Times, Entertainment Weekly, Rolling Stone, and many others. – Writes: Popular Music, North American Literature – Author of: Kerouac on Record
Following Text and Drugs and Rock 'n' Roll: The Beats and Rock Culture (2013), Simon Warner partners with Literary Executor of the Estate of Jack Kerouac, Jim Sampas, to go deeper into his exploration of the connections between the great figures of the Beat generation and the music of the so-called 'rock era.' Interspersed with exclusive interviews of the likes of Lee Konitz, Graham Parker, Lester Bangs, and Allen Ginsberg, the twenty chapters are signed by an impressive array of journalists, music industry professionals, rock critics, writers, film makers and academics from all over the world. Addressing such issues as the influence of jazz on Kerouac's 'spontaneous prose' style, the lineage between his 'Beat bop prosody' and Patti Smith's 'punk rock poetry,' or his inspiring 'the myth of the American road' in Bruce Springsteen's lyrics, they shed light on what appears to be a two-way relationship between popular music and the work of the author of On the Road. As Warner puts it: 'if, for Kerouac, it was jazz that would have the principal impact, then it was rock on which the writer would have the main effect.'" – Olivier Julien, Lecturer in the History and Musicology of Popular Music, Paris-Sorbonne University, France
Kerouac on Record
A Literary Soundtrack
By: Simon Warner, Jim Sampas
Published: 08-03-2018
Format: Hardback
Edition: 1st
Extent: 480
ISBN: 9781501323348
Imprint: Bloomsbury Academic
Dimensions: 229 x 152 mm
RRP: £28.00
Kerouac on Record
A Literary Soundtrack
fleursdumal.nl magazine
More in: # Music Archive, #Beat Generation Archives, - Book Stories, Archive G-H, Archive G-H, Archive K-L, Archive K-L, Art & Literature News, AUDIO, CINEMA, RADIO & TV, Bob Dylan, Dylan, Bob, Ginsberg, Allen, Joni Mitchell, Kerouac, Jack, Patti Smith
---
The Strange Music
Other loves may sink and settle, other loves may loose and slack,
But I wander like a minstrel with a harp upon his back,
Though the harp be on my bosom, though I finger and I fret,
Still, my hope is all before me : for I cannot play it yet.
In your strings is hid a music that no hand hath e'er let fall,
In your soul is sealed a pleasure that you have not known at all;
Pleasure subtle as your spirit, strange and slender as your frame,
Fiercer than the pain that folds you, softer than your sorrow's name.
Not as mine, my soul's annointed, not as mine the rude and light
Easy mirth of many faces, swaggering pride of song and fight;
Something stranger, something sweeter, something waiting you afar,
Secret as your stricken senses, magic as your sorrows are.
But on this, God's harp supernal, stretched but to be stricken once,
Hoary time is a beginner, Life a bungler, Death a dunce.
But I will not fear to match them—no, by God, I will not fear,
I will learn you, I will play you and the stars stand still to hear.
G. K. Chesterton
(1874-1936)
The Strange Music
fleursdumal.nl magazine
More in: # Music Archive, Archive C-D, Archive C-D, Chesterton, Gilbert Keith
---
From The Fourth Booke of Ayres  -VII-
There is a Garden in her face,
Where Roses and white Lillies grow;
A heav'nly paradice is that place,
Wherein all pleasant fruits doe flow.
There Cherries grow, which none may buy
Till Cherry ripe themselves doe cry.
Those Cherries fayrely doe enclose
Of Orient Pearle a double row,
Which when her lovely laughter showes,
They look like Rose-buds fill'd with snow.
Yet them nor Peere nor Prince can buy,
Till Cherry ripe themselves doe cry.
Her Eyes like Angels watch them still;
Her Browes like bended bowes doe stand,
Threatning with piercing frownes to kill
All that attempt with eye or hand
Those sacred Cherries to come nigh,
Till Cherry ripe themselves doe cry.
Thomas Campion
(1567-1620)
From The Fourth Booke of Ayres
VII
fleursdumal.nl magazine
More in: # Music Archive, Archive C-D, Archive C-D, CLASSIC POETRY
---
An exploration of the world's most famous and challenging song cycle, Schubert's Winter Journey (Winterreise), by a leading interpreter of the work, who teases out the themes—literary, historical, psychological—that weave through the twenty-four songs that make up this legendary masterpiece.
Completed in the last months of the young Schubert's life, Winterreise has come to be considered the single greatest piece of music in the history of Lieder. Deceptively laconic—these twenty-four short poems set to music for voice and piano are performed uninterrupted in little more than an hour—it nonetheless has an emotional depth and power that no music of its kind has ever equaled.
A young man, rejected by his beloved, leaves the house where he has been living and walks out into snow and darkness. As he wanders away from the village and into the empty countryside, he experiences a cascade of emotions—loss, grief, anger, and acute loneliness, shot through with only fleeting moments of hope—until the landscape he inhabits becomes one of alienation and despair.
Originally intended to be sung to an intimate gathering, performances of Winterreise now pack the greatest concert halls around the world.
Drawing equally on his vast experience performing this work (he has sung it more than one hundred times), on his musical knowledge, and on his training as a scholar, Bostridge teases out the enigmas and subtle meanings of each of the twenty-four lyrics to explore for us the world
Schubert inhabited, his biography and psychological makeup, the historical and political pressures within which he became one of the world's greatest composers, and the continuing resonances and affinities that our ears still detect today, making Schubert's wanderer our mirror.
Ian Bostridge performs regularly throughout Europe, North America and the Far East to outstanding critical acclaim. He read Modern History at Oxford and received a D.Phil in 1990. He is the author of Witchcraft and Its Transformations c.1650-c.1750 and A Singer's Notebook. He is Humanitas Professor of Music at the University of Oxford and a regular contributor to The Guardian and the TLS. He is married to the writer and critic Lucasta Miller. They live in London with their two children.
Schubert's Winter Journey
Anatomy of an Obsession
By Ian Bostridge
Paperback
Published on Jan 02, 2018
Published by Vintage
528 Pages
$22.00
ISBN 9780525431800
new books
fleursdumal.nl magazine
More in: # Music Archive, - Book Lovers, - Book News, Archive A-B, Art & Literature News
---
Romeo en Julia van Prokofiev is zonder twijfel één van de hoogtepunten uit de klassiek-romantische ballettraditie.
Met het beroemde verhaal van Shakespeare als basis, schetst deze voorstelling de geschiedenis van een onmogelijke liefde.
Romeo en Julia hebben hun hart aan elkaar verpand, maar omdat hun families al generaties lang ruzie hebben, kan het niks worden tussen de geliefden. Dus als ze trouwplannen maken, wordt het huwelijk aan alle kanten gedwarsboomd, met tragische gevolgen.
In de fantastische muziek van de beroemde componist Prokofiev weerklinken de hartstocht en dramatiek die deze choreografie verbeeldt.
Met dans van wereldniveau brengt het ballet van de Staatsopera van Tatarstan dit ultieme liefdesverhaal in heel Europa met succes tot leven. Hun weelderige kostuums geven de voorstelling kleur en dynamiek. Ook de decors zijn indrukwekkend: die bieden een betoverende achtergrond voor onder meer de uitbundige feesttaferelen in het verhaal en natuurlijk de beroemde balkonscene, die het symbool werd van de romantiek.
De passie van de dansers en de hartverscheurende ontmoetingen tussen de geliefden maken van deze voorstelling een aanrader voor alle generaties met een gevoelig hart.
Romeo en Julia
Nog te zien in theaters door heel Nederland
van december 2017 t/m februari 2018.
Meer info:
Wereldtheater.com
DG Theater
info@dgtheater.nl
+31 30 2844 770
fleursdumal.nl magazine
More in: # Music Archive, Art & Literature News, DANCE, Shakespeare, William, THEATRE
---
During the late 1960s, throughout the 1970s, and into the 1980s, New York City poets and musicians played together, published each other, and inspired one another to create groundbreaking art.

In "Do You Have a Band?", Daniel Kane reads deeply across poetry and punk music to capture this compelling exchange and its challenge to the status of the visionary artist, the cultural capital of poetry, and the lines dividing sung lyric from page-bound poem.
Kane reveals how the new sounds of proto-punk and punk music found their way into the poetry of the 1960s and 1970s downtown scene, enabling writers to develop fresh ideas for their own poetics and performance styles. Likewise, groups like The Fugs and the Velvet Underground drew on writers as varied as William Blake and Delmore Schwartz for their lyrics. Drawing on a range of archival materials and oral interviews, Kane also shows how and why punk musicians drew on and resisted French Symbolist writing, the vatic resonance of the Beat chant, and, most surprisingly and complexly, the New York Schools of poetry. In bringing together the music and writing of Richard Hell, Patti Smith, and Jim Carroll with readings of poetry by Anne Waldman, Eileen Myles, Ted Berrigan, John Giorno, and Dennis Cooper, Kane provides a fascinating history of this crucial period in postwar American culture and the cultural life of New York City.
Daniel Kane is reader in English and American literature at the University of Sussex in Brighton. His books include We Saw the Light: Conversations Between the New American Cinema and Poetry (2009) and All Poets Welcome: The Lower East Side Poetry Scene in the 1960s (2003).
Title Do You Have a Band?
Subtitle Poetry and Punk Rock in New York City
Author Daniel Kane
Publisher Columbia University Press
Title First Published 25 July 2017
Format Paperback
ISBN-10 0231162979
ISBN-13 9780231162975
Publication Date 25 July 2017
Main content page count 296
Weight 16 oz.
Paperback – $30.00
296 Pages
Daniel Kane: Do You Have a Band?": Poetry and Punk Rock in New York City
from Columbia University Press
new books
fleursdumal.nl magazine
More in: # Music Archive, - Book News, Archive K-L, Art & Literature News, FDM in New York, Patti Smith, STREET POETRY, Urban Art
---
INCUBATE ♦ cutting edge festival in Tilburg ♦ will not continue in 2017

Incubate is heavily disappointed by the decision of the Municipality of Tilburg to not provide any more funding in 2017. This news comes after the Province of Noord-Brabant already cut funding for the coming four years. The organisation finds it financially irresponsible to continue and will therefore cease its activities.
"Incubate is proud to have been able to create a festival with exciting, creative, cutting-edge arts in the past 13 years, together with its 500+ volunteers and partners. We have thus inspired many other musicians, artists, organisers and other festivals, and we hope that they use some of that impact for their own future," said Miriam van Ommeren and Arthur Janssen on behalf of Incubate.
13 years of Incubate
Over the past 13 years, Incubate has become one of the leading multidisciplinary festivals in Europe. It was and still is internationally acclaimed by press, artists and visitors. Incubate was the first Dutch festival to bring artists such as Psychic TV, Pauline Oliveros, Sun Ra Arkestra, Fields of the Nephilim, James Blake and Cabaret Voltaire to the Netherlands and to create a platform for themes such as piracy in the arts, public participation, and innovation. It was the first to invite speakers like Charles Leadbeater, Simon Reynolds and Andrew Keen and internationally renowned artists such as Hermann Nitsch, Santiago Sierra, Wendy White and Ryan Trecartin to Tilburg, connecting them with local emerging artists.
Social impact
The festival instigated both social and artistic debate. Throughout the years, it provided a space for thousands of artists and tens of thousands of visitors from more than 48 countries. Many of them visited Tilburg for the very first time, and kept coming back. The wider public has become acquainted with the festival through remarkable projects in public spaces, for instance the more than hundred pianos from British artist Luke Jerram, the thousands of portraits of mothers in the city in cooperation with French artist JR and the activities around Iconostase 180, a sculpture by renowned architect Yona Friedman, which took place last Summer. These projects brought the entire city into contact with avant-garde art and culture.
New model in 2016
In 2015, a financial deficit was supplemented by the Province of Noord-Brabant and the Municipality of Tilburg, on specific conditions to the organisation. All these conditions have been met in 2016: three successful editions of Incubate took place in this year, with good results on an artistic, organisational and financial level. Both audience and press were positive about the new direction: just this week, the festival was added to the list of 50 most important festivals of the Netherlands by 3voor12, a Dutch music platform.
The organisation deeply regrets that, through this decision, Tilburg will lose a unique festival of international standing. This will certainly have an adverse effect on the conditions and opportunities in Tilburg for young artists, emerging bands, recently graduated filmmakers and game developers and progressive, culture-loving citizens. The organisation entreats that the Municipality of Tilburg will use the now available funds as designated; to provide substantial and accessible art and culture in the city and the wider region. Although there will no longer be a festival held by the organisation, the foundation will continue to exist for now.
February 23, 2017
Stadsdichter van Tilburg =
Martin Beversluis: Requiem
Aan Incubate
We reden op fietsen van licht
en geluid door de stad we gaven
onze varkens een S van stro
vlekkie en spekkie aten het gulzig
we koesterden de foto's van onze
moeders die niet weg mochten
waaien nooit weg konden waaien
een festival werd langzaamaan
gesloopt door bureaucraten er
stonden piano's op straat die
zeiden bespeel me want ik ben
van jou er was controverse
zoals er ook altijd ontroering
was er waren polsbandjes er
was een stad voor vriendelijke
mensen van heinde en verre
waar je broedplaatsen moest
koesteren want die waren je
toekomst stad van makers in
een land van slopers die hun
mouwen stropen en opgaan
voor moord de raad vraagt
om een nekschot maar de
wethouder zegt ik wurg
de makers zien de leegte
komen en benoemen deze
stad heet vanaf nu Stilburg
Martin Beversluis
Feb. 2017
     # Meer info op website incubate     
fleursdumal.nl magazine
More in: # Music Archive, Archive A-B, Art & Literature News, Beversluis, Martin, MUSIC, THEATRE
---

Incubate is the annual celebration of cutting-edge culture. It is a festival exhibiting a diverse view on indie culture as a whole, including music, visual arts, film and contemporary theater, and a conference. For the upcoming December edition it brings more than 40+ cutting edge artists in an intimate context to an international audience. Black metal next to free jazz. Refreshing art next to innovating indie games.
Incubate takes place troughout more than fifteen venues in the inner-city of Tilburg.
Incubate – 10/11 December 2016
Incubate Zero is the part of the programme that is FREE for all to attend. A little taste of the festival so you can decide if you want more. After the success of the previous Incubate Zero programmes, we're proud to host another free offering of artists. So make sure to bring your friends and family and check out these acts!
On December 11th, everyone can enjoy some of the best new acts from the European underground. Divided over venues Cul de Sac and Kim's Kroeg, the following bands will perform:
Heads
HEADS. from Berlin are a loud and noisy bunch, clearly influenced by Shellac and The Jesus Lizard: the good stuff. Their first record was released by This Charming Man Records so you know this not just your average band. Come see for yourself at Cul de Sac on Sunday December 11th.
Any Other
Remember those sweet, sweet times that we call the nineties? You might, but these kids don't because they're way too young. They do sound like they were there though, and they do such a killer job at it we forgot all about Kim Deal or Weezer or whatever. Who are those people anyway? Any Other excel in doing their own new thing with a sound that is beloved and feels familiar.
Fake O's
If these Groningen locals would be a black metal band they'd be considered trve kvlt without a doubt. This hardcore punk outfit sounds like they came straight from the Bay Area in the eighties and shred like they want to show Keith Morris how it's done. Of course Keith already knows, but he'd still be into FAKE O's.
Sven Agaath
When you think you've heard it all: you're about to find out you haven't. Sven Agaath play shoegaton (a term they probably coined themselves and for which they should receive proper recognition), a mix between shoegaze and reggaeton. They themselves call it "a mixture of Dinosaur Jr, Sean Paul, MBV and Daddy Yankee that feels urgent and natural". Although this will probably sound horrifying to most music fans, we can assure you – it really isn't. Sven Agaath is for everybody that likes shoegaze but also wants to dance from time to time.
The Shady Greys
The Shady Greys are an Amsterdam based dirty blues-garage duo with a nice lo-fi sound. Although using only a cajon and feet played percussions (no drums!) they're a high energy duo with fast riffing and raw vocals.
Dead High Wire
A young band from Antwerp and Mechelen, Belgium playing a mixture of echoing postpunk and indierock. They've released work on Kinky Star records (La Jungle, Räpe Blossoms etc.) and Oddie Records (Teen Creeps, Mind Rays, Double Veterans etc.). These are quality labels worth a whole lot more than that 'organic' logo on your milk carton.
Jellephant & The Phantoms
A young guy from Arnhem named Jelle and his band called The Phantoms are psychedelic band that make us think of our fellow countrymen Yuko Yuko. With a cool, echoing lo-fi mix of psychedelica, surf and downbeat garage these kids are one of the better Dutch acts in recent years.
Wobby
Together with Tilburg natives, comic creators and founders of the small press magazine 'Wobby', Incubate is proud to add a Comic Fair to its December edition. This will be accompanied by an English edition of the Wobby magazine, with contributions from different artists. There will also be talks, performances and interviews, but the main event will be your chance to meet and see some of your favorite creators. Guests include Bries (BE), Sigrid Calon (NL), Charlotte Dumortier (BE), Maurice van Es (NL), Jeroen Funke (NL), KAMP HORST (NL), Knust/Extrapool (NL), Vite (BE), The Stalinskis (NL), Tieten Met Haar (BE), and Ward Zwart (BE).
Holzapfel
Incubate will finalize its two-year visual arts program Do It With Others with a special performance by German artist Olaf Holzapfel. Holzapfel is a multidisciplinary artist who has extended his practice of painting with photography, sculptures, installations and digital work. To create his architectural sculptures, Holzapfel uses a range of (often locally sourced) materials, from plastic to straw. On Saturday 10th of December Holzapfel will do a special performance with a group of participants and craftsmen, around the noble art of rope making. Making a rope from straw is a complex process, a traditional craft that few still master. Tilburg is known for its history in textiles and the use of flax and hemp, as traditionally hemp was grown for processing into rope. As Incubate always connects artists with visitors and history with contemporary art, we invite all those interested to join us and Holzapfel in this special performance.
Incubate Art Symposium
At Incubate we try to offer kicks and contemplation right next to each other. We like to learn new things while having fun; about music and art and all the wonderful things that come with it. This is why we're delighted to host the Do It With Others symposium on December 11th at Duvelhok. Following the finissage of Olaf Holzapfel's project the day before, the symposium will include several artists that contributed to Do It With Others over the recent years. They will be interviewed by some very interesting hosts from the Dutch contemporary art scene, discussing their past residencies and collaborative work produced in Tilburg. Make sure to catch these afternoon talks if you're curious to meet these artists in person and ask them your questions.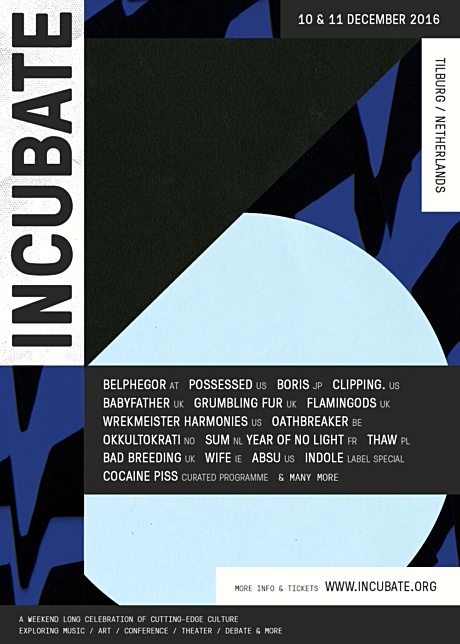 Incubate takes place troughout more than fifteen venues in the inner-city of Tilburg.
Incubate – 10/11 December 2016
incubate tilburg
Postal address
Postbus 327
5000 AH Tilburg
the Netherlands
Visiting address
NEW OFFICE:
Willem II Straat 49,
5038 BD Tilburg
Tel: +31 (0)13 590 4839
Box office opening hours:
Saturday: 12:00 – 22:00
Sunday: 12:00 – 22:00
Adress:
013 Poppodium
Veemarktstraat 44
5038 CV Tilburg
# More information on website Incubate
fleursdumal.nl magazine
More in: # Music Archive, Art & Literature News, AUDIO, CINEMA, RADIO & TV, DANCE, DICTIONARY OF IDEAS, FDM Art Gallery, Literary Events, MUSIC, Street Art, STREET POETRY, The talk of the town, THEATRE, Urban Art
---
13/14/15 May 2016, TILBURG (NL)
(+ 8/9/10/11 September + 10/11 December)
Incubate 2016 festival
Incubate is the annual celebration of cutting-edge culture. It is a festival exhibiting a diverse view on indie culture as a whole, including music, visual arts, film and contemporary theater, and a conference. For the upcoming May edition it brings more than 70 cutting edge artists in an intimate context to an international audience. Black metal next to free jazz. Refreshing art next to inspiring debate.
Incubate – 13/14/15 May
Incubate – 8/9/10/11 September
Incubate – 10/11 December
"Het meest avontuurlijke festival van Nederland".
— Oor, September 2012
# more information on website INCUBATE

fleursdumal.nl magazine
More in: # Music Archive, Art & Literature News, DANCE, Literary Events, MUSIC, THEATRE
---
Older Entries »
Thank you for reading FLEURSDUMAL.NL - magazine for art & literature