LITERARY MAGAZINES
·
De Parelduiker Themanummer: VERBODEN
·
Hollands Maandblad – Januari 2017 – met o.a. Marieke Rijneveld en Carina van der Walt
·
DADA een geschiedenis
·
MAGAZINE "TEXTE ZUR KUNST #103" SEPTEMBER 2016 ABOUT POETRY
·
NIEUWE PARELDUIKER OVER BERT JANSEN, SLAUERHOF, BLOEM, JAMES PURDY EA
·
EXHIBITION BEAT GENERATION IN CENTRE POMPIDOU
·
LITERAIR TIJDSCHRIFT DE GIDS
·
NEXUS SYMPOSIUM 2016: THE BATTLE OF EUROPA
·
12 MAART PARELDUIKERMIDDAG IN DE OBA
·
NIEUWE AFLEVERING VAN DE PARELDUIKER (2016/1): GROETEN UIT DUITSLAND
·
CROWFUNDACTIE KELLENDONK-NUMMER VAN LITERAIR TIJDSCHRIFT EXTAZE
·
JO GLANVILLE: THE CHARLIE HEBDO PRINCIPLE
Boeken en kunstwerken kunnen om uiteenlopende redenen verboden vruchten worden. Wegens hun scabreuze karakter natuurlijk. Of om politiek ongewenste c.q. verwerpelijk geachte elementen.
In de speciale Parelduiker zoomen we vier keer in op verboden boeken: de als pornografie bestempelde 'realistische romans' van Jan Brandts, de in beslag genomen realistische romans van Hugo Beersman, de als fascistisch gebrandmerkte kunstwerken van de Schotse kunstenaar Ian Hamilton Finlay en het toneelstuk Jan Pietersz. Coen van J. Slauerhoff.
Marco Entrop, Rendez-vous op 't Tulpplein. Een verboden liefdesgeschiedenis
Nederland kon in de wederopbouw geen ondermijnende krachten gebruiken. Een steen des aanstoots was de pornografie. De schrijver Jan Brandts zag zich als een van de eersten geslachtofferd. Zijn in 1947 verschenen roman over de oprechte liefde tussen twee jonge mensen werd in beslag genomen, omdat ze het met elkaar deden.
Bert Sliggers, 'Gretig gleden zijn handen over haar weelderige borsten'. De verboden realistische romans van Hugo Beersman
Hoewel er in 1914 al een Rijksbureau was dat de handel in 'ontuchtige uitgaven' moest tegengaan, duurde het nog tot 1930 voordat de rotte appels binnen de lectuur en literatuur grootscheeps werden opgespoord. Zo kon het gebeuren dat boeken die aan het begin van die eeuw zonder bemoeienis van de politie werden verhandeld en gelezen opeens in beslag werden genomen en de eigenaren bekeurd. Uitgever Jan Hilbingh Mulder, die een boekwinkel in de Amsterdamse Cornelis Schuytstraat dreef en boeken van Hugo Beersman uitgaf, werd door Justitie streng aangepakt.
Marco Daane, Osso? Oh, zo! Een Schotse tuinman, een Duits struikelblok en Franse houthakkers
Boeken en kunstwerken kunnen om uiteenlopende redenen verboden vruchten worden. Wegens hun scabreuze karakter natuurlijk – zie elders in dit nummer. Of om politiek ongewenste c.q. verwerpelijk geachte elementen, vooral antisemitische of nazistische. In de westerse cultuur komt dat eigenlijk niet eens zo vaak voor, maar is niet Hitlers eigen Mein Kampf formeel nog altijd verboden? Ook de Schotse kunstenaar Ian Hamilton Finlay ondervond in 1988 in Frankrijk hoe gevoelig dit thema is. Enkele Nederlanders en Vlamingen werden eveneens door de affaire beroerd.
Hein Aalders, Een 'ploertig stuk' en de openbare orde. De wereldpremière van Slauerhoffs Jan Pietersz. Coen
Uitvoeringen van Slauerhoffs toneelstuk Jan Pietersz. Coen (1931) stuitten keer op keer op bezwaren bij vooral burgemeesters, die opvoering ofwel verboden ofwel sterk ontrieden met een beroep op de openbare orde. Het stuk zou door zijn kritische kijk op de Hollandse koloniaal de Nederlandse politiek ten aanzien van Indonesië en Nieuw-Guinea kunnen verstoren. Uiteindelijk werd Slauerhoffs Jan Pietersz. Coen pas voor het eerst opgevoerd in 1961, door een Amsterdams studentengezelschap, maar slechts eenmalig en tijdens een besloten bijeenkomst.
Hans Olink, Berliner Beobachter: Theun de Vries in de DDR
Jan Paul Hinrichs, Schoon & haaks (over Joeri Olesja, Fritzi Harmsen van Beek, Frans Erens en J.M.A. Biesheuvel)
Paul Arnoldussen, De Laatste Pagina: Hubert van Herreweghen (1920-2016)
De Parelduiker is een uitgave van Uitgeverij Bas Lubberhuizen | Postbus 51140 | 1007 EC Amsterdam | T 020 618 41 32
Parelduikermiddag 25 maart in de Oba
De Parelduiker nodigt zijn abonnees, lezers en andere geïnteresseerden van harte uit voor een feestelijke Parelduikermiddag aan het begin van de Boekenweek, op zaterdag 25 maart van 16 tot 17.30 uur in de Openbare Bibliotheek Amsterdam (oba), Theater van het Woord, 7de etage (adres: Oosterdokskade 143, 1011 dl Amsterdam. Centraal staat: Jan Pietersz. Coen – een verboden toneelstuk van Slauerhoff
Vele malen werd een uitvoering van dit toneeldrama verboden. Pas in 1961 werd een eenmalige opvoering toegestaan. Spelers van toen vertellen erover. Scènes uit het gewraakte stuk worden gelezen en van commentaar voorzien.
M.m.v. Slauerhoff-biograaf Wim Hazeu, Hugo Koolschijn, Celia Nufaar, Ger Thijs, Krijn ter Braak, Paul Rutgers van der Loeff en Boudewijn Chabot. De middag wordt afgesloten door de dichteres Marieke Rijneveld (C. Buddingh'-prijs 2016), die voordraagt uit haar werk. Moderator: Anton de Goede.
De Parelduiker 2017/1
Themanummer: VERBODEN
# Meer informatie op website de parelduiker
fleursdumal.nl magazine
More in: - Book Stories, Art & Literature News, Boekenweek, Literary Events, LITERARY MAGAZINES, Magazines, Marco Entrop, Rijneveld, Marieke
---
Hollands
Maandblad
januari #1 – 2017
Inhoud
Redactioneel ‐ Deze maand
H.L. Wesseling ‐ Cultuur en beschaving
Eva Gerlach ‐ Gedichten
F. Starik ‐ BOFB
Mark Boog ‐ Gedichten
Marieke Rijneveld ‐ God, de haan en mezelf
Ivo Bonthuis ‐ Zo gaat de molen
Jack Druppers ‐ Undercover
Kitty Pouwels ‐ Dit moeten we vaker doen
Frederik Philip Kuethe ‐ De NAVO-baas en de roze invasie
Carina van der Walt ‐ Gedichten
Pieter Kranenborg ‐ In Lieverlingelande komt de dood uit China
Tekeningen Babette Wagenvoort
# Meer info op website hollands maandblad
fleursdumal.nl magazine
More in: Art & Literature News, DICTIONARY OF IDEAS, LITERARY MAGAZINES, Rijneveld, Marieke, Walt, Carina van der
---
Dada
Een geschiedenis
Auteur: Hubert van den Berg
Dada. Een geschiedenis beschrijft het ontstaan en de ontwikkeling van de internationale dadabeweging, zoals die zich manifesteerde in onder andere Zürich, Berlijn en Parijs. Bijzondere aandacht is er voor dada-Nederland en dada-België en de belangrijkste hoofdrolspelers daar: Theo van Doesburg/I.K. Bonset, H.N. Werkman, Piet Mondriaan, Clément Pansaers en Paul van Ostaijen.
Dada wordt vaak een antibeweging genoemd. Dada. Een geschiedenis herziet dit eenzijdige, negatieve beeld. In werkelijkheid was dada zowel een synthese van vooroorlogse avantgardistische 'ismen' – kubisme, futurisme en expressionisme –, als de opmaat tot het surrealisme en constructivisme. Dada is een cruciale etappe in de ontwikkeling van de moderne kunst en literatuur van de twintigste eeuw, waarvan de echo nog altijd klinkt.
Dada. Een geschiedenis is rijk in kleur geïllustreerd. Een kroniek van de belangrijkste dadakunstenaars, -kunstwerken, -evenementen en -gebeurtenissen completeert het boek.
Hubert van den Berg:
Dada. Een geschiedenis
Vormgever: Martien Frijns
ISBN 9789075697971,
paperback
17 x 22 cm
geïllustreerd
304 pagina's
Uitgeverij Vantilt
€ 29,95
fleursdumal.nl magazine
More in: - Book News, Antony Kok, Art & Literature News, Baargeld, Johannes Theodor, Ball, Hugo, Dada, Dadaïsme, DANCE, De Stijl, Essays about Van Doesburg, Kok, Mondriaan, Schwitters, Milius & Van Moorsel, Evert en Thijs Rinsema, Freytag-Loringhoven, Elsa von, Kok, Antony, Kurt Schwitters, LITERARY MAGAZINES, MUSIC, Ostaijen, Paul van, Pansaers, Clément, Piet Mondriaan, Satie, Erik, Schwitters, Kurt, THEATRE, Theo van Doesburg, Theo van Doesburg, Tzara, Tristan, Werkman, Hendrik Nicolaas
---
Issue No. 103
September 2016
"Poetry"
TZK #103 addresses "poetry," a language form central to the recent shift toward affect in contemporary critical writing. Seeing the "artist-poet" as a vital site for the intersection of politics, affect, and digitality, we consider her voice and her currency from various perspectives, pro and con, across generations, analyzing her rising success, also asking what is gained and lost in this move from "rational" thought to what one feels? Scanning populist poetry, anarchist poetry, post-millennial net-poetry, the poetry of surplus-language and social media, the art historical poetic/poet-turned-object, and shades of fading Poesie, this issue, conceived by the editors with John Kelsey and Isabelle Graw explores how the seeming immediacy of #poetry and the suggestion of a hyper-personal voice correlates with current economic demand to claim visibility.
Issue No. 103 – September 2016 "Poetry"
Table of contents
Vorwort
7   Preface
36   Tim Griffin What Is Poetry?
42   Joshua Clover Objectively Speaking / Remarks on Subjectivity and Poetry
48   Isabelle Graw The Poet's Seduction / Six Theses on Marcel Broodthaers's Contemporary Relevance
74   Liz Kotz Word Pieces, Event Scores, Compositions
82   Monika Rinck The Promise of Poetic Language
88   Ada O'Higgins If you don't like the reflection. Don't look in the mirror. I don't care.
94   Chris Kraus and Ariana Reines The feelings I Fail to capitalize, I fail / Chris Kraus and Ariana Reines in conversation on auto-fiction and biography
108   Felix Bernstein The Irreproachable Essay / On the Amazon Discourse of Hybrid Literature
122   Daniela Seel IMMEDIACY, I MEET WITH SKEPTICISM / Three questions for Daniela Seel
130   Micaela Durand DEVIL SHIT
134   Karolin Meunier Hearing Voices / On the reading and performance of poetry
148   Dena Yago Empire Poetry
Short Cut
169   Four Theses on Branding / David Joselit on Berlin Biennale 9
173   Mantras der Gegenwart / Hanna Magauer über Berlin Biennale 9
Rotation
177   Sehnsucht nach der verlorenen Stadt / Johannes Paul Raether über "spiritus" von Honey-Suckle Company
182   BENJAMIN BUCHLOH, ART HISTORIAN / Christine Mehring on Benjamin H. D. Buchloh's "Formalism and Historicity: Models and Methods in Twentieth-Century Art"
187   Es war zweimal sagte sie / Vojin Sasa Vukadinovic über Eva Meyers "Legende sein"
191   Less is more? / John Miller on Justin Lieberman's "The Corrector's Custom Pre-Fab House"
96   So machen wir's / Eva Geulen über "The Use of Bodies" (Homo Sacer IV.2) von Giorgio Agamben
Short Waves
203   Gunter Reski über Victor Man bei MD 72, Berlin / Harry Burke on Dean Blunt at Arcadia Missa, London / Rhea Dall on Stephen G. Rhodes at Eden Eden, Berlin / Tobias Vogt über Thea Djordjadze bei Sprüth Magers, Berlin / Deanna Havas on Marc Kokopeli at Lomex, New York / Martin Herbert on Fredrik Værslev at Bergen Kunsthall, Norway
Reviews
222   Habeas Corpus / Simon Baier über Francis Picabia im Kunsthaus Zürich
227   Marcel Broodthaers, Art Historian's Artist / Trevor Stark on Marcel Broodthaers at the Museum of Modern Art, New York
232   Malerei als soziales Handeln? / Christian Spies über Fernand Léger im Museum Ludwig, Köln
226   Simulierte Musealisierung / Philipp Kleinmichel über Isa Genzken im Martin-Gropius-Bau, Berlin
240   Elegance is Resistance / Stephanie LaCava on Lukas Duwenhögger at Artists Space, New York
Nachruf
245   TONY CONRAD (1949–2016) by Diedrich Diederichsen
247   Jay Sanders TONY CONRAD (1949–2016)
Edition
Martha Rosler
Amy Sillman
Amy Sillman
More issues:
Issue No. 103 / September 2016 "Poetry"
Issue No. 102 / June 2016 "Fashion"
Issue No. 101 / March 2016 "Polarities"
Issue No. 100 / December 2015 "The Canon"
Issue No. 99 / September 2015 "Photography"
Issue No. 98 / June 2015 "Media"
Issue No. 97 / March 2015 "Bohemia"
Issue No. 96 / December 2014 "The Gallerists"
Issue No. 95 / September 2014 "Art vs. Image"
Issue No. 94 / May 2014 "Berlin Update"
Issue No. 93 / March 2014 "Speculation"
Issue No. 92 / December 2013 "Architecture"
Issue No. 91 / September 2013 "Globalism"
Issue No. 90 / June 2013 "How we aim to work"
Issue No. 89 / March 2013 "Mike Kelley"
Issue No. 88 / December 2012 "The Question of Value"
Issue No. 87 / September 2012 "Conflict"
Issue No. 86 / June 2012 "The Curators"
Issue No. 85 / March 2012 "Art History Revisited"
Issue No. 84 / December 2011 "Feminism!"
Issue No. 83 / September 2011 "The Collectors"
Issue No. 82 / June 2011 "Artistic Research"
Issue No. 81 / March 2011 "Where do you stand, colleague ?"
Issue No. 80 / December 2010 "Political Art?"
Issue No. 79 / September 2010 "Life at Work"
Issue No. 78 / June 2010 "Fashion"
Issue No. 77 / March 2010 "Painting"
# More information on website Texte Zur Kunst
fleursdumal.nl magazine
More in: Archive Concrete + Visual Poetry - Ready-mades, Art & Literature News, Art Criticism, LITERARY MAGAZINES, MODERN POETRY, POETRY ARCHIVE, PRESS & PUBLISHING
---
De Parelduiker 2016/3
Nozzing but ze bloes. Het vergeten schrijversleven van Bert Jansen
Bert Jansen (1949-2002) is de auteur van Nozzing but ze bloes (1975), het gebundelde feuilleton van de jaren zestig, later herdrukt als En nog steeds vlekken in de lakens. Hij publiceerde een groot aantal boeken, maar nog veel meer niet. Zijn archief in het Letterkundig Museum getuigt van vele manuscripten die keer op keer werden geweigerd. Dit lot trof ook het boek dat zijn magnum opus had moeten worden, een biografie van de Drentse blueszanger en streekgenoot Harry Muskee. Voor De Parelduiker ontsluit Rutger Vahl het schrijversarchief van Bert Jansen.

Onbekende foto's van Slauerhoff
Onlangs kreeg het Letterkundig Museum twee albums met foto's van Slauerhoff in bezit. Ze zijn afkomstig van Lenie van der Goes, een vrouw die Slauerhoff in 1927 in Soerabaja ontmoette en met wie hij trouwplannen smeedde. Hoewel ze voorkomt in Wim Hazeus Slauerhoff-biografie, is er nog veel onbekend over deze vrouw, die ten faveure van de exotische dichter de brui gaf aan haar kersverse huwelijk met de arts Leendert Eerland. Wie was zij en wie maakte de andere foto's in het album, waarop Slauerhoff in Macao te zien is?
En verder:
menno voskuil, Ben je in de winterboom. James Purdy en de Nederlandse private press
marco entrop, Tussen wilde zwanen en onsterfelijke nachtegalen.Op verjaarsvisite bij J.C. Bloem
bart slijper, Desperate charges. Tachtigers en sport
hans olink, Het geheim van Buchenwald
jan paul hinrichs, Schoon & haaks
paul arnoldussen, Wout Vuyk (1922-2016)
De Parelduiker is een uitgave van Uitgeverij Bas Lubberhuizen | Postbus 51140 | 1007 EC Amsterdam
# Meer op website De Parelduiker
fleursdumal.nl magazine
More in: - Book Lovers, - Book Stories, Art & Literature News, Bloem, J.C., LITERARY MAGAZINES, PRESS & PUBLISHING, Slauerhoff, Jan
---
Beat Generation
Until 3 October 2016
The Centre Pompidou is to present Beat Generation, a novel retrospective dedicated to the literary and artistic movement born in the late 1940s that would exert an ever-growing influence for the next two decades. The theme will be reflected in all the Centre's activities, with a rich programme of events devised in collaboration with the Bibliothèque Public d'Information and Ircam: readings, concerts, discussions, film screenings, a colloquium, a young people's programme at Studio 13/16, etc.
Foreshadowing the youth culture and the cultural and sexual liberation of the 1960s, the emergence of the Beat Generation in the years following the Second World War, just as the Cold War was setting in, scandalised a puritan and Mc Carthyite America. Then seen as subversive rebels, the Beats appear today as the representatives of one of the most important cultural movements of the 20th century – a movement the Centre Pompidou's survey will examine in all its breadth and geographical amplitude, from New York to Los Angeles, from Paris to Tangier.
The Centre Pompidou's exhibition maps both the shifting geographical focus of the movement and its ever-shifting contours. For the artistic practices of the Beat Generation – readings, performances, concerts and films – testify to a breaking down of artistic boundaries and a desire for interdisciplinary collaboration that puts the singularity of the artist into question. Alongside notable visual artists, mostly representative of the California scene (Wallace Berman, Bruce Conner, George Herms, Jay DeFeo, Jess…), an important place is given to the literary dimension of the movement, to spoken poetry in its relationship to jazz, and more particularly to the Black American poetry (LeRoi Jones, Bob Kaufman…) that remains largely unknown in Europe, like the magazines in which it circulated (Beatitude, Umbra…). Photography was also an important medium, represented here by the productions of Allen Ginsberg and William Burroughs – mostly portraits – and a substantial body of photographs by Robert Frank (Les Américains, From the Bus…), Fred McDarrah, and John Cohen, all taken during the shooting of Pull my Daisy, as well as work by Harold Chapman, who chronicled the life of the Beat Hotel in Paris between 1958 and 1963. The same was true of the films (Christopher MacLaine, Bruce Baillie, Stan Brakhage, Ron Rice…) that would both reflect and document the history and development of the movement.
Exhibition at the Centre Pompidou in Paris until October 3, 2016
New publication:
Beat generation – exhibition album
Movement of literary and artistic inspiration born in the United States in the 1950s, at the initiative of William Burroughs, Allen Ginsberg and Jack Kerouac, the Beat Generation has profoundly influenced contemporary creation.
The book displays the different artworks exhibited along with short explanatory essays. A clear and precise album suitable for a large audience.
Bilingual version French / English.
Binding: Softbound
Language: Bilingual French / English
EAN 9782844267467
Number of pages 60
Number of illustrations 60
Publication date 15/06/2016
Dimensions 27 x 27 cm
Author: Philippe-Alain Michaud
Publisher: Centre Pompidou
€9.50
# Information and schedule about the Beat Generation exhibition on website Centre Pompidou
fleursdumal.nl magazine
More in: - Book News, BEAT GENERATION, Burroughs, William S., DICTIONARY OF IDEAS, DRUGS & MEDICINE & LITERATURE, Ginsberg, Allen, Kerouac, Jack, Literaire sporen, LITERARY MAGAZINES
---
Literair tijdschrift De Gids bestaat 179 jaar. In die vele jaren heeft De Gids een cruciale bijdrage geleverd aan de Nederlandse letteren. Dat heeft De Gids alleen maar kunnen realiseren door met de tijd mee te bewegen. Elke tijd vraagt immers om een andere aanpak, een andere vorm.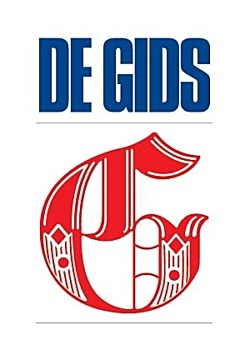 Enkele jaren geleden is de subsidie aan literaire tijdschriften stopgezet. Om die reden is De Gids een alliantie aangegaan met De Groene Amsterdammer. Behalve aan de eigen abonnees wordt De Gids toegestuurd aan abonnees van De Groene. Daardoor is de oplage van De Gids tot boven de 20.000 gestegen, voor een literair tijdschrift ongekend. Zo weet De Gids een hoge kwaliteit te combineren met een groot publieksbereik. Dat is het antwoord van De Gids op wat deze tijd vraagt.
De Gids geniet ruimhartige ondersteuning van De Groene Amsterdammer. Maar ook de middelen van De Groene Amsterdammer zijn niet onbeperkt. Het is daarom zaak dat De Gids zijn positie verstevigt. Verhoging van het aantal eigen abonnees is cruciaal. Alleen met voldoende Gids-abonnees is zijn toekomst gegarandeerd.
Misschien heeft u nog geen abonnement op De Gids. In dat geval zijn er goede redenen er wel een te nemen. Dan krijgt u zes keer per jaar de beste verhalen, gedichten en literaire essays van de Lage Landen toegestuurd en draagt u tegelijk bij aan de vitaliteit van het oudste, spannendste en meest gezaghebbende literaire tijdschrift van Nederland. Dit is geen grootspraak. Zoals in de voorafgaande 179 jaar publiceren de beste Nederlandstalige schrijvers en dichters in De Gids. In de afgelopen paar nummers waren dat onder andere Maarten Asscher, Maria Barnas, Hans Maarten van den Brink, Adriaan van Dis, Rob van Essen, Piet Gerbrandy, Micha Hamel, Kees 't Hart, Mensje van Keulen, Yves Petry, Nina Polak, Annelies Verbeke, Dirk van Weelden en Niña Weijers.
# meer informatie over literair tijdschrift De Gids
fleursdumal.nl magazine
More in: - Book Lovers, Art & Literature News, LITERARY MAGAZINES, PRESS & PUBLISHING
---
Symposium
The Battle for Europe
What kind of Europe do we want?
Dutch citizens vote in a consultative referendum on the Association Agreement between the European Union and the Ukraine on April 6. The discussion is heated. In Brussels, the EU keeps a close eye on the outcome in the Dutch referendum. At stake is not only a trade union and closer cooperation between these two parties, but also the relations between member states within the EU. Is this referendum not actually a turning point, a battle for the future of Europe?
Opponents of the treaty with Ukraine consider it an undemocratic attempt to increase the power of the EU. In their eyes, the EU is a bureaucratic monster that gradually threatens the sovereignty of its member states while simultaneously robbing them. They turn their backs to the EU, reject the transfer of sovereign power to Brussels and withdraw behind clearly defined national boundaries. Proponents of the agreement emphasize the need to stand together within Europe in order to ensure security, stability and economic prosperity for all European citizens. Without dismissing the need for questioning the current EU, they still see it as the best way to reinforce European cooperation and values such as peace, civil rights, solidarity and prosperity – values that must be accessible to everyone.
Where do Europe's borders actually lie? Are these borders geographically, historically or culturally defined? Is further expansion of the EU necessary, and what is the role of America and Russia? 'The Battle for Europe' presents a lively debate between euro critics and euro lovers, between supporters and opponents of rapprochement with Ukraine and allows you to discuss with thinkers and politicians of international standing about the fundamental problem underlying the Dutch Referendum: What kind of Europe do we want?
Symposium
The Battle for Europe
What kind of Europe do we want?
2 April 2016
15.00 – 17.00
DeLaMar Theater Amsterdam
Speakers
Harry van Bommel, politician
Pavlo Klimkin, Minister of Foreign Affairs of Ukraine
Ivan Krastev, political scientist
John Laughland, investigative journalist
Peter Pomerantsev, Russia specialist
Ivan Vejvoda, expert of European integration
Entrance tickets
– Normal ticket € 10
– Nexus Friend tickets are free (max. 2 pp)
The Battle for Europe
Nexus-symposium 2016
# More info on website NEXUS
fleursdumal.nl magazine
More in: Art & Literature News, DICTIONARY OF IDEAS, LITERARY MAGAZINES, Magazines, Nexus Instituut
---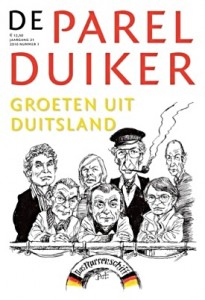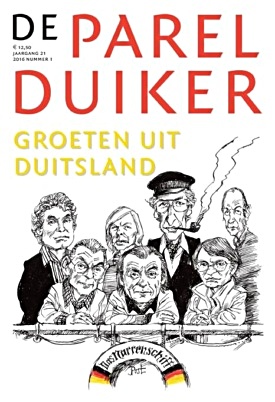 Kom naar de feestelijke Parelduikermiddag aan het begin van de Boekenweek, in het Theater van het Woord van de OBA te Amsterdam (7e etage).
Thema: Duitsland.
M.m.v. Els Snick, Hans Olink, Ton Naaijkens, Guido Groenland en Daan Boertien.
Els Snick reisde door Duitsland, praatte met vluchtelingen, volgde het spoor van Joseph Roth en dook in haar eigen familieverleden. Haar boek, Duitsland op het spoor (Uitgeverij Bas Lubberhuizen), wordt ten doop gehouden.
Hans Olink, die regelmatig in Berlijn verblijft, volgt in de Duitse hoofdstad het spoor van Nederlandse en Duitse kunstenaars en politici, van mensen die de geschiedenis vorm gaven. Zijn boek, Berlijn, Berlin. In het spoor van de geschiedenis (Uitg. Prominent), verschijnt eveneens die dag.
Ton Naaijkens, hoogleraar Duitse letterkunde en Vertaalwetenschap aan de Universiteit Utrecht, draagt Duitse poëzie in vertaling voor.
Guido Groenland (tenor) en Daan Boertien (piano) verluchtigen het programma met Duitse muziek uit de twintigste eeuw (Brecht/Weill en Eisler).
TOEGANG VRIJ!
12 maart 2016: Parelduikermiddag in de OBA
# Meer info op website van De Parelduiker
fleursdumal.nl magazine
More in: Art & Literature News, Galerie Deutschland, LITERARY MAGAZINES, The talk of the town
---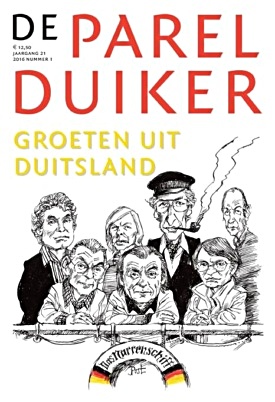 De Parelduiker 2016/1
'Groeten uit Duitsland'
Een literaire Rijnreis
Zet 70 schrijvers op een boot en laat ze 5 dagen lang een tocht van Bazel naar Rotterdam over de Rijn maken, dan zal de literatuur vanzelf gaan stromen. Dat dachten de organisatoren van het 'internationaal literair experiment' Das Narrenschiff in juni 1984 schrijvers. Een van de Nederlandse auteurs, Bob den Uyl, vond de gedachte 'onzin'. Maar hij ging wel, net als Harry Mulisch, Remco Campert, Gerrit Kouwenaar, J. Bernlef, C. Buddingh', Louis Ferron en Jan Eijkelboom. Buddingh'-biograaf Wim Huijser beschrijft de tocht van dit Narrenschip en z'n steeds ongemakkelijker wordende opvarenden.
Nederlandse en Vlaamse schrijvers in Duitsland, 1940-1942
Na de machtsovername door Hitler in 1933 bleven Nederlandse en Vlaamse schrijvers Duitsland bezoeken.
In Weimar werden onder auspiciën van de nazi's jaarlijks literaire bijeenkomsten gehouden voor schrijvers, boekhandelaren en uitgevers. Rintsje Sybesma, Henri Bruning, Jan H. Eekhout en dr. Jan de Vries kwamen op uitnodiging en voor Vlaanderen kwamen Felix Timmermans, Ernest Claes, Filip de Pillecyn, Wies Moens en Ferdinand Vercnocke.
Tussen goed en kwaad
Stijn Streuvels werd tijdens en na de Tweede Wereldoorlog enige Duitsgezindheid verweten. Goede vriend Antoon Coolen vroeg Streuvels daar na de bevrijding in een merkwaardig-harde brief opheldering over. Zelf was Coolen tijdens de bezetting heel duidelijk anti-Duits geweest en had hij acties ondernomen die hem en zijn familie in gevaar hadden gebracht. Streuvels gaf een klaar antwoord op dit requisitoir van Coolen.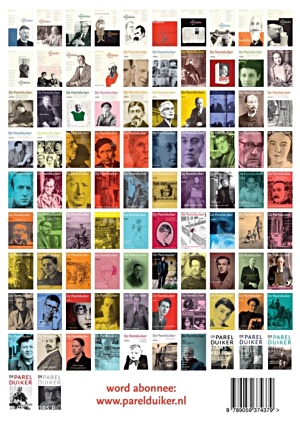 De Parelduiker
De Parelduiker is een tijdschrift over schrijvers en literatuur. Op een toegankelijke, niet-academische manier doet het verslag van enerverende, vaak amusante speurtochten naar de verborgen schatten van onze literatuurgeschiedenis. Onder het mom van het aan Multatuli ontleende motto 'Een parelduiker vreest den modder niet' belichten de medewerkers aan dit blad niet alleen de verborgen zijde van bekende auteurs, maar halen zij ook vergeten schrijvers boven water. De rubrieken 'Laagwater', voor de faits divers in de letterkunde, en 'Seinpost', waarin vanuit de pleisterplaatsen van literaire auteurs wordt bericht, maken De Parelduiker tot een bij uitstek prettig leesbaar blad, dat bij een groot aantal lezers en literatuurjournalisten gretig aftrek vindt.
De Parelduiker is een uitgave van Uitgeverij Bas Lubberhuizen en wordt financieel ondersteund door het P.O. van Gennep Fonds en de Stichting Vrienden van De Parelduiker
Redactie
De Parelduiker bestaat sinds 1996 en verschijnt vijf keer per jaar. De lay-out is van Piet Gerards, de opmaak wordt uitgevoerd door CeevanWee.
De redactie van De Parelduiker wordt gevormd door Hein Aalders, Marco Daane, Marco Entrop, Marsha Keja, Menno Voskuil en Thijs Wierema.
# Meer info op website van De Parelduiker
fleursdumal.nl magazine
More in: - Book Lovers, Art & Literature News, Galerie Deutschland, LITERARY MAGAZINES
---
Speciaal themanummer Literair tijdschrift Extaze tijdens het Kellendonk-jaar 2015
Ook dit jaar maakt Literair Tijdschrift Extaze weer een bijzonder themanummer.
Vijfentwintig jaar geleden is de Nederlandse schrijver Frans Kellendonk overleden, voor Extaze reden om een apart nummer over zijn leven en schrijverschap te plannen.
Begin april is een crowdfundingactie gestart via website: www.voordekunst.nl
Waarom uw steun nodig is . . .
Het Kellendonk-nummer, zoals dat de redactie van Extaze voor ogen staat, kan niet met de eigen bescheiden middelen gefinancierd worden. De kosten voor het onderzoek, de uitwerking van de stukken, het beeldend werk (waarvoor een gerichte opdracht is gegeven aan Rens Krikhaar, een beeldend kunstenaar te Den Haag wiens stijl verwantschap toont met het werk van Kellendonk), de speciale vormgeving, net als het beeldend werk aangepast aan het onderwerp, de extra drukkosten die de bijzondere vormgeving en het extra aantal pagina's met zich meebrengen en de 'anders dan andere' presentatie, waarvoor sprekers en podiumartiesten gerichte opdrachten krijgen, noodzaken de redactie een beroep op u te doen. (Door dit bericht te delen helpt u ook mee!)
Crowdfundingactie Kellendonk-nummer Extaze
Meer informatie op website Kellendonkfonds: http://kellendonkfonds.nl/
fleursdumal.nl magazine
More in: Art & Literature News, Frans Kellendonk, LITERARY MAGAZINES
---
Jo Glanville: The Charlie Hebdo principle (PEN director Jo Glanville responds to the withdrawal of six writers from PEN American Center's annual gala over their decision to honour Charlie Hedbo)
The distaste of eminent writers such as Peter Carey at PEN American Center's decision to honour Charlie Hebdo at its gala next month, highlights once again the fundamental inconsistency that underpins attitudes towards free speech. Within days of the 'Je Suis Charlie' outpouring of solidarity, French police were arresting citizens for glorifying terrorism, while David Cameron's government was busy pushing a counter terrorism bill through Parliament that would severely curtail universities' liberty as a forum for freedom of expression. We may be used to the double standards of politicians, but what about writers?
Becoming a member of PEN (one of the oldest human rights organisations in the world, and the largest international community of writers) means pledging 'to oppose any form of suppression of freedom of expression in the country and community to which [writers] belong, as well as throughout the world wherever this is possible'. That's a sentiment one would hope any writer might be happy to support and PEN depends, on a regular basis, on its members speaking out and standing up for fellow writers at risk. That's the source of its influence and moral authority.
One of the writers, Francine Prose, a former PEN President, who decided to withdraw from the gala in protest, was reported as saying that giving an award signified 'admiration and respect' for the winner's work. 'I couldn't imagine being in the audience when they have a standing ovation for Charlie Hebdo.' But Charlie Hebdo is in fact being recognised for its courage: the courage to publish in the face of threats and intimidation, and the courage to continue publishing after the shocking murders in January.
We are more used to seeing that courage at a greater distance – in Mexico, Russia, Bangladesh or Egypt – and feel safe celebrating writers and journalists who may be prosecuted for outraging public morals in their own culture.
On our own doorstep, when faced with a satirical publication that provokes and offends, there is an underlying view implicit in the protest of Peter Carey and fellow writers that this kind of speech is not worth defending. Carey questioned whether it even was a freedom of expression issue; the writer Deborah Eisenberg voiced concerns (as have many others) about Charlie Hebdo's 'denigrating portrayals of Muslims'. Yet one of the most important, if uncomfortable, responsibilities for any free speech advocate is to defend the right to express speech which may be shocking, disturbing or offensive. Without that broad defence, the limits of everyone's speech, as well as writers and publishers, are at risk of being restricted to suit the political agenda or prevailing morality, at a cost to artistic licence as well as individual freedom.
Most of the great free speech battles in history have been fought over issues that were not deemed deserving of defence. The subjects of the famous obscenity prosecutions of the 70s in the UK (the Oz trial or Linda Lovelace's memoir) were seen as publications of no merit. But what was at stake, as in the case of Charlie Hebdo, was the principle: the freedom to publish and the freedom to write. A freedom on which all writers depend. Victory in court (in the face of moral outrage) led to greater freedom for publishers and writers. In one of his last interviews, the writer and barrister John Mortimer, who famously defended both the Oz and the Lovelace trials, spoke of the retreat from 'the abiding principle … that you lived in a country where you could read anything you like'. The growth of the idea that we should at all costs avoid causing offence (and that this may be even more important than defending the right to free speech) continues to undermine that principled protection for freedom of expression.
Salman Rushdie, a notable supporter of English PEN and the PEN American Center, who has excoriated the withdrawal of Carey and others from the gala, was similarly criticised 26 years ago for causing gratuitous offence (by fellow writers) after the fatwa. Roald Dahl even called him a dangerous opportunist. There may be 'good faith differences of opinion within our community' as PEN American Center generously acknowledged on Sunday but it's in the interests of all writers to stand up for the principle. ‎
Jo Glanville is director of English PEN
(This piece first appeared in The Bookseller (28 April 2015). Source: website English PEN)
# More information on website English PEN
fleursdumal.nl magazine
More in: Art & Literature News, LITERARY MAGAZINES, PRESS & PUBLISHING, REPRESSION OF WRITERS, JOURNALISTS & ARTISTS
---
Older Entries »
Thank you for reading FLEURSDUMAL.NL - magazine for art & literature