Archive Y-Z
·
Why Poetry by Matthew Zapruder
·
"Ich gehöre nirgends mehr hin" – Stefan Zweigs Schachnovelle, Ausstellung Berlin
·
IM MEMORIAM JOOST ZWAGERMAN (1963 – 2015)
Poet and editor Matthew Zapruder was born in Washington, DC. He earned a BA in Russian literature at Amherst College, an MA in Slavic languages and literature at the University of California, Berkeley, and an MFA in poetry at the University of Massachusetts, Amherst.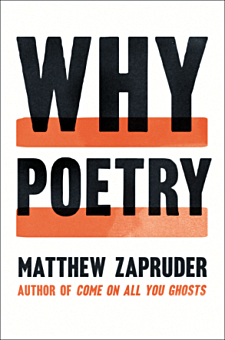 Zapruder's poems employ nuanced, conversational syntax to engage themes of grief, perception, and logic. As Dana Jennings noted in the New York Times, Zapruder has a "razor eye for the remnants and revenants of modern culture." Discussing his own development as a writer in the Los Angeles Times, Zapruder addressed the role of rhyme in his work: "[T]he rhyme is what I would call 'conceptual,' that is, not made of sounds, but of ideas that accomplish what the sounds do in formal poetry: to connect elements that one wouldn't have expected, and to make the reader or listener, even if just for a moment, feel the complexity and disorder of life, and at the same time what Wallace Stevens called the 'obscurity of an order, a whole.'"
Zapruder is the author of several collections of poetry, including Sun Bear (2014), Come On All You Ghosts (2010), The Pajamaist (2006), and American Linden (2002). He collaborated with painter Chris Uphues on For You in Full Bloom (2009) and cotranslated, with historian Radu Ioanid, Romanian poet Eugen Jebeleanu's last collection, Secret Weapon: Selected Late Poems (2008).
With Brian Henry, Zapruder cofounded Verse Press, which later became Wave Books. As an editor for Wave Books, Zapruder coedited, with Joshua Beckman, the political poetry anthology State of the Union: 50 Political Poems (2008). His own poems have been included in the anthologies Best American Poetry (2013, 2009), Third Rail: The Poetry of Rock and Roll (2007), and Legitimate Dangers: American Poets of the New Century (2006), as well as Poets on Teaching: A Sourcebook (2010). Why Poetry, a book of prose about reading poetry for a general audience, is forthcoming from Ecco/Harper Collins in early 2017.
Zapruder's poetry has been adapted by some of America's most exciting young composers. In Fall, 2012, his poetry was adapted and performed at Carnegie Hall by Composer Gabriel Kahane and Brooklyn Rider. In February, 2014, composer Missy Mazzoli, along with Victoire and Glenn Kotche, performed Vespers for a New Dark Age, a piece commissioned by Carnegie Hall for the 2014 Ecstatic Music Festival, and released as a recording on New Amsterdam records in spring, 2015.
Zapruder's honors include a Guggenheim Fellowship, a Lannan Foundation Residency Fellowship, the William Carlos Williams Award from the Poetry Society of America, and the May Sarton Prize from the American Academy of Arts and Sciences. He has taught at New York University, the New School, the University of California Riverside – Palm Desert Low Residency MFA Program, the University of Massachusetts, Amherst's Juniper Summer Writing Institute, and at the University of California at Berkeley as the Holloway Fellow.
He lives in Oakland, where he is an associate professor in the Saint Mary's College of California MFA Program in Creative Writing, as well as editor at large for Wave Books. He is also a guitarist in the rock band The Figments.
From Matthew Zapruder's poem:
American Singer
(. . .)
I notice probably
because you wrote
that strange
word funeral
the constant black
fabric I think
is taffeta
always draped
over the scaffolds
the figures
scraping paint
are wearing dusty
protective suits
and to each other
saying nothing
I move invisibly
like a breeze
around three men
wearing advanced
practically weightless
jackets impervious
to all possible
weather even
a hurricane
(. . .)
Matthew Zapruder
Why Poetry
Hardcover
2017
Pag. 256
Ecco Publisher
ISBN13: 9780062343079
ISBN10: 0062343076
fleursdumal.nl
More in: - Book News, Archive Y-Z, Archive Y-Z, Art & Literature News
---
Acht Jahre verbrachte der österreichische Schriftsteller Stefan Zweig (geb. 1881) im Exil. Einen Tag nach der demütigenden Durchsuchung seiner Villa am Salzburger Kapuzinerberg hatte er am 20. Februar 1934 Österreich verlassen und lebte zunächst in London, ab Sommer 1939 zusammen mit seiner zweiten Frau Lotte Altmann (geb. 1908) im englischen Kurort Bath.
Das Provisorium befristeter Certificates of identity endete für beide erst im Frühjahr 1940, als sie Britische Staatsbürger wurden – ihre Pässe enthielten jedoch den Stempel »alien enemy«, was deutlich auf die Herkunft aus einem verfeindeten Staat verwies. Als die Zweigs schließlich Ende Juni 1940 nach New York und weiter nach Rio de Janeiro aufbrachen, hielten deutsche Truppen schon seit 10 Tagen Paris besetzt. Auch für Großbritannien war die Lage bedrohlich geworden: Wegen eines Luftalarms mussten Lotte und Stefan Zweig in der Nacht ihrer Abfahrt zeitweise den Schutzkeller ihres Hotels in Liverpool aufsuchen.
Im Herbst und Winter 1940 bereisten die Zweigs Brasilien. Schon im Sommer 1936 war Zweig dort wie ein Star gefeiert worden und hatte seine Eindrücke voller Dankbarkeit geschildert. Doch seine neue Hommage, »Brasilien. Ein Land der Zukunft«, zog nunmehr kritische Stimmen auf sich: Zweig hatte ausgeblendet, dass der Brasilianische Präsident mittlerweile diktatorisch regierte, Parteien und Gewerkschaften verboten waren, missliebige Journalisten im Gefängnis saßen und die Einwanderung von Juden künftig verhindert werden sollte.
Wenige Wochen vor seinem 60. Geburtstag bezog Zweig zusammen mit seiner Frau ein bescheidenes Haus in der brasilianischen Stadt Petrópolis, landeinwärts von Rio de Janeiro, »ein kleiner Semmering, nur primitiver, so wie anno 1900 das Salzkammergut«. Im provinziellen Abseits überarbeitete Zweig seine Erinnerungen »Die Welt von Gestern« und schrieb »etwas Neues«, die »Schachnovelle«. Als er am 21. Februar 1942 auf dem Postamt von Petrópolis drei Typoskripte der Novelle abschickte, hatte Brasilien die diplomatischen Beziehungen zu Deutschland bereits abgebrochen. Deutsch galt fortan als Feindsprache und durfte in der Öffentlichkeit nicht mehr gesprochen werden, auch das Mitführen deutscher Drucksachen war verboten.
In der Nacht zum 23. Februar nahmen Lotte und Stefan Zweig eine Überdosis Veronal. Entgegen ihrem letzten Willen, auf dem jüdischen Friedhof in Rio de Janeiro beerdigt zu werden, erhielten sie am 24. Februar 1942 ein Staatsbegräbnis in Petrópolis.
Entkräftet vom heimatlosen Wandern im Exil, nimmt Zweig in seinen beiden zuletzt entstandenen Werken Abschied von seiner geistigen Heimat. In seinen autobiographischen Erinnerungen, »Die Welt von Gestern«, beschwört er das alte Europa, die Weltoffenheit und kulturelle Sphäre seiner Heimatstadt Wien. In der »Schachnovelle« hingegen gestaltet er die grauenvollen Geschehnisse jener Barbarei, die den Traum von einem geeinten, zivilisierten Europa radikal zerstörte. Dem Protagonisten der Novelle, dem Anwalt Dr. B., ist zwar die rettende Flucht ins Exil gelungen. Doch bei der Überfahrt von New York nach Argentinien ist von einer Ankunft in einem sicheren Hafen nicht die Rede. Vielmehr wird Dr. B. von seinen traumatischen Wiener Erlebnissen überwältigt.
»Die Welt von Gestern« und die »Schachnovelle« stehen als exemplarische Werke des Exil-Autors Stefan Zweig im Zentrum der Ausstellung, für die zahlreiche Manuskripte, Typoskripte und persönliche Dokumente Zweigs aus amerikanischen und israelischen Archiven einbezogen werden konnten. Auch Teile der Autographensammlung, die Zweig Ende 1937 der Österreichischen Nationalbibliothek übereignete, sind hier erstmals zu sehen. Dankbarkeit Österreichs hat Zweig für seine Großzügigkeit nie erfahren – im Gegenteil: Seine Bücher wurden am 30. April 1938 auf dem Salzburger Residenzplatz vom nationalsozialistischen Mob verbrannt. In der Ausstellung ist dazu ein nach dem Krieg aufgenommenes Radiogespräch mit Zweigs erster Ehefrau Friderike, die später in den USA lebte, zu hören.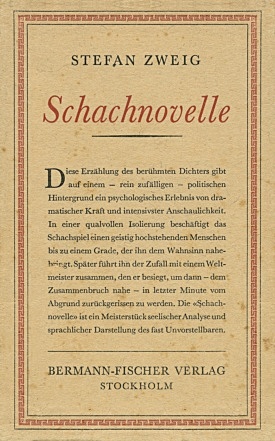 Die »Schachnovelle« ist die einzige Erzählung Zweigs, in der er zeitgenössische politische Verhältnisse darstellt. Mit den Szenen, die im ehemaligen Wiener Grand-Hotel »Métropole« spielen, hat Zweig den Opfern des Nationalsozialismus ein Denkmal gesetzt – in diesem beschlagnahmten Hotel hatte seit Ende März 1938 die Gestapo-Leitstelle Wien ihren Sitz. Ein großes Modell des »Métropole« wird in der Ausstellung gezeigt, und in Film- und Tonausschnitten berichten Rosa Grossmann und Bruno Kreisky stellvertretend für viele andere, die dort gefoltert und gedemütigt wurden, von ihren Erlebnissen.
Neben Ausschnitten aus dem 1960 produzierten Film »Schachnovelle« (mit Curd Jürgens und Mario Adorf) sind auch von Zweig benutzte Schachbücher, Teile der handschriftlich bearbeiteten Typoskripte und die ersten Buchausgaben der Erzählung zu sehen. In einem bewegenden brasilianischen Dokumentarfilm kommen noch Zeitzeugen Zweigs, darunter sein Verleger Abrahão Koogan, zu Wort.
Auch Zweigs Freundschaft mit Sigmund Freud, sein Engagement für die Gründung des europäischen PEN-Clubs in den USA, seine Hilfsbereitschaft für jüdische Flüchtlinge werden in der Ausstellung eindrucksvoll dokumentiert, die anlässlich des 75. Todestages Stefan Zweigs neu konzipiert wurde.
Im Begleitprogramm werden im August und Anfang September dienstags und donnerstags abends besondere Verfilmungen von Werken Stefan Zweigs in den Ausstellungsräumen gezeigt. Ab Mitte September wird das Programm mit Lesungen und Vorträgen fortgesetzt.
Eine Ausstellung des Theatermuseums Wien und des Stefan Zweig Zentrums Salzburg im Literaturhaus Berlin
27.7. bis 24.9.2017
Di – Fr: 14 – 19 Uhr
Sa, So: 11 – 19 Uhr
Kurator: Dr. Klemens Renoldner, Stefan Zweig Zentrum Salzburg
Gestaltung: Peter Karlhuber, Wien
In der Ausstellung erhältlich:
"Ich gehöre nirgends mehr hin" Stefan Zweigs Schachnovelle, 2017
Hardcover, 19×24 cm, 80 S.
ISBN 978-3-900088-80-4
Zahlr. Abb., 17.- Euro
Literaturhaus Berlin
Fasanenstraße 23
10719 Berlin
Tel. 030/887286-0,
e-mail: literaturhaus@literaturhaus-berlin.de
website: http://www.literaturhaus-berlin.de/
fleursdumal.nl magazine
More in: - Book News, - Book Stories, Archive Y-Z, Art & Literature News, DEAD POETS CORNER, FDM in Berlin, Museum of Literary Treasures, Stefan Zweig, Zweig, Stefan
---
Joost Zwagerman (Alkmaar, 18 november 1963 – Haarlem, 8 september 2015) was een Nederlands schrijver, dichter, essayist en columnist. Hij heeft op 51-jarige leeftijd een eind aan zijn leven gemaakt.
Joost Zwagerman (Alkmaar, 1963 – Haarlem, 2015) debuteerde in 1986 op tweeëntwintigjarige leeftijd met de roman De houdgreep. Enkele jaren later bereikte Zwagerman met zijn romans Gimmick! (1989) en Vals licht (1991) een groot publiek.
In 1994 volgde De buitenvrouw (1994). Van deze drie romans zijn meer dan 200.000 exemplaren per titel verkocht. Op dit moment behoort Joost Zwagerman tot de meest gelezen schrijvers van zijn generatie. Zijn werk verscheen in vertaling in Duitsland, Frankrijk, Hongarije, Tsjechië en Japan.
Naast romans, verhalen en essays schreef Joost Zwagerman ook poëzie. Er zijn vijf dichtbundels van hem verschenen.
Onlangs verscheen het boek: De stilte van het licht. Schoonheid en onbehagen in de kunst, een mooie ingetogen bundel over beeldende kunst.
In het najaar van 2015 verschijnt nog een herdruk van zijn boek: Door eigen hand. Zelfmoord en de nabestaanden.
Van het werk van Joost Zwagerman zijn ruim 1,2 miljoen gexemplaren verkocht.
...zag jij misschien dat ik naar jou,
dat ik je zag en dat ik zag hoe jij
naar mij te kijken zoals ik naar jou
en dat ik hoe dat heet zo steels,
zo en passant en ook zo zijdelings –
dat ik je net zo lang bekeek tot ik
naar je staarde en dat ik staren bleef.
Ik zag je toen en ik wist in te zien
dat in mijn leven zoveel is gezien
zonder dat ik het ooit eerder zag:
dat kijken zoveel liefs vermag.
Joost Zwagerman
Proza
1986 – De Houdgreep, roman
1987 – Kroondomein, verhalen
1989 – Gimmick!, roman
1991 – Vals Licht, roman
1994 – De buitenvrouw, roman
1996 – Tomaatsj, novelle
1997 – Chaos en rumoer, roman
1998 – Het jongensmeisje, verhalen
2002 – Zes sterren, roman
2010 – Duel, Boekenweekgeschenk
Gedichten
1987 – Langs de doofpot, gedichten
1988 – De ziekte van jij, gedichten
1993 – De mooiste vrouw ter wereld, gedichten
2001 – Bekentenissen van de pseudomaan, gedichten
2005 – Roeshoofd hemelt, gedichten
2005 – Tot hier en zelfs verder. De vroege gedichten
2010 – Beeld verplaatst, gedichten bij kunstwerken van oa Erwin Olaf, Rineke Dijkstra, Marlene Dumas en Rob Scholte
2012 – De wereld is hier, een keuze uit de gedichten
2014 – Voor alles, gedichten
Non-fictie
1993 – Collega's van God, essays
1993 – De kus van Michael Jackson, jeugdboek
1996 – In het wild, essays en kritieken
2000 – Pornotheek Arcadië, essays
2001 – Walhalla, essays
2001 – Landschap met klein vuil, columns
2003 – Het wilde westen, columns
2003 – Het vijfde seizoen, essays
2004 – Tussen droom en daad in Dubbelstad: Alkmaar in feit en fictie
2005 – Door eigen hand. Zelfmoord en de nabestaanden, essays en interviews
2006 – Perfect Day en andere popverhalen
2006 – Transito, essays
2007 – De schaamte voor links, pamflet
2007 – Hollands welvaren
2009 – Hitler in de polder & Vrij van God, pamflet
2011 – Alles is gekleurd, omzwervingen in de kunst
2012 – Kennis is geluk. Nieuwe omzwervingen in de kunst
2013 – Americana 1 & 2, Omzwervingen in de Amerikaanse cultuur
2015 – De Stilte van het Licht
Overige
2005 – De Nederlandse en Vlaamse literatuur vanaf 1880 in 250 verhalen, bloemlezing
2006 – De Nederlandse en Vlaamse literatuur vanaf 1880 in 60 lange verhalen, bloemlezing
2007 – De ontdekking van de literatuur. The Paris Review Interviews, bloemlezing
2008 – De Nederlandse en Vlaamse literatuur vanaf 1880 in 200 essays, bloemlezing
2009 – Het volmaakte kleine stukje, een keuze uit het werk van Kees Fens, bloemlezing
(Bron bibliografie: Wikipedia)
fleursdumal.nl magazine
More in: Archive Y-Z, Archive Y-Z, In Memoriam, Joost Zwagerman, Zwagerman, Joost
---
Thank you for reading FLEURSDUMAL.NL - magazine for art & literature