Archive U-V
·
Leonardo da Vinci by Walter Isaacson
·
Prix Goncourt 2017 pour 'L'ordre du jour' d' Eric Vuillard
·
Schrijver-criticus EMILE VERHAEREN en de kunst van zijn tijd in MSK Gent
·
Nieuwe wielerverhalen van JACE van de Ven: Mag ik nog wat wind van achteren?
The author of the acclaimed bestsellers Steve Jobs, Einstein, and Benjamin Franklin brings Leonardo da Vinci to life in this exciting new biography.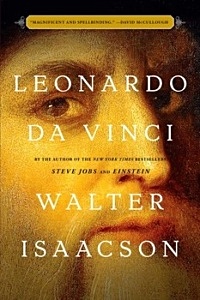 Based on thousands of pages from Leonardo's astonishing notebooks and new discoveries about his life and work, Walter Isaacson weaves a narrative that connects his art to his science. He shows how Leonardo's genius was based on skills we can improve in ourselves, such as passionate curiosity, careful observation, and an imagination so playful that it flirted with fantasy.
He produced the two most famous paintings in history, The Last Supper and the Mona Lisa. But in his own mind, he was just as much a man of science and technology. With a passion that sometimes became obsessive, he pursued innovative studies of anatomy, fossils, birds, the heart, flying machines, botany, geology, and weaponry. His ability to stand at the crossroads of the humanities and the sciences, made iconic by his drawing of Vitruvian Man, made him history's most creative genius.
His creativity, like that of other great innovators, came from having wide-ranging passions. He peeled flesh off the faces of cadavers, drew the muscles that move the lips, and then painted history's most memorable smile. He explored the math of optics, showed how light rays strike the cornea, and produced illusions of changing perspectives in The Last Supper. Isaacson also describes how Leonardo's lifelong enthusiasm for staging theatrical productions informed his paintings and inventions.
Leonardo's delight at combining diverse passions remains the ultimate recipe for creativity. So, too, does his ease at being a bit of a misfit: illegitimate, gay, vegetarian, left-handed, easily distracted, and at times heretical. His life should remind us of the importance of instilling, both in ourselves and our children, not just received knowledge but a willingness to question it—to be imaginative and, like talented misfits and rebels in any era, to think different.
Walter Isaacson, University Professor of History at Tulane, has been CEO of the Aspen Institute, chairman of CNN, and editor of Time magazine. He is the author of Leonardo da Vinci; The Innovators; Steve Jobs; Einstein: His Life and Universe; Benjamin Franklin: An American Life; and Kissinger: A Biography, and the coauthor of The Wise Men: Six Friends and the World They Made.
Walter Isaacson
Leonardo da Vinci
624 pages
ISBN 9781501139154
October 2017
Simon & Schuster
fleursdumal.nl magazine
More in: - Book News, Archive U-V, Art & Literature News, Exhibition Archive, Natural history
---
L'Allemagne nazie a sa légende. On y voit une armée rapide, moderne, dont le triomphe parait inexorable. Mais si au fondement de ses premiers exploits se découvraient plutôt des marchandages, de vulgaires combinaisons d'intérêts ?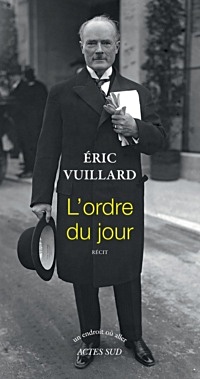 Et si les glorieuses images de la Wehrmacht entrant triomphalement en Autriche dissimulaient un immense embouteillage de panzers ? Une simple panne ! Une démonstration magistrale et grinçante des coulisses de l'Anschluss par l'auteur de Tristesse de la terre et de 14 juillet.
Ils étaient vingt-quatre, près des arbres morts de la rive, vingt-quatre pardessus noirs, marron ou cognac, vingt-quatre paires d'épaules rembourrées de laine, vingt-quatre costumes trois pièces, et le même nombre de pantalons à pinces avec un large ourlet. Les ombres pénétrèrent le grand vestibule du palais du président de l'Assemblée ; mais bientôt, il n'y aura plus d'Assemblée, il n'y aura plus de président, et, dans quelques années, il n'y aura même plus de Parlement, seulement un amas de décombres fumants.
Éric Vuillard, né en 1968 à Lyon, est écrivain et cinéaste. Il a réalisé deux films, L'homme qui marche et Mateo Falcone. Il est l'auteur de Conquistadors (Léo Scheer, 2009, Babel n°1330), récompensé par le Grand prix littéraire du Web – mention spéciale du jury 2009 et le prix Ignatius J. Reilly 2010. Il a reçu le prix Franz-Hessel 2012 et le prix Valery-Larbaud 2013 pour deux récits publiés chez Actes Sud, La bataille d'Occident et Congo ainsi que le prix Joseph-Kessel 2015 pour Tristesse de la terre et le prix Alexandre Viallate pour 14 juillet.
Eric Vuillard
L'ordre du jour
Mai, 2017
160 pages
ISBN 978-2-330-07897-3
prix indicatif : 16, 00€
Actes Sud
Prix Goncourt 2017 pour 'L'ordre du jour' d' Eric Vuillard
fleursdumal.nl magazine
More in: - Book News, - Bookstores, Archive U-V, Art & Literature News, Awards & Prizes, PRESS & PUBLISHING, The Art of Reading, WAR & PEACE
---
Verhaeren verbeeld
De schrijver-criticus Emile Verhaeren en de kunst van zijn tijd
Nog te zien t/m 15.01.2017 in M.S.K. in Gent
In samenwerking met het Verhaerenmuseum in Sint-Amands aan de Schelde en de Université Libre de Bruxelles organiseert het Museum voor Schone Kunsten Gent een grote tentoonstelling over de uit Gent afkomstige dichter en kunstcriticus Emile Verhaeren, die 100 jaar geleden overleed.
De tentoonstelling belicht het universele karakter van Verhaerens oeuvre, zijn netwerk binnen de kunstwereld rond de eeuwwisseling en de internationale aandacht voor zijn werk, in eerste instantie in België en Frankrijk, maar ook in Rusland en andere landen.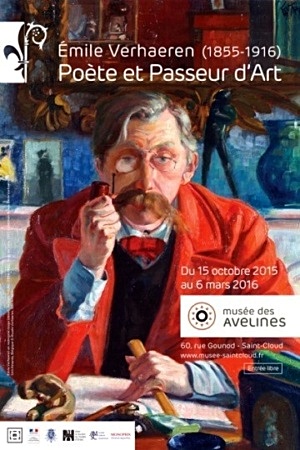 Emile Verhaeren volgde tussen 1880 en 1916 volgde hij nauwgezet de ontwikkeling van de Belgische avant-garde-kunst. Hij verdedigde het naturalisme en de sociale kunst, het impressionisme en het neo-impressionisme, het symbolisme. Bovenal was hij een verdediger van de moderniteit die hij in de kunst van zijn tijd terugvond.
In zijn poëzie en geschriften bundelt Verhaeren zijn gevoelens, passies en artistieke strijdpunten. Meer dan 100 jaar later laten ze ons toe het werk van nationale en internationale kunstenaars te herontdekken door de ogen van een eigenzinnig kenner.
De tentoonstelling brengt de historische en artistieke context tot leven waarin het oeuvre van de dichter-criticus tot stand kwam. Het MSK laat o.a. de rijke collectie schilderijen, beeldhouwwerken en werken op papier zien. Zoals publiekslievelingen als 'De Lezing van Emile Verhaeren' door Théo Van Rysselberghe of 'Kinderen aan het ochtendtoilet' van James Ensor in dialoog met collectiestukken die de reserves weinig verlaten.
Tegelijk haalt het MSK een grote reeks kunstwerken uit internationale publieke en private verzamelingen naar Gent, met stukken van ondermeer Auguste Rodin, Paul Signac, Maximilien Luce of Odilon Redon. Ook kunstenaars als Léon Frédéric, Eugène Laermans en Constantin Meunier, Jan Toorop en Guillaume Vogels, Henry Van de Velde, Fernand Khnopff en George Minne kunnen uiteraard niet ontbreken. In totaal brengt het MSK niet minder dan 200 werken uit het fin de siècle op zaal.
Verhaeren verbeeld
De schrijver-criticus Emile Verhaeren en de kunst van zijn tijd (1881-1916)
Nog te zien t/m 15.01.2017 in M.S.K. in Gent
Museum voor Schone Kunst Gent
Fernand Scribedreef 1
Citadelpark
9000 Gent
# Meer informatie op website MSK Gent
fleursdumal.nl magazine for art & literature
More in: Archive U-V, Art & Literature News, Art Criticism, Exhibition Archive, Historia Belgica, Verhaeren, Emile
---
Nieuwe wielerverhalen van
JACE van de Ven:
Mag ik nog wat wind van achteren?
Op vrijdag de dertiende, de ultieme datum waarop Tilburg het jaar 013 viert, presenteerde de eerste stadsdichter van Tilburg en voormalig journalist en columnschrijver JACE van de Ven het boek `Mag ik nog wat wind van achteren` in Boekhandel Livius in Tilburg. Dat gebeurt na sluitingsuur om 20,00 uur. Iedereen is welkom. Het boek bevat dertien vlot geschreven wielerverhalen, gebaseerd op voorvallen in veertig jaar fietservaring, waarin JACE ongeveer 100.000 kilometer aflegde.
Van de Ven is een geboren verteller met een scherp observatievermogen en een continue verwondering over de menselijke natuur. Zijn belevenissen en gedachten verwerkt hij sinds enkele jaren in korte fietsverhalen die soms hilarisch en relativerend zijn, dan weer ontroerend en serieus van toon. Zo neemt hij je in het nieuwe boek in gedachten mee langs de mooiste dorpjes van de Ardennen, legt hij uit wat er nodig is om een profwielrenner te worden, laat hij de lezer kennis maken met de kleurrijke figuren die hij onderweg ontmoet en ontroert hij met een verhaal waarin hij terugdenkt aan een wedstrijdje fietsen tegen zijn broer Toon, die ondertussen is overleden aan de gevolgen van kanker.
Van de Ven is een opvallende verschijning in het peloton van wielerauteurs. Zijn forse postuur en woeste baard hebben hem de bijnaam Raspoetin bezorgd. Verwacht geen geschoren benen, carbon frames en wetenschappelijk verantwoorde sportdrank. Van de Ven is eerder de bourgondische fietser die bovenop een col stopt om van een wijds uitzicht te genieten en eenmaal beneden… van de gastvrijheid van de lokale horeca.
Van de Ven leest regelmatig fietsverhalen voor bij feesten van wielerverenigingen, in de wielercafés van Oss en Bladel en op parties bij oud-wielrenners. 'Mag ik nog wat wind van achteren?' is zijn antwoord op de vele verzoeken om zijn teksten eens in boekvorm uit te brengen.
'Mag ik nog wat wind van achteren?' (ISBN/EAN: 978-94-90484-05-7 NUR: 303) kent een mooie omslag van Ivo van Leeuwen, het boek is vormgegeven door Chris Leenaars, ReflexBlue en geïllustreerd door Aleksei Makarov, InnoDoks uit Middelbeers is de uitgever. Het boek is gebonden met harde kaft en kost 14,95 euro.
fleursdumal.nl magazine
More in: Archive U-V, Art & Literature News, Ven, Jace van de
---
Thank you for reading FLEURSDUMAL.NL - magazine for art & literature