FICTION & NONFICTION ARCHIVE
·
Diane di Prima: The Poetry Deal. San Francisco Poet Laureate Series No. 5
·
Aslı Erdoğan: The Stone Building and Other Places
·
Ton van Reen: Het diepste blauw (075). Een roman als feuilleton
·
Marie Richeux: Climats de France. Roman
·
Haruki Murakami: Killing Commendatore. A novel
·
Gérard de Nerval: A Victor Hugo – Poéme
·
Jo Nesbø: Macbeth. Blut wird mit Blut bezahlt (Thriller)
·
Biografie van Frans Kellendonk door Jaap Goedegebuure
·
Ton van Reen: Het diepste blauw (074). Een roman als feuilleton
·
The Written World. The Power of Stories to Shape People, History and Civilization by Martin Puchner
·
Annet Schaap wint De Gouden Griffel 2018 met haar prozadebuut Lampje
·
The Fix (Poetry) by Lisa Wells
The Poetry Deal is the first full-length collection of individual poems in decades from legendary feminist Beat poet, Diane di Prima.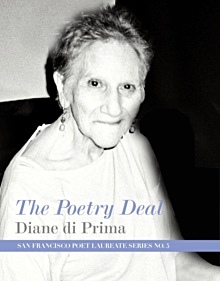 Framed by two passionate, and critical, prose statements assessing her adopted home city, The Poetry Deal is a collection of poems that provide a personal and political look at 40 years of Bay Area culture. Often elegiac in tone, the book captures the poet's sense of loss as she chronicles the deaths of friends from the AIDS epidemic as well as the passing of illustrious countercultural colleagues like Philip Whalen, Pigpen from the Grateful Dead, and Kirby Doyle.
She also recalls and mourns out-of-town inspirations like Chogyam Trungpa Rinpoche, Audre Lorde, and Ezra Pound. Yet even as she laments the state of her city today, she finds triumph and solace in her own relationships, the marriages of her friends, the endurance of City Lights, and other symbols of San Francisco's heritage.
Born in Brooklyn in 1934, di Prima emerged as a member of the Beat Generation in New York in the late '50s; in the early '60s, she founded the important mimeo magazine, The Floating Bear, with her lover LeRoi Jones (Amiri Baraka). In the late '60s, she moved to San Francisco, where she would publish her groundbreaking Revolutionary Letters (1971) with City Lights. Her other important books include Memoirs of a Beatnik, Pieces of a Dream, Recollections of My Life as a Woman, and Loba. She was named San Francisco Poet Laureate in 2009.
"The Poetry Deal is fresh flame from a revolutionary fire that continues to burn. Every woman of every age should carry it in a purse with their pepper spray. Diane is the ultimate weapon."—Amber Tamblyn, author of Dark Sparkler
Title The Poetry Deal
Subtitle San Francisco Poet Laureate Series No. 5
Author Diane di Prima
Collection San Francisco Poet Laureates
Publisher City Lights Publishers
Publication 2014
Format Paperback
ISBN-10 1931404151
ISBN-13 9781931404150
pages 120
Price $11.95
# new books
Diane di Prima poet
fleursdumal.nl magazine
More in: #Beat Generation Archives, - Book Lovers, - Book News, Archive O-P, Archive O-P, Art & Literature News
---
Vivid stories from one of Turkey's most admired contemporary female authors, whose political activism has made her the target of state persecution.
Three interconnected stories feature women whose lives have been interrupted by forces beyond their control. Exile, serious illness, or the imprisonment of one's beloved are each met with versions of strength and daring, while there is no undoing what fate has wrought. These atmospheric, introspective tales culminate in an experimental, multi-voiced novella, whose "stone building" is a metaphor for the various oppressive institutions—prisons, police HQs, hospitals and psychiatric asylums—that dominate the lives of all of these characters. Here is a literary distillation of the alienation, helplessness, and controlled fury of exile and incarceration—both physical and mental—presented in a series of moving, allegorical portraits of lives ensnared by the structures of power.
Aslı Erdoğan (Istanbul, 1967) is a renowned, prize-winning author, journalist, and human rights activist whose fiction has been translated into many languages. She has published novels, collections of short stories and poetic prose, and selections from her political essays. As a journalist, she has covered controversial topics such as state violence, discrimination, and human rights, for which she has been persecuted in a variety of ways.
Erdogan was imprisoned for four months by the Turkish government in a sweeping roundup of dissident voices after the failed coup attempt of July 2016. The subject of both PEN International and PEN America advocacy campaigns, she was released from prison in late December 2016.
This is her second work to be translated into English.
"Aslı Erdoğan is an exceptionally perceptive and sensitive writer who always produces perfect literary texts."—Orhan Pamuk, author of The Red-Haired Woman
Title The Stone Building and Other Places
Author Aslı Erdoğan
Translated by Sevinç Türkkan
Publisher City Lights Publishers
literature in translation
Title First Published 27 February 2018
Format Paperback
ISBN-10 0872867501
ISBN-13 9780872867505
Publication Date 27 February 2018
Main content page count 174
List Price $15.95
# new novel
Aslı Erdoğan
fleursdumal.nl magazine
More in: - Book News, - Book Stories, Archive E-F, Ivo van Leeuwen, PRESS & PUBLISHING, REPRESSION OF WRITERS, JOURNALISTS & ARTISTS
---
Voor ze naar binnen gaan, plukken ze dikke ijspegels van het afdakje boven de deur, om op te sabbelen.
Binnen maken ze een vuurtje van houtblokken. Als het een beetje warm is, trekken Mels en Tijger hun schoenen en sokken uit om ze bij het vuur te drogen. Hun tenen zijn zo wit als die van hun grootmoeder toen ze opgebaard lag en haar voeten net iets onder het laken uit staken. Mels had het niet kunnen laten om er even in te knijpen. Hij weet zeker dat ze even de ogen opende en dat ze heel zacht `au' had gezegd. Zijn grootmoeder hield van grapjes, daaraan kon de dood niets veranderen. Maar van zijn vader had hij een draai om zijn oren gekregen.

Daardoor weet Mels het nog. Veel meer dan dat voorval heeft hij niet van haar onthouden: hij was nog klein toen ze doodging. Ze kennen haar vooral uit de verhalen van grootvader Bernhard. En ze weten dat ze van paarse viooltjes hield, want hij zorgt ervoor dat haar graf altijd vol paarse viooltjes staat.
`Ik zal jullie voeten warmen', zegt Thija. Ze wrijft hun tenen warm met sneeuw, net zo lang tot ze gloeien als ijzer in smidsvuur. Ondertussen vertelt ze over de winter in China, waar het heel gewoon is dat de sneeuw zo hoog ligt dat de mensen er tunnels in aanleggen en de dorpen in de winter op vestingen lijken, met daken van ijs waar de zon doorheen schijnt.
`Er was eens een meisje in China dat in een gevangenis zat', begint Thija.
`Waarom?'
`Omdat haar moeder niet van haar hield. Ze zat niet in een echte gevangenis, voor haar gevoel was het zo. Om lief voor haar moeder te zijn, plukte ze bloemen. Maar toen ze de bloemen aan haar moeder gaf, vond die de kleur niet mooi. Toen bakte ze een taart voor haar moeder, maar die lustte de taart niet omdat ze in plaats van suiker per ongeluk zout had gebruikt. Een lieve moeder had tegen haar kind gezegd: "O, wat heb jij een lekkere taart gebakken. Geef me nog maar een stukje." Maar in haar zenuwachtigheid deed het meisje alles fout. Op een keer, toen haar moeder weer tegen haar schreeuwde, werd het meisje heel boos. Toen haar moeder sliep, pakte ze het taartmes en sneed haar het hoofd af. Ze stopte het in een taartdoos en stuurde het naar de keizer, omdat de keizer oud en alleen en blind en een beetje zielig was. Ze dacht: Als hij de doos opent en het haar van mijn moeder voelt, vindt hij er misschien troost in door het te strelen. Zo was haar moeder dan toch nog ergens goed voor. De rest van het lichaam sneed ze in stukken en gooide die in zee.'
`En toen?'
`Dit is alles.'
`Dit verhaal is niet af', zegt Mels. `Krijgt ze straf? Wordt die moeder weer heel en krijgt ze dan spijt?'
`Vertel jij het verhaal maar verder.'
`Goed. Op een dag toen de keizer het haar van de moeder zat te strelen, merkte hij dat het alleen een hoofd was. Dat deed hem verdriet. Hij wilde het hele lichaam van de vrouw kunnen strelen. Hij liet in het land omroepen dat wie hem het lichaam van de vrouw bracht, een beloning zou krijgen.
Op een dag vonden een paar vissers de stukken van het lichaam in hun netten. Ze brachten ze naar de keizer. Die was blij. Vurig wenste hij dat de vrouw weer tot leven kwam. Maar toen de keizerlijke dokters haar in elkaar aan het zetten waren, ontdekten ze dat ze geen hart had. Daarom gaven ze haar het hart van een slang. Ze begon weer te leven. De vrouw was verbaasd toen ze zichzelf in de armen van de keizer terugvond.'
`En toen?' vraagt Tijger.
`Dan is het verhaal afgelopen.'
`Dat kan niet. Ik weet hoe het verdergaat. De vrouw wil zich wreken op haar dochter. En ze is sluw omdat ze nu het hart heeft van een slang. Op een nacht glijdt ze, in de gedaante van een slang, het huis van haar dochter binnen en probeert haar te wurgen. Maar de dochter herkent haar aan haar ogen. Die zijn nog altijd even vals. Nu kan haar moeder haar slangengedaante niet meer afleggen, want wie in valse vermomming herkend wordt, moet voor altijd in die gedaante blijven huizen en kan nooit meer zichzelf worden. De moeder vlucht naar het bos. Daar woont ze nu nog, als een gevaarlijke slang. Alle kinderen die in het bos komen, eet ze op.'
Zo is het genoeg', zegt Thija. `Zwarte sprookjes eindigen altijd met opgegeten kinderen.'
De schoenen en sokken zijn weer droog. Het vuur is al bijna uit. Ze gooien een paar emmers sneeuw op de nog gloeiende as die sissend protesteert, alsof de duivel zelf zich in de resten van het vuur ligt te warmen.
Ze gaan naar de zolder. Het raampje van de molenzolder is wit van de sneeuw. De binnenkant van het glas is geëtst met ijsbloemen die lijken op het suikerwerk op een abrikozenvlaai.
Het is alsof ze onder een stolp zitten. Om elkaar te verstaan is fluisteren meer dan genoeg. Hun stemmen komen met wolkjes uit hun mond. De woorden bevriezen bijna op hun lippen, de letters vallen als spelden zo zacht op de vloer, maar maken toch nog genoeg geluid om elkaar onder deze stolp van stilte te kunnen verstaan.
Tijger blaast zijn handen warm. Het klinkt oorverdovend luid.
`Stil', zegt Thija. `We zijn hier om te luisteren naar de stilte.'
Ze durven bijna niet meer te ademen.
Plotseling horen ze een kreet. Ver weg. Het is net alsof hij over een enorme vlakte naar hen toe komt.
`Dat is iemand die bang is', zegt Thija.
`Het is die zigeunerjongen', zegt Mels. `Jacob.'
`Is hij dan nog niet dood?'
`Hij zit in die wagen om beter te worden. Hij roept zo hard omdat hij alleen is. Het is mijn schuld. Ik heb beloofd dat ik terugkwam.'
`Dan gaan we nu', zegt Thija.
Ze verlaten de stille stolp van de molen en lopen langs de Wijer het dorp uit.
Door het dikke zuigende pak sneeuw duurt de tocht eindeloos lang.
De woonwagens en de kleine keet staan nog steeds op dezelfde plaats, aan het eind van een bosweg.
Iemand tikt op het beslagen raam van het keetje. Ze moeten goed kijken. Het is Jacob.
`Ik dacht dat je me vergeten was', roept hij.
`We konden je tot in het dorp horen roepen', zegt Mels. `Als het koud is, draagt een stem heel ver.'
`Ik was even buiten', zegt de jongen. `Om door de sneeuw te lopen. Ik geloof niet dat ik beter word door in dit hok te blijven zitten. Daarom schreeuwde ik zo hard. Niet van kwaadheid, hoor. Van blijdschap omdat ik de sneeuw voelde.'
Jacobs moeder komt uit haar woonwagen naar buiten. Ze kennen haar goed. Mels' moeder heeft zeker al twintig vingerhoeden van haar gekocht, maar ze gebruikt er nooit een. Ze zien Jacobs vader achter de ruit zitten, zijn hoofd in de rook van een sigaret.
`Ik ben blij dat jullie Jacob opzoeken', zegt ze.
`Hoelang is hij al ziek?'
`Al heel lang. Kom even binnen, ik heb thee.'
In de wagen moeten ze zich voorzichtig bewegen om de porseleinen engelen en adelaars en de kristallen vazen niet om te stoten. De wagen staat propvol.
Ze drinken thee.
`Het gaat niet goed met Jacob', zegt zijn moeder. `Ik zeg het eerlijk, het is een wonder dat hij nog leeft. Hij wil niet dood. Misschien haalt hij de lente. Dan kan het nog lang duren.'
Jacobs vader zucht, inhaleert diep en blaast de rook uit in kringetjes.
`Als hij niet beter wordt, dan mag hij toch wel uit dat keetje?' vraagt Mels.
`Als we tegen hem zeggen dat hij eruit mag, weet hij dat het afgelopen is.'
`Dank u voor de thee', zegt Mels. `We willen nu graag naar Jacob.'
Jacobs vader dooft de sigaret, kijkt hen een voor een aan, lijkt iets te willen zeggen, slikt, alsof hij een brok in zijn keel heeft, zegt niets en rolt een nieuwe sigaret.
Door de sneeuw lopen ze terug naar de kleine wagen.
Jacob nodigt hen naar binnen. Dat mag nu dus ook.
In de wagen ruikt het naar schoonmaakmiddelen. Zijn het de medicijnen die zijn longen beter moeten maken?
Jacob zit op het bed. Zijn gezicht is wit als sneeuw.
`Zien zieke kinderen er allemaal zo uit als ik?' vraagt hij.
`Als je beter bent, krijg je net zo'n rode kleur van de kou als wij', zegt Mels. `Straks, als je weer naar school gaat.'
`Op scholen houden ze niet van zigeuners.'
`Bij ons wel', zegt Mels. `We hebben ook een meisje uit China in de klas.'
`Zij?' Jacob kijkt naar Thija.
`Als je van verhalen houdt, kun je vriend van ons worden', zegt Thija.
`Zigeuners kennen veel verhalen', zegt Jacob. Hij vertelt over hoe de zigeuners door de eeuwen heen door de Kaukasus trokken en door Europa en ten slotte hier zijn aangekomen. Hij heeft een boek over de lange reis. Het staat vol platen. Zigeuners op feesten. Dansende meisjes met wijde rokken. Kampvuren. Vrouwen die levende egels opblazen door ze een strootje in hun gat te steken, ze in klei rollen en ze levend in het vuur roosteren.
`Bah, dat jullie egels eten', zegt Mels.
Jacob zwijgt. Hij is moe. Ze staan op.
`Komen jullie weer terug?'
`Zeker', zegt Mels.
Zachtjes gaan ze naar buiten. De sneeuw lijkt nu nog witter. Hij knarst onder hun voeten.
Zwijgend lopen ze terug naar huis.
`Raar dat Jacob blauwe ogen heeft', zegt Thija. `En blond haar.'
`Zou het dan toch waar zijn dat zigeuners kinderen roven?' vraagt Tijger.
`Er zijn ook blonde Chinezen', zegt Thija.
`Bestaat niet.'
`Wel. Afstammelingen van gestrande scheepsbemanningen. En van Marco Polo. Die kreeg honderd vrouwen van de keizer.'
`Als je in de Middeleeuwen een zigeuner doodsloeg kreeg je een beloning', zegt Mels.
`Veel?' vraagt Tijger.
`Als je een gezin uitmoordde was je rijk. Dan kon je een kasteel kopen.'
`Jammer dat we niet in de Middeleeuwen leven', zegt Tijger. `Dan hadden we genoeg geld om naar China te vliegen.'
Thija kijkt hem verbijsterd aan.
`Natuurlijk hadden we hen dan doodgeslagen', zegt Tijger. `Als we toen hadden geleefd, hadden wij ook gedacht als middeleeuwers.'
Ton van Reen: Het diepste blauw (075)
wordt vervolgd
fleursdumal.nl magazine
More in: - Book News, - Het diepste blauw, Archive Q-R, Reen, Ton van
---
Tout commence à Alger en 2009, avec l'émotion profonde de Marie au moment où elle découvre « Climat de France », le bâtiment qu'y construisit Fernand Pouillon.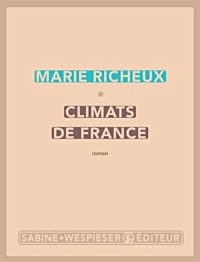 La pierre de taille, les perspectives imposantes, elle les connaît intimement: elle a grandi à Meudon-la-Forêt, dans un ensemble bâti par le même architecte.
Mue par le désir de comprendre ce qui mystérieusement relie les deux lieux, elle plonge dans leur passé, et dans celui de leurs habitants. Plusieurs récits s'entrelacent, comme autant de fragments d'une histoire dont elle traque le motif entre l'Algérie et la France : l'arrivée de Fernand Pouillon à Alger en mai 1953, invité à construire mille logements pour la fin de l'année par le maire récemment élu ; le souvenir d'une nuit de 1997 à Meudon-la-Forêt, quand Marie, treize ans, ne parvient pas à s'endormir à cause des chants de deuil résonnant dans la cage d'escalier ; les confidences de son voisin Malek, que ses parents, sentant le vent tourner à Oran, ont envoyé en France en 1956 et qui, devenu chauffeur de taxi, semble avoir échappé à la guerre dont la violence se déployait pourtant dans les rues de Paris.
Ici, comme en écho à l'émotion fondatrice, celle du lecteur naît de la manière dont l'écrivain laisse s'élever les voix de ces hommes et de ces femmes que l'histoire, parfois à leur insu, a traversés et qui, de part et d'autre de la Méditerranée, obstinément et silencieusement ont déroulé leur existence.
Marie Richeux
Née à Paris en 1984, Marie Richeux a grandi en banlieue parisienne. Pendant ses années d'études, elle collabore à France Culture, puis à FIP. Elle s'éloigne un temps de la radio pour se consacrer aux sciences humaines. À l'École des hautes études en sciences sociales, elle mène des recherches sur la transmission intergénérationnelle dans les familles ayant migré en France depuis le Maghreb, puis débute une thèse sur la place du silence dans cette transmission, et la possibilité collective, muséale, politique de pallier cela.
En 2009, elle commence à produire régulièrement des petites formes (fictions, documentaires, créations sonores) pour « Les Passagers de la nuit » de Thomas Baumgartner sur France Culture, et développe un travail de son et d'écriture, notamment dans l'espace public, auprès de l'artiste Malte Martin. C'est alors qu'elle préparait un documentaire sur le football breton dans les années 1970, qu'on lui propose l'animation d'une tranche quotidienne et matinale sur France Culture. Elle met en suspens sa thèse et ses autres activités et produit, à partir de 2010, l'émission « Pas la peine de crier » sur France Culture, et dont le titre devient, en septembre 2014, « Les Nouvelles Vagues ». Depuis septembre 2017, elle produit et anime, toujours sur France Culture, « Par les temps qui courent », grand entretien d'une heure avec une personnalité de l'actualité culturelle, diffusé du lundi au vendredi de 21 h à 22 h.
En 2013, elle publie son premier livre, Polaroïds, chez Sabine Wespieser éditeur. Suivi, en mars 2015, d'un récit personnel et poétique autour de la figure d'Achille, relecture contemporaine du mythe. Son premier roman, Climats de France, paraît en août 2017, toujours chez Sabine Wespieser éditeur.
Marie Richeux
Climats de France
Roman
Language: French
Paperback
272 pages
Publisher: Sabine Wespieser éditeur
2017
ISBN-10: 2848052279
ISBN-13: 978-2848052274
€ 21
# new books
Marie Richeux
fleursdumal.nl magazine
More in: - Book Lovers, - Book News, Archive Q-R, Art & Literature News
---
In Killing Commendatore, a thirty-something portrait painter in Tokyo is abandoned by his wife and finds himself holed up in the mountain home of a famous artist, Tomohiko Amada.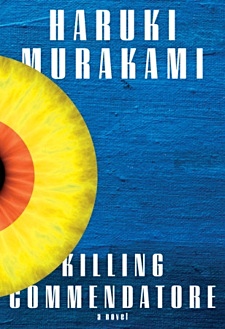 When he discovers a previously unseen painting in the attic, he unintentionally opens a circle of mysterious circumstances.
To close it, he must complete a journey that involves a mysterious ringing bell, a two-foot-high physical manifestation of an Idea, a dapper businessman who lives across the valley, a precocious thirteen-year-old girl, a Nazi assassination attempt during World War II in Vienna, a pit in the woods behind the artist's home, and an underworld haunted by Double Metaphors.
A tour de force of love and loneliness, war and art—as well as a loving homage to The Great Gatsby—Killing Commendatore is a stunning work of imagination from one of our greatest writers.
Haruki Murakami was born in Kyoto in 1949 and now lives near Tokyo. His work has been translated into more than fifty languages, and the most recent of his many international honors is the Hans Christian Andersen Literature Award, whose previous recipients include J. K. Rowling, Isabel Allende, and Salman Rushdie.
# more on harukimurakami.com
Killing Commendatore
A novel
By Haruki Murakami
Category: Literary Fiction
Historical Fiction
Oct 09, 2018
Hardcover
$30.00
704 Pages
Published by Knopf
Oct 09, 2018
ISBN 9780525520047
# new books
fleursdumal.nl magazine
More in: - Book News, - Bookstores, Archive M-N, Art & Literature News, Haruki Murakami
---
A Victor Hugo – Poéme
De votre amitié, maître, emportant cette preuve
Je tiens donc sous mon bras le Rhin.
—J'ai l'air d'un fleuve
El je me sens grandir par la comparaison.
Mais le Fleuve sait-il lui pauvre
Dieu sauvage
Ce qui lui donne un nom, une source, un rivage,
Et s'il coule pour tous quelle en est la raison.
Assis au mamelon de l'immense nature,
Peut-être ignore-t-il comme la créature
D'où lui vient ce bienfait qu'il doit aux Immortels:
Moi je sais que de vous, douce et sainte habitude,
Me vient l'Enthousiasme et l'Amour et l'Étude,
Et que mon peu de feu s'allume à vos autels.
Gérard de Nerval
(1808 – 1855)
A Victor Hugo – Poéme
fleursdumal.nl magazine
More in: Archive M-N, Hugo, Victor, Nerval, Gérard de
---
Er kennt seine Feinde nur allzu gut. Inspector Macbeth ist der taffste Cop in einer maroden Industriestadt im Norden.
Einen Deal nach dem anderen lässt er hochgehen, die Drogenbosse beißen sich an ihm die Zähne aus. Doch irgendwann wird die Verlockung zu groß: Geld, Respekt, Macht. Schnell aber wird ihm klar, dass einer wie er, der schon in der Gosse war, niemals ganz nach oben kommen wird. Außer – er tötet.
Angestachelt von seiner Geliebten, schafft er sich einen Konkurrenten nach dem anderen vom Hals. In seinem Blutrausch merkt er nicht, dass er längst jenen dunklen Kräften verfallen ist, denen er einst den Kampf angesagt hat.
Jo Nesbø, 1960 geboren, ist Ökonom, Journalist, Musiker und zählt zu den renommiertesten und innovativsten Krimiautoren seiner Generation. Seine Bücher sind in über 50 Sprachen übersetzt, werden verfilmt, und von seinen Harry-Hole-Thrillern wurden allein im deutschsprachigen Raum über 5 Millionen Exemplare verkauft. »Macbeth« ist sein neuester Thriller, der u.a. in Skandinavien, Großbritannien und den USA auf der Bestsellerliste stand. Jo Nesbø lebt in Oslo.
André Mumot (Übersetzer): André Mumot ist promovierter Kulturwissenschaftler, Journalist, Autor und Literaturübersetzer. Seit 2008 übersetzt er Autoren wie Neil Gaiman, Raquel J. Palacio, Nick Harkaway und Aleksandar Hemon. Er lebt in Berlin.
Jo Nesbø
Macbeth
Blut wird mit Blut bezahlt.
Thriller
Internationaler Bestseller
Originaltitel: Macbeth
Originalverlag: Hogarth
Aus dem Englischen von André Mumot
Gebundenes Buch mit Schutzumschlag
624 Seiten
13,5 x 21,5 cm
ISBN: 978-3-328-60017-6
€ 24,00 [D]
Verlag: Penguin
Erscheinungstermin: 27. August 2018
# new novel
Jo Nesbø – Macbeth
fleursdumal.nl magazine
More in: - Book News, - Bookstores, Archive M-N, Art & Literature News, Tales of Mystery & Imagination, Thrillers, TRANSLATION ARCHIVE
---
Frans Kellendonk (1951-1990) is een van de belangrijkste schrijvers van zijn generatie: geroemd om de stilistische kwaliteit van zijn werk, spraakmakend én omstreden vanwege zijn niet zelden controversiële thematiek.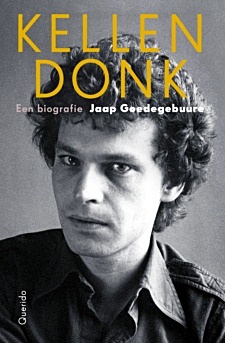 Wat betekende het voor Kellendonk dat hij als telg uit een geslacht van ambachtslieden letteren en wijsbegeerte ging studeren? Hoe verging het hem nadat hij het katholieke Nijmegen achter zich had gelaten en in Amsterdam koos voor het ongebonden bestaan van schrijver en vertaler?
In deze biografie schetst Jaap Goedegebuure Kellendonks intellectuele ontwikkeling en laat hij zien hoe persoonlijke ervaringen werden omgevormd tot verhalen en romans met een algemenere geldigheid. Voor dit levensverhaal maakte hij gebruik van tot nu toe gesloten archieven en recentelijk opgedoken brieven en documenten. Ze werpen nieuw licht op een briljante stilist en een verbeten karakter.
Kellendonk
Een biografie
Auteur: Jaap Goedegebuure
Uitgeverij: Querido
NUR: 321
Hardcover
ISBN: 9789021409979
Publicatiedatum: 25-09-2018
1e druk
Taal: Nederlands
Bladzijden 552 pp.
Bindwijze: Hardcover
Genre: Biografieen literair
Publ. datum 25-9-2018
Prijs: € 29,99
# new biography
frans kellendonk
fleursdumal.nl magazine
More in: #Biography Archives, - Book News, - Bookstores, Archive K-L, Art & Literature News, Frans Kellendonk, Jaap Goedegebuure
---
Mels herinnert zich nog goed dat meester Hajenius eindelijk was gestorven, aan de gele verf.

Buren die zijn vrouw hadden geholpen in de laatste weken dat hij ziek was, zeiden dat hij bijna oranje was, net als de eierdooiers van bruine kippen. De gele verf waarde rond in het dorp. Grootvader Bernhard had het er druk mee gehad. Drukker dan de dokters. Die hadden het makkelijk.

De mensen die plotseling stierven, kregen volgens hen een beslag, wat dat dan ook was. En niemand vroeg ernaar. Dood was dood. Dokters waren niet veel meer dan kwakzalvers. In die tijd zou Mels met zijn kwalen allang dood zijn geweest. Nu wordt zijn leven gerekt door nieuwe uitvindingen. Nieuwe medicijnen die een lijk tot leven kunnen brengen. Maar wat heeft hij eraan?

Hij leeft in een wereld die alleen de zijne is, maar waar niemand nog belangstelling voor heeft. Wat heeft het voor zin om de tijd te rekken als hij zijn verhalen aan niemand kwijt kan?
Ton van Reen: Het diepste blauw (074)
wordt vervolgd
fleursdumal.nl magazine
More in: - Book News, - Het diepste blauw, Archive Q-R, Reen, Ton van
---
The story of literature in sixteen acts—from Homer to Harry Potter, including The Tale of Genji, Don Quixote, The Communist Manifesto, and how they shaped world history
In this groundbreaking book, Martin Puchner leads us on a remarkable journey through time and around the globe to reveal the how stories and literature have created the world we have today. Through sixteen foundational texts selected from more than four thousand years of world literature, he shows us how writing has inspired the rise and fall of empires and nations, the spark of philosophical and political ideas, and the birth of religious beliefs.
We meet Murasaki, a lady from eleventh-century Japan who wrote the first novel, The Tale of Genji, and follow the adventures of Miguel de Cervantes as he battles pirates, both seafaring and literary. We watch Goethe discover world literature in Sicily, and follow the rise in influence of The Communist Manifesto. Puchner takes us to Troy, Pergamum, and China, speaks with Nobel laureates Derek Walcott in the Caribbean and Orhan Pamuk in Istanbul, and introduces us to the wordsmiths of the oral epic Sunjata in West Africa. This delightful narrative also chronicles the inventions—writing technologies, the printing press, the book itself—that have shaped people, commerce, and history. In a book that Elaine Scarry has praised as "unique and spellbinding," Puchner shows how literature turned our planet into a written world.
Martin Puchner is the Byron and Anita Wien Professor of English and Comparative Literature at Harvard University. His prize-winning books range from philosophy to the arts, and his bestselling six-volume Norton Anthology of World Literature and HarvardX MOOC (massive open online course) have brought four thousand years of literature to students across the globe. He lives in Cambridge, Massachusetts.
Martin Puchner
The Written World
The Power of Stories to Shape People, History, and Civilization
Random House Trade Paperbacks
Paperback
Jul 24, 2018
464 Pages
$20.00
ISBN 9780812988277
new books
fleursdumal.nl magazine
More in: #More Poetry Archives, - Book News, - Bookstores, Archive O-P, Art & Literature News, MONTAIGNE, NONFICTION: ESSAYS & STORIES
---
De Gouden Griffel is gewonnen door Annet Schaap voor haar prozadebuut Lampje.
De bekendste kinderboekenprijs van Nederland en Vlaanderen is gisteren bekendgemaakt en uitgereikt op het Kinderboekenbal in Amsterdam.
Annet Schaap is geen onbekende in de Nederlandse kinderboekenwereld: velen kennen haar illustraties uit de Hoe overleef ik-reeks van Francine Oomen, de boeken van Janneke Schotveld en Jacques Vriens.
De Gouden Griffel is de derde prijs die zij wint voor Lampje (Querido): al eerder ontving zij de Nienke van Hichtum-prijs en de Woutertje Pieterse Prijs. De overige genomineerden waren Joukje Akveld, Annet Huizing, Pim Lammers, Joke van Leeuwen, Marit Törnqvist, Susanne Wouda, Bette Westera, Tjibbe Veldkamp en Edward van de Vendel.
Annet wilde altijd al tekenaar worden of schrijver of ontdekkingsreizigster. Ze studeerde aan twee kunstacademies en een schrijversschool. Sinds 1991 illustreerde ze bijna 200 kinderboeken en is in Nederland het meest bekend door haar tekeningen in de succesvolle kinderboeken van Francine Oomen, Janneke Schotveld en Jacques Vriens.
kinderboekenweek van 3 t/m 14 oktober 2018
De Gouden Griffel:  Annet Schaap – Lampje
fleursdumal.nl magazine
More in: Archive S-T, Awards & Prizes, Grimm, Andersen e.o.: Fables, Fairy Tales & Stories, Illustrators, Illustration, Kinderboekenweek
---
Proceeding from Hélène Cixous's charge to "kill the false woman who is preventing the live one from breathing," The Fix forges that woman's reckoning with her violent past, with her sexuality, and with a future unmoored from the trappings of domestic life.
These poems of lyric beauty and unflinching candor negotiate the terrain of contradictory desire—often to darkly comedic effect.
In encounters with strangers in dive bars and on highway shoulders, and through ekphrastic engagement with visionaries like William Blake, José Clemente Orozco, and the Talking Heads, this book seeks the real beneath the dissembling surface.
Here, nothing is fixed, but grace arrives by diving into the complicated past in order to find a way to live, now.
Often I am permitted to return to this kitchen
tipsy, pinned to the fridge, to the precise
instant the kiss smashed in.
When the jaws of night are grinding
and the double bed is half asleep
the snore beside me syncs
to the traffic light, pulsing red, ragged up
in the linen curtain.
(From "Woman Seated with Thighs Apart")
Lisa Wells is a poet and nonfiction writer who lives in Tucson, Arizona. Her work has appeared in Best New Poets, the Believer, Denver Quarterly, Rumpus, Third Coast, and the Iowa Review.
Lisa Wells (Author)
The Fix
Publisher: University Of Iowa Press
1 edition (April 15, 2018)
Series: Iowa Poetry Prize
Language: English
Product Dimensions:
6 x 0.3 x 8 inches
ISBN-10: 1609385470
ISBN-13: 978-1609385477
Paperback
70 pages
$19.95
new poetry
lisa wells: the fix
fleursdumal.nl magazine
More in: - Book News, - Bookstores, Archive W-X, Archive W-X
---
Older Entries »
Thank you for reading FLEURSDUMAL.NL - magazine for art & literature