FICTION & NONFICTION ARCHIVE
·
BOEKENWEEK 2017 van 25 maart t/m 2 april
·
Genomineerden E. DU PERRONprijs 2016 bekend
·
Frank STOCKTON: The Griffin and the Minor Canon
·
Ton van REEN: "Geen Oorlog" – na 50 jaar nieuwe uitgave
·
Thomas TRAHERNE: Innocence
·
Schilderen met woorden – Een nieuwe kijk op de poëzie van COUPERUS
·
Nathaniel HAWTHORNE: The Ambitious Guest
·
Bret HARTE: Tennessee's Partner
·
Gouden Ganzenveerlaureaat 2017: Arnon GRUNBERG
·
In Memoriam: John BERGER (1926 – 2017)
·
Franz KAFKA: Beim Bau der Chinesischen Mauer
·
Beelder . . . van J.A. DEELDER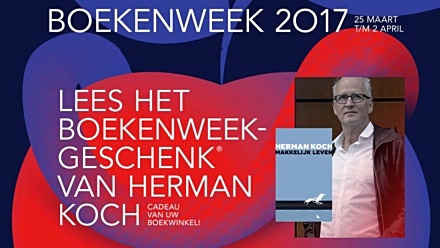 Boekenweekgeschenk van Herman Koch
Cadeau van uw boekhandel bij besteding van € 12,50 aan Nederlandstalige boeken
Synopsis Makkelijk leven
Tom Sanders is een gevierd schrijver van zelfhulpboeken en hij leidt een gelukkig leven met Julia en twee volwassen zonen, van wie de jongste, Stefan, zijn oogappel is. Tijdens een verjaardagsfeestje voor Julia staat hun schoondochter Hanna – op wie Tom en Julia niet dol zijn – opeens voor de deur. Snikkend vertelt ze dat ze door Stefan is geslagen en dat dat niet de eerste keer is. Moet Tom zijn lievelingszoon Stefan aanspreken op zijn gedrag? Of loont het misschien meer om de adviezen uit zijn zelfhulpboeken in praktijk te brengen, zoals zijn bekende richtlijn 'Probeer problemen niet altijd op te lossen door eraan te denken; vaak worden ze eerder opgelost door er niet aan te denken'?
Thema Verboden vruchten
De mens is genotzuchtig. Maar toegeven aan genot levert soms strijd op, met ons geweten, onze levensovertuiging, onze omgeving en onze fysieke dan wel geestelijke grenzen. Wel willen, niet mogen, toch doen: verboden vruchten, zowel in het leven als in de letteren. Wie kent ze niet: de drank- en drugsverslaafden in Meriswin (Hafid Bouazza), Hallo Muur (Erik Jan Harmens), Angst en walging in Las Vegas (Hunter S. Thomson) en
Naamloos (Pepijn Lanen), de gokkers in Alles of niets (Khalid Boudou), de seksjunks in De 120 dagen van Sodom (Marquis de Sade), Mieke Maaike's obscene jeugd (Louis Paul Boon) en Lolita (Nabokov), de troosteters in Chocolat (Joanne Harris), de vreetzakken in de Romeinse klassieker Satyricon (passage Het feestmaal bij Trimalchio) en de kannabalist in De maagd Marino (Yves Petry). En natuurlijk de overspeligen zoals beschreven in De buitenvrouw (Joost Zwagerman), Godin, held (Gustaaf Peek), Komt een vrouw bij de dokter(Kluun) en Mélodie d'Amour (Margriet de Moor).
Boekenweekessay bij het thema Verboden vruchten
Voor maar € 3,50 in uw boekwinkel
Libris Literatuur Prijswinnares Connie Palmen (Prometheus) schreef het Boekenweekessay 2017 bij het thema van de Boekenweek 2017: Verboden vruchten. Titel: De zonde van de vrouw.
In de bibliotheek
De Boekenweek is het literaire hoogtepunt van het jaar. De Openbare Bibliotheken grijpen dit evenement jaarlijks aan om de mooiste boeken te presenteren die zij in huis hebben. Uiteraard heeft de bibliotheek ook veel boeken bij het thema van de Boekenweek 2017: Verboden vruchten. (lees op deze pagina meer over het thema).
Boekenweekmagazine: haal gratis bij de bibliotheek
BOEKENWEEK 2017 van 25 maart tot en met 2 april
fleursdumal.nl magazine
More in: - Book Lovers, - Bookstores, Boekenweek, FICTION & NONFICTION ARCHIVE, Illustrators, Illustration, Joost Zwagerman, Literary Events, Louis Paul Boon, Marquis de Sade
---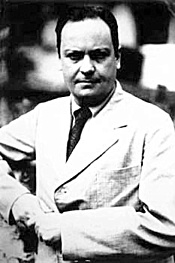 Genomineerden E. du Perronprijs 2016: Rodaan Al Galidi, Stefan Hertmans en Carolijn Visser – Arnon Grunberg houdt bij de prijsuitreiking de E. du Perronlezing donderdagavond 13 april 2017 in Tilburg
De schrijvers Rodaan Al Galidi, Stefan Hertmans en Carolijn Visser zijn genomineerd voor de E. du Perronprijs 2016. De prijs wordt toegekend aan personen of instellingen die met een cultuuruiting in brede zin een bijdrage leveren aan een beter begrip van de multiculturele samenleving. De uitreiking vindt plaats op donderdagavond 13 april 2017 bij het brabants kenniscentrum kunst en cultuur (bkkc) in Tilburg. Dan houdt Arnon Grunberg de E. du Perronlezing met als titel 'Het paradijs'.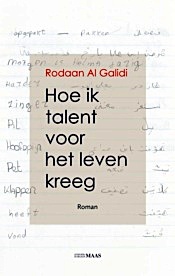 Rodaan Al Galidi – Hoe ik talent voor het leven kreeg (Uitgeverij Jurgen Maas)
Rodaan Al Galidi doet ons verslag van de leerschool die de Nederlandse asielprocedure is. Negen jaar wacht de hoofdpersoon Semmier Kariem op een beschikking in een van de vestigingen van het AZC. Negen jaar tussen aankomst in Nederland op de vlucht voor fysieke bedreiging en definitieve toelating wordt in dit verhaal invoelbaar als een oneindige mentale nekklem. Dat is het leergeld voor vluchtelingen die niet op uitnodiging de landsgrenzen passeren. Leerschool of wachtkamer, het talent van Rodaan Al Galidi is gerijpt. Deze vertellingen in de vorm van brieven aan een geïnteresseerde buitenstaander gericht laten ons alle kanten van hoop, lethargie, opstandigheid, beklag en ironie zien. De bewoners van het AZC leven op een mix van herinneringen, volharding, wanhoop; kortom overlevingsdrift. Het verslag is introspectief, zakelijk, ironisch en soms ronduit Kafkaësk. Met zijn stijl schraagt de verteller zijn bestaan en geeft hij vaart aan een eindeloos vertraagde tijd.
Stefan Hertmans – De bekeerlinge (Uitgeverij De Bezige Bij)
Bekering is een van de meest ingrijpende keuzes die een mens kan maken. Zij rukt het individu uit zijn vertrouwde verband dat bepaald wordt door afstamming en traditie. Toebehoren biedt vertrouwdheid en bescherming. Dit aanbod, deze burcht af te wijzen en te verlaten, te vluchten is een onomkeerbare daad. De bekeerling moet koersen op onbekende instrumenten: een nieuw geloof, een vreemde taal, een onbekend bestaan in een onbekend gebied. Stefan Hertmans voert ons mee in het historische verhaal van Vigdis Adelaïs, die uit liefde besluit een Joodse jongeman te volgen. Het is het einde van de 11e eeuw. Het sentiment van kruistochten hangt in de lucht. Een millennium later volgt Hertmans deze vlucht, fysiek door het landschap met gebruikmaking van bronnen en verbeelding. Verstoting, bedreiging en vlucht zijn van alle tijden. Hertmans is in staat om op heel persoonlijke manier het universele en bijzondere hiervan open te schrijven in een overtuigende roman.
Carolijn Visser – Selma. Aan Hitler ontsnapt, gevangene van Mao (Uitgeverij Augustus)
De titel van deze documentaire vertelling herinnert ons onmiddellijk aan het literaire cliché dat niets zo onwaarschijnlijk is als het leven zelf. Selma, een Joodse overlevende van de Holocaust, besluit met haar Chinese echtgenoot mee te gaan naar China in de jaren vijftig. Wat haar te wachten staat is het lot van intellectuelen en buitenlanders in de periode van de Culturele Revolutie. Het is de verdienste van Carolijn Visser om het onbeschrijfelijke glashelder aan ons te presenteren. Dat doet ze door vaardig te beschrijven wat er aan informatie bewaard is gebleven, maar net zo goed door betekenisvolle leemtes achter te laten. Selma is twee keer slachtoffer geworden van etnische uitsluiting. Ze staat niet voor grotere gehelen, ze was een individu dat voortdurend onder bedreiging van grotere verbanden, ideologieën leefde en uiteindelijk ook vermalen werd. Selma is een monument voor het kwetsbare individu.
E. du Perronprijs
De E. du Perronprijs is een initiatief van de gemeente Tilburg, de School of Humanities van Tilburg University en brabants kenniscentrum kunst en cultuur (bkkc). De prijs is bedoeld voor personen of instellingen die, net als Du Perron in zijn tijd, grenzen signaleren en doorbreken die wederzijds begrip tussen verschillende bevolkingsgroepen in de weg staan. De prijs bestaat uit een geldbedrag van €2500 euro en een textiel object, ontworpen door [NAAM] en vervaardigd bij het TextielMuseum. In 2015 won Ilja Leonard Pfeijffer de prijs voor zijn dichtbundel Idyllen, zijn pamflet Gelukszoekers en zijn columns in NRC Next. Andere laureaten waren onder meer Warna Oosterbaan & Theo Baart (2014), Mohammed Benzakour (2013), Koen Peeters (2012), Ramsey Nasr (2011), Alice Boot & Rob Woortman (2010), Abdelkader Benali (2009) en Adriaan van Dis (2008).
# Meer informatie over de du Perronprijs op website Tilburg University
fleursdumal.nl magazine
More in: - Book Lovers, Archive O-P, Art & Literature News, Eddy du Perron, Literary Events
---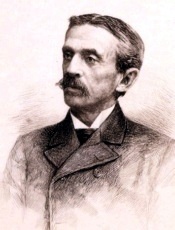 The Griffin and the Minor Canon
by Frank Stockton
Over the great door of an old, old church which stood in a quiet town of a faraway land there was carved in stone the figure of a large griffin. The old-time sculptor had done his work with great care, but the image he had made was not a pleasant one to look at. It had a large head, with enormous open mouth and savage teeth; from its back arose great wings, armed with sharp hooks and prongs; it had stout legs in front, with projecting claws, but there were no legs behind–the body running out into a long and powerful tail, finished off at the end with a barbed point. This tail was coiled up under him, the end sticking up just back of his wings.
The sculptor, or the people who had ordered this stone figure, had evidently been very much pleased with it, for little copies of it, also of stone, had been placed here and there along the sides of the church, not very far from the ground so that people could easily look at them, and ponder on their curious forms. There were a great many other sculptures on the outside of this church–saints, martyrs, grotesque heads of men, beasts, and birds, as well as those of other creatures which cannot be named, because nobody knows exactly what they were; but none were so curious and interesting as the great griffin over the door, and the little griffins on the sides of the church.
A long, long distance from the town, in the midst of dreadful wilds scarcely known to man, there dwelt the Griffin whose image had been put up over the church door. In some way or other, the old-time sculptor had seen him and afterward, to the best of his memory, had copied his figure in stone.
The Griffin had never known this, until, hundreds of years afterward, he heard from a bird, from a wild animal, or in some manner which it is not now easy to find out, that there was a likeness of him on the old church in the distant town.
Now, this Griffin had no idea how he looked. He had never seen a mirror, and the streams where he lived were so turbulent and violent that a quiet piece of water, which would reflect the image of anything looking into it, could not be found. Being, as far as could be ascertained, the very last of his race, he had never seen another griffin. Therefore it was that, when he heard of this stone image of himself, he became very anxious to know what he looked like, and at last he determined to go to the old church, and see for himself what manner of being he was.
So he started off from the dreadful wilds, and flew on and on until he came to the countries inhabited by men, where his appearance in the air created great consternation; but he alighted nowhere, keeping up a steady flight until he reached the suburbs of the town which had his image on its church. Here, late in the afternoon, he lighted in a green meadow by the side of a brook, and stretched himself on the grass to rest. His great wings were tired, for he had not made such a long flight in a century, or more.
The news of his coming spread quickly over the town, and the people, frightened nearly out of their wits by the arrival of so strange a visitor, fled into their houses, and shut themselves up. The Griffin called loudly for someone to come to him but the more he called, the more afraid the people were to show themselves. At length he saw two laborers hurrying to their homes through the fields, and in a terrible voice he commanded them to stop. Not daring to disobey, the men stood, trembling.
"What is the matter with you all?" cried the Griffin. "Is there not a man in your town who is brave enough to speak to me?"
"I think," said one of the laborers, his voice shaking so that his words could hardly be understood, "that-perhaps–the Minor Canon–would come."
"Go, call him, then" said the Griffin; "I want to see him."
The Minor Canon, who was an assistant in the old church, had just finished the afternoon services, and was coming out of a side door, with three aged women who had formed the weekday congregation. He was a young man of a kind disposition, and very anxious to do good to the people of the town. Apart from his duties in the church, where he conducted services every weekday, he visited the sick and the poor, counseled and assisted persons who were in trouble, and taught a school composed entirely of the bad children in the town with whom nobody else would have anything to do. Whenever the people wanted something difficult done for them, they always went to the Minor Canon. Thus it was that the laborer thought of the young priest when he found that someone must come and speak to the Griffin.
The Minor Canon had not heard of the strange event, which was known to the whole town except himself and the three old women and when he was informed of it, and was told that the Griffin had asked to see him, he was greatly amazed and frightened.
"Me!" he exclaimed. "He has never heard of me! What should he want with me?"
"Oh! you must go instantly!" cried the two men. "He is very angry now because he has been kept waiting so long; and nobody knows what may happen if you don't hurry to him."
The poor Minor Canon would rather have had his hand cut off than go out to meet an angry Griffin but he felt that it was his duty to go for it would be a woeful thing if injury should come to the people of the town because he was not brave enough to obey the summons of the Griffin. So, pale and frightened, he started off.
'Well," said the Griffin, as soon as the young man came near, "I am glad to see that there is someone who has the courage to come to me."
The Minor Canon did not feel very brave, but he bowed his head.
'Is this the town," said the Griffin, "where there is a church with a likeness of myself over one of the doors?"
The Minor Canon looked at the frightful creature before him and saw that it was, without doubt, exactly like the stone image on the church. "Yes," he said, "you are right."
"Well, then," said the Griffin, "will you take me to it? I wish very much to see it."
The Minor Canon instantly thought that if the Griffin entered the town without the people's knowing what he came for, some of them would probably be frightened to death, and so he sought to gain time to prepare their minds.
'It is growing dark, now," he said, very much afraid, as he spoke, that his words might enrage the Griffin, "and objects on the front of the church cannot be seen clearly. It will be better to wait until morning, if you wish to get a good view of the stone image of yourself."
"That will suit me very well," said the Griffin. "I see you are a man of good sense. I am tired, and I will take a nap here on this soft grass, while I cool my tail in the little stream that runs near me. The end of my tail gets red-hot when I am angry or excited, and it is quite warm now. So you may go; but be sure and come early tomorrow morning, and show me the way to the church."
The Minor Canon was glad enough to take his leave, and hurried into the town. In front of the church he found a great many people assembled to hear his report of his interview with the Griffin. When they found that he had not come to spread rum, but simply to see his stony likeness on the church, they showed neither relief nor gratification, but began to upbraid the Minor Canon for consenting to conduct the creature into the town.
'What could I do?" cried the young man. "If I should not bring him he would come himself, and, perhaps, end by setting fire to the town with his red-hot tail."
Still the people were not satisfied, and a great many plans were proposed to prevent the Griffin from coming into the town. Some elderly persons urged that the young men should go out and kill him; but the young men scoffed at such a ridiculous idea.
Then someone said that it would be a good thing to destroy the stone image, so that the Griffin would have no excuse for entering the town; and this plan was received with such favor that many of the people ran for hammers, chisels, and crowbars, with which to tear down and break up the stone griffin. But the Minor Canon resisted this plan with all the strength of his mind and body. He assured the people that this action would enrage the Griffin beyond measure, for it would be impossible to conceal from him that his image had been destroyed during the night. But the people were so determined to break up the stone griffin that the Minor Canon saw that there was nothing for him to do but to stay there and protect it. All night he walked up and down in front of the church door, keeping away the men who brought ladders, by which they might mount to the great stone griffin, and knock it to pieces with their hammers and crowbars. After many hours the people were obliged to give up their attempts, and went home to sleep; but the Minor Canon remained at his post till early morning, and then he hurried away to the field where he had left the Griffin.
The monster had just awakened, and rising to his forelegs and shaking himself he said that he was ready to go into the town. The Minor Canon, therefore, walked back, the Griffin flying slowly through the air, at a short distance above the head of his guide. Not a person was to be seen in the streets, and they went directly to the front of the church, where the Minor Canon pointed out the stone griffin.
The real Griffin settled down in the little square before the church and gazed earnestly at his sculptured likeness. For a long time he looked at it. First he put his head on one side, and then he put it on the other; then he shut his right eye and gazed with his left, after which he shut his left eye and gazed with his right. Then he moved a little to one side and looked at the image, then he moved the other way. After a while he said to the Minor Canon, who had been standing by all this time:
"It is, it must be, an excellent likeness! That breadth between the eyes, that expansive forehead, those massive jaws! I feel that it must resemble me. If there is any fault to find with it, it is that the neck seems a little stiff. But that is nothing. It is an admirable likeness–admirable!"
The Griffin sat looking at his image all the morning and all the afternoon. The Minor Canon had been afraid to go away and leave him, and had hoped all through the day that he would soon be satisfied with his inspection and fly away home. But by evening the poor young man was very tired, and felt that he must eat and sleep. He frankly said this to the Griffin, and asked him if he would not like something to eat. He said this because he felt obliged in politeness to do so, but as soon as he had spoken the words, he was seized with dread lest the monster should demand half a dozen babies, or some tempting repast of that kind.
"Oh, no," said the Griffin; 'I never eat between the equinoxes. At the vernal and at the autumnal equinox I take a good meal, and that lasts me for half a year. I am extremely regular in my habits, and do not think it healthful to eat at odd times. But if you need food, go and get it, and I will return to the soft grass where I slept last night and take another nap."
The next day the Griffin came again to the little square before the church, and remained there until evening, steadfastly regarding the stone griffin over the door. The Minor Canon came out once or twice to look at him, and the Griffin seemed very glad to see him; but the young clergyman could not stay as he had done before, for he had many duties to perform. Nobody went to the church, but the people came to the Minor Canon's house, and anxiously asked him how long the Griffin was going to stay.
"I do not know," he answered, "but I think he will soon be satisfied with regarding his stone likeness, and then he will go away."
But the Griffin did not go away. Morning after morning he came to the church; but after a time he did not stay there all day. He seemed to have taken a great fancy to the Minor Canon, and followed him about as he worked. He would wait for him at the side door of the church, for the Minor Canon held services every day, morning and evening, though nobody came now. "If anyone should come," he said to himself, "I must be found at my post." When the young man came out, the Griffin would accompany him in his visits to the sick and the poor, and would often look into the windows of the schoolhouse where the Minor Canon was teaching his unruly scholars. All the other schools were closed, but the parents of the Minor Canon's scholars forced them to go to school, because they were so bad they could not endure them all day at home–Griffin or no Griffin. But it must be said they generally behaved very well when that great monster sat up on his tail and looked in at the schoolroom window.
When it was found that the Griffin showed no sign of going away, all the people who were able to do so left the town. The canons and the higher officers of the church had fled away during the first day of the Griffin's visit, leaving behind only the Minor Canon and some of the men who opened the doors and swept the church. All the citizens who could afford it shut up their houses and traveled to distant parts, and only the working people and the poor were left behind. After some days these ventured to go about and attend to their business, for if they did not work they would starve. They were getting a little used to seeing the Griffin; and having been told that he did not eat between equinoxes, they did not feel so much afraid of him as before.
Day by day the Griffin became more and more attached to the Minor Canon. He kept near him a great part of the time, and often spent the night in front of the little house where the young clergyman lived alone. This strange companionship was often burdensome to the Minor Canon, but, on the other hand, he could not deny that he derived a great deal of benefit and instruction from it. The Griffin had lived for hundreds of years, and had seen much, and he told the Minor Canon many wonderful things.
"It is like reading an old book," said the young clergyman to himself; "but how many books I would have had to read before I would have found out what the Griffin has told me about the earth, the air, the water, about minerals, and metals, and growing things, and all the wonders of the world!"
Thus the summer went on, and drew toward its close. And now the people of the town began to be very much troubled again.
"It will not be long," they said, "before the autumnal equinox is here, and then that monster will want to eat. He will be dreadfully hungry, for he has taken so much exercise since his last meal. He will devour our children. Without doubt, he will eat them all. What is to be done?"
To this question no one could give an answer, but all agreed that the Griffin must not be allowed to remain until the approaching equinox. After talking over the matter a great deal, a crowd of the people went to the Minor Canon at a time when the Griffin was not with him.
'It is all your fault," they said, "that that monster is among us. You brought him here, and you ought to see that he goes away. It is only on your account that he stays here at all; for, although he visits his image every day, he is with you the greater part of the time. If you were not here, he would not stay. It is your duty to go away, and then he will follow you, and we shall be free from the dreadful danger which hangs over us."
"Go away!" cried the Minor Canon, greatly grieved at being spoken to in such a way. "Where shall I go? If I go to some other town, shall I not take this trouble there? Have I a right to do that?"
"No," said the people, "you must not go to any other town. There is no town far enough away. You must go to the dreadful wilds where the Griffin lives, and then he will follow you and stay there."
They did not say whether or not they expected the Minor Canon to stay there also, and he did not ask them anything about it. He bowed his head, and went into his house to think. The more he thought, the more clear it became to his mind that it was his duty to go away, and thus free the town from the presence of the Griffin.
That evening he packed a leathern bag full of bread and meat, and early the next morning he set out or his journey to the dreadful wilds. It was a long, weary, and doleful journey, especially after he had gone beyond the habitations of men; but the Minor Canon kept on bravely, and never faltered.
The way was longer than he had expected, and his provisions soon grew so scanty that he was obliged to eat but a little every day; but he kept up his courage, and pressed on, and, after many days of toilsome travel, he reached the dreadful wilds.
When the Griffin found that the Minor Canon had left the town he seemed sorry, but showed no desire to go and look for him. After a few days had passed he became much annoyed, and asked some of the people where the Minor Canon had gone. But, although the citizens had been so anxious that the young clergyman should go to the dreadful wilds, thinking that the Griffin would immediately follow him, they were now afraid to mention the Minor Canon's destination, for the monster seemed angry already, and if he should suspect their trick he would, doubtless, become very much enraged. So everyone said he did not know, and the Griffin wandered about disconsolate. One morning he looked into the Minor Canon's schoolhouse, which was always empty now, and thought that it was a shame that everything should suffer on account of the young man's absence.
"It does not matter so much about the church," he said, "for nobody went there; but it is a pity about the school. I think I will teach it myself until he returns."
It was the hour for opening the school, and the Griffin went inside and pulled the rope which rang the school bell. Some of the children who heard the bell ran in to see what was the matter, supposing it to be a joke of one of their companions; but when they saw the Griffin they stood astonished and scared.
"Go tell the other scholars," said the monster, "that school is about to open, and that if they are not all here in ten minutes I shall come after them."
In seven minutes every scholar was in place.
Never was seen such an orderly school. Not a boy or girl moved or uttered a whisper. The Griffin climbed into the master's seat, his wide wings spread on each side of him, because he could not lean back in his chair while they stuck out behind, and his great tail coiled around, in front of the desk, the barbed end sticking up, ready to tap any boy or girl who might misbehave.
The Griffin now addressed the scholars, telling them that he intended to teach them while their master was away. In speaking he tried to imitate, as far as possible, the mild and gentle tones of the Minor Canon; but it must be admitted that in this he was not very successful. He had paid a good deal of attention to the studies of the school, and he determined not to try to teach them anything new, but to review them in what they had been studying; so he called up the various classes, and questioned them upon their previous lessons. The children racked their brains to remember what they had learned. They were so afraid of the Griffin's displeasure that they recited as they had never recited before. One of the boys, far down in his class, answered so well that the Griffin was astonished.
'I should think you would be at the head," said he. "I am sure you have never been in the habit of reciting so well. Why is this?"
"Because I did not choose to take the trouble," said the boy, trembling in his boots. He felt obliged to speak the truth, for all the children thought that the great eyes of the Griffin could see right through them, and that he would know when they told a falsehood.
"You ought to be ashamed of yourself," said the Griffin. "Go down to the very tail of the class; and if you are not at the head in two days, I shall know the reason why."
The next afternoon this boy was Number One.
It was astonishing how much these children now learned of what they had been studying. It was as if they had been educated over again. The Griffin used no severity toward them, but there was a look about him which made them unwilling to go to bed until they were sure they knew their lessons for the next day.
The Griffin now thought that he ought to visit the sick and the poor; and he began to go about the town for this purpose. The effect upon the sick was miraculous. All, except those who were very ill indeed, jumped from their beds when they heard he was coming, and declared themselves quite well. To those who could not get up he gave herbs and roots, which none of them had ever before thought of as medicines, but which the Griffin had seen used in various parts of the world; and most of them recovered. But, for all that, they afterward said that, no matter what happened to them, they hoped that they should never again have such a doctor coming to their bedsides, feeling their pulses and looking at their tongues.
As for the poor, they seemed to have utterly disappeared. All those who had depended upon charity for their daily bread were now at work in some way or other; many of them offering to do odd jobs for their neighbors just for the sake of their meals–a thing which before had been seldom heard of in the town. The Griffin could find no one who needed his assistance.
The summer had now passed, and the autumnal equinox was rapidly approaching. The citizens were in a state of great alarm and anxiety. The Griffin showed no signs of going away, but seemed to have settled himself permanently among them. In a short time the day for his semiannual meal would arrive, and then what would happen? The monster would certainly be very hungry, and would devour all their children.
Now they greatly regretted and lamented that they had sent away the Minor Canon; he was the only one on whom they could have depended in this trouble, for he could talk freely with the Griffin, and so find out what could be done. But it would not do to be inactive. Some step must be taken immediately. A meeting of the citizens was called, and two old men were appointed to go and talk to the Griffin. They were instructed to offer to prepare a splendid dinner for him on equinox day-one which would entirely satisfy his hunger. They would offer him the fattest mutton, the most tender beef fish, and game of various sorts, and anything of the kind that he might fancy. If none of these suited, they were to mention that there was an orphan asylum in the next town.
"Anything would be better," said the citizens, "than to have our dear children devoured."
The old men went to the Griffin; but their propositions were not received with favor.
"From what I have seen of the people of this town," said the monster, "I do not think I could relish anything which was prepared by them. They appear to be all cowards and, therefore, mean and selfish. As for eating one of them, old or young, I could not think of it for a moment. In fact, there was only one creature in the whole place for whom I could have had any appetite, and that is the Minor Canon, who has gone away. He was brave, and good, and honest, and I think I should have relished him."
"Ah!" said one of the old men very politely, "in that case I wish we had not sent him to the dreadful wilds!"
"What!" cried the Griffin. "What do you mean? Explain instantly what you are talking about!"
The old man, terribly frightened at what he had said, was obliged to tell how the Minor Canon had been sent away by the people, in the hope that the Griffin might be induced to follow him.
When the monster heard this he became furiously angry. He dashed away from the old men, and, spreading his wings, flew backward and forward over the town. He was so much excited that his tail became red-hot, and glowed like a meteor against the evening sky. When at last he settled down in the little field where he usually rested, and thrust his tail into the brook, the steam arose like a cloud, and the water of the stream ran hot through the town. The citizens were greatly frightened, and bitterly blamed the old man for telling about the Minor Canon.
"It is plain," they said, "that the Griffin intended at last to go and look for him, and we should have been saved. Now who can tell what misery you have brought upon us."
The Griffin did not remain long in the little field. As soon as his tail was cool he flew to the town hall and rang the bell. The citizens knew that they were expected to come there; and although they were afraid to go, they were still more afraid to stay away; and they crowded into the hall. The Griffin was on the platform at one end, flapping his wings and walking up and down, and the end of his tail was still so warm that it slightly scorched the boards as he dragged it after him.
When everybody who was able to come was there, the Griffin stood still and addressed the meeting.
'I have had a very low opinion of you," he said, "ever since I discovered what cowards you are, but I had no idea that you were so ungrateful, selfish, and cruel as I now find you to be. Here was your Minor Canon, who labored day and night for your good, and thought of nothing else but how he might benefit you and make you happy; and as soon as you imagine yourselves threatened with a danger–for well I know you are dreadfully afraid of me–you send him off, caring not whether he returns or perishes, hoping thereby to save yourselves. Now, I had conceived a great liking for that young man, and had intended, in a day or two, to go and look him up. But I have changed my mind about him. I shall go and find him, but I shall send him back here to live among you, and I intend that he shall enjoy the reward of his labor and his sacrifices.
"Go, some of you, to the officers of the church, who so cowardly ran away when I first came here, and tell them never to return to this town under penalty of death. And if, when your Minor Canon comes back to you, you do not bow yourselves before him, put him in the highest place among you, and serve and honor him all his life, beware of my terrible vengeance! There were only two good things in this town: the Minor Canon and the stone image of myself over your church door. One of these you have sent away, and the other I shall carry away myself."
With these words he dismissed the meeting, and it was time, for the end of his tail had become so hot that there was danger of it setting fire to the building.
The next morning the Griffin came to the church, and tearing the stone image of himself from its fastenings over the great door he grasped it with his powerful forelegs and flew up into the air. Then, after hovering over the town for a moment, he gave his tail an angry shake and took up his flight to the dreadful wilds. When he reached this desolate region, he set the stone griffin upon a ledge of a rock which rose in front of the dismal cave he called his home. There the image occupied a position somewhat similar to that it had had over the church door; and the Griffin, panting with the exertion of carrying such an enormous load to so great a distance, lay down upon the ground and regarded it with much satisfaction. When he felt somewhat rested he went to look for the Minor Canon. He found the young man, weak and half starved, lying under the shadow of a rock. After picking him up and carrying him to his cave, the Griffin flew away to a distant marsh, where he procured some roots and herbs which he well knew were strengthening and beneficial to man, though he had never tasted them himself. After eating these the Minor Canon was greatly revived, and sat up and listened while the Griffin told him what had happened in the town.
"Do you know," said the monster, when he had finished, "that I have had, and still have, a great liking for you?"
"I am very glad to hear it," said the Minor Canon, with his usual politeness.
"I am not at all sure that you would be," said the Griffin, "if you thoroughly understood the state of the case; but we will not consider that now. If some things were different, other things would be otherwise. I have been so enraged by discovering the manner in which you have been treated that I have determined that you shall at last enjoy the rewards and honors to which you are entitled. Lie down and have a good sleep, and then I will take you back to the town."
As he heard these words, a look of trouble came over the young man's face.
"You need not give yourself any anxiety," said the Griffin, "about my return to the town. I shall not remain there. Now that I have that admirable likeness of myself in front of my cave, where I can sit at my leisure, and gaze upon its noble features and magnificent proportions, I have no wish to see that abode of cowardly and selfish people."
The Minor Canon, relieved from his fears, lay back, and dropped into a doze; and when he was sound asleep the Griffin took him up, and carried him back to the town. He arrived just before daybreak, and putting the young man gently on the grass in the little field where he himself used to rest, the monster, without having been seen by any of the people, flew back to his home.
When the Minor Canon made his appearance in the morning among the citizens, the enthusiasm and cordiality with which he was received were truly wonderful. He was taken to a house which had been occupied by one of the banished high officers of the place, and everyone was anxious to do all that could be done for his health and comfort. The people crowded into the church when he held services, so that the three old women who used to be his weekday congregation could not get to the best seats, which they had always been in the habit of taking; and the parents of the bad children determined to reform them at home, in order that he might be spared the trouble of keeping up his former school. The Minor Canon was appointed to the highest office of the old church, and before he died, he became a bishop.
During the first years after his return from the dreadful wilds, the people of the town looked up to him as a man to whom they were bound to do honor and reverence; but they often, also, looked up to the sky to see if there were any signs of the Griffin coming back. However, in the course of time, they learned to honor and reverence their former Minor Canon without the fear of being punished if they did not do so.
But they need never have been afraid of the Griffin. The autumnal equinox day came round, and the monster ate nothing. If he could not have the Minor Canon, he did not care for anything. So, lying down, with his eyes fixed upon the great stone griffin, he gradually declined, and died. It was a good thing for some of the people of the town that they did not know this.
If you should ever visit the old town, you would still see the little griffins on the sides of the church; but the great stone griffin that was over the door is gone.
Frank Stockton (1834-1902)
The Griffin and the Minor Canon
fleursdumal.nl magazine
More in: -Short Stories Archive, Archive S-T
---
Ton van Reen schreef de roman 'Geen Oorlog' toen hij 23 jaar oud was. Overtuigend beschrijft hij het leven van Jarde, een joodse jongen, in drie verschillende levensfasen. 'Geen Oorlog' is naast een roman over vervreemding, een scherpe kritiek op de moderne maatschappij, waarin iedereen langs elkaar heen leeft en waarin geen plaats is voor dromers.
Dagblad De Limburger: 'Een dichterlijke aanklacht tegen de oorlog en de vernietiging van het individu, geschreven in heldere beeldende taal, door een fascinerend natuurtalent.' De Volkskrant: 'Van Reen schrijft in een heel mooi Nederlands met een zuidelijk taalgebruik, dat randstedelingen soms vreemd zal voorkomen maar dat een warme klankkleur geeft aan zijn werk.' Deze uitgave van 'Geen Oorlog', met het oorspronkelijke omslag en in de originele vormgeving, verschijnt vijftig jaar na de eerste uitgave, ter gelegenheid van de vijfenzeventigste verjaardag van de schrijver.
Ton van Reen is schrijver en journalist. Hij schrijft romans, jeugdromans en kinderboeken. Hij is oprichter van de Stichting Lalibela in Ethiopië die vooral gehandicapte kinderen en dakloze ouderen helpt. Hij verblijft vaak in Afrika. Zijn bekendste boek voor de jeugd is 'De bende van de bokkenrijders' dat verfilmd werd tot een tv-serie. Zijn verzameld prozawerk, zeventien romans, novellen en verhalenbundels, verscheen in 2010 in twee delen, samen 1800 bladzijden, bij Uitgeverij De Geus. Bij Uitgeverij De Contrabas verschenen zijn verzamelde gedichten met de titel 'Blijvend vers'. In voorjaar 2016 verscheen zijn nieuwe roman 'De verdwenen stad' bij Uitgeverij In de Knipscheer.
 
Ton van Reen
Geen oorlog
Roman
Nederland
Paperback, 160 blz., € 8,90
ISBN 978-90-6265-922-7
Heruitgave (6de druk) 2016
fleursdumal.nl magazine
More in: - Book News, Archive Q-R, Reen, Ton van, Ton van Reen
---
Thomas Traherne
(1637 – 1674)
Innocence
But that which most I wonder at, which most
I did esteem my bliss, which most I boast,
And ever shall enjoy, is that within
I felt no stain, nor spot of sin.
No darkness then did overshade,
But all within was pure and bright,
No guilt did crush, nor fear invade
But all my soul was full of light.
A joyful sense and purity
Is all I can remember;
The very night to me was bright,
'Twas summer in December.
A serious meditation did employ
My soul within, which taken up with joy
Did seem no outward thing to note, but fly
All objects that do feed the eye.
While it those very objects did
Admire, and prize, and praise, and love,
Which in their glory most are hid,
Which presence only doth remove.
Their constant daily presence I
Rejoicing at, did see;
And that which takes them from the eye
Of others, offer'd them to me.
No inward inclination did I feel
To avarice or pride: my soul did kneel
In admiration all the day. No lust, nor strife,
Polluted then my infant life.
No fraud nor anger in me mov'd,
No malice, jealousy, or spite;
All that I saw I truly lov'd.
Contentment only and delight
Were in my soul. O Heav'n! what bliss
Did I enjoy and feel!
What powerful delight did this
Inspire! for this I daily kneel.
Whether it be that nature is so pure,
And custom only vicious; or that sure
God did by miracle the guilt remove,
And make my soul to feel his love
So early: or that 'twas one day,
Wherein this happiness I found;
Whose strength and brightness so do ray,
That still it seems me to surround;
What ere it is, it is a light
So endless unto me
That I a world of true delight
Did then and to this day do see.
That prospect was the gate of Heav'n, that day
The ancient light of Eden did convey
Into my soul: I was an Adam there
A little Adam in a sphere
Of joys! O there my ravish'd sense
Was entertain'd in Paradise,
And had a sight of innocence
Which was beyond all bound and price.
An antepast of Heaven sure!
I on the earth did reign;
Within, without me, all was pure;
I must become a child again.
Thomas Traherne
fleursdumal.nl magazine
More in: Archive S-T, Archive S-T, CLASSIC POETRY
---
Nieuwe tentoonstelling Schilderen met woorden. Een nieuwe kijk op de poëzie van Louis Couperus. 13 november 2016 – 8 mei 2017 in het Louis Couperus Museum.
Gedurende een groot deel van zijn leven (om precies te zijn 25 jaar) heeft Louis Couperus poëzie geschreven. Tot nu toe is er te weinig aandacht geschonken aan dit onderwerp.
Deze winter visualiseert het Louis Couperus Museum de dichtkunst van de Haagse schrijver door middel van afbeeldingen en beeldhouwwerk waardoor de schrijver was geïnspireerd.
Tentoonstelling
Aan de wanden worden representatieve gedichten of citaten daaruit groot weer gegeven, op textiel afgedrukt. Bij elk fragment komt een afbeelding te hangen die inhoudelijk in verband staat met het betreffende gedicht. Reproducties van schilderijen – in een enkel geval zelfs een beeldhouwwerk – hebben Couperus soms regelrecht tot voorbeeld gediend. Ook de doorwerking van zijn poëzie in zijn proza komt aan bod. Op de televisiemonitor is een voordracht van zijn dichtkunst door acteur Joop Keesmaat te zien en te horen.
De expositie is gecentreerd rond 5 thema's uit Couperus' poëzie. Allereerst de figuur van Petrarca die hem de Laura-cyclus in gaf. Ten tweede de salon-schilderkunst uit de negentiende eeuw en daarmee samenhangend gedichten waarin Couperus bijna letterlijk 'met woorden schildert'. Vervolgens het beeld Alba van de Friese beeldhouwer Pier Pander, dat Couperus in het gelijknamige sonnet bezong. Dan de wereld van de Arthurlegenden die hem zo boeide, en de door Italië geïnspireerde gedichten. De 'aardse Couperus' (Arjan Peters) komt in de 'sonnettenroman' Endymion aan bod. Hierin vereenzelvigt Couperus zich met een volksjongen die in de klassieke metropool Alexandrië allerlei avonturen beleeft. Dit wordt op eigentijdse wijze gevisualiseerd door een stripverhaal van de hand van Mees Arnzt, een student van de Koninklijke Academie voor Beeldende Kunsten.
Verantwoording
De tentoonstelling wordt ingericht door gastconservator Frans van der Linden, medewerker van het Louis Couperus Museum, winnaar van de Couperuspenning en samensteller van het boekje O gouden, stralenshelle fantazie! Bloemlezing uit de poëzie van Louis Couperus (in de Prominentreeks van Uitgeverij Tiem, 2015).
De expositie wordt mede mogelijk gemaakt dankzij een bijdrage van het Prins Bernhard Cultuurfonds.
schilderen met woorden.
een nieuwe kijk op de poëzie van Couperus
13 november 2016 – 8 mei 2017
Louis Couperus Museum
Javastraat 17
2585 AB Den Haag
070-3640653
info@louiscouperusmuseum.nl
Openingstijden
Woensdag t/m zondag 12.00-17.00 uur
Voor groepen ook op afspraak
Het gehele jaar door geopend, met uitzondering van 1ste en 2de Kerstdag en Nieuwjaarsdag
Toegankelijk voor gehandicapten
# Meer informatie op website van het Couperus Museum
fleursdumal.nl magazine
More in: Archive C-D, Archive C-D, Art & Literature News, DICTIONARY OF IDEAS, Literary Events, Louis Couperus, Museum of Literary Treasures
---
The Ambitious Guest
by Nathaniel Hawthorne
One September night a family had gathered round their hearth, and piled it high with the driftwood of mountain streams, the dry cones of the pine, and the splintered ruins of great trees that had come crashing down the precipice. Up the chimney roared the fire, and brightened the room with its broad blaze. The faces of the father and mother had a sober gladness; the children laughed; the eldest daughter was the image of Happiness at seventeen; and the aged grandmother, who sat knitting in the warmest place, was the image of Happiness grown old. They had found the "herb, heart's-ease," in the bleakest spot of all New England. This family were situated in the Notch of the White Hills, where the wind was sharp throughout the year, and pitilessly cold in the winter–giving their cottage all its fresh inclemency before it descended on the valley of the Saco. They dwelt in a cold spot and a dangerous one; for a mountain towered above their heads, so steep, that the stones would often rumble down its sides and startle them at midnight.
The daughter had just uttered some simple jest that filled them all with mirth, when the wind came through the Notch and seemed to pause before their cottage–rattling the door, with a sound of wailing and lamentation, before it passed into the valley. For a moment it saddened them, though there was nothing unusual in the tones. But the family were glad again when they perceived that the latch was lifted by some traveller, whose footsteps had been unheard amid the dreary blast which heralded his approach, and wailed as he was entering, and went moaning away from the door.
Though they dwelt in such a solitude, these people held daily converse with the world. The romantic pass of the Notch is a great artery, through which the life-blood of internal commerce is continually throbbing between Maine, on one side, and the Green Mountains and the shores of the St. Lawrence, on the other. The stage-coach always drew up before the door of the cottage. The way-farer, with no companion but his staff, paused here to exchange a word, that the sense of loneliness might not utterly overcome him ere he could pass through the cleft of the mountain, or reach the first house in the valley. And here the teamster, on his way to Portland market, would put up for the night; and, if a bachelor, might sit an hour beyond the usual bedtime, and steal a kiss from the mountain maid at parting. It was one of those primitive taverns where the traveller pays only for food and lodging, but meets with a homely kindness beyond all price. When the footsteps were heard, therefore, between the outer door and the inner one, the whole family rose up, grandmother, children, and all, as if about to welcome someone who belonged to them, and whose fate was linked with theirs.
The door was opened by a young man. His face at first wore the melancholy expression, almost despondency, of one who travels a wild and bleak road, at nightfall and alone, but soon brightened up when he saw the kindly warmth of his reception. He felt his heart spring forward to meet them all, from the old woman, who wiped a chair with her apron, to the little child that held out its arms to him. One glance and smile placed the stranger on a footing of innocent familiarity with the eldest daughter.
"Ah, this fire is the right thing!" cried he; "especially when there is such a pleasant circle round it. I am quite benumbed; for the Notch is just like the pipe of a great pair of bellows; it has blown a terrible blast in my face all the way from Bartlett."
"Then you are going towards Vermont?" said the master of the house, as he helped to take a light knapsack off the young man's shoulders.
"Yes; to Burlington, and far enough beyond," replied he. "I meant to have been at Ethan Crawford's tonight; but a pedestrian lingers along such a road as this. It is no matter; for, when I saw this good fire, and all your cheerful faces, I felt as if you had kindled it on purpose for me, and were waiting my arrival. So I shall sit down among you, and make myself at home."
The frank-hearted stranger had just drawn his chair to the fire when something like a heavy footstep was heard without, rushing down the steep side of the mountain, as with long and rapid strides, and taking such a leap in passing the cottage as to strike the opposite precipice. The family held their breath, because they knew the sound, and their guest held his by instinct.
"The old mountain has thrown a stone at us, for fear we should forget him," said the landlord, recovering himself. "He sometimes nods his head and threatens to come down; but we are old neighbors, and agree together pretty well upon the whole. Besides we have a sure place of refuge hard by if he should be coming in good earnest."
Let us now suppose the stranger to have finished his supper of bear's meat; and, by his natural felicity of manner, to have placed himself on a footing of kindness with the whole family, so that they talked as freely together as if he belonged to their mountain brood. He was of a proud, yet gentle spirit–haughty and reserved among the rich and great; but ever ready to stoop his head to the lowly cottage door, and be like a brother or a son at the poor man's fireside. In the household of the Notch he found warmth and simplicity of feeling, the pervading intelligence of New England, and a poetry of native growth, which they had gathered when they little thought of it from the mountain peaks and chasms, and at the very threshold of their romantic and dangerous abode. He had travelled far and alone; his whole life, indeed, had been a solitary path; for, with the lofty caution of his nature, he had kept himself apart from those who might otherwise have been his companions. The family, too, though so kind and hospitable, had that consciousness of unity among themselves, and separation from the world at large, which, in every domestic circle, should still keep a holy place where no stranger may intrude. But this evening a prophetic sympathy impelled the refined and educated youth to pour out his heart before the simple mountaineers, and constrained them to answer him with the same free confidence. And thus it should have been. Is not the kindred of a common fate a closer tie than that of birth?
The secret of the young man's character was a high and abstracted ambition. He could have borne to live an undistinguished life, but not to be forgotten in the grave. Yearning desire had been transformed to hope; and hope, long cherished, had become like certainty, that, obscurely as he journeyed now, a glory was to beam on all his pathway-though not, perhaps, while he was treading it. But when posterity should gaze back into the gloom of what was now the present, they would trace the brightness of his footsteps, brightening as meaner glories faded, and confess that a gifted one had passed from his cradle to his tomb with none to recognize him.
"As yet," cried the stranger–his cheek glowing and his eye flashing with enthusiasm–"as yet, I have done nothing. Were I to vanish from the earth tomorrow, none would know so much of me as you: that a nameless youth came up at nightfall from the valley of the Saco, and opened his heart to you in the evening, and passed through the Notch by sunrise, and was seen no more. Not a soul would ask, 'Who was he? Whither did the wanderer go?' But I cannot die till I have achieved my destiny. Then, let Death come! I shall have built my monument!"
There was a continual flow of natural emotion, gushing forth amid abstracted reverie, which enabled the family to understand this young man's sentiments, though so foreign from their own. With quick sensibility of the ludicrous, he blushed at the ardor into which he had been betrayed
"You laugh at me," said he, taking the eldest daughter's hand, and laughing himself. "You think my ambition as nonsensical as if I were to freeze myself to death on the top of Mount Washington, only that people might spy at me from the country round about. And, truly, that would be a noble pedestal for a man's statue!"
"It is better to sit here by this fire," answered the girl, blushing, "and be comfortable and contented, though nobody thinks about us."
"I suppose," said her father, after a fit of musing, "there is something natural in what the young man says; and if my mind had been turned that way, I might have felt just the same. It is strange, wife, how his talk has set my head running on things that are pretty certain never to come to pass."
"Perhaps they may," observed the wife. "Is the man thinking what he will do when he is a widower?"
"No, no!" cried he, repelling the idea with reproachful kindness. "When I think of your death, Esther, I think of mine, too. But I was wishing we had a good farm in Bartlett, or Bethlehem, or Littleton, or some other township round the White Mountains; but not where they could tumble on our heads. I should want to stand well with my neighbors and be called Squire, and sent to General Court for a term or two; for a plain, honest man may do as much good there as a lawyer. And when I should be grown quite an old man, and you an old woman, so as not to be long apart, I might die happy enough in my bed, and leave you all crying around me. A slate gravestone would suit me as well as a marble one–with just my name and age, and a verse of a hymn, and something to let people know that I lived an honest man and died a Christian."
"There now!" exclaimed the stranger; "it is our nature to desire a monument, be it slate or marble, or a pillar of granite, or a glorious memory in the universal heart of man."
"We're in a strange way, tonight," said the wife, with tears in her eyes. "They say it's a sign of something, when folks' minds go a-wandering so. Hark to the children!"
They listened accordingly. The younger children had been put to bed in another room, but with an open door between, so that they could be heard talking busily among themselves. One and all seemed to have caught the infection from the fireside circle, and were outvying each other in wild wishes, and childish projects, of what they would do when they came to be men and women. At length a little boy, instead of addressing his brothers and sisters, called out to his mother.
"I'll tell you what I wish, mother," cried he. "I want you and father and grandma'm, and all of us, and the stranger too, to start right away, and go and take a drink out of the basin of the Flume!"
Nobody could help laughing at the child's notion of leaving a warm bed, and dragging them from a cheerful fire, to visit the basin of the Flume–a brook, which tumbles over the precipice, deep within the Notch. The boy had hardly spoken when a wagon rattled along the road, and stopped a moment before the door. It appeared to contain two or three men, who were cheering their hearts with the rough chorus of a song, which resounded, in broken notes, between the cliffs, while the singers hesitated whether to continue their journey or put up here for the night.
"Father," said the girl, "they are calling you by name."
But the good man doubted whether they had really called him, and was unwilling to show himself too solicitous of gain by inviting people to patronize his house. He therefore did not hurry to the door; and the lash being soon applied, the travellers plunged into the Notch, still singing and laughing, though their music and mirth came back drearily from the heart of the mountain.
"There, mother!" cried the boy, again. "They'd have given us a ride to the Flume."
Again they laughed at the child's pertinacious fancy for a night ramble. But it happened that a light cloud passed over the daughter's spirit; she looked gravely into the fire, and drew a breath that was almost a sigh. It forced its way, in spite of a little struggle to repress it. Then starting and blushing, she looked quickly round the circle, as if they had caught a glimpse into her bosom. The stranger asked what she had been thinking of.
"Nothing," answered she, with a downcast smile. "Only I felt lonesome just then."
"Oh, I have always had a gift of feeling what is in other people's hearts," said he, half seriously. "Shall I tell the secrets of yours? For I know what to think when a young girl shivers by a warm hearth, and complains of lonesomeness at her mother's side. Shall I put these feelings into words?"
"They would not be a girl's feelings any longer if they could be put into words," replied the mountain nymph, laughing, but avoiding his eye.
All this was said apart. Perhaps a germ of love was springing in their hearts, so pure that it might blossom in Paradise, since it could not be matured on earth; for women worship such gentle dignity as his; and the proud, contemplative, yet kindly soul is oftenest captivated by simplicity like hers. But while they spoke softly, and he was watching the happy sadness, the lightsome shadows, the shy yearnings of a maiden's nature, the wind through the Notch took a deeper and drearier sound. It seemed, as the fanciful stranger said, like the choral strain of the spirits of the blast, who in old Indian times had their dwelling among these mountains, and made their heights and recesses a sacred region.
There was a wail along the road, as if a funeral were passing. To chase away the gloom, the family threw pine branches on their fire, till the dry leaves crackled and the flame arose, discovering once again a scene of peace and humble happiness. The light hovered about them fondly, and caressed them all. There were the little faces of the children, peeping from their bed apart, and here the father's frame of strength, the mother's subdued and careful mien, the high-browed youth, the budding girl, and the good old grandam, still knitting in the warmest place. The aged woman looked up from her task, and, with fingers ever busy, was the next to speak.
"Old folks have their notions," said she, "as well as young ones. You've been wishing and planning; and letting your heads run on one thing and another, till you've set my mind a-wandering too. Now what should an old woman wish for, when she can go but a step or two before she comes to her grave? Children, it will haunt me night and day till I tell you."
"What is it, mother?" cried the husband and wife at once.
Then the old woman, with an air of mystery which drew the circle closer round the fire, informed them that she had provided her grave-clothes some years before–a nice linen shroud, a cap with a muslin ruff, and everything of a finer sort than she had worn since her wedding day. But this evening an old superstition had strangely recurred to her. It used to be said, in her younger days, that if anything were amiss with a corpse, if only the ruff were not smooth, or the cap did not set right, the corpse in the coffin and beneath the clods would strive to put up its cold hands and arrange it. The bare thought made her nervous.
"Don't talk so, grandmother!" said the girl, shuddering.
"Now," continued the old woman, with singular earnestness, yet smiling strangely at her own folly, "I want one of you, my children- when your mother is dressed and in the coffin–I want one of you to hold a looking-glass over my face. Who knows but I may take a glimpse at myself, and see whether all's right?"
"Old and young, we dream of graves and monuments," murmured the stranger youth. "I wonder how mariners feel when the ship is sinking, and they, unknown and undistinguished, are to be buried together in the ocean–that wide and nameless sepulchre?"
For a moment, the old woman's ghastly conception so engrossed the minds of her hearers that a sound abroad in the night, rising like the roar of a blast, had grown broad, deep, and terrible, before the fated group were conscious of it. The house and all within it trembled; the foundations of the earth seemed to be shaken, as if this awful sound were the peal of the last trump. Young and old exchanged one wild glance, and remained an instant, pale, affrighted, without utterance, or power to move. Then the same shriek burst simultaneously from all their lips.
"The Slide! The Slide!"
The simplest words must intimate, but not portray, the unutterable horror of the catastrophe. The victims rushed from their cottage, and sought refuge in what they deemed a safer spot–where, in contemplation of such an emergency, a sort of barrier had been reared. Alas! they had quitted their security, and fled right into the pathway of destruction. Down came the whole side of the mountain, in a cataract of ruin. Just before it reached the house, the stream broke into two branches–shivered not a window there, but overwhelmed the whole vicinity, blocked up the road, and annihilated everything in its dreadful course. Long ere the thunder of the great Slide had ceased to roar among the mountains, the mortal agony had been endured, and the victims were at peace. Their bodies were never found.
The next morning, the light smoke was seen stealing from the cottage chimney up the mountain side. Within, the fire was yet smouldering on the hearth, and the chairs in a circle round it, as if the inhabitants had but gone forth to view the devastation of the Slide, and would shortly return, to thank Heaven for their miraculous escape. All had left separate tokens, by which those who had known the family were made to shed a tear for each. Who has not heard their name? The story has been told far and wide, and will forever be a legend of these mountains. Poets have sung their fate.
There were circumstances which led some to suppose that a stranger had been received into the cottage on this awful night, and had shared the catastrophe of all its inmates. Others denied that there were sufficient grounds for such a conjecture. Wo for the high-souled youth, with his dream of Earthly Immortality! His name and person utterly unknown; his history, his way of life, his plans, a mystery never to be solved, his death and his existence equally a doubt! Whose was the agony of that death moment?
Nathaniel Hawthorne (1804-1864)
The Ambitious Guest
fleursdumal.nl magazine
More in: -Short Stories Archive, Archive G-H
---
Tennessee's Partner
by Bret Harte
I do not think that we ever knew his real name. Our ignorance of it certainly never gave us any social inconvenience, for at Sandy Bar in 1854 most men were christened anew. Sometimes these appellatives were derived from some distinctiveness of dress, as in the case of "Dungaree Jack"; or from some peculiarity of habit, as shown in "Saleratus Bill," so called from an undue proportion of that chemical in his daily bread; or for some unlucky slip, as exhibited in "The Iron Pirate," a mild, inoffensive man, who earned that baleful title by his unfortunate mispronunciation of the term "iron pyrites." Perhaps this may have been the beginning of a rude heraldry; but I am constrained to think that it was because a man's real name in that day rested solely upon his own unsupported statement. "Call yourself Clifford, do you?" said Boston, addressing a timid newcomer with infinite scorn; "hell is full of such Cliffords!" He then introduced the unfortunate man, whose name happened to be really Clifford, as "Jay-bird Charley"–an unhallowed inspiration of the moment that clung to him ever after.
But to return to Tennessee's Partner, whom we never knew by any other than this relative title; that he had ever existed as a separate and distinct individuality we only learned later. It seems that in 1853 he left Poker Flat to go to San Francisco, ostensibly to procure a wife. He never got any farther than Stockton. At that place he was attracted by a young person who waited upon the table at the hotel where he took his meals. One morning he said something to her which caused her to smile not unkindly, to somewhat coquettishly break a plate of toast over his upturned, serious, simple face, and to retreat to the kitchen. He followed her, and emerged a few moments later, covered with more toast and victory. That day week they were married by a justice of the peace, and returned to Poker Flat. I am aware that something more might be made of this episode, but I prefer to tell it as it was current at Sandy Bar–in the gulches and barrooms–where all sentiment was modified by a strong sense of humor.
Of their married felicity but little is known, perhaps for the reason that Tennessee, then living with his Partner, one day took occasion to say something to the bride on his own account, at which, it is said, she smiled not unkindly and chastely retreated– this time as far as Marysville, where Tennessee followed her, and where they went to housekeeping without the aid of a justice of the peace. Tennessee's Partner took the loss of his wife simply and seriously, as was his fashion. But to everybody's surprise, when Tennessee one day returned from Marysville, without his Partner's wife–she having smiled and retreated with somebody else– Tennessee's Partner was the first man to shake his hand and greet him with affection. The boys who had gathered in the canyon to see the shooting were naturally indignant. Their indignation might have found vent in sarcasm but for a certain look in Tennessee's Partner's eye that indicated a lack of humorous appreciation. In fact, he was a grave man, with a steady application to practical detail which was unpleasant in a difficulty.
Meanwhile a popular feeling against Tennessee had grown up on the Bar. He was known to be a gambler; he was suspected to be a thief. In these suspicions Tennessee's Partner was equally compromised; his continued intimacy with Tennessee after the affair above quoted could only be accounted for on the hypothesis of a copartnership of crime. At last Tennessee's guilt became flagrant. One day he overtook a stranger on his way to Red Dog. The stranger afterward related that Tennessee beguiled the time with interesting anecdote and reminiscence, but illogically concluded the interview in the following words: "And now, young man, I'll trouble you for your knife, your pistols, and your money. You see your weppings might get you into trouble at Red Dog, and your money's a temptation to the evilly disposed. I think you said your address was San Francisco. I shall endeavor to call." It may be stated here that Tennessee had a fine flow of humor, which no business preoccupation could wholly subdue.
This exploit was his last. Red Dog and Sandy Bar made common cause against the highwayman. Tennessee was hunted in very much the same fashion as his prototype, the grizzly. As the toils closed around him, he made a desperate dash through the Bar, emptying his revolver at the crowd before the Arcade Saloon, and so on up Grizzly Canyon; but at its farther extremity he was stopped by a small man on a gray horse. The men looked at each other a moment in silence. Both were fearless, both self-possessed and independent; and both types of a civilization that in the seventeenth century would have been called heroic, but, in the nineteenth, simply "reckless." "What have you got there?–I call," said Tennessee, quietly. "Two bowers and an ace," said the stranger, as quietly, showing two revolvers and a bowie knife. "That takes me," returned Tennessee; and with this gamblers' epigram, he threw away his useless pistol, and rode back with his captor.
It was a warm night. The cool breeze which usually sprang up with the going down of the sun behind the chaparral-crested mountain was that evening withheld from Sandy Bar. The little canyon was stifling with heated resinous odors, and the decaying driftwood on the Bar sent forth faint, sickening exhalations. The feverishness of day, and its fierce passions, still filled the camp. Lights moved restlessly along the bank of the river, striking no answering reflection from its tawny current. Against the blackness of the pines the windows of the old loft above the express office stood out staringly bright; and through their curtainless panes the loungers below could see the forms of those who were even then deciding the fate of Tennessee. And above all this, etched on the dark firmament, rose the Sierra, remote and passionless, crowned with remoter passionless stars.
The trial of Tennessee was conducted as fairly as was consistent with a judge and jury who felt themselves to some extent obliged to justify, in their verdict, the previous irregularities of arrest and indictment. The law of Sandy Bar was implacable, but not vengeful. The excitement and personal feeling of the chase were over; with Tennessee safe in their hands they were ready to listen patiently to any defense, which they were already satisfied was insufficient. There being no doubt in their own minds, they were willing to give the prisoner the benefit of any that might exist. Secure in the hypothesis that he ought to be hanged, on general principles, they indulged him with more latitude of defense than his reckless hardihood seemed to ask. The Judge appeared to be more anxious than the prisoner, who, otherwise unconcerned, evidently took a grim pleasure in the responsibility he had created. "I don't take any hand in this yer game," had been his invariable but good-humored reply to all questions. The Judge–who was also his captor–for a moment vaguely regretted that he had not shot him "on sight" that morning, but presently dismissed this human weakness as unworthy of the judicial mind. Nevertheless, when there was a tap at the door, and it was said that Tennessee's Partner was there on behalf of the prisoner, he was admitted at once without question. Perhaps the younger members of the jury, to whom the proceedings were becoming irksomely thoughtful, hailed him as a relief.
For he was not, certainly, an imposing figure. Short and stout, with a square face sunburned into a preternatural redness, clad in a loose duck "jumper" and trousers streaked and splashed with red soil, his aspect under any circumstances would have been quaint, and was now even ridiculous. As he stooped to deposit at his feet a heavy carpetbag he was carrying, it became obvious, from partially developed legends and inscriptions, that the material with which his trousers had been patched had been originally intended for a less ambitious covering. Yet he advanced with great gravity, and after having shaken the hand of each person in the room with labored cordiality, he wiped his serious, perplexed face on a red bandanna handkerchief, a shade lighter than his complexion, laid his powerful hand upon the table to steady himself, and thus addressed the Judge:
"I was passin' by," he began, by way of apology, "and I thought I'd just step in and see how things was gittin' on with Tennessee thar– my pardner. It's a hot night. I disremember any sich weather before on the Bar."
He paused a moment, but nobody volunteering any other meteorological recollection, he again had recourse to his pocket handkerchief, and for some moments mopped his face diligently.
"Have you anything to say in behalf of the prisoner?" said the Judge, finally.
"Thet's it," said Tennessee's Partner, in a tone of relief. "I come yar as Tennessee's pardner–knowing him nigh on four year, off and on, wet and dry, in luck and out o' luck. His ways ain't allers my ways, but thar ain't any p'ints in that young man, thar ain't any liveliness as he's been up to, as I don't know. And you sez to me, sez you–confidential-like, and between man and man–sez you, 'Do you know anything in his behalf?' and I sez to you, sez I– confidential-like, as between man and man–'What should a man know of his pardner?'"
"Is this all you have to say?" asked the Judge impatiently, feeling, perhaps, that a dangerous sympathy of humor was beginning to humanize the Court.
"Thet's so," continued Tennessee's Partner. "It ain't for me to say anything agin' him. And now, what's the case? Here's Tennessee wants money, wants it bad, and doesn't like to ask it of his old pardner. Well, what does Tennessee do? He lays for a stranger, and he fetches that stranger. And you lays for HIM, and you fetches HIM; and the honors is easy. And I put it to you, bein' a far-minded man, and to you, gentlemen, all, as far-minded men, ef this isn't so."
"Prisoner," said the Judge, interrupting, "have you any questions to ask this man?"
"No! no!" continued Tennessee's Partner, hastily. "I play this yer hand alone. To come down to the bedrock, it's just this: Tennessee, thar, has played it pretty rough and expensive-like on a stranger, and on this yer camp. And now, what's the fair thing? Some would say more; some would say less. Here's seventeen hundred dollars in coarse gold and a watch–it's about all my pile–and call it square!" And before a hand could be raised to prevent him, he had emptied the contents of the carpetbag upon the table.
For a moment his life was in jeopardy. One or two men sprang to their feet, several hands groped for hidden weapons, and a suggestion to "throw him from the window" was only overridden by a gesture from the Judge. Tennessee laughed. And apparently oblivious of the excitement, Tennessee's Partner improved the opportunity to mop his face again with his handkerchief.
When order was restored, and the man was made to understand, by the use of forcible figures and rhetoric, that Tennessee's offense could not be condoned by money, his face took a more serious and sanguinary hue, and those who were nearest to him noticed that his rough hand trembled slightly on the table. He hesitated a moment as he slowly returned the gold to the carpetbag, as if he had not yet entirely caught the elevated sense of justice which swayed the tribunal, and was perplexed with the belief that he had not offered enough. Then he turned to the Judge, and saying, "This yer is a lone hand, played alone, and without my pardner," he bowed to the jury and was about to withdraw when the Judge called him back. "If you have anything to say to Tennessee, you had better say it now." For the first time that evening the eyes of the prisoner and his strange advocate met. Tennessee smiled, showed his white teeth, and, saying, "Euchred, old man!" held out his hand. Tennessee's Partner took it in his own, and saying, "I just dropped in as I was passin' to see how things was getting' on," let the hand passively fall, and adding that it was a warm night, again mopped his face with his handkerchief, and without another word withdrew.
The two men never again met each other alive. For the unparalleled insult of a bribe offered to Judge Lynch–who, whether bigoted, weak, or narrow, was at least incorruptible–firmly fixed in the mind of that mythical personage any wavering determination of Tennessee's fate; and at the break of day he was marched, closely guarded, to meet it at the top of Marley's Hill.
How he met it, how cool he was, how he refused to say anything, how perfect were the arrangements of the committee, were all duly reported, with the addition of a warning moral and example to all future evildoers, in the RED DOG CLARION, by its editor, who was present, and to whose vigorous English I cheerfully refer the reader. But the beauty of that midsummer morning, the blessed amity of earth and air and sky, the awakened life of the free woods and hills, the joyous renewal and promise of Nature, and above all, the infinite Serenity that thrilled through each, was not reported, as not being a part of the social lesson. And yet, when the weak and foolish deed was done, and a life, with its possibilities and responsibilities, had passed out of the misshapen thing that dangled between earth and sky, the birds sang, the flowers bloomed, the sun shone, as cheerily as before; and possibly the RED DOG CLARION was right.
Tennessee's Partner was not in the group that surrounded the ominous tree. But as they turned to disperse attention was drawn to the singular appearance of a motionless donkey cart halted at the side of the road. As they approached, they at once recognized the venerable "Jenny" and the two-wheeled cart as the property of Tennessee's Partner–used by him in carrying dirt from his claim; and a few paces distant the owner of the equipage himself, sitting under a buckeye tree, wiping the perspiration from his glowing face. In answer to an inquiry, he said he had come for the body of the "diseased," "if it was all the same to the committee." He didn't wish to "hurry anything"; he could "wait." He was not working that day; and when the gentlemen were done with the "diseased," he would take him. "Ef thar is any present," he added, in his simple, serious way, "as would care to jine in the fun'l, they kin come." Perhaps it was from a sense of humor, which I have already intimated was a feature of Sandy Bar–perhaps it was from something even better than that; but two-thirds of the loungers accepted the invitation at once.
It was noon when the body of Tennessee was delivered into the hands of his Partner. As the cart drew up to the fatal tree, we noticed that it contained a rough, oblong box–apparently made from a section of sluicing and half-filled with bark and the tassels of pine. The cart was further decorated with slips of willow, and made fragrant with buckeye blossoms. When the body was deposited in the box, Tennessee's Partner drew over it a piece of tarred canvas, and gravely mounting the narrow seat in front, with his feet upon the shafts, urged the little donkey forward. The equipage moved slowly on, at that decorous pace which was habitual with "Jenny" even under less solemn circumstances. The men–half curiously, half jestingly, but all good-humoredly–strolled along beside the cart; some in advance, some a little in the rear of the homely catafalque. But, whether from the narrowing of the road or some present sense of decorum, as the cart passed on, the company fell to the rear in couples, keeping step, and otherwise assuming the external show of a formal procession. Jack Folinsbee, who had at the outset played a funeral march in dumb show upon an imaginary trombone, desisted, from a lack of sympathy and appreciation–not having, perhaps, your true humorist's capacity to be content with the enjoyment of his own fun.
The way led through Grizzly Canyon–by this time clothed in funereal drapery and shadows. The redwoods, burying their moccasined feet in the red soil, stood in Indian file along the track, trailing an uncouth benediction from their bending boughs upon the passing bier. A hare, surprised into helpless inactivity, sat upright and pulsating in the ferns by the roadside as the cortege went by. Squirrels hastened to gain a secure outlook from higher boughs; and the bluejays, spreading their wings, fluttered before them like outriders, until the outskirts of Sandy Bar were reached, and the solitary cabin of Tennessee's Partner.
Viewed under more favorable circumstances, it would not have been a cheerful place. The unpicturesque site, the rude and unlovely outlines, the unsavory details, which distinguish the nest-building of the California miner, were all here, with the dreariness of decay superadded. A few paces from the cabin there was a rough enclosure, which in the brief days of Tennessee's Partner's matrimonial felicity had been used as a garden, but was now overgrown with fern. As we approached it we were surprised to find that what we had taken for a recent attempt at cultivation was the broken soil about an open grave.
The cart was halted before the enclosure; and rejecting the offers of assistance with the same air of simple self-reliance he had displayed throughout, Tennessee's Partner lifted the rough coffin on his back and deposited it, unaided, within the shallow grave. He then nailed down the board which served as a lid; and mounting the little mound of earth beside it, took off his hat, and slowly mopped his face with his handkerchief. This the crowd felt was a preliminary to speech; and they disposed themselves variously on stumps and boulders, and sat expectant.
"When a man," began Tennessee's Partner, slowly, "has been running free all day, what's the natural thing for him to do? Why, to come home. And if he ain't in a condition to go home, what can his best friend do? Why, bring him home! And here's Tennessee has been running free, and we brings him home from his wandering." He paused, and picked up a fragment of quartz, rubbed it thoughtfully on his sleeve, and went on: "It ain't the first time that I've packed him on my back, as you see'd me now. It ain't the first time that I brought him to this yer cabin when he couldn't help himself; it ain't the first time that I and 'Jinny' have waited for him on yon hill, and picked him up and so fetched him home, when he couldn't speak, and didn't know me. And now that it's the last time, why"–he paused and rubbed the quartz gently on his sleeve–"you see it's sort of rough on his pardner. And now, gentlemen," he added, abruptly, picking up his long-handled shovel, "the fun'l's over; and my thanks, and Tennessee's thanks, to you for your trouble."
Resisting any proffers of assistance, he began to fill in the grave, turning his back upon the crowd that after a few moments' hesitation gradually withdrew. As they crossed the little ridge that hid Sandy Bar from view, some, looking back, thought they could see Tennessee's Partner, his work done, sitting upon the grave, his shovel between his knees, and his face buried in his red bandanna handkerchief. But it was argued by others that you couldn't tell his face from his handkerchief at that distance; and this point remained undecided.
In the reaction that followed the feverish excitement of that day, Tennessee's Partner was not forgotten. A secret investigation had cleared him of any complicity in Tennessee's guilt, and left only a suspicion of his general sanity. Sandy Bar made a point of calling on him, and proffering various uncouth, but well-meant kindnesses. But from that day his rude health and great strength seemed visibly to decline; and when the rainy season fairly set in, and the tiny grass-blades were beginning to peep from the rocky mound above Tennessee's grave, he took to his bed. One night, when the pines beside the cabin were swaying in the storm, and trailing their slender fingers over the roof, and the roar and rush of the swollen river were heard below, Tennessee's Partner lifted his head from the pillow, saying, "It is time to go for Tennessee; I must put 'Jinny' in the cart"; and would have risen from his bed but for the restraint of his attendant. Struggling, he still pursued his singular fancy: "There, now, steady, 'Jinny'–steady, old girl. How dark it is! Look out for the ruts–and look out for him, too, old gal. Sometimes, you know, when he's blind-drunk, he drops down right in the trail. Keep on straight up to the pine on the top of the hill. Thar–I told you so!–thar he is–coming this way, too–all by himself, sober, and his face a-shining. Tennessee! Pardner!"
And so they met.
Bret Harte (1836-1902)
Tennessee's Partner
fleursdumal.nl magazine
More in: -Short Stories Archive, Archive G-H
---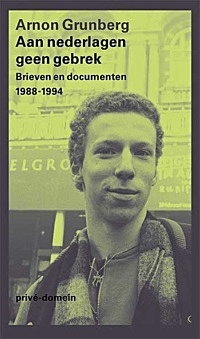 De Academie De Gouden Ganzenveer kent de Gouden Ganzenveer 2017 per acclamatie toe aan de literaire duizendpoot Arnon Grunberg. Gerdi Verbeet, Academievoorzitter De Gouden Ganzenveer maakte de laureaat bekend in het tv-programma JINEK.
'Arnon Grunberg wordt steeds unieker. Hij beoefent letterlijk alle literaire genres, van romans tot columnistiek, van poëzie tot reportagejournalistiek, van verhalen tot toneel. De traditionele grenzen tussen die genres lijken voor hem niet te bestaan: zijn grenzeloze creativiteit en expansieve literaire persoonlijkheid maken van de hele geschreven cultuur één groot gebied. Daarbij zijn het volume en de regelmaat van zijn jaarlijkse productie onwaarschijnlijk groot en bovenal zijn er weinig Nederlandse schrijvers van nu voor wie engagement zo'n vanzelfsprekende houding ten opzichte van de wereld is als voor Grunberg. Als embedded journalist, als betrokken romanschrijver, als kritisch ingesteld essayist is geen vluchtelingenzee hem te hoog, geen oorlogsgebied hem te gevaarlijk, geen politiek onderwerp hem te netelig. Arnon Grunberg laat als weinig andere auteurs zien hoezeer een vaardige pen geheel kan samenvallen met de persoonlijkheid van een schrijver die middenin de wereld staat. Om al die redenen is Grunberg de ideale kandidaat voor bekroning met de Gouden Ganzenveer 2017' , aldus de Academie.
De prijsuitreiking vindt plaats op donderdag 6 april a.s. in Amsterdam. Een weerslag van deze bijeenkomst wordt vastgelegd in een speciale uitgave, die in de loop van het jaar zal verschijnen.
De Academie, een initiatief van het bestuur van stichting De Gouden Ganzenveer, kent jaarlijks deze culturele prijs toe. De leden zijn afkomstig uit de wereld van cultuur, wetenschap, politiek en het bedrijfsleven.
Met deze onderscheiding wil de Academie het geschreven en gedrukte woord in het Nederlands taalgebied onder de aandacht brengen.
Voorgaande laureaten zijn Xandra Schutte, Geert Mak, David Van Reybrouck, Ramsey Nasr, Annejet van der Zijl, Remco Campert, Joke van Leeuwen, Adriaan van Dis, Joost Zwagerman, Tom Lanoye, Peter van Straaten, Maria Goos, Kees van Kooten, Jan Blokker en Michaël Zeeman.
Arnon Grunberg (Amsterdam, 1971) is een literaire duizendpoot en vaak bekroonde romanschrijver, woonachtig te New York.
In 1994 verscheen zijn debuut Blauwe maandagen, gevolgd door onder andere Figuranten (1997), het boekenweekgeschenk De heilige Antonio (1998), Fantoompijn (2000) en De asielzoeker (2003).
In de periode 1999 tot 2005 publiceerde Grunberg tevens onder het heteroniem Marek van der Jagt de romans De geschiedenis van mijn kaalheid (1999), Gstaad 95-98 (2002), en het boekenweekessay Monogaam (2002). De geschiedenis van mijn kaalheid werd bekroond met de Anton Wachterprijs, een prijs voor het beste schrijversdebuut.
Voor Tirza (2006) ontving Grunberg zowel de Gouden Uil als de Libris Literatuurprijs. In 2007 en 2009 verschenen respectievelijk het brievenboek Omdat ik u begeer en een bundeling van zijn reportages, Kamermeisjes & soldaten. In 2010 en 2012 verschenen de romans Huid en Haar en De man zonder ziekte, en in 2015 de ideeënroman Het Bestand, een wetenschappelijk experiment over creativiteit. In het afgelopen jaar publiceerde hij de roman Moedervlekken en Aan nederlagen geen gebrek, een selectie brieven en documenten 1988-1994.
Grunberg schrijft columns, essays, recensies, korte verhalen en reportages voor veel kranten, weekbladen en literaire tijdschriften zoals NRC Handelsblad, Vrij Nederland, Humo en de VPRO-Gids. Daarnaast heeft hij bijdragen geleverd aan diverse Europese en Amerikaanse kranten en tijdschriften, zoals Die Welt, Die Zeit, Libération en The New York Times. Ook laat hij zich in het theater zien, met stukken waarin hij speelt met vorm.
Grunberg houdt een weblog bij op www.arnongrunberg.com, schrijft wekelijks als De mensendokter een bijdrage voor Vrij Nederland en heeft een dagelijkse column in de Volkskrant, 'Voetnoot', die in 2012 in boekvorm werd gebundeld. Zijn werk is vertaald in negenentwintig talen.
Op donderdag 6 april 2017 ontvangt hij de Gouden Ganzenveer.
# Uitgebreide informatie is te vinden op www.goudenganzenveer.nl
fleursdumal.nl magazine
More in: - Book Lovers, Archive G-H, Arnon Grunberg, Art & Literature News, CINEMA, RADIO & TV, DICTIONARY OF IDEAS, Joost Zwagerman, Literary Events, Remco Campert
---
John Berger (London, November 5, 1926), art critic and author of Ways of Seeing, died in Paris (January 2, 2017)
Berger's best-known work was Ways of Seeing, a criticism of western cultural aesthetics. His novel G. won the Booker Prize. Half of the prize money Berger donated to the Black Panthers an radical African-American movement.
Berger began his career as a painter. But he also was a storyteller, novelist, essayist, screenwriter, dramatist and critic. He was one of the most internationally influential writers of the last fifty years.
His editor Tom Overton, who is writing John Berger's biography, has said that the writer Berger "has let us know that art would enrich our lives".
John Berger was author of: Another Way of Telling, About Looking, Photocopies, The Shape of a Pocket, And Our Faces, My Heart, Brief As Photos, Selected Essays of John Berger, Pig Earth, Once in Europa, King, Titian, Lilac and Flag, To the Wedding, Here Is Where We Meet, G., Pages of the Wound, Three Lives Of Lucie Cabrol.
fleursdumal.nl magazine
More in: Archive A-B, Art & Literature News, CINEMA, RADIO & TV, DICTIONARY OF IDEAS, In Memoriam
---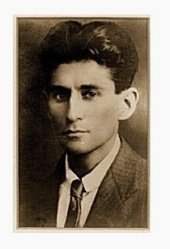 Franz Kafka
Beim Bau der Chinesischen Mauer
Die Chinesische Mauer ist an ihrer nördlichsten Stelle beendet worden. Von Südosten und Südwesten wurde der Bau herangeführt und hier vereinigt. Dieses System des Teilbaues wurde auch im Kleinen innerhalb der zwei großen Arbeitsheere, des Ost- und des Westheeres, befolgt. Es geschah das so, daß Gruppen von etwa zwanzig Arbeitern gebildet wurden, welche eine Teilmauer von etwa fünfhundert Metern Länge aufzuführen hatten, eine Nachbargruppe baute ihnen dann eine Mauer von gleicher Länge entgegen. Nachdem dann aber die Vereinigung vollzogen war, wurde nicht etwa der Bau am Ende dieser tausend Meter wieder fortgesetzt, vielmehr wurden die Arbeitergruppen wieder in ganz andere Gegenden zum Mauerbau verschickt. Natürlich entstanden auf diese Weise viele große Lücken, die erst nach und nach langsam ausgefüllt wurden, manche sogar erst, nachdem der Mauerbau schon als vollendet verkündigt worden war. Ja, es soll Lücken geben, die überhaupt nicht verbaut worden sind, eine Behauptung allerdings, die möglicherweise nur zu den vielen Legenden gehört, die um den Bau entstanden sind, und die, für den einzelnen Menschen wenigstens, mit eigenen Augen und eigenem Maßstab infolge der Ausdehnung des Baues unnachprüfbar sind.
Nun würde man von vornherein glauben, es wäre in jedem Sinne vorteilhafter gewesen, zusammenhängend zu bauen oder wenigstens zusammenhängend innerhalb der zwei Hauptteile. Die Mauer war doch, wie allgemein verbreitet wird und bekannt ist, zum Schutze gegen die Nordvölker gedacht. Wie kann aber eine Mauer schützen, die nicht zusammenhängend gebaut ist. Ja, eine solche Mauer kann nicht nur nicht schützen, der Bau selbst ist in fortwährender Gefahr. Diese in öder Gegend verlassen stehenden Mauerteile können immer wieder leicht von den Nomaden zerstört werden, zumal diese damals, geängstigt durch den Mauerbau, mit unbegreiflicher Schnelligkeit wie Heuschrecken ihre Wohnsitze wechselten und deshalb vielleicht einen besseren Überblick über die Baufortschritte hatten als selbst wir, die Erbauer. Trotzdem konnte der Bau wohl nicht anders ausgeführt werden, als es geschehen ist. Um das zu verstehen, muß man folgendes bedenken: Die Mauer sollte zum Schutz für die Jahrhunderte werden; sorgfältigster Bau, Benützung der Bauweisheit aller bekannten Zeiten und Völker, dauerndes Gefühl der persönlichen Verantwortung der Bauenden waren deshalb unumgängliche Voraussetzung für die Arbeit. Zu den niederen Arbeiten konnten zwar unwissende Taglöhner aus dem Volke, Männer, Frauen, Kinder, wer sich für gutes Geld anbot, verwendet werden; aber schon zur Leitung von vier Taglöhnern war ein verständiger, im Baufach gebildeter Mann nötig; ein Mann, der imstande war, bis in die Tiefe des Herzens mitzufühlen, worum es hier ging. Und je höher die Leistung, desto größer die Anforderungen. Und solche Männer standen tatsächlich zur Verfügung, wenn auch nicht in jener Menge, wie sie dieser Bau hätte verbrauchen können, so doch in großer Zahl.
Man war nicht leichtsinnig an das Werk herangegangen. Fünfzig Jahre vor Beginn des Baues hatte man im ganzen China, das ummauert werden sollte, die Baukunst, insbesondere das Maurerhandwerk, zur wichtigsten Wissenschaft erklärt und alles andere nur anerkannt, soweit es damit in Beziehung stand. Ich erinnere mich noch sehr wohl, wie wir als kleine Kinder, kaum unserer Beine sicher, im Gärtchen unseres Lehrers standen, aus Kieselsteinen eine Art Mauer bauen mußten, wie der Lehrer den Rock schützte, gegen die Mauer rannte, natürlich alles zusammenwarf, und uns wegen der Schwäche unseres Baues solche Vorwürfe machte, daß wir heulend uns nach allen Seiten zu unseren Eltern verliefen. Ein winziger Vorfall, aber bezeichnend für den Geist der Zeit.
Ich hatte das Glück, daß, als ich mit zwanzig Jahren die oberste Prüfung der untersten Schule abgelegt hatte, der Bau der Mauer gerade begann. Ich sage Glück, denn viele, die früher die oberste Höhe der ihnen zugänglichen Ausbildung erreicht hatten, wußten jahrelang mit ihrem Wissen nichts anzufangen, trieben sich, im Kopf die großartigsten Baupläne, nutzlos herum und verlotterten in Mengen. Aber diejenigen, die endlich als Bauführer, sei es auch untersten Ranges, zum Bau kamen, waren dessen tatsächlich würdig. Es waren Maurer, die viel über den Bau nachgedacht hatten und nicht aufhörten, darüber nachzudenken, die sich mit dem ersten Stein, den sie in den Boden einsenken ließen, dem Bau verwachsen fühlten. Solche Maurer trieb aber natürlich, neben der Begierde, gründlichste Arbeit zu leisten, auch die Ungeduld, den Bau in seiner Vollkommenheit endlich erstehen zu sehen. Der Taglöhner kennt diese Ungeduld nicht, den treibt nur der Lohn, auch die oberen Führer, ja selbst die mittleren Führer sehen von dem vielseitigen Wachsen des Baues genug, um sich im Geiste dadurch kräftig zu halten. Aber für die unteren, geistig weit über ihrer äußerlich kleinen Aufgabe stehenden Männer, mußte anders vorgesorgt werden. Man konnte sie nicht zum Beispiel in einer unbewohnten Gebirgsgegend, hunderte Meilen von ihrer Heimat, Monate oder gar Jahre lang Mauerstein an Mauerstein fügen lassen; die Hoffnungslosigkeit solcher fleißigen, aber selbst in einem langen Menschenleben nicht zum Ziel führenden Arbeit hätte sie verzweifelt und vor allem wertloser für die Arbeit gemacht. Deshalb wählte man das System des Teilbaues. Fünfhundert Meter konnten etwa in fünf Jahren fertiggestellt werden, dann waren freilich die Führer in der Regel zu erschöpft, hatten alles Vertrauen zu sich, zum Bau, zur Welt verloren. Drum wurden sie dann, während sie noch im Hochgefühl des Vereinigungsfestes der tausend Meter Mauer standen, weit, weit verschickt, sahen auf der Reise hier und da fertige Mauerteile ragen, kamen an Quartieren höherer Führer vorüber, die sie mit Ehrenzeichen beschenkten, hörten den Jubel neuer Arbeitsheere, die aus der Tiefe der Länder herbeiströmten, sahen Wälder niederlegen, die zum Mauergerüst bestimmt waren, sahen Berge in Mauersteine zerhämmern, hörten auf den heiligen Stätten Gesänge der Frommen Vollendung des Baues erflehen. Alles dieses besänftigte ihre Ungeduld. Das ruhige Leben der Heimat, in der sie einige Zeit verbrachten, kräftigte sie, das Ansehen, in dem alle Bauenden standen, die gläubige Demut, mit der ihre Berichte angehört wurden, das Vertrauen, das der einfache, stille Bürger in die einstige Vollendung der Mauer setzte, alles dies spannte die Saiten der Seele. Wie ewig hoffende Kinder nahmen sie dann von der Heimat Abschied, die Lust, wieder am Volkswerk zu arbeiten, wurde unbezwinglich. Sie reisten früher von Hause fort, als es nötig gewesen wäre, das halbe Dorf begleitete sie lange Strecken weit. Auf allen Wegen Gruppen, Wimpel, Fahnen, niemals hatten sie gesehen, wie groß und reich und schön und liebenswert ihr Land war. Jeder Landmann war ein Bruder, für den man eine Schutzmauer baute, und der mit allem, was er hatte und war, sein Leben lang dafür dankte. Einheit! Einheit! Brust an Brust, ein Reigen des Volkes, Blut, nicht mehr eingesperrt im kärglichen Kreislauf des Körpers, sondern süß rollend und doch wiederkehrend durch das unendliche China.
Dadurch also wird das System des Teilbaues verständlich; aber es hatte doch wohl noch andere Gründe. Es ist auch keine Sonderbarkeit, daß ich mich bei dieser Frage so lange aufhalte, es ist eine Kernfrage des ganzen Mauerbaues, so unwesentlich sie zunächst scheint. Will ich den Gedanken und die Erlebnisse jener Zeit vermitteln und begreiflich machen, kann ich gerade dieser Frage nicht tief genug nachbohren.
Zunächst muß man sich doch wohl sagen, daß damals Leistungen vollbracht worden sind, die wenig hinter dem Turmbau von Babel zurückstehen, an Gottgefälligkeit allerdings, wenigstens nach menschlicher Rechnung, geradezu das Gegenteil jenes Baues darstellen. Ich erwähne dies, weil in den Anfangszeiten des Baues ein Gelehrter ein Buch geschrieben hat, in welchem er diese Vergleiche sehr genau zog. Er suchte darin zu beweisen, daß der Turmbau zu Babel keineswegs aus den allgemein behaupteten Ursachen nicht zum Ziele geführt hat, oder daß wenigstens unter diesen bekannten Ursachen sich nicht die allerersten befinden. Seine Beweise bestanden nicht nur aus Schriften und Berichten, sondern er wollte auch am Orte selbst Untersuchungen angestellt und dabei gefunden haben, daß der Bau an der Schwäche des Fundamentes scheiterte und scheitern mußte. In dieser Hinsicht allerdings war unsere Zeit jener längst vergangenen weit überlegen. Fast jeder gebildete Zeitgenosse war Maurer vom Fach und in der Frage der Fundamentierung untrüglich. Dahin zielte aber der Gelehrte gar nicht, sondern er behauptete, erst die große Mauer werde zum erstenmal in der Menschenzeit ein sicheres Fundament für einen neuen Babelturm schaffen. Also zuerst die Mauer und dann der Turm. Das Buch war damals in aller Hände, aber ich gestehe ein, daß ich noch heute nicht genau begreife, wie er sich diesen Turmbau dachte. Die Mauer, die doch nicht einmal einen Kreis, sondern nur eine Art Viertel- oder Halbkreis bildete, sollte das Fundament eines Turmes abgeben? Das konnte doch nur in geistiger Hinsicht gemeint sein. Aber wozu dann die Mauer, die doch etwas Tatsächliches war, Ergebnis der Mühe und des Lebens von Hunderttausenden? Und wozu waren in dem Werk Pläne, allerdings nebelhafte Pläne, des Turmes gezeichnet und Vorschläge bis ins einzelne gemacht, wie man die Volkskraft in dem kräftigen neuen Werk zusammenfassen solle?
Es gab – dieses Buch ist nur ein Beispiel – viel Verwirrung der Köpfe damals, vielleicht gerade deshalb, weil sich so viele möglichst auf einen Zweck hin zu sammeln suchten. Das menschliche Wesen, leichtfertig in seinem Grund, von der Natur des auffliegenden Staubes, verträgt keine Fesselung; fesselt es sich selbst, wird es bald wahnsinnig an den Fesseln zu rütteln anfangen und Mauer, Kette und sich selbst in alle Himmelsrichtungen zerreißen.
Es ist möglich, daß auch diese, dem Mauerbau sogar gegensätzlichen Erwägungen von der Führung bei der Festsetzung des Teilbaues nicht unberücksichtigt geblieben sind. Wir – ich rede hier wohl im Namen vieler – haben eigentlich erst im Nachbuchstabieren der Anordnungen der obersten Führerschaft uns selbst kennengelernt und gefunden, daß ohne die Führerschaft weder unsere Schulweisheit noch unser Menschenverstand für das kleine Amt, das wir innerhalb des großen Ganzen hatten, ausgereicht hätte. In der Stube der Führerschaft – wo sie war und wer dort saß, weiß und wußte niemand, den ich fragte – in dieser Stube kreisten wohl alle menschlichen Gedanken und Wünsche und in Gegenkreisen alle menschlichen Ziele und Erfüllungen. Durch das Fenster aber fiel der Abglanz der göttlichen Welten auf die Pläne zeichnenden Hände der Führerschaft.
Und deshalb will es dem unbestechlichen Betrachter nicht eingehen, daß die Führerschaft, wenn sie es ernstlich gewollt hätte, nicht auch jene Schwierigkeiten hätte überwinden können, die einem zusammenhängenden Mauerbau entgegenstanden. Bleibt also nur die Folgerung, daß die Führerschaft den Teilbau beabsichtigte. Aber der Teilbau war nur ein Notbehelf und unzweckmäßig. Bleibt die Folgerung, daß die Führerschaft etwas Unzweckmäßiges wollte. – Sonderbare Folgerung! – Gewiß, und doch hat sie auch von anderer Seite manche Berechtigung für sich. Heute kann davon vielleicht ohne Gefahr gesprochen werden. Damals war es geheimer Grundsatz Vieler, und sogar der Besten: Suche mit allen deinen Kräften die Anordnungen der Führerschaft zu verstehen, aber nur bis zu einer bestimmten Grenze, dann höre mit dem Nachdenken auf. Ein sehr vernünftiger Grundsatz, der übrigens noch eine weitere Auslegung in einem später oft wiederholten Vergleich fand: Nicht weil es dir schaden könnte, höre mit dem weiteren Nachdenken auf, es ist auch gar nicht sicher, daß es dir schaden wird. Man kann hier überhaupt weder von Schaden noch Nichtschaden sprechen. Es wird dir geschehen wie dem Fluß im Frühjahr. Er steigt, wird mächtiger, nährt kräftiger das Land an seinen langen Ufern, behält sein eignes Wesen weiter ins Meer hinein und wird dem Meere ebenbürtiger und willkommener. – So weit denke den Anordnungen der Führerschaft nach. – Dann aber übersteigt der Fluß seine Ufer, verliert Umrisse und Gestalt, verlangsamt seinen Abwärtslauf, versucht gegen seine Bestimmung kleine Meere ins Binnenland zu bilden, schädigt die Fluren, und kann sich doch für die Dauer in dieser Ausbreitung nicht halten, sondern rinnt wieder in seine Ufer zusammen, ja trocknet sogar in der folgenden heißen Jahreszeit kläglich aus. – So weit denke den Anordnungen der Führerschaft nicht nach.
Nun mag dieser Vergleich während des Mauerbaues außerordentlich treffend gewesen sein, für meinen jetzigen Bericht hat er doch zum mindesten nur beschränkte Geltung. Meine Untersuchung ist doch nur eine historische; aus den längst verflogenen Gewitterwolken zuckt kein Blitz mehr, und ich darf deshalb nach einer Erklärung des Teilbaues suchen, die weitergeht als das, womit man sich damals begnügte. Die Grenzen, die meine Denkfähigkeit mir setzt, sind ja eng genug, das Gebiet aber, das hier zu durchlaufen wäre, ist das Endlose.
Gegen wen sollte die große Mauer schützen? Gegen die Nordvölker. Ich stamme aus dem südöstlichen China. Kein Nordvolk kann uns dort bedrohen. Wir lesen von ihnen in den Büchern der Alten, die Grausamkeiten, die sie ihrer Natur gemäß begehen, machen uns aufseufzen in unserer friedlichen Laube. Auf den wahrheitsgetreuen Bildern der Künstler sehen wie diese Gesichter der Verdammnis, die aufgerissenen Mäuler, die mit hoch zugespitzten Zähnen besteckten Kiefer, die verkniffenen Augen, die schon nach dein Raub zu schielen scheinen, den das Maul zermalmen und zerreißen wird. Sind die Kinder böse, halten wir ihnen diese Bilder hin und schon fliegen sie weinend an unsern Hals. Aber mehr wissen wir von diesen Nordländern nicht. Gesehen haben wir sie nicht, und bleiben wir in unserem Dorf, werden wir sie niemals sehen, selbst wenn sie auf ihren wilden Pferden geradeaus zu uns hetzen und jagen, – zu groß ist das Land und läßt sie nicht zu uns, in die leere Luft werden sie sich verrennen.
Warum also, da es sich so verhält, verlassen wir die Heimat, den Fluß und die Brücken, die Mutter und den Vater, das weinende Weib, die lehrbedürftigen Kinder und ziehen weg zur Schule nach der fernen Stadt und unsere Gedanken sind noch weiter bei der Mauer im Norden? Warum? Frage die Führerschaft. Sie kennt uns. Sie, die ungeheure Sorgen wälzt, weiß von uns, kennt unser kleines Gewerbe, sieht uns alle zusammensitzen in der niedrigen Hütte und das Gebet, das der Hausvater am Abend im Kreise der Seinigen sagt, ist ihr wohlgefällig oder mißfällt ihr. Und wenn ich mir einen solchen Gedanken über die Führerschaft erlauben darf, so muß ich sagen, meiner Meinung nach bestand die Führerschaft schon früher, kam nicht zusammen, wie etwa hohe Mandarinen, durch einen schönen Morgentraum angeregt, eiligst eine Sitzung einberufen, eiligst beschließen, und schon am Abend die Bevölkerung aus den Betten trommeln lassen, um die Beschlüsse auszuführen, sei es auch nur um eine Illumination zu Ehren eines Gottes zu veranstalten, der sich gestern den Herren günstig gezeigt hat, um sie morgen, kaum sind die Lampions verlöscht, in einem dunklen Winkel zu verprügeln. Vielmehr bestand die Führerschaft wohl seit jeher und der Beschluß des Mauerbaues gleichfalls. Unschuldige Nordvölker, die glaubten, ihn verursacht zu haben, verehrungswürdiger, unschuldiger Kaiser, der glaubte, er hätte ihn angeordnet. Wir vom Mauerbau wissen es anders und schweigen.
Ich habe mich, schon damals während des Mauerbaues und nachher bis heute, fast ausschließlich mit vergleichender Völkergeschichte beschäftigt – es gibt bestimmte Fragen, denen man nur mit diesem Mittel gewissermaßen an den Nerv herankommt -und ich habe dabei gefunden, daß wir Chinesen gewisse volkliche und staatliche Einrichtungen in einzigartiger Klarheit, andere wieder in einzigartiger Unklarheit besitzen. Den Gründen, insbesondere der letzten Erscheinung, nachzuspüren, hat mich immer gereizt, reizt mich noch immer, und auch der Mauerbau ist von diesen Fragen wesentlich betroffen.
Nun gehört zu unseren allerundeutlichsten Einrichtungen jedenfalls das Kaisertum. In Peking natürlich, gar in der Hofgesellschaft, besteht darüber einige Klarheit, wiewohl auch diese eher scheinbar als wirklich ist. Auch die Lehrer des Staatsrechtes und der Geschichte an den hohen Schulen geben vor, über diese Dinge genau unterrichtet zu sein und diese Kenntnis den Studenten weitervermitteln zu können. Je tiefer man zu den unteren Schulen herabsteigt, desto mehr schwinden begreiflicherweise die Zweifel am eigenen Wissen, und Halbbildung wogt bergehoch um wenige seit Jahrhunderten eingerammte Lehrsätze, die zwar nichts an ewiger Wahrheit verloren haben, aber in diesem Dunst und Nebel auch ewig unerkannt bleiben.
Gerade über das Kaisertum aber sollte man meiner Meinung nach das Volk befragen, da doch das Kaisertum seine letzten Stützen dort hat. Hier kann ich allerdings wieder nur von meiner Heimat sprechen. Außer den Feldgottheiten und ihrem das ganze Jahr so abwechslungsreich und schön erfüllenden Dienst gilt unser Denken nur dem Kaiser. Aber nicht dem gegenwärtigen; oder vielmehr es hätte dem gegenwärtigen gegolten, wenn wir ihn gekannt, oder Bestimmtes von ihm gewußt hätten. Wir waren freilich – die einzige Neugierde, die uns erfüllte – immer bestrebt, irgend etwas von der Art zu erfahren, aber so merkwürdig es klingt, es war kaum möglich, etwas zu erfahren, nicht vom Pilger, der doch viel Land durchzieht, nicht in den nahen, nicht in den fernen Dörfern, nicht von den Schiffern, die doch nicht nur unsere Flüßchen, sondern auch die heiligen Ströme befahren. Man hörte zwar viel, konnte aber dem Vielen nichts entnehmen.
So groß ist unser Land, kein Märchen reicht an seine Größe, kaum der Himmel umspannt es – und Peking ist nur ein Punkt und das kaiserliche Schloß nur ein Pünktchen. Der Kaiser als solcher allerdings wiederum groß durch alle Stockwerke der Welt. Der lebendige Kaiser aber, ein Mensch wie wir, liegt ähnlich wie wir auf einem Ruhebett, das zwar reichlich bemessen, aber doch möglicherweise nur schmal und kurz ist. Wie wir streckt er manchmal die Glieder, und ist er sehr müde, gähnt er mit seinem zartgezeichneten Mund. Wie aber sollten wir davon erfahren – tausende Meilen im Süden -, grenzen wir doch schon fast ans tibetanischc Hochland. Außerdem aber käme jede Nachricht, selbst wenn sie uns erreichte, viel zu spät, wäre längst veraltet. Um den Kaiser drängt sich die glänzende und doch dunkle Menge des Hofstaates – Bosheit und Feindschaft im Kleid der Diener und Freunde -, das Gegengewicht des Kaisertums, immer bemüht, mit vergifteten Pfeilen den Kaiser von seiner Wagschale abzuschießen. Das Kaisertum ist unsterblich, aber der einzelne Kaiser fällt und stürzt ab, selbst ganze Dynastien sinken endlich nieder und veratmen durch ein einziges Röcheln. Von diesen Kämpfen und Leiden wird das Volk nie erfahren, wie Zu-spät-gekommene, wie Stadtfremde stehen sie am Ende der dichtgedrängten Seitengassen, ruhig zehrend vom mitgebrachten Vorrat, während auf dem Marktplatz in der Mitte weit vorn die Hinrichtung ihres Herrn vor sich geht.
Es gibt eine Sage, die dieses Verhältnis gut ausdrückt. Der Kaiser, so heißt es, hat Dir, dem Einzelnen, dem jämmerlichen Untertanen, dem winzig vor der kaiserlichen Sonne in die fernste Ferne geflüchteten Schatten, gerade Dir hat der Kaiser von seinem Sterbebett aus eine Botschaft gesendet. Den Boten hat er beim Bett niederknien lassen und ihm die Botschaft zugeflüstert; so sehr war ihm an ihr gelegen, daß er sich sie noch ins Ohr wiedersagen ließ. Durch Kopfnicken hat er die Richtigkeit des Gesagten bestätigt. Und vor der ganzen Zuschauerschaft seines Todes – alle hindernden Wände werden niedergebrochen und auf den weit und hoch sich schwingenden Freitreppen stehen im Ring die Großen des Reiches – vor allen diesen hat er den Boten abgefertigt. Der Bote hat sich gleich auf den Weg gemacht; ein kräftiger, ein unermüdlicher Mann; einmal diesen, einmal den andern Arm vorstreckend, schafft er sich Bahn durch die Menge; findet er Widerstand, zeigt er auf die Brust, wo das Zeichen der Sonne ist; er kommt auch leicht vorwärts wie kein anderer. Aber die Menge ist so groß; ihre Wohnstätten nehmen kein Ende. Öffnete sich freies Feld, wie würde er fliegen und bald wohl hörtest Du das herrliche Schlagen seiner Fäuste an Deiner Tür. Aber statt dessen, wie nutzlos müht er sich ab; immer noch zwängt er sich durch die Gemächer des innersten Palastes; niemals wird er sie überwinden; und gelänge ihm dies, nichts wäre gewonnen; die Treppen hinab müßte er sich kämpfen; und gelänge ihm dies, nichts wäre gewonnen; die Höfe wären zu durchmessen; und nach den Höfen der zweite umschließende Palast; und wieder Treppen und Höfe; und wieder ein Palast; und so weiter durch Jahrtausende; und stürzte er endlich aus dem äußersten Tor – aber niemals, niemals kann es geschehen -, liegt erst die Residenzstadt vor ihm, die Mitte der Welt, hochgeschüttet voll ihres Bodensatzes. Niemand dringt hier durch und gar mit der Botschaft eines Toten. – Du aber sitzt an Deinem Fenster und erträumst sie Dir, wenn der Abend kommt.
Genau so, so hoffnungslos und hoffnungsvoll, sieht unser Volk den Kaiser. Es weiß nicht, welcher Kaiser regiert, und selbst über den Namen der Dynastie bestehen Zweifel. In der Schule wird vieles dergleichen der Reihe nach gelernt, aber die allgemeine Unsicherheit in dieser Hinsicht ist so groß, daß auch der beste Schüler mit in sie gezogen wird. Längst verstorbene Kaiser werden in unseren Dörfern auf den Thron gesetzt, und der nur noch im Liede lebt, hat vor kurzem eine Bekanntmachung erlassen, die der Priester vor dem Altare verliest. Schlachten unserer ältesten Geschichte werden jetzt erst geschlagen und mit glühendem Gesicht fällt der Nachbar mit der Nachricht dir ins Haus. Die kaiserlichen Frauen, überfüttert in den seidenen Kissen, von schlauen Höflingen der edlen Sitten entfremdet, anschwellend in Herrschsucht, auffahrend in Gier, ausgebreitet in Wollust, verüben ihre Untaten immer wieder von neuem. Je mehr Zeit schon vergangen ist, desto schrecklicher leuchten alle Farben, und mit lautem Wehgeschrei erfährt einmal das Dorf, wie eine Kaiserin vor Jahrtausenden in langen Zügen ihres Mannes Blut trank.
So verfährt also das Volk mit den vergangenen, die gegenwärtigen Herrscher aber mischt es unter die Toten. Kommt einmal, einmal in einem Menschenalter, ein kaiserlicher Beamter, der die Provinz bereist, zufällig in unser Dorf, stellt im Namen der Regierenden irgendwelche Forderungen, prüft die Steuerlisten, wohnt dem Schulunterricht bei, befragt den Priester über unser Tun und Treiben, und faßt dann alles, ehe er in seine Sänfte steigt, in langen Ermahnungen an die herbeigetriebene Gemeinde zusammen, dann geht ein Lächeln über alle Gesichter, einer blickt verstohlen zum andern und beugt sich zu den Kindern hinab, um sich vom Beamten nicht beobachten zu lassen. Wie, denkt man, er spricht von einem Toten wie von einem Lebendigen, dieser Kaiser ist doch schon längst gestorben, die Dynastie ausgelöscht, der Herr Beamte macht sich über uns lustig, aber wir tun so, als ob wir es nicht merkten, um ihn nicht zu kränken. Ernstlich gehorchen aber werden wir nur unserem gegenwärtigen Herrn, denn alles andere wäre Versündigung. Und hinter der davoneilenden Sänfte des Beamten steigt irgendein willkürlich aus schon zerfallener Urne Gehobener aufstampfend als Herr des Dorfes auf.
Ähnlich werden die Leute bei uns von staatlichen Umwälzungen, von zeitgenössischen Kriegen in der Regel wenig betroffen. Ich erinnere mich hier an einen Vorfall aus meiner Jugend. In einer benachbarten, aber immerhin sehr weit entfernten Provinz war ein Aufstand ausgebrochen. Die Ursachen sind mir nicht mehr erinnerlich, sie sind hier auch nicht wichtig, Ursachen für Aufstände ergeben sich dort mit jedem neuen Morgen, es ist ein aufgeregtes Volk. Und nun wurde einmal ein Flugblatt der Aufständischen durch einen Bettler, der jene Provinz durchreist hatte, in das Haus meines Vaters gebracht. Es war gerade ein Feiertag, Gäste füllten unsere Stuben, in der Mitte saß der Priester und studierte das Blatt. Plötzlich fing alles zu lachen an, das Blatt wurde im Gedränge zerrissen, der Bettler, der allerdings schon reichlich beschenkt worden war, wurde mit Stößen aus dem Zimmer gejagt, alles zerstreute sich und lief in den schönen Tag. Warum? Der Dialekt der Nachbarprovinz ist von dem unseren wesentlich verschieden, und dies drückt sich auch in gewissen Formen der Schriftsprache aus, die für uns einen altertümlichen Charakter haben. Kaum hatte nun der Priester zwei derartige Seiten gelesen, war man schon entschieden. Alte Dinge, längst gehört, längst verschmerzt. Und obwohl – so scheint es mir in der Erinnerung – aus dem Bettler das grauenhafte Leben unwiderleglich sprach, schüttelte man lachend den Kopf und wollte nichts mehr hören. So bereit ist man bei uns, die Gegenwart auszulöschen.
Wenn man aus solchen Erscheinungen folgern wollte, daß wir im Grunde gar keinen Kaiser haben, wäre man von der Wahrheit nicht weit entfernt. Immer wieder muß ich sagen: Es gibt vielleicht kein kaisertreueres Volk als das unsrige im Süden, aber die Treue kommt dem Kaiser nicht zugute. Zwar steht auf der kleinen Säule am Dorfausgang der heilige Drache und bläst huldigend seit Menschengedenken den feurigen Atem genau in die Richtung von Peking – aber Peking selbst ist den Leuten im Dorf viel fremder als das jenseitige Leben. Sollte es wirklich ein Dorf geben, wo Haus an Haus steht, Felder bedeckend, weiter als der Blick von unserem Hügel reicht und zwischen diesen Häusern stünden bei Tag und bei Nacht Menschen Kopf an Kopf? Leichter als eine solche Stadt sich vorzustellen ist es uns, zu glauben, Peking und sein Kaiser wäre eines, etwa eine Wolke, ruhig unter der Sonne sich wandelnd im Laufe der Zeiten.
Die Folge solcher Meinungen ist nun ein gewissermaßen freies, unbeherrschtes Leben. Keineswegs sittenlos, ich habe solche Sittenreinheit, wie in meiner Heimat, kaum jemals angetroffen auf meinen Reisen. – Aber doch ein Leben, das unter keinem gegenwärtigen Gesetze steht und nur der Weisung und Warnung gehorcht, die aus alten Zeiten zu uns herüberreicht.
Ich hüte mich vor Verallgemeinerungen und behaupte nicht, daß es sich in allen zehntausend Dörfern unserer Provinz so verhält oder gar in allen fünfhundert Provinzen Chinas. Wohl aber darf ich vielleicht auf Grund der vielen Schriften, die ich über diesen Gegenstand gelesen habe, sowie auf Grund meiner eigenen Beobachtungen – besonders bei dem Mauerbau gab das Menschenmaterial dem Fühlenden Gelegenheit, durch die Seelen fast aller Provinzen zu reisen – auf Grund alles dessen darf ich vielleicht sagen, daß die Auffassung, die hinsichtlich des Kaisers herrscht, immer wieder und überall einen gewissen und gemeinsamen Grundzug mit der Auffassung in meiner Heimat zeigt. Die Auffassung will ich nun durchaus nicht als eine Tugend gelten lassen, im Gegenteil. Zwar ist sie in der Hauptsache von der Regierung verschuldet, die im ältesten Reich der Erde bis heute nicht imstande war oder dies über anderem vernachlässigte, die Institution des Kaisertums zu solcher Klarheit auszubilden, daß sie bis an die fernsten Grenzen des Reiches unmittelbar und unablässig wirke. Andererseits aber liegt doch auch darin eine Schwäche der Vorstellungs- oder Glaubenskraft beim Volke, welches nicht dazu gelangt, das Kaisertum aus der Pekinger Versunkenheit in aller Lebendigkeit und Gegenwärtigkeit an seine Untertanenbrust zu ziehen, die doch nichts besseres will, als einmal diese Berührung zu fühlen und an ihr zu vergehen.
Eine Tugend ist also diese Auffassung wohl nicht. Um so auffälliger ist es, daß gerade diese Schwäche eines der wichtigsten Einigungsmittel unseres Volkes zu sein scheint; ja, wenn man sich im Ausdruck soweit vorwagen darf, geradezu der Boden, auf dem wir leben. Hier einen Tadel ausführlich begründen, heißt nicht an unserem Gewissen, sondern, was viel ärger ist, an unseren Beinen rütteln. Und darum will ich in der Untersuchung dieser Frage vorderhand nicht weiter gehen.
Franz Kafka
(1883-1924)
Beim Bau der Chinesischen Mauer
fleursdumalnl magazine
More in: Archive K-L, Franz Kafka, Kafka, Franz, Kafka, Franz
---
De Kunsthal Rotterdam presenteert het Locomotrutfantje, Moeder de Gans, Spartapiet, Cubaanse vlieg, Doorzager, Blauwwerker en meer beelden van Jules Deelder. Deelder, beter bekend als dichter en nachtburgemeester van Rotterdam, laat de poëzie van zijn verbeelding spreken. Zoals een echte dichter betaamt geeft hij zijn creaties de meest toepasselijke namen. In de tentoonstelling zijn elf unieke 'Beelder' te zien, gemaakt van kleurrijk plastic.
Sinds anderhalf jaar verzamelt J.A. Deelder pennen, cocktailstampertjes, injectiespuiten, pijpjes, rietjes, lepeltjes, tandenborstels, speelgoed en lensdopjes, om ze daarna op kleur te sorteren. Met lijm verwerkt Deelder al deze materialen tot driedimensionale objecten, waarmee hij een nieuwe dimensie aan zijn rijke oeuvre van poëzie en performances toevoegt. Hij zegt daar zelf over:

Je zit gewoon een beetje te klootzakke, en op een gegeven moment wordt het wat!
Jules Deelder
Ruimteschepen: Als Deelder's dochter Ari in 2015 een film maakt over Willem Koopman alias Willem de wielrenner, vindt zij haar vader bereid een aantal ruimteschepen te maken zoals Willem altijd deed in de kroegen van Rotterdam. Koopman, een ex-wielrenner en voormalig zwerver met een bovennatuurlijke missie, zag Rotterdam als een ruimteschip dat elk moment uit het heelal geschoten kon worden. Deelder daarentegen ziet zijn creaties niet opstijgen tot in de verre uithoeken van het heelal, maar juist landen in de Kunsthal.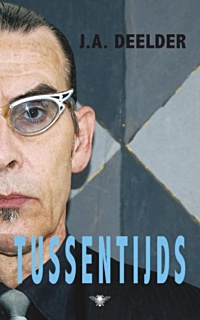 Over Jules Deelder: J.A. Deelder wordt in 1944 geboren als zoon van een Rotterdamse handelaar in vleeswaren. Sinds de vroege jaren zestig heeft Deelder nationale bekendheid als jazzconnaisseur, schrijver, dichter, performer en bovenal Rotterdammer. Zijn uitgesproken voorkeur voor zwarte kleding, vlinderbrillen, Sparta, Citroën en wielrennen maakt hem tot een graag geziene gast in tv- en radioprogramma's.
De Kunsthal Rotterdam is een van de toonaangevende culturele instellingen in Nederland, gelegen in het Museumpark in Rotterdam. Ontworpen door de beroemde architect Rem Koolhaas in 1992, biedt de Kunsthal zeven verschillende tentoonstellingsruimtes. Jaarlijks presenteert de Kunsthal een gevarieerd programma van circa 25 tentoonstellingen. Omdat er altijd meerdere tentoonstellingen tegelijk te bezichtigen zijn, biedt de Kunsthal een avontuurlijke reis door verschillende werelddelen en kunststromingen. Cultuur voor een breed publiek, van moderne meesters en hedendaagse kunst tot vergeten culturen, fotografie, mode en design. Bij de tentoonstellingen wordt een uitgebreid activiteitenprogramma georganiseerd.
Kunsthal Rotterdam
17 december 2016 tot 19 maart 2017
Dinsdag t/m zaterdag 10 — 17 uur
Zondag 11 — 17 uur
Museumpark
Westzeedijk 341
3015 AA Rotterdam
# Meer informatie op website Kunsthal Rotterdam
fleursdumal.nl magazine
More in: Archive C-D, Archive C-D, Art & Literature News, CINEMA, RADIO & TV, DICTIONARY OF IDEAS, Exhibition Archive, Jules Deelder
---
Older Entries »
Thank you for reading FLEURSDUMAL.NL - magazine for art & literature