FICTION & NONFICTION ARCHIVE
·
Het diepste blauw (013). Een roman van Ton van Reen
·
Peter Handke: Die Obstdiebin oder Einfache Fahrt ins Landesinnere
·
The Written World. The Power of Stories to Shape People, History, Civilization by Martin Puchner
·
The Poetry Pharmacy: Tried-and-True Prescriptions for the Heart, Mind and Soul by William Sieghart
·
Het diepste blauw (012). Een roman van Ton van Reen
·
Song by Aphra Behn
·
Bert Bevers: Jaag zacht
·
My Twentieth Century Evening and Other Small Breakthroughs. The Nobel Lecture by Kazuo Ishiguro
·
John Hay: The Prairie
·
Het diepste blauw (011). Een roman van Ton van Reen
·
Lecture & rencontre: Kate Tempest à Paris – Écoute la ville tomber
·
Gouden Ganzenveerlaureaat 2018: Antjie Krog
`Doe je schoenen uit', zegt Thija's moeder. `We lopen altijd op kousenvoeten.'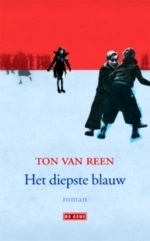 Bedeesd trekken Mels en Tijger hun schoenen uit en zetten ze op de deurmat.
Ze lopen achter haar aan naar de kamer. Thija ligt op de bank. Ze glimlacht, verbaasd, maar ook blij over hun komst.
Ze gaan op lage stoelen zitten aan een kleine ronde tafel. De kamer is opvallend kaal. Aan de wand hangen alleen een Chinese kalender, gedrukt op riet, en zwartwitfoto's van China die uit een tijdschrift zijn gescheurd. Platen van rijstvelden met mensen die gebukt staan naar het water, hun handen vol jonge planten.
`In net zo'n dorp hebben wij gewoond', zegt Thija. `Maar ik weet er nog maar weinig van. Ik herinner me alleen de geur van de natte velden. Ook als ik in bed lag, rook alles naar modder. Misschien herinner ik me het alleen maar omdat mijn moeder er zo vaak over vertelt.'
Opvallend zijn de koffers in een hoek, met grote koperen sloten. Ze zijn zo nadrukkelijk aanwezig dat ze lijken te zeggen: we wachten erop dat we weer op reis gaan.
Heeft Thija's moeder in de drie jaar dat ze hier woont geen tijd gehad om de koffers uit te pakken? Het geeft Mels een bang gevoel; een vader die zich nooit laat zien en een moeder die wacht.
Thija's moeder brengt thee. Ze pakt theekopjes uit de bovenste koffer, veegt ze schoon met een doek en schenkt in.
De thee is mierzoet, met een smaakje van munt. Mels slikt snel omdat hij de thee niet durft te weigeren. Zijn slokdarm verbrandt. Hij begint te proesten. De thee komt door zijn neus naar buiten.
`Geeft niet', zegt Thija. Ze geeft hem een doekje om zijn gezicht af te vegen. Ze presenteert chocoladekoekjes uit een supergrote doos waar voor een jaar koekjes in zitten. Zeker ook door haar vader meegebracht.
`Gaan jullie op reis?' Mels wijst naar de koffers.
`Nee', zegt Thija. `We blijven. Maar pas als mijn vader hier komt wonen, pakken we uit. Hij wil dat zelf doen.'
`Kunnen jullie dat niet?'
`In China leven de mensen ook met volle koffers. Dat is daar heel gewoon. Ze reizen van het ene werk naar het andere. Ze zijn altijd onderweg.'
Haar moeder is al terug naar de keuken. Ze horen haar zachtjes zingen.
`En jouw kamer?' vraagt Tijger.
`Ik zou je graag alles laten zien,' zegt Thija, `maar mijn moeder wil niet dat jongens in een meisjeskamer komen.'
Haar moeder heeft de radio aangezet. Vreemde stemmen klinken uit de keuken.
`Ze luistert altijd naar Radio Formosa', zegt Thija. `Formosa is het andere China.'
`Ik weet het', zegt Mels. `Ik heb het gezien op een kaart van grootvader Rudolf. Het is een eiland. Het is nog kleiner dan ons dorp.'
`Welnee', zegt Thija. `Het is groter dan Frankrijk. En er wonen geen communisten.'
`Het lijkt me erg om altijd met heimwee te moeten leven, zoals je moeder.'
`Zou jij heimwee hebben naar dit dorp?' vraagt Thija.
Mels kijkt op van haar vraag.
Ton van Reen: Het diepste blauw (013)
wordt vervolgd
fleursdumal.nl magazine
More in: - Book Stories, - Het diepste blauw, Archive Q-R, Reen, Ton van
---
Als das Letzte Epos hat Peter Handke seinen neuen Roman bezeichnet.

Mit der Niederschrift begann er am 1. August 2016: »Diese Geschichte hat begonnen seinerzeit an einem jener Mittsommertage, da man beim Barfußgehen im Gras wie eh und je zum ersten Mal im Jahr von einer Biene gestochen wird.« Dieser Stich wird, wie der Autor am 2. August festhält, zum »Zeichen«. »Ein gutes oder ein schlechtes? Weder als gutes noch als ein schlechtes, gar böses – einfach als ein Zeichen. Der Stich jetzt gab das Zeichen, aufzubrechen. Zeit, daß du dich auf den Weg machst. Reiß dich los von Garten und Gegend. Fort mit dir.
Die Stunde des Aufbruchs, sie ist gekommen.«Die Reise führt aus der Niemandsbucht, Umwegen folgend, sie suchend, in das Landesinnere, wo die Obstdiebin, »einfache Fahrt«, keine Rückfahrt, bleiben wird, oder auch nicht?. Am 30. November 2016, dem letzten Tag der Niederschrift des Epos, resumiert Peter Handke die ungeheuerlichen und bisher nie gekannten Gefahren auf ihrem Weg dorthin: »Was sie doch in den drei Tagen ihrer Fahrt ins Landesinnere alles erlebt hatte: seltsam. Oder auch nicht?
Nein, seltsam. Bleibend seltsam. Ewig seltsam.«
Peter Handke wird am 6. Dezember 1942 in Griffen (Kärnten) geboren. Die Familie mütterlicherseits gehört zur slowenischen Minderheit in Österreich; der Vater, ein Deutscher, war in Folge des Zweiten Weltkriegs nach Kärnten gekommen. Zwischen 1954 und 1959 besucht Handke das Gymnasium in Tanzenberg (Kärnten) und das dazugehörige Internat. Nach dem Abitur im Jahr 1961 studiert er in Graz Jura. Im März 1966, Peter Handke hat sein Studium vor der letzten und abschließenden Prüfung abgebrochen, erscheint sein erster Roman Die Hornissen. Im selben Jahr 1966 erfolgt die Inszenierung seines inzwischen legendären Theaterstücks Publikumsbeschimpfung in Frankfurt am Main in der Regie von Claus Peymann.
Seitdem hat er mehr als dreißig Erzählungen und Prosawerke verfaßt, erinnert sei an: Die Angst des Tormanns beim Elfmeter (1970), Wunschloses Unglück (1972), Der kurze Brief zum langen Abschied (1972), Die linkshändige Frau (1976), Das Gewicht der Welt (1977), Langsame Heimkehr (1979), Die Lehre der Sainte-Victoire (1980), Der Chinese des Schmerzes (1983), Die Wiederholung (1986), Versuch über die Müdigkeit (1989), Versuch über die Jukebox (1990), Versuch über den geglückten Tag (1991), Mein Jahr in der Niemandsbucht (1994), Der Bildverlust (2002), Die Morawische Nacht (2008), Der Große Fall (2011), Versuch über den Stillen Ort (2012), Versuch über den Pilznarren (2013).
Auf die Publikumsbeschimpfung 1966 folgt 1968, ebenfalls in Frankfurt am Main uraufgeführt, Kaspar. Von hier spannt sich der Bogen weiter über Der Ritt über den Bodensee 1971), Die Unvernünftigen sterben aus (1974), Über die Dörfer (1981), Das Spiel vom Fragen oder Die Reise zum sonoren Land (1990), Die Stunde da wir nichts voneinander wußten (1992), über den Untertagblues (2004) und Bis daß der Tag euch scheidet (2009) über das dramatische Epos Immer noch Sturm (2011) bis zum Sommerdialog Die schönen Tage von Aranjuez (2012) zu Die Unschuldigen, ich und die Unbekannte am Rand der Landstraße (2016).
Darüber hinaus hat Peter Handke viele Prosawerke und Stücke von Schriftsteller-Kollegen ins Deutsche übertragen: Aus dem Griechischen Stücke von Aischylos, Sophokles und Euripides, aus dem Französischen Emmanuel Bove (unter anderem Meine Freunde), René Char und Francis Ponge, aus dem Amerikanischen Walker Percy.
Sein Werk wurde mit zahlreichen internationalen Preisen ausgezeichnet. Die Formenvielfalt, die Themenwechsel, die Verwendung unterschiedlichster Gattungen (auch als Lyriker, Essayist, Drehbuchautor und Regisseur ist Peter Handke aufgetreten) erklärte er selbst 2007 mit den Worten: »Ein Künstler ist nur dann ein exemplarischer Mensch, wenn man an seinen Werken erkennen kann, wie das Leben verläuft. Er muß durch drei, vier, zeitweise qualvolle Verwandlungen gehen.
Peter Handke
Die Obstdiebin oder Einfache Fahrt ins Landesinnere
EAN: 9783518427576
ISBN: 3518427571
Libri: 3844323
Suhrkamp Verlag AG
November 2017
559 Seiten
gebunden
€34,00
new books
fleursdumal.nl magazine
More in: - Book News, - Bookstores, Archive G-H, Art & Literature News, Peter Handke
---
The story of how literature shaped world history, in sixteen acts—from Alexander the Great and the Iliad to Don Quixote and Harry Potter
In this groundbreaking book, Martin Puchner leads us on a remarkable journey through time and around the globe to reveal the powerful role stories and literature have played in creating the world we have today.
Puchner introduces us to numerous visionaries as he explores sixteen foundational texts selected from more than four thousand years of world literature and reveals how writing has inspired the rise and fall of empires and nations, the spark of philosophical and political ideas, and the birth of religious beliefs. Indeed, literature has touched the lives of generations and changed the course of history.
At the heart of this book are works, some long-lost and rediscovered, that have shaped civilization: the first written masterpiece, the Epic of Gilgamesh; Ezra's Hebrew Bible, created as scripture; the teachings of Buddha, Confucius, Socrates, and Jesus; and the first great novel in world literature, The Tale of Genji, written by a Japanese woman known as Murasaki.
Visiting Baghdad, Puchner tells of Scheherazade and the stories of One Thousand and One Nights, and in the Americas we watch the astonishing survival of the Maya epic Popol Vuh. Cervantes, who invented the modern novel, battles pirates both real (when he is taken prisoner) and literary (when a fake sequel to Don Quixote is published).
We learn of Benjamin Franklin's pioneering work as a media entrepreneur, watch Goethe discover world literature in Sicily, and follow the rise in influence of The Communist Manifesto.
We visit Troy, Pergamum, and China, and we speak with Nobel laureates Derek Walcott in the Caribbean and Orhan Pamuk in Istanbul, as well as the wordsmiths of the oral epic Sunjata in West Africa.
Throughout The Written World, Puchner's delightful narrative also chronicles the inventions—writing technologies, the printing press, the book itself—that have shaped religion, politics, commerce, people, and history.
In a book that Elaine Scarry has praised as "unique and spellbinding," Puchner shows how literature turned our planet into a written world.
Martin Puchner is the Byron and Anita Wien Professor of English and Comparative Literature at Harvard University. His prize-winning books range from philosophy to the arts, and his bestselling six-volume Norton Anthology of World Literature and HarvardX MOOC (massive open online course) have brought four thousand years of literature to students across the globe. He lives in Cambridge, Massachusetts.
The Written World
The Power of Stories to Shape
People, History, Civilization
By Martin Puchner
Hardcover
Oct.2017
448 Pages
$32.00
ISBN 9780812998931
Published by Random House
new books
fleursdumal.nl magazine
More in: - Book News, - Book Stories, Archive O-P, Art & Literature News, NONFICTION: ESSAYS & STORIES, PRESS & PUBLISHING, The Art of Reading
---
In the years since he first had the idea of prescribing short, powerful poems for all manner of spiritual ailments, William Sieghart has taken his Poetry Pharmacy around the length and breadth of Britain, into the pages of the Guardian, onto BBC Radio 4 and onto the television, honing his prescriptions all the time.

This pocket-sized book presents the most essential poems in his dispensary: those which, again and again, have really shown themselves to work. Whether you are suffering from loneliness, lack of courage, heartbreak, hopelessness, or even from an excess of ego, there is something here to ease your pain.
– 'The book is delightful; it rightly resituates poetry in relation to its biggest and most serious task: helping us to live and die well' – Alain de Botton
– William Sieghart has had a distinguished career in publishing and the arts. He established the Forward Prizes for Poetry in 1992, and founded National Poetry Day in 1994. He is a former chairman of the Arts Council Lottery Panel, and current chairman of both the Somerset House Trust and Forward Thinking, a charity seeking peace in the Middle East and acceptance of British Muslims. His previous anthologies include Winning Words: Inspiring Poems for Everyday Life (2014), Poems of the Decade: An Anthology of the Forward Books of Poetry (2015) and 100 Prized Poems: Twenty-five Years of the Forward Books (2016).
William Sieghart
The Poetry Pharmacy
Tried-and-True Prescriptions for the Heart, Mind and Soul
Published September 2017
Hardback
176 Pages
£12.99
Particular Books
Penguin Books Ltd
ISBN: 9781846149542
new books
fleursdumal.nl magazine
More in: - Book Lovers, - Book News, Archive S-T, Archive S-T, Art & Literature News
---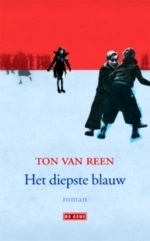 Hij had dat nooit moeten toelaten. Hij had over zich laten lopen. Tijger ook. Ze was zo dwingend dat grootvader Bernhard haar wel eens `de kleine generaal' had genoemd. Grootvader had begrepen dat ze hen als poppen aan touwtjes liet dansen.
Door die houding had ze dingen voor hen geheim kunnen houden. Ze vertelde vaak over China, maar nooit iets over thuis. Als ze haar ophaalden, moesten ze steeds voor de deur wachten. Het was vreemd dat zij altijd bij hen thuis kwam en dat ze maar één keer bij haar waren geweest. Die keer dat ze haar waren gaan opzoeken toen ze een paar dagen ziek was.
Ze hadden aangebeld, hun handen vol bloemen en sinaasappels. Haar moeder had de deur geopend en kon hen niet buiten laten staan. Deze keer niet.
Ton van Reen: Het diepste blauw (012)
wordt vervolgd
fleursdumal.nl magazine
More in: - Book Stories, - Het diepste blauw, Archive Q-R, Reen, Ton van
---
Song
Love in Phantastique Triumph sat,
Whilst Bleeding hearts about him flow'd,
For whom fresh pays he did create,
And strange Tyrannick pow'r he shew'd;
From thy bright Eyes he took his fires,
Which round about in sport he hurl'd;
But 'twas from mine he took desires,
Enough t'undoe the Amorous world.
From me he took his sighs and tears,
From thee his pride and cruelty;
From me his languishments and fears,
And ev'ry killing Dart from thee:
Thus thou, and I, the God have arm'd,
And set him up a Deity,
But my poor heart alone is harm'd,
Whilst thine the Victor is, and free.
Aphra Behn
(1640-1689)
From Abdelazer, or the Moor's Revenge:
Song
fleursdumal.nl magazine
More in: Archive A-B, Archive A-B, CLASSIC POETRY
---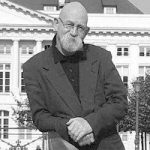 Jaag zacht
Praat niet hardop in het woud.
Dat is voor niets goed. Immers:
de waarheid is als een schuw dier.
Mensen hebben er schrik van.
Bert Bevers
gedicht: Jaag zacht
Verschenen in de Enghuizer Dialogen VIII, Hummelo, mei 2017
Bert Bevers is a poet and writer who lives and works in Antwerp (Be)
fleursdumal.nl magazine
More in: Archive A-B, Archive A-B, Bevers, Bert, Natural history
---
The Nobel Lecture in Literature, delivered by Kazuo Ishiguro (The Remains of the Day and When We Were Orphans) at the Swedish Academy in Stockholm, Sweden, on December 7, 2017, in an elegant, clothbound edition.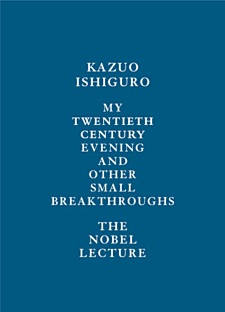 In their announcement of the 2017 Nobel Prize in Literature, the Swedish Academy recognized the emotional force of Kazuo Ishiguro's fiction and his mastery at uncovering our illusory sense of connection with the world. In the eloquent and candid lecture he delivered upon accepting the award, Ishiguro reflects on the way he was shaped by his upbringing, and on the turning points in his career—"small scruffy moments . . . quiet, private sparks of revelation"—that made him the writer he is today.
With the same generous humanity that has graced his novels, Ishiguro here looks beyond himself, to the world that new generations of writers are taking on, and what it will mean—what it will demand of us—to make certain that literature remains not just alive, but essential.
An enduring work on writing and becoming a writer, by one of the most accomplished novelists of our generation.
My Twentieth Century Evening and
Other Small Breakthroughs
The Nobel Lecture
By Kazuo Ishiguro
Hardcover
Dec 12, 2017
64 Pages
$16.95
Published by Knopf
64 Pages
ISBN 9780525654957
new books
fleursdumal.nl magzine
More in: - Book News, Archive I-J, Awards & Prizes, Kazuo Ishiguro, Literary Events
---

The Prairie
The skies are blue above my head,
The prairie green below,
And flickering o'er the tufted grass
The shifting shadows go,
Vague-sailing, where the feathery clouds
Fleck white the tranquil skies,
Black javelins darting where aloft
The whirring pheasant flies.
A glimmering plain in drowsy trance
The dim horizon bounds,
Where all the air is resonant
With sleepy summer sounds,
The life that sings among the flowers,
The lisping of the breeze,
The hot cicala's sultry cry,
The murmurous dream of bees.
The butterfly a flying flower
Wheels swift in flashing rings,
And flutters round his quiet kin,
With brave flame-mottled wings.
The wild Pinks burst in crimson fire,
The Phlox' bright clusters shine,
And Prairie-Cups are swinging free
To spill their airy wine.
And lavishly beneath the sun,
In liberal splendor rolled,
The Fennel fills the dipping plain
With floods of flowery gold;
And widely weaves the Iron-Weed
A woof of purple dyes
Where Autumn's royal feet may tread
When bankrupt Summer flies.
In verdurous tumult far away
The prairie-billows gleam,
Upon their crests in blessing rests
The noontide's gracious beam.
Low quivering vapors steaming dim
The level splendors break
Where languid Lilies deck the rim
Of some land-circled lake.
Far in the East like low-hung clouds
The waving woodlands lie;
Far in the West the glowing plain
Melts warmly in the sky.
No accent wounds the reverent air,
No footprint dints the sod,-
Lone in the light the prairie lies,
Rapt in a dream of God.
Illinois, 1858
John Hay
(1838-1905)
The Prairie
fleursdumal.nl magazine
More in: * Archive Cowboy Poetry, Archive G-H, Archive G-H, Natural history
---
Stip, stip, stap. Iemand komt over de stoep naderbij. Vlug. Hinkelend. Springend. Thija hinkelt altijd. Twee, één, twee. Ze kan nooit gewoon lopen, zeker niet als ze vrolijk is. Ze is altijd vrolijk
.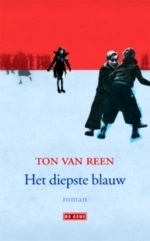 `Kom je?' roept ze door de brievenbus.
Mels holt de trap af, naar de keuken, grist een paar sneden brood van tafel.
`We gaan naar de molen', roept hij met volle mond tegen zijn moeder, die yoghurt zeeft door een dunne doek.
Ze likt haar witte vingers af.
`Als je toch bij grootvader bent, help hem dan met opruimen!'
`Jaaaaah.' Hoe langer ja, hoe meer het nee betekent. Ze moet toch weten dat grootvader Bernhard niet van opruimen houdt en dat hij in een bed slaapt dat hij bijna nooit opmaakt. Het is meer een hol in de dekens waar hij 's ochtends uit en 's avonds weer in kruipt.
Mels holt de deur uit, achter Thija aan, die hinkelend al bijna bij de voordeur van Tijger is. Ze zwaait met haar hoofd, waardoor haar haren uitstaan als een gesteven hoepelrok die omhoogzwiert bij het dansen.
`Kom je?' roept ze door de brievenbus.
`Kom je, kom je', echoot het door de straat.
Een paar tellen later holt Tijger al naar buiten, achtervolgd door zijn moeder die hem nog net een boterham met stroop in de hand kan duwen, stroop uit de emmer van de stroopfabriek, en vlug een luizenkam door zijn haar haalt. Alle moeders zijn bang voor luizen sinds er op school een luizenplaag heeft gewoed. De jongens werden kaalgeschoren en het haar van de meisjes werd kort geknipt.
Maar dat is al twee jaar geleden. Ondertussen hebben sommige meisjes het haar alweer tot op hun schouders. Ook Thija, met haar blauwzwarte engelenhaar dat als zijde aanvoelt. Mels heeft een hekel aan die vlooienkam, die hem het haar uit zijn hoofd trekt. Hij snapt niet dat de moeders hun kinderen er nog elke dag mee pesten.
`Pas goed op de jongens', roept Tijgers moeder tegen Thija. Ze is overbezorgd. Dat komt doordat Tijgers vader vlak na de geboorte van het tweede kind is overleden. In zijn slaap. Hij was nog geen dertig.
`Ik let wel op die kuikens', lacht Thija. Ze trekt een clownsgezicht naar Tijgers kleine zusje dat met grote ogen naar haar staart, lippen en neus platgedrukt tegen het venster.
Tijgers moeder vindt het prima dat Thija er met de jongens op uit trekt. Zo'n meisje zorgt er wel voor dat ze geen gekke dingen doen. Maar het is juist Thija die de gevaarlijkste streken uithaalt. Het is Thija die naar de hoogste eksternesten klimt en door de bomen zwiert om eekhoorns op te jagen. Het is Thija die op het idee kwam om mee te draaien op het rad van de watermolen. Het was Thija die de laffe Kemp op zijn falie gaf omdat hij vanuit zijn slaapkamerraam had geschoten op de lijsters die zaten te zingen op de radioantennes. Zij neemt altijd het initiatief. Net als vandaag. Zij zegt wat ze gaan doen. Elke ochtend, de hele zomer lang. En de jongens leggen zich erbij neer dat ze nooit naar hen luistert.
Ton van Reen: Het diepste blauw (011)
wordt vervolgd
fleursdumal.nl magazine
More in: - Book Stories, - Het diepste blauw, Archive Q-R, Reen, Ton van
---

Mercr. 17/01-2018 – 20h
Lecture & rencontre
Kate Tempest
Écoute la ville tomber
Rencontre animée par Clémentine Goldszal
Interprète : Marguerite Capelle
tarif : 5 € / adhérent : 0 € RÉSERVER
Maison de la Poésie
Passage Molière
157 rue Saint-Martin
75003 Paris
www.maisondelapoesieparis.com
Becky, Harry, Leon, Pete. Quatre jeunes gens dans le Londres d'aujourd'hui. Ils ont des rêves, des aspirations, que la ville nourrit puis feint d'encourager pour mieux les broyer. Écoute la ville tomber est le roman d'une génération abîmée par le cynisme mais qui refuse d'abandonner l'utopie. Kate Tempest attrape le lecteur à chaque phrase, avec la furieuse envie de montrer le monde tel qu'il est. Sorti en 2016 en Angleterre, le roman est resté plusieurs semaines dans la liste des best-sellers du Sunday Times, atteignant les 100 000 exemplaires.
Poétesse, musicienne et performeuse mêlant rap, slam, rock & spoken word, Kate Tempest est, à 30 ans à peine, une artiste majeure du temps présent. Comparée à Zadie Smith ou à Virginie Despentes, cette jeune prodige surprend et impressionne, elle cristallise toutes les révoltes qui animent nos temps troubles.
À lire – Kate Tempest, Écoute la ville tomber, traduit de l'anglais par Madeleine Nasalik, Rivages, 2018. Les Nouveaux anciens, trad. de l'anglais par D' de Kabal et Louise Bartlett, L'Arche, 2017.
À écouter – Kate Tempest, Let Them Eat Chaos, Fiction Records, 2016.
Les nouveaux anciens
Kate Tempest 
Paru le 18 octobre 2017
Poésie, broché
Editeur Arche
Nombre de pages 72
Traduit de l'anglais par D' de Kabal et Louise Bartlett
ISBN : 978-2-85181-928-4 – €12
Dans ce poème épique urbain, Kate Tempest revisite par les mythes nos vies modernes désenchantées. Selon elle, les dieux de l'Antiquité resurgissent dans le monde contemporain à travers nos actes quotidiens de violence, de bravoure, de sacrifice ou d'amour. Nous sommes toujours mythiques, nous sommes toujours divins. Elle dépeint ainsi une traversée des âges, de la naissance à la mort de l'être humain, sans occulter ses failles, ses erreurs ni ses regrets. Célébrant l'humain trop humain des supermarchés, des rues, des bars et des open-space, elle s'inscrit dans la tradition d'un hip hop old-school, entre poésie, rap et poésie parlée. Une écriture dramatique puissamment cadencée, avec une rythmique très musicale et un « flow » à couper le souffle.
Ecoute la ville tomber
Kate Tempest
Madeleine Nasalik (Traducteur)
Traduit de l'anglais
Collection: Littérature étrangère Rivages
ISBN: 978-2-7436-4199-3
EAN: 9782743641993
Parution: janvier, 2018
400 pages
Format : 14.0 x 20.5
Prix: €22,50
Becky, Harry, Leon. Ils sont jeunes, hésitent entre le cynisme et le besoin éperdu d'utopie. Chacun a des rêves, des aspirations, que la ville nourrit et feint d'encourager pour mieux les broyer. Ce roman résonne des bruits et du rythme de notre époque, dans la prose incandescente de Kate Tempest, star du hip-hop, poétesse et artiste déjà légendaire à 30 ans à peine, admirée par Virginie Despentes, Lola Lafon ou Don DeLillo. Best-seller international, ce livre impose la jeune Anglaise comme une voix majeure de la scène littéraire d'aujourd'hui.
Kate Tempest
Lecture & rencontre
Mercr. 17/01-2018 – 20h
Maison de la Poésie
75003 Paris
fleursdumal.nl magazine
More in: Archive S-T, Archive S-T, Art & Literature News, Kate Tempest, Literary Events, Tempest, Kate, TRANSLATION ARCHIVE
---
De Academie De Gouden Ganzenveer kent de Gouden Ganzenveer 2018 toe aan de Zuid-Afrikaanse dichteres Antjie Krog.
Gerdi Verbeet, Academievoorzitter De Gouden Ganzenveer maakte afgelopen zaterdag de laureaat bekend in het radioprogramma De Taalstaat. De Academie De Gouden Ganzenveer eert Krog als een bijzondere en veelzijdige dichteres, als een uitzonderlijk integer schrijfster en journaliste, en als een begenadigd performer van haar eigen werk.
De prijsuitreiking vindt plaats op donderdag 19 april a.s. in Amsterdam. Een weerslag van deze bijeenkomst wordt vastgelegd in een speciale uitgave, die in de loop van het jaar zal verschijnen.
De Academie, een initiatief van het bestuur van stichting De Gouden Ganzenveer, kent jaarlijks deze culturele prijs toe. De leden zijn afkomstig uit de wereld van cultuur, wetenschap, politiek en het bedrijfsleven. Met deze onderscheiding wil de Academie het geschreven en gedrukte woord in het Nederlands taalgebied onder de aandacht brengen.
Voorgaande laureaten zijn Arnon Grunberg, Xandra Schutte, Geert Mak, David Van Reybrouck, Ramsey Nasr, Annejet van der Zijl, Remco Campert, Joke van Leeuwen, Adriaan van Dis, Joost Zwagerman, Tom Lanoye, Peter van Straaten, Maria Goos, Kees van Kooten, Jan Blokker en Michaël Zeeman.
Uitgebreide informatie is te vinden op www.goudenganzenveer.nl
De Zuid-Afrikaanse Antjie Krog (1952) is een gelauwerd dichter, schrijver en academicus. Krog debuteerde in 1970 op achttienjarige leeftijd met de dichtbundel Dogter van Jefta. Inmiddels is ze uitgegroeid tot een van de belangrijkste dichters van Zuid-Afrika.
Haar poëzie is persoonlijk, zintuiglijk en sterk geëngageerd: Krog dicht over het moederschap en het ouder worden, maar ook over de diepe verbondenheid en de worsteling met de ongelijkheid en het racisme in haar land. Krog kreeg bekendheid in Nederland door haar vele optredens bij Poetry International, de Nacht van de Poëzie en het festival Winternachten. Talrijke poëzieliefhebbers raakten in de ban van haar ongewone, ontroerende en klankrijke poëzie.
In 1999 publiceerde uitgeverij Atlas een bloemlezing uit haar werk onder de titel Om te kan asemhaal. Daarna zijn haar dichtbundels bij uitgeverij Podium verschenen. Zij schreef ook proza, bijvoorbeeld Country of my Skull (in het Nederlands: De kleur van je hart, 1998/2000), toneelstukken en non-fictie. De roman Mond vol glas van Henk van Woerden en het toneelstuk Mamma Medea van Tom Lanoye vertaalde zij van het Nederlands naar het Afrikaans.
Antjie Krog is buitengewoon hoogleraar Letteren en Filosofie aan de Universiteit van de Westkaap. Haar werk is veelvuldig bekroond, onder andere met de prestigieuze Hertzogprijs, de Reina Prinsen Geerligsprijs, de Pringle Award, de Alan Paton Award. Op donderdag 19 april a.s. neemt zij de Gouden Ganzenveer 2018 in ontvangst.
Laureaat Gouden Ganzenveer 2018: Antjie Krog
foto: Karina Turok
fleursdumal.nl magazine
More in: Antjie Krog, Archive K-L, Archive K-L, Art & Literature News, Awards & Prizes, Literary Events
---
Older Entries »
Thank you for reading FLEURSDUMAL.NL - magazine for art & literature