EXPRESSIONISM, DADA & DE STIJL, SURREALISM
·
Robert Desnos: Le Livre secret pour Youki
·
Hugo Ball: Eröffnungs-Manifest, 1. Dada-Abend
·
Piet Mondrian – The Complete Writings
·
Hugo Ball: Die Sonne
·
Hugo Ball: Früh, eh der Tag
·
Mondriaan en Steiner door Jacqueline van Paaschen
·
Hugo Ball: Ick bin in Tempelhof jebore
·
Hugo Ball: Einer Verdammten
·
Paul van Ostaijen gedicht: Guido Gezelle
·
Hugo Ball: O Marietta-Kripistika!
·
Paul van Ostaijen gedicht: Aan Cendrars
·
Gabriële by Anne & Claire Berest: The saga of a surrealist muse, from Montmartre to New York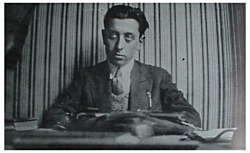 Le Livre secret pour Youki
Ma chérie ma chérie ma Youki
Je n'aime et n'aimerai que toi
Et tu m'aimeras je t'appelle Youki
Reviens ma chérie
Les heures coulent à t'attendre
Je ne pense qu'à toi
Souviens-toi de tes paroles d'espoir Youki
Ne me prépare pas une déception plus
Grande ma chérie
Toi et pas d'autre que toi
Et pas d'autre que moi
N'est-ce pas mon amour
Robert Desnos (1900 – 1945)
– Ma chérie ma chérie ma Youki –
dans Destinée arbitraire
fleursdumal.nl magazine
More in: Archive C-D, Desnos, Robert, Surrealism
---
Dada ist eine neue Kunstrichtung. Das kann man daran erkennen, daß bisher niemand etwas davon wußte und morgen ganz Zürich davon reden wird. Dada stammt aus dem Lexicon. Es ist furchtbar einfach. Im Französischen bedeutets Steckenpferd. Im Deutschen: Addio, steigt mir bitte den Rücken runter, auf Wiedersehen ein ander Mal! Im Rumänischen: 'Ja wahrhaftig, Sie haben Recht, so ist es. Jawohl, wirklich. Machen wir'. Und so weiter.
Ein internationales Wort. Nur ein Wort und das Wort als Bewegung. Es ist einfach furchtbar. Wenn man eine Kunstrichtung daraus macht, muß das bedeuten, man will Komplikationen wegnehmen. Dada Psychologie, Dada Literatur, Dada Bourgeoisie und ihr, verehrteste Dichter, die ihr immer mit Worten, nie aber das Wort selber gedichtet habt. Dada Weltkrieg und kein Ende, Dada Revolution und kein Anfang. Dada ihr Freunde und Auchdichter, allerwerteste Evangelisten. Dada Tzara, Dada Huelsenbeck, Dada m'dada, Dada mhm' dada, Dada Hue, Dada Tza.
Wie erlangt man die ewige Seligkeit? Indem man Dada sagt. Wie wird man berühmt? Indem man Dada sagt. Mit edlem Gestus und mit feinem Anstand. Bis zum Irrsinn, bis zur Bewußtlosigkeit. Wie kann man alles Aalige und Journalige, alles Nette und Adrette, alles Vermoralisierte, Vertierte, Gezierte abtun? Indem man Dada sagt. Dada ist die Weltseele, Dada ist der Clou, Dada ist die beste Lilienmilchseife der Welt. Dada Herr Rubiner, Dada Herr Korrodi, Dada Herr Anastasius Lilienstein.
Das heißt auf Deutsch: die Gastfreundschaft der Schweiz ist über alles zu schätzen, und im Ästhetischen kommt's auf die Norm an. Ich lese Verse, die nichts weniger vorhaben als: auf die Sprache zu verzichten. Dada Johann Fuchsgang Goethe. Dada Stendhal. Dada Buddha, Dalai Lama, Dada m'dada, Dada m'dada, Dada mhm' dada. Auf die Verbindung kommt es an, und daß sie vorher ein bißchen unterbrochen wird. Ich will keine Worte, die andere erfunden haben. Alle Worte haben andere erfunden. Ich will meinen eigenen Unfug, und Vokale und Konsonanten dazu, die ihm entsprechen. Wenn eine Schwingung sieben Ellen lang ist, will ich füglich Worte dazu, die sieben Ellen lang sind. Die Worte des Herrn Schulze haben nur zwei ein halb Zentimeter.
Da kann man nun so recht sehen, wie die artikulierte Sprache entsteht. Ich lasse die Laute ganz einfach fallen. Worte tauchen auf, Schultern von Worten; Beine, Arme, Hände von Worten. Au, oi, u. Man soll nicht zuviel Worte aufkommen lassen. Ein vers ist die Gelegenheit, möglichst ohne Worte und ohne die Sprache auszukommen. Diese vermaledeite Sprache, an der Schmutz klebt wie von Maklerhänden, die die Münzen abgegriffen haben. Das Wort will ich haben, wo es aufhört und wo es anfängt.
Jede Sache hat ihr Wort; da ist das Wort selber zur Sache geworden. Warum kann der Baum nicht Pluplusch heißen, und Pluplubasch, wenn es geregnet hat? Und warum muß er überhaupt etwas heißen? Müssen wir denn überall unseren Mund dran hängen? Das Wort, das Wort, das Weh gerade an diesem Ort, das Wort, meine Herren, ist eine öffentliche Angelegenheit ersten Ranges.
Hugo Ball
(1886-1927)
Eröffnungs-Manifest, 1. Dada-Abend
(Opening-Manifest of the 1st Dada-Evening)
Zürich, 14. Juli 1916
fleursdumal.nl magazine
More in: Archive A-B, Archive A-B, Ball, Hugo, Dada, DADA, Dadaïsme
---
From the beginning of 1914 until his death in 1944, Mondrian wrote more than a hundred essays on the subject of art and society.
He wrote in Dutch, French and English, his choice of language often depending on his place of residence.
All of Mondrian's writings proclaim his conviction that art paves the way to a better society.
Many of his texts have been published, but the original versions were often translated, edited, and polished.
This book aims to present the painter's words as he wrote them, going back to the original sources of all of Mondrian's manuscripts, typescripts, and personal papers.
Piet Mondrian
The Complete Writings
Louis Veen Ed.
Publisher Primavera Pers
ISBN 9789059972384
640 p,
ills colour & bw,
18 x 25 cm, hb,
Dutch/French/English
€49.50
Piet Mondrian / Mondriaan
new books
fleursdumal.nl magazine
More in: - Book News, - Bookstores, Archive M-N, Art & Literature News, Constuctivisme, Dadaïsme, De Stijl, Piet Mondriaan, Piet Mondriaan
---
Die Sonne
Zwischen meinen Augenlidern fährt ein Kinderwagen.
Zwischen meinen Augenlidern geht ein Mann mit einem Pudel.
Eine Baumgruppe wird zum Schlangenbündel und zischt in den Himmel.
Ein Stein hält eine Rede. Bäume in Grünbrand. Fliehende Inseln.
Schwanken und Muschelgeklingel und Fischkopf wie auf dem Meeresboden.
Meine Beine strecken sich aus bis zum Horizont. Eine Hofkutsche knackt
Drüber weg. Meine Stiefel ragen am Horizont empor wie die Türme einer
Versinkenden Stadt. Ich bin der Riese Goliath. Ich verdaue Ziegenkäse.
Ich bin ein Mammuthkälbchen. Grüne Grasigel schnüffeln an mir.
Gras spannt grüne Säbel und Brücken und Regenbögen über meinen Bauch.
Meine Ohren sind rosa Riesenmuscheln, ganz offen. Mein Körper schwillt an
Von Geräuschen, die sich gefangen haben darin.
Ich höre das Meckern
Des großen Pan. Ich höre die zinnoberrote Musik der Sonne. Sie steht
Links oben. Zinnoberrot sprühen die Fetzen hinaus in die Weltnacht.
Wenn sie herunterfällt, zerquetscht sie die Stadt und die Kirchtürme
Und alle Vorgärten voll Krokus und Hyazinthen, und wird einen Schall geben
Wie Blech von Kindertrompeten.
Aber es ist in der Luft ein Gegeneinanderwehen von Purpur und Eigelb
Und Flaschengrün: Schaukeln, die eine orangene Faust festhält an langen Fäden,
Und ist ein Singen von Vogelhälsen, die über die Zweige hüpfen.
Ein sehr zartes Gestänge von Kinderfahnen.
Morgen wird man die Sonne auf einen großrädrigen Wagen laden
Und in die Kunsthandlung Caspari fahren. Ein viehköpfiger Neger
Mit wulstigein Nacken, Blähnase und breitem Schritt wird fünfzig weiß-
Juckende Esel halten, die vor den Wagen gespannt sind beim Pyramidenbau.
Eine Menge blutbunten Volks wird sich stauen:
Kindsbetterinnen und Ammen,
Kranke im Fahrstuhl, ein stelzender Kranich, zwei Veitstänzerinnen.
Ein Herr mit einer Ripsschleifenkrawatte und ein rotduftender Schutzmann.
Ich kann mich nicht halten: Ich bin voller Seligkeit. Die Fensterkreuze
Zerplatzen. Ein Kinderfräulein hängt bis zum Nabel aus einem Fenster heraus.
Ich kann mir nicht helfen: Die Dome zerplatzen mit Orgelfugen. Ich will
Eine neue Sonne schaffen. Ich will zwei gegeneinanderschlagen
Wie Zymbeln, und meiner Dame die Hand hinreichen. Wir werden entschweben
In einer violetten Sänfte über die Dächer euerer
Hellgelben Stadt wie Lampenschirme aus Seidenpapier im Zugwind.
Hugo Ball
(1886 – 1927)
Erstdruck in:
Die Aktion (Berlin),
4. Jg., Nr. 22, Mai 1914
fleursdumal.nl magazine
More in: Archive A-B, Ball, Hugo, Dada, DADA, Dadaïsme
---
Früh, eh der Tag
Früh, eh der Tag seine Schwingen noch regt,
Alles noch schlummert und träumet und ruht,
Blümchen noch nickt in der Winde Hut,
Eh noch im Forste ein Vogel anschlägt,
Schreitet ein Engel
Durchs tauweiße Land
Streut ans den Segen
Mit schimmernder Hand.
Und es erwachet die Au und der Wald.
Blumen bunt reiben die Äuglein sich klar,
Staunen und flüstern in seliger Schar.
Aufstrahlt die Sonne, ein Amselruf schallt.
Aber der Engel
Zog längst schon landaus.
Flog wieder heim
In sein Vaterhaus.
Hugo Ball
(1886-1927)
Gedicht: Früh, eh der Tag
fleursdumal.nl magazine
More in: Archive A-B, Ball, Hugo, Dada, DADA, Dadaïsme
---
In Mondriaan en Steiner – wegen naar Nieuwe Beelding – wordt het werk van Piet Mondriaan bekeken vanuit het gedachtegoed van Rudolf Steiner.
Deze esoterische bron is tot op heden vrijwel veronachtzaamd in kunsthistorische publicaties over Mondriaan. Voor deze publicatie is gebruik gemaakt van Mondriaans bundel transcripties van de voordrachten die Steiner in 1908 in Nederland hield en deel uitmaakte van de nalatenschap van Mondriaan. Van belang is dat Mondriaan Steiners voordrachten niet alleen koesterde maar ook van potloodmarkeringen voorzag.
In het onderzoek zijn deze voordrachten verbonden aan Mondriaans creatieve zoektocht naar abstractie. Dit levert verrassend nieuwe inzichten op. Gaandeweg wordt zichtbaar gemaakt hoe hij aan dat universele proces individueel uitdrukking gaf.
Titel: Mondriaan en Steiner
Author: Jacqueline van Paaschen
Year: 2017
Language: nederlands
Size: 20 x 27 cm
Pages: 192
Edition: Hardcover
ISBN10 9491525646
ISBN13 9789491525643
Illustrations
Publ.: Komma, Uitgeverij
€ 34,00
new books
fleursdumal.nl magazine
More in: - Book News, Archive O-P, Art & Literature News, De Stijl, FDM Art Gallery, MONTAIGNE, Piet Mondriaan, Piet Mondriaan
---
Ick bin in Tempelhof jebore
Ick bin in Tempelhof jeboren
Der Flieder wächst mich aus die Ohren.
In meinem Maule grast die Kuh.
Ick geh zuweilen sehr und schwanger
Auf einem Blumen-i-o-anger
Mein Vater, was sagst Du dazu?
Wir gleichen sehr den Baletteusen,
Pleureusen – Dösen – Schnösen – lösen.
Gewollt zu haben – selig sein.
Verehrte Herrn, verehrte Damen,
Die um mich hören herzu kamen
Dies widmet der Gesangverein.
Und Jungfraun kamen wunderbar
Geschmeide scheidegelb im Haar
Mit schlankgestielten Lilien.
Der Kakagei und Papadu
Die sahen auch dabei dazu
Und kamen aus Brasilien.
(Klarinetta Klaball)
Hugo Ball
(1886-1927)
Ick bin in Tempelhof jebore
fleursdumal.nl magazine
More in: Archive A-B, Ball, Hugo, Dada, DADA, Dadaïsme
---
Einer Verdammten
Ha, wie sie heuchlerisch entrüstet,
Sich hüllen in die Kutten der Moral
Und wie Papa vertraulich flüstert:
»Mama, dies ist ein offener Skandal«.
Die hohe Gattin nickt verständlich
Und vor »Empörung« brennend rot
Ruft sie: »Von Denen ist es schändlich
Uns schützt vor Kindersegen doch der liebe Gott.«
Hugo Ball
(1886 – 1927)
Erstdruck in:
Der Revoluzzer (Zürich),
1. Jg., Nr. 12, Oktober 1915
fleursdumal.nl magazine
More in: Archive A-B, Ball, Hugo, Dada, DADA, Dadaïsme
---
Guido Gezelle
Plant
fontein
scheut die schiet
straal die spat
tempeest over alle diepten
storm over alle vlakten
wilde rozelaars waaien
stemmen van elzekoningen bloot
Diepste verte
verste diepte
bloemekelk die schokt in de kelk
van bei' mijn palmen
en lief als de madelief
Als de klaproos rood
o wilde papaver mijn
Paul van Ostaijen
(1896 – 1928)
Guido Gezelle
fleursdumal.nl magazine
More in: *Concrete + Visual Poetry K-O, Gezelle, Guido, Ostaijen, Paul van, Paul van Ostaijen, Paul van Ostaijen
---
O Marietta-Kripistika!
O Marietta-Kripistika!
Thronkanapee im Serail von Sevilla!
Du bist wertvoller als die juchzende
Säubande von Hosenträgern,
Deren Rüssel
An deinem Bauch
Zu schnuppern
Gewohnt sein pflegt.
Hugo Ball
(1886-1927)
O Marietta-Kripistika!
fleursdumal.nl magazine
More in: Archive A-B, Ball, Hugo, Dada, DADA, Dadaïsme
---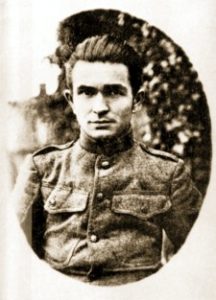 Aan Cendrars
Man              loopt              straat
luide  stem  tussen  huizen
hij               roept
                klinkt  klinker  klaar
Blaise         Blaise      BLAIS –
                                 se
               gij zijt het
               Cendrars
Paul van Ostaijen
(1896 – 1928)
Aan Cendrars
fleursdumal.nl magazine
More in: *Concrete + Visual Poetry K-O, Archive C-D, Archive O-P, Cendrars, Blaise, Ostaijen, Paul van, Paul van Ostaijen, Paul van Ostaijen
---
A "Jules et Jim" style love story set against the background of the Surrealist revolution.
September 1908. 27-year-old Gabriële Buffet – a musician, an free-spirited young woman and a feminist before her time – meets Francis Picabia, a successful young painter with a scandalous reputation.
He needed his art to head in a new direction, she is prepared to break with convention: to inspire, theorise and be thought-provoking. She becomes the "woman with the erotic brain" who has men on their knees, including Marcel Duchamp and Guillaume Apollinaire. Moving from Paris to New York, Berlin, Zurich, Barcelona, Étival and Saint-Tropez, Gabriële guides the precursors of abstract art, the futurists, the Dadaists, always at the cutting edge of artistic innovation. This book transports us to the beginning of the Twentieth Century when the codes of beauty and society were reinvented.
Collaborating intimately in both content and writing, Anne et Claire Berest tell the story of their great-grandmother, Gabriële Picabia, the surrealists' muse.
Anne & Claire Berest
Gabriële
Published: 23/08/2017
450 pages
Format: 140 x 215 mm
EAN: 9782234080324
Prix: €21.50
Collection: a Bleue
Éditions Stock
fleursdumal.nl magazine
More in: - Book News, - Bookstores, Archive A-B, Art & Literature News, Surrealism, Surrealisme
---
Older Entries »
Thank you for reading FLEURSDUMAL.NL - magazine for art & literature