Susan Sontag
·
Susan Sontag: Debriefing. Collected Stories
·
Katie ROIPHE: Het uur van het violet – Grote schrijvers in hun laatste dagen
'Debriefing' collects all of Susan Sontag's shorter fiction, a form she turned to intermittently throughout her writing life.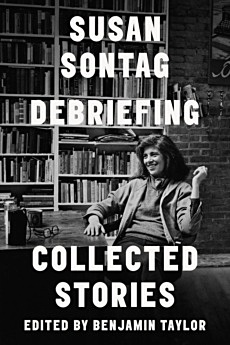 The book ranges from allegory to parable to autobiography and shows her wrestling with problems not assimilable to the essay, her more customary mode. Here she catches fragments of life on the fly, dramatizes her private griefs and fears, lets characters take her where they will.
The result is a collection of remarkable brilliance, versatility, and charm. Sontag's work has typically required time for people to catch up to it. These challenging works of literary art―made more urgent by the passage of years―await a new generation of readers.
This is an invaluable record of the creative output of one of the most inquisitive and analytical thinkers of the twentieth century at the height of her power.
Susan Sontag (1933–2004) was the author of numerous works of nonfiction, including the groundbreaking collection of essays, Against Interpretation (FSG, 1966), and of four novels, including In America (FSG, 2000), which won the National Book Award. She died in New York City on December 28, 2004.
Benjamin Taylor is the author of his family memoir, The Hue and Cry at Our House, as well as Proust: The Search in the Yale Jewish Lives series; Naples Declared, a travel memoir; and the award-winning novels, Tales Out of School and The Book of Getting Even. He edited Saul Bellow: Letters and There Is Simply Too Much to Think About, Bellow's collected nonfiction. Taylor is a past fellow and current trustee of the John Simon Guggenheim Memorial Foundation.
Susan Sontag;
Debriefing.
Collected Stories
Edited by Benjamin Taylor
Publ. Farrar, Straus and Giroux
Hardcover
$27.00
Publ.date: nov. 2017
ISBN: 9780374100759
336 Pages
fleursdumal.nl magazine
More in: - Book News, - Book Stories, -Short Stories Archive, Archive S-T, Art & Literature News, Susan Sontag
---
Eén van de scherpzinnigste en opvallendste hedendaagse auteurs doet na diepgaand onderzoek verslag van de laatste levensdagen van Susan Sontag, Sigmund Freud, John Updike, Dylan Thomas, Maurice Sendak en James Salter. Het levert een aantal fascinerende en uiterst originele overwegingen op over de eindigheid van het leven.
In Het uur van het violet kiest Katie Roiphe voor een onverwachte en bevrijdende benadering van een onderwerp waar niemand omheen kan. Ze gaat na hoe de laatste levensdagen waren van zes grote denkers, schrijvers en kunstenaars en hoe zij omgingen met de realiteit van de naderende dood, of, zoals T.S. Eliot het noemde: 'het avondlijk uur dat Huiswaarts gericht is en de zeeman thuisbrengt'.
We maken kennis met Susan Sontag, die, wanneer ze voor de derde keer de strijd tegen kanker aangaat, worstelt met haar engagement met het rationele denken. Roiphe neemt ons mee naar de kamer in het ziekenhuis waar de 76-jarige John Updike, nadat hem de slechtst mogelijke diagnose is meegedeeld, een gedicht begint te schrijven. Ze schept een levendig beeld van de twee weken durende, bijna suïcidaal overmatige inspanning die culmineerde in de totale instorting van Dylan Thomas in het Chelsea Hotel. Ze schetst voor ons een moedgevend portret van Sigmund Freud die, nadat hij het door de nazi's bezette Wenen is ontvlucht, in zijn Londense ballingschap het dwangmatige roken van sigaren voortzet waarvan hij weet dat het zijn aftakeling zal verhaasten. En ze toont ons dat Maurice Sendaks geliefde kinderboeken doordesemd zijn van het feit dat hij zijn leven lang geobsedeerd was door de dood, al was dat niet altijd evident.
Het uur van het violet staat vol met intieme en verrassende onthullingen. In de laatste daden van al deze creatieve genieën worden we geconfronteerd met moed, passie, zelfbedrog, zinloos lijden en onovertroffen toewijding. Door de laatste levensdagen van deze grote auteurs te beschrijven in indrukwekkende, niet-sentimentele termen helpt Katie Roiphe ons om de dood moedig onder ogen te zien en er minder bang voor te zijn.
Katie Roiphe
Het uur van het violet
Grote schrijvers in hun laatste dagen
Vertaald uit het Engels door Anne Jongeling
Uitg. Hollands Diep
Paperback, 352 p.
ISBN: 9789048836420
€ 19.99 – Januari 2017
# Meer informatie op website Hollands Diep
fleursdumal.nl magazine
More in: - Book News, Art & Literature News, DEAD POETS CORNER, DICTIONARY OF IDEAS, Galerie des Morts, Susan Sontag, Thomas, Dylan, TOMBEAU DE LA JEUNESSE - early death: writers, poets & artists who died young
---
Thank you for reading FLEURSDUMAL.NL - magazine for art & literature