Karl Marx
·
Karl Marx: Es kommt darauf an, die Welt zu verändern. Ein Karl-Marx-Lesebuch
·
Jonathan Sperber: Karl Marx
·
Karl Marx, Friedrich Engels: The Communist Manifesto
·
Karl Marx 1818 – 2018
Karl Marx (1818 – 1883) hat ein gewaltiges Werk hinterlassen und damit einen außergewöhnlichen Einfluss ausgeübt.
Die Rolle als Heilsbote der Weltgeschichte erhielt er erst posthum und verlor sie 100 Jahre nach seinem Tod auch wieder. Doch die Lektüre lohnt sich nach wie vor.
Das Lesebuch zeigt in ausgewählten Texten einschließlich des ›Kommunistischen Manifests‹ chronologisch die Entwicklung des Marx'schen Denkens. Eine ausführliche Einleitung liefert die historische Einordnung, erläutert die spezifische Begrifflichkeit von Marx und zeigt die Ansatzpunkte der Kritik.
Klaus Körner, geboren 1939, ist Politikwissenschaftler und seit 1976 freier Publizist und Buchautor. Neben der Mitarbeit an zeitgeschichtlichen Ausstellungen zahlreiche Veröffentlichungen zu Karl Marx, zur jüngeren deutschen Geschichte und der politischen Kultur der Bundesrepublik.
Karl Marx
Es kommt darauf an, die Welt zu verändern
Ein Karl-Marx-Lesebuch.
Gebundene Ausgaben
EAN: 9783423281614
ISBN: 3423281618
Libri: 3484955
Ein Karl-Marx-Lesebuch.
Herausgegeben von Klaus Körner
dtv Verlagsgesellschaft
März 2018
464 Seiten
€ 20,00
new books
fleursdumal.nl magazine
More in: - Book News, Archive M-N, Art & Literature News, Karl Marx, MONTAIGNE
---
Seit vier Jahrzehnten ist dies die erste große Marx-Biographie – geschrieben von einem exzellenten Kenner auf der Grundlage intensiver Forschungen.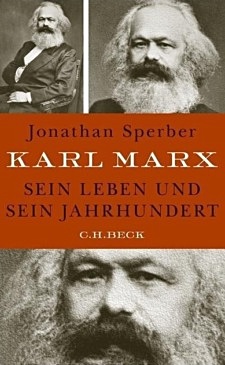 Jonathan Sperber zeigt uns Karl Marx genauer als je zuvor im Kontext seines Jahrhunderts und interpretiert ihn nicht, wie die meisten seiner Vorgänger, als eine Art posthumen Zeitgenossen. Dieses Buch macht uns vielmehr bewusst, wie stark Marx sich im Koordinatensystem der eigenen Epoche bewegte – zwischen den Ereignissen der Französischen Revolution und einer kapitalistischen Zukunft.
Kein anderer Denker ist so gründlich in eine permanente Deutungshaftung für die Gegenwart genommen worden wie Karl Marx. Doch über der immensen und mit den aktuellen Krisen des Finanzkapitalismus wieder anschwellenden Wirkungsgeschichte sind die Ursprünge seiner Theorie weitgehend aus dem Blick geraten.
Jonathan Sperber schildert den historischen Marx – er rekonstruiert die Entstehung der Marxschen Theorie im Kontext der damaligen Ideen und Kontroversen, zeichnet seine politischen Aktivitäten vom Redakteur der Rheinischen Zeitung bis zum Gründervater der sozialistischen Bewegungen nach und beschreibt auch sehr eindrucksvoll den Menschen Karl Marx.
Die Biographie folgt den Spuren eines genialen Mannes, der ein Leben lang nach einer neuen und radikaleren Version der Französischen Revolution suchte und schließlich – neben Darwin – zum meistzitierten Denker des 19. Jahrhunderts werden sollte.
Jonathan Sperber ist Professor für Geschichte an der Universität von Missouri. Seine Bücher über das 19. Jahrhundert haben mehrere Preise erhalten, darunter "Rhineland Radicals" über die Revolution von 1848 im Rheinland den "Preis des DAAD" für das beste Buch zur deutschen Geschichte.
Jonathan Sperber:
Karl Marx
Sein Leben und sein Jahrhundert.
Originaltitel: Karl Marx. A Nineteenth-Century Life
Übersetzt von Thomas Atzert, Friedrich Griese, Karl Heinz Siber, Beck C. H.
EAN: 9783406640964
ISBN: 3406640966
Libri: 3841243
Mit 33 Abbildungen
März 2013
634 Seiten
Gebundene Ausgaben
€ 29,95
fleursdumal.nl magazine
More in: - Book News, Archive M-N, Art & Literature News, Karl Marx, MONTAIGNE
---
The Communist Manifesto by Karl Marx and Friedrich Engels. With an introduction by Yanis Varoufakis. 'Vintage Classics'.

Featuring a new introduction from Yanis Varoufakis, this reissue of "The Communist Manifesto" in pocket portable form marks the 200th anniversary of Karl Marx's birth.
Karl Marx, Friedrich Engels:
The Communist Manifesto
With an introduction by Yanis Varoufakis.
EAN: 9781784873691
ISBN: 1784873691
Libri: 9401440
'Vintage Classics'.
English
Paperback
Random House UK Ltd
85 Pages
€ 5,99
April 2018
fleursdumal.nl magazine
More in: - Book News, Archive M-N, Art & Literature News, Karl Marx, MONTAIGNE
---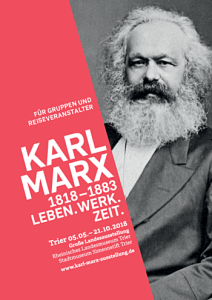 The 5th of May 2018 marks the bicentennial of the birth of Karl Marx, the eminent 19th-century thinker. This is the first time that a historic-cultural exhibition is dedicated to his life, his important works and multifaceted activities in the context of his time. Sponsored by the Federal State of Rhineland-Palatinate and the City of Trier, the state exhibition KARL MARX 1818-1883. LIFE. WORK. TIME. will be on display in the Rheinisches Landesmuseum Trier and in the City Museum Simeonstift Trier from 5 May to 21 October 2018.
fleursdumal.nl magazine
More in: Archive M-N, Galerie Deutschland, Karl Marx, MONTAIGNE
---
Thank you for reading FLEURSDUMAL.NL - magazine for art & literature