Haruki Murakami
·
Absolutely on Music. Conversations by Haruki Murakami and Seiji Ozawa
·
Murakami weekend op zaterdag 13 en zondag 14 januari 2018
A deeply personal, intimate conversation about music and writing between the internationally acclaimed, best-selling author and the former conductor of the Boston Symphony Orchestra.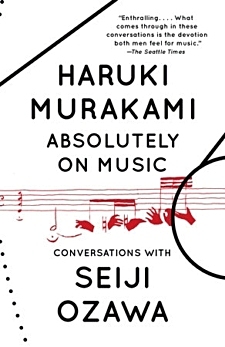 In Absolutely on Music, internationally Haruki Murakami sits down with his friend Seiji Ozawa, the revered former conductor of the Boston Symphony Orchestra, for a series of conversations on their shared passion: music.
Over the course of two years, Murakami and Ozawa discuss everything from Brahms to Beethoven, from Leonard Bernstein to Glenn Gould, from Bartók to Mahler, and from pop-up orchestras to opera. They listen to and dissect recordings of some of their favorite performances, and Murakami questions Ozawa about his career conducting orchestras around the world. Culminating in Murakami's ten-day visit to the banks of Lake Geneva to observe Ozawa's retreat for young musicians, the book is interspersed with ruminations on record collecting, jazz clubs, orchestra halls, film scores, and much more. A deep reflection on the essential nature of both music and writing, Absolutely on Music is an unprecedented glimpse into the minds of two maestros.
Haruki Murakami is a best-selling Japanese writer. His works of fiction and non-fiction have garnered critical acclaim and numerous awards, including the Franz Kafka Prize, the Frank O'Connor International Short Story Award and the Jerusalem Prize, among others. Murakami's fiction is humorous and surreal, focusing on themes of alienation and loneliness. He is considered an important figure in postmodern literature. The Guardian praised Murakami as "among the world's greatest living novelists" for his works and achievements. Murakami is the author of 1Q84, The Wind-Up Bird Chronicles, Men Without Women and many more.
Seiji Ozawa served as music director of the Boston Symphony Orchestra for twenty-nine years, and was music director of the Toronto Symphony Orchestra, the San Francisco Symphony, the Chicago Symphony Orchestra's Ravinia Festival, and Wiener Staatsoper. With Kazuyoshi Akiyama, he formed the Saito Kinen Orchestra and is the director of the Seiji Ozawa Matsumoto Festival. Ozawa has been deeply involved in musical education through his work with the Tanglewood Music Center Orchestra, the Ozawa International Chamber Music Academy Okushiga, the Seiji Ozawa International Academy Switzerland, and as founder of the Seiji Ozawa Music Academy Opera Project, organizations which provide opportunities to outstanding students in Asia and Europe. Among his many honors, Ozawa has been awarded France's Officier de la Légion d'Honneur, the Japanese Order of Culture, a Kennedy Center Honor, and a Grammy for Best Opera Recording.
Absolutely on Music
Conversations
By Haruki Murakami and Seiji Ozawa
Translated by Jay Rubin
Part of Vintage International
Category: Music – Biography & Memoir
Penguin Random House
Paperback
October 2017
320 Pages
fleursdumal.nl magazine
More in: - Book News, - Book Stories, Archive M-N, Archive O-P, Art & Literature News, Haruki Murakami, MUSIC
---
De moord op Commendatore is de nieuwe grote roman van Haruki Murakami: deel één verschijnt op 1 december 2017 en deel twee op 12 januari 2018. Het verschijnen van het tweede deel wordt groots gevierd op de SS Rotterdam met het Murakami Weekend op zaterdag 13 en zondag 14 januari 2018.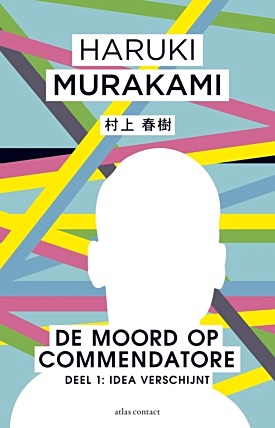 Haruki Murakami geldt wereldwijd als een van de meest gelezen en geliefde hedendaagse schrijvers. Zijn werk wordt in meer dan 40 landen uitgegeven en is bekroond met meerdere prijzen, waaronder de Welt Literatuurprijs en de Hans Christian Andersenprijs. Hij wordt regelmatig getipt als kandidaat voor de Nobelprijs.
De moord op Commendatore: Een zesendertigjarige pas gescheiden portretschilder neemt zijn intrek in een oud atelier in de bergachtige omgeving ten zuidwesten van Tokio. Behalve door liefdesperikelen wordt hij geplaagd door een painter's block, een onvermogen om te schilderen.
Hij hoopt in het afgelegen atelier tot rust te komen, en zijn inspiratie terug te vinden, maar het zal anders gaan. Een mysterieus schilderij op de zolder van zijn verblijf lijkt tot leven te komen, vanuit een heuvel in het bos achter het huis klinkt 's nachts het geluid van een bel.
Een meisje verdwijnt, en de hoofdpersoon gaat haar zoeken – een zoektocht die hem afvoert naar de wereld der metaforen, waar hij met zijn diepste angsten wordt geconfronteerd.
fleursdumal.nl magazine
More in: - Book News, - Bookstores, Archive M-N, Art & Literature News, Haruki Murakami, Literary Events
---
Thank you for reading FLEURSDUMAL.NL - magazine for art & literature