Antonin Artaud
·
Robert Desnos: Porte du second infini. À Antonin Artaud
·
Van Gogh / Artaud. The Man Suicided by Society
Porte du second infini
À Antonin Artaud
L'encrier périscope me guette au tournant
mon porte-plume rentre dans sa coquille
La feuille de papier déploie ses grandes ailes blanches
Avant peu ses deux serres
m'arracheront les yeux
Je verrai que du feu mon corps
feu mon corps !
Vous eûtes l'occasion de le voir en grand appareil
le jour de tous les ridicules
Les femmes mirent leurs bijoux dans leur bouche
comme Démosthène
Mais je suis inventeur d'un téléphone de
verre de Bohême et de
tabac anglais
en relation directe
avec la peur !
Robert Desnos (1900 – 1945)
Porte du second infini
À Antonin Artaud
fleursdumal.nl magazine
More in: Antonin Artaud, Archive C-D, Desnos, Robert, REPRESSION OF WRITERS, JOURNALISTS & ARTISTS, SURREALISM
---
Van Gogh / Artaud. The Man Suicided by Society ♦ A few days before the opening of a van Gogh exhibition in Paris in 1947, gallery owner Pierre Loeb suggested that Antonin Artaud (1896-1948) write about the painter. Challenging the thesis of alienation, Artaud was determined to show how van Gogh's exceptional lucidity made lesser minds uncomfortable.
Wishing to prevent him from uttering certain "intolerable truths", those who were disturbed by his painting drove him to suicide.
Based on the categories and the unusual designations put forward by Artaud in Van Gogh, the Man Suicided by Society, the exhibition will comprise some forty paintings, a selection of van Gogh's drawings and letters, together with graphic works by the poet-illustrator.
The title of the exhibition is based on the title of Antonin Artaud's book, Van Gogh the Man Suicided by Society Editions Gallimard, 1974
Musée d'Orsay Paris – until 6 july 2014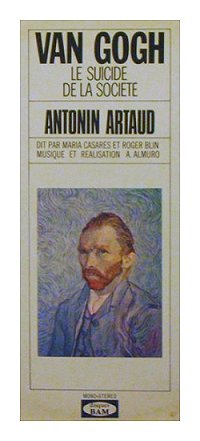 Publication:
Vincent Van Gogh-Antonin Artaud :
le suicidé de la société
Number of pages 192 , €39.00
EAN 9782370740038
Dimensions 34 x 25 cm
Publisher Skira Flammarion
Museum Musée d'Orsay
Language French
fleursdumal.nl magazine for art & literature
More in: Antonin Artaud, Art & Literature News, Vincent van Gogh, Vincent van Gogh
---
Thank you for reading FLEURSDUMAL.NL - magazine for art & literature