Burroughs, William S.
·
CITY LIGHTS Pocket Poets Anthology 60th Anniversary Edition: Edited by Lawrence Ferlinghetti
·
SHAKESPEARE AND COMPANY, PARIS: A HISTORY OF THE RAG & BONE SHOP OF THE HEART
·
EXHIBITION BEAT GENERATION IN CENTRE POMPIDOU
"Printer's ink is the greater explosive."—Lawrence Ferlinghetti
City Lights Pocket Poets Anthology
60th Anniversary Edition
Edited by Lawrence Ferlinghetti
A comprehensive selection from Ferlinghetti's famed City Lights Pocket Poets Series, published on the 60th anniversary of its founding.
Lawrence Ferlinghetti founded the City Lights publishing house sixty years ago in 1955, launching the press with his now legendary Pocket Poets Series. First in the series was Pictures of the Gone World—and within a year, he had brought out two more volumes, translations by Kenneth Rexroth and
then, poems by Kenneth Patchen. But it was the success and scandal of Number Four, Howl & Other Poems by Allen Ginsberg (1956), that put City Lights on the map, positioning the Pocket Poets Series at the forefront of the literary counterculture.
A landmark sixtieth retrospective celebrating 60 years of publishing and cultural history, this edition provides an invaluable distillation of the energetic, iconoclastic and still fresh body of work represented in the ongoing series. Ferlinghetti has selected a handful of poems from each of the sixty volumes, including the work of
Ginsberg, Kerouac, Corso, Pasolini, Voznesensky, Prévert, Mayakovsky, Cortázar, O'Hara, Ponsot, Levertov, di Prima, Duncan, Lamantia, Lowry, and more, all of the Pocket Poets Series' innovative, influential, and often ground-breaking American and international poets.
Founded in 1953 by poet Lawrence Ferlinghetti and Peter D. Martin, City Lights is one of the few truly great independent bookstores in the United States, a place where booklovers from across the country and around the world come to browse, read, and just soak in the ambiance of alternative culture's only "Literary Landmark."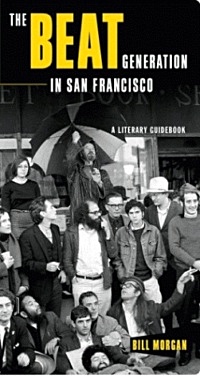 Although it has been more than fifty years since tour buses with passengers eager to sight "beatniks" began pulling up in front of City Lights, the Beats' legacy of anti-authoritarian politics and insurgent thinking continues to be a strong influence in the store, most evident in the selection of titles.
Publisher City Lights Publishers
Format Hardcover, 306 p.
ISBN-10 0872866793
ISBN-13 9780872866799
   # More information on website CITY LIGHT SAN FRANCISCO   

fleursdumal.nl magazine
More in: - Book News, - Bookstores, Art & Literature News, BEAT GENERATION, Bob Dylan, Burroughs, William S., Ginsberg, Allen, Kerouac, Jack, Literary Events, PRESS & PUBLISHING
---
A Biography of a Bookstore – Shakespeare and Company, Paris: A History of the Rag & Bone Shop of the Heart – by Krista Halverson (Editor) – Sylvia Whitman (Afterword) – Jeannette Winterson (Foreword)
A copiously illustrated account of the famed Paris bookstore on its 65th anniversary.
For almost 70 years, Shakespeare and Company has been a home-away-from-home for celebrated writers—including James Baldwin, Jorge Luis Borges, A. M. Homes, and Dave Eggers—as well as for young, aspiring authors and poets. Visitors are invited to read in the library, share a pot of tea, and sometimes even live in the shop itself, sleeping in beds tucked among the towering shelves of books. Since 1951, more than 30,000 have slept at the "rag and bone shop of the heart."
This first-ever history of the legendary bohemian bookstore in Paris interweaves essays and poetry from dozens of writers associated with the shop–Allen Ginsberg, Anaïs Nin, Ethan Hawke, Robert Stone and Jeanette Winterson, among others–with hundreds of never-before-seen archival pieces, including photographs of James Baldwin, William Burroughs and Langston Hughes, plus a foreword by the celebrated British novelist Jeanette Winterson and an epilogue by Sylvia Whitman, the daughter of the store's founder, George Whitman. The book has been edited by Krista Halverson, director of the newly founded Shakespeare and Company publishing house.
George Whitman opened his bookstore in a tumbledown 16th-century building just across the Seine from Notre-Dame in 1951, a decade after the original Shakespeare and Company had closed. Run by Sylvia Beach, it had been the meeting place for the Lost Generation and the first publisher of James Joyce's Ulysses. (This book includes an illustrated adaptation of Beach's memoir.) Since Whitman picked up the mantle, Shakespeare and Company has served as a home-away-from-home for many celebrated writers, from Jorge Luis Borges to Ray Bradbury, A.M. Homes to Dave Eggers, as well as for young authors and poets. Visitors are invited not only to read the books in the library and to share a pot of tea, but sometimes also to live in the bookstore itself–all for free.
More than 30,000 people have stayed at Shakespeare and Company, fulfilling Whitman's vision of a "socialist utopia masquerading as a bookstore." Through the prism of the shop's history, the book traces the lives of literary expats in Paris from 1951 to the present, touching on the Beat Generation, civil rights, May '68 and the feminist movement–all while pondering that perennial literary question, "What is it about writers and Paris?"
In this first-ever history of the bookstore, photographs and ephemera are woven together with personal essays, diary entries, and poems from writers including Allen Ginsberg, Anaïs Nin, Lawrence Ferlinghetti, Sylvia Beach, Nathan Englander, Dervla Murphy, Jeet Thayil, David Rakoff, Ian Rankin, Kate Tempest, and Ethan Hawke.
With hundreds of images, it features Tumbleweed autobiographies, precious historical documents, and beautiful photographs, including ones of such renowned guests as William Burroughs, Henry Miller, Langston Hughes, Alberto Moravia, Zadie Smith, Jimmy Page, and Marilynne Robinson.
Tracing more than 100 years in the French capital, the book touches on the Lost Generation and the Beats, the Cold War, May '68, and the feminist movement—all while reflecting on the timeless allure of bohemian life in Paris.
Krista Halverson is the director of Shakespeare and Company bookstore's publishing venture. Previously, she was the managing editor of Zoetrope: All-Story, the art and literary quarterly published by Francis Ford Coppola, which has won several National Magazine Awards for Fiction and numerous design prizes. She was responsible for the magazine's art direction, working with guest designers including Lou Reed, Kara Walker, Mikhail Baryshnikov, Zaha Hadid, Wim Wenders and Tom Waits, among others.
Jeanette Winterson's first novel, Oranges Are Not the Only Fruit, was published in 1985. In 1992 she was one of Granta's Best of Young British Novelists. She has won numerous awards and is published around the world. Her memoir, Why Be Happy When You Could Be Normal?, was an international bestseller. Her latest novel, The Gap of Time, is a "cover version" of Shakespeare's The Winter's Tale.
Sylvia Whitman is the owner of Shakespeare and Company bookstore, which her father opened in 1951. She took on management of the shop in 2004, when she was 23, and now co-manages the bookstore with her partner, David Delannet. Together they have opened an adjoining cafe, as well as launched a literary festival, a contest for unpublished novellas, and a publishing arm.
"I created this bookstore like a man would write a novel, building each room like a chapter, and I like people to open the door the way they open a book, a book that leads into a magic world in their imaginations." —George Whitman, founder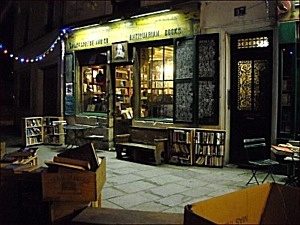 Drawing on a century's worth of never-before-seen archives, this first history of the bookstore features more than 300 images and 70 editorial contributions from shop visitors such as Allen Ginsberg, Anaïs Nin, Kate Tempest, and Ethan Hawke. With a foreword by Jeanette Winterson and an epilogue by Sylvia Whitman, the 400-page book is fully illustrated with color throughout.
Shakespeare and Company, Paris: A History of the Rag & Bone Shop of the Heart by Krista Halverson
Foreword by: Jeanette Winterson
Epilogue by: Sylvia Whitman
Contributions by:
Allen Ginsberg
Anaïs Nin
Lawrence Ferlinghetti
Sylvia Beach
Nathan Englander
Dervla Murphy
Ian Rankin
Kate Tempest
Ethan Hawke
David Rakoff
Publisher: Shakespeare and Company Paris
Publication date: August 2016
Hardback – ISBN: 979-1-09610-100-9
€ 35.00
Publication country:France
Pages:384
Weight: 1501.000g.
# More information on website Shakespeare & Company
Photos: Shakespeare & Comp,  Jef van Kempen FDM
fleursdumal.nl magazine
More in: - Book Lovers, - Book News, - Book Stories, - Bookstores, Art & Literature News, BEAT GENERATION, Borges J.L., Burroughs, William S., Ernest Hemingway, Ginsberg, Allen, J.A. Woolf, Kate Tempest, Samuel Beckett, Shakespeare, William, Tempest, Kate
---
Beat Generation
Until 3 October 2016
The Centre Pompidou is to present Beat Generation, a novel retrospective dedicated to the literary and artistic movement born in the late 1940s that would exert an ever-growing influence for the next two decades. The theme will be reflected in all the Centre's activities, with a rich programme of events devised in collaboration with the Bibliothèque Public d'Information and Ircam: readings, concerts, discussions, film screenings, a colloquium, a young people's programme at Studio 13/16, etc.
Foreshadowing the youth culture and the cultural and sexual liberation of the 1960s, the emergence of the Beat Generation in the years following the Second World War, just as the Cold War was setting in, scandalised a puritan and Mc Carthyite America. Then seen as subversive rebels, the Beats appear today as the representatives of one of the most important cultural movements of the 20th century – a movement the Centre Pompidou's survey will examine in all its breadth and geographical amplitude, from New York to Los Angeles, from Paris to Tangier.
The Centre Pompidou's exhibition maps both the shifting geographical focus of the movement and its ever-shifting contours. For the artistic practices of the Beat Generation – readings, performances, concerts and films – testify to a breaking down of artistic boundaries and a desire for interdisciplinary collaboration that puts the singularity of the artist into question. Alongside notable visual artists, mostly representative of the California scene (Wallace Berman, Bruce Conner, George Herms, Jay DeFeo, Jess…), an important place is given to the literary dimension of the movement, to spoken poetry in its relationship to jazz, and more particularly to the Black American poetry (LeRoi Jones, Bob Kaufman…) that remains largely unknown in Europe, like the magazines in which it circulated (Beatitude, Umbra…). Photography was also an important medium, represented here by the productions of Allen Ginsberg and William Burroughs – mostly portraits – and a substantial body of photographs by Robert Frank (Les Américains, From the Bus…), Fred McDarrah, and John Cohen, all taken during the shooting of Pull my Daisy, as well as work by Harold Chapman, who chronicled the life of the Beat Hotel in Paris between 1958 and 1963. The same was true of the films (Christopher MacLaine, Bruce Baillie, Stan Brakhage, Ron Rice…) that would both reflect and document the history and development of the movement.
Exhibition at the Centre Pompidou in Paris until October 3, 2016
New publication:
Beat generation – exhibition album
Movement of literary and artistic inspiration born in the United States in the 1950s, at the initiative of William Burroughs, Allen Ginsberg and Jack Kerouac, the Beat Generation has profoundly influenced contemporary creation.
The book displays the different artworks exhibited along with short explanatory essays. A clear and precise album suitable for a large audience.
Bilingual version French / English.
Binding: Softbound
Language: Bilingual French / English
EAN 9782844267467
Number of pages 60
Number of illustrations 60
Publication date 15/06/2016
Dimensions 27 x 27 cm
Author: Philippe-Alain Michaud
Publisher: Centre Pompidou
€9.50
# Information and schedule about the Beat Generation exhibition on website Centre Pompidou
fleursdumal.nl magazine
More in: - Book News, BEAT GENERATION, Burroughs, William S., DICTIONARY OF IDEAS, DRUGS & MEDICINE & LITERATURE, Ginsberg, Allen, Kerouac, Jack, Literaire sporen, LITERARY MAGAZINES
---
Thank you for reading FLEURSDUMAL.NL - magazine for art & literature