DANCE
«« Previous page
·
PINA BAUSCH EN HET DANSTHEATER: EXPOSITIE IN BONN
·
ARP MUSEUM BAHNHOF ROLANDSECK: 100 JAHRE DADA, DAS GROSSE FEST DES KULTIVIERTEN UN-SINNS
·
INCUBATE 2016 FESTIVAL
·
DAG VAN DE DANS 23.04.2016 – MY WALKING IS MY DANCING – SLOW WALK DOOR BOZAR BRUSSEL
·
NEXUSLEZING 2016 DOOR PETER SELLARS
·
BALLET: MATA HARI, DE VROUW, DE DIVA, HET MYSTERIE
·
Incubate 2014 van 15 t/m 21 september in Tilburg
·
Anita Berber & Sebastian Droste: 2 Gedichte
·
Anita Berber Gedicht: Orchideen
·
Vincent Berquez: My son, the disco dancer
·
Anita Berber Gedicht: Kokain
·
Galerie Anita Berber – 8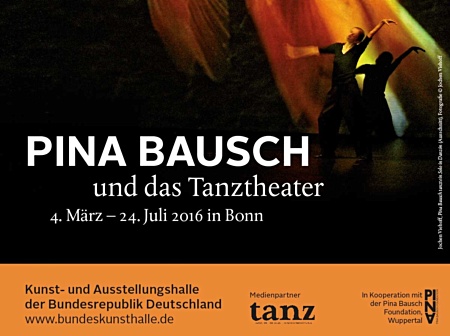 Pina Bausch en het danstheater
Expositie t/m 24 juli 2016
Kunst- und Ausstellungshalle der Bundesrepublik Deutschland GmbH – Museumsmeile Bonn DE
Pina Bausch (1940-2009) wordt gezien als een pionier van het moderne danstheater en als een van de meest invloedrijke choreografen van de twintigste eeuw. De tentoonstelling in de Bundeskunsthalle is de eerste die haar werk aan een breder publiek presenteert. Samen met haar gezelschap ontwikkelde Pina Bausch de artistieke vorm van danstheater waarin theater, dans en performance worden ghttp://www.bundeskunsthalle.de/en/home.htmlecombineerd. Haar vernieuwende aanpak verwierp niet alleen ronduit de conventies van het klassieke ballet, maar oversteeg ook de preoccupatie met de formele principes die de meeste moderne dans karakteriseert.
De objecten, installaties, foto's en video's die worden voorgesteld gepresenteerd zijn afkomstig uit de unieke collectie van het Pina Bausch Archief. Het hart van de tentoonstelling is de reconstructie van de 'Lichtburg', de legendarische repetitieruimte in een oude bioscoop Wuppertal waar Pina Bausch, in samenwerking met haar dansers, het grootste deel van haar stukken ontwikkelde. Buitenstaanders worden zelden toegelaten tot deze intieme ruimte. In de Bundeskunsthalle wordt het een platform voor inspiratie en uitwisseling. Leden van het gezelschap laten de bezoekers kennismaken met de kwaliteit van de beweging in het danstheater en met korte sequenties van dansbewegingen.
Voorstellingen, dansworkshops, openbare repetities, gesprekken, films en nog veel meer transformeren de repetitieruimte in een levendige, experimentele ruimte voor bezoekers.
Deze tentoonsteling kwam tot stand i.s.m. de Pina Bausch Foundation, Wuppertal.
Kunst- en tentoonstellingshal van de Bondsrepubliek Duitsland
(Kunst- und Ausstellungshalle der Bundesrepublik Deutschland GmbH)
Museumsmeile Bonn
Friedrich-Ebert-Allee 4
53113 Bonn
tel. +49 228 9171–200
# meer info website Bundeskunsthalle – Bonn
Als museumhuis voor wisseltentoonstellingen biedt de Kunst- en tentoonstellingshal van de Bondsrepubliek Duitsland (Bundeskunsthalle) een gevarieerd programma van internationale betekenis. Kunst en cultuurgeschiedenis, wetenschap en techniek zijn daarbij de onderwerpen waar het om draait. Op een oppervlak van 5.600 m2 kunnen tot wel vijf exposities van verschillende grootte gelijktijdig gepresenteerd worden. Er staan per jaar zo'n acht grote tentoonstellingen op het programma. Sinds de opening in 1992 konden er meer dan 200 tentoonstellingen worden aangeboden. In deze periode hebben al meer dan 16 miljoen gasten uit de hele wereld de Bundeskunsthalle bezocht.
Openingstijden:
Dinsdag en woensdag 10–21 uur
Donderdag t/m zondag 10–19 uur
Maandag gesloten
Vrijdag vanaf 9 uur voor groepen geopend.
fleursdumal.nl magazine
More in: Art & Literature News, Galerie Deutschland, Pina Bausch, THEATRE
---
Genese Dada
100 Jahre Dada Zürich
bis 10. Jul 2016
"Wie erlangt man die ewige Seligkeit? Indem man Dada sagt. Wie wird man berühmt? Indem man Dada sagt. Mit edlem Gestus und mit feinem Anstand. Bis zum Irrsinn, bis zur Bewusstlosigkeit."
Hugo Ball
Über die Aus­stel­lung
Am 5. Februar 1916 von Hugo Ball, Emmy Hennings, Marcel Janco, Tristan Tzara und Hans Arp im »Cabaret Voltaire« in Zürich gegründet, ist Dada eine der progressivsten Kunstbewegungen des 20. Jahrhunderts. Zum 100-jährigen Jubiläum lässt das Arp Museum Bahnhof Rolandseck die bedeutenden Geburtsorte Dadas wieder aufleben: die legendäre Künstlerkneipe »Cabaret Voltaire« und die bürgerliche »Galerie Dada«. Ausgehend von diesen beiden Polen revolutionierten die Dadaisten innerhalb kürzester Zeit die internationale Kunstwelt. Neben ihren eigenen Arbeiten zeigten sie dort Werke von internationalen Avantgarde-Künstlern wie Giorgio de Chirico, Pablo Picasso, Paul Klee und Elie Nadelman, die nun auch in der Ausstellung zu sehen sind. Die Kunstwerke werden in eine lebhafte Inszenierung eingebettet, die den vielsKünstlerinnen und Künstler der Ausstellung
Genese Dada. 100 Jahre Dada Zürich
Anonym (Meister der Magdalenen-Legende)
Hans Arp
Hugo Ball
Heinrich Campendonk
Giorgio De Chirico
Jacoba van Heemskerck
Richard Huelsenbeck
Marcel Janco
Paul Klee
Oscar Lüthy
August Macke
Francois-Joseph Martin
Elie Nadelmann
Max Oppenheimer
Pablo Picasso
Hilla Rebay
Otto Van Rees
Adya Van Rees-Dutilh
Arthur Segal
Sophie Taeuber
Tristan Tzarachichtigen gesellschaftlichen und intellektuellen Nährboden verdeutlicht, aus dem Dada entstanden ist. Themengebiete wie Psychologie, Literatur und politisch-soziokulturelle Revolte spiegeln dabei den Zeitgeist wider und machen die Entstehung von Dada anschaulich.
In Zusammenarbeit mit dem Cabaret Voltaire, Zürich
"Dada ist schön wie die Nacht, die einen jungen Tag in ihren Armen wiegt."
Hans Arp
100 Jahre Dada: Das große Fest des kultivierten Un-Sinns
"Genese Dada. 100 Jahre Dada Zürich: Das Arp Museum feiert das große Dada-Jubiläum 2016 mit einer ebenso fulminanten wie substantiellen Ausstellung, die die Entstehung der für die Moderne so wichtigen Kunstrichtung anschaulich nachverfolgt. (Ausstellungsdauer bis 10. Juli 2016)
Einen zentralen Beitrag zum europaweit gefeierten Dada-Jahr stellt die große Ausstellung »Genese Dada. 100 Jahre Dada Zürich« (14. Februar bis 10. Juli 2016) im Arp Museum Bahnhof Rolandseck dar, die in Kooperation mit dem Direktor des Cabaret Voltaire in Zürich, Adrian Notz, erarbeitet wurde. »Wie aus einer künstlerischen Laune eine revolutionäre internationale Kunstrichtung wird und welche Rolle die beiden mit Rheinland-Pfalz verbundenen Künstlerpersönlichkeiten Hugo Ball und Hans Arp spielen, ist in dieser fantastischen Ausstellung mit größtem Vergnügen zu erleben«, kommentiert der rheinland-pfälzische Kulturstaatssekretär Walter Schumacher.
Am 5. Februar 1916 von Hugo Ball, Emmy Hennings, Marcel Janco, Tristan Tzara und Hans Arp im Cabaret Voltaire in Zürich gegründet, wurde Dada zu einer der zentralen Kunstbewegungen des 20. Jahrhunderts. Anlässlich des Jubiläums widmet sich das Arp Museum Bahnhof Rolandseck den Anfangsjahren der Kunstbewegung und erweckt die bedeutenden Entstehungsorte Dadas wieder zum Leben: die legendäre Künstlerkneipe »Cabaret Voltaire« und die eher bürgerlich orientierte »Galerie Dada«. »Als Gegengewicht zum dionysischen Cabaret wurde die apollinische Galerie eingesetzt. Nur durch die beiden Komponenten Cabaret Voltaire und Galerie Dada konnte die Unruh von Dada in Schwingung gebracht werden«, bewertet Adrian Notz.
Die Abkehr vom Krieg und die Entdeckung des Nichts
Im Wechselspiel zwischen den beiden gegensätzlichen Geburtsstätten entwickelte sich im damals äußerst kosmopolitischen Zürich – einer der Flüchtlingsmetropolen Europas – der Geist Dadas. Ein wichtiger Ausgangspunkt war der überzeugte Pazifismus der Protagonisten. Selbst die Künstler, die sich anfangs dem allgegenwärtigen Kriegstaumel nicht ganz entziehen konnten, sagten sich von ihm los und versuchten, die Geschehnisse jenseits der so sicher erscheinenden Gebirgsketten zu verdrängen. Gleichzeitig waren es die Grauen des Krieges, die alles Bestehende so nichtig erscheinen ließen – und das Nichts so zum neuen Gott erhoben.
Die große Revolte gegen die Traditionen und Konventionen – ohne politische Ideologie
Zugleich wurden die bürgerliche Gesellschaft und ihr gängiger Wertekanon, die den Ersten Weltkrieg hervorgebracht hatten, zur Zielscheibe des künstlerischen Protestes erklärt. Die etablierte Kunst als Teil dieser Gesellschaft wurde als reaktionär und überholt abgelehnt.
Stattdessen suchten die Dadaisten nach neuen Ausdrucksformen, in der darstellenden wie in der bildenden Kunst. In den legendären Soireen im Cabaret Voltaire wurde gedichtet, gesungen, hinter Masken getanzt und den anarchischen Kräften von Geist und Körper Tribut gezollt. Die bisweilen absurde dadaistische Performance war durchaus mehr als eine Narretei – und doch war sie kein Akt dezidierten politischen Protestes. Die Dadaisten verweigerten sich einer klaren Zuordnung zu einer politischen Haltung. Vielmehr war es die Macht der Ratio und ihrer vermeintlichen Strategien, die nun zum Urgrund aller kollektiven Verbrechen erklärt wurde. So erteilten die Künstler der Logik eine radikale Absage.
Befreiung der Sprache und Lob des Archaischen sowie der mystischen Naturverbundenheit
Der Abgesang auf die herrschenden Mächte und ihre Propaganda führte zu neuen Formen des sinnlichen, aber unsinnigen Sprachgebrauchs. In Simultan- und Lautgedichten suchten die Dadaisten die Grenzen des Vernunftdenkens zu überwinden. In mystischen Übungen diente das Unterbewusstsein als Quelle des unmittelbar Schöpferischen, wobei zeitgenössische Theorien und wissenschaftliche Schriften der Psychoanalyse, etwa von C. G. Jung, wichtige Impulse lieferten.
In ihrer Suche nach vorsprachlichen, urwüchsigen Ausdrucksformen und einer Sehnsucht nach der vorzivilisierten Natur spiegeln die Dadaisten einen Aspekt des Zeitgeistes. Die Lebensreformer und Nudisten, die etwa zeitgleich im schweizerischen Ascona auf dem Monte Verità im Einklang mit der Natur lebten und mit den Dada-Künstlern in regem Austausch standen, sind hier beispielhaft zu nennen.
Auch das starke Interesse an der afrikanischen Kunst, die mit dem so genannten Primitivismus weithin ihre Würdigung erfuhr, fügt sich hier ein. Von Klischees geprägt, wird die so genannte »Negerkunst« in europäischen Ausstellungen gefeiert und ihre Formensprache zu adaptieren versucht. Die exotischen Rhythmen wiederum lieferten Inspiration für theatralische Darbietungen und maskierte Tänze, in denen man das Unmittelbare, Spontane und Unkontrollierbare anstrebte, das mit den Kulturpraktiken primitiver Stämme assoziiert wurde.
Vom Zürcher Kabarett zur Internationalen Bewegung
Die »wilde« Initiationsphase im Cabaret Voltaire setzte sich in der benachbarten Galerie Dada fort. Mit dem Ortswechsel lässt sich jedoch auch eine gewisse Professionalisierung erkennen. Durch öffentliche Führungen und den Kontakt zu Journalisten sollte gezielt ein kunstaffines Publikum erreicht werden. Neben den Soireen wurden in der Galerie vermehrt Ausstellungen gezeigt, bei denen auch Werke namhafter internationaler Avantgarde-Künstler zu sehen waren. Die Ablehnung der etablierten Kunst durch die Dadaisten wandelt sich hier in das Bestreben, mittels Bezügen zum Surrealismus, Futurismus oder Kubismus den Anschluss an die internationale Kunstszene zu gewinnen. Die dadaistischen Manifeste und Schriften, die Hugo Ball und seine Mitstreiter publizierten, dienten dabei als Medium der Verbreitung. Es bildeten sich Dada-Zentren in Hannover, Berlin und Köln aber auch in Paris und New York, und Dada revolutionierte innerhalb kürzester Zeit die Kunstwelt.
Dada – kein Stil, sondern . . .
Die Ausstellung widmet sich intensiv dem intellektuellen und wissenschaftlichen Nährboden der Zeit, aus dem Dada hervorging. Themen wie Mystik, Psyche, Revolte, Philosophie und Literatur stehen dabei in engem Wechselspiel zu den verschiedenen künstlerischen Formen und Praktiken, die sich unter dem Einfluss der Dadaisten in eine gänzlich neue Richtung entwickelt haben – von Tanz, Theater, Poesie und Neuer Musik bis hin zu Masken und Kostümen, Collagen, Objekten, Gemälden und Grafiken. Entscheidend ist hierbei die im Ausstellungskatalog festgehaltene Schlussfolgerung des Dada-Kenners Tobia Bezzola, dass sich der Dadaismus nicht auf einen Stil reduzieren lasse. Anders als andere Ismen der modernen Avantgarden sei Dada nicht an einer spezifischen Form zu erkennen und an ihr zu charakterisieren. Als proklamierte »Stunde Null« in der Kunst stellt Dada somit einen Bruch mit einer chronologisch nachvollziehbaren Stilentwicklung dar, wie sie die Kunstgeschichte von der Neuzeit bis zur Postmoderne konstruiert. Damit wird die Dada-Bewegung zum Modellfall für nachfolgende Strömungen wie Fluxus oder auch die Performance- und Aktionskunst.
Von der Dada-Schleuse zur Rauminszenierung
In der Ausstellung werden Werke aus dem engeren Kreis der Zürcher Dadaisten (Hans Arp, Hans Richter, Marcel Janco u. a.) in ihrem künstlerischen Umfeld (Arthur Segal, Max Oppenheimer, Adya und Otto van Rees u. a.) präsentiert. Hinzu kommen Gemälde und grafische Arbeiten von Künstlerinnen und Künstlern der internationalen Avantgarde wie Heinrich Campendonk, Giorgio de Chirico, Paul Klee, August Macke, Elie Nadelman, Pablo Picasso und Hilla von Rebay, die auch in den historischen Dada-Ausstellungen zu sehen waren. Als Leihgeber konnten hierfür renommierte Sammlungen wie das Guggenheim Museum und das Museum of Modern Art, New York, das Kunsthaus Zürich, das Folkwang Museum, Essen, u. v. a. gewonnen werden.
Die Kunstwerke sind in eine anschauliche, multi-mediale Inszenierung eingebettet: Bevor die Besucher die Ausstellung betreten, durchlaufen sie eine Bild- und Klangcollage, die sogenannte »Dada-Schleuse«, die sich von den unterirdischen Tunneln über den Aufzug bis ins 1. Obergeschoss des Richard Meier-Baus erstreckt. In zwei Ausstellungskuben werden die räumliche Situation des Cabaret Voltaire und der Galerie Dada nachempfunden, so dass die unterschiedliche Atmosphäre der beiden Lokalitäten erkennbar wird. Um diese beiden Zentren gruppieren sich verschiedene Themenfelder, die die Entstehung von Dada anhand zahlreicher Kunstwerke und Zeitdokumente greifbar machen. Ergänzt wird die Präsentation durch den Film »Dada in Nuce« und durch von Adrian Notz entwickelte Diagramme, die wie das »Firmament Dada« die internationale Vernetzung der Bewegung deutlich machen.
Kuratiert wird die vielfältige Schau von Adrian Notz (Cabaret Voltaire, Zürich) und Astrid von Asten unterstützt von Sylvie Kyeck (beide Arp Museum Bahnhof Rolandseck).
Die Ausstellung wird begleitet von einem umfangreichen Katalog (deutsch/ englisch, Verlag Scheidegger & Spiess, Preis: 38 Euro), in dem unter anderem auch die Rolle Hans Arps bei der Entstehung von Dada erläutert wird. »Unser Hauspatron Hans Arp zählt zu den
Gründungsmitgliedern jener künstlerischen Bewegung, die 1916 von Zürich aus innerhalb kürzester Zeit das Kunstgeschehen weltweit nachhaltig veränderte,« so Dr. Oliver Kornhoff, Direktor des Arp Museums Bahnhof Rolandseck und künstlerischer Leiter des
Künstlerhauses Schloss Balmoral in Rheinland-Pfalz
# More info website Arp Museum Bahnhof Rolandseck
fleursdumal.nl magazine
Fotos
-Hugo Ball im kubistischen Kostüm, 1916, unbekannter Fotograf
-Dada-Tanz mit Maske (Sophie Taeuber oder Emmy Hennings?), ca. 1917 – Stiftung Arp e.V., Berlin/Rolandswerth, unbekannter Fotograf
-Hans Arp, Tristan Tzara, Hans Richter vor dem Hotel Elite, Zürich 1918 – Stiftung Arp e.V. Rolandswerth/Berlin, unbekannter Fotograf
-Marcel Janco, Plakat der Ersten Dada-Ausstellung in der Galerie Corray, 1917
More in: - Book News, Art & Literature News, Ball, Hugo, Dada, Dadaïsme, DANCE, Exhibition Archive, THEATRE
---
13/14/15 May 2016, TILBURG (NL)
(+ 8/9/10/11 September + 10/11 December)
Incubate 2016 festival
Incubate is the annual celebration of cutting-edge culture. It is a festival exhibiting a diverse view on indie culture as a whole, including music, visual arts, film and contemporary theater, and a conference. For the upcoming May edition it brings more than 70 cutting edge artists in an intimate context to an international audience. Black metal next to free jazz. Refreshing art next to inspiring debate.
Incubate – 13/14/15 May
Incubate – 8/9/10/11 September
Incubate – 10/11 December
"Het meest avontuurlijke festival van Nederland".
— Oor, September 2012
# more information on website INCUBATE

fleursdumal.nl magazine
More in: Art & Literature News, DANCE, Literary Events, MUSIC, THEATRE
---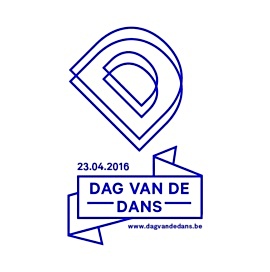 23 april '16 — 12:30
Dag van de Dans — Kom proeven van hedendaagse dans
Tijdens de eerste editie van de Dag van de Dans op zaterdag 23 april 2016 is in heel Vlaanderen en Brussel dans te zien en te beleven. Dansers en choreografen van verschillend pluimage palmen de podia van meer dan vijftig kleine en grote cultuurhuizen in. Ook in de openlucht wordt gedanst. Er zijn voorstellingen, open repetities en filmvertoningen voor jong en oud. Gooi je liever zelf de benen los? Schrijf je dan in voor een van de workshops of open podia. Maak je keuze uit het programma op deze website en kom op zaterdag 23 april in eigen buurt proeven van wat de hedendaagse danskunst te bieden heeft!
11:00 start Slow Walk Naamsepoort
13:30 > 14:00 Slow Walk door BOZAR
Doe mee aan de extreem uitgerekte flashmob van ROSAS en loop op zaterdag 23 april van de poorten van de Brusselse vijfhoek naar de Grote Markt aan een sterk vertraagd tempo. De Slow Walk trekt van 13.30 uur tot ongeveer 14.00 uur door het Paleis voor Schone Kunsten. Om 16u komen de vijf trajecten dan samen op de Grote Markt voor de workshop My Walking Is My Dancing, geleid door Anne Teresa De Keersmaeker.
12:30 & 15:30 In Spite of Wishing and Wanting, Hortahal, BOZAR
Speciaal voor deze eerste Dag van de Dans maakt topchoreograaf Wim Vandekeybus een korte versie van In Spite of Wishing and Wanting (1999). Deze indrukwekkende choreografie voor acht mannelijke dansers op muziek van David Byrne wordt deze keer niet op een podium uitgevoerd maar vlak voor je neus.
Datum
Zaterdag 23 april 2016 12:30 → 16:00
Plaats: Hortahal
Ravensteinstraat 23
1000 Brussel
Day of Dance — A contemporary dance taster
first edition
Day of Dance is a celebration of dance all over Flanders and Brussels. In this the first edition on Saturday April 23rd 2016 young and old can enjoy shows, workshops, open rehearsals, film screenings, dance battles and the like in venues large and small as well as out in the open air. Take your pick from the programme on this website and see for yourself just what the art of contemporary dance has to offer in your area!
# More information on website DAGVANDEDANS.BE
Anne Teresa De Keersmaeker / Rosas
MY WALKING IS MY DANCING
In honour of the Dag van de Dans festivities, Anne Teresa De Keersmaeker and Rosas are issuing an open call to anyone interested in participating in a performance who's stage is the entire city centre of Brussels.
Over the course of five hours, starting at 11:00 from five separate points on the periphery of 1000 Brussels; Porte de Hal, Porte de Namur, Botanique, Yser and Porte de Ninove, five groups will perform a slow walk towards the centre of the city with the aim of converging simultaneously in the Grand Place.
When we say slow walk, we mean a very slow walk; the average pace of each group will be less than 5 meters a minute which means that it will take approximately 5 hours for each group to complete their trajectory.
At 16:00, the five groups will arrive simultaneously on the Grand Place and will be invited to participate in a 30 minute workshop followed by a dance jam led by Anne Teresa De Keersmaeker herself with the help of dancers of Rosas and students of P.A.R.T.S.
Open to any and all who want to participate, My Walking Is My Dancing will highlight the hectic and high pace of the city of Brussels by consciously slowing the speed at which we travel from one place to another. It is a meditation and an invitation to slow your body and mind and experience the city and its inhabitants from a new perspective.
Participants are welcome to join the performance for as long or as short as they wish and at any point along any of the predetermined routes including the final dance on the Grote Markt / Grand-Place.
# More information on website MYWALKINGISMYDANCING
fleursdumal.nl magazine
More in: Art & Literature News, DANCE, Literary Events, Street Art, THEATRE
---
"Human beings need permission, and usually that's metaphor, to recognize that there are many layers of reality moving at any given moment, and that every small gesture has very large consequences. So opera is this amazing form, which takes a gesture, and understands it through music, poetry, dance, visual art, all at the same time."
Climbing the Razor-Path Mountain and Leaping Into Fire
Next Steps in Charged Times — The Humanities and the Aesthetics of Delight Shape and Awaken Political Consciousness
13 maart 2016  –  14.30 – 16.30
Auditorium Tilburg University
Theaterregisseur Peter Sellars, bekend van zijn onconventionele, zelfs controversiële operaregies – zoals Mozarts Così fan tutte, Händels Julio Cesare en Ligeti's Le Grand Macabre – waarvoor hij de Erasmusprijs ontving, komt op 13 maart 2016 naar het Nexus Instituut. Zijn Nexus-lezing 'Climbing the Razor-Path Mountain and Leaping Into Fire — Next Steps in Charged Times' gaat in op de eeuwigheidswaarde van kunst. Kom naar zijn hartstochtelijk pleidooi om je te laten verrassen, nieuwe werelden te ontdekken en de rol van kunst in de samenleving te (her)waarderen.
Entreekaarten
– Standaardkaart € 30
– Nexus-ledenkaart € 20 (max. 4)
– Connectkaart € 10 (t/m 35 jaar, max. 1)
– Vriendenkaarten zijn gratis (max. 2 voor Amici, max. 4 voor Patroni en Maecenates)
– Profiteer direct van korting op entreekaarten voor lid te worden van Nexus. Dat kan ook door ons te steunen als Connect-lid of Vriend van het Nexus Instituut. U ontvangt dan tevens de drie Nexus-uitgaven van 2016, waaronder Nexus 71, Wachten op de barbaren.
Programma
14.30 uur Ontvangst met koffie en thee
15.00 uur Welkom Rob Riemen
15.10 uur Nexus-lezing door Peter Sellars
16.00 uur Publiek gesprek met Peter Sellars
16.30 uur Receptie
Aanbevolen
Regisseur Peter Sellars combineert in de wereldpremière Only The Sound Remains twee op Nôh-drama's geïnspireerde opera's van de Finse componiste Kaija Saariaho.
Nationale Opera & Ballet op 15, 19, 22, 24, 27 en 29 maart.
Peter Sellars
Verenigde Staten, 1957
Peter Sellars is theaterregisseur. Hij studeerde aan Harvard en was achtereenvolgens artistiek directeur van de Boston Shakespeare Company, het American National Theater in Washington, van de Los Angeles Festivals (1990 en 1993) en de Salzburger Festspiele (1992 en 1994). Er staat een reeks onconventionele, zelfs controversiële operaregies op zijn naam, zoals Mozarts Così fan tutte, Händels Julio Cesare en Ligeti's Le Grand Macabre. Voor zijn regiewerk ontving Peter Sellars in 1999 de Erasmusprijs. Naast zijn theaterwerk doceert Sellars aan de Universiteit van Californië.
# Meer informatie op website NEXUS INSTITUUT

fleursdumal.nl magazine
More in: Art & Literature News, DANCE, Nexus Instituut, THEATRE
---
M a t a   H a r i
De vrouw, de diva, het mysterie
Tijdsduur 2:00
Pauzes 1
NIEUWS: OP ZATERDAG 6 FEBRUARI ZAL ER TOT 17:00 UUR EEN DEMONSTRATIE PLAATSVINDEN VOOR DE INGANG VAN HET STADHUIS
Het turbulente leven van de Nederlandse spionne én danseres Mata Hari staat centraal in een grootschalige nieuwe productie van Het Nationale Ballet. Margaretha Geertruida Zelle – zoals Mata Hari's echte naam luidde – is een van de meest iconische vrouwen in de Nederlandse geschiedenis.
Mata Hari werd in 1876 als Margaretha Zelle geboren in een gegoede Friese familie. Na een ongelukkig huwelijk zocht Zelle in Parijs het avontuur. Als de exotische, mysterieuze Mata Hari werd ze een van de beroemdste danseressen van haar tijd. Ze reisde door heel Europa, had overal hooggeplaatste minnaars en dat maakte haar tot een geschikte spionne tijdens de Eerste Wereldoorlog. Ze werd, al dan niet terecht, beschuldigd van dubbelspionage en stierf in 1917 voor een Frans vuurpeloton.
Ted Brandsen Directeur en choreograaf
Ted Brandsen was van 1981 tot 1991 als danser actief bij Het Nationale Ballet. In 1991 stopte hij met dansen en ging zich richten op het choreograferen. In 1998 volgde de benoeming tot artistiek directeur van het West Australian Ballet (Perth). Begin 2002 keerde hij terug naar Het Nationale Ballet, aanvankelijk als adjunct artistiek directeur en huischoreograaf. In juli 2003 volgde hij Wayne Eagling op als artistiek directeur van het gezelschap. Ted Brandsen is sinds augustus 2012 directeur van Het Nationale Ballet.
Creatie: Het ballet wordt gecreëerd door artistiek directeur en choreograaf Ted Brandsen. Tarik O'Regan, een van de toonaangevende Briste componisten van dit moment, maakt speciaal voor Mata Hari een nieuwe compositie. Voor het decorontwerp is het veelgeprezen ontwerpersduo Clement & Sanôu uitgenodigd en Francois-Noël Cherpin maakt de kostuums. Met librettiste Janine Brogt werkt Brandsen aan een scenario waarin Mata Hari's leven in filmische scènes tot leven wordt gebracht. Mata Hari was een gepassioneerde vrouw voor wie het reële leven te beperkt was en die daarom voortdurend nieuwe beelden, nieuwe verschijningsvormen van zichzelf creëerde.
De rol van Mata Hari wordt gedanst door solisten Anna Tsygankova, Igone de Jongh, Maia Makhateli, Anna Ol en Sasha Mukhamedov (Voor programma-data zie website).
Muziek: Tarik O'Regan & Mata Hari
Muzikale begeleiding: Het Balletorkest onder leiding van Matthew Rowe
Het Balletorkest: Het Balletorkest viert dit jaar haar 50-jarig bestaan. Sinds de oprichting in 1965 is het orkest de trotse begeleidingspartner van Het Nationale Ballet en het Nederlands Dans Theater.
Het Balletorkest verbindt muziek en dans tot een betoverende ervaring: van klassiek ballet tot moderne dans, van muziekeducatie tot talentontwikkeling.
De werkwijze is uniek in Nederland. Het Balletorkest, met Matthew Rowe als chef-dirigent, bestaat uit een vaste kern van 45 musici, waar nodig ondersteund door hooggekwalificeerde gastspelers. Dit geeft het orkest een uniek karakter: ongekend flexibel, dynamisch en van hoge kwaliteit.
Het Balletorkest is een orkest met een missie: ultieme synergie bereiken tussen dans en muziek.
Kleedgeld voor Mata Hari: Kostuumontwerper François-Noël Cherpin heeft voor Mata Hari prachtige bij haar tijd passende kleding ontworpen. We zien Mata Hari in het ballet gedurende haar hele leven: van klein meisje in Friesland tot femme fatale die de hele wereld over reist. Voor de tien handgemaakte, rijk gedecoreerde kostuums die Mata Hari in dit ballet draagt is €55.000 nodig. We hopen dit bedrag met uw hulp bij elkaar te krijgen en vragen u om een donatie voor deze beeldbepalende solistenkostuums in het gloednieuwe ballet.
Inleidingen: Drie kwartier voorafgaand aan Mata Hari is er een inleiding in de foyer. Zo krijgt u meer achtergrondinformatie over de productie die u gaat zien. De inleidingen van Nationale Opera & Ballet zijn in het Nederlands en zijn gratis toegankelijk op vertoon van een geldig plaatsbewijs voor de voorstelling van die dag.
Nationale Opera & Ballet
Amstel 3
1011 PN Amsterdam
# LEES MEER OP DE WEBSITE VAN NATIONALE OPERA & BALLET
fleursdumal.nl magazine
More in: Art & Literature News, Mata Hari, MUSIC, THEATRE
---
Incubate 2014 van 15 t/m 21 september in Tilburg: Incubate is een stadsfestival voor grensverleggende cultuur. Gedreven door artistieke vernieuwing brengt het meer dan 200 culturele voorlopers. Zo presenteert Incubate een breed programma met vooruitstrevende muziek, beeldende kunst, debat, film en theater. In een intieme context aan een internationaal publiek. Black metal naast free folk. Verfrissende kunst naast inspirerend debat.  De tiende editie van Incubate vindt plaats van 15 tot en met 21 september 2014 op meer dan twintig locaties in Tilburg. Van café tot kerk. Van theater tot kelder.
Muziek: Tijdens Incubate is er voor bijna ieder wat wils betreft muziek. Zo zijn er artiesten te vinden in allerlei categorieën denk hierbij aan: dance, metal, post rock, hip hop, folk , free jazz en nog vele andere soorten muziek. De artiesten zijn afkomstig uit diverse landen over heel de wereld. Meestal zijn deze artiesten juweeltjes die door het grote publiek nog ontdekt moeten worden.
Games: Dit jaar is er voor het eerst ook een expositie met games ingericht. Tijdens Incubate worden er in samenwerking met Wave of Tomorrow (ism Martijn Verhallen) en zo-ii (Zuraida Buter) heel veel vernieuwende indie games gepresenteerd. Er wordt op een originele manier gebruik gemaakt van audio en muziek in de games. De Arcade is gratis toegankelijk op 15 tot en met 21 september van 14u tot 21u.
Art: Buiten de game art is er dit jaar ook nog veel andere kunst. Zo is er door de gehele stad verschillende street art te vinden. Ook zijn er op verschillende locaties exposities. Deze vindt je onder andere in het TextielMuseum, Museum de Pont, Hall of Fame,
Gastatelier Leo XIII en Theaters Tilburg. Maar houd je ogen goed open als je door de stad loopt, want overal kun je wel wat tegen komen dat kunstzinnig is.
Film: Kijk je graag een film, dan heeft Incubate ook jou wat te bieden. Dit jaar zijn er namelijk weer allerlei films te bekijken tijdens dit meerdaags evenement. Kijk naar Art films of uiteenlopende documentaires.
Meer informatie op www.incubate.org.
Volledige muziekline-up van Incubate 2014:
Maandag 15 september: Moon Duo, Chad VanGaalen, Pauline Oliveros, Nadja, Action Beat + G.W. Sok, Aaron Dilloway, KJ Grobe, Moon Relay, Kerretta, Daniel Bachman, Cousins, Auroch, Ritual Necromancy, Mitochondrion, The Tubs, YAWNS, TYSMFYH, Oscar Alblas & Martin de Greef
Dinsdag 16 september: Long Distance Calling, Blouse, Aidan Baker, Holy Wave, Kevin Morby, Ryley Walker, Mikrokolektyw, MoE, Snøffeltøffs, Mile Me Deaf, Teen Creeps, Watengwa & Pyramyth, Dario Calderone
Woensdag 17 september: Krallice, The Besnard Lakes, Dodecahedron, Nadja + Uochi Toki, Deathcrush, Double Veterans, Svart
Crown, Ggu:ll, Throw Me In The Crater, Sardonis, Next Life, 30.000 Monkies, Watengwa & Pyramyth, Matteo Mijderwijk & Tom Nieuwenhuijse
Donderdag 18 september: Carter Tutti Void, Kadavar, King Buzzo, Holly Herndon, Audacity, Magik Markers, Kiss The Anus Of A Black Cat, Virginia, Olivia Block, Paula Temple, Stellar OM Source, Maria Minerva, Gazelle Twin, Puce Mary, High Wolf, Caudal, Geryon, Mick Barr, Unaussprechlichen Kulten, Incarceration, Zombiefication, Marie Davidson, The Space Lady, Chicaloyoh, Alpha Whale, Mind Rays, Rianne Wilbers
Eurabia: Polygrains, Cairo Liberation Front en een mystery guest
Percolated: Polynation, Oaktree & Avondlicht, Weval en Lemontrip
Vrijdag 19 September: 65daysofstatic, The Ocean, Angel Olsen, This Will Destroy You, Mick Turner, Untold (a/v show), Akkord, Exivious, Pow!, The Cosmic Dead, Aidan Baker + thisquietarmy: Hypnodrone Ensemble, Bored Nothing, James Pants, Napszyklat, Paul White, Sargeist, True Black Dawn, Azaghal, Baptism, Ramleh, Purging Light, Employed to Serve, Svalbard, Up River, Tremoro Tarentura, Sun Glitters, TONS, Alice in the Cities, Kristen, Rodrigo Amarante, Fist City, Fright Eye, Staer, Yung, Arvind Ganga, DelVitaGroup, Nordmann, The Lowest Standard, Kin, Shun Club, Samowar, Cheng-Yu Wu, Punkrockheavymetalkaraokeband
L.I.E.S : Voiski, Steve Summers, Svengalisghost, Torn Hawk, Jahiliyya Fields
Bunker Records: Unit Moebius, Rude 66, Acid Mercenaries, Schmerzlabor

Nightbirds: Protokids, Tweens, Travelcheck
Zaterdag 20 september: Wovenhand, Goat, Current 93, Bardo Pond, Tuxedomoon, thisquietarmy, Unkind, Skitsystem, Agrimonia, Okkultokrati, Spindrift, Skullflower, Innercity Ensemble, Ekoplekz/Emmplekz, Sol Invictus, Aderlating, Ortega, Bismuth, Waiver, Hippie Diktat, Coilguns, Pins, Wooden Wand, Gareth Dickson, Datashock, Tusmørke, Le Seul Element, Crown, Telepathy, Teething, Corrupt Moral Altar, Hadewych++, Death Alley, Carne, Galg, The Light of God, Ancient Ocean, Woodsman, Bear Bones Lay Low, Vin Blanc / White Wine,De Koning der Dieren, Ides Moon, Leopard Skull, LL presents…, A Million Squeeks Will Do You No Harm, capcap…cap, Innerwoud, Monnik, Charnia, The Original Boys of Summer, Punkrockheavymetalkaraokeband
L.I.E.S.: Ron Morelli, Low Jack, Terekke, Beau Wanzer, Marcos Cabral
Bunker Records: Legowelt, Orgue Electronique, Schmerzlabor, Klankman
Full Pupp Label night: Blackbelt Andersen & Magnus International
Zondag 21 september: Thee Silver Mt. Zion Memorial Orchestra, God is an Astronaut, Marissa Nadler, Woods, Electric Eye, The Wytches, Bombino, The Neon Judgement, Lantlos, thisquietarmy, TRAAMS, Cave, Natural Child, Container, Basic House, Otis, Lento, Dead Neanderthals Endless Voids, Joel R.L. Phelps and the Downer Trio, Trepaneringsritualen, Eugene Chadbourne, Stara Rzeka, Black Oak, Talvihorros, Baaba, Hokei, Horrns, Black Wizard, Falloch, Soviet Soviet, Bear Run, The Asteroid#4, The Unborn, Angstgegner, Zachte G Harde P, Schelles, Crywank, The Guru Guru, Adrift, Crows, Dotlights, Zaum, Bad Vision, Yadayn, I Drove A
Tank, The Glücks, Holden Goldmund & The Puddle Parade, Teake Damstra
Incubate Zero: Gratis middagprogramma
Voor het eerst in de tienjarige geschiedenis van Incubate heeft het festival een groot gratis muziekprogramma samengesteld. In samenwerking met Tilburgse ondernemers van tien verschillende locaties werden 41 artiesten uitgenodigd. Zij treden op in het gratis toegankelijk middagprogramma in het weekend van 19, 20 en 21 september. Ook is er door Café Extase een gratis Incubate preparty georganiseerd op zondag 14 september met lokale bands.
Volledige line-up Incubate Zero: A Brighter Light, An evening with knives, Bad Braids , Bedroom 37, Bird On The Wire, Bonfire Lakes, Byron Bay, Convoy, el noré, Fire Walk Wth Us, Frankenberries, Hemelbestormer, I Could Float Here Forever, Iris Penning, LAST, Lend Me Your Underbelly, Leo Svirsky, Long Life Heads, Lookapony, Meadowlake, Mountain States, Naive Set, Nausica, Ode To The Quiet, Paul Cherryseed, Sean Gascoigne, Shoeshine, Sleep Kit, Sparrow Falls, Sprokkelhout, Teethgrinder, The Afterveins, The Daydream Fit, The Fifth Alliance, The Girl Who Cried Wolf, The Great Communicators, The Light Brigade, The Shady Greys, The Sweet Release Of Death, The T.S. Eliot Appreciation Society, The Virgin Army, Tim van Doorn, Twin Shades, Vikings in Tibet, WANDER en Wooden Soldiers.
Incubate 2014 – 10e editie van 15 t/m 21 september 2014 in Tilburg
 # Meer informatie staat op website incubate
fleursdumal.nl magazine
More in: Art & Literature News, DANCE, MUSIC, The talk of the town, THEATRE
---
A n i t a   B e r b e r
Gedicht für Sebastian Droste
I c h
Wachs schimmerndes Wachs
Ein Kopf – ein Brokatmantel
Wachs –
Rot – wie Kupfer so rot und lebende Haare
Funkelnde Haare wie heilige Schlangen und Flammen
Tot
Millionenmal tot
Verwest
Und schön – so schön
Blut wie fliessendes Blut
Ein Mund stumm
Nacht ohne Sterne und Mond
Die Lider – so schwer
Schnee wie kalter wärmende Schnee
Ein Hals – und fünf Finger wie Blut
Wachs wie Kerzen
Ein Opfer von ihm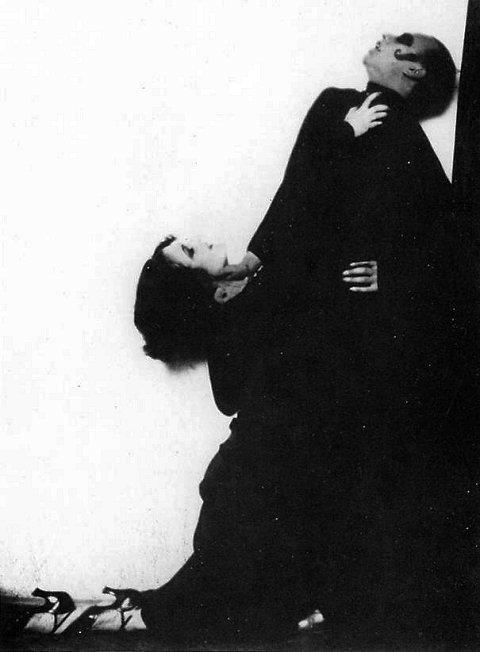 S e b a s t i a n   D r o s t e
Gedicht für Anita Berber
Tanz Anita zu eigen

Aufwirbelndes jauchzendes Begehren
Sprung – – –
Webenden Wellen
Weichwelle Wogen
Kreist kreist unendliche Kreise – – –
Verlangendes Weben schwebt wellwoges Wogen
Auf einsamen Thronen thront der Gott – –
Sturzwelles spitzes grelles Begehren
Kreisgelles gelbgrünes Belachen
Zerkreisen zerwellen zerwogen zerhauchen
Springpflanzartiges Zerblättern
Beschwingen
Besingen
Klang –
Aufjublendes Zerfliessen
Zergreifen
Zerweben – –
Tanz – – –

Anita Berber (1899-1928)
& Sebastian Droste (1892-1927):
2 Gedichte

fleursdumal.nl magazine

More in: Anita Berber, Anita Berber, Berber, Anita, DANCE
---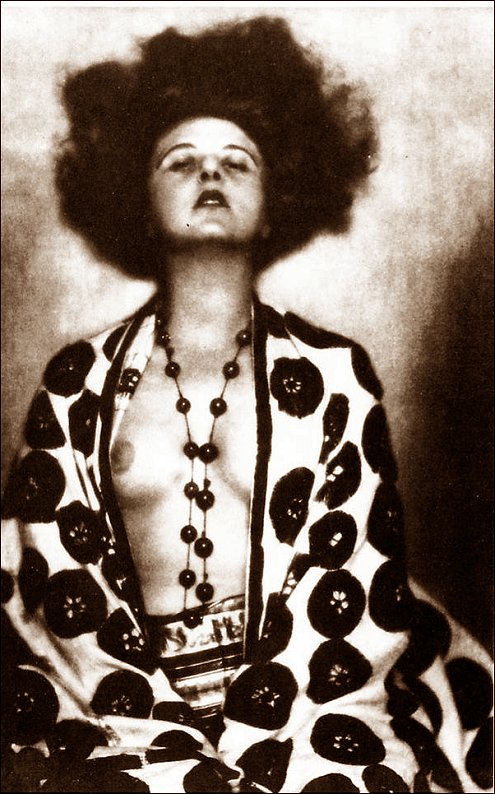 ANITA BERBER

(1899-1928)
O r c h i d e e n

Ich kam in einen Garten
Der Garten war voll von Orchideen
So voll so voll und schwer
Es blühte und lebte und bebte
Ich kam nicht durch die süßen Verschlingungen
Ich liebe sie so wahnsinnig
Für mich sind sie wie Frauen und Knaben –
Ich küsste und koste jede bis zum Schluss
Alle alle starben an meinen roten Lippen
an meinen Händen
an meiner Geschlechtslosigkeit
Die doch alle Geschlechter in sich hat
Ich bin blass wie Mondsilber
Anita Berber Gedichte
fleursdumal.nl magazine
More in: Anita Berber, Anita Berber, Berber, Anita, DANCE
---

Vincent Berquez
My son, the disco dancer
He flicks movements in squealing happiness
and turns and falls over, laughs and squeaks,
squawks, stands and sits and strains and rolls,
and moves his little baby legs accidentally
as he leans into his bouncy, bendy self.
My infant son, the disco dancing prancer
parades and shifts his squidgy frame frantically
like a jaunty spring-loaded jittery jumping bean
and lands on his bum again.
And his happy head swigs the air and eyes dart
around his spinning frame, as he jigs for joy
and bounds, fly-falling onto his rump again,
quickly bouncing to stomp the beat of sound
looking up to me he demands more music.
22.01.11
vincent berquez poetry
kempis.nl poetry magazine
More in: Berquez, Vincent, DANCE, Vincent Berquez
---
A n i t a   B e r b e r
(1899-1928)
K o k a i n

Wände
Tisch
Schatten und Katzen
Grüne Augen
Viele Augen
Millionenfache Augen
Das Weib
Nervöses zerflatterndes Begehren
Aufflackerndes Leben
Schwälende Lampe
Tanzender Schatten
Kleiner Schatten
Großer Schatten
Der Schatten
Oh – der Sprung über den Schatten
Er quält dieser Schatten
Er martert dieser Schatten
Er frißt mich dieser Schatten
Was will dieser Schatten
Kokain

Aufschrei
Tiere
Blut
Alkohol
Schmerzen
Viele Schmerzen
Und die Augen
Die Tiere
Die Mäuse
Das Licht
Dieser Schatten
Dieser schrecklich große schwarze Schatten.
anita berber gedichte
fleursdumal.nl magazine

More in: Anita Berber, Anita Berber, Berber, Berber, Anita, DANCE
---
Galerie Anita Berber – 8
Anita Berber (June 10, 1899 – November 10, 1928) was a German dancer, actress and writer. Anita Berber was painted by many artist, among them Otto Dix. 
Her lover was dancer Sebastian Droste. In 1922, Berber and Droste published a book of poems, photographs, drawings: Kokain.  Berber's cocaine addiction and bisexuality were matters of public chatter. She was allegedly the sexual slave of a woman and the woman's 15-year-old daughter. She could often be seen in Berlin's hotel lobbies, nightclubs and casinos, naked apart from a sable wrap and a silver brooch filled with cocaine. Besides being a cocaine addict, she was an alcoholic.

Anita Berber died of tubercolosis, at the age of 29, on November 10, 1928 in a Kreuzberg hospital and was buried at St. Thomas cemetery in Neukölln.
In 1987 film Rosa von Praunheim made a film titled: Anita – Tänze des Lasters.
fleursdumal.nl magazine – magazine for art & literature

More in: Anita Berber, Anita Berber, Berber, Berber, Anita, DANCE
---
Older Entries »
« Newer Entries
Thank you for reading FLEURSDUMAL.NL - magazine for art & literature