DANCE
«« Previous page
·
INCUBATE – 10/11 December 2016 – an annual celebration of cutting-edge culture
·
BLOOMSBURY FESTIVAL 2016 LONDON (19 – 23 OCTOBER)
·
PRODUCTIE MATA HARI VAN HET NATIONAAL BALLET BINNENKORT OP BLU-RAY & DVD
·
FESTIVAL NEU NOW 2016 IN WESTERGASFABRIEK AMSTERDAM
·
UITMARKT AMSTERDAM 2016
·
INCUBATE FESTIVAL SEPTEMBER 2016 IN TILBURG
·
BEAUTY OVERDOSE – BEAUTY WITHOUT IRONY – IN KASTEEL STERCKSHOF ANWERPEN
·
HET NIEUWE INSTITUUT PRESENTEERT: SPACE EMBODIED. THE RUSSIAN ART OF MOVEMENT 1920 – 1930
·
TANZTHEATER WUPPERTAL PINA BAUSCH: NELKEN
·
PINA BAUSCH EN HET DANSTHEATER: EXPOSITIE IN BONN
·
ARP MUSEUM BAHNHOF ROLANDSECK: 100 JAHRE DADA, DAS GROSSE FEST DES KULTIVIERTEN UN-SINNS
·
INCUBATE 2016 FESTIVAL

Incubate is the annual celebration of cutting-edge culture. It is a festival exhibiting a diverse view on indie culture as a whole, including music, visual arts, film and contemporary theater, and a conference. For the upcoming December edition it brings more than 40+ cutting edge artists in an intimate context to an international audience. Black metal next to free jazz. Refreshing art next to innovating indie games.
Incubate takes place troughout more than fifteen venues in the inner-city of Tilburg.
Incubate – 10/11 December 2016
Incubate Zero is the part of the programme that is FREE for all to attend. A little taste of the festival so you can decide if you want more. After the success of the previous Incubate Zero programmes, we're proud to host another free offering of artists. So make sure to bring your friends and family and check out these acts!
On December 11th, everyone can enjoy some of the best new acts from the European underground. Divided over venues Cul de Sac and Kim's Kroeg, the following bands will perform:
Heads
HEADS. from Berlin are a loud and noisy bunch, clearly influenced by Shellac and The Jesus Lizard: the good stuff. Their first record was released by This Charming Man Records so you know this not just your average band. Come see for yourself at Cul de Sac on Sunday December 11th.
Any Other
Remember those sweet, sweet times that we call the nineties? You might, but these kids don't because they're way too young. They do sound like they were there though, and they do such a killer job at it we forgot all about Kim Deal or Weezer or whatever. Who are those people anyway? Any Other excel in doing their own new thing with a sound that is beloved and feels familiar.
Fake O's
If these Groningen locals would be a black metal band they'd be considered trve kvlt without a doubt. This hardcore punk outfit sounds like they came straight from the Bay Area in the eighties and shred like they want to show Keith Morris how it's done. Of course Keith already knows, but he'd still be into FAKE O's.
Sven Agaath
When you think you've heard it all: you're about to find out you haven't. Sven Agaath play shoegaton (a term they probably coined themselves and for which they should receive proper recognition), a mix between shoegaze and reggaeton. They themselves call it "a mixture of Dinosaur Jr, Sean Paul, MBV and Daddy Yankee that feels urgent and natural". Although this will probably sound horrifying to most music fans, we can assure you – it really isn't. Sven Agaath is for everybody that likes shoegaze but also wants to dance from time to time.
The Shady Greys
The Shady Greys are an Amsterdam based dirty blues-garage duo with a nice lo-fi sound. Although using only a cajon and feet played percussions (no drums!) they're a high energy duo with fast riffing and raw vocals.
Dead High Wire
A young band from Antwerp and Mechelen, Belgium playing a mixture of echoing postpunk and indierock. They've released work on Kinky Star records (La Jungle, Räpe Blossoms etc.) and Oddie Records (Teen Creeps, Mind Rays, Double Veterans etc.). These are quality labels worth a whole lot more than that 'organic' logo on your milk carton.
Jellephant & The Phantoms
A young guy from Arnhem named Jelle and his band called The Phantoms are psychedelic band that make us think of our fellow countrymen Yuko Yuko. With a cool, echoing lo-fi mix of psychedelica, surf and downbeat garage these kids are one of the better Dutch acts in recent years.
Wobby
Together with Tilburg natives, comic creators and founders of the small press magazine 'Wobby', Incubate is proud to add a Comic Fair to its December edition. This will be accompanied by an English edition of the Wobby magazine, with contributions from different artists. There will also be talks, performances and interviews, but the main event will be your chance to meet and see some of your favorite creators. Guests include Bries (BE), Sigrid Calon (NL), Charlotte Dumortier (BE), Maurice van Es (NL), Jeroen Funke (NL), KAMP HORST (NL), Knust/Extrapool (NL), Vite (BE), The Stalinskis (NL), Tieten Met Haar (BE), and Ward Zwart (BE).
Holzapfel
Incubate will finalize its two-year visual arts program Do It With Others with a special performance by German artist Olaf Holzapfel. Holzapfel is a multidisciplinary artist who has extended his practice of painting with photography, sculptures, installations and digital work. To create his architectural sculptures, Holzapfel uses a range of (often locally sourced) materials, from plastic to straw. On Saturday 10th of December Holzapfel will do a special performance with a group of participants and craftsmen, around the noble art of rope making. Making a rope from straw is a complex process, a traditional craft that few still master. Tilburg is known for its history in textiles and the use of flax and hemp, as traditionally hemp was grown for processing into rope. As Incubate always connects artists with visitors and history with contemporary art, we invite all those interested to join us and Holzapfel in this special performance.
Incubate Art Symposium
At Incubate we try to offer kicks and contemplation right next to each other. We like to learn new things while having fun; about music and art and all the wonderful things that come with it. This is why we're delighted to host the Do It With Others symposium on December 11th at Duvelhok. Following the finissage of Olaf Holzapfel's project the day before, the symposium will include several artists that contributed to Do It With Others over the recent years. They will be interviewed by some very interesting hosts from the Dutch contemporary art scene, discussing their past residencies and collaborative work produced in Tilburg. Make sure to catch these afternoon talks if you're curious to meet these artists in person and ask them your questions.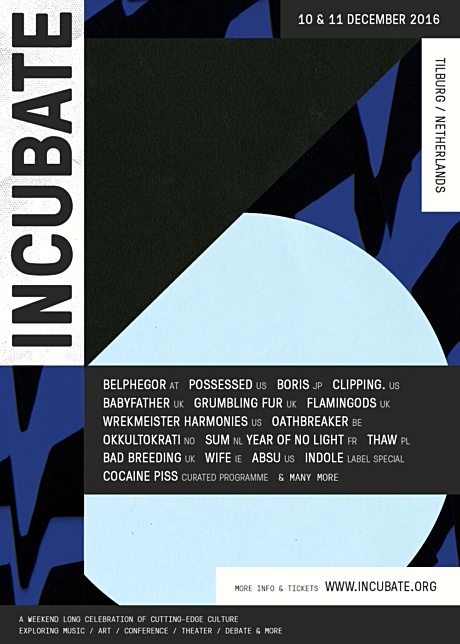 Incubate takes place troughout more than fifteen venues in the inner-city of Tilburg.
Incubate – 10/11 December 2016
incubate tilburg
Postal address
Postbus 327
5000 AH Tilburg
the Netherlands
Visiting address
NEW OFFICE:
Willem II Straat 49,
5038 BD Tilburg
Tel: +31 (0)13 590 4839
Box office opening hours:
Saturday: 12:00 – 22:00
Sunday: 12:00 – 22:00
Adress:
013 Poppodium
Veemarktstraat 44
5038 CV Tilburg
# More information on website Incubate
fleursdumal.nl magazine
More in: Art & Literature News, CINEMA, RADIO & TV, DANCE, DICTIONARY OF IDEAS, FDM Art Gallery, Literary Events, MUSIC, Street Art, STREET POETRY, The talk of the town, THEATRE, Urban Art
---
Bloomsbury Festival 2016 London October 19 to 23 october
For hundreds of years, Bloomsbury has been catalyst for ideas that have had impact across the world. Bloomsbury Festival celebrates contemporary Bloomsbury; a hotbed of creativity and pioneering development which has one of the youngest and most diverse populations in the country.
For five days in October, Bloomsbury will be full to the brim with artistic, scientific and literary events for all ages and tastes, from breakfast until late in the evenings taking place in the streets, parks, museums, galleries, laboratories and public and (normally) private buildings of this vibrant cultural quarter. There will be over 150 events created with over 100 partners.
Inspired by the centenary of SOAS and with Bloomsbury residents reflecting one of highest levels of diversity in the UK, the theme selected for this year's festival is Language. Language comes in many forms; speech, symbols, non-verbal communication, performance language, dance notation, morse code, sign language, computer code. Language will be explored throughout all the events; from the cuneiform inscriptions on tablets of clay at the British Museum inspiring a collaboration by an artist and historian, to investigations of Legal and medical 'languages' that are used in many firms and laboratories and hospitals in Bloomsbury.
Baroness Valerie Amos, Director of SOAS says: 'As we celebrate 100 years of SOAS teaching and research, we are delighted that the Bloomsbury Festival's theme this year is dedicated to language. SOAS is a special place with its unique blend of languages, regional and discipline expertise. We are proud of our Bloomsbury location and, with the addition of Senate House North Block, the growth of our Bloomsbury Campus. As we look forward to the next 100 years, we will continue to play a central role in the cultural and creative life of the area.'
Kate Anderson, Bloomsbury Festival director says 'Bloomsbury Festival is unique, as is the area of Bloomsbury in which leading institutions and world-class creative organisations rub shoulders with primary schools and lawyers. We make the Festival with over 100 Bloomsbury partners, providing opportunities for unusual collaborations and development opportunities for all. The result is a very distinctive festival indeed! And with over 150 events including all art forms, science, architecture, walks, technology, outdoor music, debating and hubs focusing on families, I think we can safely say there is something for everyone at Bloomsbury Festival.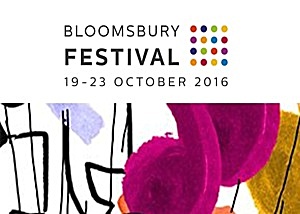 A few of this year's headline events include Coram's Songs, a promenade performance set in the known and secret spaces around the Foundling Hospital. 2016 marks the 275th anniversary of the Foundling Hospital and the 80th anniversary of Coram's Fields. Created by director Emma Bernard in partnership with renowned composers including Jocelyn Pook, Orlando Gough, Michael Henry and Melanie Pappenheim, Coram's Songs is inspired by this unique seven acre, greenfield site in central London that has been preserved as a sanctuary for children for circa 300 years.
Step Out Store Street will be a night-time street party with a twist: the street will be transformed by an array of artists and dancers, showcasing and teaching different dance disciplines from around the world, from Bollywood to B­Boy and Swing to Line dancing. Pa-BOOM's fiery pyrotechnic art installations will make a welcome return and the event will also feature a premiere of a new street dance commission from acclaimed dancer Tony Adigun's Avant Garde Youth Dance Company. The street's eclectic mix of boutiques, shops and restaurants will each house a different art, music and dance experience and an abundance of street food and bars will be available.
Other headline events will include The Last Whisperers at the British Museum, Calling Tree in St George's Gardens, a specially curated programme at The Wellcome Trust, Goodensemble and ENO at Goodenough College, and SOAS' World Music Stage inside the newly opened north block of Senate House.
The festival centres around three main hub venues Goodenough college, UCL, and Conway Hall with activities also taking place at a further 20+ satellite venues including the Wellcome Trust, the British Museum, the British Library, Pushkin House, Charles Dickens Museum, Coram's Fields, the Music Room, Bloomsbury Hotel, the Curzon Bloomsbury, and Store Street. There will be lunchtime events Wed 19 – Fri 21 for locals and workers to attend and breakfast events and talks in local cafes.
Every year the Festival runs a competition for BA (Hons) Graphic Communication Design, Central Saint Martin's students to design the festival logo. This year's winning entry is by Wies van der Wal which the judges felt illustrated the theme of language, the coming together of ideas and joy of the Festival perfectly.
Key Dates and Times:
Festival Dates: Wednesday 19 October to Sunday 23 October, throughout the day, everyday
Coram's Songs: Wednesday 19 October, evening and repeated during the Festival, Coram's Fields, 93 Guilford Street, London, WC1N 1DN
Step Out Store Street: Friday October 21 2016, 6.30pm to 9.30pm, Store Street, Bloomsbury, WC1E 7DH, Free outdoor event, just turn up
Key Locations:
Coram's Fields, 93 Guilford St, London WC1N 1DN, Camden
Foundling Museum, 40 Brunswick Square, London WC1N 1AZ, Camden
Goodenough College, Mecklenburgh Square, London WC1N 2AB, Camden
Conway Hall, 25 Red Lion Square, London WC1R 4RL
Store Street WC1E 7DB, Camden
UCL Gower St, London WC1E 6BT
Bloomsbury is an area of the London Borough of Camden, in central London, between Euston Road and Holborn, developed by the Russell family in the 17th and 18th centuries into a fashionable residential area. It is notable for its array of garden squares, literary connections (exemplified by the Bloomsbury Group), and numerous cultural, educational and health-care institutions.
Established in 2006, Bloomsbury Festival is a creative explosion of arts, science, literature, culture and fun throughout the streets, parks, museums, galleries, laboratories and public and (normally) private buildings of this vibrant cultural quarter. For hundreds of years Bloomsbury has been a catalyst for ideas that have had impact across the world.
Bloomsbury Festival celebrates contemporary Bloomsbury; a hotbed of creativity and pioneering development which has one of the youngest and most diverse populations in the country. Created with its extraordinary community including more libraries, museums, and educational establishments than any other part of the city, the Festival acts as catalyst bringing together its diverse population, and as a spur to develop new projects and new ideas. Each year, the Festival attracts an audience of around 50,000 people.
# The final programme will be online on Bloomsbury festival website
fleursdumal.nl magazine
More in: Art & Literature News, CINEMA, RADIO & TV, DANCE, FDM in London, Literary Events, MUSIC, Street Art, STREET POETRY, THEATRE, Virginia Woolf
---
# succesvolle nieuwe productie van Het Nationale Ballet binnenkort uit op Dvd & Blu-ray # stersolist Anna Tsygankova danst hoofdrol # release datum 30 september 2016
Mata Hari van Het Nationale Ballet komt vrijdag 30 september uit op Blu-ray en Dvd. Het nieuwe, grootschalige ballet over het turbulente leven van de Nederlandse spionne én danseres Mata Hari ging afgelopen februari in wereldpremière bij Het Nationale Ballet. Het ballet verbeeldt het leven van de Friese Margaretha Geertruida Zelle – zoals Mata Hari's echte naam luidde. – een van de meest iconische vrouwen in de Nederlandse geschiedenis.
Stersoliste Anna Tsygankova danst haar veelgeprezen hoofdrol van Mata Hari. Het leverde Tsygankova een nominatie op voor de dansprijs de Zwaan voor meest indrukwekkende dansprestatie 2016 – bekendmaking 7 oktober 2016. De mannelijke hoofdrollen worden gedanst door eerste solisten Jozef Varga, Artur Shesterikov en Casey Herd.
Choreograaf Ted Brandsen zoomde vooral in op Mata Hari's vermogen om zichzelf 'als een Madonna of Lady Gaga van honderd jaar terug – steeds opnieuw uit te vinden' aldus Brandsen. Daarbij is het vooral haar overlevingsdrang, haar wil om hoe dan ook iets van haar leven te maken, die hem raken.
'Het gewone, reële leven was voor haar te klein, dus maakte ze dat leven groter, creëerde ze haar eigen realiteit.'
'Mata Hari's persoonlijkheid is', zegt librettist Janine Brogt, 'groter dan het leven zelf. Haar handelingen waren altijd theatraal, van een geïntensiveerde realiteit. Ze was een godin, duivelin, tovenares, diva, verschoppelinge. Ze was net zo veranderlijk als het weer, had tientallen gezichten. Ze is een mysterie, een droom, een mythe.'
Artistiek team
Ted Brandsen (choreografie) werkte naast Janine Brogt (libretto), samen met de Britse componist Tarik O'Regan. De kostuums voor Mata Hari zijn ontworpen door François-Noël Cherpin. Het decor- en lichtontwerp is van het ontwerpersduo Clement & Sanôu (Eddy van der Laan en Pepijn Rozing). Met muzikale begeleiding van Het Balletorkest onder leiding van Matthew Rowe.
De pers over Mata Hari:
"Rijke, weelderige scenes (…) Met zijn enscenering heeft Ted Brandsen een indrukwekkend monument gecreëerd (…) een lust voor het oog."
SWR Radio Duitsland, Natali Kurth
"(…) magistrale Anna Tsygankova in de hoofdrol. Mata Hari is een grootschalig ballet en er is uitgepakt (…) fraaie kostuums (…) inventieve decors (…) Ook de keuze van Tarik O'Regan als componist is een gelukkige."
De Telegraaf, Bertjan ter Braak (****)
"Een daverend Gesamtkunstwerk (…) Grote, wervelende groepsstukken en krachtige duetten wisselen elkaar af. (…) daverende uitvoering van de dansers."
Theaterkrant.nl, Marcelle Schots (****)
"Anna Tsygankova is on stage practically from curtain-up to curtain call, which is a real treat. Her movements have a feline quality that combines tensile strength with softness and fluidity, suggesting a piece of velvet elastic."
Dance Europe, Susan Pond
"The scope is breathtaking. The ballet finds its heart in the woman herself. (…) Anna Tsygankova brings her talent and charisma to the role, creating a woman of leonine courage and one we genuinely care about."
Dancing Times, Maggie Foyer
Mata Hari is opgenomen in High Definition met 5.1 surround sound. De regie is in handen van Jeff Tudor van 3 Minutes West in een coproductie met Het Nationale Ballet. Het gezelschap en de Amsterdamse productiemaatschappij werkten eerder samen bij de registraties van Cinderella, het Hans van Manen Festival, Giselle, Don Quichot, Gala – 50-jaar Het Nationale Ballet en Notenkraker & Muizenkoning. De dvd en Blu-ray worden uitgebracht door EuroArts. Beide uitgaven zijn onder andere verkrijgbaar in de (web)winkel van Nationale Opera & Ballet, Amsterdam.
# Meer info website Nationale Opera & Ballet
Dvd cover Mata Hari
Danser: Anna Tsygankova
Foto: Marc Haegeman
magazine fleursdumal.nl
More in: Art & Literature News, Mata Hari, MUSIC, THEATRE
---
Over the past seven years, NEU NOW has established an innovative international festival that features a curated selection of emerging artists entering international art arenas. For the eighth edition, NEU NOW returns to the spaces of the Westergasfabriek to present a multidisciplinary programme that aims to highlight cultural exchange and the fluid character of the artistic disciplines.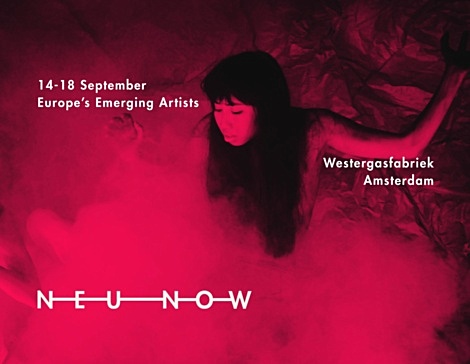 NEU NOW 2016 is a five-day celebration of arts in Amsterdam that welcomes 60 artists from 18 countries. From the 14th to the 18th of September, NEU NOW brings together a generation of rising artists from across Europe and beyond to share their works, practices and cultural perspectives in ways that encourage future collaborations.
NEU NOW exhibition
At the heart of the festival is the NEU NOW exhibition. Located in the Machinegebouw at the Westergasfabriek, NEU NOW exhibition houses 12 artworks from a broad range of disciplines including design, architecture, visual art and more. On Sunday the 18th of September, each exhibiting artist will present and explain their work in an interactive artist talk that explores their unique artistic practice and perspective. The exhibition is open every day and free of charge.
Artists on view at NEU NOW exhibition are:
Design/Architecture
Emilia Strzempek-Plasun (PL), Emma Dahlqvist (SE), Katalin Júlia Herter (HU), Stine Aas (NO)
Visual Arts
Alberto Condotta (UK), Alicja Symela (PL), Massimiliano Di Franca (BE), Jaeyong Choi (DE), Jonas Böttern and Emily Mennerdahl (SE), Lana Ruellan (FR), Lea Schiess (NL), Yi-Ting Tsai (TW), Viktorija Eksta (LV), Vladimir Novak (CR), Eva Giolo (BE)
NEU NOW performance
This year NEU NOW performance will take place in the Westergastheater and its surrounding area, with two or more exciting performances occurring daily. From theatre and dance, to music and sound, the performances offer a variety of themes and styles. After each performance visitors are invited to join the NEU NOW artist talks.
Performing artists are:
Theatre/Dance
Destiny's Children (CH), Hsu Chen Wei Production Dance Company (TW), Nína Sigridur Hjalmarsdottir (IS), Theodore Livesey & Jacob Storer (BE), Zapia Company (SP)
Music/Sound
Jimmi Hueting (NL) , Teresa Doblinger (CH), Topos Kolektiv (CZ)
NEU NOW film
The 90 minute NEU NOW film programme at Ketelhuis will feature screenings of a variety of genres.
Film/Animation
Andrea Alessi (IT), HXZ (BE), Marek Jasan (SK), Sophie Dros (NL), Yaron Cohen (NL)
NEU NOW next
In addition to the core programme, NEU NOW invites visitors to delve deeper into their understanding of the presented artworks and artistic practices by getting involved in a variety of artist talks offered onsite at the Westergasfabriek. NEU NOW is also proud to present its very first speaker's programme, during which a variety of influencers from the art world will talk about the ever-pressing issue of (Making a) Living in the Arts.
The speaker's programme is free of charge and open to the public.
NEU NOW nacht
On the evening of Saturday the 17th of September, NEU NOW, in collaboration with Warsteiner, invites visitors to enjoy a festive late-night programme, with music, drinks, and much more. Music of the night will be provided by deadHYPE and Jimmie Hueting's avant-garde pop band Jo Goes Hunting.
View the timetable for the exact dates and times.
NEU NOW 2016 will be held at Amsterdam's Westergasfabriek from the 14th to the 18th of September 2016.
Locations Amsterdam NL
NEU NOW exhibition – Machinegebouw, Pazzanistraat 8
NEU NOW performance – Westergastheater, Pazzanistraat 15
NEU NOW film – Het Ketelhuis, Pazzanistraat 4
# More information on website NEU NOW 2016
fleursdumal.nl magazine
More in: Art & Literature News, CINEMA, RADIO & TV, DANCE, Design, Exhibition Archive, Fashion, Literary Events, MUSIC, Photography, THEATRE
---
Op het Museumplein en rondom het Leidseplein in Amsterdam presenteert de 39ste editie van de Uitmarkt onverwachte combinaties, theatrale gekte, muziek in alle toonaarden, pop up voorstellingen en een stille disco. Vertrouwde gasten en verrassende nieuwkomers verwelkomen je graag bij hun optredens. Zo pakt Yuri Honing in de Jazz club van het Concertgebouw uit, toont Conny Janssen Danst Courage in de Stadsschouwburg Amsterdam en het muzikale cabaretduo Maartje & Kine gaat los in Bellevue. Met meer dan 350 gratis optredens is de Uitmarkt hét culturele evenement van Nederland.
Opening: Om 21 uur presenteert Jörgen Raymann op vrijdag 26 augustus het openingsprogramma op het Museumplein, met onder meer Jeangu Macrooy, Lucas Hamming, Capella Amsterdam en Cirque Eloize. The New Cool Collective is de trouwe huisband van dienst deze avond. Zij zetten de toon voor een lang weekend cultuur.
Orkesten: Maar liefst zeven orkesten laten van zich horen op de Uitmarkt, zoals het Jazz Orchestra of the Concertgebouw, het Residentie Orkest en het Orkest van de 18e eeuw. Op zondagavond is de vertrouwde afsluiting met het Metropole Orkest en de Musical Sing a Long.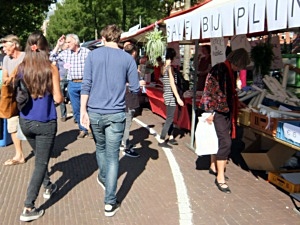 Talent groeit: Naast de grote podia met bekende artiesten is er op de Uitmarkt ook volop ruimte voor jonge talentvolle makers. Kris kras over het Museumplein loopt de Yellow Brick Road waar de nieuwe generatie makers zich presenteert te midden van het publiek. Drijvende kracht achter de Yellow Brick Road zijn de talentontwikkelaars, zoals Nowhere, Solid Ground Movenment, Don't hit mama, Poetry Circle Nowhere, Spin Off en Theater De Gasten. Op en rondom het Vrije Uitloop-podium pakt het Amsterdam Fringe Festival uit met een theatraal kippenhok.
Uitmarkt Junior: Speciaal voor de jeugd is er een eigen programma met optredens en activiteiten. Bij Kids@work kunnen kinderen zelf aan de slag – acteren, schilderen of een filmpje maken; het kan allemaal.
Uitmarkt Boeken & Informatie: Welke boeken gaan we lezen en welke exposities en voorstellingen mogen we niet missen? Op de Informatiemarkt presenteren culturele ins1tellingen hun aanbod en op de Uitmarkt Boeken kun je zowel nieuwe schrijftalenten als bekende auteurs spotten.
Uitmarkt 2016
Landelijke opening cultureel seizoen
Op het Museumplein en rondom het Leidseplein in Amsterdam
Vrijdag 26, Zaterdag 27 en Zondag 28 augustus 2016
# Meer info op website Uitmarkt
fleursdumal.nl magazine
foto: fdm mag
More in: Art & Literature News, CINEMA, RADIO & TV, DANCE, Literary Events, MUSIC
---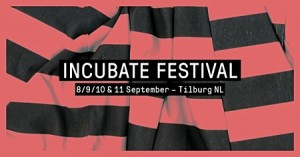 Incubate is the annual celebration of cutting-edge culture. It is a festival exhibiting a diverse view on indie culture as a whole, including music, visual arts, film and contemporary theater, and a conference. For the upcoming May edition it brings more than 70 cutting edge artists in an intimate context to an international audience. Black metal next to free jazz. Refresh art next to inspiring debate.
# Incubate Festival
# 8/9/10/11 September 2016, TILBURG (NL)

33 artists: Deerhoof – Yob – Psychic Warriors of Gaia – SHACKLETON presents: POWERPLANT – Ramesses – Wrangler – Nothing – Silver Apples – Laraaji – Black Cobra – Cult of Dom Keller – Pop. 1280 – Sam KDC – Kayo Dot – Mutilation Rites – DJ. Flugvél og Geimskip – Presha – Ena – La Hell Gang – Vitamin X – Aidan Baker & Tomas Järmyr – Employed to Serve – Mathieu Serruys – Wiegedood – Otto Lindholm – Orphax – BJ Nilsen – Edgars Rubenis – TVO – Zeno van den Broek – Microseq – Tasos Stamou – Adolf Butler
fleursdumal.nl magazine
More in: Art & Literature News, DANCE, MUSIC, The talk of the town, THEATRE
---
We need to Talk, Dream, See, Listen, Create, Upcycle, Eat & Drink, Dance, Love, Enjoy . . .
In augustus en september neemt creatief platform voor sociale verandering Beauty without Irony de eerste verdieping en de kasteeltuinen van Kasteel Sterckshof over en presenteert er een groot aantal kunstenaars die u zullen verrassen met workshops, expos, installaties optredens en ander moois, waarbij u ook zelf desgewenst de handen uit de mouwen kunt steken, om zo uw eigen bijdrage te leveren aan het maken van een mooiere wereld. BWI wil focussen op wat ons verbindt (met de nadruk op pure schoonheid), niet op dat wat ons nog wat verder uiteen drijft. Samen zijn we zoveel sterker dan alleen.
Beauty Overdose
Kasteel Sterckshof – Antwerpen
30 juli- 25 september 2016

Beauty Overdose by BWI
Met werken over pure schoonheid van oude en nieuwe liefhebbers van het BWI concept, uit zowel binnen- als buitenland. De volgende kunstenaars nemen deel aan Beauty Overdose: Mick Traen, Faryda Moumouh (fotografie), Emerald Rose Whipple (schilderijen), Dino Dinco (foto), Little Sun by Olafur Eliasson (installatie), Anne-Mie van Kerckhoven (schilderijen), Felix Richter (fotografie), Mark Titchner (banner), Jarno Kettunen (tekeningen), Dominik Gigler (fotografie), Javier Barcala (fotografie), Thomas Vanhaute (fotografie), Jef Paepen (fotografies), Chris Plytas (fotografie), Ben Deckers (schilderijen), Serge Vereecken (etsen), Oskar Lindholm (fotografie), Christopher Lee Sauvé (grafiek), Valérie Servant (fotografie), Hannah Rouffa (fotografie), Pascal Heymans (fotografie), Thierry Van Biesen (fotografie), Adam Munro (fotografie), Charlie De Keersmaecker (fotografie), Jean Claude Wouters (fotografie), Layla Aerts (fotografie), Anina Net (fashion, LED dresses, workshop), Jan Van Santvliet (fotografie), Mariët Hylkema (schilderijen), Jessica Antola (fotografie), Ben Van Alboom (fotografie), Kristof Van Heeschvelde (schilderijen), Vincent Gagliostro (fotografie), WallDog (fotografie & video) …
Binnen Beauty Overdose vinden er ook verschillende deelprojecten, workshops en concerten plaats in Sterckshof. Hier een overzicht.
BWI Art Vlaggen
Met: Javier Barcala, Nick Hannes, Felix Richter, Titus Simoens, Mick Traen, Thierry Van Biesen …
Wall of Beauty
Voor deze wall wordt vertrokken vanuit de allermooiste beelden uit het eerste BWI-boek en daarna wordt het alleen maar beter – neem je prachtigste foto's (op A4-formaat) mee en maak het geheel zelf nog mooier!
Met: Antonio Paladino & Serkan Sarier, Christopher Lee Sauvé, OKAR (Oskar Lindholm), Elke Boon, Lars Stephan, Filip Van Roe, Diego Franssens, Filip Naudts, Tom Tosseyn, Jimmy Kets, Peggy Sirota, Glenn Glasser, Ellie Van Den Brande, Valérie Servant…
Robotic Dress & Motion Dress by 360Fash Tech Kits (30/7 – 4/8)
Anina Net is CEO van 360Fashion Technology Network en experte in smart clothing en accessories gemaakt met behulp van haar 360 Fash Tech Kits, speciaal gemaakt voor ontwerpers en andere creatievelingen die niet zo handig zijn met coding en met de LED Ribbon, een flexibele band van satijn met micro led-lampjes en geconnecteerde bedrading dat vrijwel onzichtbaar in bijvoorbeeld kleding en handtassen verwerkt kan worden
Op 'Beauty Overdose' zal Anina Net haar 'Robotic Dress' tonen, die werd ontworpen door Michal Starost en de 'Motion Dress', gemaakt door modelabel R Factory. Daarnaast toont Anina ook enkel ehandtassen van LIBET waarin de LED Ribbon werd verwerkt.
Sociaal-artistiek project met foto's van Adam Munro en interviews door Ninette Murk, waarbij bewoners van de Grapheusstraat in Deurne–Dorp (300 meter van kasteel Sterckshof gelegen) vertellen wat zij het allermooiste vinden in hun straat.
Workshops en optredens
Art-Tea high teas & dinners
Repair Café
Tai chi workshops & fotografie expo (Jan Van Santvliet)
Role Play Group
Burlesque group (Ayke)
Hip hop workshops (Kris Strybos / Scale)
Voice coaching
Morning dew walks
Plus wekelijks gratis live muziek optredens in Bar Stark (bij goed weer buiten).
Op www.beautywithoutirony.com vindt u een overzicht van het programma.
Over Beauty without Irony
Creatief platform voor sociale verandering Beauty without Irony (BWI-2001), isvooral bekend is geworden met hun eerste project Designers against AIDS (DAA- 2004), waarvoor werd samengewerkt met zowat alle Belgische en veel internationale ontwerpers en bedrijven zoals H&M, Marc Jacobs, Playboy Design, Delvaux, Eastpak, Essentiel en JBC. BWI is ook de motor van het 'Youth For A Better World Center' in Deurne (2010) waar het team samen met Belgische en internationale studenten uit creative disciplines werkt aan nieuwe campagnes rond sociale themas die interessant en belangrijk zijn voor jongeren. Zowel BWI als DAA gebruiken elementen uit de pop cultuur om te werken rond thema's zoals HIV preventie, echte schoonheid, zelfvertrouwen bij jonge vrouwen en ecologie en zij doen dat voornamelijk online, met af en toe een event of project IRL, zoals momenteel de expositie Beauty Overdose.
Concept: Ninette Murk, Kim Kindermans, Peter Gubbels
www.beautywithoutirony.com
Beauty Overdose is vanaf 30 juli tot en met 25 september elke zaterdag en zondag tussen 14 en 18 u gratis te bezichtigen.
Adres: Kasteel Sterckshof, Hooftvunderlei 160 (ingang via Cornelissenlaan 10), 2100 Deurne (Nabij Antwerpen BE).
fleursdumal.nl magazine
More in: Art & Literature News, CINEMA, RADIO & TV, DANCE, DICTIONARY OF IDEAS, Exhibition Archive, Photography, THEATRE
---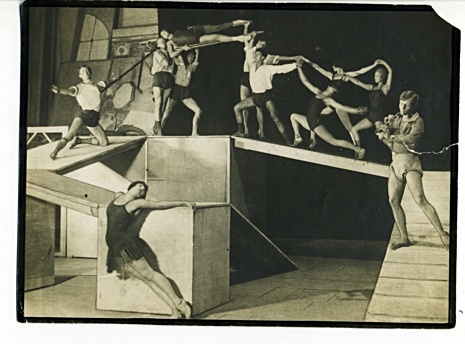 Repetitie Joseph the Beautiful, Odessa Theatre of Opera and Ballet, 1926. K. Goleizovsky, B. Erdman & S. Vasilenko / Kas'ian Goleizovsky Repository. Collectie Familie Goleizovsky, Moskou
Space Embodied, vanaf 12 juni te zien in Het Nieuwe Instituut, gaat over het streven naar een nieuwe, vrije mens, zoals gepropageerd door de Russische avant-garde. Space Embodied is een installatie over het lichaam in beweging: levensgrote projecties van dansers, een dansvloer, decorstukken en spiegels confronteren de bezoeker op een even directe als fysieke manier met het historische materiaal uit de jaren twintig van de vorige eeuw.
Voor veel kunstenaars in de vroege twintigste eeuw is 'de nieuwe mens' een belangrijk thema. Meer dan ooit tevoren wordt het menselijk lichaam het onderwerp van artistiek experiment. Zeker in Rusland, waar de revolutie de complete maatschappij en dus ook de kunst radicaal wil veranderen, richt de avant-garde zich op de totstandkoming van een nieuwe, vrije mens. Architecten, schilders, componisten, ontwerpers, filmers: binnen allerlei disciplines worden conventies doorbroken. Samenwerking tussen de vakgebieden is deel van deze nieuwe revolutionaire kunstpraktijk.
De geest van de revolutie beïnvloedt ook het ballet, een kunstvorm die bij uitstek om het menselijk lichaam draait. In de jaren twintig ontwikkelt de vrije dans zich stormachtig. De nieuwe choreografieën, aanvankelijk in Rusland geïntroduceerd door de Amerikaanse danseres Isadora Duncan, kiezen de natuurlijke beweging als alternatief voor de academische patronen van het klassieke ballet. Het lichaam dient te worden bevrijd van allerlei sociale en seksuele conventies. Deze experimentele benadering is ook terug te vinden in de kostuums en decors die de ruimte rond de dansers moet transformeren. En dankzij recent ontwikkelde fotografische en cinematografische technieken kunnen de opwindende vernieuwingen van toen nu worden vastgelegd.
De installatie Space Embodied concentreert zich op de erfenis van de Russische vrije dans, en vooral op de visuele taal die kunstenaars en fotografen daaraan gaven. Hun fascinatie was met name gericht op de relatie van het dansende lichaam tot de ruimte, de muziek en de politiek van het revolutionaire Rusland. De bloei van de vrije dans duurt maar kort. Al in de jaren dertig werden de meeste dansstudio's op last van de communistische machthebbers gesloten, omdat ze te 'formalistisch' zouden zijn. Dat weerhield het Stalin-regime er later niet van om allerlei elementen uit de choreografieën te gebruiken in films en bij de massale gymnastische opvoeringen, die zo specifiek zijn voor dit politieke regime.
Grafisch ontwerpers Experimental Jetset en fotograaf Johannes Schwartz baseerden Space Embodied op oorspronkelijke decors. In drie delen (Space, Body en Movement) worden beelden getoond van de uitzonderlijk creatieve samenwerking tussen dansers en fotografen, scenografen en choreografen. De grondslag hiervoor ligt in een diepgaand onderzoek van de Italiaanse kunsthistorica Nicoletta Misler. Haar boek V Natsjale Bilo Telo (In het begin was er het lichaam) documenteert de veranderende blik op het menselijk lichaam in de Russische kunst van de periode 1900-1930.
12 juni 2016 t/m 8 januari 2017
Het Nieuwe Instituut
Space Embodied. The Russian Art of Movement 1920-1930
Het Nieuwe Instituut
Museumpark 25
3015 CB Rotterdam
Telefoon: 010-4401200
# Meer info website HET-NIEUWE-INSTITUUT
fleursdumal.nl magazine
More in: Art & Literature News, Constuctivisme, DANCE, Exhibition Archive, THEATRE
---
Holland Festival 2016
Nelken
Tanztheater Wuppertal Pina Bausch
16 t/m 19 juni 2016
Stadsschouwburg Amsterdam
Een van haar mooiste werken wordt het genoemd. In 1982 maakte Pina Bausch Nelken en sindsdien is het nooit meer van het repertoire verdwenen. Na vijf jaar is het Tanztheater Wuppertal van Bausch, die in 2009 overleed, terug in Nederland met deze tijdloze klassieker uit haar oeuvre. Nelken is een universum op zichzelf. Befaamd is het prachtige toneelbeeld van Bausch' vaste scenograaf Peter Pabst: duizenden anjers die uit het toneel omhoog lijken te groeien. Wie het ooit zag, is het beeld nooit meer vergeten. Daartussendoor banen de dansers zich een weg over het podium: Bausch' eeuwige slagveld van de liefde.
Het gezelschap Tanztheater Wuppertal, opgericht door dansvernieuwer Pina Bausch (1940 – 2009), keert terug naar het Holland Festival met een reprise van Nelken (1982). Het stuk belichaamt Bausch' interpretatie van het land Arcadië uit de klassieke oudheid: een mythologisch paradijs van vóór het begin van de menselijke geschiedschrijving, waar altijd bloemen bloeien en de zon schijnt. Een droomland, dat ook onherroepelijk verloren is gegaan.
In haar leven en carrière kreeg choreografe en danser Philippine Bausch (1940-2009), beter bekend onder haar bijnaam Pina, een legendarische status als radicale dansvernieuwer. Vanaf 1973 tot aan haar dood zwaaide ze de scepter bij het Tanztheater Wuppertal, en ontwikkelde daar een unieke toonaangevende stijl.
'Nelken has lost none of its power' – The Guardian
HOLLAND FESTIVAL
Stadsschouwburg Amsterdam
Leidseplein 26
1017 PT Amsterdam
t. (0)20 – 523 77 87
# Meer info op website Holland Festival
fleursdumal.nl magazine
More in: Art & Literature News, Holland Festival, Pina Bausch, THEATRE
---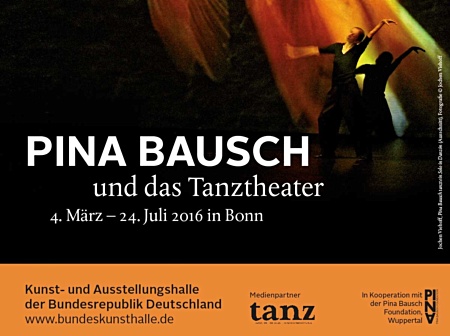 Pina Bausch en het danstheater
Expositie t/m 24 juli 2016
Kunst- und Ausstellungshalle der Bundesrepublik Deutschland GmbH – Museumsmeile Bonn DE
Pina Bausch (1940-2009) wordt gezien als een pionier van het moderne danstheater en als een van de meest invloedrijke choreografen van de twintigste eeuw. De tentoonstelling in de Bundeskunsthalle is de eerste die haar werk aan een breder publiek presenteert. Samen met haar gezelschap ontwikkelde Pina Bausch de artistieke vorm van danstheater waarin theater, dans en performance worden ghttp://www.bundeskunsthalle.de/en/home.htmlecombineerd. Haar vernieuwende aanpak verwierp niet alleen ronduit de conventies van het klassieke ballet, maar oversteeg ook de preoccupatie met de formele principes die de meeste moderne dans karakteriseert.
De objecten, installaties, foto's en video's die worden voorgesteld gepresenteerd zijn afkomstig uit de unieke collectie van het Pina Bausch Archief. Het hart van de tentoonstelling is de reconstructie van de 'Lichtburg', de legendarische repetitieruimte in een oude bioscoop Wuppertal waar Pina Bausch, in samenwerking met haar dansers, het grootste deel van haar stukken ontwikkelde. Buitenstaanders worden zelden toegelaten tot deze intieme ruimte. In de Bundeskunsthalle wordt het een platform voor inspiratie en uitwisseling. Leden van het gezelschap laten de bezoekers kennismaken met de kwaliteit van de beweging in het danstheater en met korte sequenties van dansbewegingen.
Voorstellingen, dansworkshops, openbare repetities, gesprekken, films en nog veel meer transformeren de repetitieruimte in een levendige, experimentele ruimte voor bezoekers.
Deze tentoonsteling kwam tot stand i.s.m. de Pina Bausch Foundation, Wuppertal.
Kunst- en tentoonstellingshal van de Bondsrepubliek Duitsland
(Kunst- und Ausstellungshalle der Bundesrepublik Deutschland GmbH)
Museumsmeile Bonn
Friedrich-Ebert-Allee 4
53113 Bonn
tel. +49 228 9171–200
# meer info website Bundeskunsthalle – Bonn
Als museumhuis voor wisseltentoonstellingen biedt de Kunst- en tentoonstellingshal van de Bondsrepubliek Duitsland (Bundeskunsthalle) een gevarieerd programma van internationale betekenis. Kunst en cultuurgeschiedenis, wetenschap en techniek zijn daarbij de onderwerpen waar het om draait. Op een oppervlak van 5.600 m2 kunnen tot wel vijf exposities van verschillende grootte gelijktijdig gepresenteerd worden. Er staan per jaar zo'n acht grote tentoonstellingen op het programma. Sinds de opening in 1992 konden er meer dan 200 tentoonstellingen worden aangeboden. In deze periode hebben al meer dan 16 miljoen gasten uit de hele wereld de Bundeskunsthalle bezocht.
Openingstijden:
Dinsdag en woensdag 10–21 uur
Donderdag t/m zondag 10–19 uur
Maandag gesloten
Vrijdag vanaf 9 uur voor groepen geopend.
fleursdumal.nl magazine
More in: Art & Literature News, Galerie Deutschland, Pina Bausch, THEATRE
---
Genese Dada
100 Jahre Dada Zürich
bis 10. Jul 2016
"Wie erlangt man die ewige Seligkeit? Indem man Dada sagt. Wie wird man berühmt? Indem man Dada sagt. Mit edlem Gestus und mit feinem Anstand. Bis zum Irrsinn, bis zur Bewusstlosigkeit."
Hugo Ball
Über die Aus­stel­lung
Am 5. Februar 1916 von Hugo Ball, Emmy Hennings, Marcel Janco, Tristan Tzara und Hans Arp im »Cabaret Voltaire« in Zürich gegründet, ist Dada eine der progressivsten Kunstbewegungen des 20. Jahrhunderts. Zum 100-jährigen Jubiläum lässt das Arp Museum Bahnhof Rolandseck die bedeutenden Geburtsorte Dadas wieder aufleben: die legendäre Künstlerkneipe »Cabaret Voltaire« und die bürgerliche »Galerie Dada«. Ausgehend von diesen beiden Polen revolutionierten die Dadaisten innerhalb kürzester Zeit die internationale Kunstwelt. Neben ihren eigenen Arbeiten zeigten sie dort Werke von internationalen Avantgarde-Künstlern wie Giorgio de Chirico, Pablo Picasso, Paul Klee und Elie Nadelman, die nun auch in der Ausstellung zu sehen sind. Die Kunstwerke werden in eine lebhafte Inszenierung eingebettet, die den vielsKünstlerinnen und Künstler der Ausstellung
Genese Dada. 100 Jahre Dada Zürich
Anonym (Meister der Magdalenen-Legende)
Hans Arp
Hugo Ball
Heinrich Campendonk
Giorgio De Chirico
Jacoba van Heemskerck
Richard Huelsenbeck
Marcel Janco
Paul Klee
Oscar Lüthy
August Macke
Francois-Joseph Martin
Elie Nadelmann
Max Oppenheimer
Pablo Picasso
Hilla Rebay
Otto Van Rees
Adya Van Rees-Dutilh
Arthur Segal
Sophie Taeuber
Tristan Tzarachichtigen gesellschaftlichen und intellektuellen Nährboden verdeutlicht, aus dem Dada entstanden ist. Themengebiete wie Psychologie, Literatur und politisch-soziokulturelle Revolte spiegeln dabei den Zeitgeist wider und machen die Entstehung von Dada anschaulich.
In Zusammenarbeit mit dem Cabaret Voltaire, Zürich
"Dada ist schön wie die Nacht, die einen jungen Tag in ihren Armen wiegt."
Hans Arp
100 Jahre Dada: Das große Fest des kultivierten Un-Sinns
"Genese Dada. 100 Jahre Dada Zürich: Das Arp Museum feiert das große Dada-Jubiläum 2016 mit einer ebenso fulminanten wie substantiellen Ausstellung, die die Entstehung der für die Moderne so wichtigen Kunstrichtung anschaulich nachverfolgt. (Ausstellungsdauer bis 10. Juli 2016)
Einen zentralen Beitrag zum europaweit gefeierten Dada-Jahr stellt die große Ausstellung »Genese Dada. 100 Jahre Dada Zürich« (14. Februar bis 10. Juli 2016) im Arp Museum Bahnhof Rolandseck dar, die in Kooperation mit dem Direktor des Cabaret Voltaire in Zürich, Adrian Notz, erarbeitet wurde. »Wie aus einer künstlerischen Laune eine revolutionäre internationale Kunstrichtung wird und welche Rolle die beiden mit Rheinland-Pfalz verbundenen Künstlerpersönlichkeiten Hugo Ball und Hans Arp spielen, ist in dieser fantastischen Ausstellung mit größtem Vergnügen zu erleben«, kommentiert der rheinland-pfälzische Kulturstaatssekretär Walter Schumacher.
Am 5. Februar 1916 von Hugo Ball, Emmy Hennings, Marcel Janco, Tristan Tzara und Hans Arp im Cabaret Voltaire in Zürich gegründet, wurde Dada zu einer der zentralen Kunstbewegungen des 20. Jahrhunderts. Anlässlich des Jubiläums widmet sich das Arp Museum Bahnhof Rolandseck den Anfangsjahren der Kunstbewegung und erweckt die bedeutenden Entstehungsorte Dadas wieder zum Leben: die legendäre Künstlerkneipe »Cabaret Voltaire« und die eher bürgerlich orientierte »Galerie Dada«. »Als Gegengewicht zum dionysischen Cabaret wurde die apollinische Galerie eingesetzt. Nur durch die beiden Komponenten Cabaret Voltaire und Galerie Dada konnte die Unruh von Dada in Schwingung gebracht werden«, bewertet Adrian Notz.
Die Abkehr vom Krieg und die Entdeckung des Nichts
Im Wechselspiel zwischen den beiden gegensätzlichen Geburtsstätten entwickelte sich im damals äußerst kosmopolitischen Zürich – einer der Flüchtlingsmetropolen Europas – der Geist Dadas. Ein wichtiger Ausgangspunkt war der überzeugte Pazifismus der Protagonisten. Selbst die Künstler, die sich anfangs dem allgegenwärtigen Kriegstaumel nicht ganz entziehen konnten, sagten sich von ihm los und versuchten, die Geschehnisse jenseits der so sicher erscheinenden Gebirgsketten zu verdrängen. Gleichzeitig waren es die Grauen des Krieges, die alles Bestehende so nichtig erscheinen ließen – und das Nichts so zum neuen Gott erhoben.
Die große Revolte gegen die Traditionen und Konventionen – ohne politische Ideologie
Zugleich wurden die bürgerliche Gesellschaft und ihr gängiger Wertekanon, die den Ersten Weltkrieg hervorgebracht hatten, zur Zielscheibe des künstlerischen Protestes erklärt. Die etablierte Kunst als Teil dieser Gesellschaft wurde als reaktionär und überholt abgelehnt.
Stattdessen suchten die Dadaisten nach neuen Ausdrucksformen, in der darstellenden wie in der bildenden Kunst. In den legendären Soireen im Cabaret Voltaire wurde gedichtet, gesungen, hinter Masken getanzt und den anarchischen Kräften von Geist und Körper Tribut gezollt. Die bisweilen absurde dadaistische Performance war durchaus mehr als eine Narretei – und doch war sie kein Akt dezidierten politischen Protestes. Die Dadaisten verweigerten sich einer klaren Zuordnung zu einer politischen Haltung. Vielmehr war es die Macht der Ratio und ihrer vermeintlichen Strategien, die nun zum Urgrund aller kollektiven Verbrechen erklärt wurde. So erteilten die Künstler der Logik eine radikale Absage.
Befreiung der Sprache und Lob des Archaischen sowie der mystischen Naturverbundenheit
Der Abgesang auf die herrschenden Mächte und ihre Propaganda führte zu neuen Formen des sinnlichen, aber unsinnigen Sprachgebrauchs. In Simultan- und Lautgedichten suchten die Dadaisten die Grenzen des Vernunftdenkens zu überwinden. In mystischen Übungen diente das Unterbewusstsein als Quelle des unmittelbar Schöpferischen, wobei zeitgenössische Theorien und wissenschaftliche Schriften der Psychoanalyse, etwa von C. G. Jung, wichtige Impulse lieferten.
In ihrer Suche nach vorsprachlichen, urwüchsigen Ausdrucksformen und einer Sehnsucht nach der vorzivilisierten Natur spiegeln die Dadaisten einen Aspekt des Zeitgeistes. Die Lebensreformer und Nudisten, die etwa zeitgleich im schweizerischen Ascona auf dem Monte Verità im Einklang mit der Natur lebten und mit den Dada-Künstlern in regem Austausch standen, sind hier beispielhaft zu nennen.
Auch das starke Interesse an der afrikanischen Kunst, die mit dem so genannten Primitivismus weithin ihre Würdigung erfuhr, fügt sich hier ein. Von Klischees geprägt, wird die so genannte »Negerkunst« in europäischen Ausstellungen gefeiert und ihre Formensprache zu adaptieren versucht. Die exotischen Rhythmen wiederum lieferten Inspiration für theatralische Darbietungen und maskierte Tänze, in denen man das Unmittelbare, Spontane und Unkontrollierbare anstrebte, das mit den Kulturpraktiken primitiver Stämme assoziiert wurde.
Vom Zürcher Kabarett zur Internationalen Bewegung
Die »wilde« Initiationsphase im Cabaret Voltaire setzte sich in der benachbarten Galerie Dada fort. Mit dem Ortswechsel lässt sich jedoch auch eine gewisse Professionalisierung erkennen. Durch öffentliche Führungen und den Kontakt zu Journalisten sollte gezielt ein kunstaffines Publikum erreicht werden. Neben den Soireen wurden in der Galerie vermehrt Ausstellungen gezeigt, bei denen auch Werke namhafter internationaler Avantgarde-Künstler zu sehen waren. Die Ablehnung der etablierten Kunst durch die Dadaisten wandelt sich hier in das Bestreben, mittels Bezügen zum Surrealismus, Futurismus oder Kubismus den Anschluss an die internationale Kunstszene zu gewinnen. Die dadaistischen Manifeste und Schriften, die Hugo Ball und seine Mitstreiter publizierten, dienten dabei als Medium der Verbreitung. Es bildeten sich Dada-Zentren in Hannover, Berlin und Köln aber auch in Paris und New York, und Dada revolutionierte innerhalb kürzester Zeit die Kunstwelt.
Dada – kein Stil, sondern . . .
Die Ausstellung widmet sich intensiv dem intellektuellen und wissenschaftlichen Nährboden der Zeit, aus dem Dada hervorging. Themen wie Mystik, Psyche, Revolte, Philosophie und Literatur stehen dabei in engem Wechselspiel zu den verschiedenen künstlerischen Formen und Praktiken, die sich unter dem Einfluss der Dadaisten in eine gänzlich neue Richtung entwickelt haben – von Tanz, Theater, Poesie und Neuer Musik bis hin zu Masken und Kostümen, Collagen, Objekten, Gemälden und Grafiken. Entscheidend ist hierbei die im Ausstellungskatalog festgehaltene Schlussfolgerung des Dada-Kenners Tobia Bezzola, dass sich der Dadaismus nicht auf einen Stil reduzieren lasse. Anders als andere Ismen der modernen Avantgarden sei Dada nicht an einer spezifischen Form zu erkennen und an ihr zu charakterisieren. Als proklamierte »Stunde Null« in der Kunst stellt Dada somit einen Bruch mit einer chronologisch nachvollziehbaren Stilentwicklung dar, wie sie die Kunstgeschichte von der Neuzeit bis zur Postmoderne konstruiert. Damit wird die Dada-Bewegung zum Modellfall für nachfolgende Strömungen wie Fluxus oder auch die Performance- und Aktionskunst.
Von der Dada-Schleuse zur Rauminszenierung
In der Ausstellung werden Werke aus dem engeren Kreis der Zürcher Dadaisten (Hans Arp, Hans Richter, Marcel Janco u. a.) in ihrem künstlerischen Umfeld (Arthur Segal, Max Oppenheimer, Adya und Otto van Rees u. a.) präsentiert. Hinzu kommen Gemälde und grafische Arbeiten von Künstlerinnen und Künstlern der internationalen Avantgarde wie Heinrich Campendonk, Giorgio de Chirico, Paul Klee, August Macke, Elie Nadelman, Pablo Picasso und Hilla von Rebay, die auch in den historischen Dada-Ausstellungen zu sehen waren. Als Leihgeber konnten hierfür renommierte Sammlungen wie das Guggenheim Museum und das Museum of Modern Art, New York, das Kunsthaus Zürich, das Folkwang Museum, Essen, u. v. a. gewonnen werden.
Die Kunstwerke sind in eine anschauliche, multi-mediale Inszenierung eingebettet: Bevor die Besucher die Ausstellung betreten, durchlaufen sie eine Bild- und Klangcollage, die sogenannte »Dada-Schleuse«, die sich von den unterirdischen Tunneln über den Aufzug bis ins 1. Obergeschoss des Richard Meier-Baus erstreckt. In zwei Ausstellungskuben werden die räumliche Situation des Cabaret Voltaire und der Galerie Dada nachempfunden, so dass die unterschiedliche Atmosphäre der beiden Lokalitäten erkennbar wird. Um diese beiden Zentren gruppieren sich verschiedene Themenfelder, die die Entstehung von Dada anhand zahlreicher Kunstwerke und Zeitdokumente greifbar machen. Ergänzt wird die Präsentation durch den Film »Dada in Nuce« und durch von Adrian Notz entwickelte Diagramme, die wie das »Firmament Dada« die internationale Vernetzung der Bewegung deutlich machen.
Kuratiert wird die vielfältige Schau von Adrian Notz (Cabaret Voltaire, Zürich) und Astrid von Asten unterstützt von Sylvie Kyeck (beide Arp Museum Bahnhof Rolandseck).
Die Ausstellung wird begleitet von einem umfangreichen Katalog (deutsch/ englisch, Verlag Scheidegger & Spiess, Preis: 38 Euro), in dem unter anderem auch die Rolle Hans Arps bei der Entstehung von Dada erläutert wird. »Unser Hauspatron Hans Arp zählt zu den
Gründungsmitgliedern jener künstlerischen Bewegung, die 1916 von Zürich aus innerhalb kürzester Zeit das Kunstgeschehen weltweit nachhaltig veränderte,« so Dr. Oliver Kornhoff, Direktor des Arp Museums Bahnhof Rolandseck und künstlerischer Leiter des
Künstlerhauses Schloss Balmoral in Rheinland-Pfalz
# More info website Arp Museum Bahnhof Rolandseck
fleursdumal.nl magazine
Fotos
-Hugo Ball im kubistischen Kostüm, 1916, unbekannter Fotograf
-Dada-Tanz mit Maske (Sophie Taeuber oder Emmy Hennings?), ca. 1917 – Stiftung Arp e.V., Berlin/Rolandswerth, unbekannter Fotograf
-Hans Arp, Tristan Tzara, Hans Richter vor dem Hotel Elite, Zürich 1918 – Stiftung Arp e.V. Rolandswerth/Berlin, unbekannter Fotograf
-Marcel Janco, Plakat der Ersten Dada-Ausstellung in der Galerie Corray, 1917
More in: - Book News, Art & Literature News, Ball, Hugo, Dada, DADA, Dadaïsme, DANCE, Exhibition Archive, THEATRE
---
13/14/15 May 2016, TILBURG (NL)
(+ 8/9/10/11 September + 10/11 December)
Incubate 2016 festival
Incubate is the annual celebration of cutting-edge culture. It is a festival exhibiting a diverse view on indie culture as a whole, including music, visual arts, film and contemporary theater, and a conference. For the upcoming May edition it brings more than 70 cutting edge artists in an intimate context to an international audience. Black metal next to free jazz. Refreshing art next to inspiring debate.
Incubate – 13/14/15 May
Incubate – 8/9/10/11 September
Incubate – 10/11 December
"Het meest avontuurlijke festival van Nederland".
— Oor, September 2012
# more information on website INCUBATE

fleursdumal.nl magazine
More in: Art & Literature News, DANCE, Literary Events, MUSIC, THEATRE
---
Older Entries »
« Newer Entries
Thank you for reading FLEURSDUMAL.NL - magazine for art & literature