CINEMA, RADIO & TV
·
Jean Cocteau: The Difficulty of Being
·
Staging Beckett in Great Britain & Ireland by David Tucker and Trish McTighe
·
Queer Shakespeare. Desire and Sexuality
·
Exhibition Rasheed Araeen = A Retrospective (02/12/2017 – 25/03/2018)
·
Litz Pisk: The Actor and His Body
·
Festival Paris En Toutes Lettres 2017 du 9 au 20 novembre 2017
·
21e Edition de Paris Photo, du 9 au 12 Novembre 2017 au Grand Palais
·
Wintertuinfestival van 22 tot en met 26 november 2017 in Nijmegen
·
Franklin Foer: World Without Mind. The Existential Threat of Big Tech
·
fleursdumal.nl art & literature magazine – 10 years (2007-2017)
·
Tom Hanks: Uncommon Type. Some Stories
·
Laatste week van succesvolle Biënnale "Kunst in de Heilige Driehoek" in Oosterhout (nog t/m 22 oktober 2017)
Reflections on life and art from the legendary filmmaker-novelist-poet-genius.
By the time he published The Difficulty of Being in 1947, Jean Cocteau had produced some of the most respected films and literature of the twentieth century, and had worked with the foremost artists of his time, including Proust, Gide, Picasso and Stravinsky.
This memoir tells the inside account of those achievements and of his glittering social circle. Cocteau writes about his childhood, about his development as an artist, and the peculiarity of the artist's life, about his dreams, friendships, pain, and laughter. He probes his motivations and explains his philosophies, giving intimate details in soaring prose. And sprinkled throughout are anecdotes about the elite and historic people he associated with.
Beyond illuminating a truly remarkable life, The Difficulty of Being is an inspiring homage to the belief that art matters.
Jean Cocteau (1889-1963) was a novelist, poet, filmmaker, artist and playwright. Born in a village just outside of Paris, he left home at fifteen and published his first volume of poetry, Aladdin's Lamp, at nineteen. He circulated in the highest ranks of bohemian Paris, and counted Picasso and Proust among his close friends. His most famous works include the novel Les Enfants terribles and the films Beauty and the Beast and Orpheus. He was openly gay and at one time an opium addict. He died of a heart attack after being informed of the death of his friend, the singer Edith Piaf.
The Neversink Library champions books from around the world that have been overlooked, under appreciated, looked askance at, or foolishly ignored.
The Difficulty of Being
BY Jean Cocteau
Introduction by Geoffrey O'Brien
Translated by Elizabeth Sprigge
Publisher: Melville House
Reflections on life and art from the legendary filmmaker-novelist-poet-genius.
Part of The Neversink Library
Pages176
ISBN9781612192901
"One of the master craftsmen." – Tennessee Williams
  #  more  on  website  of  The  Neversink  Library  
fleursdumal.nl magazine
More in: - Book News, - Book Stories, Archive C-D, Archive C-D, Art & Literature News, CINEMA, RADIO & TV, Jean Cocteau, THEATRE
---
Beckett's relationship with British theatre is complex and underexplored, yet his impact has been immense. Uniquely placing performance history at the centre of its analysis, this volume examines Samuel Beckett's drama as it has been staged in Great Britain, bringing to light a wide range of untold histories and in turn illuminating six decades of drama in Britain.
Staging Samuel Beckett in Great Britain by Trish McTighe and David Tucker

Ranging from studies of the first English tour of Waiting for Godot in 1955 to Talawa's 2012 all-black co-production of the same play, Staging Samuel Beckett in Great Britain excavates a host of archival resources in order to historicize how Beckett's drama has interacted with specific theatres, directors and theatre cultures in the UK. It traces production histories of plays such as Krapp's Last Tape; presents Beckett's working relationships with the Royal Court, Riverside and West Yorkshire Playhouse, as well as with directors such as Peter Hall; looks at the history of Beckett's drama in Scotland and how the plays have been staged in London's West End. Production analyses are mapped onto political, economic and cultural contexts of Great Britain so that Beckett's drama resonates in new ways, through theatre practice, against the complex contexts of Great Britain's regions.
With contributions from experts in the fields of both Beckett studies and UK drama, including S.E. Gontarski, David Pattie, Mark Taylor-Batty and Sos Eltis, the volume offers an exceptional and unique understanding of Beckett's reception on the UK stage and the impact of his drama within UK theatre practices. Together with its sister volume, Staging Samuel Beckett in Ireland and Northern Ireland it will prove a terrific resource for students, scholars and theatre practitioners.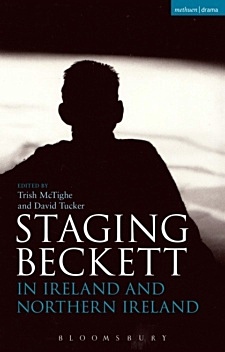 Staging Beckett in Ireland and Northern Ireland by Trish McTighe and David Tucker
This is the first full-length study to focus on Samuel Beckett's drama as it has been staged in Ireland and Northern Ireland.
While Beckett's relationship with his native land was a complex one, the importance of his drama as a creative force both historically and in contemporary practice in those regions cannot be underestimated. The volume brings to light unexamined and little-known productions, for example Beckett's drama in the Irish language, Druid Theatre Company's productions, and Beckett at Dublin's Focus Theatre, as well as previously unpublished archival materials. Leading scholars, such as Anna McMullan and Anthony Roche, and renowned dramatic interpreters of Beckett's work, such as Barry McGovern, explore Beckett's drama within the context of Irish creative theatrical practice and heritage, and point towards the theatrical and performance legacies that follow in its wake.
Production analyses are mapped on to the political, economic and cultural contexts of Ireland and the North so that readers are invited to experience Beckett's drama as resonating in new ways, through theatre practice, against the complex and connected histories of these lands.
David Tucker is a Visiting Research Fellow at the University of Sussex and currently teaches at the University of Oxford, UK. He is the editor of British Social Realism in the Arts since 1940 (Palgrave, 2011).
Trish McTighe is Lecturer in Theatre at the University of Birmingham. Previously, she lectured at Queen's University, Belfast and was an AHRC post-doctoral researcher on the Staging Beckett Project at the University of Reading (2012-2015).
Staging Beckett in Great Britain
Editors: David Tucker, Trish McTighe
Published: 19-10-2017
Format: Paperback
Edition: 1st
Extent: 288
ISBN: 9781474240161
Imprint: Methuen Drama
Bloomsbury Publishing
Staging Beckett in Ireland and Northern Ireland
Volume editor: Trish McTighe, David Tucker
Published: 19-10-2017
Format: Paperback
Edition: 1st
Extent: 288
ISBN: 9781474240543
Imprint: Methuen Drama
Bloomsbury Publishing
More titles on Beckett to be published soon:
∗ The Making of Samuel Beckett's 'Malone Dies'/'Malone meurt' by: Dirk Van Hulle, Pim Verhulst
∗ Beckett's Creatures. Art of Failure after the Holocaust by: Joseph Anderton
fleursdumal.nl magazine
More in: - Book News, - Bookstores, Archive A-B, Art & Literature News, CINEMA, RADIO & TV, Samuel Beckett, THEATRE
---
Queer Shakespeare: Desire and Sexuality draws together 13 essays, which offer a major reassessment of the criticism of desire, body and sexuality in Shakespeare's drama and poetry.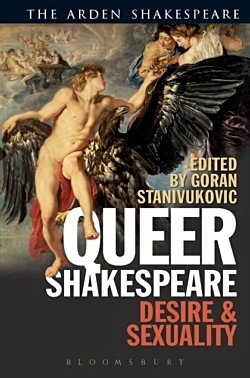 Bringing together some of the most prominent critics working at the intersection of Shakespeare criticism and queer theory, this collection demonstrates the vibrancy of queer Shakespeare studies.
Taken together, these essays explore embodiment, desire, sexuality and gender as key objects of analyses, producing concepts and ideas that draw critical energy from focused studies of time, language and nature.
The Afterword extends these inquiries by linking the Anthropocene and queer ecology with Shakespeare criticism.
Works from Shakespeare's entire canon feature in essays which explore topics like glass, love, antitheatrical homophobia, size, narrative, sound, female same-sex desire and Petrarchism, weather, usury and sodomy, male femininity and male-to-female crossdressing, contagion, and antisocial procreation.
Queer Shakespeare
Desire and Sexuality
Editor(s): Goran Stanivukovic
Published: 13-07-2017
Format: Hardback
Edition: 1st
Extent: 424 pp
ISBN: 9781474295246
Imprint: The Arden Shakespeare
Dimensions: 198 x 129 mm
Bloomsbury Publishing
$144.00
Queer Shakespeare. Desire and Sexuality
fleursdumal.nl magazine
More in: - Book Lovers, - Book News, - Book Stories, Archive S-T, Archive S-T, Art & Literature News, CINEMA, RADIO & TV, Shakespeare, William, THEATRE, TRAVESTY & POETRY
---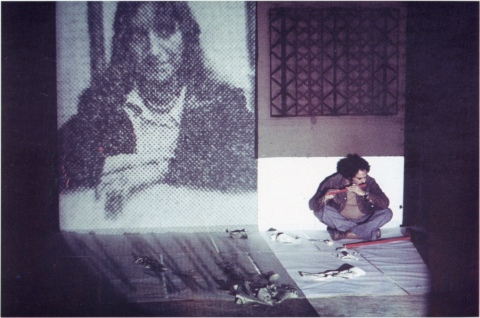 # Rasheed Araeen, Paki Bastard (Portrait of an Artist as a Black Person), 1977, courtesy the artist
The Van Abbemuseum will stage Rasheed Araeen: A Retrospective, the first comprehensive survey of the artist. The exhibition, spanning 60 years of work, presents a body of work that has had a profound influence on generations of artists, writers and thinkers.
Rasheed Araeen: A Retrospective is structured across five chapters: from his early experiments in painting in Karachi in the 1950s and early 60s, his pioneering minimalist sculptures carried out after his arrival in London in 1964, key pieces from the 70s and 80s following Araeen's political awakening, his nine panel cruciform works from the 80s and 90s and a selection of his new geometric paintings and wall structures. Alongside this, material relating to Araeen's writing, editorial and curatorial projects will be presented as part of an expanded artistic practice that in its scope and ambition continues to challenge the formal, ideological and political assumptions of Eurocentric modernism.
Publication:A monograph, edited by Nick Aikens and published by JRP Ringier in collaboration with Van Abbemuseum, MAMCO, BALTIC and Garage includes new essays by Aikens, Kate Fowle, Courtney Martin, Michael Newman, Gene Ray, Dominic Rhatz, John Roberts, Marcus du Sautoy, Zoe Sutherland and Kaelen Wilson-Goldie and an extensive conversation between Aikens and Araeen.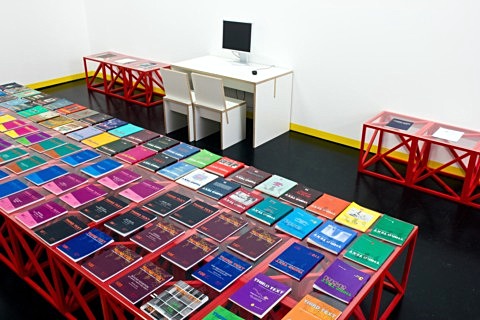 # Rasheed Araeen, The Reading Room, 2017, steel and glass tables, wooden stools, and copies of Third Text journal, courtesy the artist
Following the Van Abbemuseum Rasheed Araeen: A Retrospective will travel to MAMCO, Geneva, BALTIC Centre for Contemporary Art, Gateshead and Garage Centre for Contemporary Art, Moscow.
The exhibition is supported by Mondriaan Fund and Stichting Promotors van het Van Abbemuseum. The publication is generously supported by Aicon Gallery, New York, Grosvenor Gallery, London and Rossi Rossi, Hong Kong
exhibition
Rasheed Araeen
A Retrospective
02/12/2017 – 25/03/2018
spanning 60 years' work
Curators: Nick Aikens
van abbemuseum eindhoven
#  van abbemuseum eindhoven web
fleursdumal.nl magazine
More in: - Book News, Archive A-B, Art & Literature News, CINEMA, RADIO & TV, DICTIONARY OF IDEAS, Exhibition Archive, FDM Art Gallery, MONTAIGNE, Photography, Sculpture
---
Litz Pisk was widely regarded as the finest and most influential teacher of modern theatre movement.

She was a director of movement at the Old Vic, National Theatre, Royal Shakespeare Company, English National Opera, and in television and films, including directing the movement for Vanessa Redgrave's film role in Isadora. She was director of Vienna's School of Art and Movement and a teacher at the Old Vic School, Bath Academy of Art, RADA and the Central School of Speech and Drama. The Actor and His Body, her seminal work, was first published in 1975.
'Once you start working with someone like Litz you don't ever want to stop if you can help it' – Vanessa Redgrave
Pisk's quest was to find expression for the inner impulse that motivated actors to move. Her teachings, as outlined in this book, offer insight on the specific craft of the actor, and the relationship between movement, imagination and the 'need' to move.
The Actor and His Body is also a practical manual for keeping the actor's body physically and expressively responsive. In addition, there are a range of movement exercises, illuminated by her exquisite line drawings, and complete weekly programme which concentrates on movement practice within different timescales.
This fourth edition features the original foreword by Michael Elliot as well as a new introduction by Ayse Tashkiran, contemporary movement director and Senior Lecturer at the Royal Central School of Speech and Drama, which contextualises Pisk's work.
The Actor and His Body
By: Litz Pisk
Introduction: Ayse Tashkiran
Published: 30-11-2017
Format: Paperback
Edition: 4th
ISBN: 9781474269742
Imprint: Methuen Drama
Series: Theatre Makers
Dimensions: 234 x 156 mm
RRP: $36.99
Bloomsbury Publishing
Litz Pisk: The Actor and His Body
fleursdumal.nl magazine
More in: - Book News, - Bookstores, Archive O-P, Art & Literature News, CINEMA, RADIO & TV, DANCE, MUSIC, Performing arts, THEATRE
---
---
Festival littéraire de la ville de Paris, Paris En Toutes Lettres est fondé sur les hybridations entre les genres littéraires et les formes artistiques, ainsi que sur les résonances entre la géographie parisienne et sa vie littéraire. À partir de la Maison de la Poésie-Scène littéraire, il se déploie dans une quinzaine de lieux alentours.
Revisitant l'actualité littéraire, le festival fait aussi la part belle aux créations mettant en regard littérature et musique. Parmi plus de cinquante lectures, rencontres ou concerts littéraires, on trouve également d'insolites conférences et de curieuses performances. À travers ce foisonnement de lieux et de propositions, c'est à un Paris vivant et traversé de littérature que le festival donne voix.
Festival
Paris En Toutes Lettres 2017
Du 9 au 20 novembre 2017
fleursdumal.nl magazine
More in: Art & Literature News, CINEMA, RADIO & TV, FDM in Paris, LIGHT VERSE, Literary Events, MODERN POETRY, MUSIC, STREET POETRY, THEATRE
---
Paris Photo, première foire internationale dédiée à la photographie, se déroulera du 9 au 12 novembre 2017, au Grand Palais.
Avec 180 exposants annoncés pour le secteur principal, l'édition 2017 sera marquée par une  programmation ambitieuse et inédite, présentant le meilleur du médium photographique dans toute sa diversité.
Pour cette 21ème édition, Paris Photo dévoile une première sélection de 149 galeries et 31 éditeurs en provenance de 31 pays. 31 nouvelles galeries et 5 éditeurs spécialisés dans le livre photographique rejoignent Paris Photo cette année.
Pour la troisième année consécutive, le secteur PRISMES, dédié aux installations, aux œuvres sérielles et de grands formats dévoilera 14 projets d'envergure, dans le Salon d'Honneur du Grand Palais.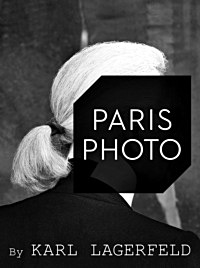 Paris Photo inaugure cette année une section FILM/VIDÉO, explorant les nouvelles perspectives qu'offre l'image, en partenariat avec le MK2 (Grand Palais).
Invité d'Honneur de cette 21ème édition, Karl Lagerfeld proposera aux visiteurs de Paris Photo un parcours spécial de la foire intitulé
​« Paris Photo vu par Karl Lagerfeld ». Ce parcours fera l'objet d'une publication dédiée.
21e Edition de Paris Photo, du 9 au 12 Novembre 2017 au Grand Palais
fleursdumal.nl magazine
More in: Art & Literature News, CINEMA, RADIO & TV, FDM in Paris, Photography, PRESS & PUBLISHING, The talk of the town
---
Het Wintertuinfestival, dat van 22 tot en met 26 november plaatsvindt in Nijmegen, heeft dit jaar als titel: De vrije lezer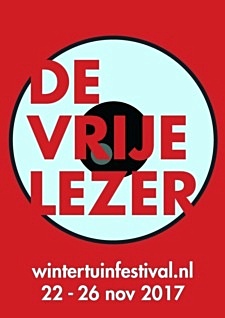 Tientallen schrijvers, dichters, wetenschappers, muzikanten en kunstenaars – onder wie Adriaan van Dis, Fresku en Kamagurka – gaan in op dit thema. Zowel grote literaire namen als aanstormende talenten reizen af naar Nijmegen. Op diverse locaties in de binnenstad zijn programma's en activiteiten. Het hele festivalprogramma staat online en de kaartverkoop loopt via wintertuinfestival.nl
Op woensdag 22 november bespreken middelbare scholieren tijdens Lezen met de Sterren het boek Dit is geen dagboek met Erna Stassen. 's Avonds is er een kroegcollege: Roel Smeets, promovendus bij Algemene Cultuurwetenschappen, gaat in op het festivalthema.

Op donderdag 23 november geeft niemand minder dan Fresku een college op de Radboud Universiteit.

Op vrijdag 24 november vindt er een Avond van de grote beloftes plaats, waarop talenten uit de stal van De Nieuwe Oost centraal staan. Simone Atangana Bekono, Marjolein Visser, Nikki Dekker en Jante Wortel tonen nieuw werk.

Op zaterdag 25 november kun je overdag meedoen met twee schrijfworkshops. 's Avonds wordt Doornroosje omgetoverd tot een literair walhalla. Tijdens de grootse festivalavond gaan talloze gasten in op het thema, waaronder Adriaan van Dis, Kamagurka, Franca Treur, Erik Jan Harmens, Alma Mathijsen, Anousha Nzume en Jet Steinz.

Het Wintertuinfestival wordt afgesloten met de boekpresentatie van Een botsing op het spoor van Joris van Casteren. Het boek gaat over een fatale botsing die een jaar geleden bij een spoorovergang in Nijmegen plaatsvond. Gedurende het hele festival is Nina Polak Writer in Residence en is er in de bibliotheek een Virtual Reality-installatie te bezichtigen.
Het verkrijgen van informatie is de goudkoorts van deze tijd. Bedrijven als Facebook en Google willen alles van ons weten, van ons reisgedrag en onze kledingsmaak tot onze politieke voorkeuren. Als een rots in de branding van de algoritmes en cookies staat de vrije lezer. Hij of zij vindt nieuwe ideeën, andere werelden, en schatten aan niet in kaart te brengen informatie in boeken. Je zou kunnen zeggen dat lezen van boeken in deze tijd een daad van verzet is, dat boeken een bastion van vrijheid zijn, en dat de lezer een activist is.
WINTERTUINFESTIVAL
Data: woensdag 22 tot en met zondag 26 november 2017
Locaties: talloze locaties in Nijmegen
Entree: variërend van gratis tot € 17,50 per festivalonderdeel
Meer info: www.wintertuinfestival.nl
fleursdumal.nl magazine
More in: - Book Lovers, - Book News, Art & Literature News, CINEMA, RADIO & TV, Literary Events, LITERARY MAGAZINES, MUSIC, THEATRE, Wintertuin Festival
---
Over the past few decades there has been a revolution in terms of who controls knowledge and information.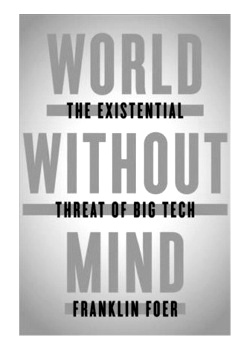 This rapid change has imperiled the way we think. Without pausing to consider the cost, the world has rushed to embrace the products and services of four titanic corporations. We shop with Amazon; socialize on Facebook; turn to Apple for entertainment; and rely on Google for information. These firms sell their efficiency and purport to make the world a better place, but what they have done instead is to enable an intoxicating level of daily convenience.

As these companies have expanded, marketing themselves as champions of individuality and pluralism, their algorithms have pressed us into conformity and laid waste to privacy. They have produced an unstable and narrow culture of misinformation, and put us on a path to a world without private contemplation, autonomous thought, or solitary introspection–a world without mind. In order to restore our inner lives, we must avoid being coopted by these gigantic companies, and understand the ideas that underpin their success.
Elegantly tracing the intellectual history of computer science–from Descartes and the enlightenment to Alan Turing to Stuart Brand and the hippie origins of today's Silicon Valley–Foer exposes the dark underpinnings of our most idealistic dreams for technology. The corporate ambitions of Google, Facebook, Apple, and Amazon, he argues, are trampling longstanding liberal values, especially intellectual property and privacy. This is a nascent stage in the total automation and homogenization of social, political, and intellectual life. By reclaiming our private authority over how we intellectually engage with the world, we have the power to stem the tide.
At stake is nothing less than who we are, and what we will become. There have been monopolists in the past but today's corporate giants have far more nefarious aims. They're monopolists who want access to every facet of our identities and influence over every corner of our decision-making. Until now few have grasped the sheer scale of the threat. Foer explains not just the looming existential crisis but the imperative of resistance.
Franklin Foer is a national correspondent for The Atlantic and a fellow at the New America Foundation. He is the author of How Soccer Explains the World, which has been translated into 27 languages and a winner of a National Jewish Book Award. For seven years, he edited The New Republic magazin
Franklin Foer:
World Without Mind.
The Existential Threat of Big Tech
Hardcover
272 pages
Published September 2017
Penguin Press
ISBN 1101981113
ISBN13: 9781101981115
World Without Mind: The Existential Threat of Big Tech by Franklin Foer . Franklin Foer reveals the existential threat posed by big tech, and in his brilliant polemic gives us the toolkit to fight their pervasive influence.
fleursdumal.nl magazine
More in: - Book Stories, - Bookstores, Archive E-F, Art & Literature News, CINEMA, RADIO & TV, DICTIONARY OF IDEAS, MONTAIGNE, The Art of Reading, The talk of the town
---
More in: BOOKS, CINEMA, RADIO & TV, DANCE, FICTION: SHORT STORIES, LITERARY MAGAZINES, MUSIC, NONFICTION: ESSAYS & STORIES, PRESS & PUBLISHING, REPRESSION OF WRITERS, JOURNALISTS & ARTISTS, THEATRE
---
A collection of seventeen wonderful short stories showing that two-time Oscar winner Tom Hanks is as talented a writer as he is an actor.
A gentle Eastern European immigrant arrives in New York City after his family and his life have been torn apart by his country's civil war.

A man who loves to bowl rolls a perfect game – and then another and then another and then many more in a row until he winds up ESPN's newest celebrity, and he must decide if the combination of perfection and celebrity has ruined the thing he loves.

An eccentric billionaire and his faithful executive assistant venture into America looking for acquisitions and discover a down and out motel, romance and a bit of real life.
These are just some of the tales Tom Hanks tells in this first collection of his short stories. They are surprising, intelligent, heart-warming, and, for the millions and millions of Tom Hanks fans, an absolute must-have.
Tom Hanks has been an actor, screenwriter, director and through Playtone, a producer. His writing has appeared in The New York Times, Vanity Fair and The New Yorker. This is his first collection of fiction.
Publisher: Cornerstone
ISBN: 9781785151514
Number of pages: 416
Weight: 620 g
Dimensions: 222 x 144 x 38 mm
October 2017
Hardback
£13.99
fleursdumal.nl magazine
More in: - Book News, - Bookstores, -Short Stories Archive, Archive G-H, Art & Literature News, CINEMA, RADIO & TV
---
Het eeuwenoude gebied De Heilige Driehoek in het Noord-Brabantse Oosterhout vormt tijdens de 1e Biënnale Kunst in de Heilige Driehoek het decor voor hedendaagse kunst, met – in deze eerste editie – liefde als thema.
De 1e Biënnale Kunst in de Heilige Driehoek is de enige grootschalige hedendaagse kunstbiënnale in Europa die kunst en religie nadrukkelijk als uitgangspunt neemt.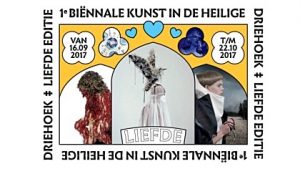 Uniek kloostergebied als inspiratie én decor van hedendaagse kunst Het gebied De Heilige Driehoek – ruim 100 hectare groot – dankt zijn naam aan drie monumentale, eeuwenoude kloosters die zijn omgeven door grote kloostertuinen en landerijen: de Onze Lieve Vrouwe Abdij, De Sint-Paulusabdij en het Sint-Catharinadal. De Heilige Driehoek is de enige plek in Nederland waar nog een combinatie van drie actieve kloosters bestaat.
De Biënnale vindt plaats in de kloostergebouwen, de kloostertuinen en de kloosterkapellen, die voor het eerst worden geopend voor het grote publiek en voor hedendaagse kunst. De kunstenaars laten zich inspireren door het gebied zelf, de rijke historie en de artistiek-religieuze tradities. Veel werken zijn in opdracht van de Biënnale gemaakt en worden dan ook voor het eerst getoond. De Biënnale heeft de ambitie om de kunstzinnige tradities van de kloosters, die excelleerden in architectuur, schilderkunst, het restaureren van wandtapijten, handschriften en boeken, en kunstnijverheid, te verbinden met artistieke vernieuwing.
Deelnemende kunstenaars zijn: Aziz Bekkaoui, Caspar Berger, Krien Clevis, Sam Drukker, Huub en Adelheid Kortekaas, Judith Krebbekx, Elisa Pesapane, Ruudt Peters, René van Tol, Tijmen van Tol, Heidi Wallheimer, Erik Zwaga, Marieke Bolhuis, Patrizia Comand, Frans Franciscus, Robin Kolleman, Bernardien Sternheim, Hansa Versteeg, Moreno Bondi, dré didderiëns, Athar Jaber, Jago Moons, Spank Moons, Michael Petry, Carolein Smit en Reinoud van Vught.
Laatste week van de 1e Biënnale Kunst in de Heilige Driehoek – Liefde nog tot en met 22 oktober 2017 in Oosterhout
# website voor meer informatie over de kunst-biënnale
fleursdumal.nl magazine
More in: - Book News, Art & Literature News, CATHEDRALS, CINEMA, RADIO & TV, Dutch Landscapes, Exhibition Archive, Fashion, FDM Art Gallery, Photography
---
Older Entries »
Thank you for reading FLEURSDUMAL.NL - magazine for art & literature